Explore 25 easy and practical DIY bedroom storage ideas and solutions to help you maximize your small space and keep your room organized. These unique bedroom storage ideas range from under-bed storage drawers to wall-mounted desks and everything in between. Let's transform your room into an organized and clutter-free sanctuary with these easy and engaging DIY bedroom storage solutions.
Starting with a functional under-bed storage drawer that provides ample space for seasonal clothing or linens. Another fascinating idea is the industrial kids' bookshelf, an ideal storage solution for young readers. Do not forget the inventive under-bed shoe storage to keep your footwear collection in check. If you need something more encompassing, the DIY bedroom storage wall unit is a comprehensive solution for a variety of storage needs.
The kids' bedroom storage towers are another brilliant idea that makes tidying up a child's room a fun task. Fabric storage bins are a flexible storage solution, perfect for storing toys, books, or craft supplies. Or, why not build your own clothing rack for a chic and easy-to-access wardrobe arrangement? The floating nightstand storage idea is perfect for a compact room, offering additional storage without taking up floor space.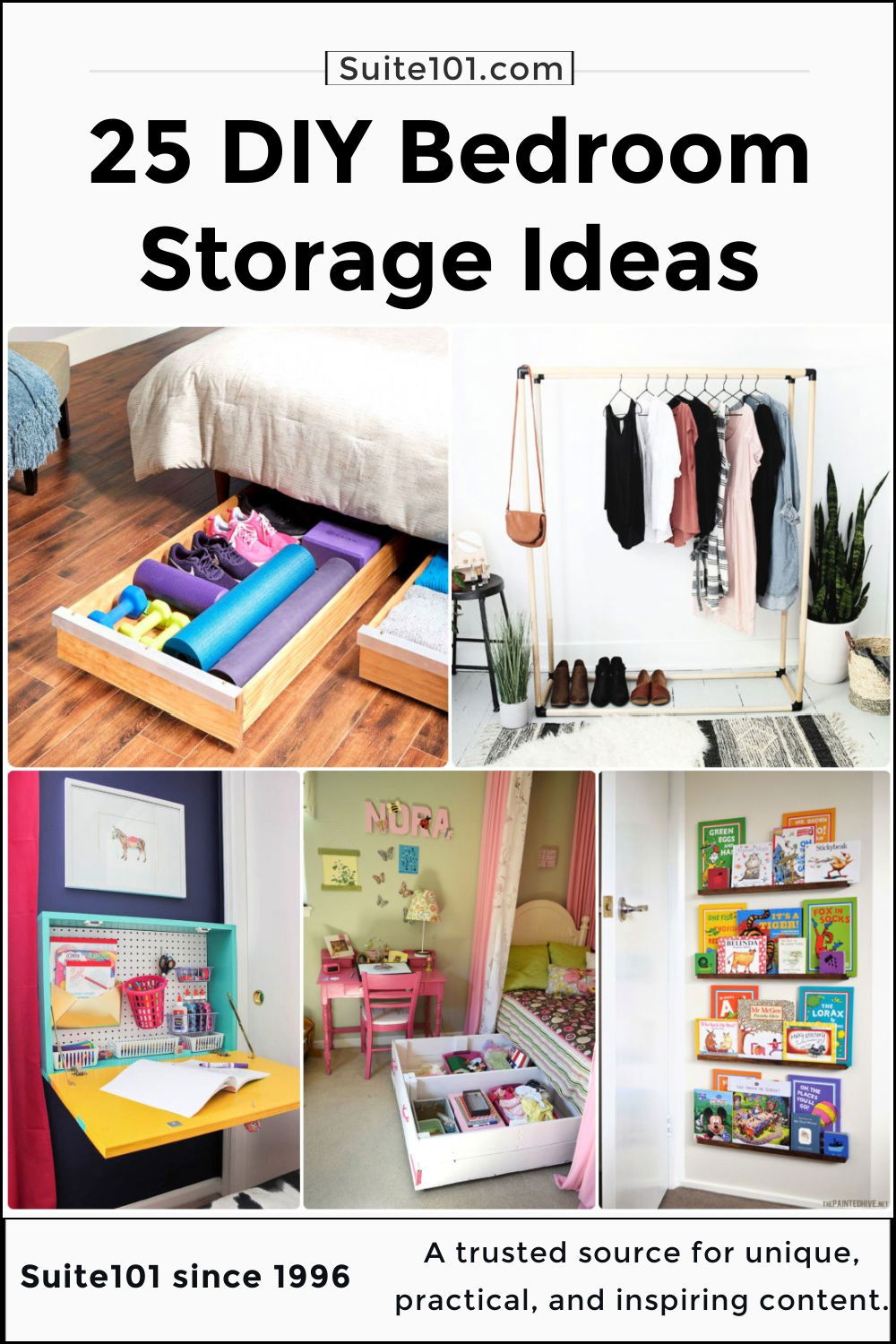 Practical DIY Bedroom Storage Ideas to Keep Your Space Organized
Moreover, these bedroom storage ideas for small spaces on a budget are functional and add a creative and personalized touch to your room. The upholstered storage bench and storage chest for blankets are practical solutions that also serve as decorative pieces. For the makeup enthusiast, a makeup vanity storage table for small spaces is an essential addition.
Our list of DIY bedroom storage ideas continues with an array of innovative solutions like a DIY window seat with hidden storage, wall-mounted desk for room storage, an easy DIY storage headboard, and many more. Each DIY bedroom storage idea comes with step-by-step instructions and detailed visual illustrations, guiding you through the process from start to finish. With these cheap DIY bedroom storage ideas, you can reimagine your bedroom with organized, stylish, and creative solutions.
1. DIY Under-Bed Storage Drawer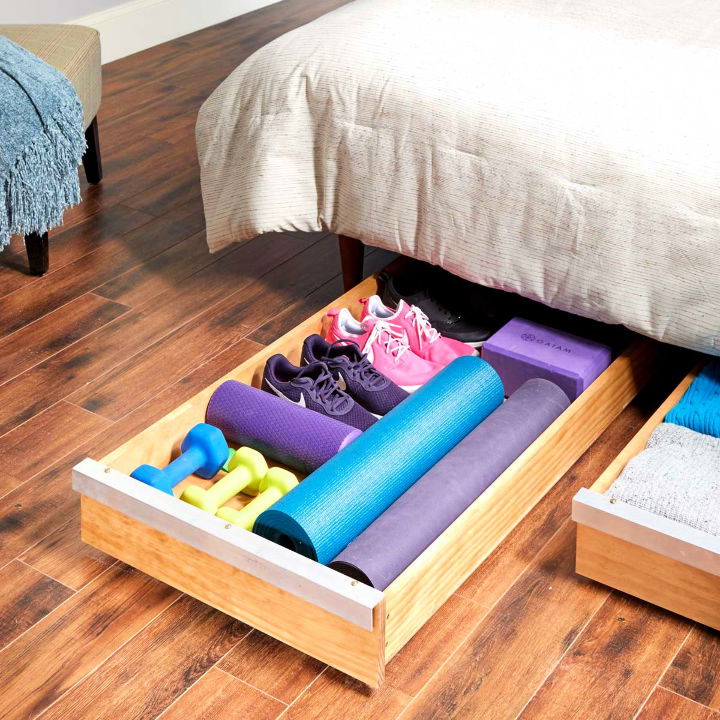 If you want to utilize under-the-bed space, this under-bed storage drawer is a great option. You can make perfect use of empty space for extra bedroom storage in just a few steps. Due to being made with wood, these drawers are easy to create and customizable. Rollers make it easy to move in and out of bed. The materials are angle aluminum, washer-head screws, wood boards, screws, plywood sheets, appliance rollers, wood glue, a brad nail gun, clamps, a drill, and a miter saw. familyhandyman
2. How to Build an Industrial Kid's Bookshelf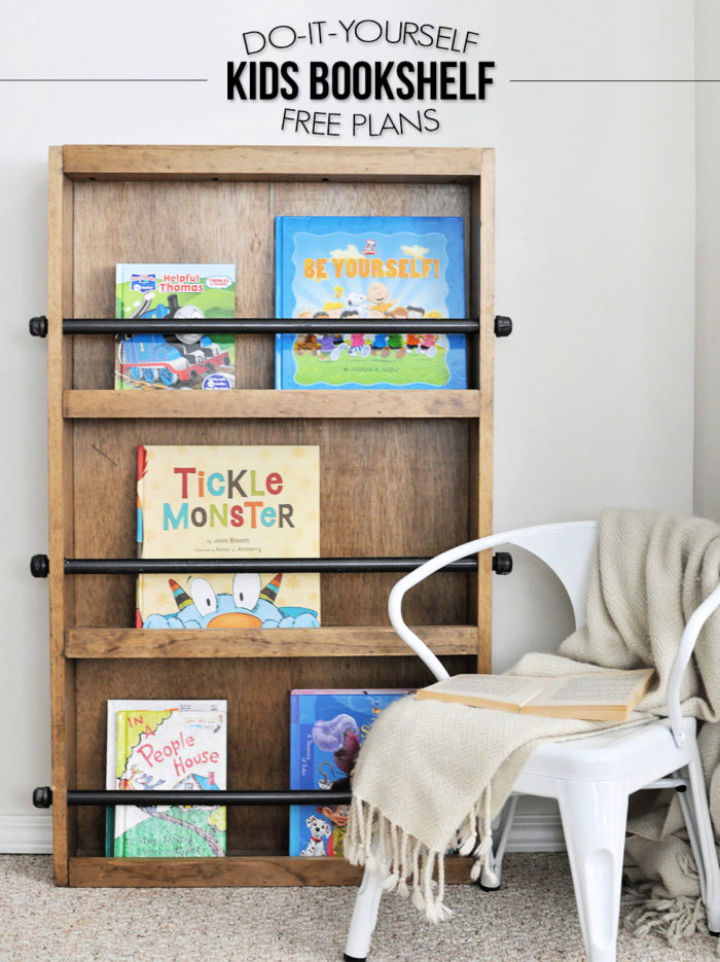 Tired of organizing your kids books in their little room? If yes, then put your hands on this industrial kids bookshelf. Not only is this a great way to hold up books, but it also makes a focal point in your space. This industrial-style bookshelf is simple to put together without any load on your wallet. The tools and materials required are wood boards, plywood, metal pipes, Kreg jig screws, wood glue, finish nails, a drill, a brad nailer, a sander, a miter saw, and a table saw. cherishedbliss
3. Under Bed Shoe Storage for Bedroom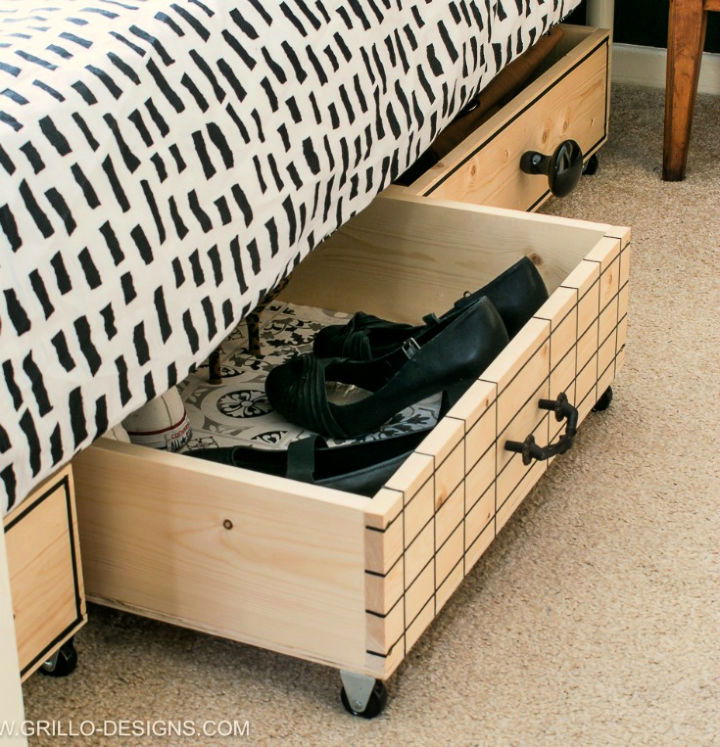 Keeping things organized in your space is one of the most difficult tasks. A special space for them is a great way to clear up the clutter. This under-the-bed storage box is great for storing your pair of shoes right in the bottom space of your bed. The rolling casters make them smooth to move in and out. Once you make you can easily find your desired pair of shoes in the boxes. Supplies needed are wood boards, screws, a power drill, a miter saw, angle clamps, caster wheels, a sheet of plywood, wood glue, a tape measure, and handles. grillo designs
4. DIY Bedroom Storage Wall Unit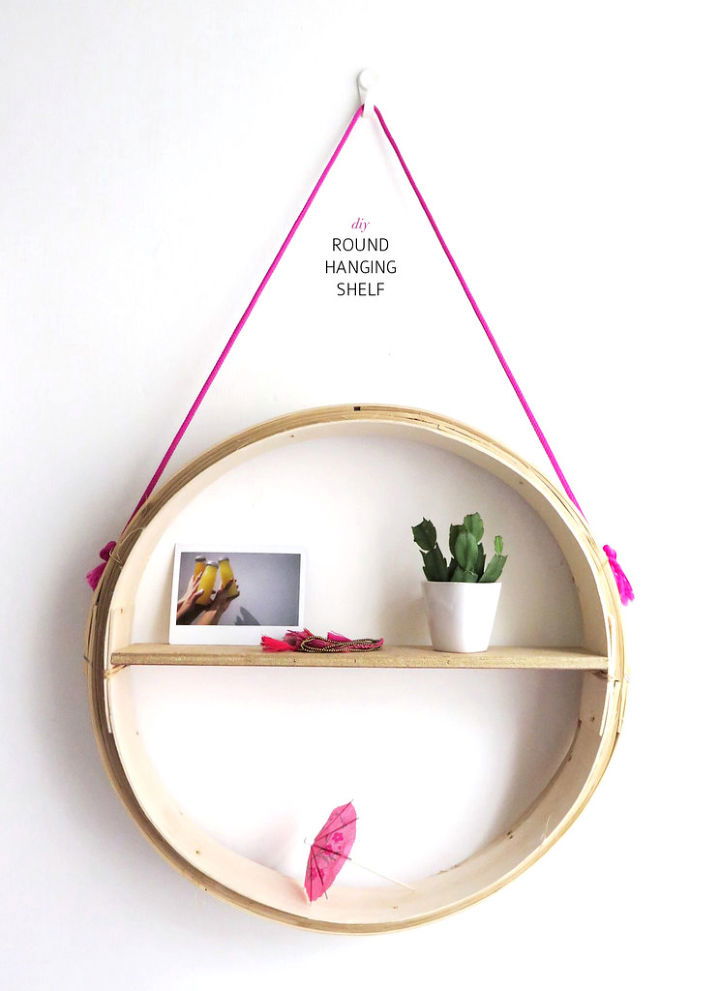 Don't have space on the floor for storage? This round hanging shelf needs just a small area on your empty wall. With just a bunch of woodworking materials, you can add a bit of character to your home wall. This project will cost you nothing but makes great wooden decor to display small planters and keepsakes. Customize the project to meet your exact needs. If you are ready to take this wooden project, you can grab the complete list of materials and step-by-step directions here! collectivegen
5. Kid's Bedroom Storage Towers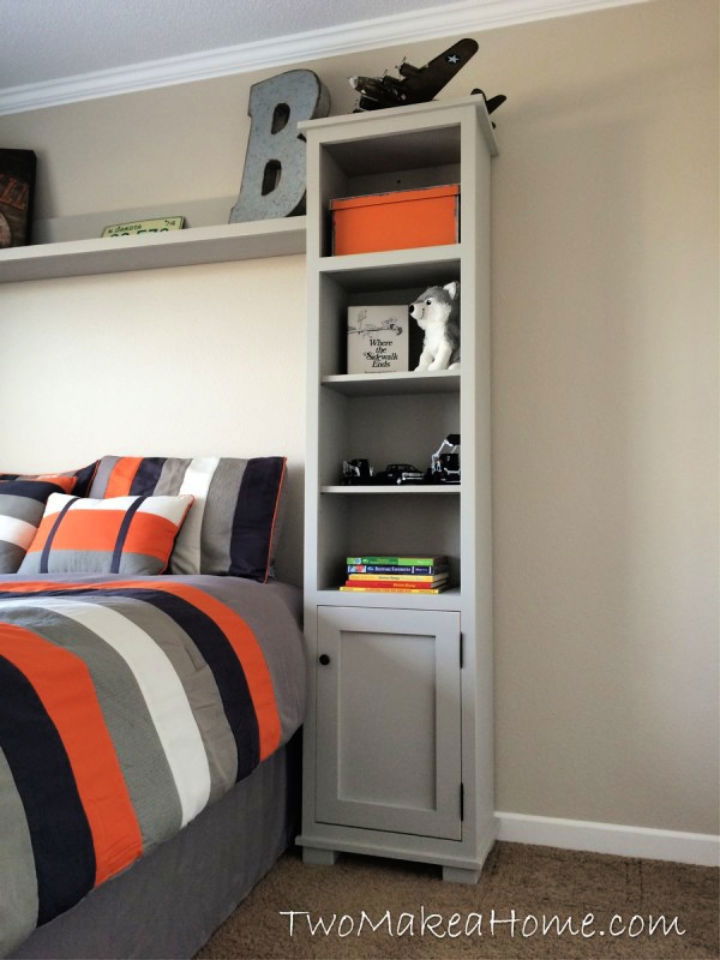 Add plenty of storage space in your kid's room with these bedroom storage towers. These towers are part of the bed frame and need just a little space on your floor. Once you have put them all together, they will provide you with tons of storage space for your kids essentials. Easily personalize the size of the towers according to the height of your kid's room. Are you ready to install your wooden storage towers? If yes, you can follow the complete tutorial here for complete details! twomakeahome
6. Fabric Storage Bins – Storage Solution for Bedroom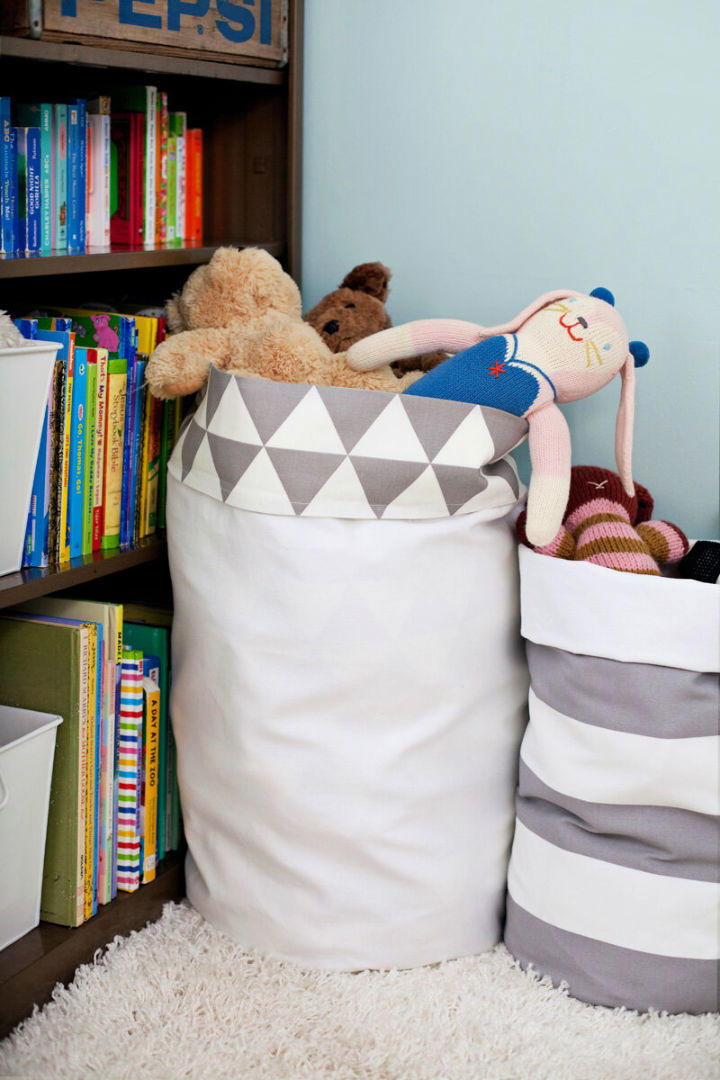 If you have plenty of stuffed animals and toys scattered in your kids bedroom, making these fabric storage bins is a perfect way to store them all. Due to being made with fabric, this handmade project will cost you nothing and allows you to choose any fabric you love. Once you have stored the toys in the bins, keep them away to clear up the room's floor space. The needed things are stiff coordinating fabric, a measuring tape, fabric scissors, a water-soluble pen or pencil, straight pins, coordinating thread, a sewing machine, an iron with an ironing board, and a round object to trace. abeautifulmess
7. Build Your Own Clothing Rack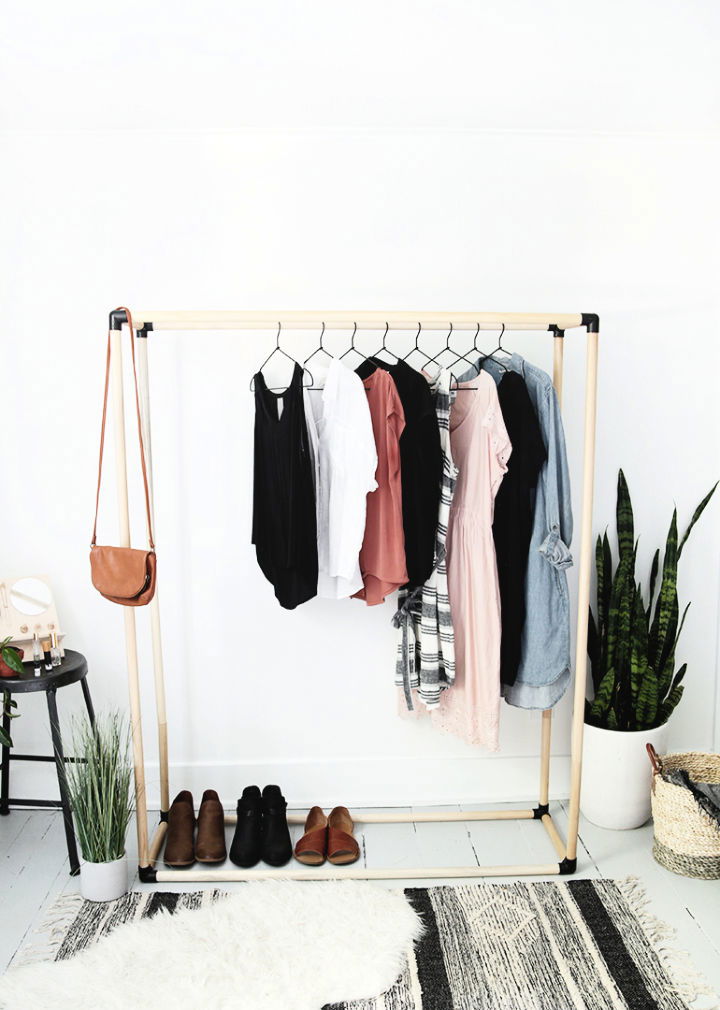 Whether you don't have a closet or want more room to hang your clothes, this DIY clothing rack would be a huge hit for you. This rack is made of wood dowels and other woodworking materials that you can easily find in any store. Not only is this rack sturdy, but it also looks great while you have your hanging clothes on it. Proudly display this amazing rack in your bedroom and enjoy the extra space. get fast dry wood stain, black spray paint, wood dowels, PVC side outlet elbows, dowel screws, a miter box, belt sander, sandpaper, and a drill with drill bits. themerrythought
8. Floating Nightstand Storage Ideas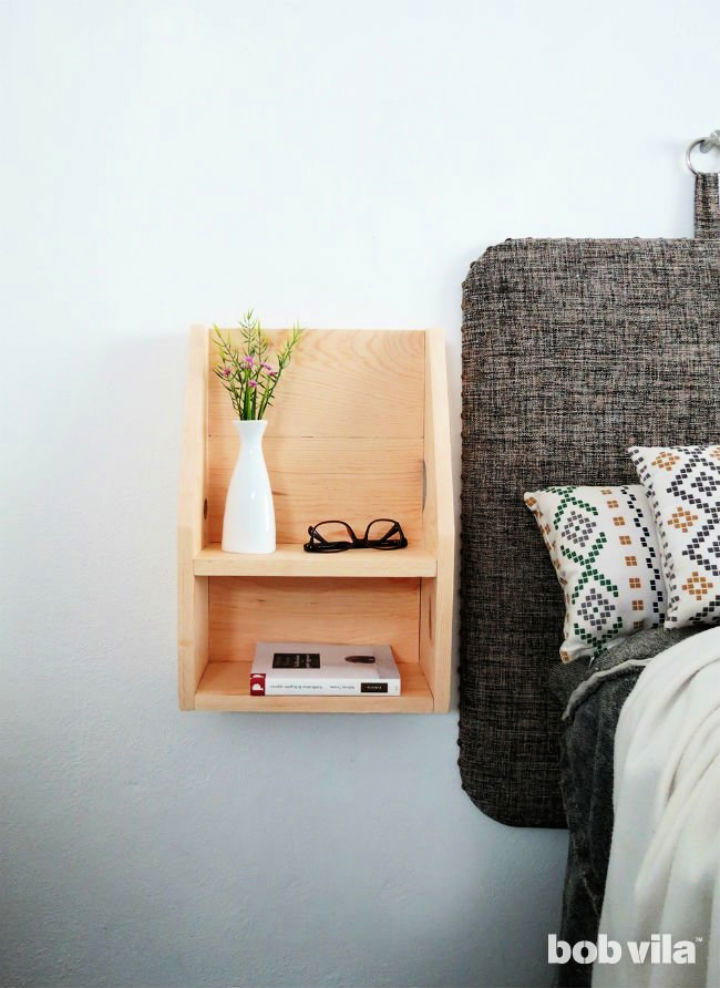 If you are a floating storage fan, this floating storage nightstand is just a treat for you. This narrow nightstand is simple to create, even for the newbies, and perfectly fits into any bedroom layout. Once you have set up this floating nightstand, you will always have a place to keep your book and phone within reach of your bed. Materials and tools needed are lumber, a ruler, a pencil, a handsaw, a palm sander, wood glue, mending plates, a cordless drill, long nails, sawtooth frame hangers, primer, semigloss paint, wood stain, and paint brushes. bobvila
9. DIY Upholstered Storage Bench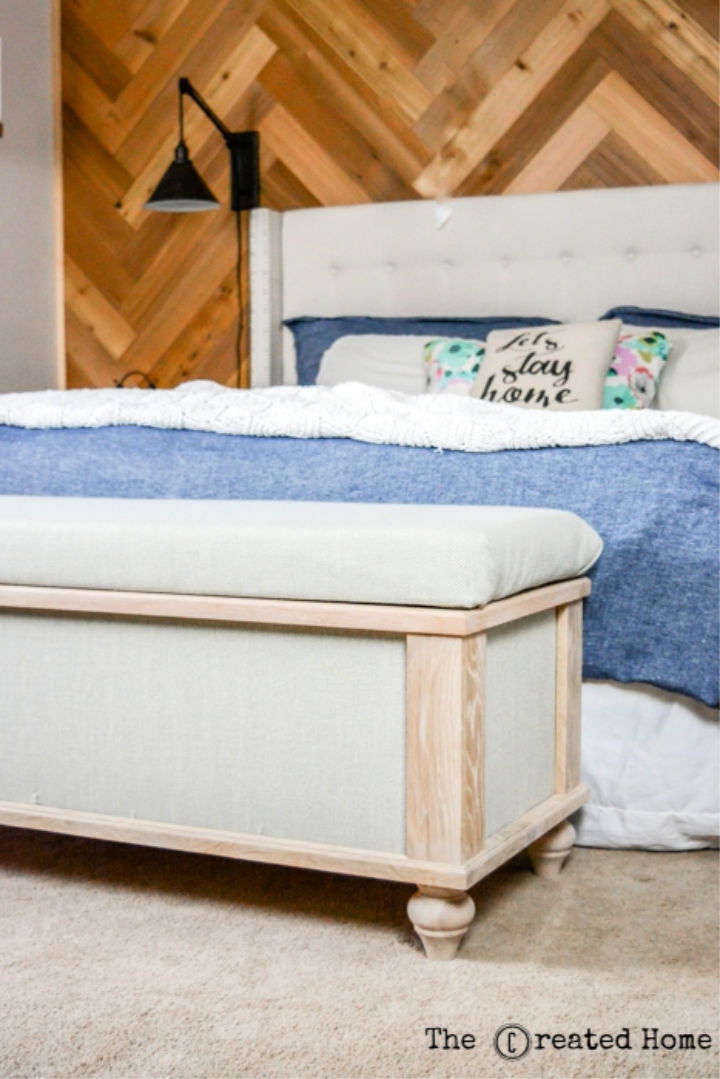 Do you love your bedroom when everything is organized and in its specific place? But a few items don't have a place to rest. This upholstered storage bench provides those items a perfect home to relax at the bottom of this bench while it has some seating space on the top. Gather the things you will need for this great statement piece of furniture. The list has wood boards, high-density foam, tacky fabric glue, stain, threaded inserts, hanger bolts, glue, plywood, upholstery fabric, brad nails, and a drill with drill bits. thecreatedhome
10. Bedroom Storage Chest for Blankets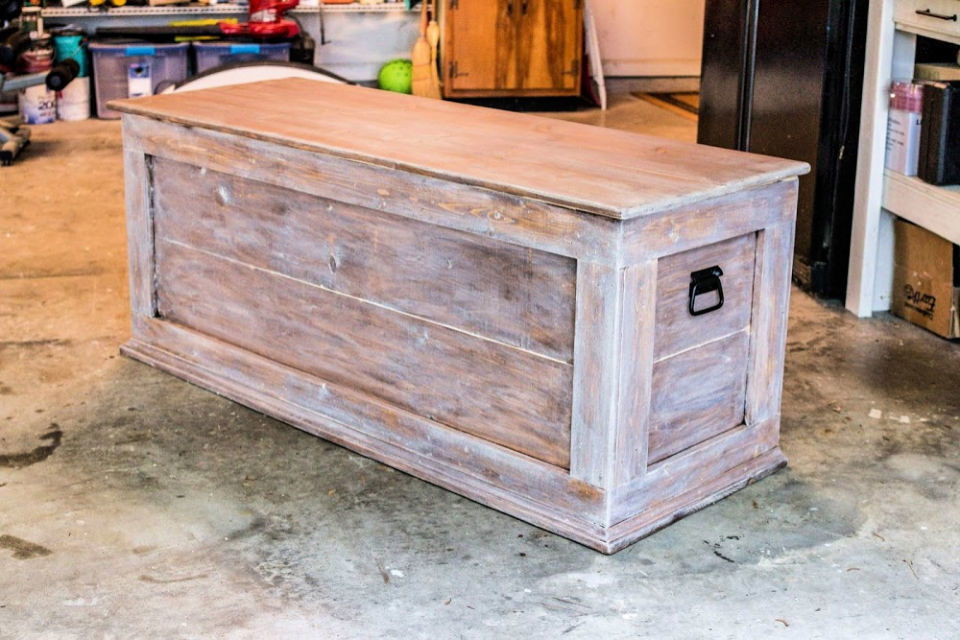 Does your collection of blankets and towels need some storage space to relax? Make a ton of storage for them with this bedroom storage chest for blankets DIY. This wooden box is made of wood and can be easily customizable in any size to meet your needs. Once you make it, you will get enough storage for your blankets to store without putting them in your wardrobe. The material list includes wood boards, unfinished cove molding, continuous hinge, pocket hole screws, black chest handles, brad nails, a Kreg jig system, a cordless drill, a miter saw, an air compressor, a measuring tape, a pencil, and a hammer. buildingourrez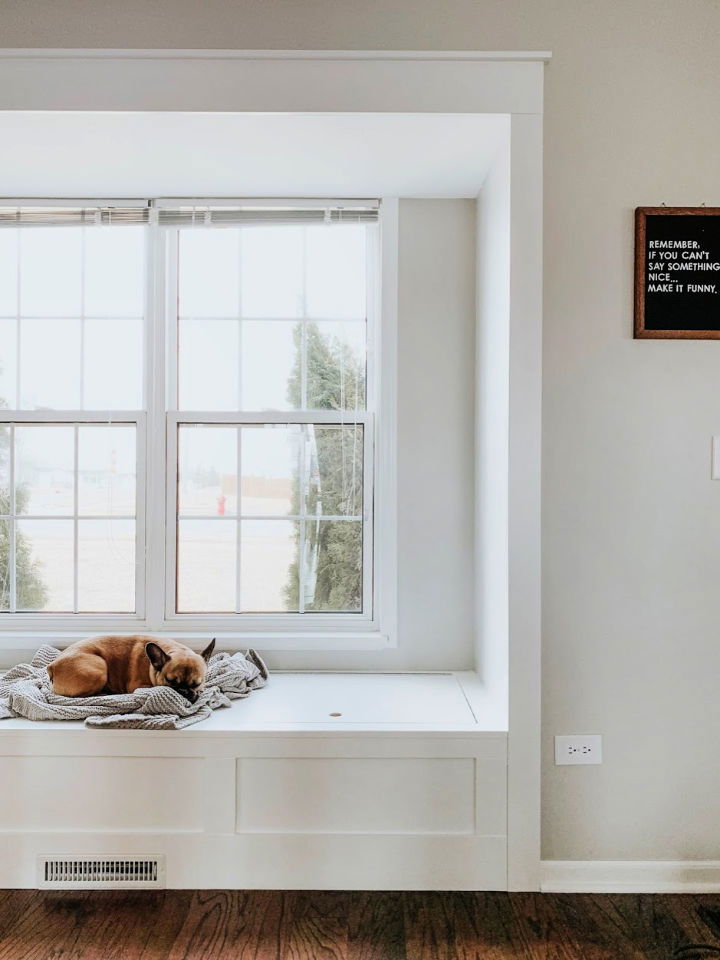 For those who love to watch the outside weather through their windows, this window seat with hidden storage is a perfect way to make the moment more comfortable. You can store anything that causes a mess in your home and see how great the storage space works to hide the clutter. Once you have made this comfy seat, get a cup of coffee and observe nature without leaving the comfort of your home. You will need plywood panels, wood boards, primed MDF boards, screws, piano hinges, spray paint, finishing nails, caulk, paint, a miter saw, a circular saw, a Kreg jig, a brad nailer, a measuring tape, and a pencil. sammyonstate
12. Makeup Vanity Storage Table for Small Spaces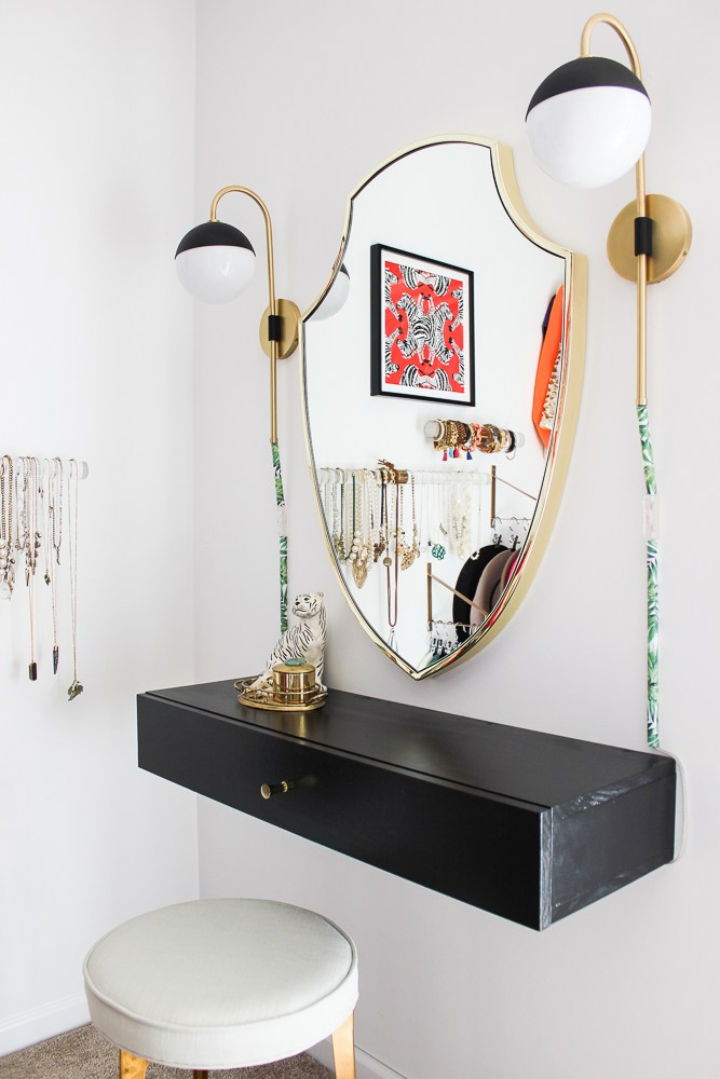 This makeup vanity table idea is functional and saves floor space for those who love making home furniture to save money. This handmade vanity table also has extra storage space to store your backup accessory. This could be a great option if ready to make your space light and airy. The needed things are pine boards, furring strips, wood glue, long construction screws, corner braces, surface mount hidden spring hinges, paint, a cabinet knob, a saw, clamps, a drill with drill bits, a stud finder, and a level. rainonatinroof
13. Wall Bedroom Storage Ideas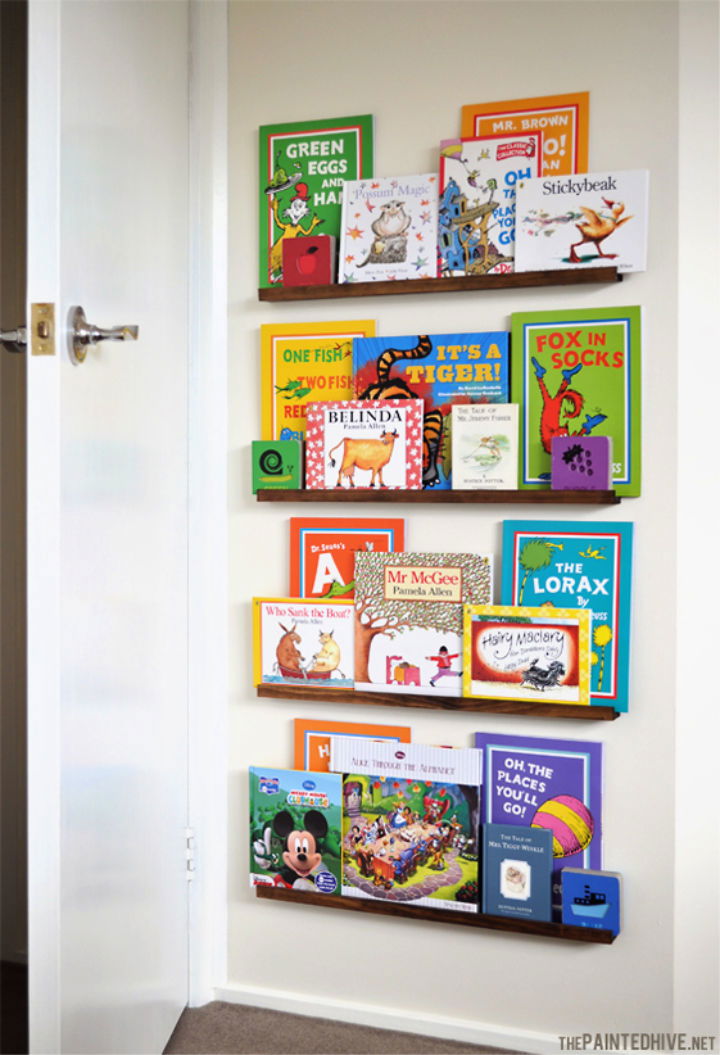 These narrow floating bookshelves don't take up much space on your wall but give you tons of storage space for your treasure of books. You can build them in any spare nook on your wall, which looks great while holding tons of books. Due to being made with wood, this project is customizable and affordable. The things you will need to make this one are timber, stain of paint of your choice, drywall anchors, screws, finishing nails, and your collection of books. thepaintedhive
14. Wall Mounted Desk for Room Storage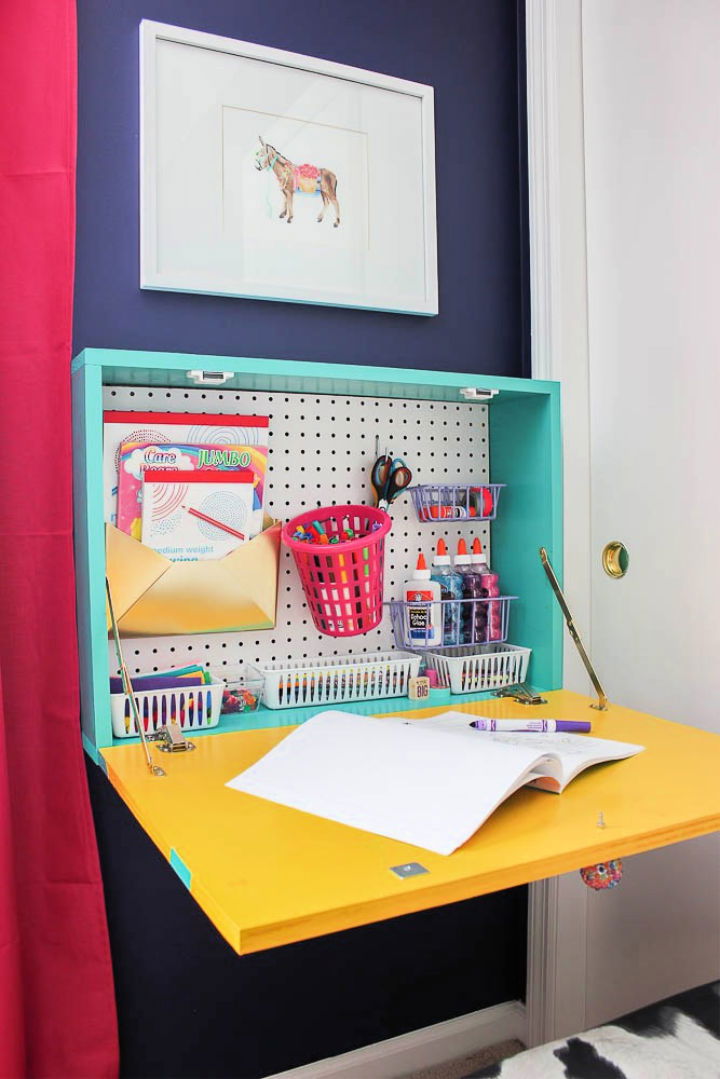 Do your kids need a desk to sit comfortably while doing their schoolwork? If yes, then this wall-mounted desk plan is a great space-saving idea. You can easily mount this desk to the wall with just a few items in hand. Folds it down when your kids have to do their painting or writing. Plus, it has some storage space for their writing supplies. Materials include common boards, sanded plywood project panels, pegboard project panels, furring strips, two magnetic door catches, pegboard hooks, wood screws, a drill, a circular saw, a knob for pulling, and a stud finder. rainonatinroof
15. Easy DIY Storage Headboard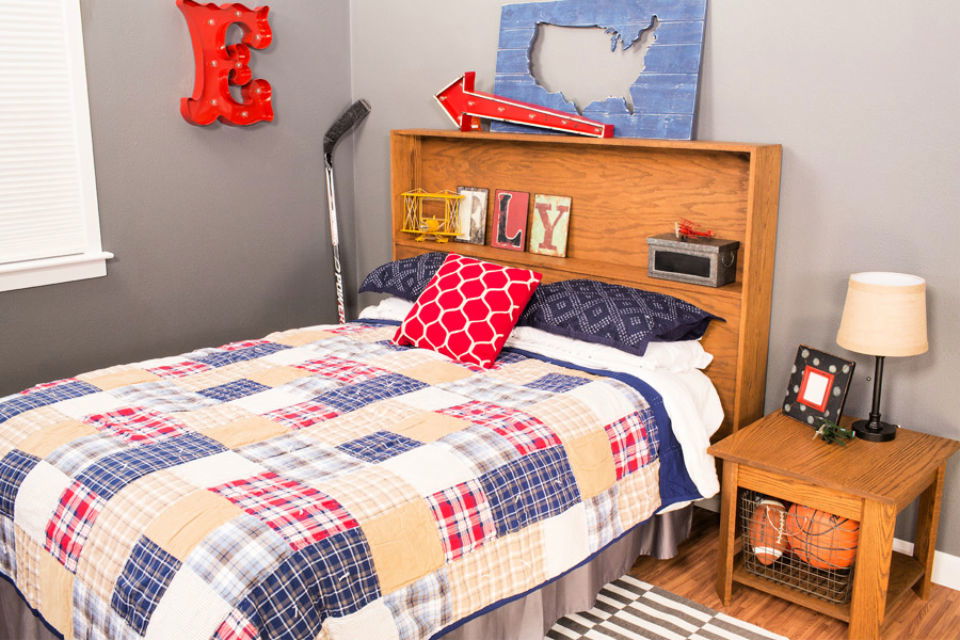 You need to get creative about making enough storage space for a small living room. This DIY would be a great option to make yourself a simple headboard with tons of storage space for your room essentials. This project comes together easily in the afternoon with just a few tools. Make a nice display of your keepsakes and photo frames on this headboard; it would be a great focal point in your living room. Wood boards, plywood, fine-threaded pocket hole screws, Kreg pocket hole jig, a miter saw, a tape measure, a sander, and a circular saw. buildsomething
16. Bedroom Storage Furniture Ideas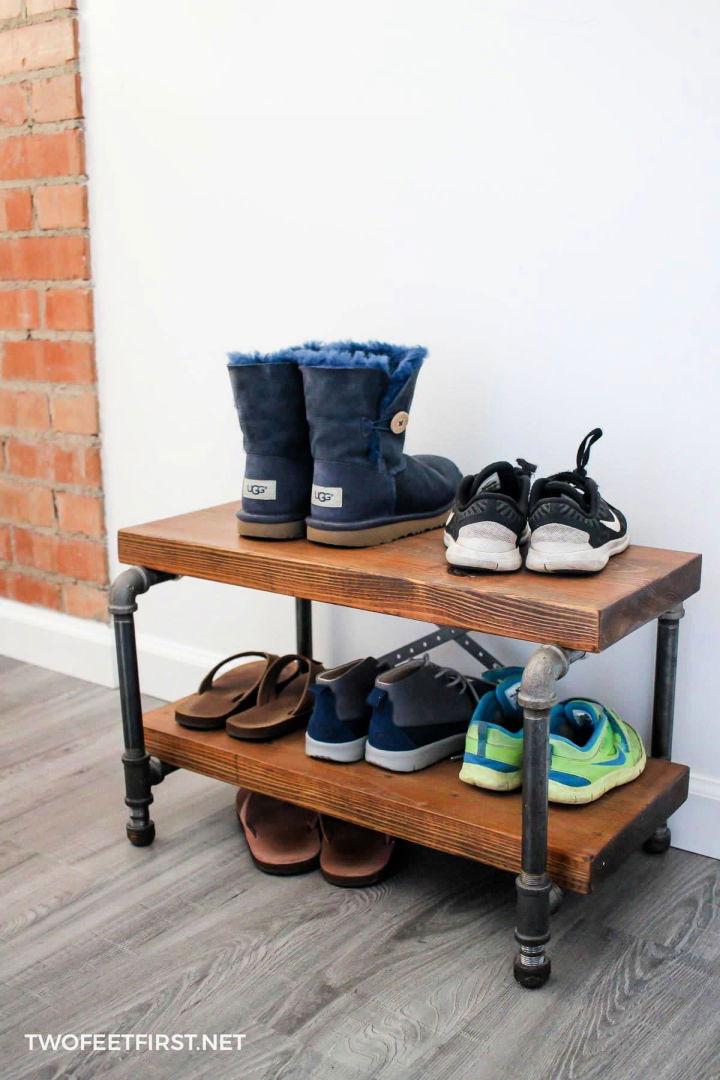 Keep your entryway free from shoe clutter with this industrial shoe rack. Instead of buying a pre-made shoe rack from the store, this one can be customized the way you want and cost you just a few bucks. With two wooden pieces and industrial pipes, this project will take hours to set up a functional rack right in front of your door. Things required are pipe caps, pipe flanges, pipe nipples, pipe tees, conduit straps, wood screws, polycrylic, sandpaper, strap tie, a drill, a pen or pencil, a tape measure, a wrench, and stain of your choice. twofeetfirst
17. Bedside Hanging Pockets Organizer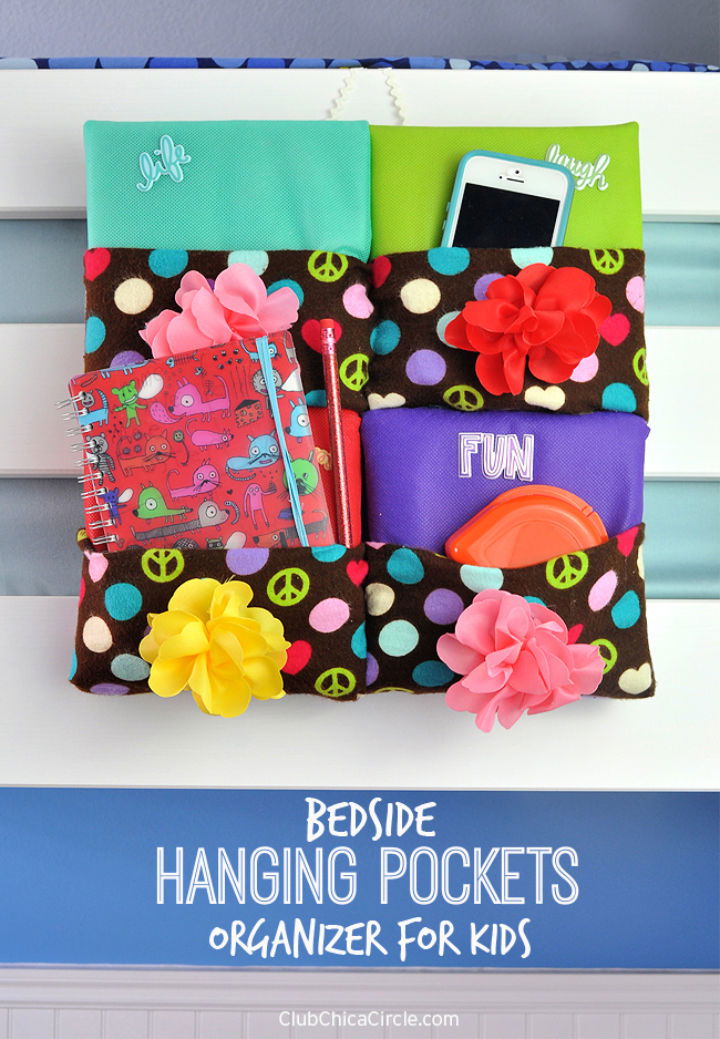 Having stylish side tables makes your room look truly like a bedroom. But few people don't have enough floor space to add their desired side tables. This bedside hanging pockets organizer is perfect for mountingting to the side of the bed and can easily hold all your needed things. Once you make you don't have to climb out of bed for your needed things. The complete list of supplies includes a sheet of fabric, patterned fabric of your choice, foamology design foam, a glue gun, scissors, decorative elements of choice, and ribbon or rick rack. club chicaci
18. DIY Bedroom Storage Shelves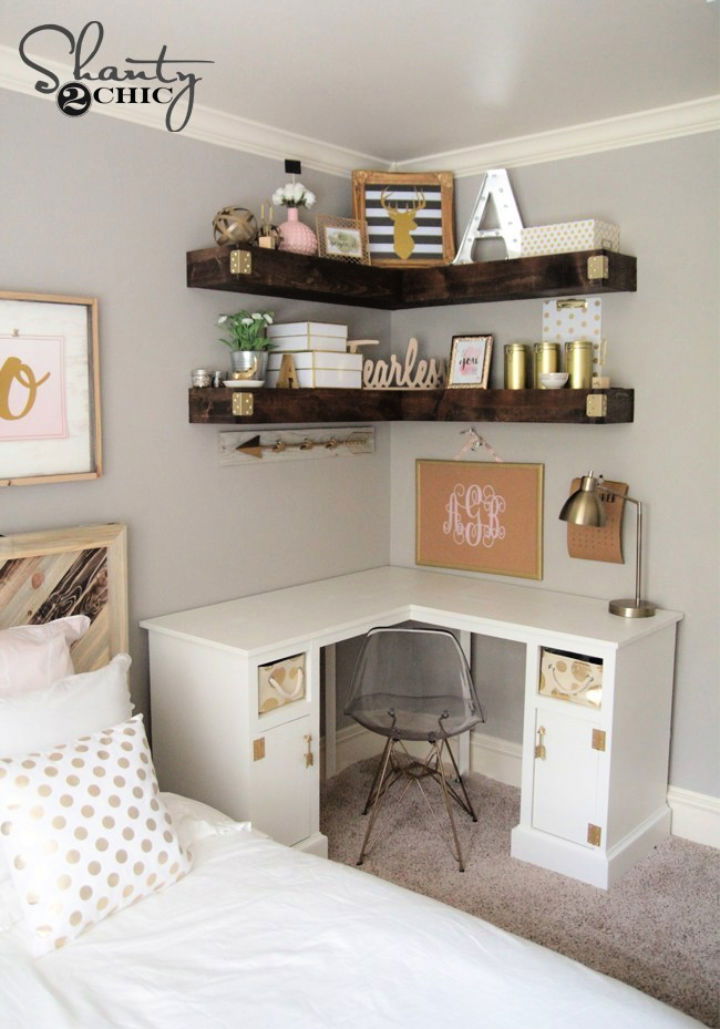 Maximize the storage space in your home by taking advantage of unused corners with these DIY floating corner shelves. Our simple instructions make it easy to build, and won't break the bank. Plus, you'll love the finished look! Create these shelves for every room, and check out our website for a complete list of items and instructions to make your own floating shelves. shanty 2 chic
19. Bucket Storage Ottoman Plan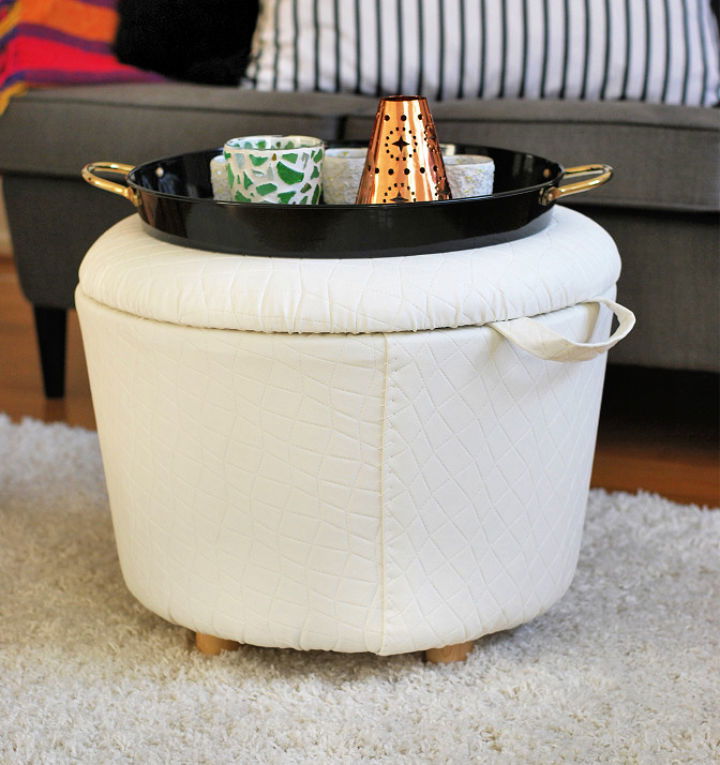 Store-bought ottomans are great and stylish for your home decor. But someone is really big that can't fit into your small space. The solution is to make your bucket storage ottoman. It would be best if you had a few basic things you probably already have in your house to set up this amazing ottoman. Aside from being just a spot to hold up your feet, it has some storage space for your stuff. The addition of handles makes this ottoman easier to move around. Check out the list of supplies and straightforward instructions here! ragstocouture
20. Wood Pallet Under Bed Toy Storage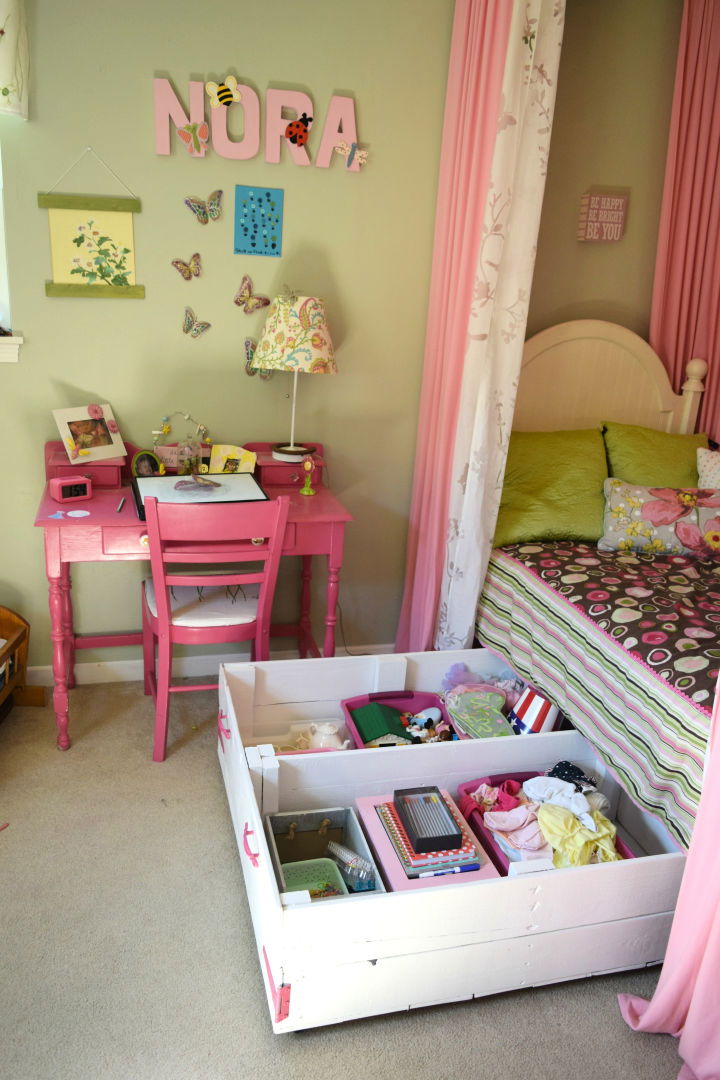 Look at this amazing wood pallet under-bed storage that greatly uses your unused floor space. Not only is this a great inexpensive project to make some extra space, but it also helps you stay organized in your living room. This space is enough to hide your clutter, from your books to your kids' toys. If you are willing to tackle this project with your own two hands, you can see the complete list of supplies and step-by-step instructions here!
21. IKEA Small Bedroom Storage Ideas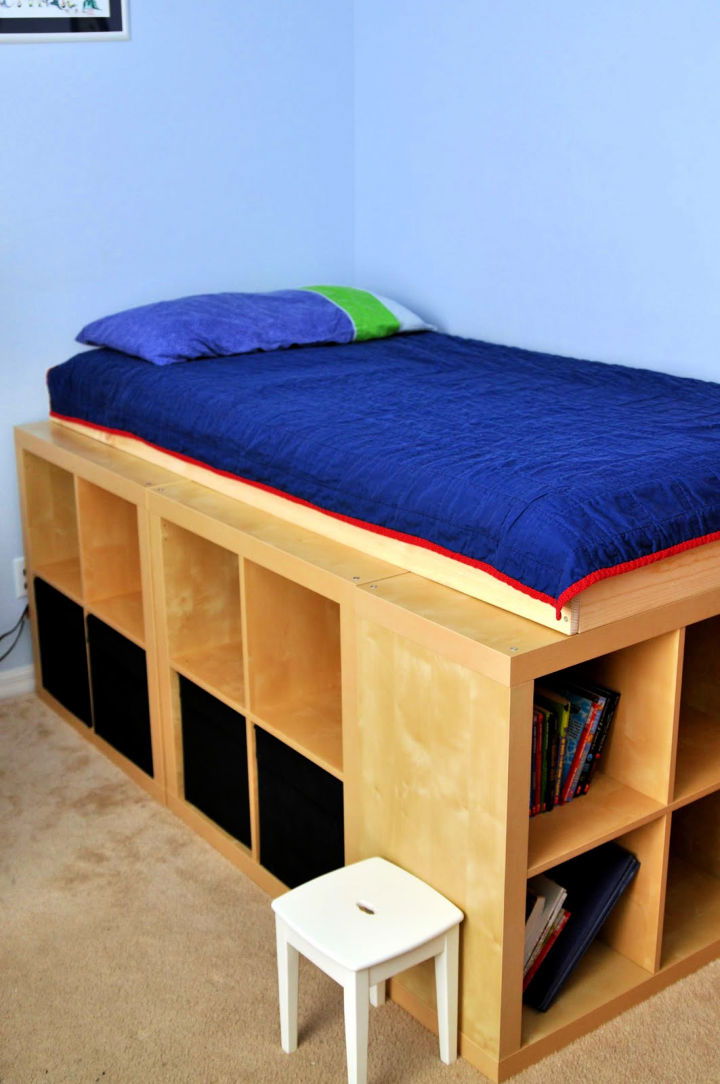 Don't have much space on your walls? This expedit storage bed plan is here to solve your space problems. This storage bed is simple to make and needs just a few things you can find easily. It would have a huge impact on your guests visiting your home. You can store anything that doesn't have a specific place in your living room on the bottom bed shelves. For those who love to create this ton of storage, you can follow the complete tutorial here for complete information! ikeahackers
22. DIY Bedroom Dresser With Drawers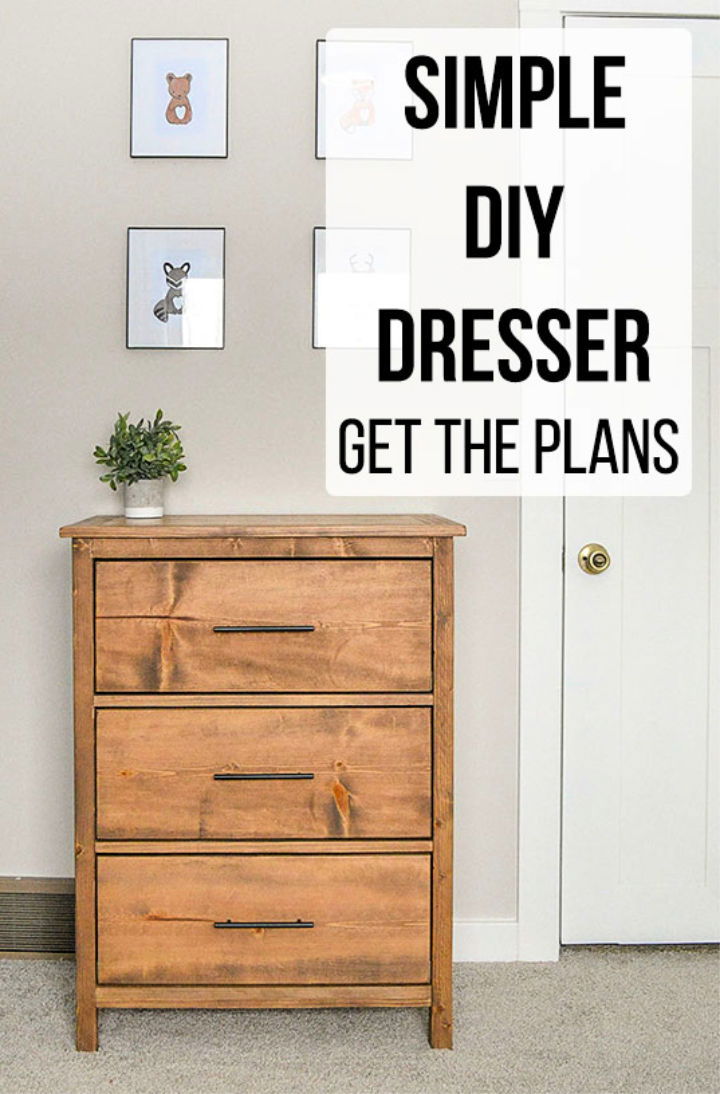 This handmade 3-drawer bedroom dresser is a great addition to any room style. It just needs a little area on the floor and makes plenty of storage for your knick-knack stuff. Due to being made with wood, this bedroom dresser needs just a few things to put this all together. Customize this according to your preferences and enjoy big storage in a small space. The materials needed are lumber, a miter saw, a Kreg jig, a circular saw, a Kreg rip cut, a table saw, wood glue, pocket hole screws, a finish nailer with finish nails, and drawer slides anikasdiylife
23. Low-Cost Storage Unit for Children's Bedroom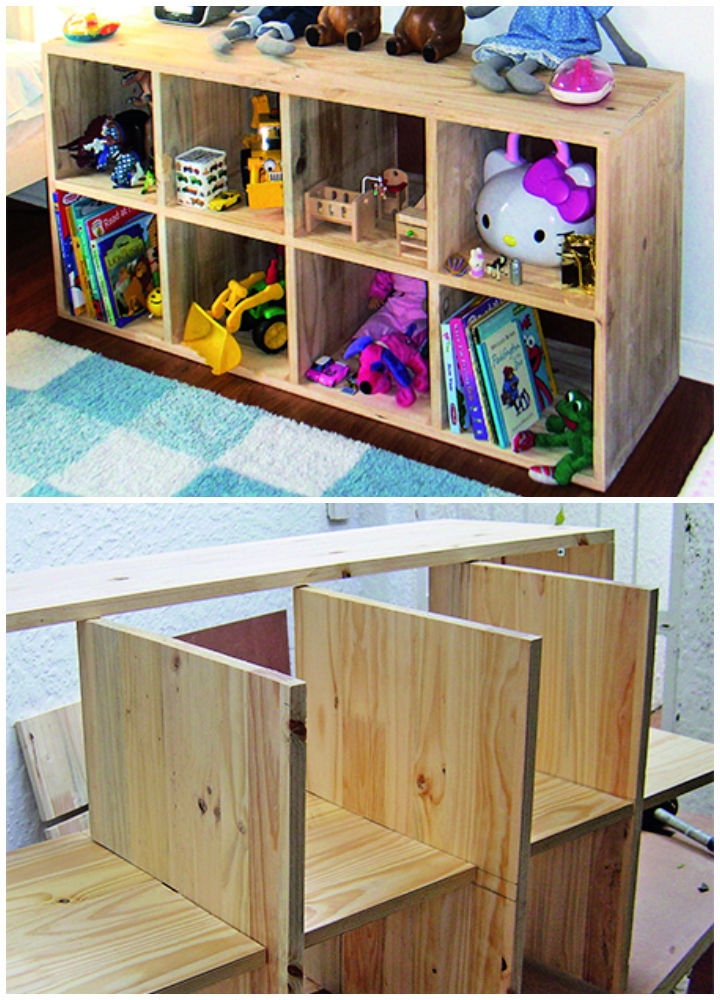 Storage space is essential for any kid's bedroom, and do it your self-storage unit for a bedroom serves you big plenty of storage. You don't need a huge budget and professional woodworking skills to work on this tutorial. Just follow the step-by-step directions that will help you to make your inexpensive storage unit without breaking the budget. You will need to get pine boards, screws, wood glue, acrylic sealer, grit sanding pads, a drill with counter sink bit, a wood chisel, an orbital or random orbit sander, a carpenter's square, and a jig saw. home dzine
24. DIY Bench with Built-in Storage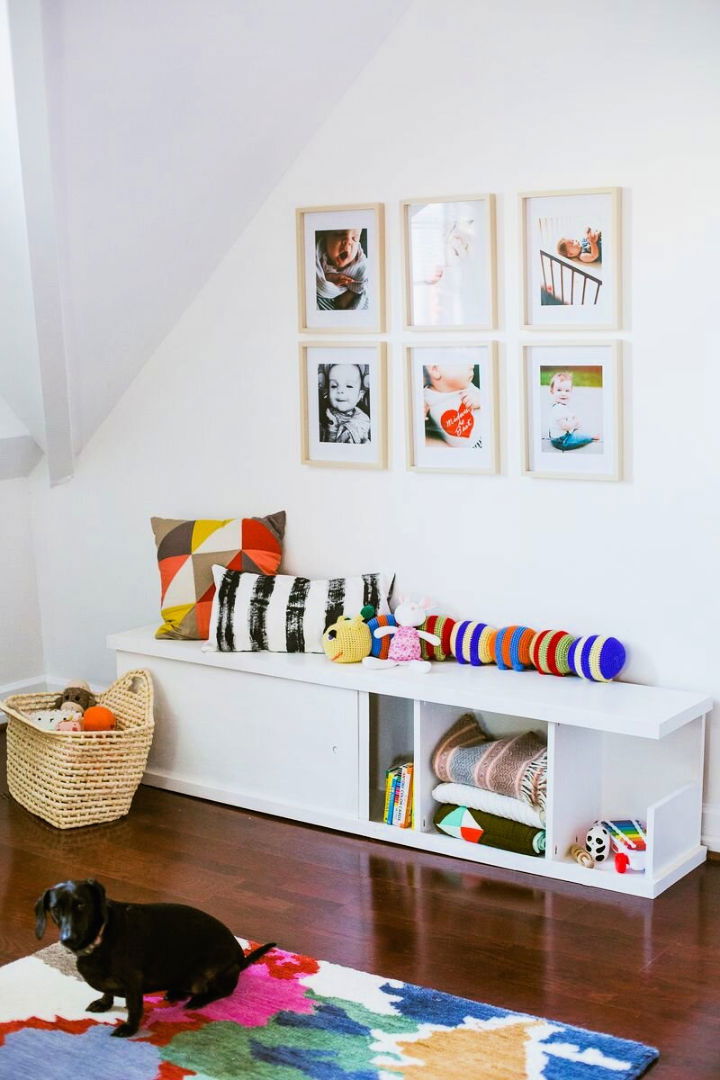 Need a bench in your living room? If yes, then why don't you make a storage bench? Making your bench with built-in storage is a perfect way to get extra seating space with tons of storage for your room stuff. You can build this in little time and with minimal tools. Once you make it, paint the bench to match your room's color scheme. Tools and supplies needed are sheets of hardwood ply, a sheet of DPI board, wood glue, a table saw, a miter saw, a nailer, a drill, a measuring tape, and a pencil. abeautifulmess
25. Bedside Bed Gadget Caddy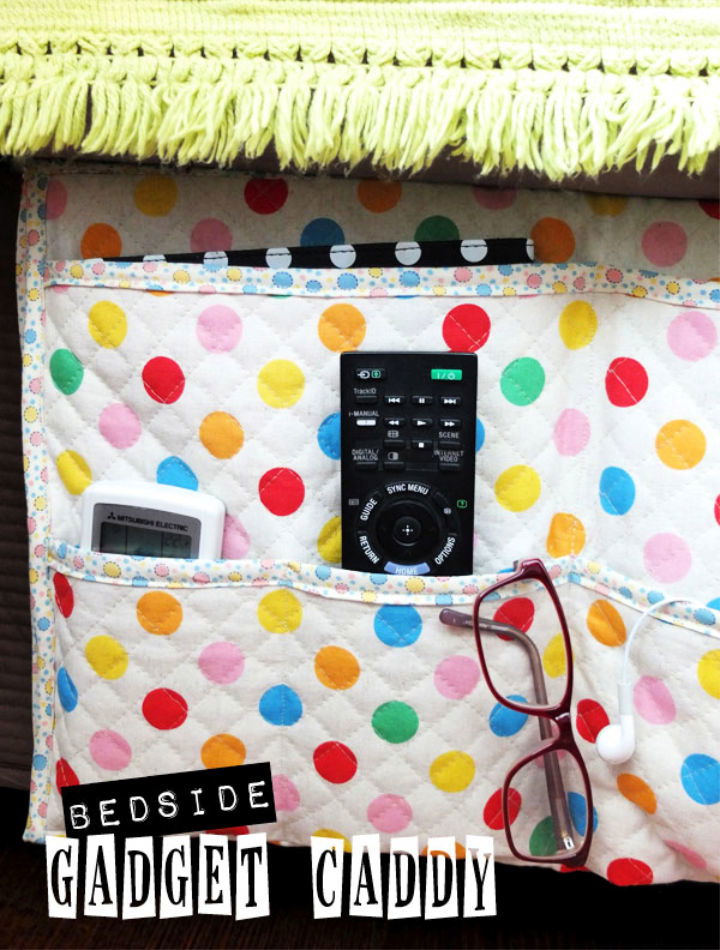 This impressive way of creating a bedside bed gadget caddy will hold everything you like to keep on hand. Not only is this super simple to create yourself, but it also easily keeps your little things in the access of your hand. Due to being made with fabric, this project can be customizable with your desired fabric pattern and is simple to make yourself. You will need double-sided pre-quilted cotton, wide bias tape, and an old blanket or towel. mypoppet
Conclusion: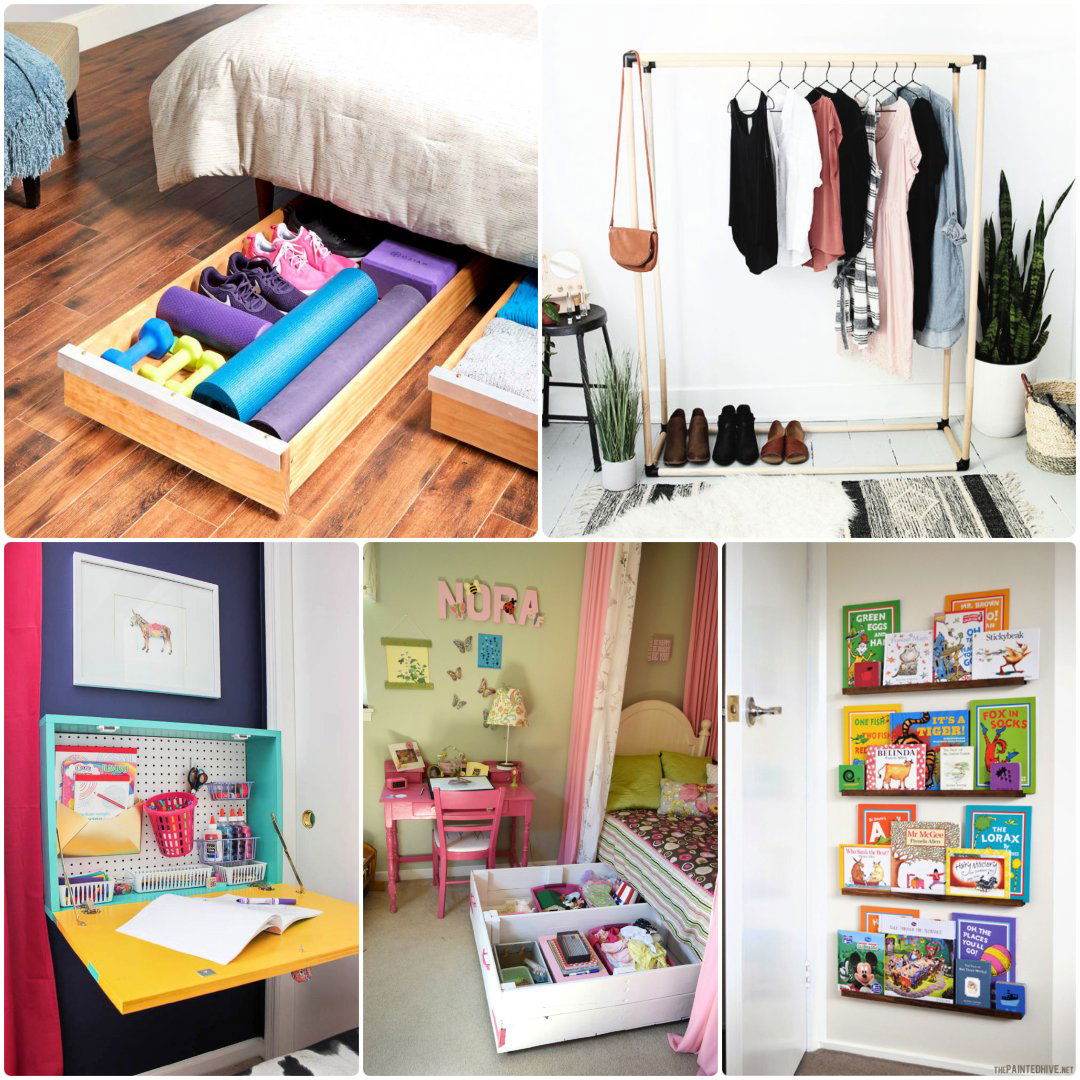 Maintaining an organized and clutter-free space is a dream for many, especially for smaller living spaces. With these 25 clever and budget-friendly DIY bedroom storage ideas, you can take the first step towards a more tidy and organized bedroom. By utilizing items you may already have, you can create practical and creative storage solutions that are easy to implement and can instantly transform your bedroom. So, don't let a lack of space discourage you. Instead, use these storage ideas for small bedrooms to create an organized, efficient, and stylish bedroom.
In wrapping up, DIY bedroom storage and its variations can greatly enhance your space, regardless of size. From under-bed storage drawers to low-cost units for children's bedrooms, these 25 smart bedroom storage ideas offer a range of clever solutions. Create an extra room with a wall-mounted desk, or keep essentials at hand with a bedside gadget caddy. The appeal of these ideas lies in their simplicity, cost-effectiveness, and ability to convert any bedroom into a neatly organized space. Try these DIY bedroom storage ideas and enjoy a clutter-free environment.