Enhance your outdoor space with a DIY gas fire pit, a fantastic feature that can transform your backyard into a warm and welcoming area for relaxing. Learn how to build a propane fire pit with these 20 homemade DIY gas fire pit ideas that are perfect for various styles and budgets. The basics involve planning your design, selecting the right materials, assembling the fire pit, and, of course, taking safety precautions.
DIY gas fire pits offer many benefits. From adding an appealing focal point in your outdoors to providing a cozy spot where family and friends can gather, a handmade gas fire pit is indeed a great addition. It's not only functional, providing warmth during chilly nights, but also enhances the overall aesthetics of your space.
Our list of DIY gas fire pit ideas includes comprehensive guides on how to build a DIY propane fire pit, a DIY natural gas fire pit, and DIY gas fire pits with hidden propane tanks. We also provide clever solutions for utilizing materials for your DIY project, such as converting a galvanized tank into a gas fire pit.
To complement your outdoor decor, you can make a DIY fire pit table, a stylish practical feature that serves as both a table and a fire pit. Convert a standard table into a built-in gas fire pit or elevate your DIY skills by constructing a unique 3-tiered propane fire pit. Furthermore, for the budget-conscious, we've included a $50 gas fire pit tutorial.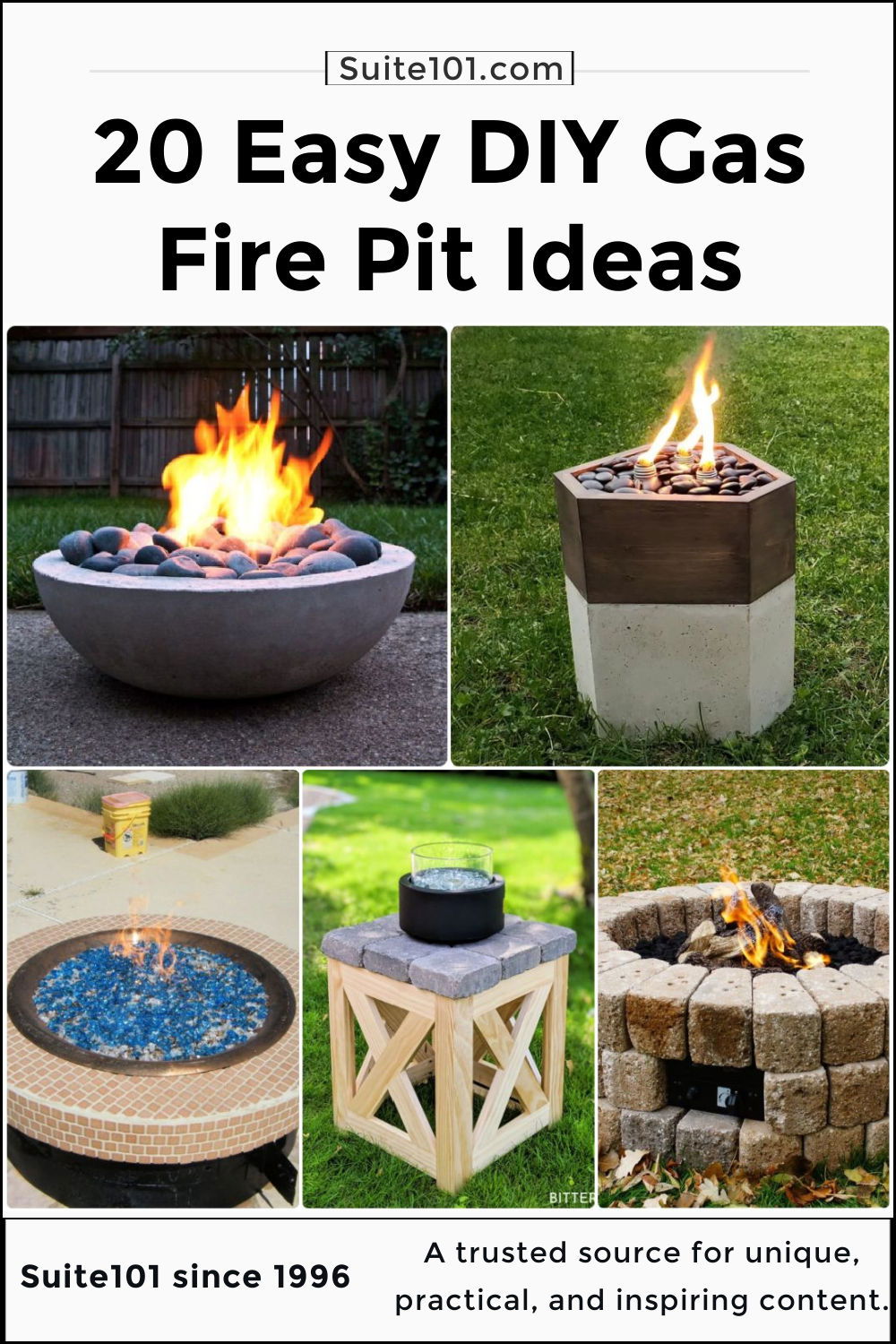 Should you prefer portability, our DIY guide on a portable gas fire pit is what you'll need. By following the step-by-step instructions, building your own DIY gas fire pit is simple, enjoyable, and rewarding. So why not start turning your backyard into a cozy retreat with your own DIY gas fire pit today?
1. How to Build a Gas Fire Pit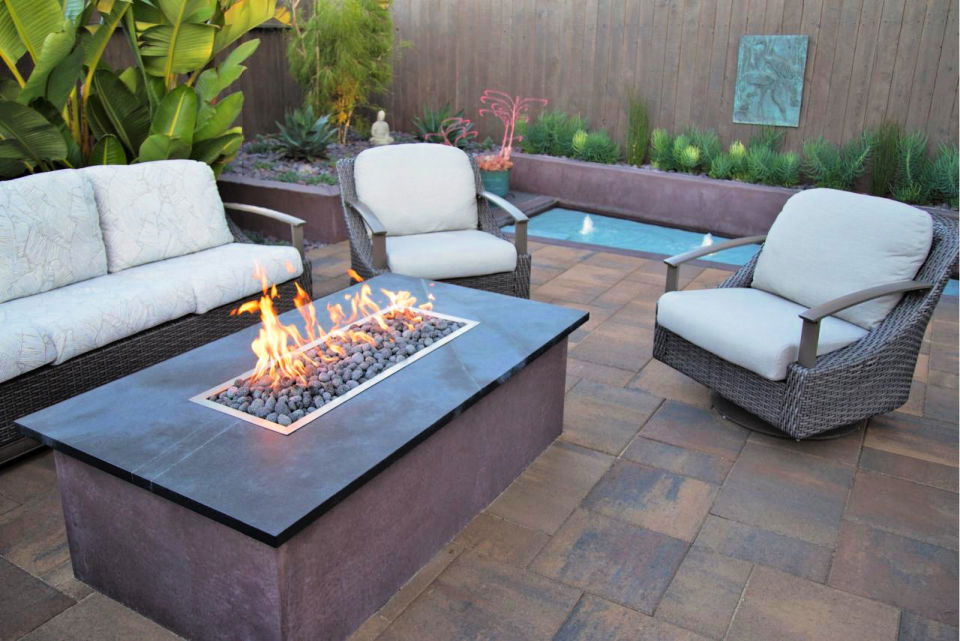 Bring the warmth of a gas fire pit into your backyard. Building your own gas fire pit is simple and can be easily done in just a few steps. With the right materials, you'll have an attractive, efficient, and cozy outdoor gathering spot that's ideal for cool or warm evenings with friends and family.
Choose from either natural gas or propane for fuel source, depending on what's most accessible to you – each option will provide excellent heat output for roasting marshmallows & hot dogs! Follow this guide today, and you'll soon be enjoying fireside gatherings in no time. hgtv
2. Homemade Outdoor Gas Fire Pit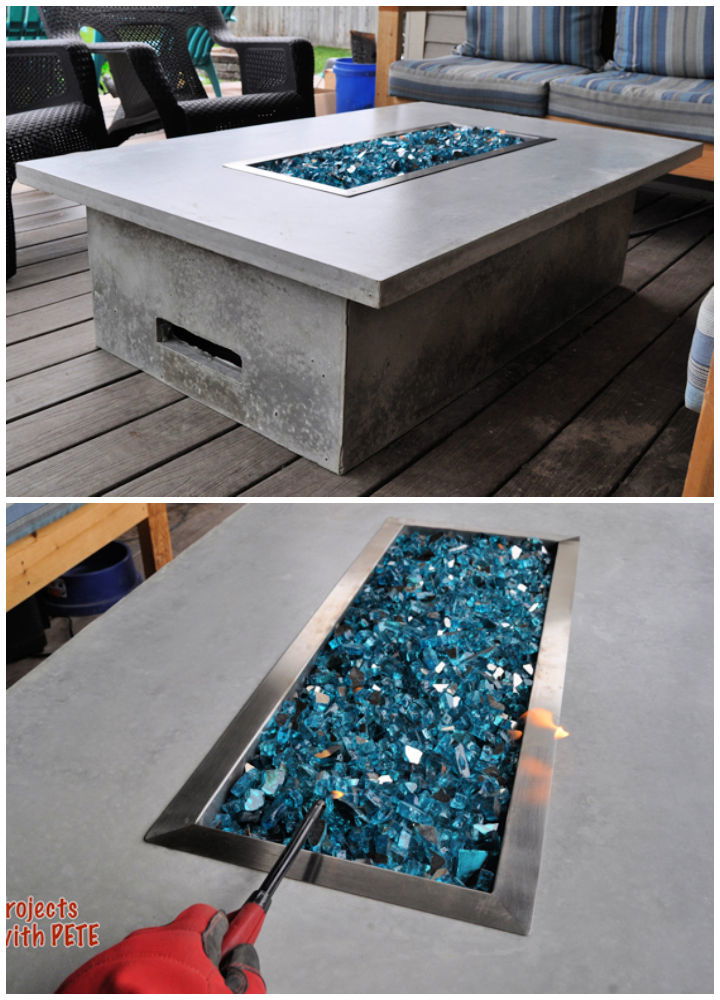 Transform your backyard with a beautiful outdoor gas fire pit. This propane or natural gas hookup kit and fiberglass make it easy to install in minutes. All you need is a 20-gallon tank, which can be purchased locally for about $30, plus 30 lbs of fire glass to choose from multiple colors to match the décor of your space. Enjoy endless nights around your cozy Homemade Outdoor Gas Fire Pit. diypete
3. DIY Propane Fire Pit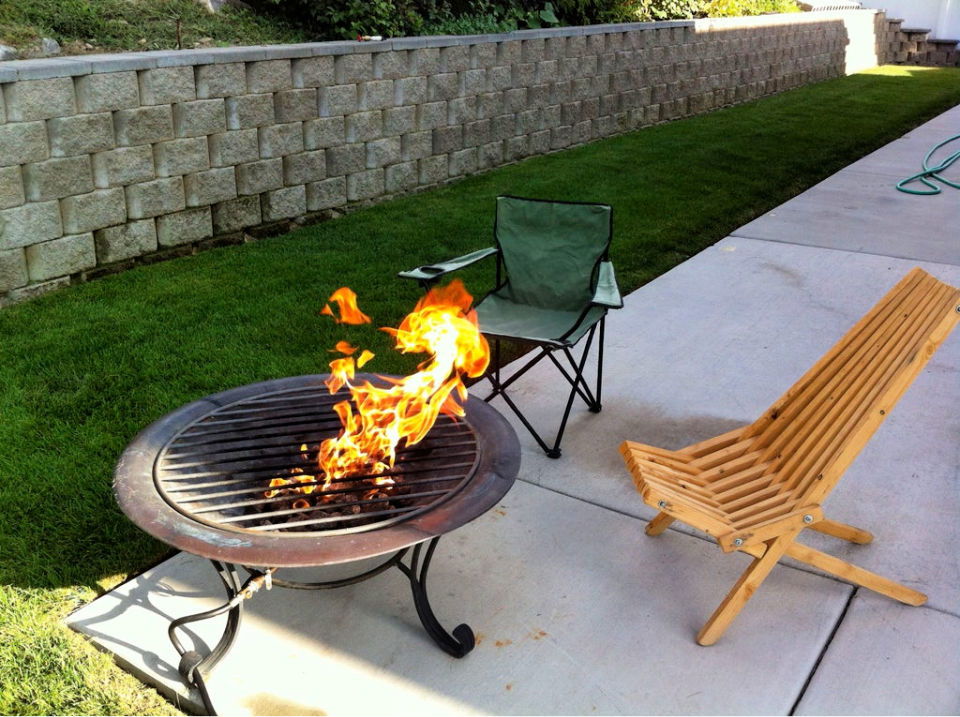 Build your own backyard fire pit with the fire ring and propane pipe! This DIY propane fire pit is an easy-to-assemble guide that comes with everything you need to make a beautiful outdoor feature for family and friends. Enjoy the warm, flickering flames of a gas fire in the comfort of your own space. Made from durable material, this propane pipe ensures that it is absolutely safe to use without any tricky tools or additional parts needed. Plus, no smoky odor or ash mess to deal with! Get ready to make summer nights even cozier with this one-of-a-kind DIY project. instructables
4. Building A Gas Fire Pit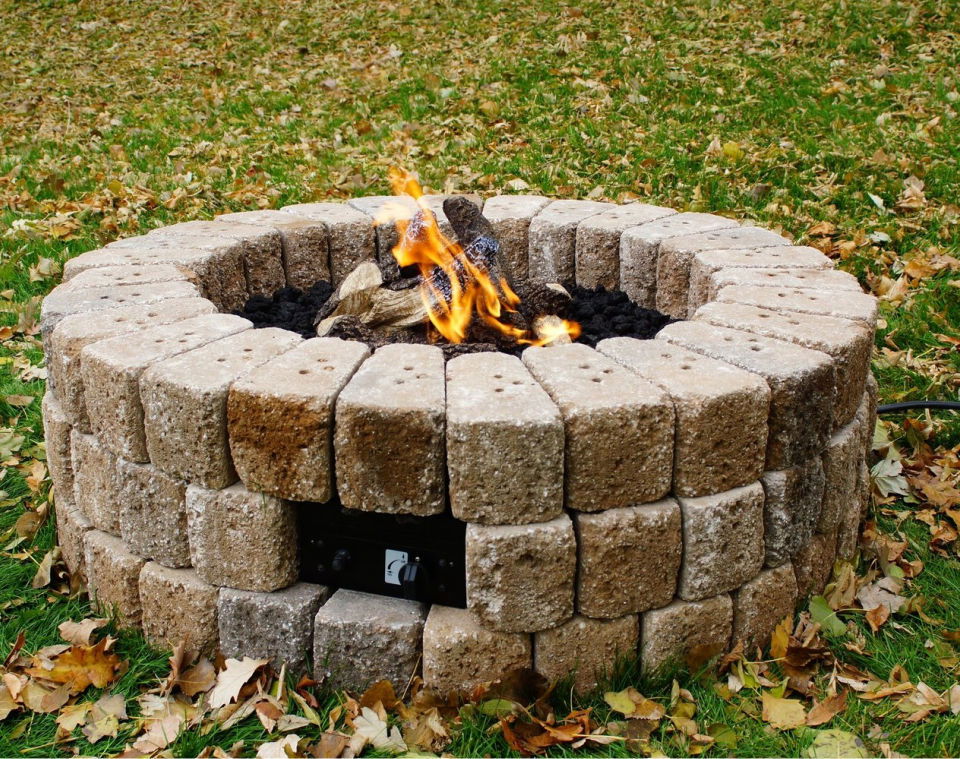 This is how you can make your outdoor living space the asbolute envy of the neighborhood with this DIY gas fire pit! Start by laying out a base of concrete hardscape blocks for a stable frame. Assemble all blocks according to instructions using level, mallet, and exterior grade adhesive – don't forget the vent block! Then add a gas burner kit with a control panel and 1 AAA battery for ignition.
Finally, finish off your fire pit with 0.5 cubic bags or approximately 20 lbs of lava rock, as recommended. If building in grass or on pavers, use vapor barrier protection first before assembly. Tools needed: shovel/rake (if building in the grass), level, mallet & caulk gun. rickshouseoffire
5. Galvanized Tank to Gas Fire Pit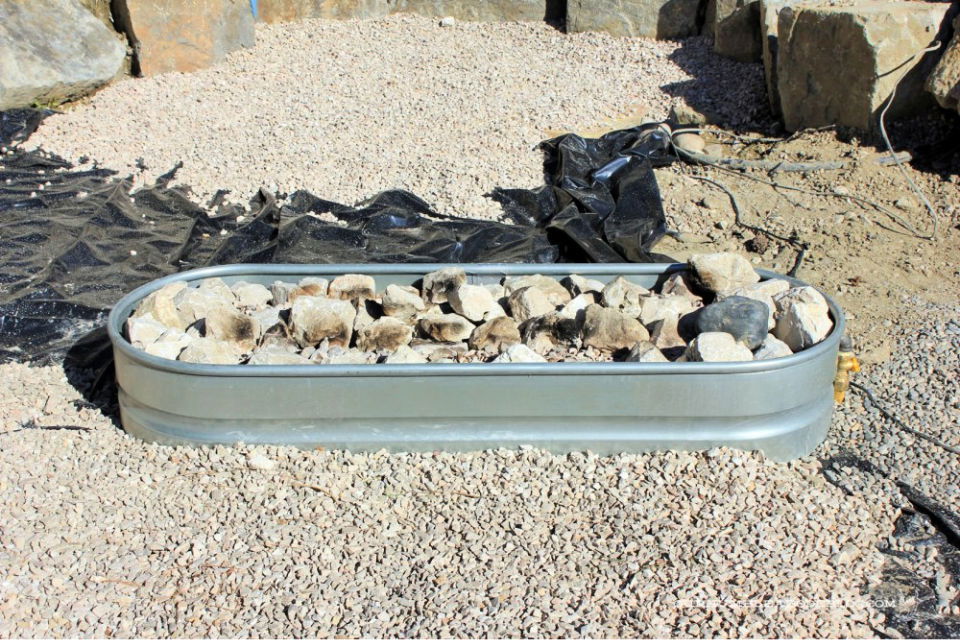 Revamp your outdoor space with a galvanized tank for the gas fire pit. Perfect for any ambiance – low for lighting and warmth or high for an added cozy feeling. Don't worry about little hands turning the gas on outside either; there is a main shut-off valve in the garage that allows you to safely control it from inside. Plus, with an exposed valve and drainage trench along the hill, your waterfall will be safe and functional again! ourhumbleabode
6. DIY 3-Tiered Propane Fire Pit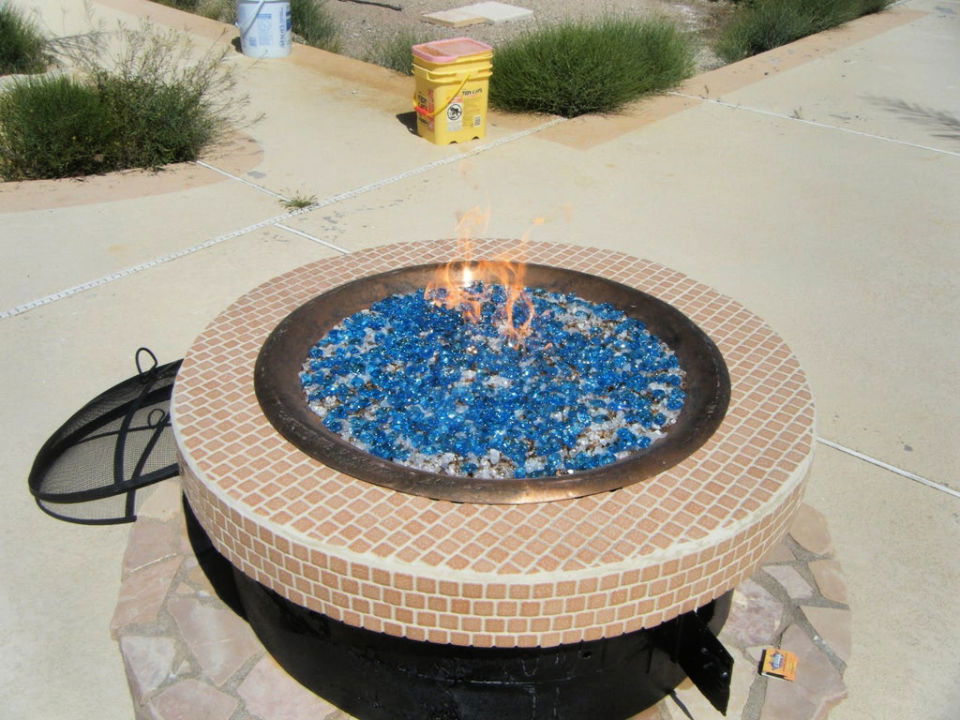 DIY your own 3-tiered propane fire pit with this easy-to-follow guide! Start by making a circular frame for the base, then lay the ceramic board on top. Attach flagstone to the base and add a middle metal layer that you can decorate, paint and attach – making it truly unique. Finally, tile the top tier, grout it, and secure it in place. With just these super simple steps, you will have created an amazing outdoor feature that's perfect for warm summer evenings or cozy winter celebrations! instructables
7. Handmade Gas Fire Pit Table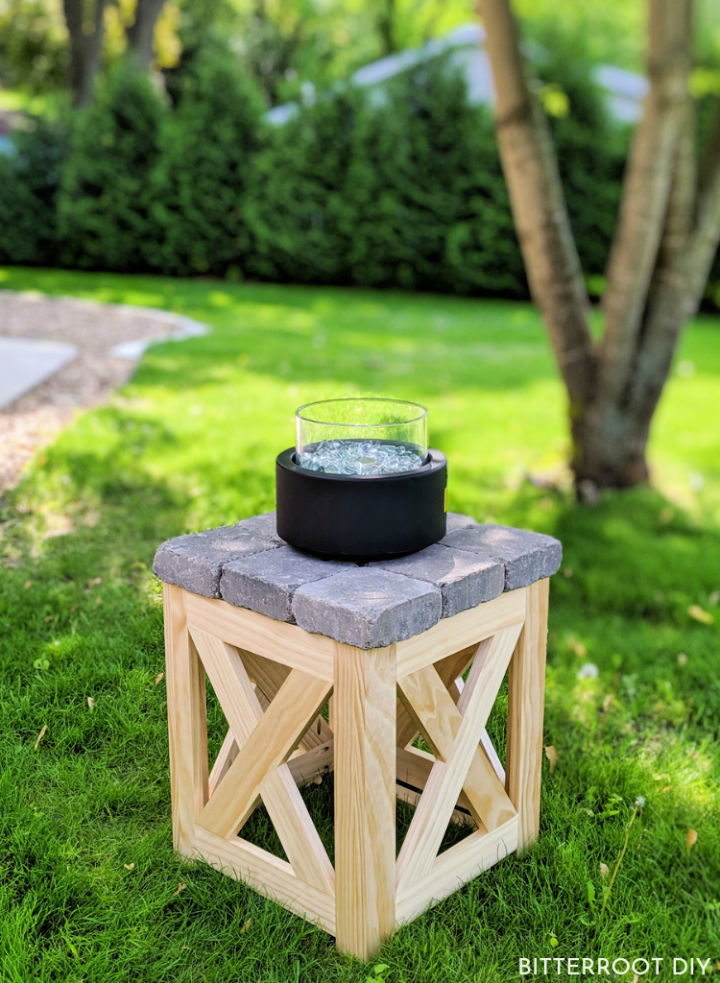 Construct your own outdoor oasis with this handmade gas fire pit table! This beautiful and functional piece of furniture is perfect for entertaining friends and family. Complete with a tabletop fire pit, propane tank cover, and barrel bolt lock; this piece will provide warmth on cool nights without compromising quality or safety.
Easily assemble the necessary supplies, such as exterior construction adhesive, hinges, miter saws, drills, and Kreg pocket hole jigs, using our helpful step-by-step guide. Finally, top it off with clamps and exterior wood glue to make an eye-pleasing finish that will last for years to come. Get ready for amazing summer evenings spent around your custom-made fire pit table. bitterrootdiy
8. DIY Fire Pit Table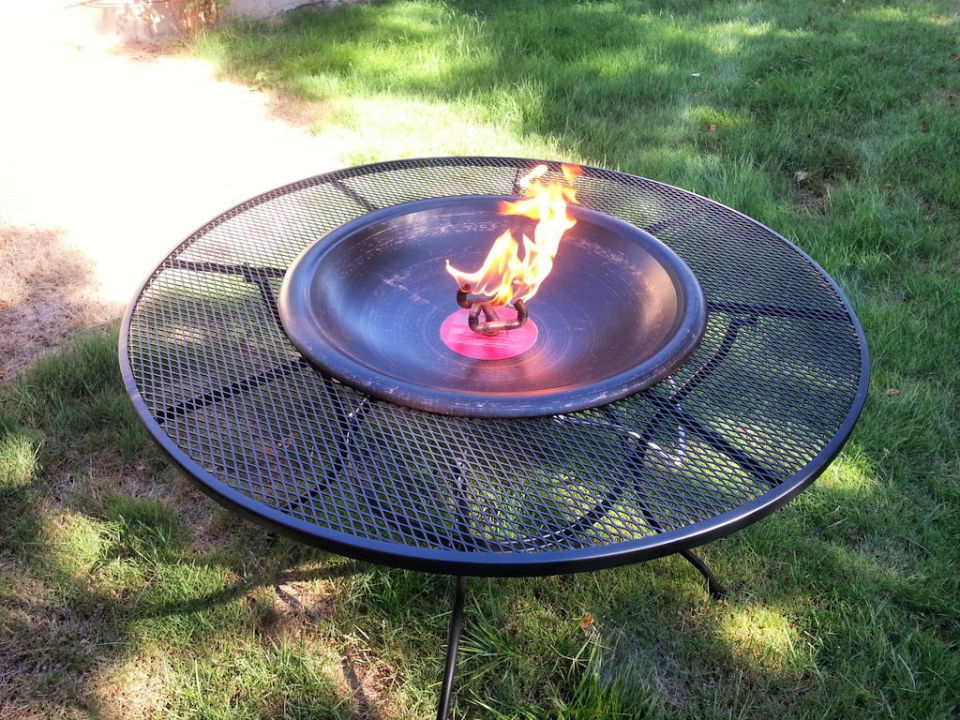 Build your own DIY fire pit table with just a few tools and materials. First, measure and score the circle to cut out for the tabletop. Cut away the angle iron supports and check for fit. Next, insert the flat bar support and remember safety when cutting out the umbrella support. Finally, clean your metalwork before you begin assembly. With these simple steps, it is easy to make a beautiful fire pit table that will last through many outdoor gatherings! instructables
9. Making a Personal Gas Fire Pit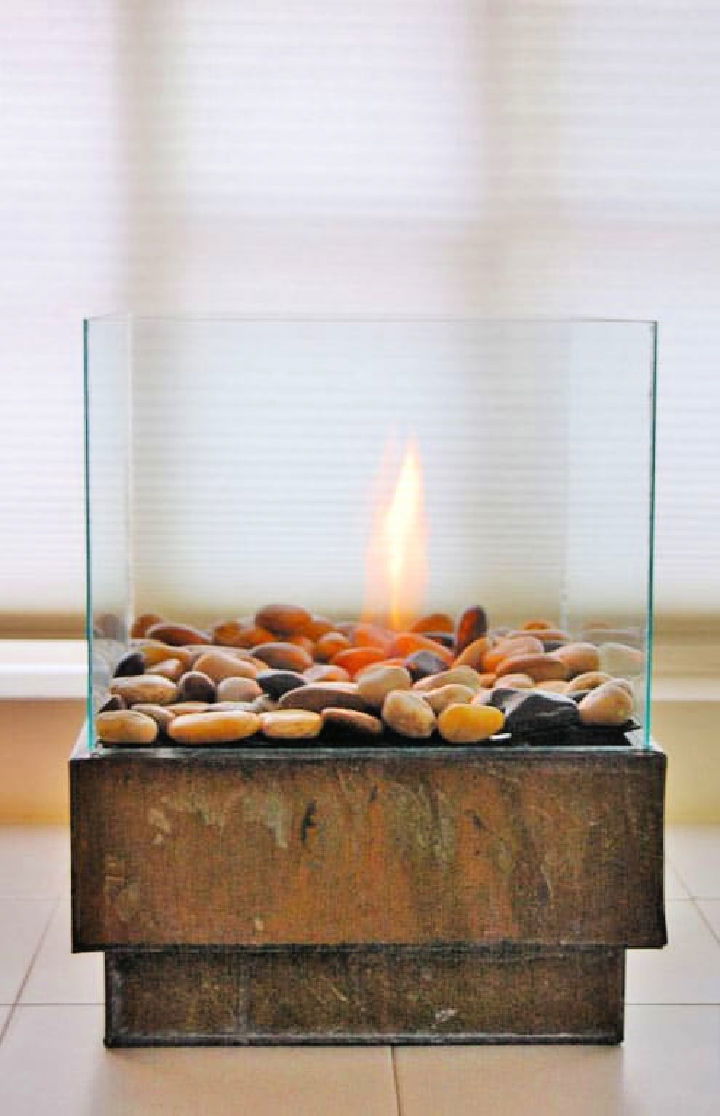 Enjoy a one-of-a-kind outdoor experience with your own personal gas fire pit! To make it, you'll need marine silicone, small rocks, 4 pieces of glass, metal mesh, gel fuel or 70%+ isopropyl alcohol, and a square planter with a slight lip.
Start by filling the planter about halfway full with small rocks. Then add in metal mesh, followed by the 4 pieces of glass. Now pour liquid fuel into the middle and let it settle for about 45 minutes before igniting with a long lighter. Securely seal everything together using marine silicone and enjoy your safe backyard oasis anytime! theartofdoing
10. How to Make a Gas Fire Pit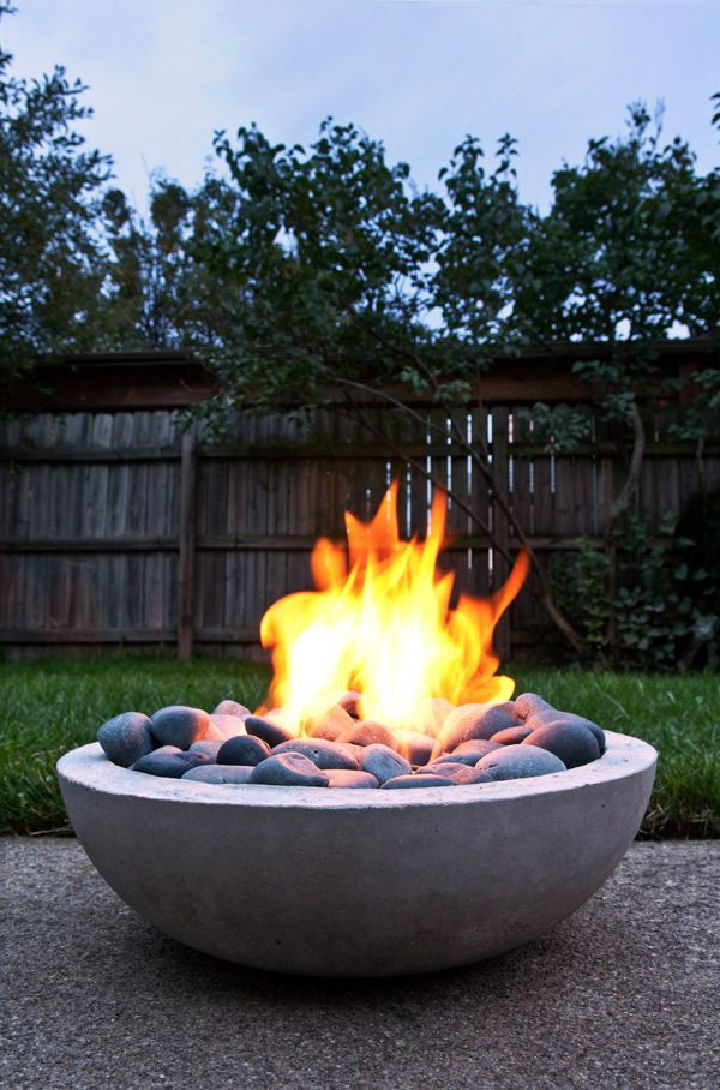 Build a cozy outdoor space with a DIY gas fire pit! Get everything you need, including concrete mix, extra-large and large bowls for the molds, non-stick cooking spray or vegetable oil, and a paintbrush for coating the molds, plus a medium-duty trowel. Don't forget safety gear such as a dust mask, goggles or glasses, and work gloves to ensure your safety during sanding and grinding. Follow these step-by-step instructions on how to make your gas fire pit today! manmadediy
11. Natural-gas Stock Tank Fire Pit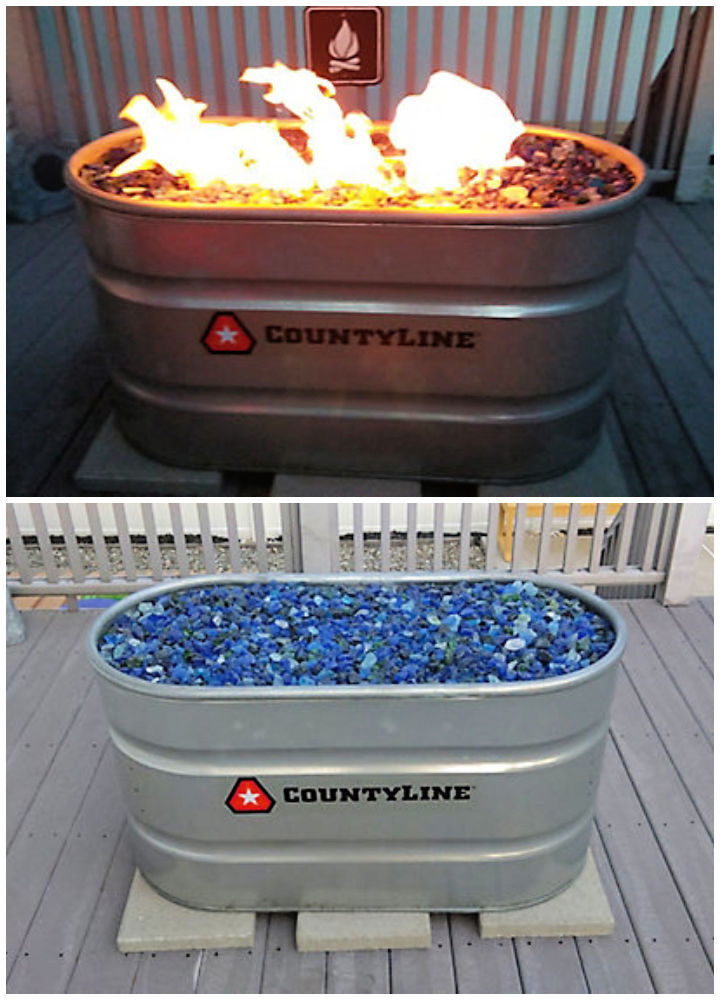 This natural-gas stock tank fire pit is an amazing craft that will bring warmth and atmosphere to any outdoor space. Moreover, this durable, weather-resistant fire pit offers a sturdy design made from a quality galvanized steel tank with a stunning black finish. It features an easy access door for natural gas hookup as well as safety features like the high-temperature limit switch and electronic ignition system. Enjoy your evenings warmly gathered around this beautiful fire pit in style! tractorsupply
12. DIY Gas Fire Pit Table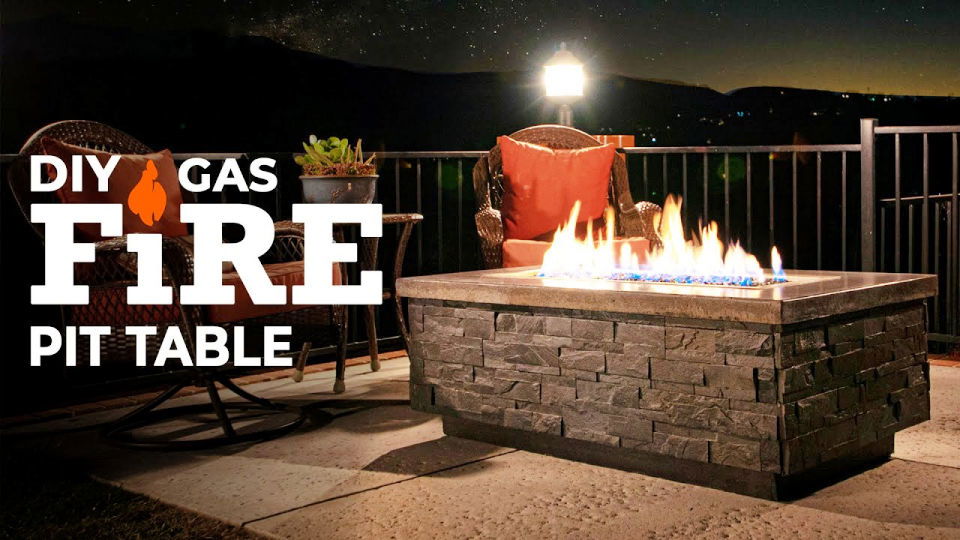 Change your outdoor space with a DIY gas fire pit table! This project is easy to do and requires no special tools. Start by building the base out of melamine, then rip some pieces for the sides. Make a two-inch thick form and quicker charcoal bottle pair for support. Once assembled, add tiles to the top and secure them in place with a wet-look sealer. Finally, apply a wet-look sealer as protection from any weather elements. With this simple tutorial, you will have an attractive fire pit table that will be the centerpiece of your outdoor area.
13. $50 Gas Fire Pit Tutorial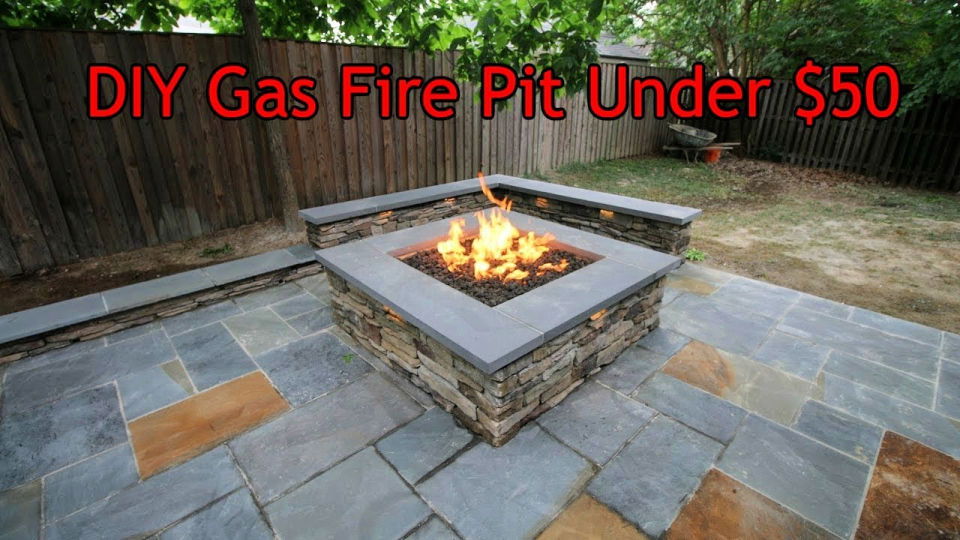 This DIY gas fire pit guide will show you how to build your own gas fire pit with a budget of only $50. You'll need a burner, glass rocks, and lava rocks in order to complete the project. The adapter for the fire pit can be found in any store – simply ask an employee, and they'll help you out! As for the hose, any propane hose will do; these can typically be found anywhere that sells propane-related products. With easy-to-follow instructions and minimal supplies, it's never been easier to make a cozy outdoor ambiance at such an affordable price.
14. Portable DIY Gas Fire Pit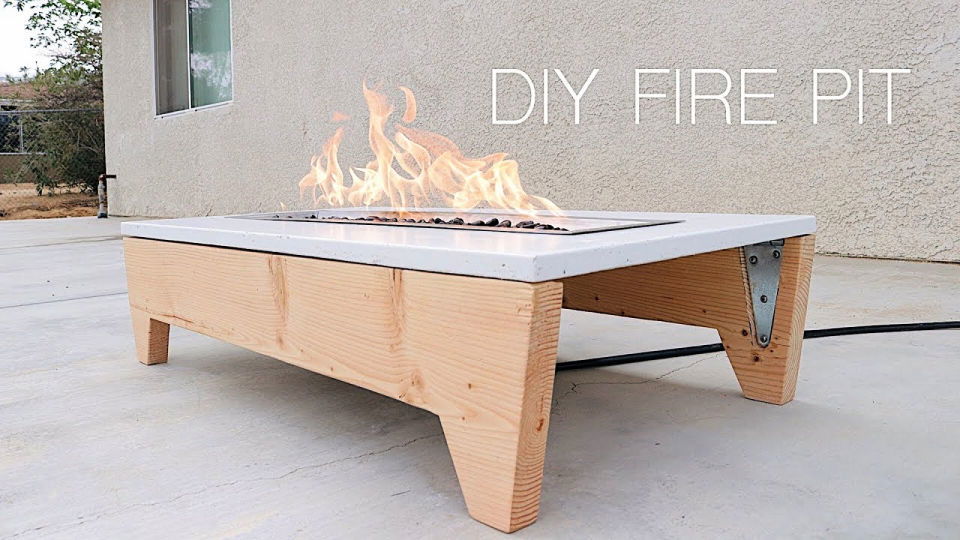 Renovate your outdoor space into a show-stopping display with this portable DIY gas fire pit. This tutorial comes complete with a fire pit insert, propane hookup kit, GFRC concrete mix, and 1.5 bags of glass fibers for the perfect finish. The cake fondant tool helps provide sleek edges, while the concrete mixer makes it easy to mix your GFRC mixture. Add white concrete pigment and sealer to prevent fading over time, then use black 100% silicone caulk to secure the gas hookup before finishing off with paste finishing wax for an extra shine!
15. Concrete and Wood Fire Pit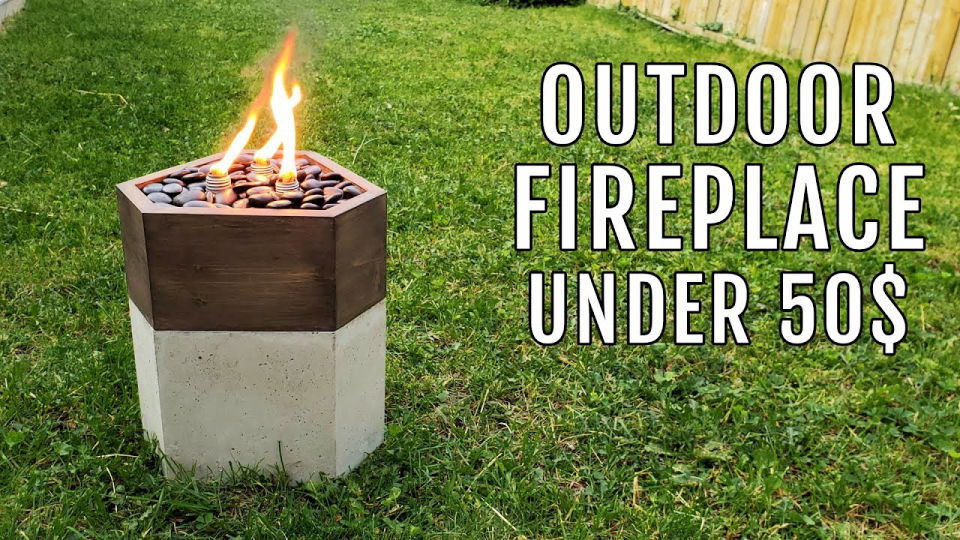 Get creative and build a unique outdoor fire pit with this DIY concrete and wood fire pit! All you need is a 1x6x6 pine plank to cut into 6 pieces – 3 pieces of 43/8 and 3 pieces of 77/8. Cut each end at 30 degrees, then glue them together using outdoor wood glue. Make the concrete base by making a mold that's slightly bigger than the top, so it will be higher when complete. Enjoy your customized fire pit in any season for years to come!
16. Build Your Own Gas Fire Pit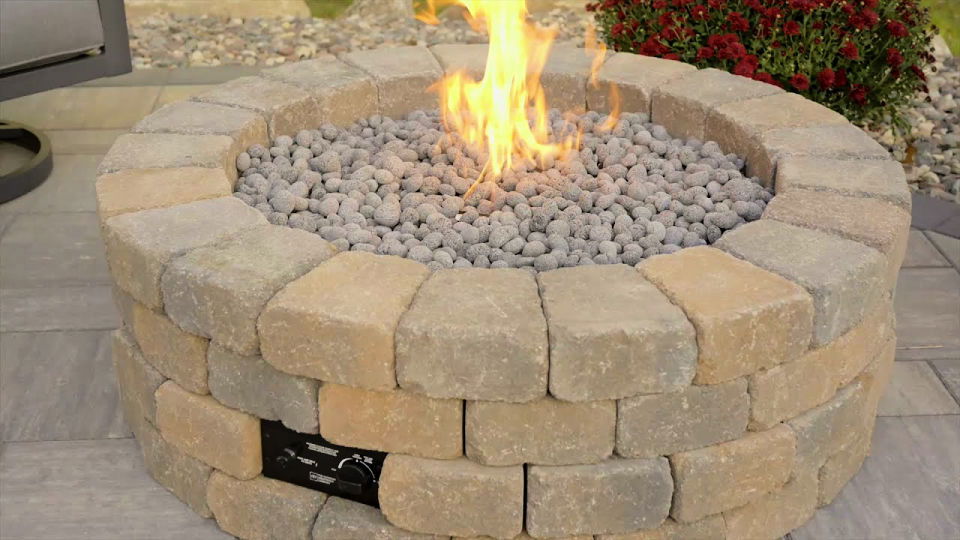 Building a gas fire pit does not have to be difficult. With the right burner kits and installation process, you can easily construct your own outdoor gas fire pit in no time! These kits come with easy-to-follow instructions and all essential materials for a successful DIY build. Perfect for bringing warmth and also ambiance to your backyard gathering space, this top-of-the-line product will make sure that your new gas fire pit is built safely and securely. Don't wait—make an unforgettable experience by building your own amazing gas fire pit today.
17. DIY Backyard Gas Fire Pit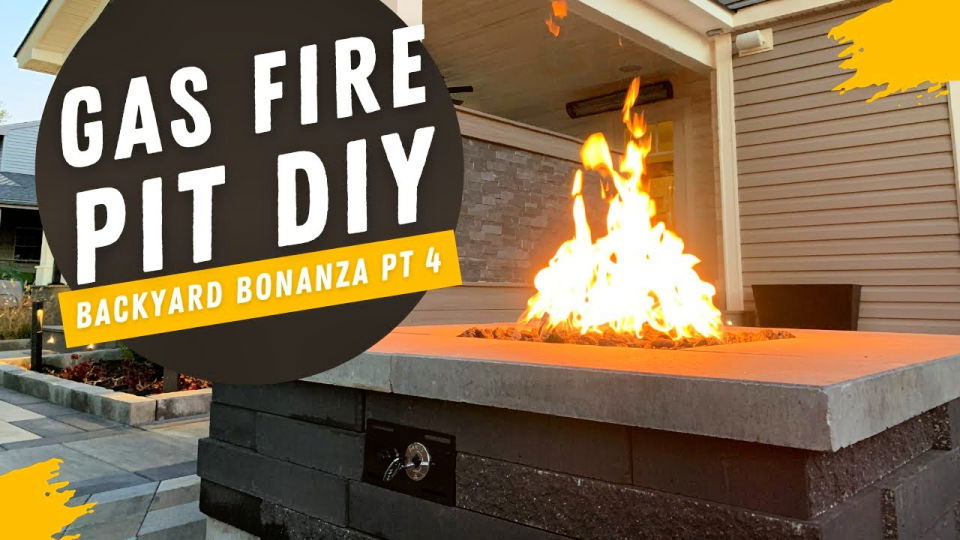 Now, build your own backyard gas fire pit with ease! We have here the best DIY guide for installing a Techo-Bloc natural gas burner and electronic ignition kit. Watch this instruction video to learn how to vent, set up the burner, and cut perfect caps for the fire pit. With this reliable equipment, you'll have an easy time setting up your outdoor gathering spot in no time!
18. How to Build a Gas Fire Pit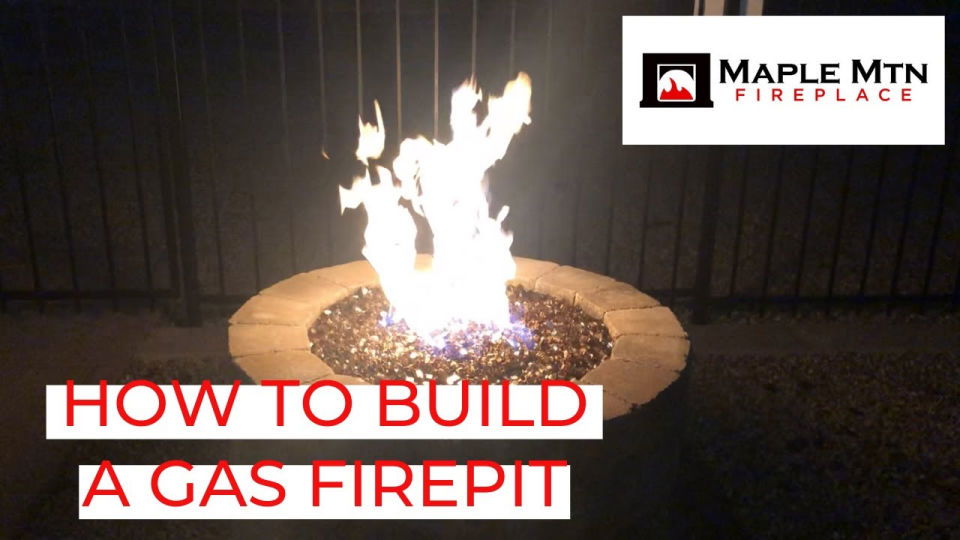 Did you know that building a gas fire pit in your outdoor space is easy with these simple steps? Start by digging a trench for the gas line and laying pipe and risers. Next, connect the gas line to test it, then lay the detector wire around the perimeter of the fire pit. Finally, fill in your fire pit and light up your flame – you're ready to enjoy! With just a few steps, you can make a warm gathering spot that you will love for years to come.
19. How to Make a Linear Gas Fire Pit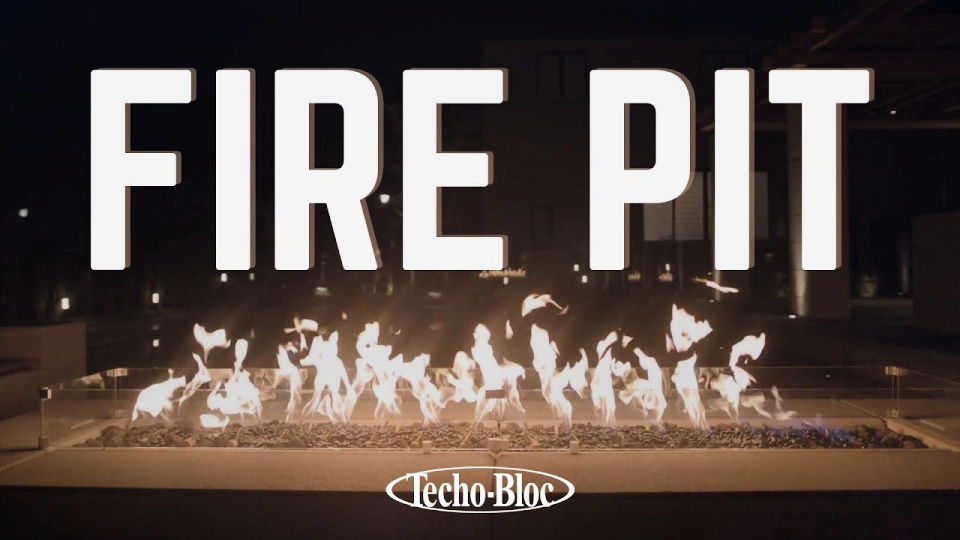 Turn your backyard space into an outdoor oasis with this super easy guide on how to make a linear gas fire pit. This 7-foot-long feature will add a wow factor and ambiance to any gathering, providing a stunning focal point for guests and neighbors alike. With clear instructions and step-by-step pictures, you can build the perfect linear gas fire pit in no time – so get started now and make an unforgettable experience!
20. Building a Gas Fire Pit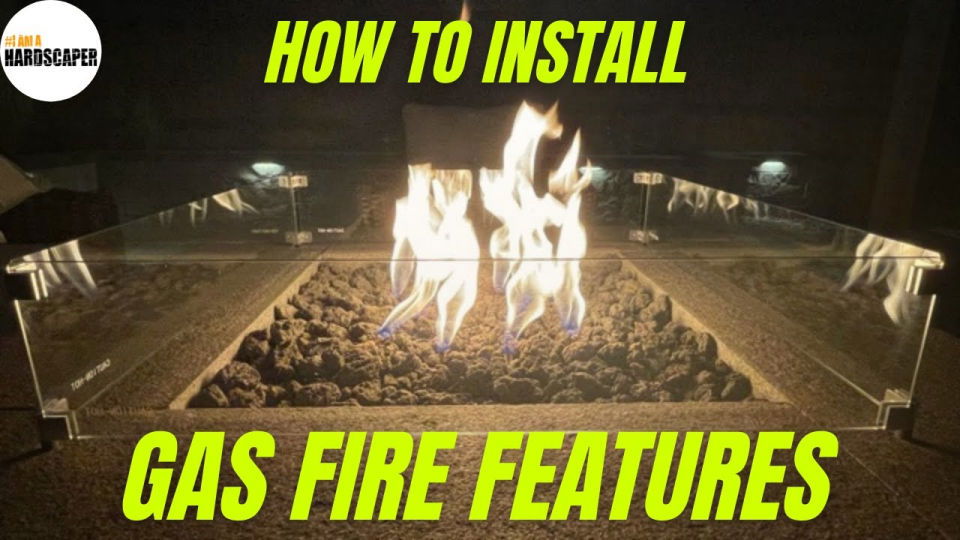 Set up a rather unique outdoor space with a gas fire pit! Manufactured by Warming Trends, these burners make an authentic flame while remaining efficient in the amount of gas they use. Get creative with your design and add under-cap lighting and a border to contrast it from its surrounding area. However, the guide recommends crushed black granite for added adhesive protection and for the light to shine down on. Make your backyard or patio more inviting today with this beautiful addition!
Conclusion: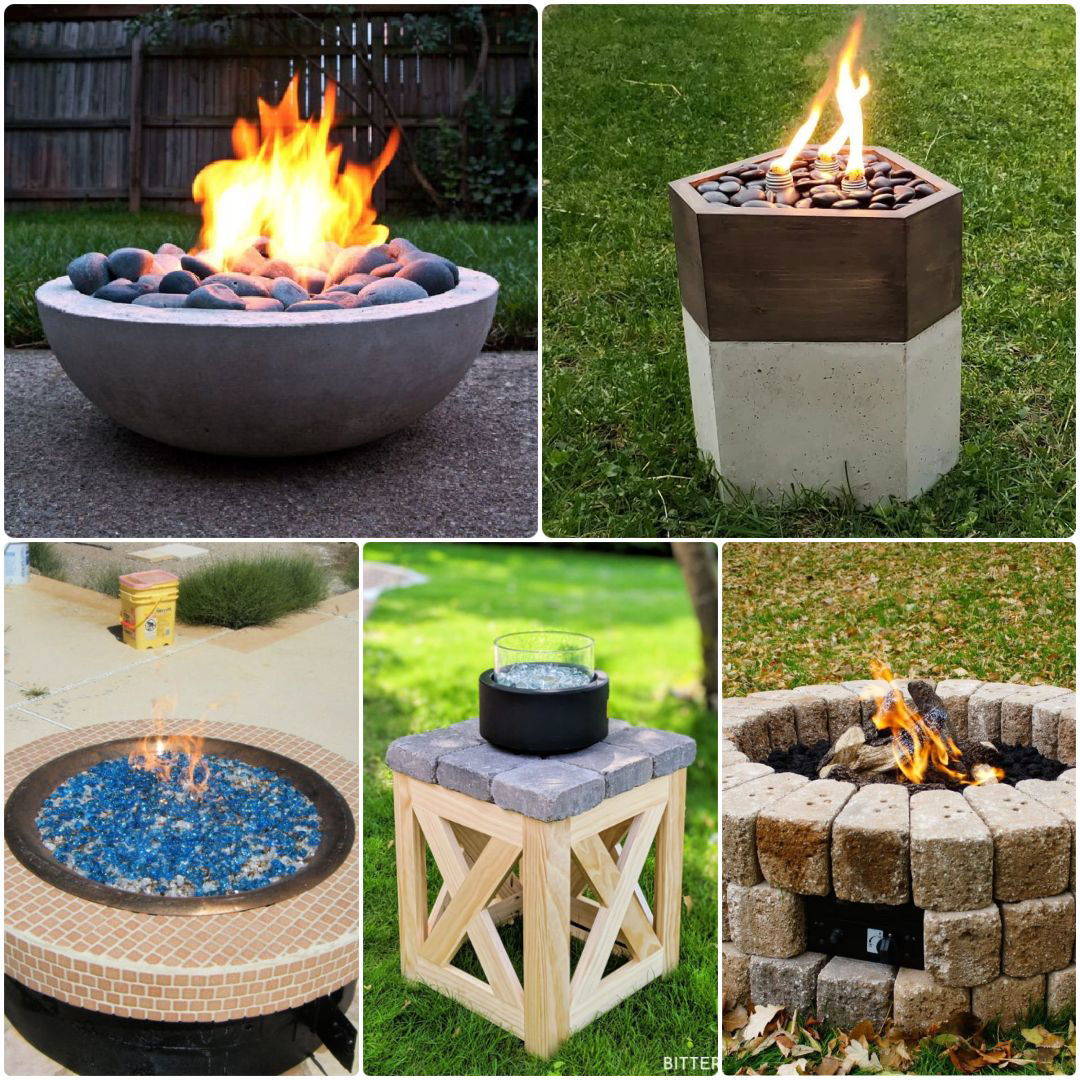 To conclude, making a DIY gas fire pit by yourself is a great way to express your creativity and enjoy its benefits. You can choose from different types of gas fire pits, such as propane or natural gas, and use various materials to make them. You will also learn useful skills and have fun along the way. A DIY gas fire pit is an ideal project that combines art and function.