If you love making your own jewelry, you might also enjoy displaying them in a creative and personalized way. Here are 25 homemade DIY jewelry display ideas that will inspire you to showcase your beautiful creations with style and flair. You can use various materials, such as wood, dishes, pots, boxes, and even chicken wire, to craft your own unique jewelry display.
Some of the DIY jewelry display ideas are perfect for earrings, such as the shabby chic dangly earring display that has a rustic and charming look. Another one is the rotating jewelry storage made from a cereal box that can hold different types of earrings and other accessories. You can also make a simple but elegant earring display using a picture frame and some lace.
Discover 25 creative DIY jewelry display ideas for showcasing your beautiful jewelry collection. Find unique necklace, bracelet, and ring display ideas to make your own stunning jewelry displays.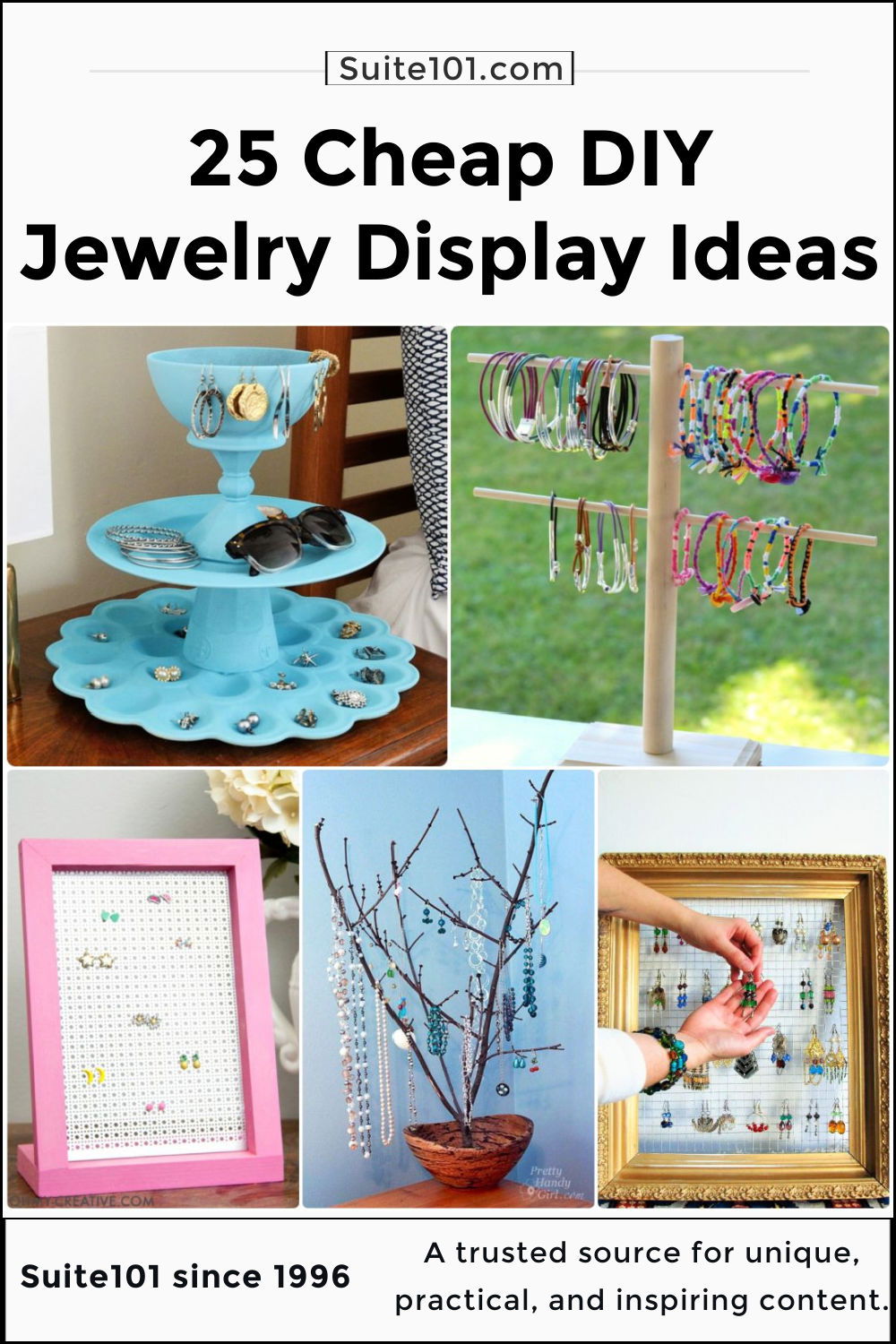 Necklace and Bracelet Display Ideas
For bracelets and necklaces, you can try the DIY wooden spool bracelet holder that can store multiple bracelets in a neat and attractive way. You can also use old dishes to make a 3-tiered jewelry display that has a vintage vibe and can hold various kinds of jewelry. Another option is to use wooden blocks to make necklace displays or jewelry holders that are easy and fun to make.
Ring Display Ideas
If you have a lot of rings, you might want to make your own ring cones using concrete or clay. They are simple to make and look very chic and modern. You can also use an old box to create a ring display that can hold many rings in one place. You can decorate the box with fabric, paint, or stickers to make it more appealing.
Homemade Jewelry Display Ideas
If you want to have a display for your entire jewelry collection, you have many options to choose from. You can build a jewelry display rack from scratch or a wooden jewelry display cabinet that can store and protect your jewelry. You can also use a gilded frame or a chicken wire frame to create a stunning wall-mounted jewelry display that can hold all kinds of jewelry.
These DIY jewelry display ideas are not only great for organizing your jewelry but also for adding some personality and creativity to your space. You can customize them according to your preferences and style. Start making your own DIY jewelry display today and show off your amazing jewelry pieces!
1. Shabby Chic Dangly Earring Display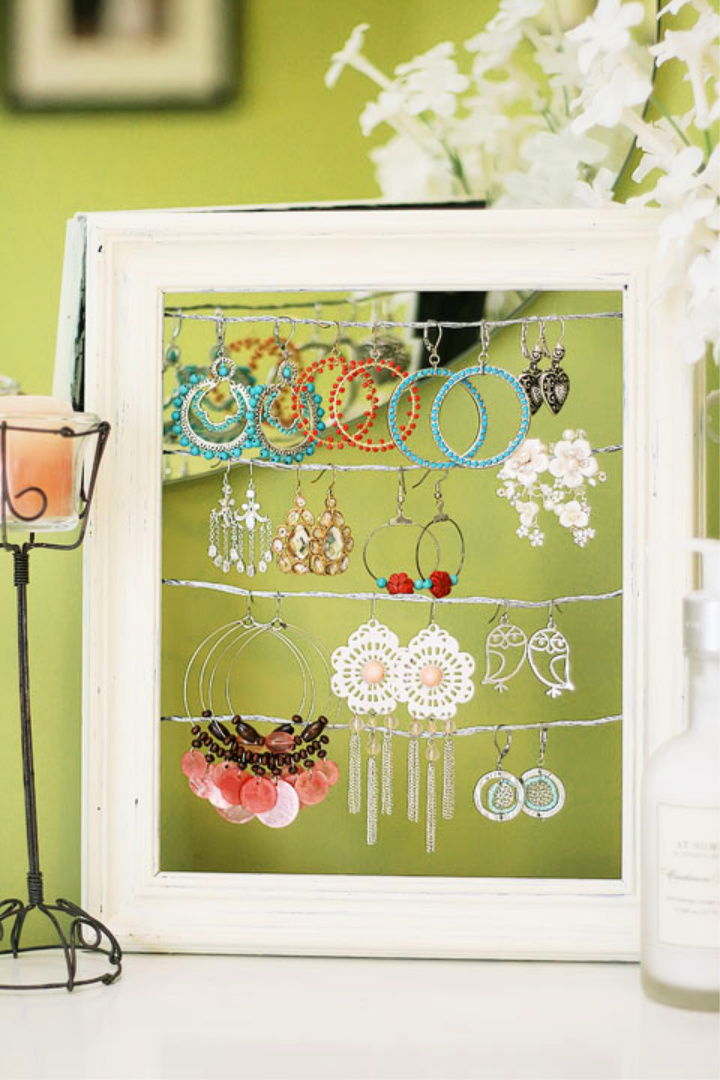 If you have a collection of beautiful dangling earrings, then making your own, this shabby chic earring stand is perfect for you. It's a great way to display your earrings with something you already have in your home. This project is made from an altered picture frame, so it's a cost-effective way to organize your earrings. The things you need for this project are a picture frame, picture wire, acrylic paint, paintbrush, staple gun, and nails or tacks. Get the details here! kevinandamanda
2. Inexpensive DIY Jewelry Display Stand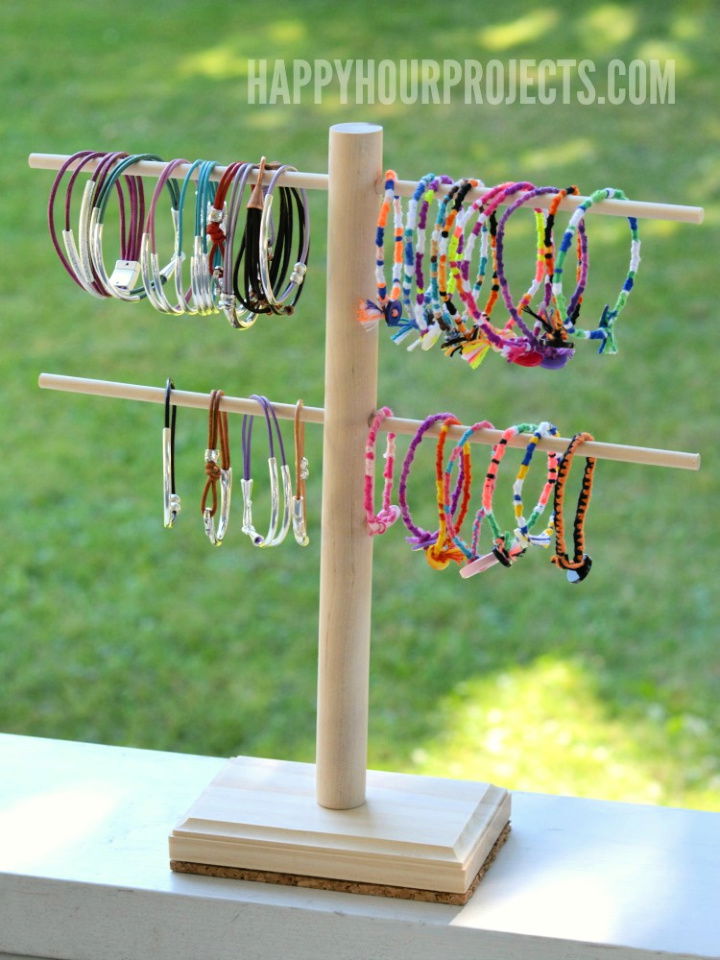 This inexpensive DIY jewelry display stand is the simplest and quickest way to manage your things in minutes. This basic structure is easy to put together and turns out so beautiful. Due to being made with wood, it will cost you nothing to make. You can easily customize the size you want. The supplies list includes rectangle wood plaque, wood dowels, wood glue, cork sheet, drill with bits, longer wood screws, screwdriver, and paint or stain. happyhourproject
3. Mountain Necklace Display for Home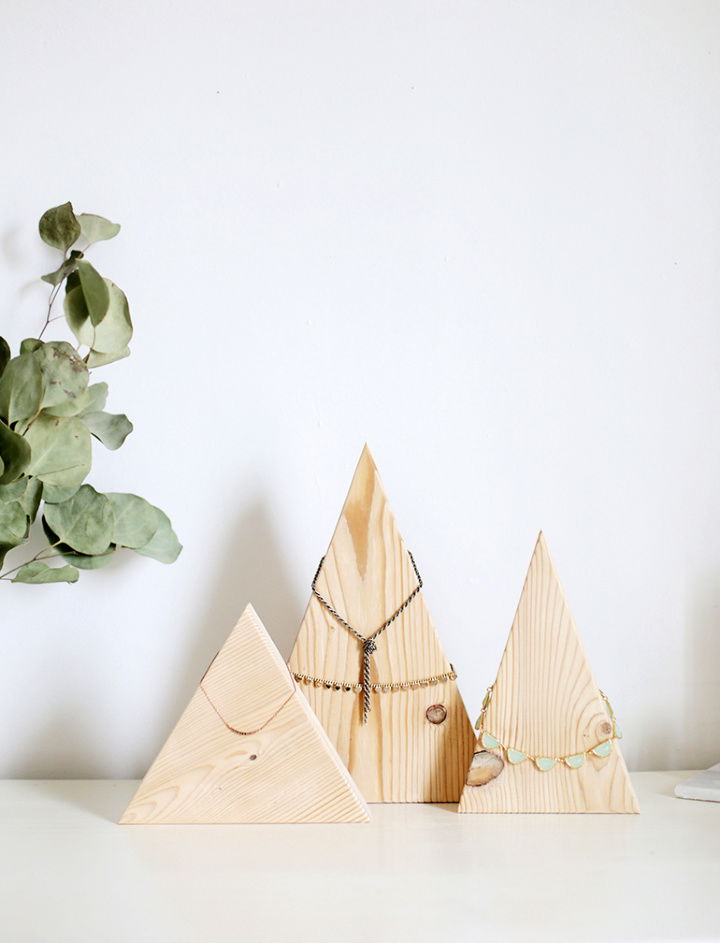 Are you a jewelry lover? If your answer is yes, you must have piles of jewelry spilling out in your room. But for your necklaces, this mountain necklace display idea is perfect for giving them a perfect spot for relaxing. Not only do these wood mountain pieces make great art for your desk or dresser, but they also hold up your necklaces stylishly. For this inexpensive and beginner-free tutorial to work on, you need a bunch of things. Wood board, tape measure or yard stick, a pencil, bandsaw, belt sander, drill, wood glue, and wood axle pegs. themerrythought
4. $2 Boho Dreamcatcher Jewelry Display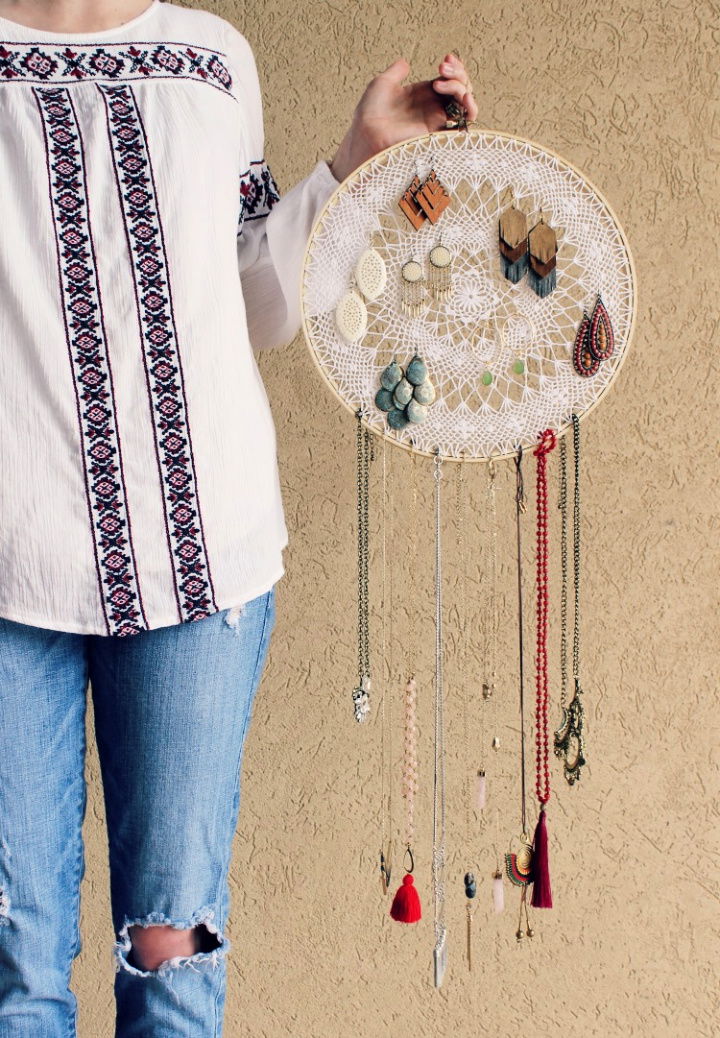 Few easy DIY hacks can help you to organize your jewelry in a modern way and if you are here to know about the hacks, then make yourself ready. This boho dreamcatcher jewelry display idea is perfect to nicely hand your earrings and necklaces to the catcher. Once you make you can easily grab the desired one from this dreamcatcher. If you can make a doily, this plan is not time-consuming. The supplies are an embroidery hoop, handmade or readymade doily, scissors, and some working time. deonnawade
5. Cool DIY Bracelet Display Stand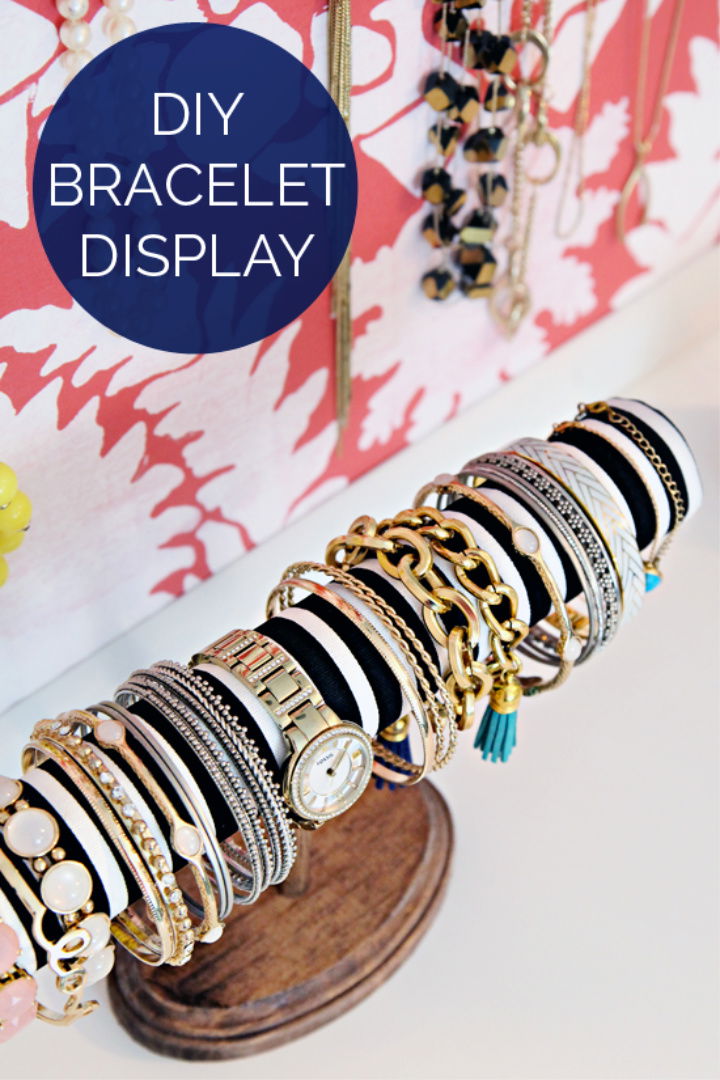 If you want to do easy and quick crafts that give you a little bit of immediate excitement, then you have come to the right place. Making your own, this cool DIY bracelet display stand doesn't take many tools and supplies and turned out so adorable for showing your collection of bracelets. To whip up this great budget-friendly project, start picking up the things. Wooden dowel, unfinished wood plaque, scrap fabric, a paper towel roll, mod podge, wood glue, stain, drill, and a saw. Details about the project are here! iheartorganizing
6. Unique Wooden Block Necklace Display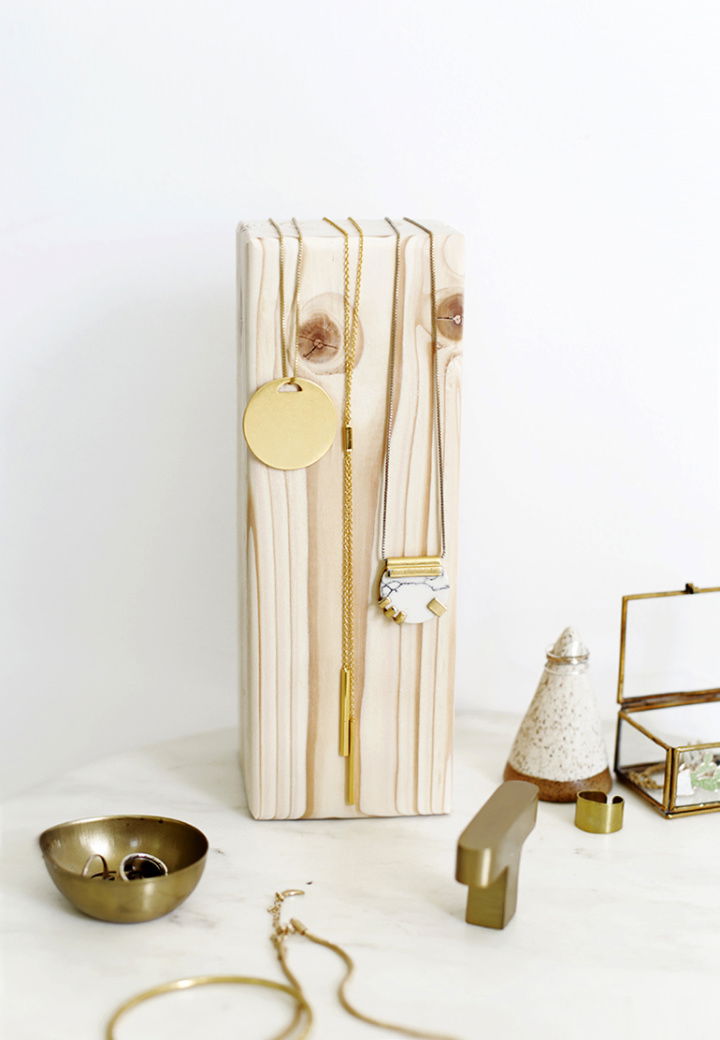 It's quite a daunting task to find the desired piece of jewelry from a collection. If you have always suffered from this problem, making this unique wooden block necklace display is a permanent solution. Rather than spending a huge amount of money on the store-bought holder, try something unique you can tackle in your home with just a few things. It's a great way to display your necklaces too. The material list includes wood pieces, a miter saw, a sander, short nails, a hammer, and a few minutes. More details are here! themerrythought
7. Easy DIY Embroidery Hoop Earring Holder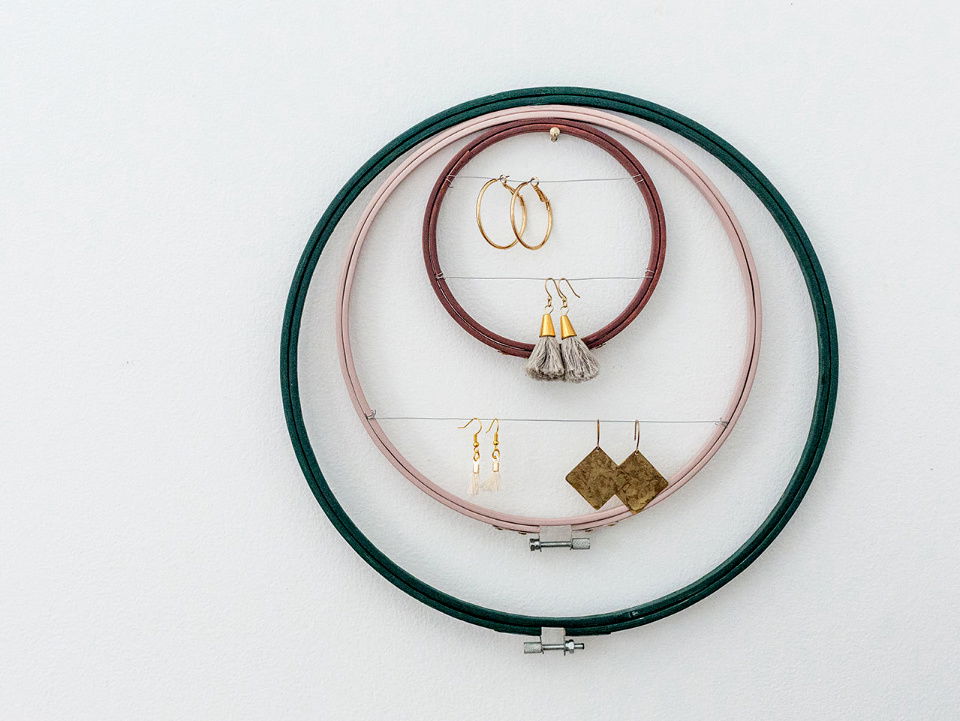 Make a perfect place to display your lovely earring with this simple and quick DIY of making an embroidery hoop earring holder. With just a few simple things in hand, you can make something functional that holdup your plenty of rings without sacrificing your home decor. You can easily personalize this project to reflect your style. Stuff needed are embroidery hoops in small, large, and medium size, craft wire assortment, chromacryl washable assorted colors of acrylic paint, foam brushes, and round paint palettes. Check the details of the plan here! fun365 oriental
8. Creative Way to Display Rings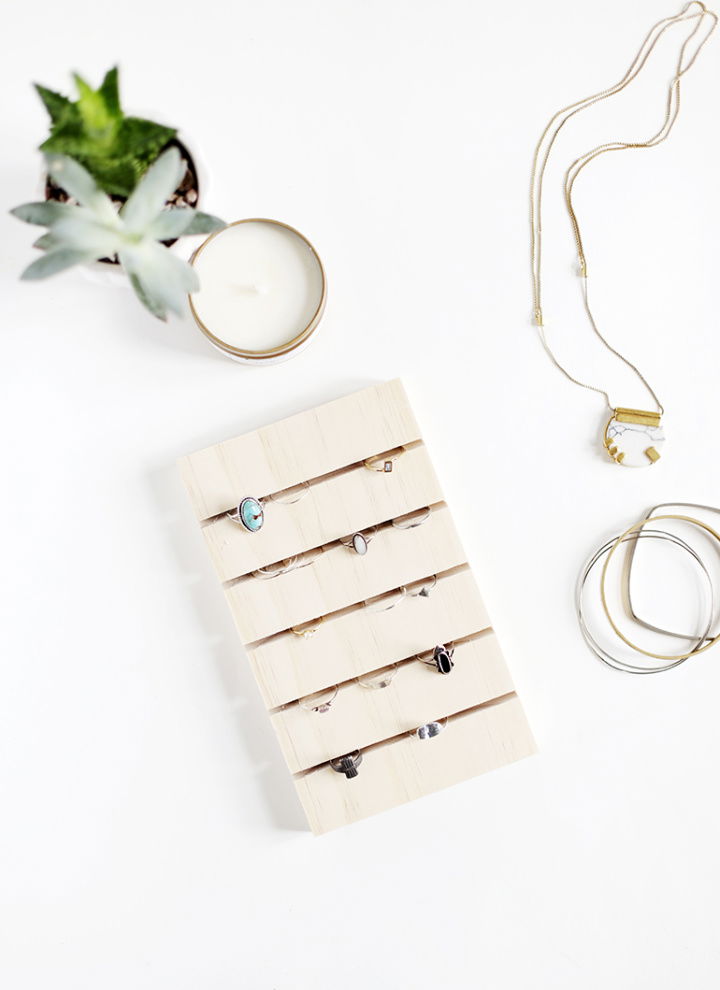 Get creative with your piles of rings and make them look organized with this easy-peasy idea of displaying rings. This cute little project is easy to set up and needs just a few things you already have in your home. You can paint this holder your desired color or let it remain natural for rustic decor. If you want to put your hands on this inexpensive project, get ready to gather the materials. Like pine board, table saw sandpaper and your rings collections. themerrythought
9. Rotating Jewelry Storage Using Cereal Box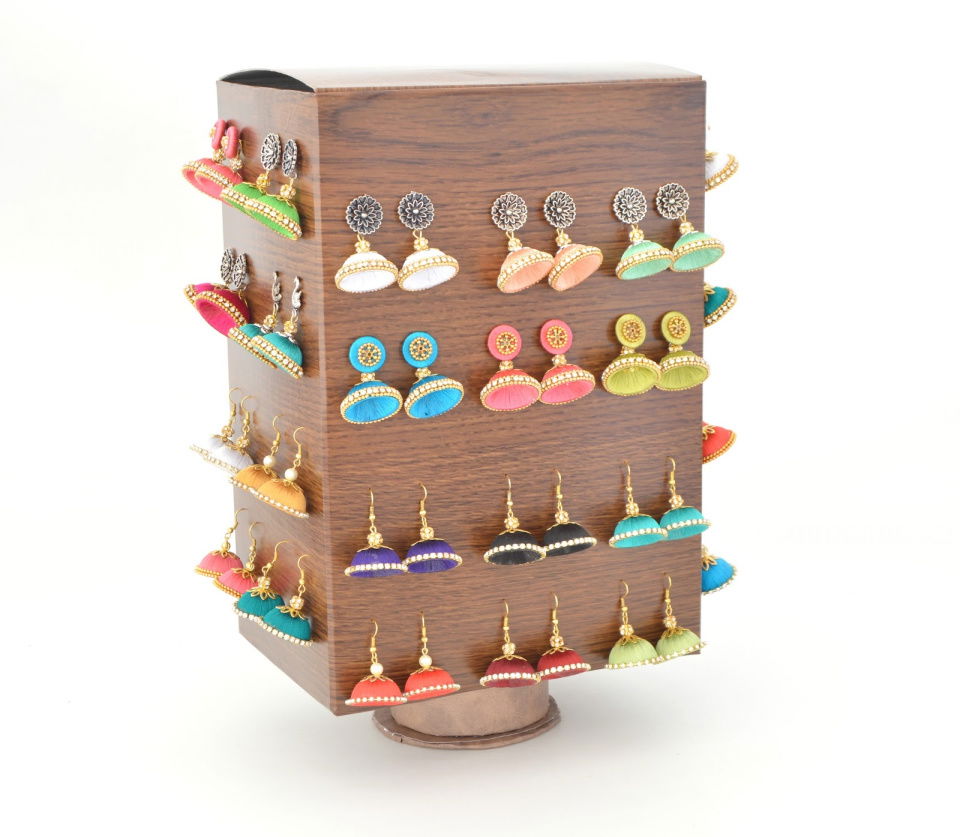 A nice jewelry holder is necessary to keep track of your jewelry cluster. Not only is this a great way to keep them organized, but also to stylishly show the collections you have. Once you make this rotating jewelry storage out of a cereal box, you don't need to find the desired one from the clutter. For this project to try, you will need to get one big cereal box, a paper towel roll, cardboard, another small or big cereal box, empty painter's tape cardboard, stones and marbles for weight, glue, contact paper, scissors, and scrapbook paper. vikalpah
10. Turn an Old Box Into a Ring Display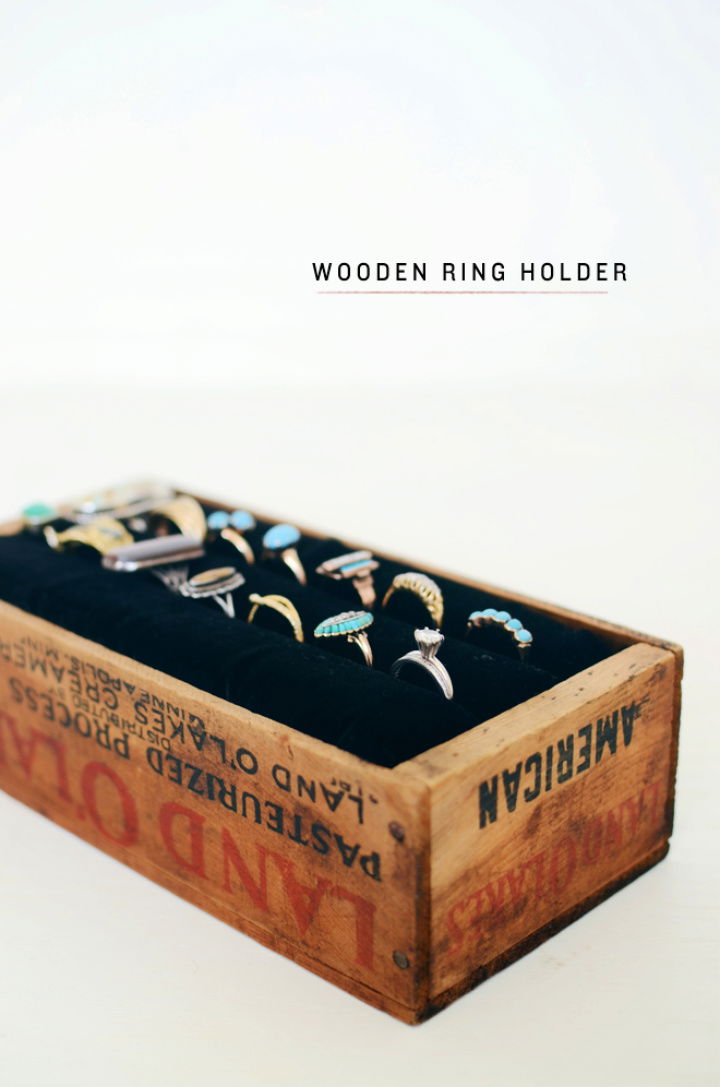 If you are the one who loves to make something new from the old things you already have, this project of turning an old box into a ring display is a huge hit for you. Due to being made with a reclaimed box, it is an inexpensive way to show your treasure of rings. For working on this lovely project, get the stuff you need. Like a small wooden box, high-density foam, spray adhesive, black velvet fabric, thick birch plywood sheet, ruler, marker, scissors, serrated bread knife, and small pins or staple gun. Details are here! mycakies
11. Simple DIY Wooden Block Jewelry Holder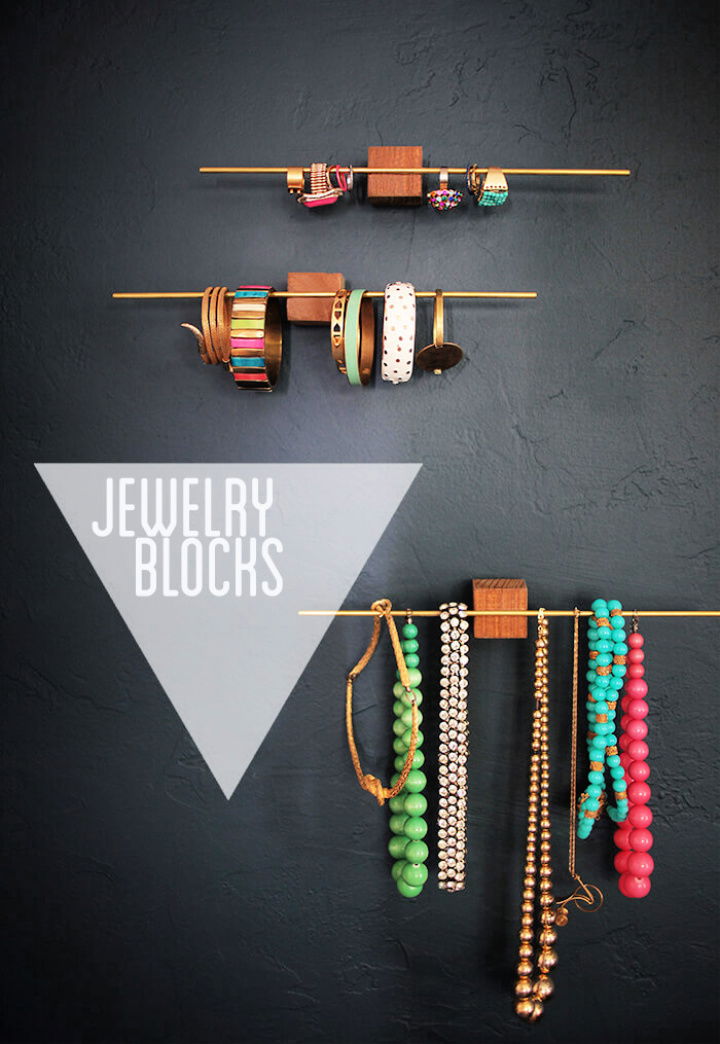 Are you the one who loves to stay organized with everything at home? If yes, then you can organize your jewelry with this simple DIY wooden block jewelry holder. This project is so easy to make and customize with some pretty simple things you already have in your hand. This project organizes your jewelry and makes a great wall decor. The things you need to work on are a hammer, lint-free cloth, sawtooth hangers, wood stain, gorilla glue, wood block, and brass dowels. See the directions of the project here! stylebyemilyhen
12. Make Your Own Ring Cones Out of Concrete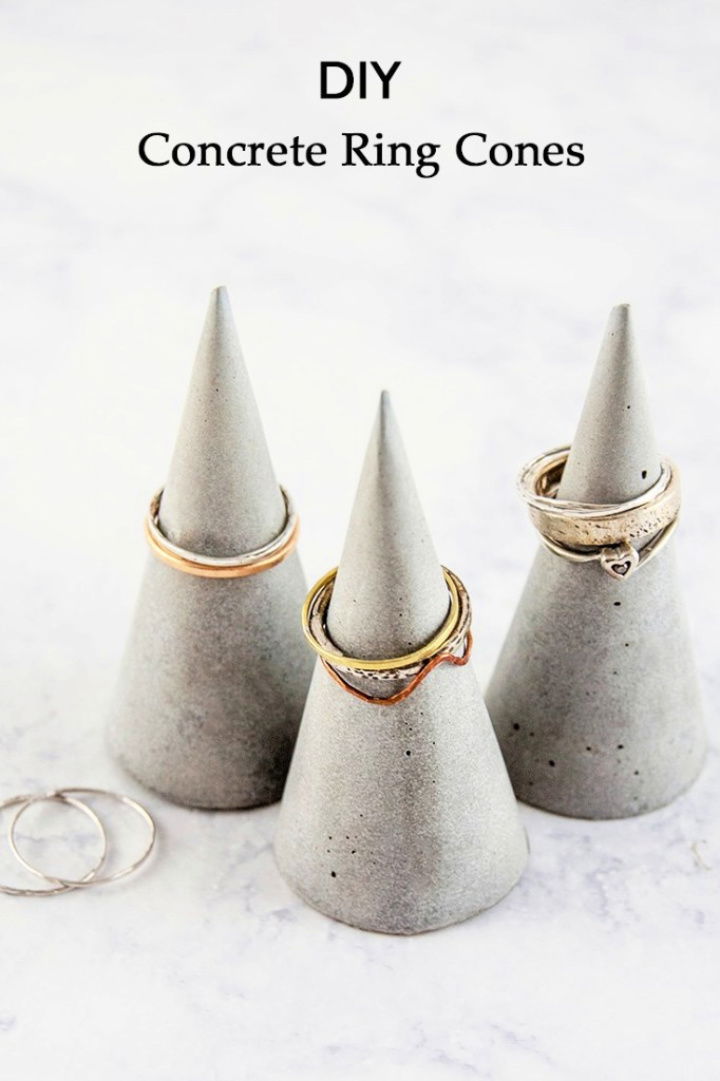 These DIY jewelry display ideas are practical and add a decorative element to your room or closet. Learn this easy method of making your ring cones out of concrete. These lovely cones make a long-lasting holder for your treasure of rings. With a perfect displaying spot, they also grant you easy access to your desired one when you need it. Due to being made with concrete, you can make any shape you wish. Put your hands on quick-setting concrete, clear packing tape, disposable mixing cup, mixing stick, paper plate or cardboard, cone template, and contact paper. Check out the details of the plan here! diyinpd
13. 3 Tiered Jewelry Display Out of Old Dishes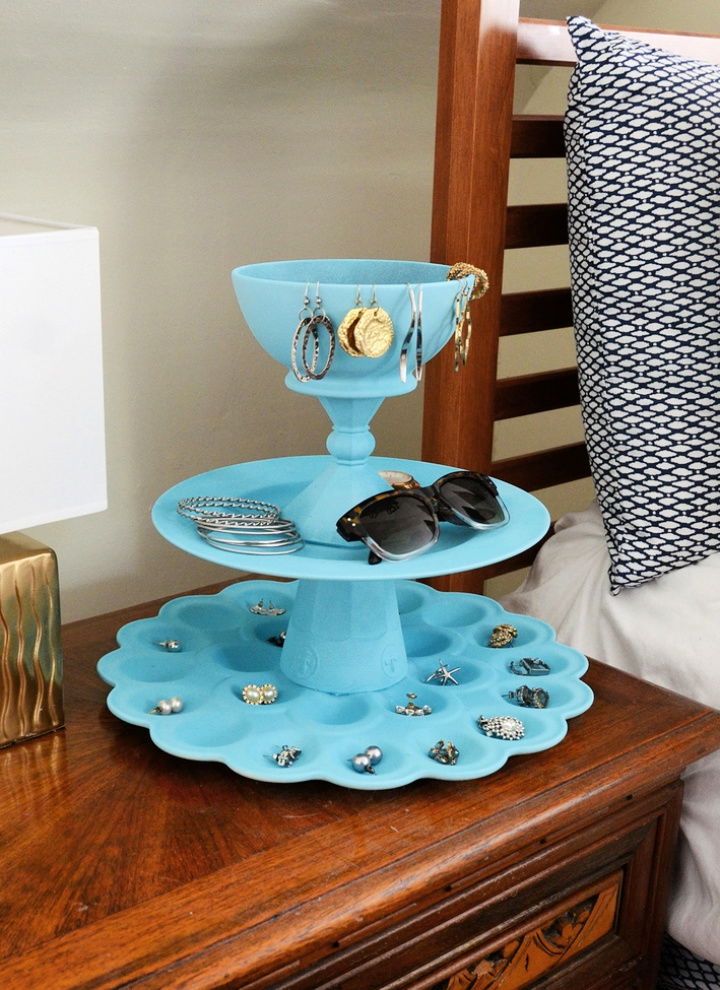 DIY jewelry display ideas are a creative way to showcase your favorite pieces and add a personal touch to your space. This three-tiered jewelry display out of old dishes is a great functional way to hold up your treasure nicely. It's a great way to give a new life to the old dishes you want to throw in the trash. This project is easy to tackle with the given instructions and turned out great to support your jewels. The material list includes deviled egg plate, small dinner plate, cereal bowl, dinking glass, candlestick holder, glue, and spray paint of your choice. Get more information about the plan here! curbly
14. DIY Wooden Spool Bracelet Holder

Here is an impressive way to transform your old industrial wooden spool into a beautiful bracelet holder. You just need some paint of your choice to give this old wooden spool and brand new look. If you don't have this spool, you can easily find it in any store or flea market. Get ready to display your beautiful bracelets onto your hand-created holder. You need Americana decor chalky finish paint, paint brushes, sandpaper, and a hot glue gun for this project. Get the details here! decoart
15. Homemade Jewelry Display Using Aqua Dishes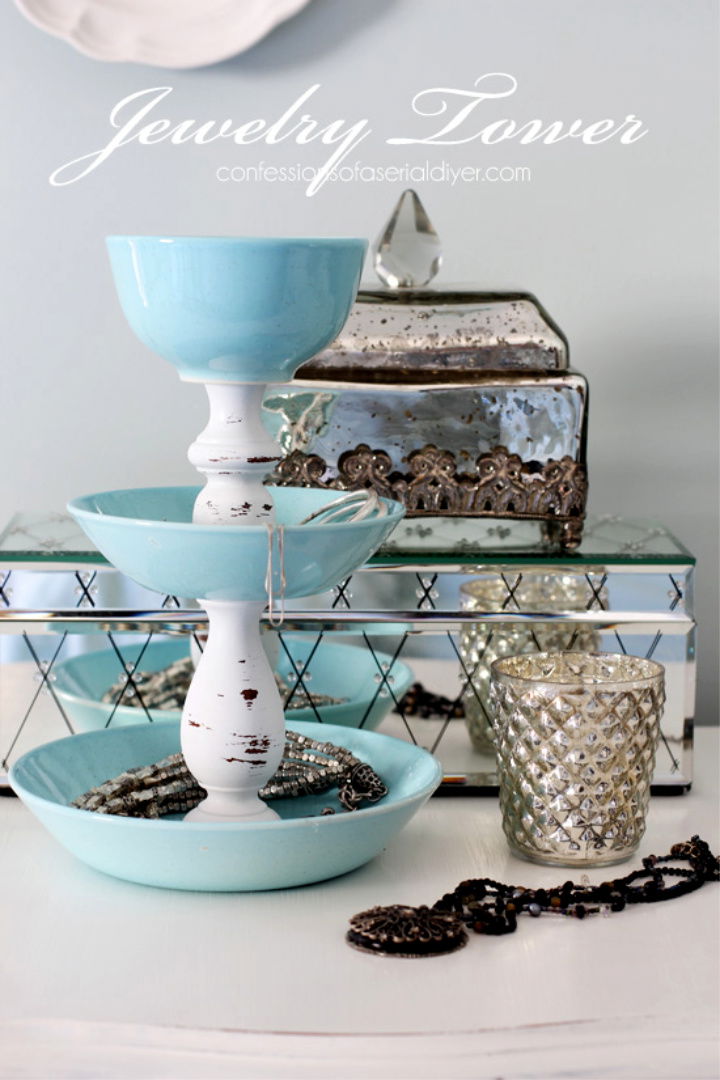 Once you have purchased your jewelry collection, it's time to think about managing the jewelry so it can be easily found when needed. This homemade jewelry display using aqua dishes is easy to set up with some old dishes. It's a great recycling project that can nicely show your jewelry too. If you want to work on this inexpensive project, grab the stuff. Like candle sticks, old aqua dishes, a miter saw, spray paint in the color of your choice, and glue. Check the details here! confessionsofaserial
16. How To Make Clay Cactus Ring Dish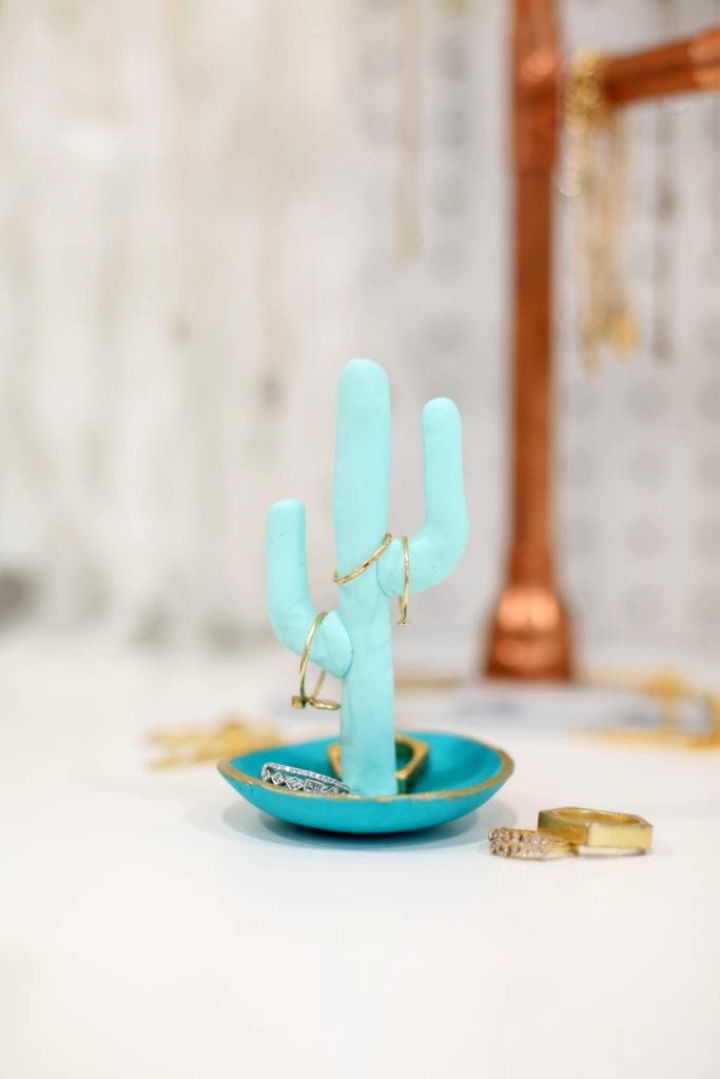 Clay is a wonderful material to use for some easy organizing hacks. This time you need to put your hands on your favorite clay to make this amazing clay cactus ring dish. This project is cheap for organizing your jewelry and makes a beautiful decor you can put anywhere in your room. This budget-friendly and not much time, the consuming plan follows the details. The supplies are the clay you desire, a leftover dish, and mere minutes to work on. More instructions are here! lovelyindeed
17. DIY Jewelry Stand Using Terra Cotta Pots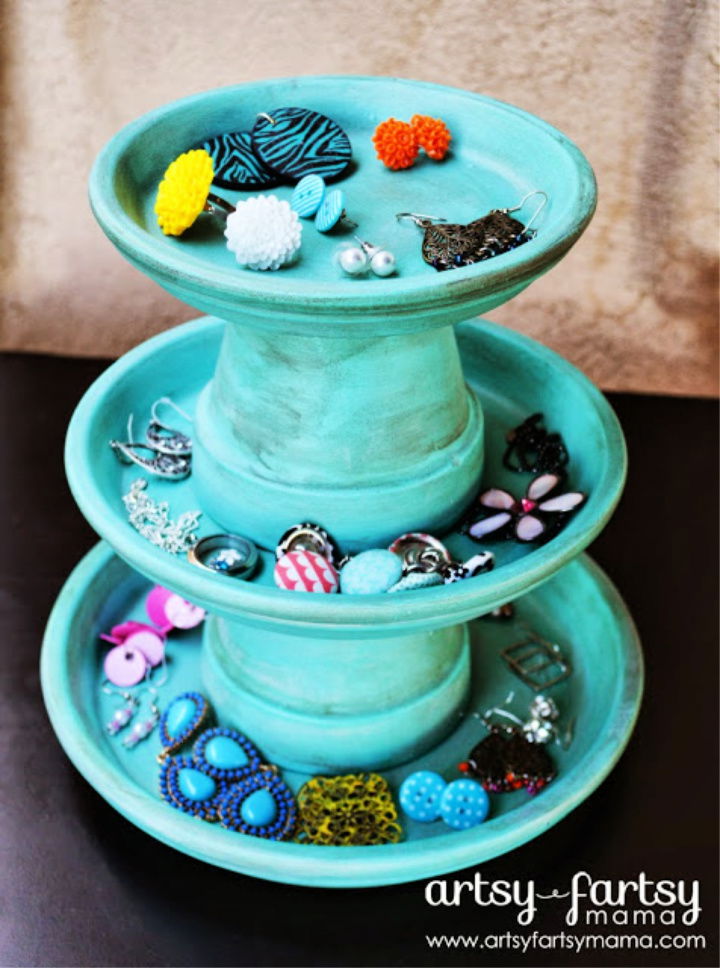 With a little creativity and some basic materials, you can easily make your own DIY jewelry display ideas at home. A jewelry holder is a must to have for your lots of jewelry. But spending a fortune on costly store-bought holders is not a smart choice. Making your own this DIY jewelry stand using terra cotta pots is a stylish and modern way to display our jewelry in your room. Once you make you can easily access your favorite one. The things you need to make this one are standard terra cotta pots, terra cotta saucer, tacky glue, base color paint, antique color, and clear spray paint. artsyfartsymama
18. Build a Jewelry Display Rack From Scratch

Being a fan of DIY, making projects from scratch you have is the perfect way to save your precious money and get something new out of nothing. The fabulous building of a jewelry display rack from scratch is easy to follow with the given steps and turned out great as decor for your room. You can hold up all of your jewelry in this lovely rack so that you can't get any trouble finding your favorite one. You can see the list of supplies and straightforward tutorials here! danslelakehouse
19. How to Make a Jewelry Display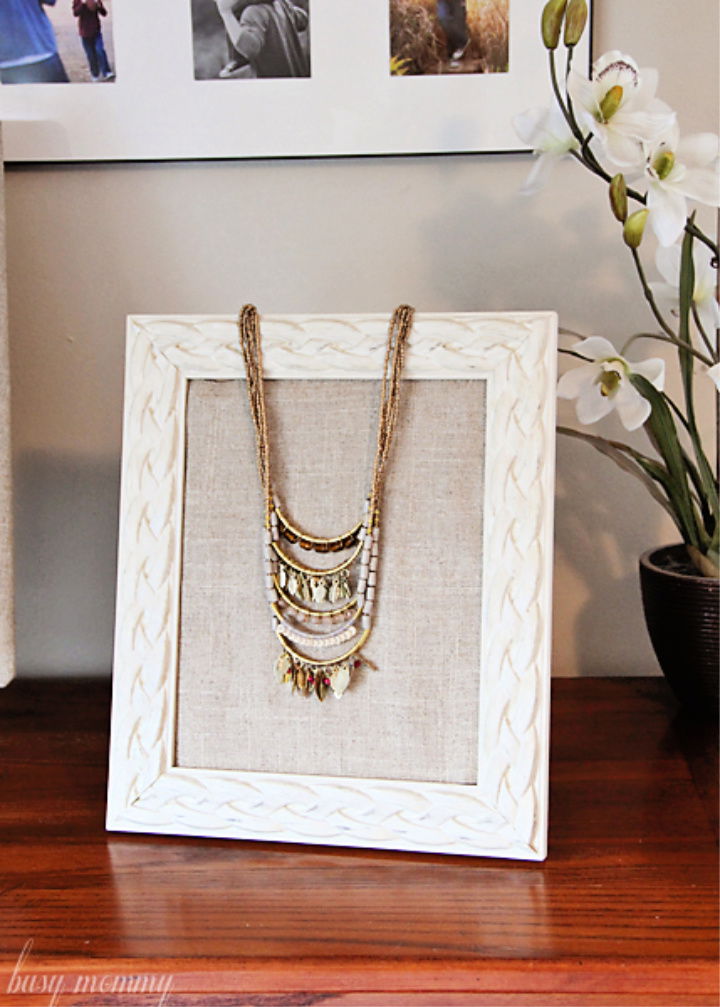 From repurposed frames to driftwood, there are endless DIY jewelry display ideas to suit any style and budget. Bring a little personality to your space with this easy-peasy jewelry display idea. With everything on hand, this project easily comes together in just a few minutes. The best part about this project is that it would perfectly organize your jewels without sacrificing the style of your room. If you are a beginner, then make sure to follow the steps to get your own on the cheap. Visit the plan here to learn about the list of supplies and other useful details. busy mommy
20. Jewelry Display for Earrings on Budget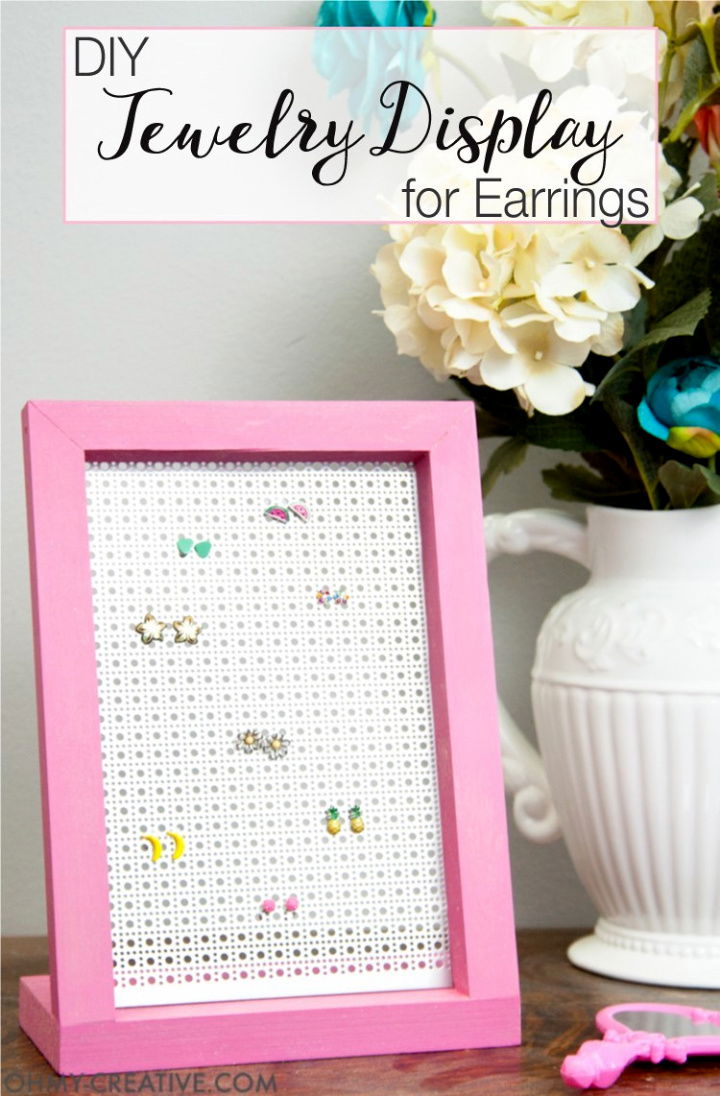 This easy-to-make jewelry display for earring ideas has a great impact on your visitors. Rather than spending your precious time and money on finding the desired one holder in the store, give it a try to make your own at a fraction. It's a great way to organize your lots of earrings just by doing some woodworking in your spare time. Hardwood, a saw, wood glue, wood clamps, nails, sandpaper, drill with drill bits, paint of your choice, paint brush, furniture wax, and a sheet of decorative aluminum. ohmy creative
21. Build Wooden Jewelry Display Cabinet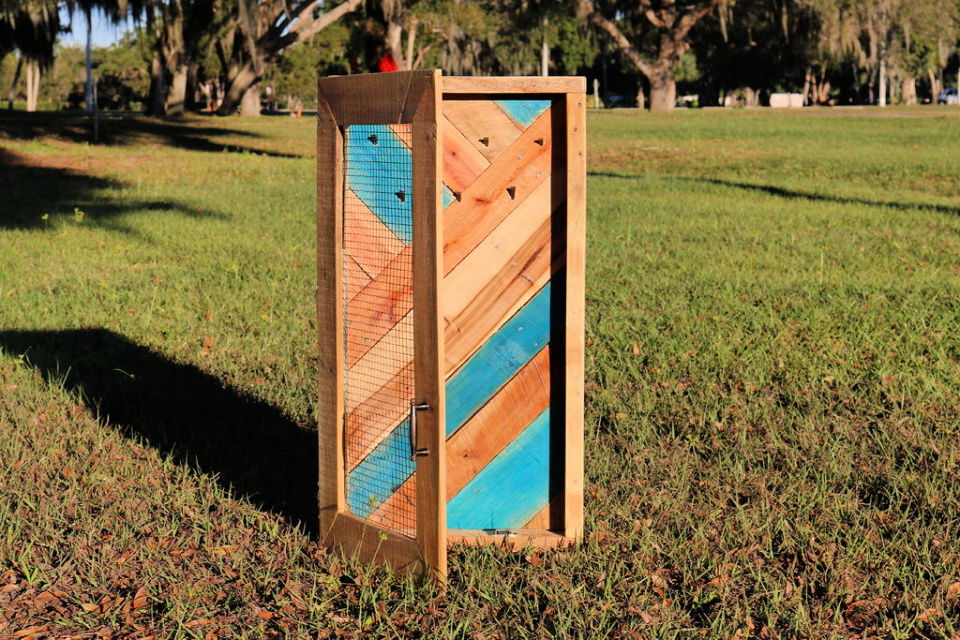 Building a wooden jewelry display cabinet could be a great and inexpensive solution if you don't want to spend money on store-made organizers. This project easily comes together in an afternoon and is functional to give plenty of space for holding your jewelry. You can customize this project in any way to suit your needs. The working material is pallet slats, old hinges, reciprocating saw, paint of your choice, paint brushes, sandpaper, wood glue, hooks, and measuring tape. Get the details about the project here! instructables
22. Wood and Linen Mounted Jewelry Display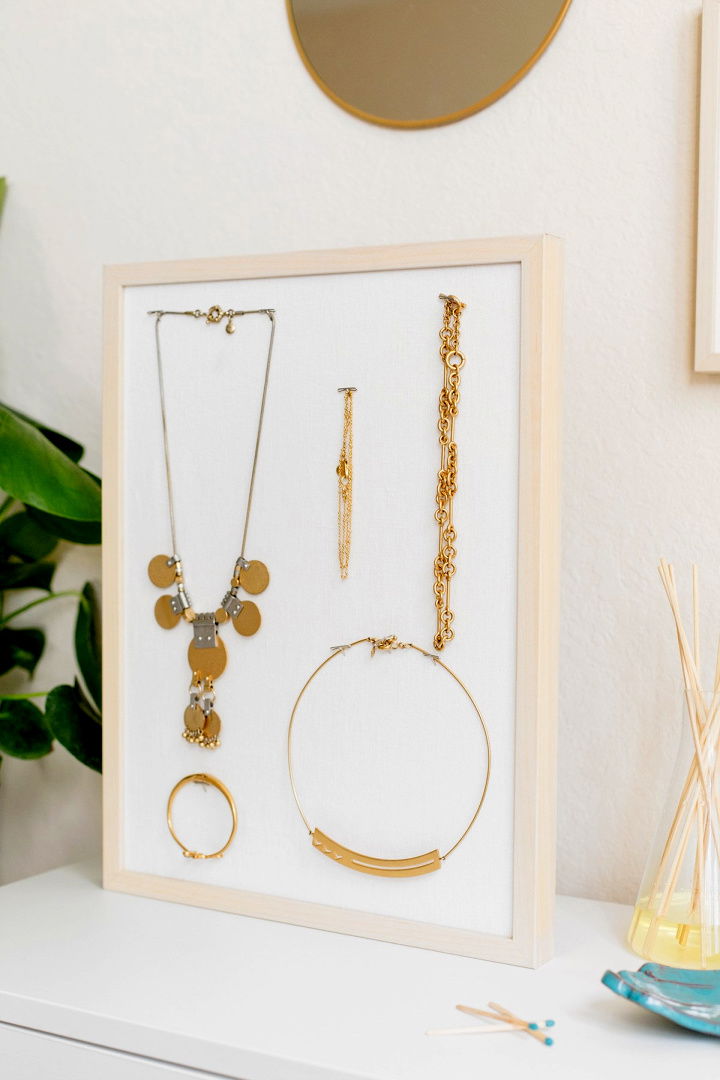 Want a simple solution to hand your necklaces and earrings stylishly? If your answer is yes, you have come to the right place. Making your own wood and linen mounted jewelry display is easy, and you need just a few things you already have. This project turned out great as a piece of your room decor where you can easily organize your collection. The supplies list includes a low-temperature glue gun, binder clips, foam core board, fabric, IKEA HVOSTA frames, and T-pins. ctrlcurate
23. Homemade Chicken Wire Jewelry Holder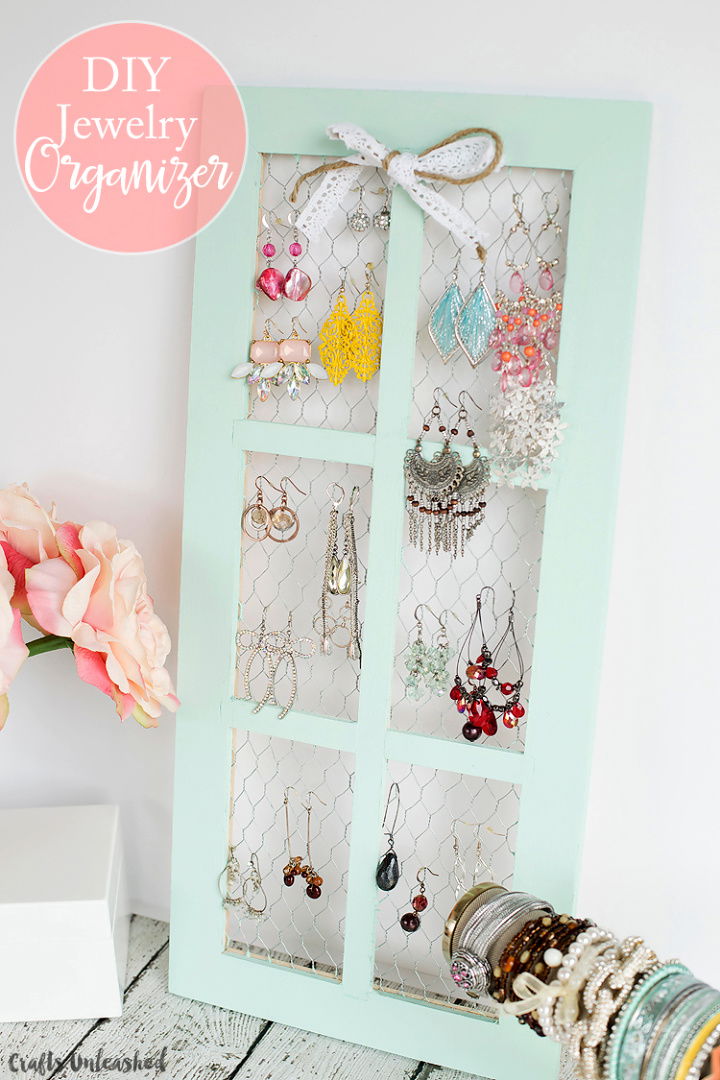 Get inspired by these DIY jewelry display ideas and create a unique and functional storage solution for your accessories. Use some chicken wire to organize your jewelry in a fun way. This homemade chicken wire jewelry holder is a great alternative to store-made expensive holders. When you DIY your project, you can customize then to reflect your style. Not only is this project just for holding your stuff, but also to give a stylish view of your room. If you want to work on this project to make one for yourself, you can see the list of supplies and straightforward tutorials here! consumercrafts
24. Sculptural Branch Jewelry Display Holder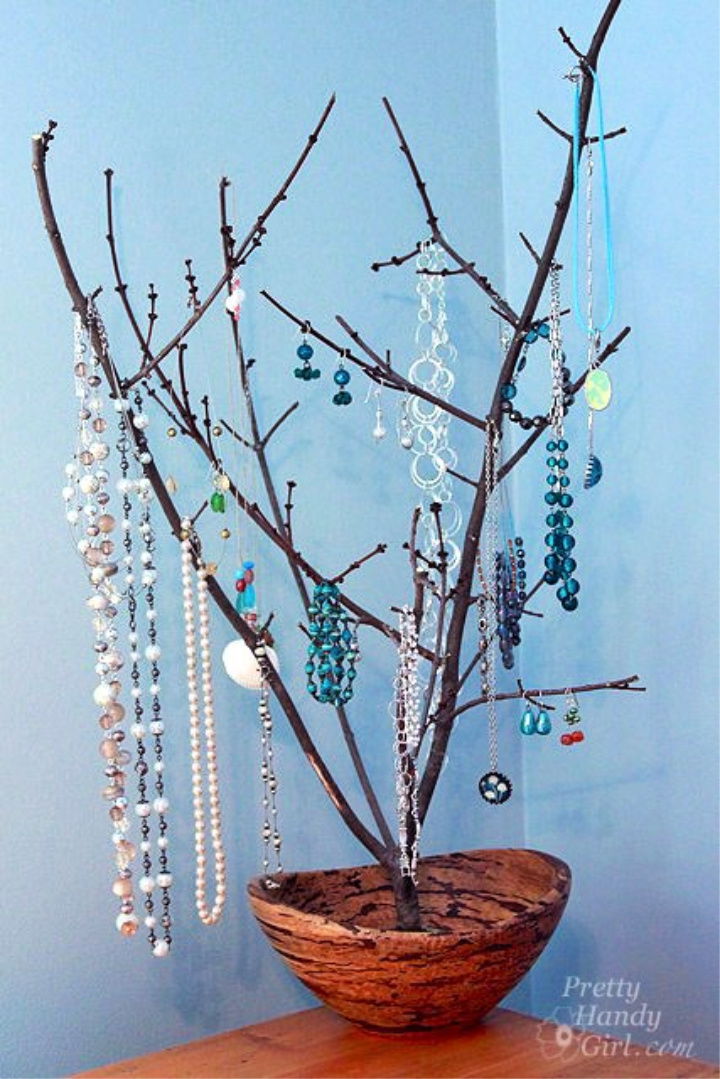 It's quite daunting to separate your desired necklace from a tangled bunch at the moment when you need it. If you need a stylish way to put all your jewelry in order without sacrificing your home decor, this sculptured branch display holder is the perfect and inexpensive option. Due to being made with wood and fresh branches, it will cost you nothing to make. The material list includes hardwood branch, freshly cut log, gorilla glue, pruners, drill with bits, wood screws, clothes pin, baby wipes, bowl for the base, screw, painter's tape, and clamp. prettyhandygirl
25. DIY Gilded Frame Jewelry Display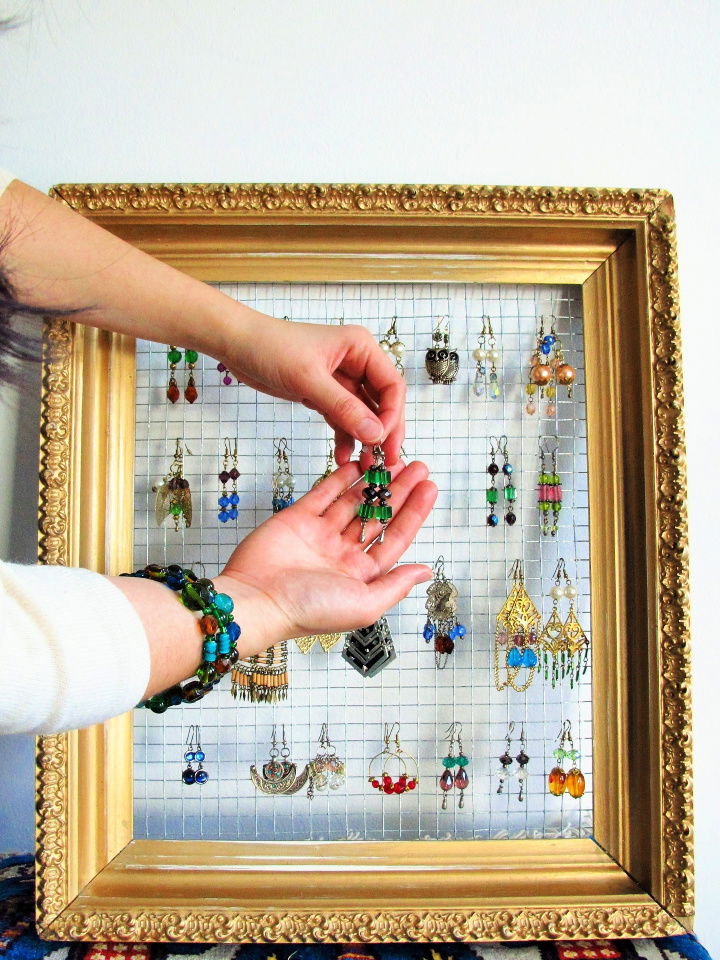 If you are a jewelry addict and want to organize all your collection, then building this DIY gilded frame jewelry display holder is a huge hit for you. Not only is this a great way to support your jewelry, but it also brings some personality to your room decor. This project can quickly come together with a bunch of supplies. Like one sturdy frame, chicken wire of the same size as the frame, duct tape, and staple gun with staples. Check out the details about the complete tutorial here! kikucorner
Conclusion: