Building DIY pallet furniture is a fantastic way to repurpose old wooden pallets into unique, stylish, and functional pieces for your home. With our collection of 40 DIY pallet furniture ideas and plans, you can transform these sturdy structures into anything from an L-shaped pallet couch for your living room, to a rustic pallet bookshelf, to even a fold-up pallet desk. Each pallet furniture plan comes with step-by-step instructions, making it easy for both novices and seasoned crafters to follow.
If you are keen to explore new DIY pallet furniture ideas, we've got a selection that covers a wide range of styles and uses. These include pallet furniture plans for both indoor and outdoor items like a potting bench from pallets, pallet dining table, or a pallet hanging lounge swing. The plans also cover furniture made of pallets of varying sizes and complexities to suit your personal style and space requirements.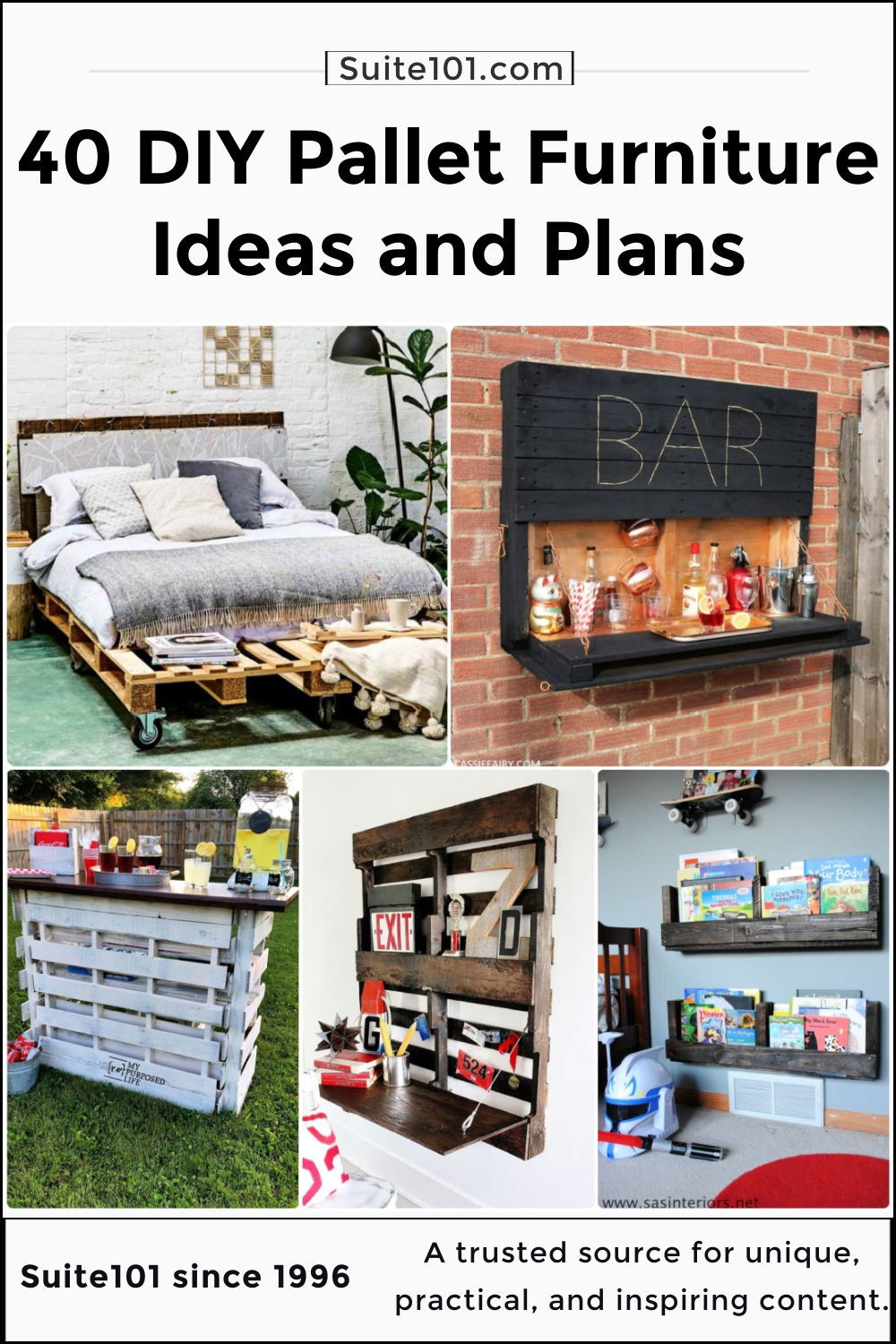 Our pallet furniture plans have you covered for every room of the house. Need a new headboard? Try the pallet wood herringbone headboard. Want to add some rustic charm to your garden? Consider the pallet gardening table. Each DIY pallet furniture idea in our list has detailed instructions, complete with material lists and visual illustrations for clear assembly.
The beauty of DIY pallet furniture is that it's completely customizable. You can pick your preferred finish, color, and even the size. There's no limit to what you can create with these pallet furniture plans. So, don't wait any longer, and start your DIY journey with our curated list of 40 DIY pallet furniture ideas and plans today. Let your creativity run wild and give your living spaces a makeover with unique furniture made from pallets.
1. How to Make a Wooden Pallet Couch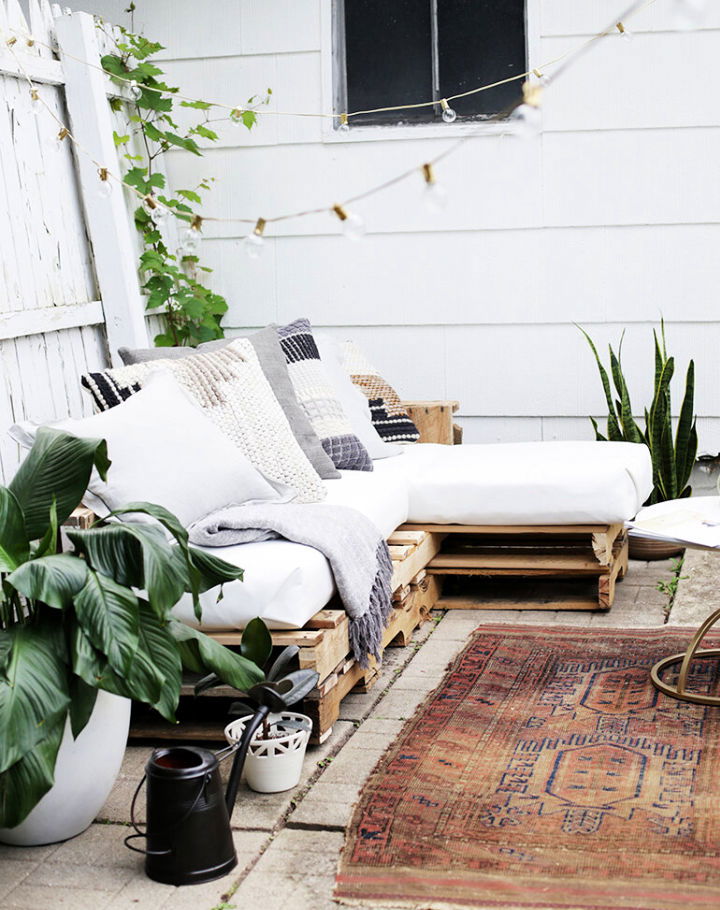 Transform your outdoor space with a unique and rustic couch made out of pallets! This tutorial teaches you how to make an L-shaped couch from scratch with no-sew cushions. It's an easy and affordable way to customize your furniture for any size or shape of space. All it takes is a few simple steps to start relaxing on your homemade couch in the lazy days of summer. So don't wait any longer – let's get started building today! hunker
2. DIY Wooden Pallet Bar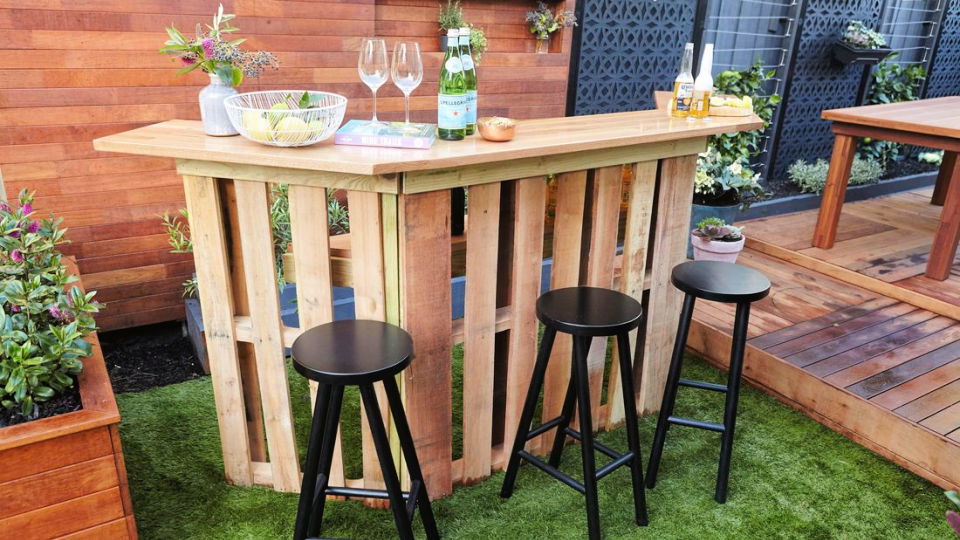 With simple steps, transform two old pallets into a stylish DIY wooden pallet wine bar. The rustic design adds charm to your backyard or home, perfect for entertaining family and friends! You only need 90mm x 45mm treated pine, 1500mm x 90mm treated pine decking boards, 75 mm bugle screws, timber varnish, putty, and sandpaper. Create an amazing pallet wine bar today and impress everyone with your handy work! bunnings
3. Old Pallet to Pallet Swing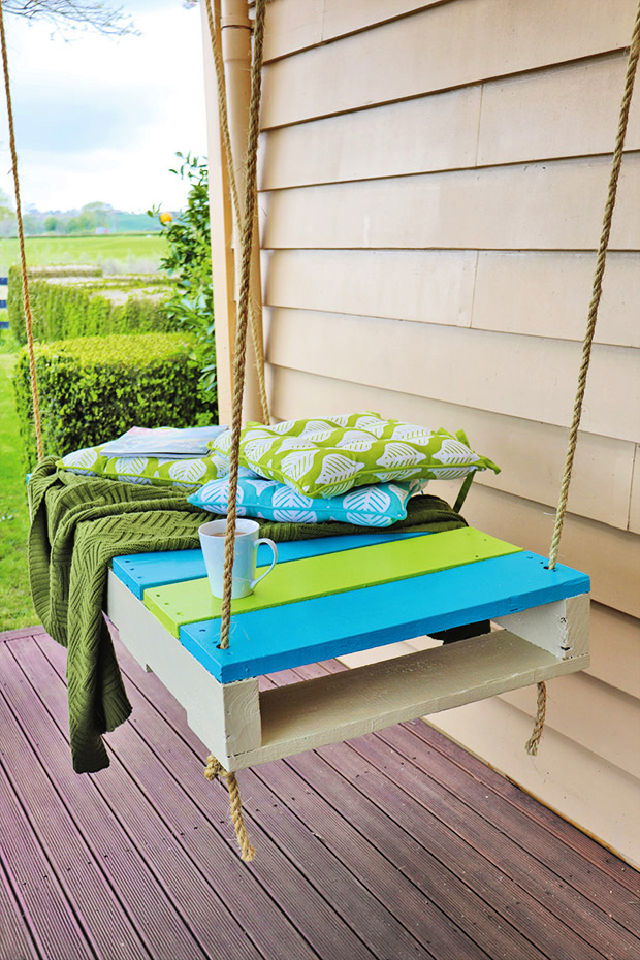 Transform an old, discarded pallet into a beautiful swing with this easy DIY! Wooden pallets are robust and portable, making them perfect for home projects. When looking for one to upcycle, look for the same size as your donor pallet to replace boards or battens if needed. With some patience and creativity, you can turn trash into treasure—an eye-catching piece of furniture that's sure to be the envy of all who come by! Enjoy hours of comfortable relaxation in a customized seating solution with this do-it-yourself project. thisnzlife
4. DIY Pallet Storage Shed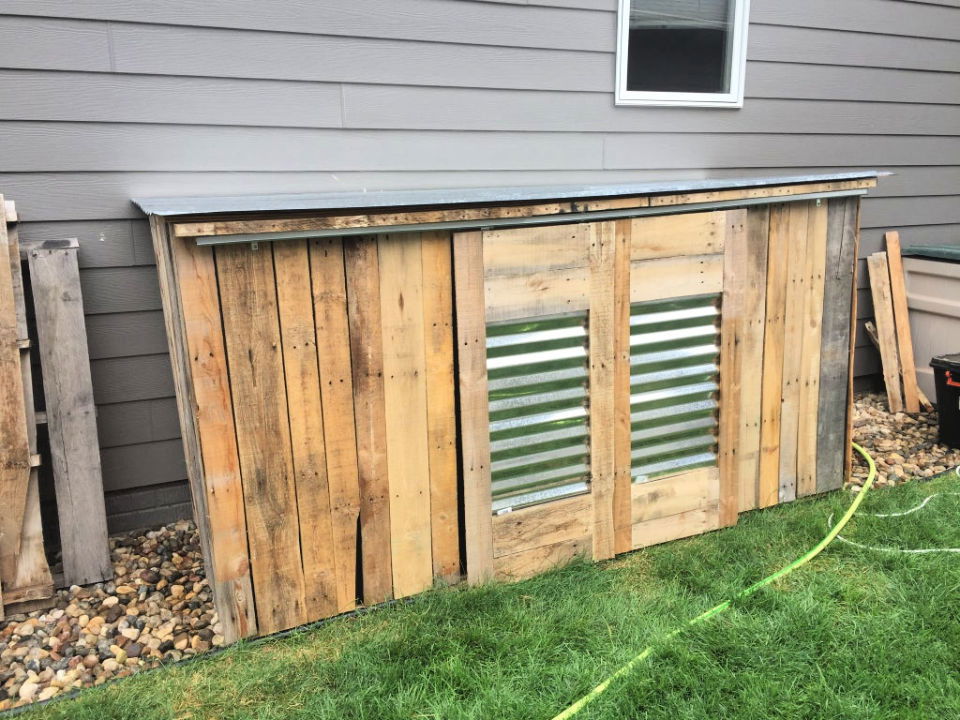 Create a unique storage shed for the mower and snowblower with an eye-catching mix of wood and metal. This pallet storage shed is perfect for this task, requiring 2 x 4's, treated plywood, metal roofing panels, screws, a pry-bar, Sawzall, black paint, a framing nail gun, and several pallets. This DIY will take pride in artistry and ensure that every project follows the same process – from sketching it out to completion. Get yours today! instructables
5. Rustic DIY Pallet Loft Bed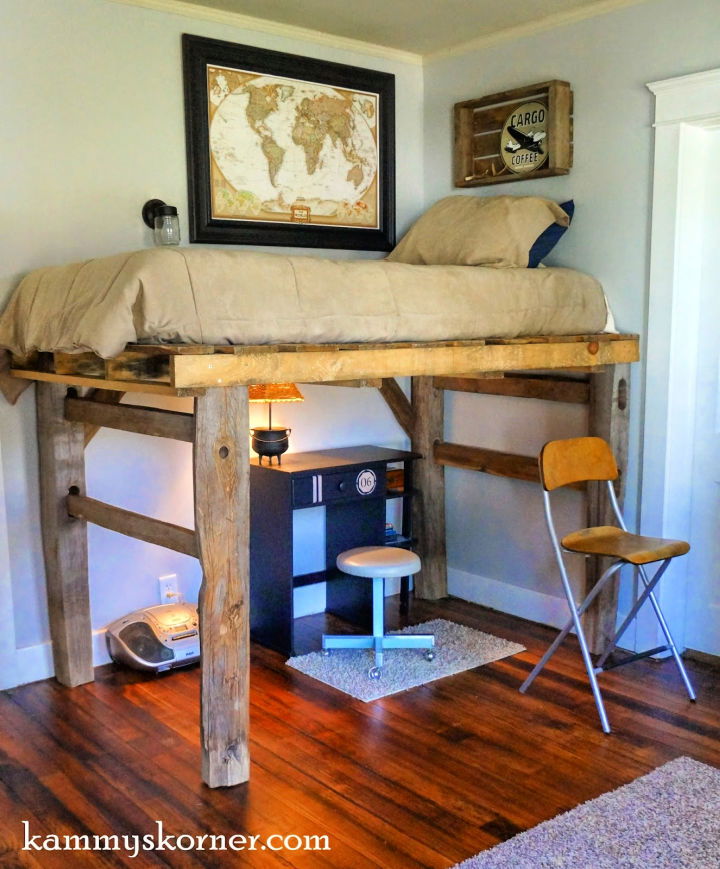 Take your DIY style to the next level and create a rustic loft bed with fence posts plus a pallet! You can instantly transform any room into something special with a large metal pallet from the local garage roof. Add fence posts for extra stability, and look out your upstairs window to find that beloved pallet perched atop the dumpster. A safe working practice is always important, so follow all safety instructions when building this awesome addition to your home! kammyskorner
6. Free Pallet Wardrobe Plan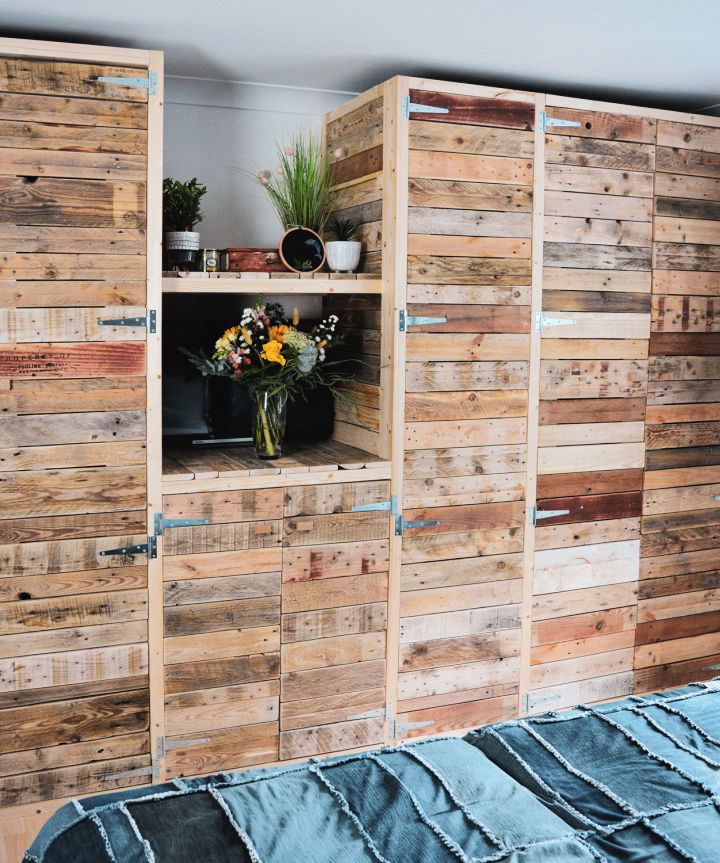 Are you looking for stylish and affordable storage solutions? Look no further than this DIY pallet wardrobe plan! It's an easy-to-follow plan to help turn your cluttered bedroom into a neat space. It provides detailed instructions on how to build the pallet wardrobe, so you don't have to worry about spending extra money on built-in wardrobes or Ikea furniture. And best of all, it's made with recycled wood materials – perfect for those looking to do their part in eco-friendly living! Get organized today with this DIY pallet wardrobe plan! vickymyerscreations
7. Recycled Pallet Wood Kitchen Pantry Unit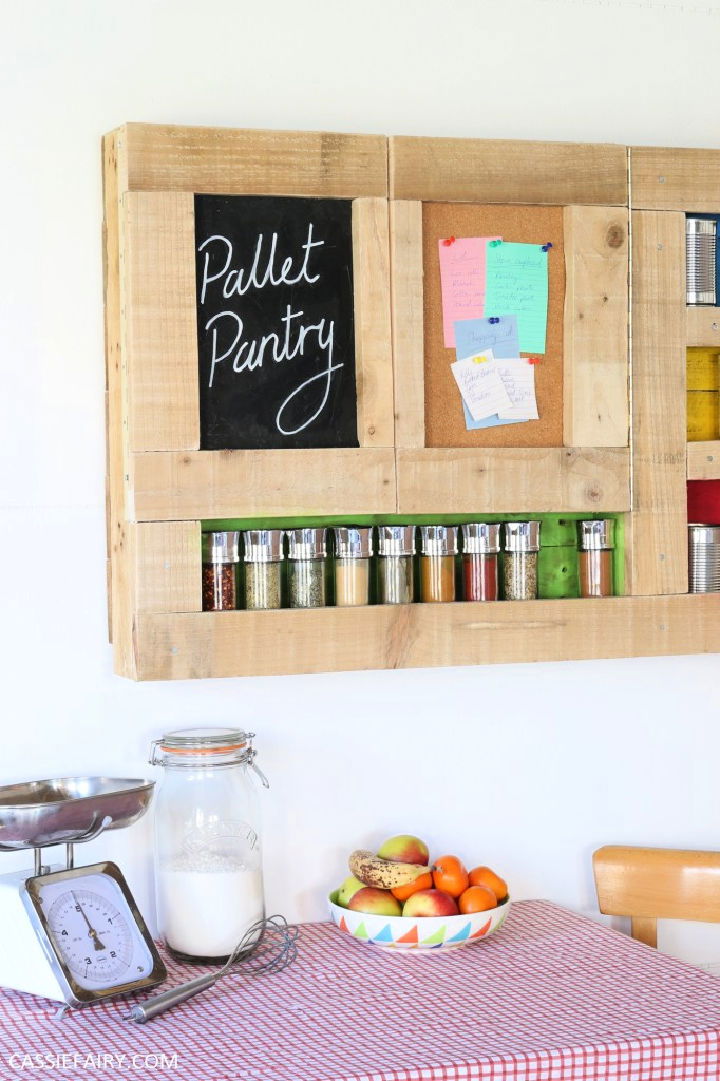 Learn how to make a kitchen pantry unit from recycled pallet wood. Have you been searching for more storage space in your kitchen? Upcycling DIY could be the answer! Follow this step-by-step guide and transform a couple of old pallets into an attractive 'pallet pantry' that provides plenty of extra room for all those essential ingredients. Get creative with your upcycling project, and create something beautiful while being sustainable – it's win/win! cassiefairy
8. Reclaimed Pallet Wood Nightstand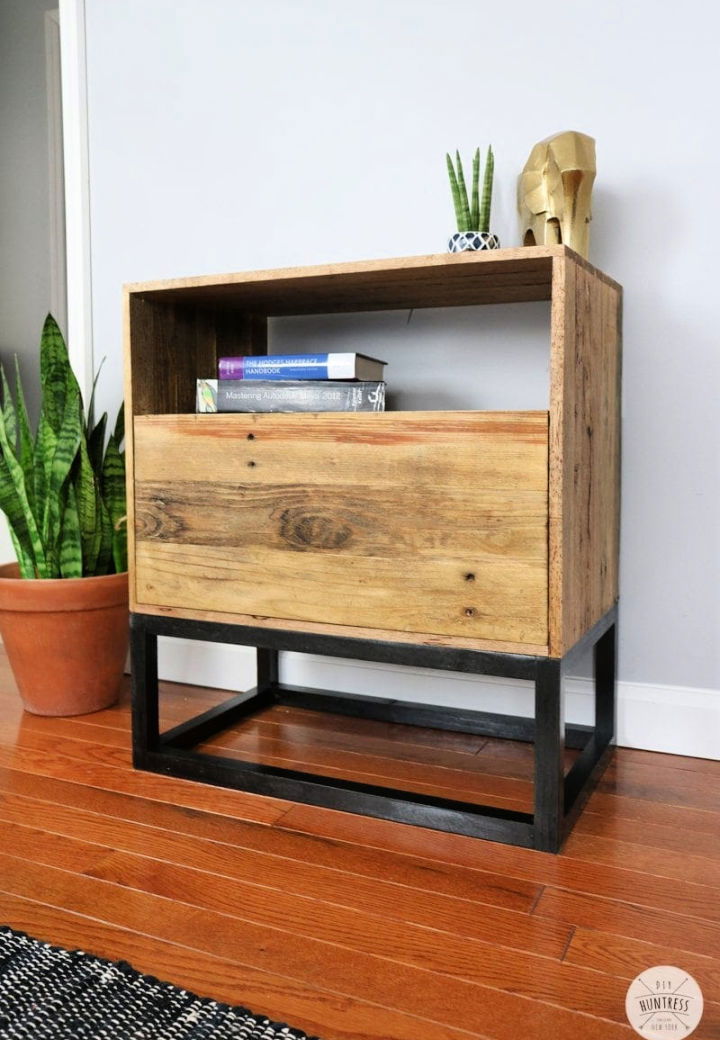 Create your masterpiece with this DIY reclaimed pallet wood nightstand, a west elm knockoff. When the budget is tight, but you still want to make an impactful piece of furniture, nothing beats the satisfaction of making it yourself! With less than $100 in materials and some woodworking skills, you can create your replica of a beautiful west elm nightstand for only $40. Partner up with us to help turn this vision into reality and be proud of the stunning artistry that goes into creating your very own knockoff showpiece. diyhuntress
9. DIY Pallet Vanity With Shelves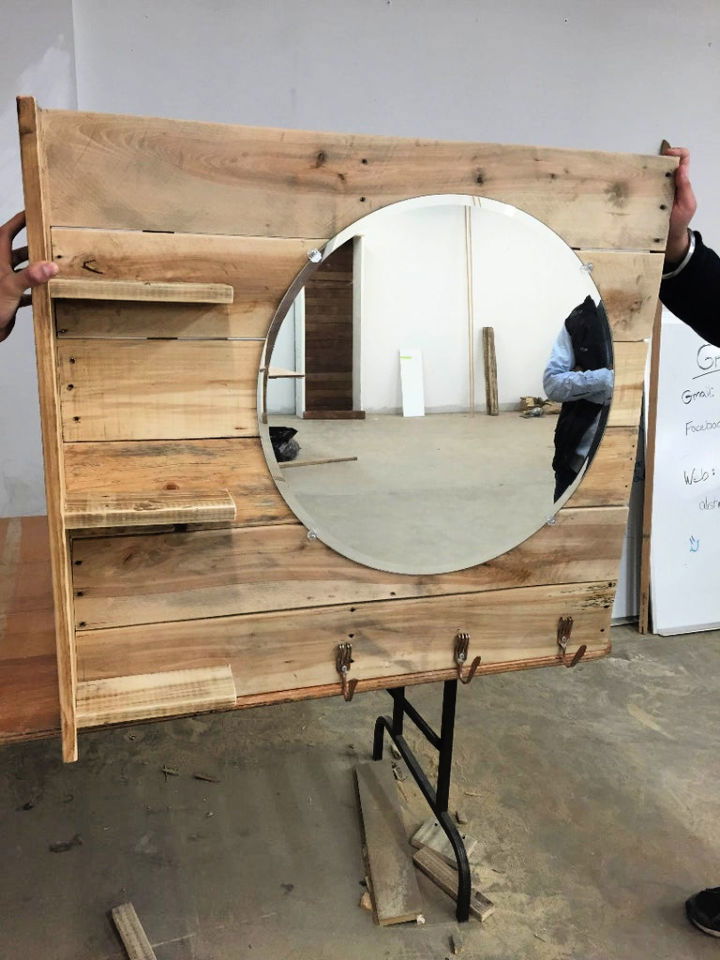 Introducing an amazing project perfect for up-cycling old materials: the pallet vanity with shelves. This handmade mirror adds a touch of style and decor to any home. The materials used include old pallets, a mirror, screws, old forks, and mirror clips – all combined to create a truly unique piece! Whether placed in the bedroom or bathroom, this vanity with shelves will be a conversation starter amongst guests. Make your home stand out today with this one-of-a-kind pallet vanity! instructables
10. Make Your Own Pallet Bar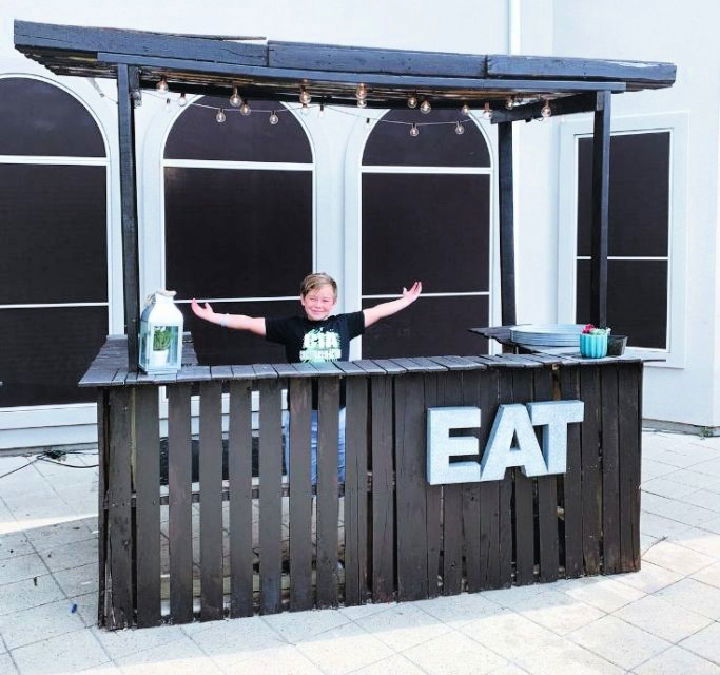 This DIY pallet bar creates a stunning outdoor bar for your backyard without breaking the bank! You can save so much money building it yourselves; it was worth it. When you talk about adding an outdoor bar to your backyard, you'll be looking at all the prefabricated options available, but they were either too expensive or would not last in rainstorms. With this pallet bar under $100, now everyone can enjoy a social gathering in style. allmygoodthings
11. DIY Patio Pallet Furniture Step-by-Step PDF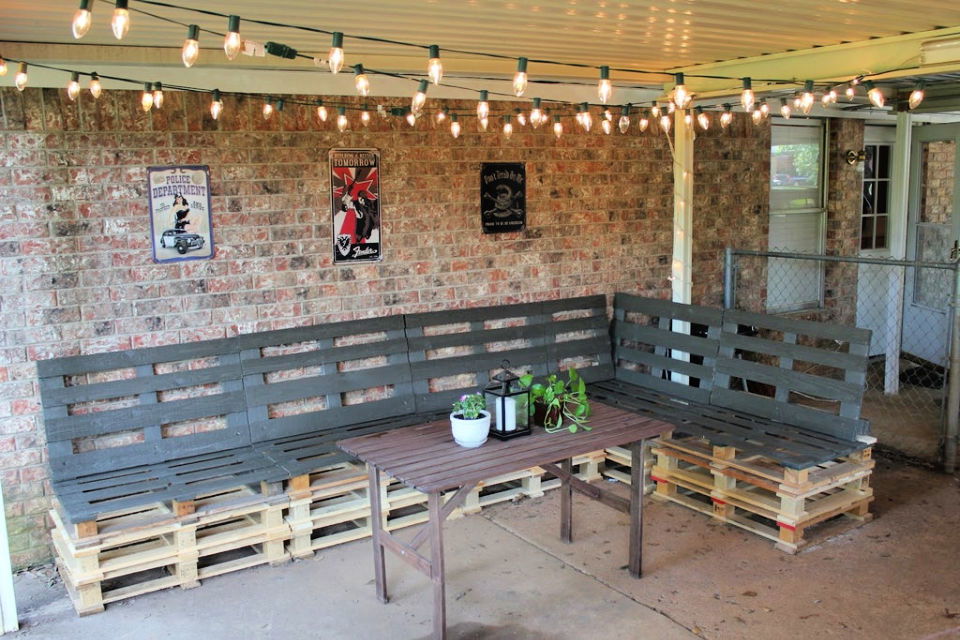 Bring life to your patio this summer with a DIY pallet furniture project! Enjoy the warm weather and host more people than ever by creating a statement piece that is stylish and functional. With these easy-to-follow instructions, you can make the perfect outdoor seating area for family events or gatherings with friends. Get ready to spend many evenings outdoors in style, thanks to your creative imagination and hard work! Maximize your use of space while making an impactful addition to any patio with DIY pallet furniture. instructables
12. Make a Reading Nook Using Two Wooden Palettes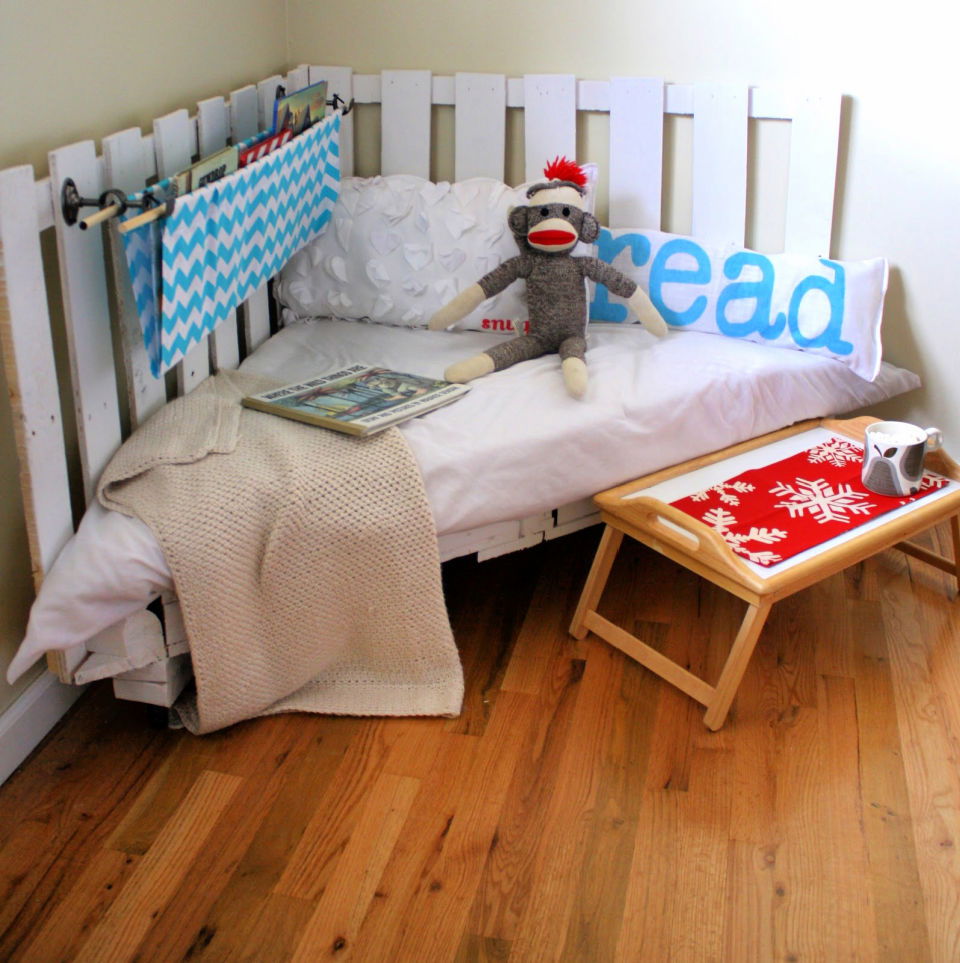 Transform two unwanted wooden pallets into a cozy reading nook with this easy tutorial. It's the perfect way to show creativity and bring a unique, Anthropologie-inspired feel to any living space. From book page ostrich sculptures to giant wreaths made from old books, there are many options for what you can do with these reclaimed materials. Get started today, and soon you'll have the comfiest spot in your home where you can curl up and read all day! kojo designs
13. Build Your Own Wood Pallet Table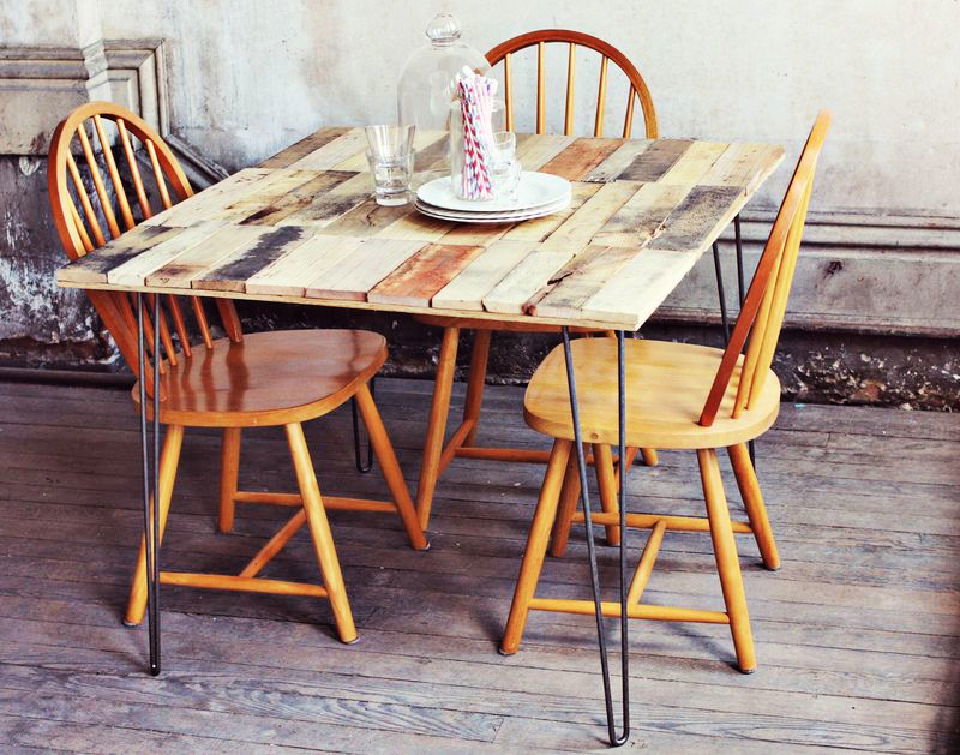 Create a unique and decorative table while learning the basics of woodworking with this wood pallet table DIY project! The directions will show you all the steps, safety features, and tools needed to make your one-of-a-kind piece. Even if you are not an expert in power tools or saws, anyone can tackle this fun project – just read through the instructions carefully and pay close attention while working. With some patience and creativity, you'll end up with a stylish accent piece that is functional and beautiful! abeautifulmess
14. DIY Pallet Sofa for the Garden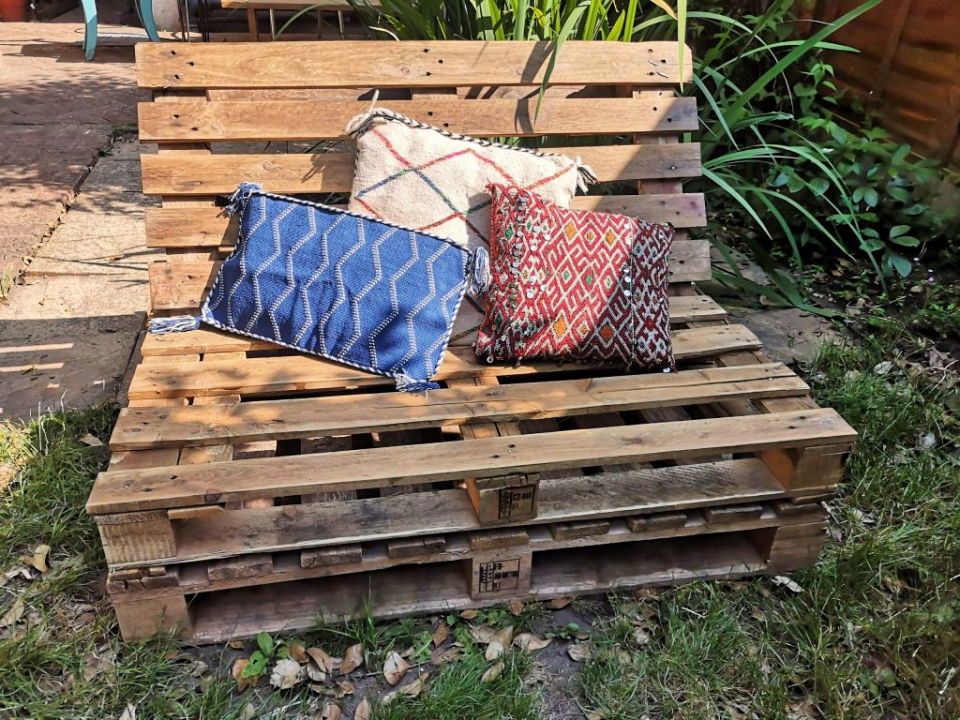 Create garden furniture with pallets easily and cheaply using minimal tools! With this step-by-step guide, you'll learn how to quickly construct a pallet sofa for your outdoor area. All you need is three pallets and the right knowledge – and it won't cost you a penny! This method has been tried and tested, saving hours of trial and error. Learn how to make furniture with pallets today for an effortless solution to outdoor seating. projectreclaim
15. Build Your Own Pallet Bed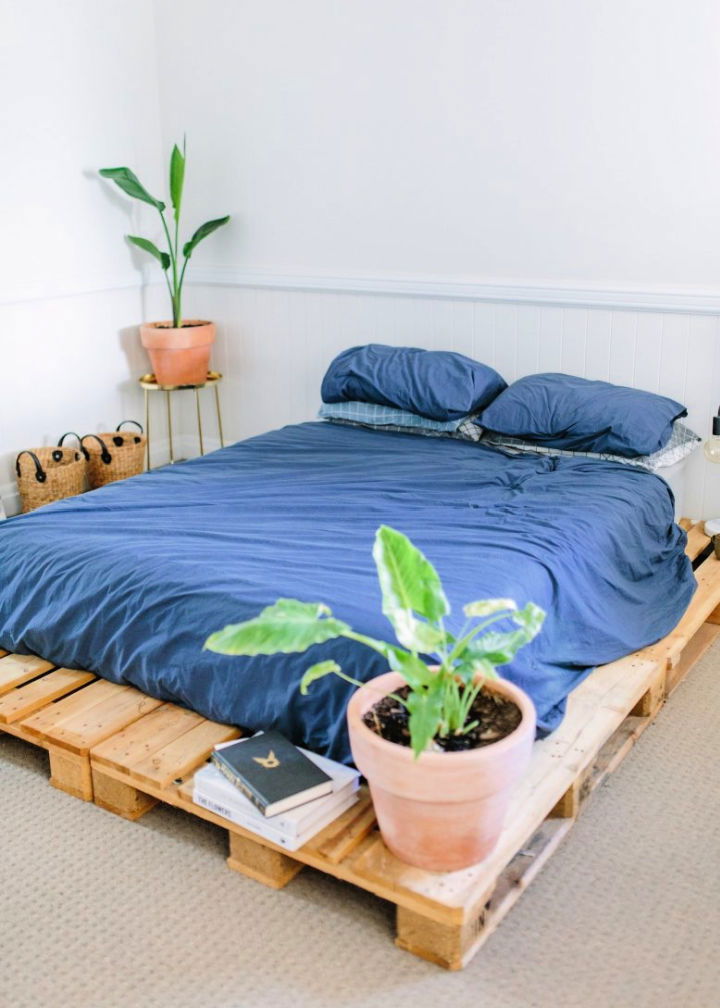 Decorating your home doesn't have to come at a hefty price. Take the pallet bed, for instance! With its trending design and easy DIY instructions, you can create an affordable yet stylish sleeping spot without breaking the bank. All it takes is some basic tools, a few materials from your local hardware store, and some creativity—then voila, you've got the perfect centerpiece for any bedroom or guestroom. Create something unique that's sure to impress all your visitors with this budget-friendly pallet bed project today! collectivegen
16. DIY Pallet Coffee Table in 1 Hour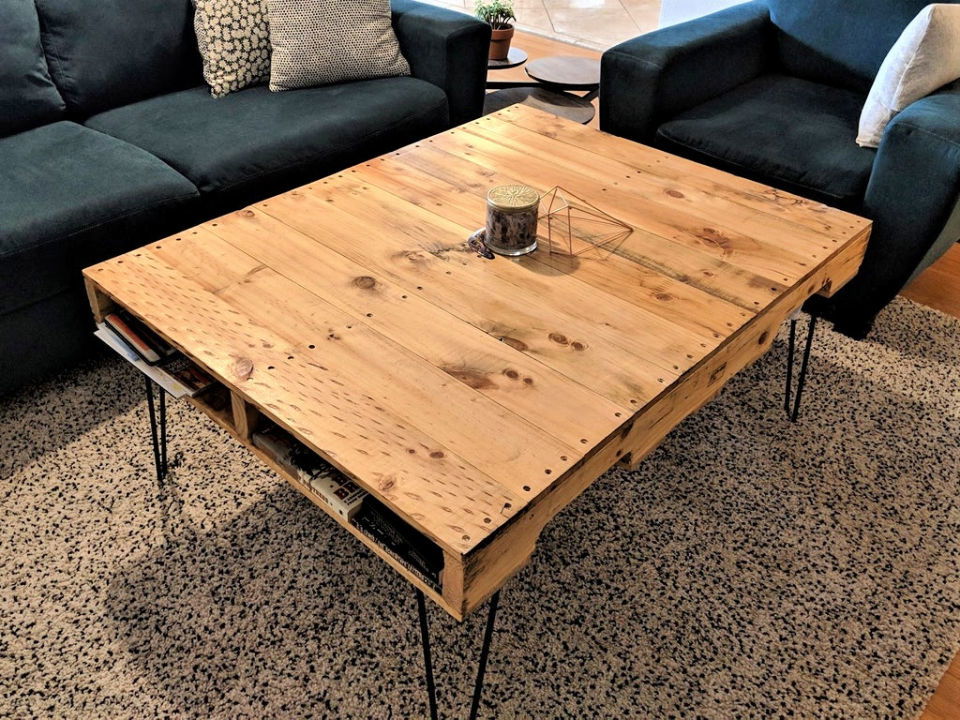 Create a beautiful and modern coffee table in an hour with minimal effort. You'll need some sandpaper, a screwdriver, and the right pallet to make your rustic masterpiece! This 1-hour pallet coffee table guide offers easy-to-follow instructions to craft an item that will look great in any home. No carpentry or woodworking skills are needed – so take advantage of this amazing opportunity. Get started now and enjoy your unique homemade coffee table today! instructables
17. Make a Wooden Pallet Side Table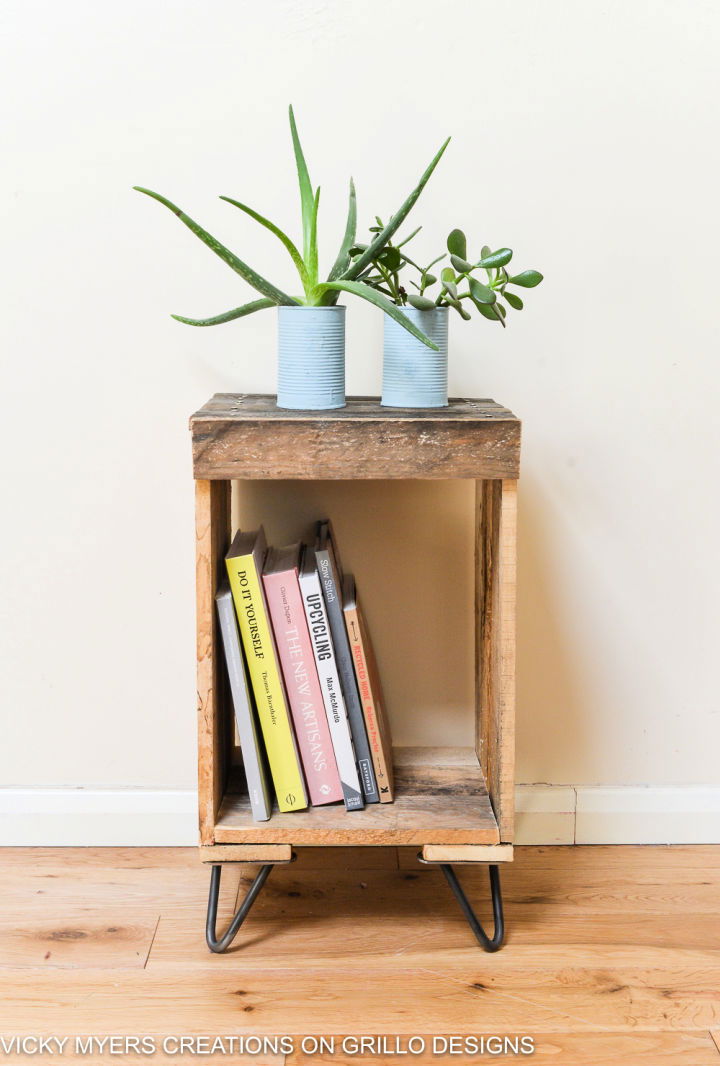 Do you want to create a unique and stylish side table for your home? Look no further, as there is the perfect tutorial for you! This step-by-step guide will show you how to make a wooden pallet side table like an experienced DIYer. You'll be amazed at how easy it is to construct this beautiful piece of furniture in only a few hours. With these detailed instructions and helpful tips, you can build an eye-catching side table that impresses your guests from scratch. So, what are you waiting for? Get started on your project today and create something amazing with wooden pallets! grillo designs
18. Building a Pallet Daybed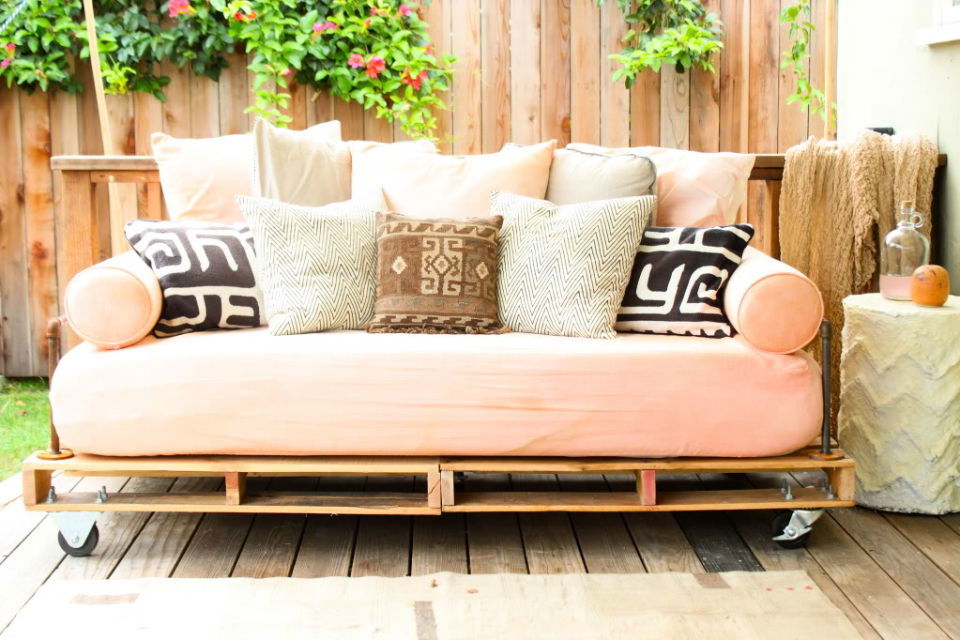 Learn how to build a pallet daybed with ease! This DIY project is simple enough and can be completed in a few days. It'll show you how to make your own functional and stylish daybed from scratch – no help required. If you want an affordable, unique addition to your bedroom or living space, this could be your perfect project! Follow these easy steps now to get on the way to creating your very own pallet daybed. prettyprudent
19. Make Your Own Pallet Desk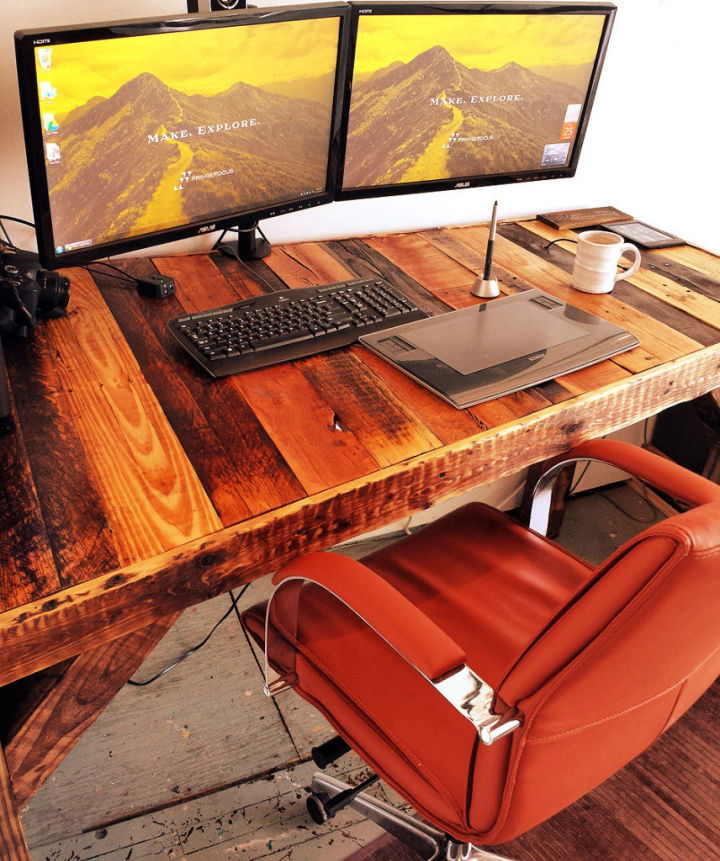 Create a hip, upcycled desk from wooden pallets with this easy DIY guide! Make your workshop more organized and productive by building a large, sturdy desk without breaking the bank. You only need woodworking tools and old pallets to start crafting your masterpiece. Follow these steps to make a one-of-a-kind workspace that will fit perfectly in any space. You can make your pallet desk quickly with just some elbow grease and creativity! fringefocus
20. DIY Back Deck Pallet Chair Instructions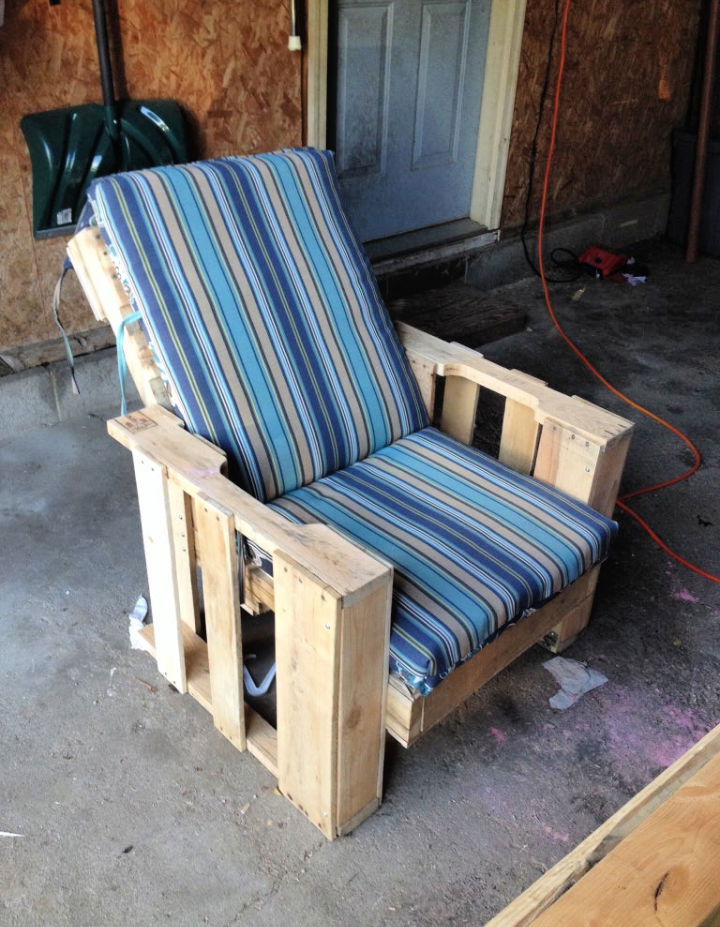 Create an amazing addition to your backyard deck with this easy-to-make back deck pallet chair! It only takes two standard 4-foot pallets and a couple of hours for assembly. The finished product is a unique piece that will look great in any outdoor space. Get creative and customize the chair to make it one-of-a-kind, perfect for relaxing on those sunny summer days or cozy evenings under the stars. Make your back deck complete with this DIY multi-purpose pallet chair! instructables
21. Homemade Pallet Ottoman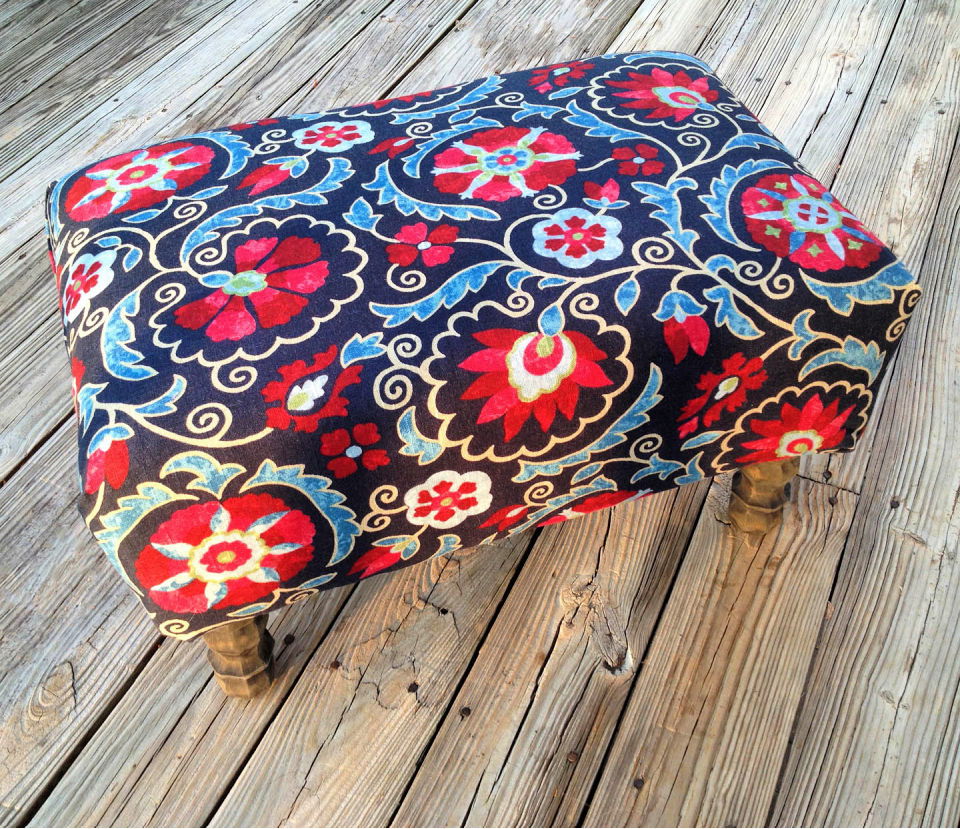 Have you ever dreamed of building furniture from scratch? Make your dreams come true with this pallet ottoman! Created from upcycled shipping pallets, this DIY ottoman is perfect for adding a layer of comfort and style to any room. Spend some time crafting something unique and special that will make you feel incredibly accomplished. It's a great way to add charm and character to your home while satisfying yourself with a job well done. asmithofalltrades
22. Easy Outdoor Pallet Chair PDF Plan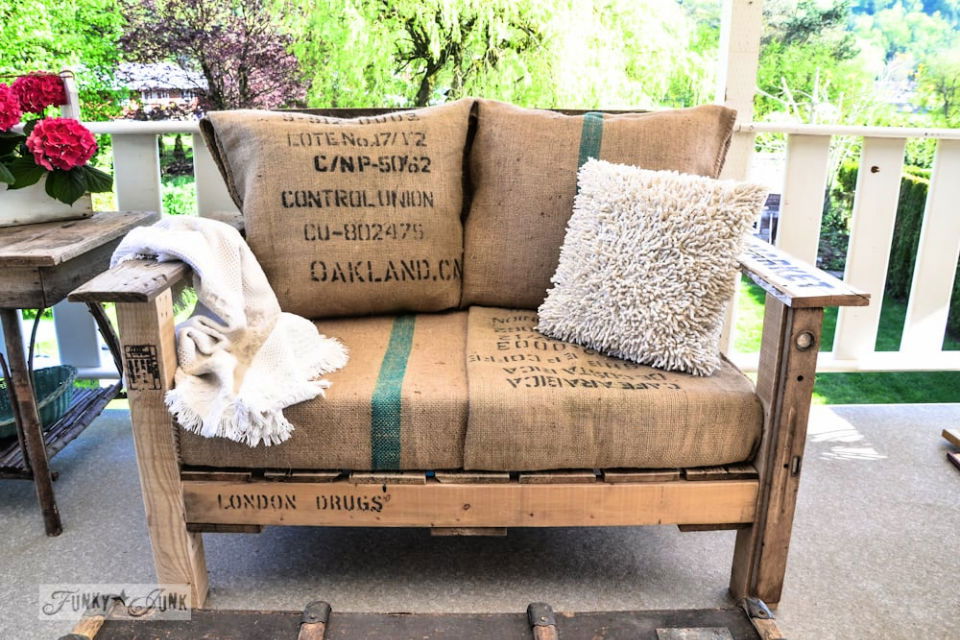 Upgrade your outdoor seating area with this easy DIY pallet chair! This oversized chair is made from 2 pallets and is perfect for lounging in the sun and can be put together in just a few hours. Enjoy comfy outdoor seating at an affordable price without any complex carpentry skills. Get creative with paint or fabric to customize the unique chair you'll love lounging on outdoors all summer! funkyjunkinteriors
23. DIY Pallet Wood Dining Table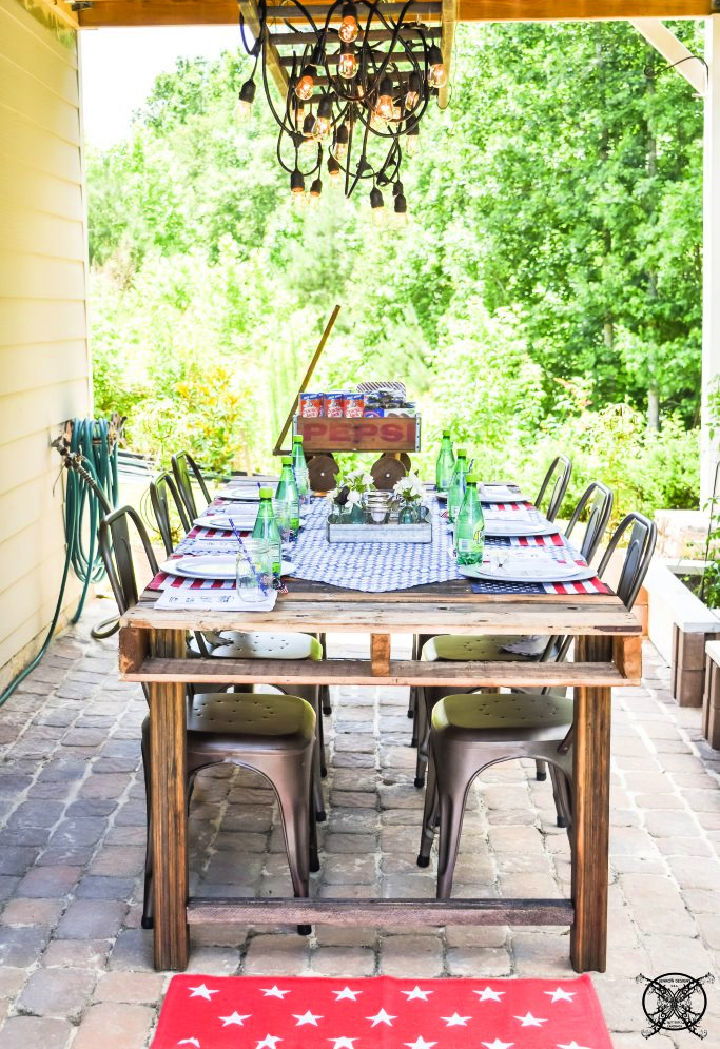 Create your stylish dining table with this DIY pallet wood dining table project. With easy-to-follow instructions, you can make a unique and beautiful piece of furniture that fits perfectly in any home. This is an affordable and creative way to spruce any dining room without breaking the bank! It's environmentally friendly because pallet wood can easily be recycled or reused. Enjoy the satisfaction of creating something new for your home while showing off your skills as a craftsperson! jenron designs
24. Making a Pallet Stool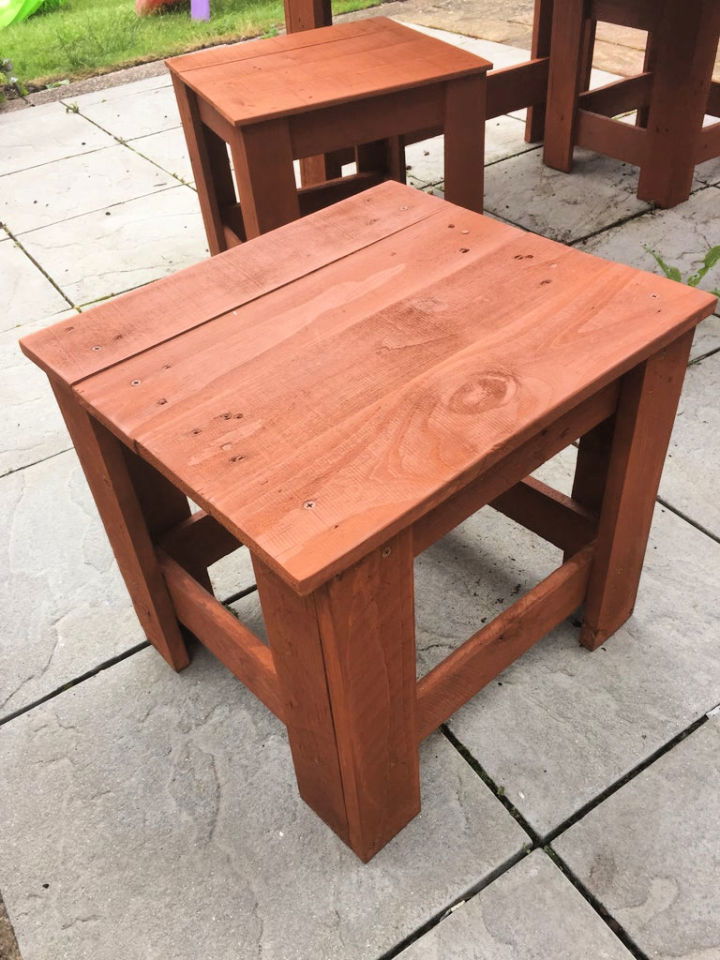 This pallet stool project is a great way to make furniture for your outdoor dining set in no time. With just a jigsaw and nail gun, you only need one afternoon to build four stools. They are simple to assemble and the perfect addition to any home patio or garden area. Plus, this plan has a separate Instructable for the accompanying table so that your outdoor space can have its own stylish seating area! instructables
25. Rustic Pallet Wood Storage Chest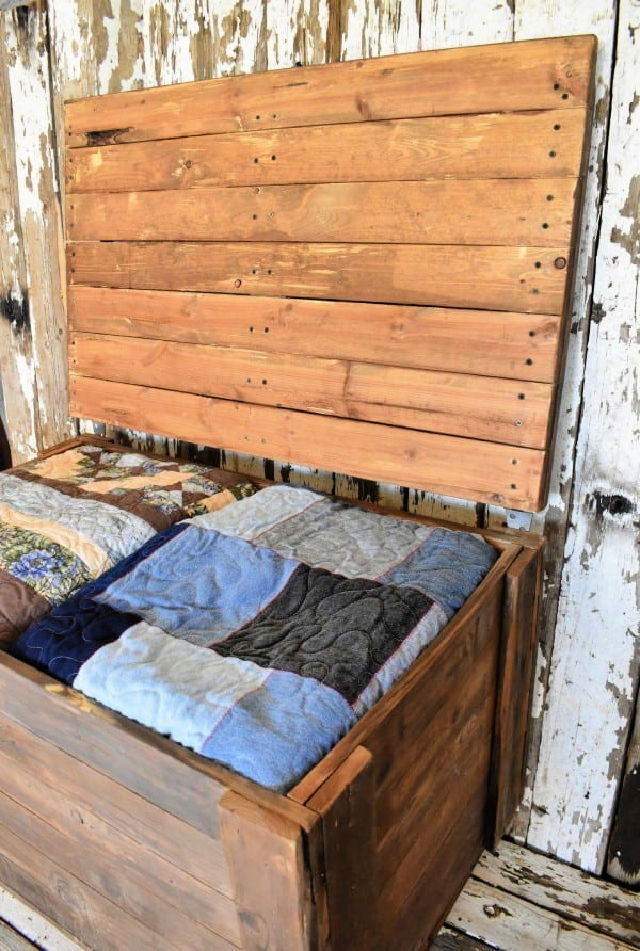 Bring rustic charm to your home with this easy-to-make pallet wood storage chest. All you need is a jigsaw and nail gun for assembly, plus basic DIY knowledge and skills. This guide provides clear instructions on constructing the chest for a quick weekend project – perfect for those looking to add some unique style and storage space at an affordable price. You'll be enjoying the beauty of a handmade piece in no time! teediddlydee
26. Free Pallet Patio Love Seat Plan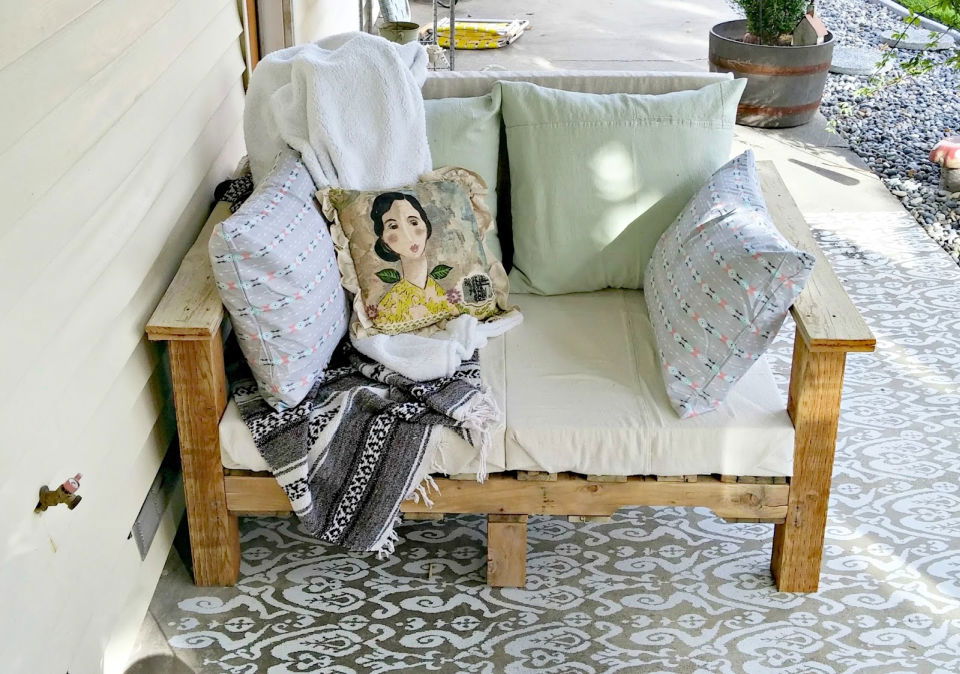 Transform your outdoor space with this unique pallet patio loveseat from our weekend yard work series. Last weekend experts stenciled the concrete for part one of the patio makeover, which turned out great! Now, join this plan as it works on creating a stunning pallet loveseat that will add extra seating to any backyard or deck area. With step-by-step instructions, you can easily create your piece of outdoor furniture in no time! Get creative and start transforming your home today! littlevintagecottage
27. DIY Crates and Reclaimed Pallet Bookshelf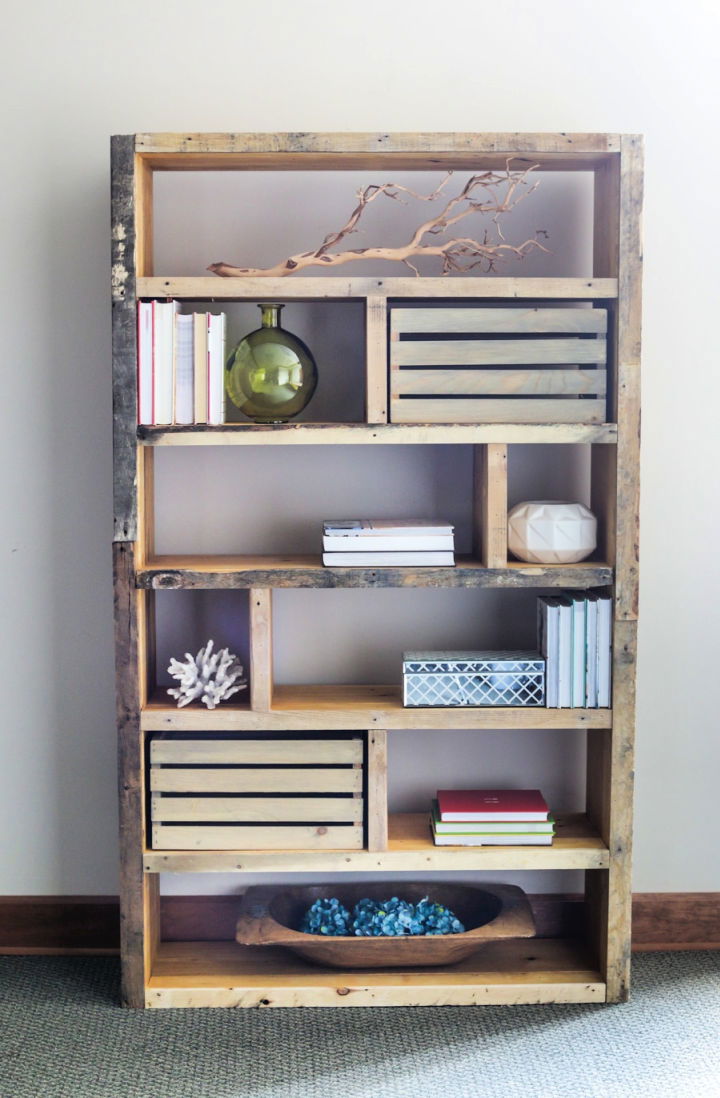 Create a unique and rustic bookshelf in your home with this DIY crate & reclaimed pallet bookshelf plans! This easy-to-follow tutorial will guide you through transforming crates and reclaimed wood pallets into this stylish statement piece. With minimal tools and supplies, you can easily make this eye-catching bookshelf that will impress any guests who enter your space! So don't wait – start building your own crate & reclaimed pallet bookshelf today and raise the roof! jenwoodhouse
28. DIY Pallet Wood Sawhorse Coffee Table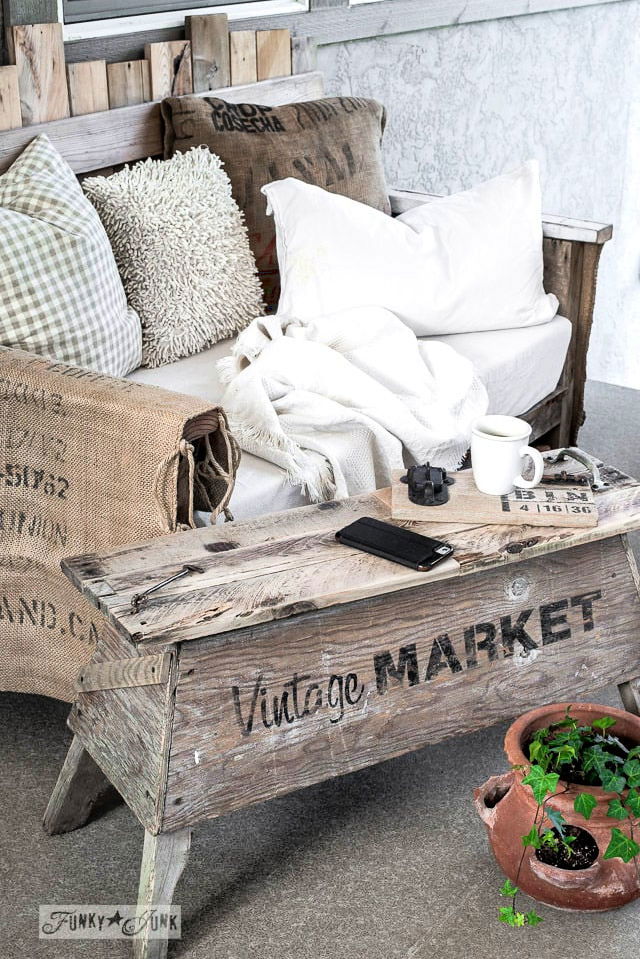 This beautiful pallet wood sawhorse coffee table is perfect for any living space. Its size makes it ideal for smaller spaces, and its rustic look adds a charming touch. This DIY has upgraded this little sawhorse by adding a ramped-up top, thanks to the inspiration of bacon grease. The result? This a unique, gorgeous piece that will be the envy of all your guests! Get ready to enjoy your stylish new pallet wood sawhorse coffee table! funkyjunkinteriors
29. Making a Pallet Swing Bed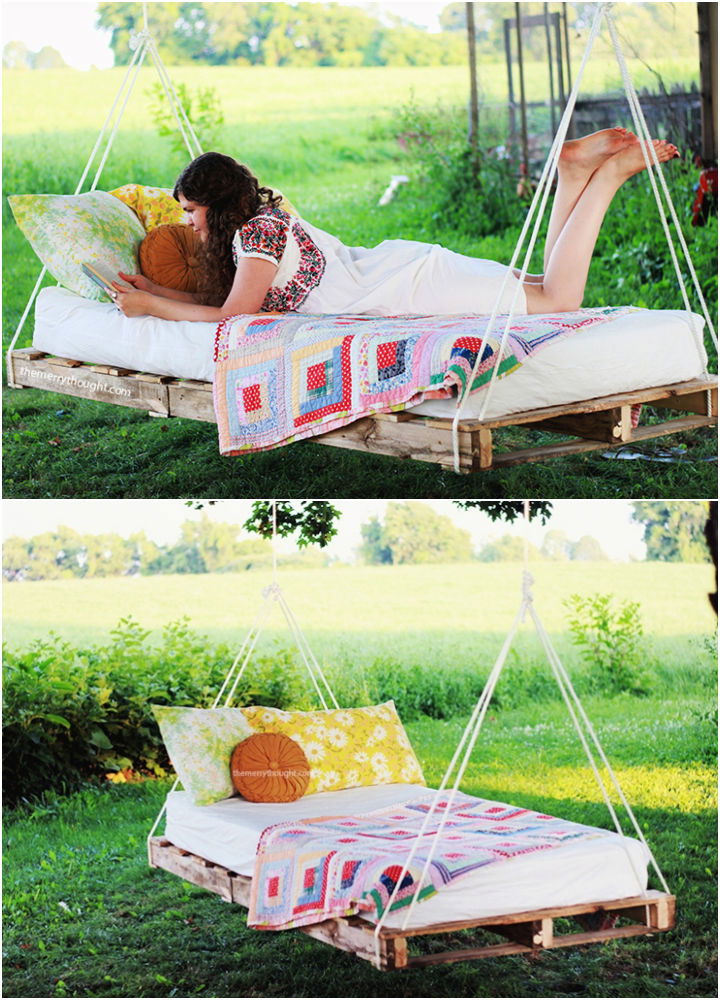 Take your DIY projects up a notch by transforming some old pallets into an amazing swing bed. You can have this unique piece of furniture quickly with some creativity and effort! From sturdy frames to inviting mattresses – the possibilities are endless when making your pallet swing bed. Enjoy restful nights or lazy afternoons swinging away in your custom-made piece of art. There's nothing quite like a homemade swing bed – so get creative and start building today! themerrythought
30. Pallet Wood TV Console Table Tutorial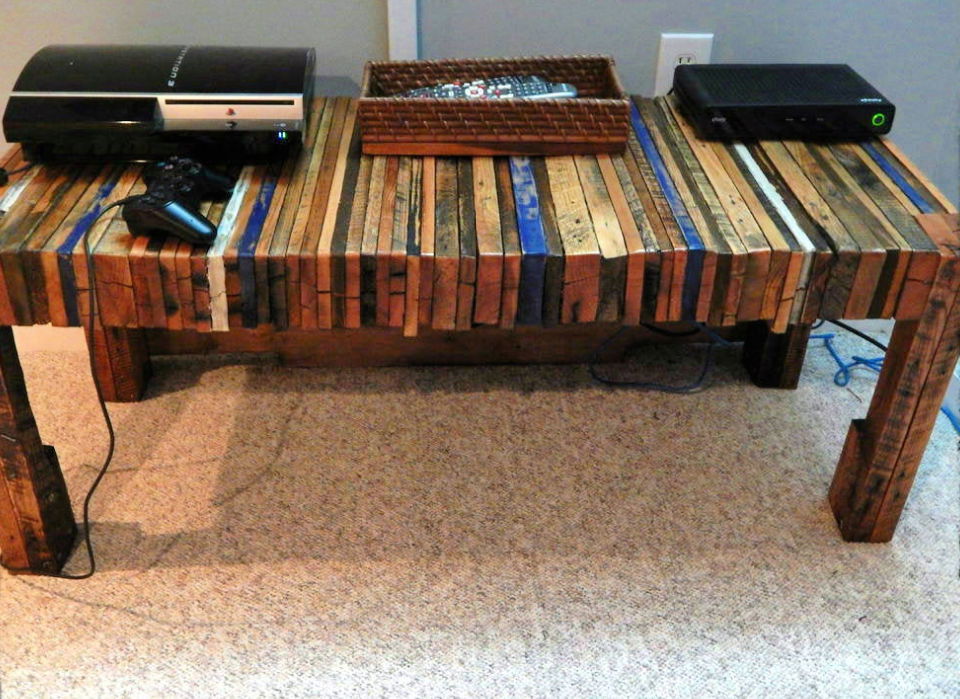 Make a statement in your newly remodeled basement with this eye-catching reclaimed pallet wood tv console! It's the perfect way to organize and hide cords, cable boxes, and DVD players while displaying your first real TV you've wall-mounted. The rustic, artistic look of the pallet bench is sure to add character to any room. Get creative and create something that you can be proud of! instructables
31. Homemade Pallet Potting Bench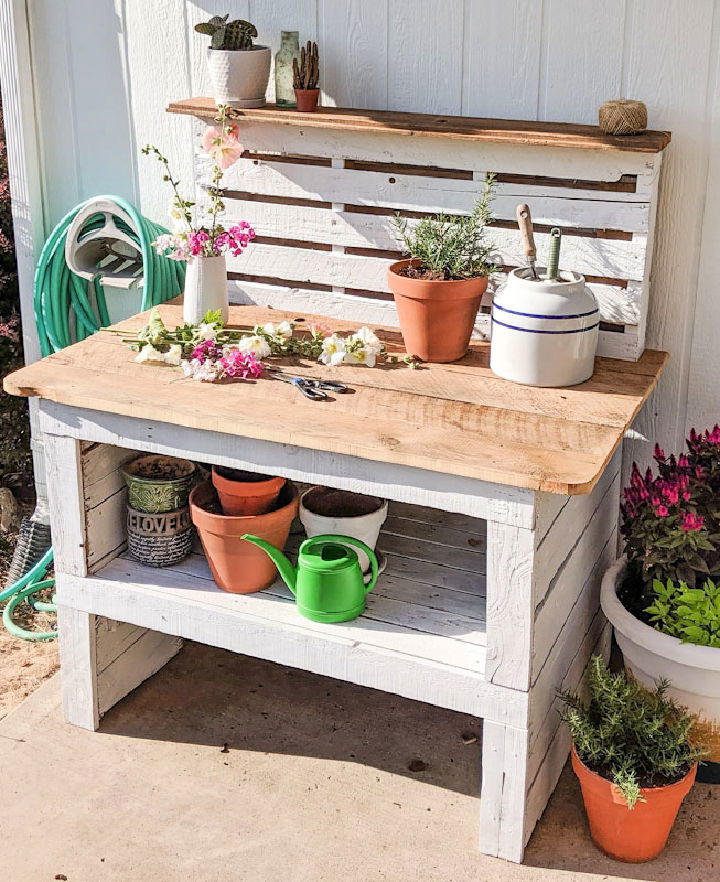 Transform free pallets into something beautiful with a DIY pallet potting bench! Breaking down and reviving a pallet can be a labor of love, but after some hard work, you will have the perfect furniture for your backyard. An easy tutorial will show you how to craft this useful outdoor bench from discarded materials – it's the perfect project to add character and style to any garden space. Get ready to take on this upcycling challenge and create something unique! myhappysimpleliving
32. Make Pallet Kitchen Island Under $50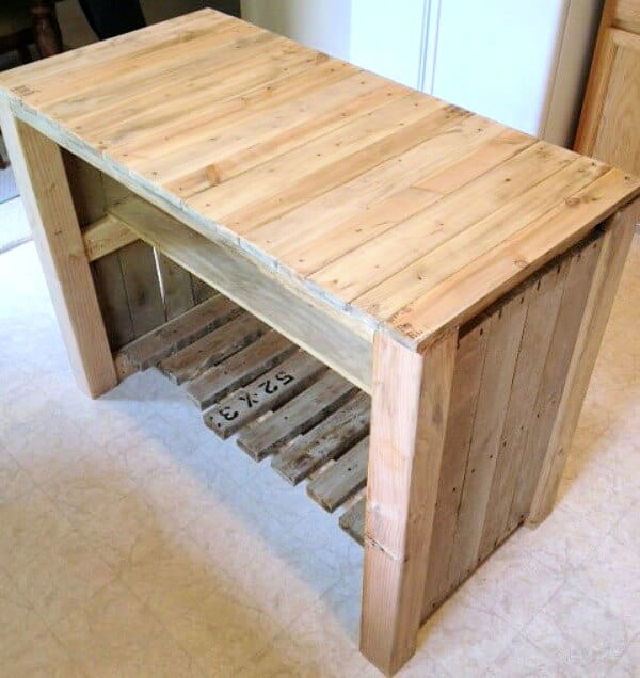 Are you looking for a unique way to add storage and counter space to your home? Look no further than building your own DIY pallet kitchen island! With some wood pallets, a few tools, and less than $50 worth of material, you can easily create an attractive kitchen island that will surely be the centerpiece of any room. This project will save you money on expensive furniture and give you great satisfaction from having made something with your own two hands. So, get creative and start making today – with the right supplies, anyone can craft their very own DIY pallet kitchen island quickly and inexpensively! notinggrace
33. Making a Dresser From Pallets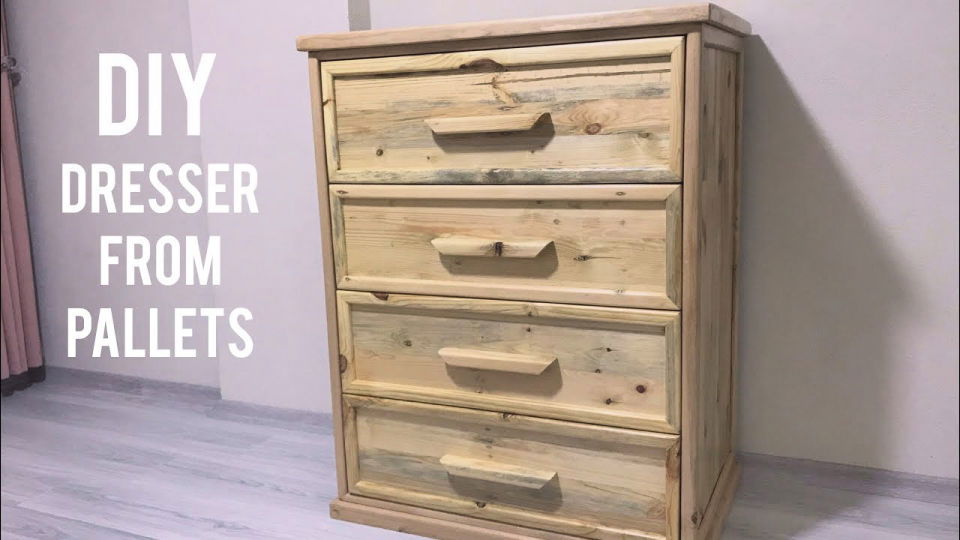 This DIY pallet project creates a stunning dresser for your bedroom or living space. Learn how to build a wooden dresser from pallets and transform it into something beautiful. This step-by-step guide shows you what is needed from the palette, how to make the dresser and construct a nightstand. With some creative ideas and a work ethic, you can create an exquisite piece of furniture that will look great in any home. Get started today on your unique wooden masterpiece!
34. DIY Pallet Bed With Hidden Storage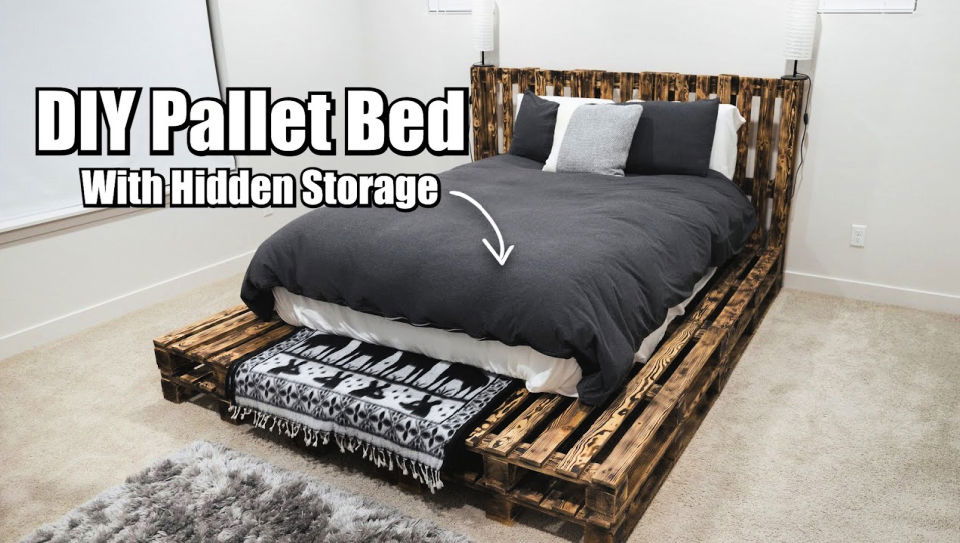 Are you looking for a creative way to craft your bed frame? Look no further! This DIY pallet bed with hidden storage is the perfect project for those wanting to get more creative. From start to finish, this pallet bed frame will provide plenty of storage in the center, leaving you super happy with the outcome. Even if this is your first time building something like this, it's sure to be an enjoyable experience that results in a beautiful piece of furniture. Try out these step-by-step instructions today and make your dream bed come true!
35. Build Garden Furniture With Pallets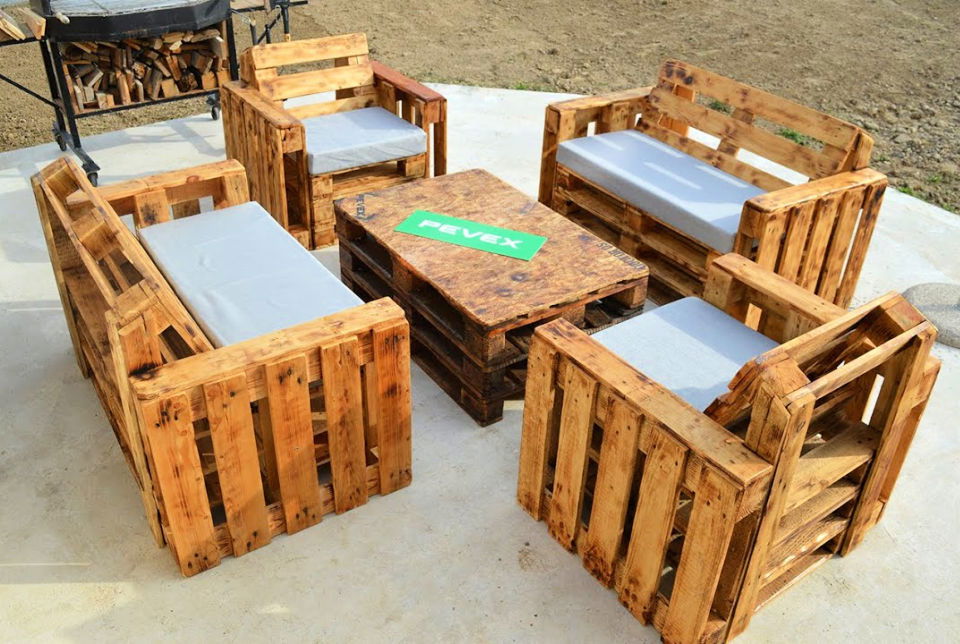 Make your backyard beautiful with this easy and affordable DIY project for homemade garden furniture from pallet wood! This great video guide walks you through every step of the process, making it a perfect woodworking project for all skill levels. Learn how to take some simple wooden pallets and turn them into stunning outdoor furniture that will make your yard look amazing. Try this homemade garden furniture from a pallet DIY project to build something special today!
36. Turn Pallets Into Dining Table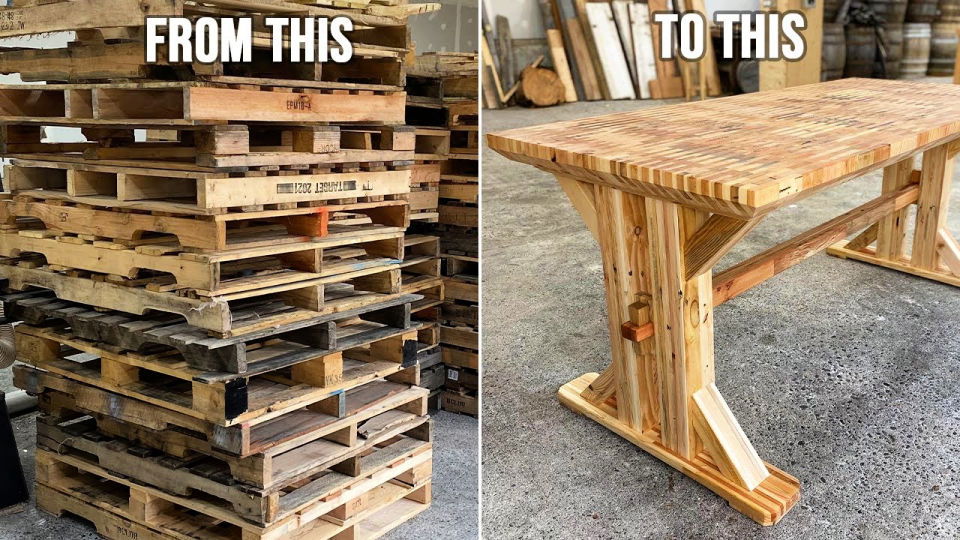 Create a one-of-a-kind dining table with this amazing reclaimed wood project! Constructed entirely out of 52 old pallets, this farmhouse-style dining table includes a 3″ thick end grain butcher block style top 3′ wide and 6′ long. The trestle base is all mortise and tenon joinery. Follow along as this DIY shows you how to build it from start to finish, including how much time and money it took for materials. You want to take advantage of your chance to make something unique!
37. Outdoor Bed Combined With Chair From Old Pallets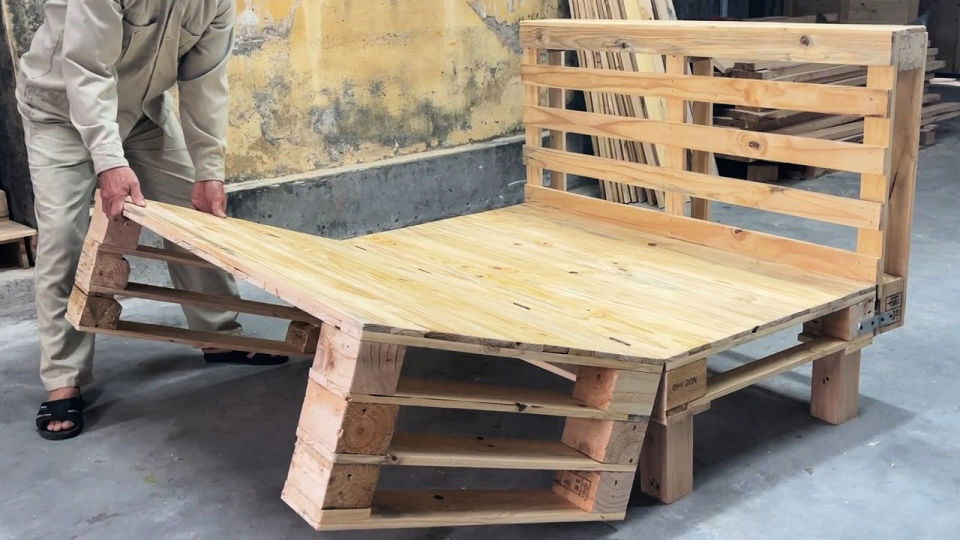 Bring your ideas to life with this amazing woodworking project! Transform old pallets into an outdoor bed and chair. This unique combination is perfect for relaxing in the sun or napping in nature. With a few simple steps, you can make this one-of-a-kind furniture set that will be the envy of all your friends and family. It's easy enough for beginners but provides experienced crafters with a great challenge. Enjoy the satisfaction of making something beautiful from recycled materials – get started today on your amazing ideas woodworking project!
38. How to Build a Pallet Furniture for Beginners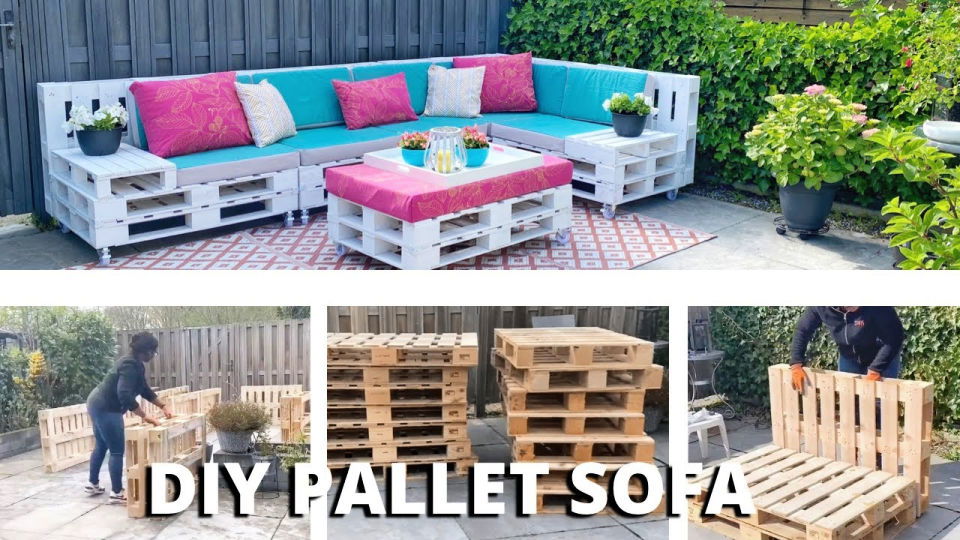 Transform your backyard with a DIY pallet patio set for under €125! Learn how to make a pallet sofa and more. This tutorial will show you step-by-step instructions on building this amazing outdoor furniture piece that will instantly upgrade your backyard. With this detailed guide, it's easy for anyone – regardless of experience – to create the perfect outdoor living space with stunning results. Try DIY pallet furniture today and add some rustic flair to your yard!
39. Simple DIY Double Chair From Pallets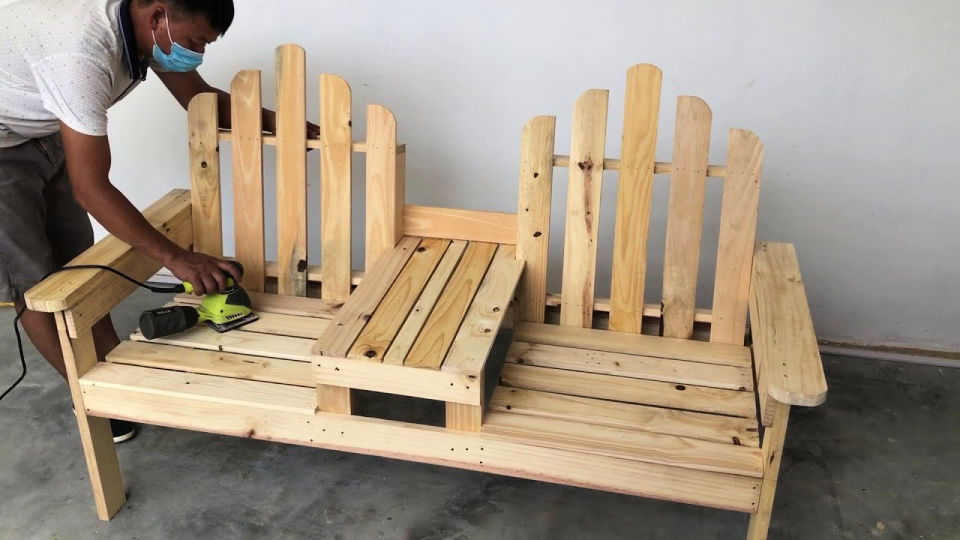 Do you need a double chair for your outdoor space? Look no further than gardener woodworking! This DIY makes it extremely easy to build a double chair from pallets. These simple step-by-step instructions will guide you through creating and assembling your chic, durable, custom-made piece of furniture. This project is great for beginners since it only requires a few materials or tools. Start building today with this help!
40. DIY Pallet Living Room Furniture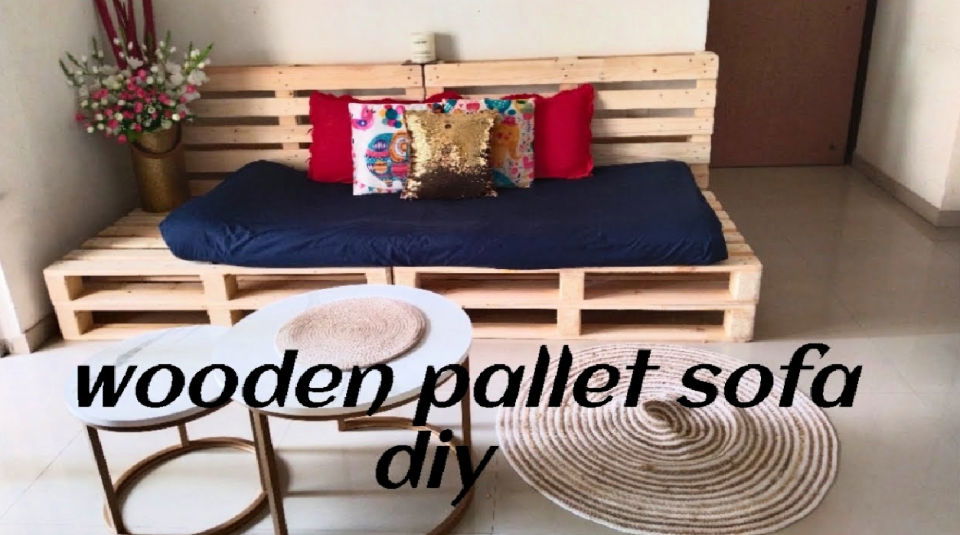 Transform your outdoor or indoor space into a stylish seating area with this DIY wooden pallet sofa. Perfect for patios, balconies, and living rooms alike, this custom piece of furniture is easy to build with these step-by-step instructions and video guides. Create an eye-catching conversation starter using only wooden pallets that will be the envy of all your friends and family! With minimal tools required, you'll have a beautiful sofa in no time that's sure to last for years to come.
Conclusion: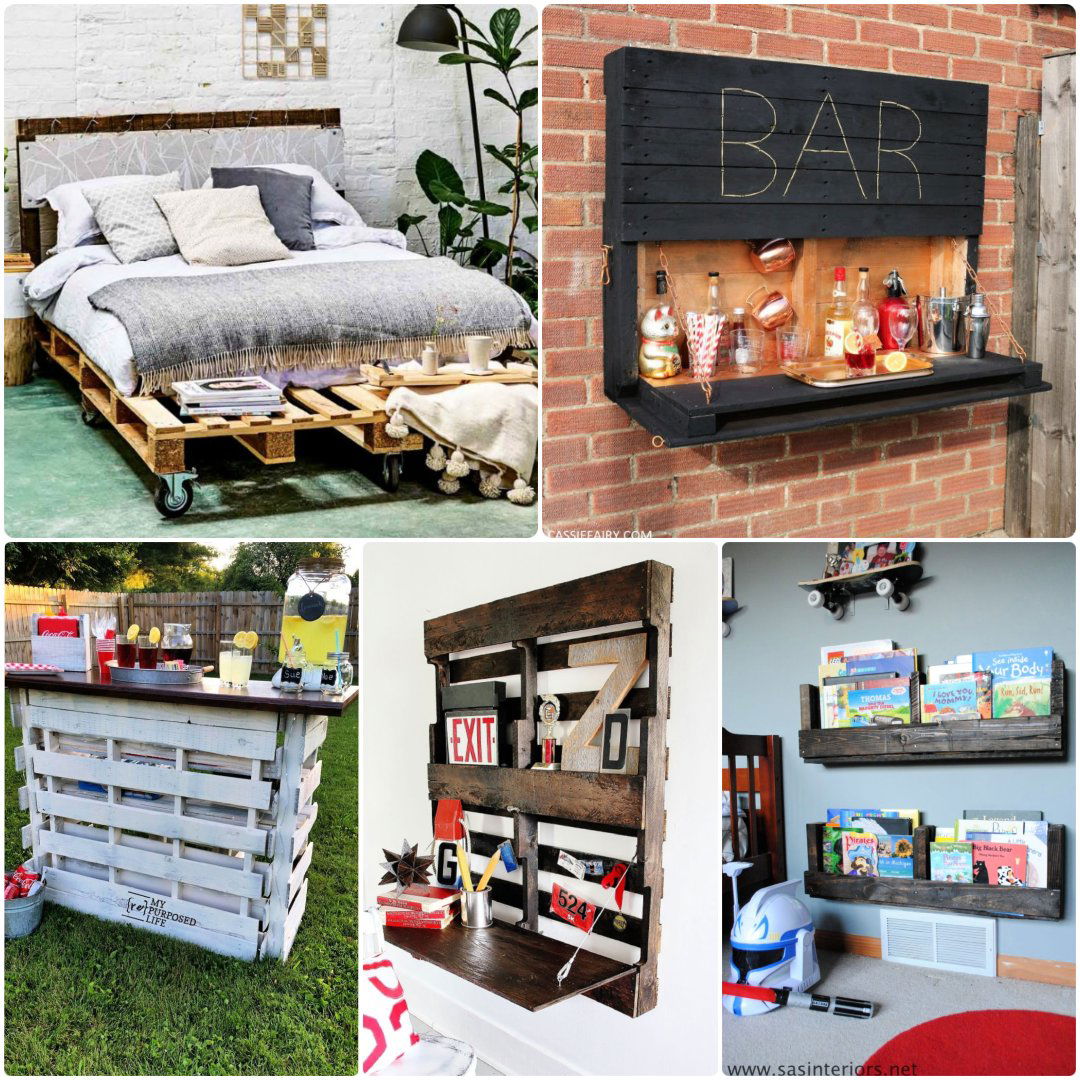 In conclusion, these DIY pallet furniture ideas and plans provide endless creativity and functionality in your home or outdoor space. With these 40 incredible DIY pallet furniture ideas and plans, you can effortlessly transform reclaimed pallets into stylish and functional pieces, such as couches, tables, and even gardening stations. Embrace the world of wood pallet furniture and elevate your living spaces with customized, eco-friendly designs. So why wait? Pick your favorite pallet projects, grab your tools, and start crafting your unique, sustainable furnishings today!