Adding a DIY water fountain to your garden or patio can completely transform your outdoor space. Offering a unique blend of visual appeal and tranquil sound, a DIY water fountain can make your garden feel like a serene retreat. With our detailed instructions and simple tips, you can make a stunning water feature that will be the envy of your neighbors. From small tabletop fountains to larger outdoor designs, these 25 DIY water fountain ideas are versatile and surprisingly easy to make.
A homemade water fountain is not only a great way to enhance your backyard or patio, but also an opportunity to showcase your creativity. You can build your own fountain out of a variety of materials such as pots, storage containers, and even bamboo. You could also make a disappearing water feature, a solar plant pot water fountain, or a unique river rock water feature. The possibilities are truly endless when it comes to DIY water fountains.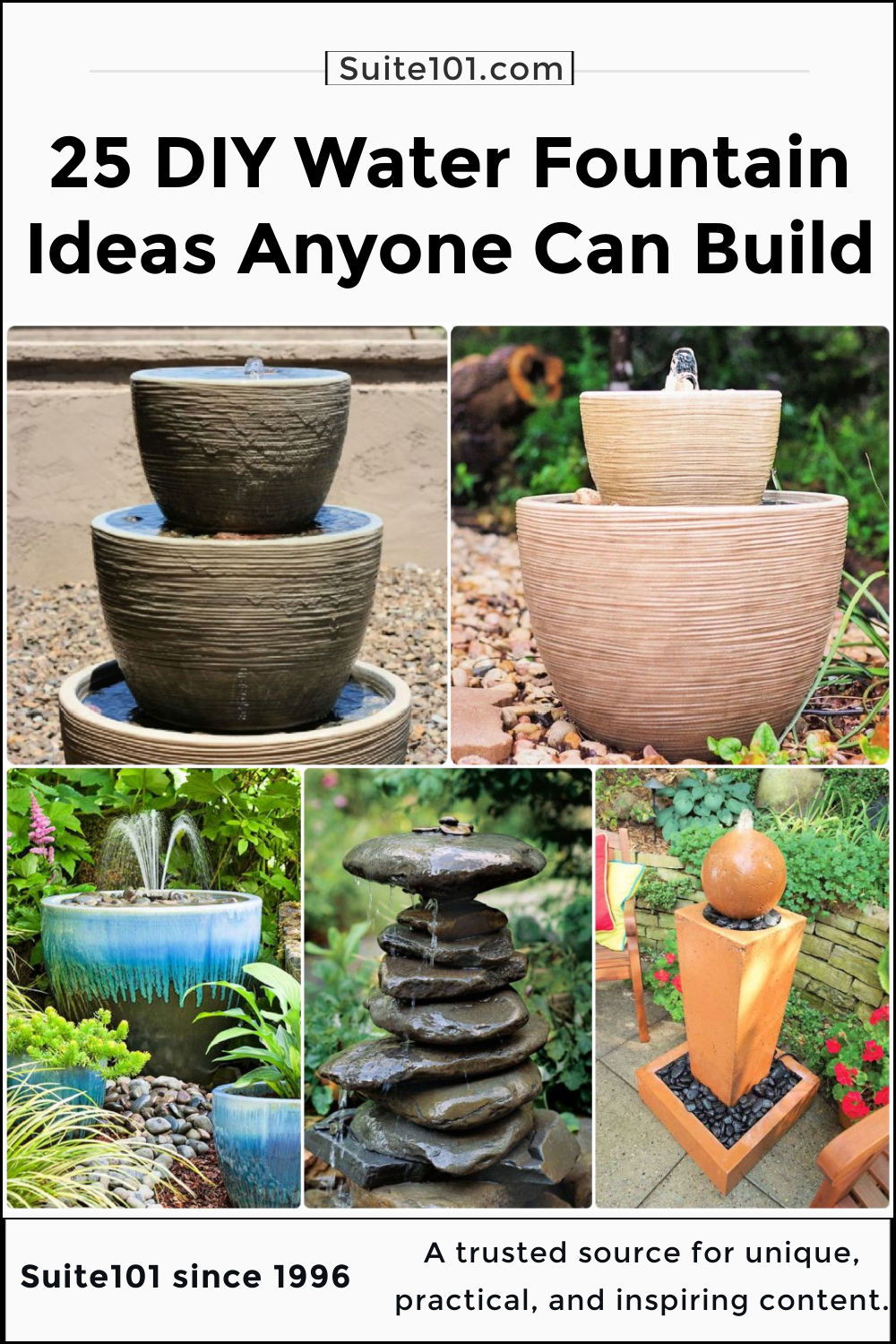 Our guide will provide you with 25 unique DIY water fountain ideas, from low-maintenance water features to solar-powered designs, and will guide you through the whole process with easy, step-by-step instructions. It even includes a section on how to make a cascade water feature out of pots and a DIY recirculating fountain, ensuring you have all the information you need to get started. So, why wait? Start making your own DIY water fountain and bring a touch of tranquility to your outdoor space today!
1. DIY Low-Maintenance Water Feature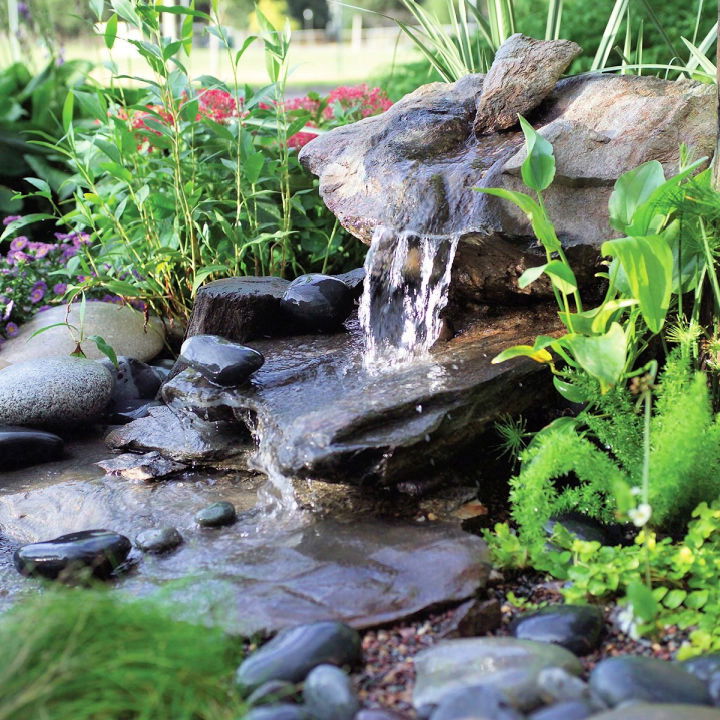 Bring a touch of tranquility to your backyard with an easy-to-make, low-maintenance water feature. All you need is a few basic materials and tools – 1- to 2-in. smooth round stone, elbow, male adapter, indoor/outdoor carpeting, boulders, corrugated pond tubing, five 5-gallon pails with lids, garden hose, pea gravel pond liner padding, pump silicone caulk, spray paint two tubing clamps and waterproof liner.
With easy-to-follow instructions, you can make an outdoor oasis that is sure to be the envy of all your friends and family. Enhance your outdoor living space today by creating this wonderful water feature for a fraction of the cost! familyhandyman
2. How to Make a Fountain at Home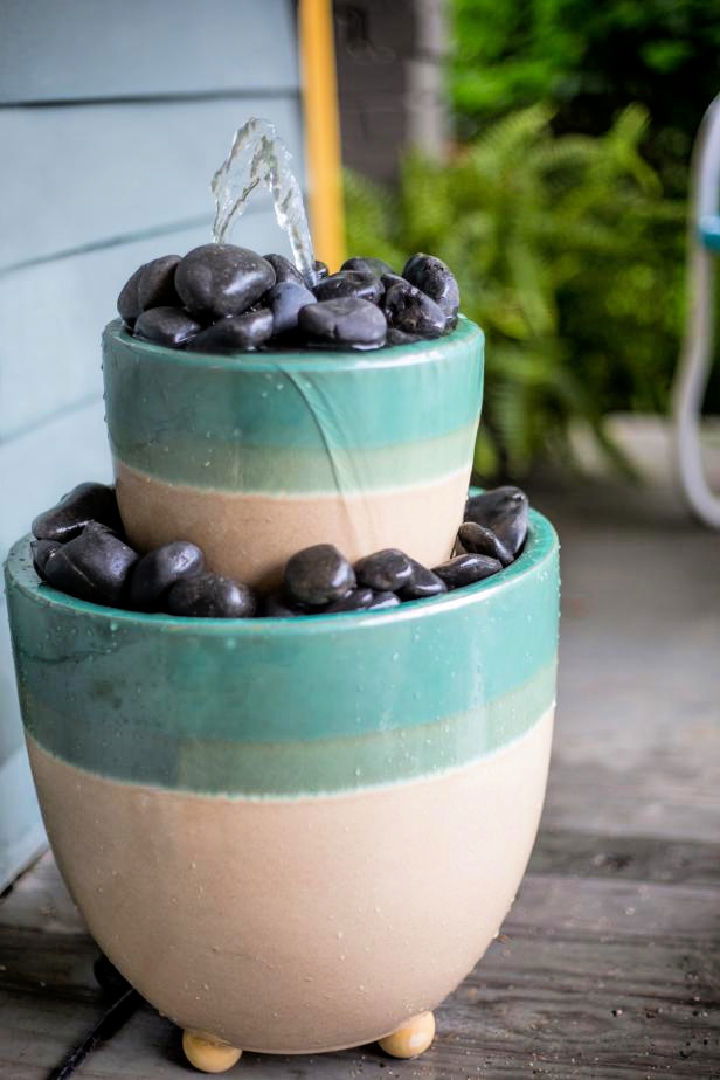 Step into the world of fountain-building with this simple guide! Start by using a drill and spade bit to make a hole in the bottom of an 18-inch ceramic pot. Place the water pump inside, then cut plastic tubing and insert it through the bottom hole of a 12-inch pot, flipping it upside down. Attach additional pots for height if desired before adding decorative rocks or stones.
Finish up by plugging in the power cord and enjoy your homemade masterpiece! With this simple tutorial, you can make te a beautiful fountain that will not only be eye-catching but also provide soothing white noise throughout your garden. hgtv
3. Quick and Easy Water Fountain for Wall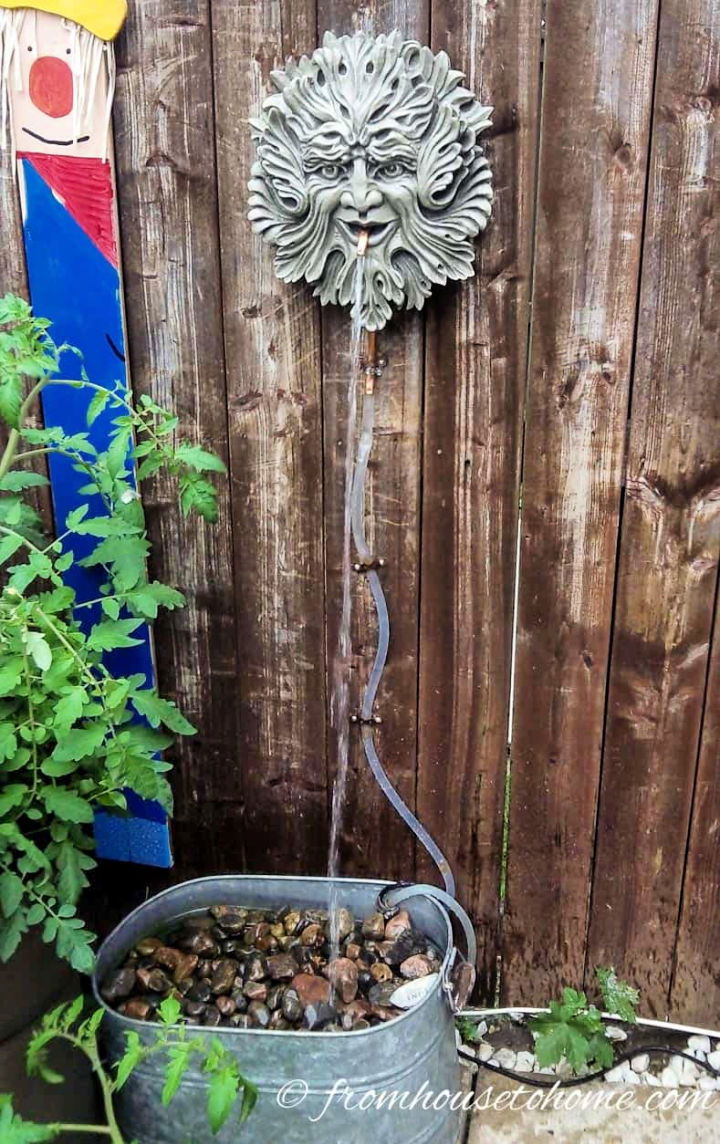 Build an outdoor oasis with a DIY wall water fountain! Perfect for any backyard, garden, or patio area. With only a few steps and materials, you can easily construct your own water feature. Start by finding the perfect sculpture, like a lion's head or gargoyle, to attach to the wall and act as the fountainhead. Then select the pump size that will move water up and through it at the desired strength. However, don't forget to get some hoses and connectors too! Finish off your project with either a tub or vessel to catch flowing water, plus a pond liner and river rocks if desired. The possibilities are endless! fromhouse
4. Make a Bubble Fountain in a Pot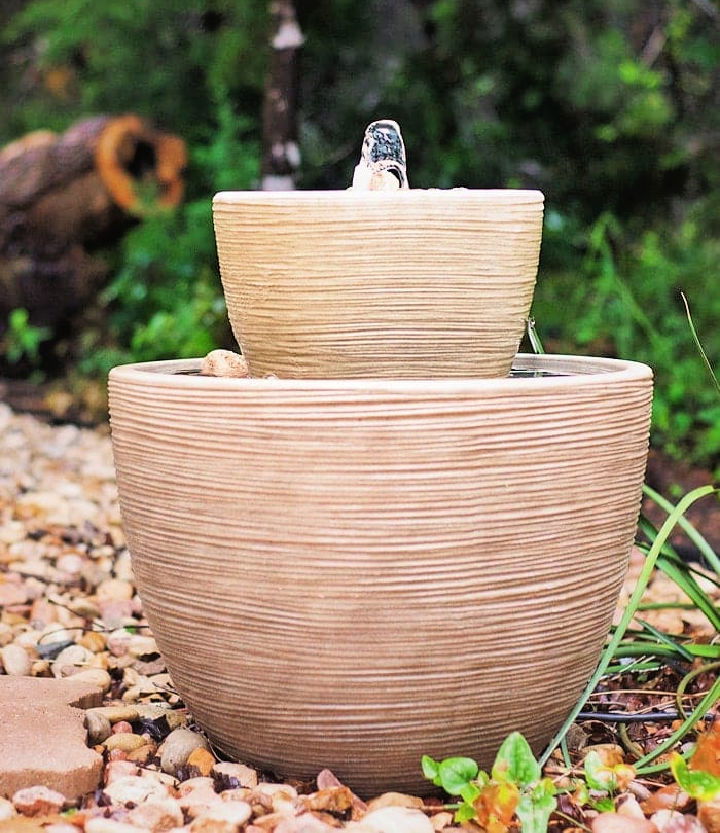 Check out this beautiful and intriguing bubble fountain in a pot with just a few steps. Start by cutting the electrical cord to size according to your desired pot size, then splice it together so you can attach it securely. Next, assemble all of the components of the pot, including the water reservoir, fountain pump, and decorative rocks. Finally, make it look even prettier by adding plants or other decorations around the base of the fountain for added texture and color. So, make a unique outdoor feature that will add beauty and charm to your garden space! scatteredthought
5. Cool DIY Garden Water Fountain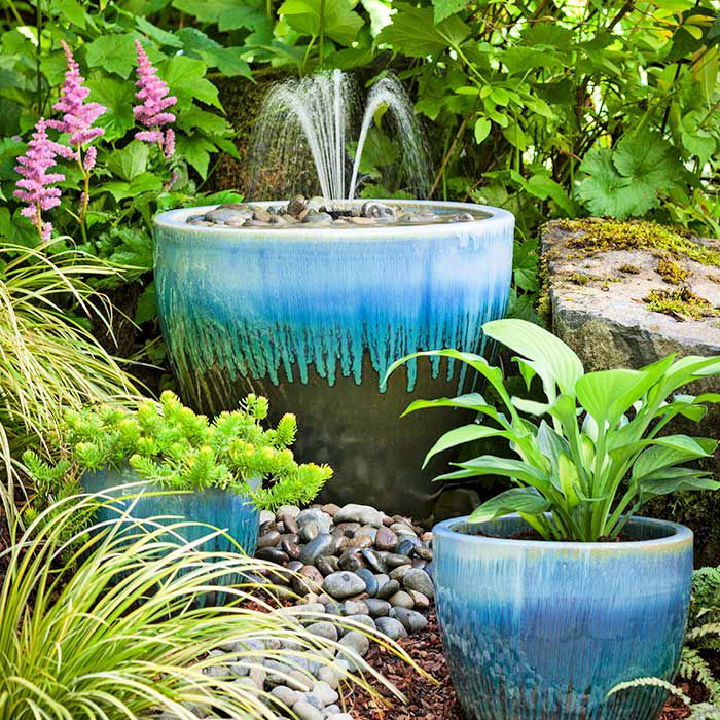 Discover the best DIY outdoor fountain ideas that incorporate natural elements, modern designs, and customizable features for your ideal retreat.
Transform your outdoor space into a tranquil haven with our DIY garden water fountain! This fountain is easy to assemble and can be installed both indoors and outdoors. It features an elegant design perfect for adding a unique touch of beauty to any home or garden.
You'll love the soothing sound of running water that will help make a tranquil atmosphere in your outdoor space. You will need a ceramic pot, rubber hole plugs, Silicone adhesive sealant, plastic buckets, and a water garden container fountain kit. lowes
6. Turn Plastic Storage Container Into Water Feature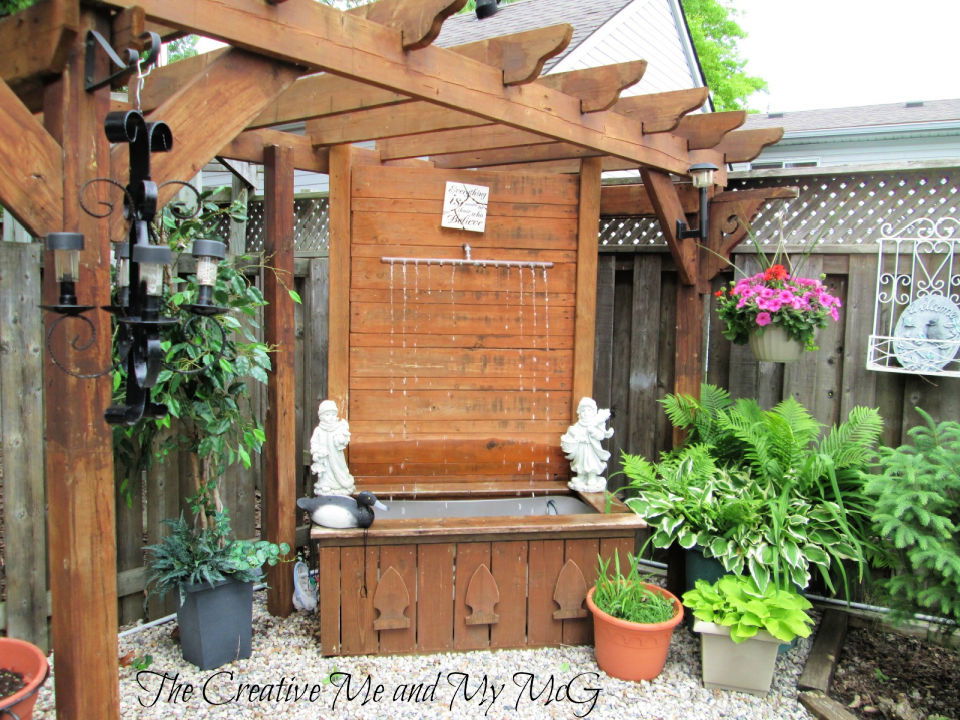 Turn any plastic storage container into a beautiful water feature in your garden or backyard with this simple tutorial! Learn how to turn a basic plastic container into an ornamental fountain, waterfall, or pond.
This DIY project is super easy to accomplish and requires minimal equipment. With just some basic tools, craft supplies, and imagination, you can have an amazing focal point for your outdoor space that looks professionally done! You'll certainly love the look and feel of having something special in your yard without breaking the bank. thecreativeme
7. Simple DIY Tiered Water Fountain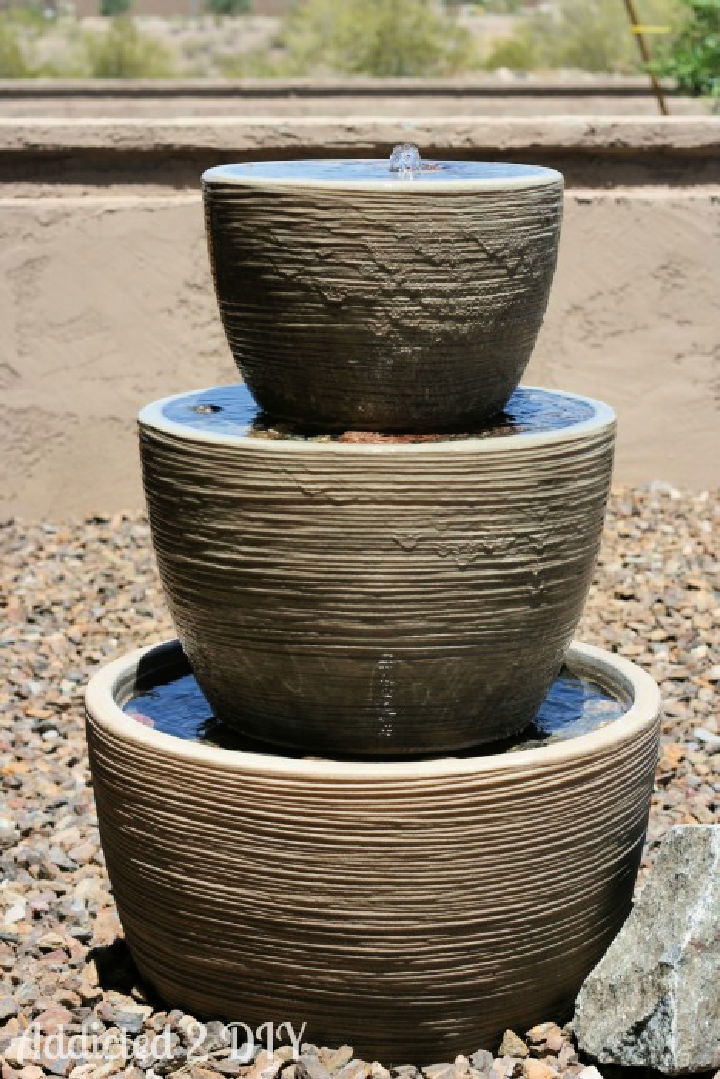 Alter your garden into a tranquil oasis with this easy-to-install tiered water fountain. No electricity or plumbing is needed – just level the pots, fill them with rocks and watch as the water cascades down into the bottom pot. The unique design of this fountain ensures that it won't move once filled with rocks, so you must choose its placement wisely. So, make a stunning focal point for your outdoor area and enjoy the tranquility of running water today! addicted2diy
8. Making a Garden Fountain Using Sink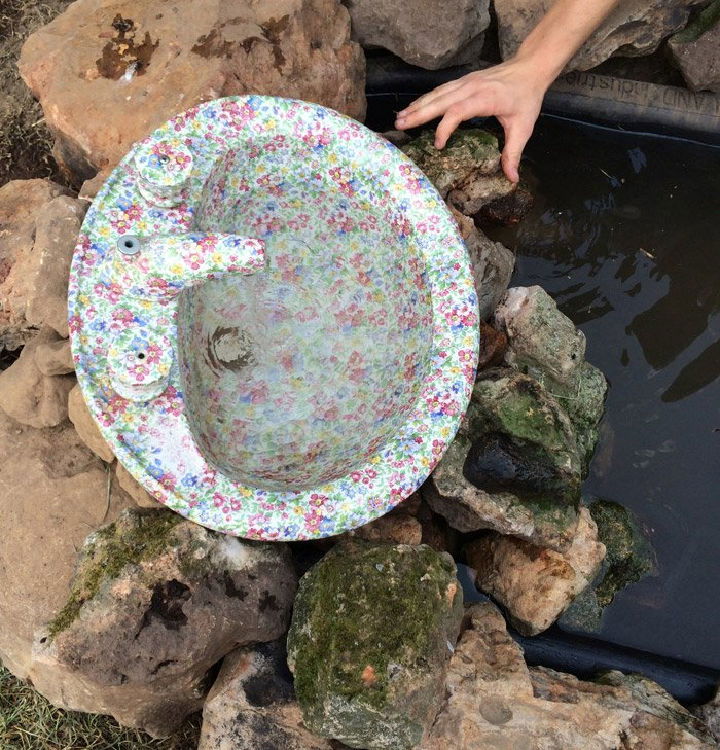 Explore our diverse selection of DIY outdoor fountain ideas to transform your backyard into a serene oasis with minimal effort.
Upcycle an old sink and turn it into a beautiful garden fountain! This DIY project requires some basic plumbing knowledge, but with the right fittings and adapters, you can make a unique water feature for your outdoor space.
Start by capping off the fitting under one of the handles on your two-handle faucet to plumb it to one water source. You will need enough adapters to convert the standard plumbing inlet to work with a pond fountain; if you have three inlets, then two caps and one converter are necessary. With a 1/2″ ID fountain hose attached, enjoy your own homemade garden fountain! hawk hill
9. Handmade Indoor Water Fountain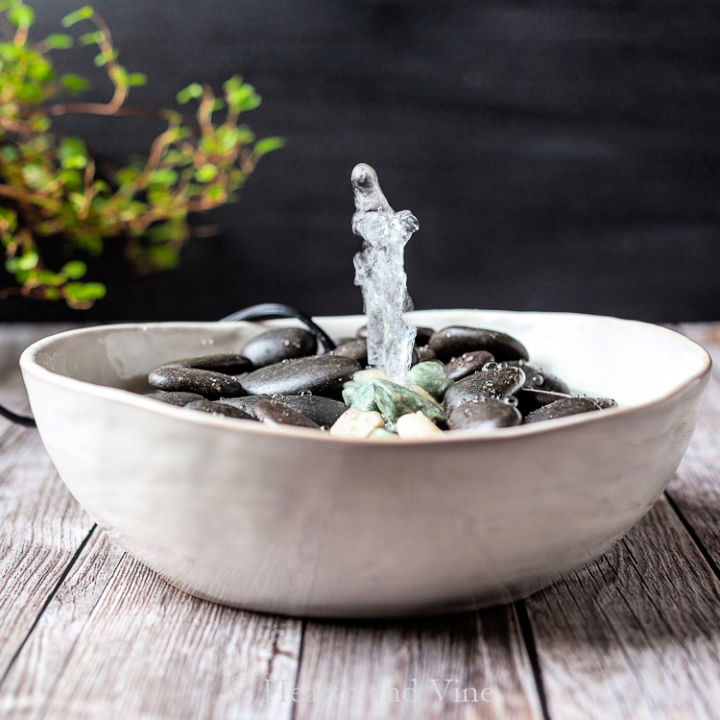 Bring the tranquility and beauty of an indoor water fountain into your home with this easy tutorial. Start by arranging the pump, especially the nozzle, where you want water to flow. For a unique look, consider placing it off to one side or in the middle. Next, use decorative rocks to hide any unsightly cords and pumps. Finally, fill up your fountain with water! Follow this simple tutorial for a calming addition that will freshen up your space in no time at all. hearthandvine
10. DIY Solar Fountain With Step by Step Instructions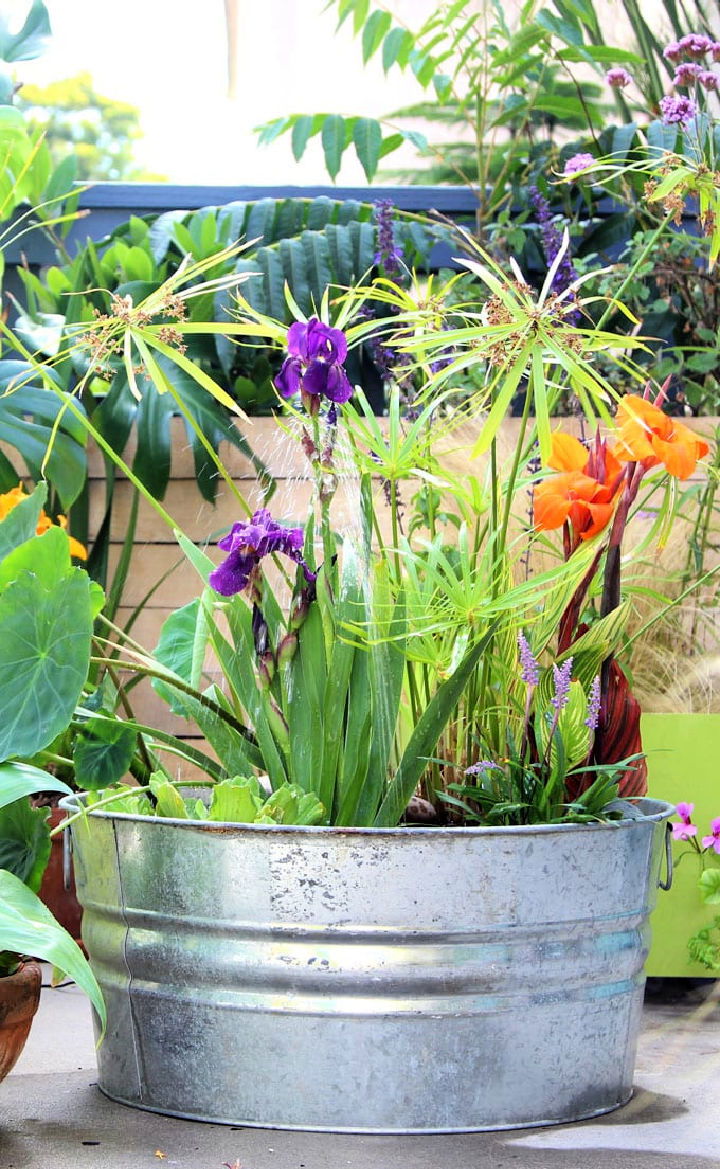 Make your garden a beautiful, relaxing retreat with an easy DIY solar fountain. The Behrens 15-gallon round steel tub is the perfect vessel for this fountain – it measures 25″ diameter by 12″ tall and looks great in any outdoor space. And the solar fountain pump comes with a 10 feet cord from the water pump to solar panel so you can set up your water feature in the sun or shade so long as the panel catches some rays. So, just get creative with it and enjoy a tranquil atmosphere right at home! apieceofrainbow
11. How to Build a Backyard Water Fountain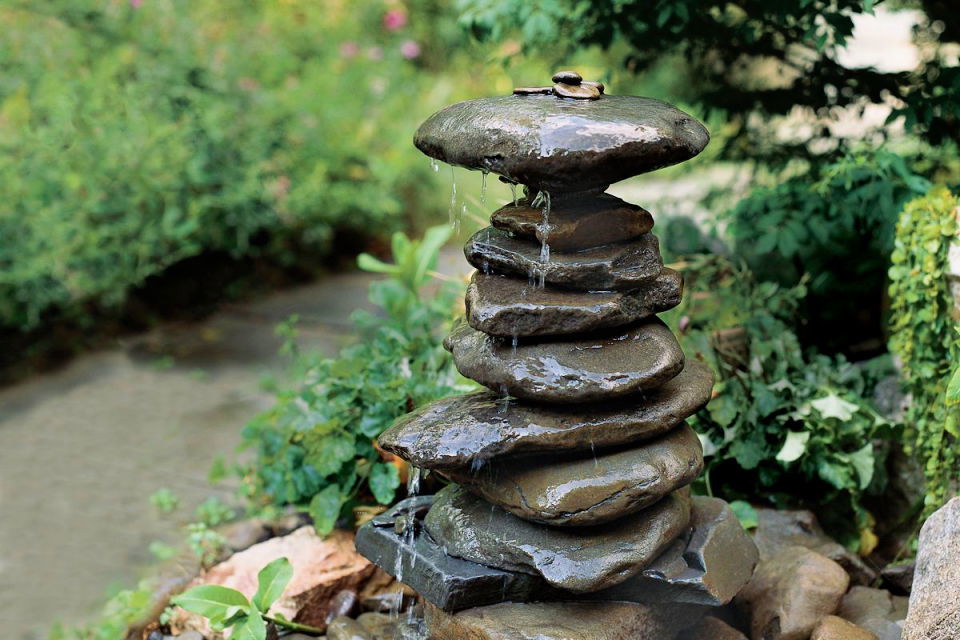 Embrace tranquility and elevate your garden's aesthetics with DIY garden fountain ideas that merge creativity, sustainability, and cost-effective solutions. Get a touch of tranquility to your backyard with this easy-to-install fountain. Start by digging the pump hole, making sure it is large enough for the pump and any pipes or cords that will need to go through. Then, set the basin into place and attach the conduit securely so that water can flow freely from one part of the feature to another. Dry-fit all parts before securing them in place permanently; make sure everything fits correctly and mark an opening for access if needed. With a few supplies, time, and patience, you'll have your own beautiful backyard fountain! thisoldhouse
12. Rustic DIY Indoor Water Fountain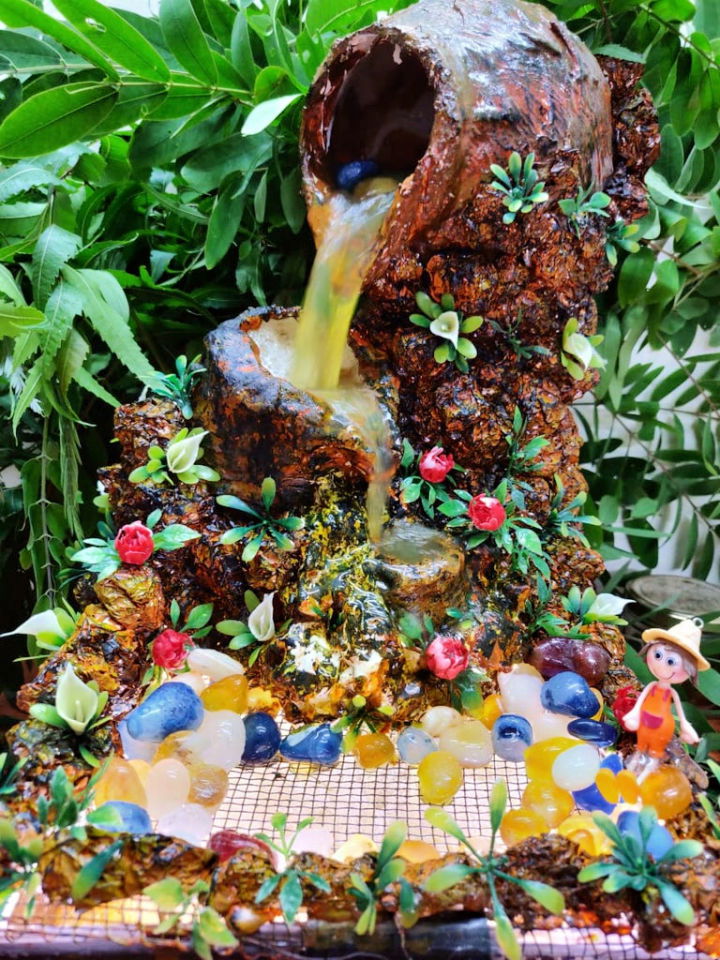 Set up a beautiful water feature that will bring natural ambiance and tranquility to your home with this DIY indoor water fountain! With the help of simple materials such as big plastic containers, plastic bottles, jars, old clothes, white cement, a submersible water pump, PVC pipe, metal wire mesh, and a warm white LED strip with an adapter, you can easily make your own homemade decorative outdoor water fountain.
Add some decorative stones to give it extra charm. This amazing DIY project is sure to bring more beauty and relaxation into your living space! Enjoy the added peace and harmony with a custom-made water fountain in your house. instructables
13. Solar Plant Pot Water Fountain Idea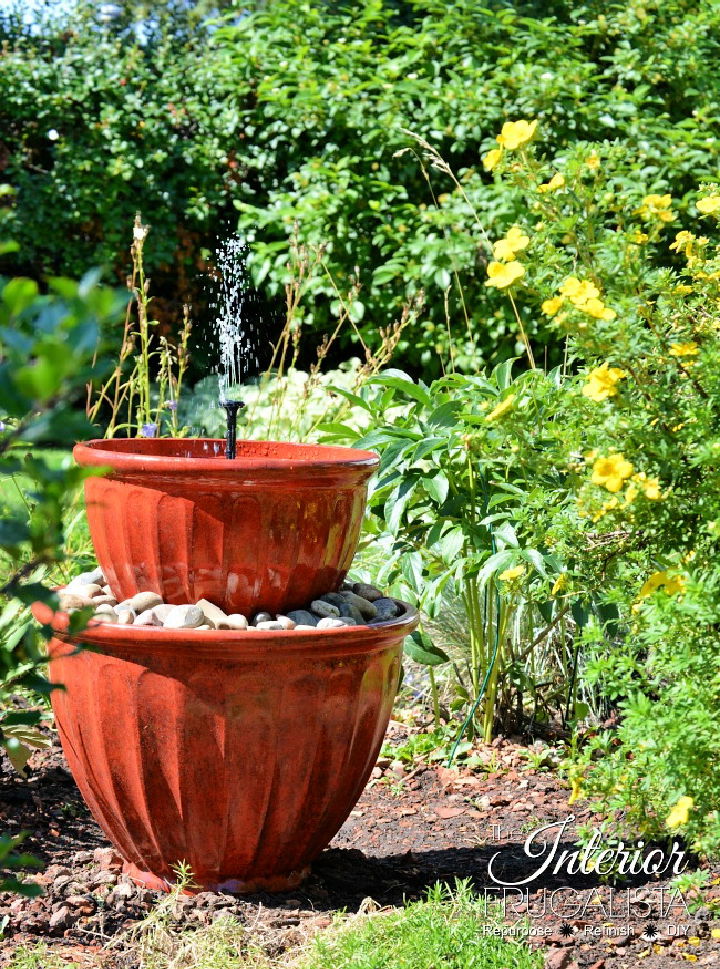 Transform your outdoors into a tranquil oasis with this solar plant pot water fountain idea. This eco-friendly, solar-powered fountain is both stylish and functional, providing the perfect balance between form and function to make an idyllic atmosphere in any garden or yard.
The beautiful water feature is powered by sunlight, so no additional energy will be required to keep it running. It's easy to set up and maintain – simply fill the pot with water and watch as the sun's rays cause the cascading flow of water from one plant pot to another. So, make a peaceful setting that you can enjoy for years without worrying about electricity bills! interiorfrugalista
14. Make Your Own Bamboo Water Feature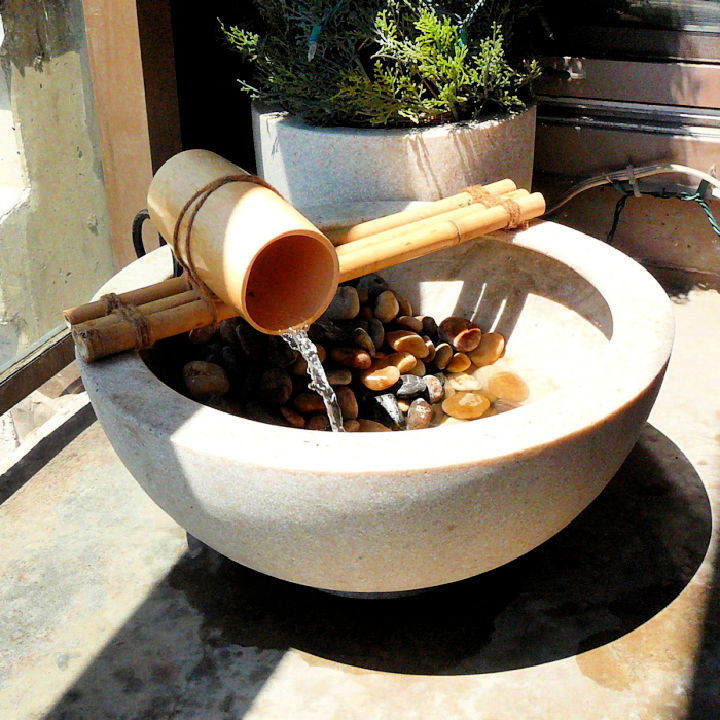 Turn your garden into an oasis with a bamboo water feature – crafted by you! Follow our step-by-step guide to make something truly unique.
Start by cutting down 3/4 inch diameter bamboo pieces into the desired size for your project. Use a 3/8 inch drill bit to bore out the bottom of a bamboo artist brush cup, then set it aside. Securely bind three lengths of bamboo together using wire or twine, then attach the pump and connect it to the base of your cup holder.
Next, fill up the bowl with gravel or rocks before adding soil and plants around it for an attractive effect. Finally, turn on the power and watch as soothing streams flow from one basin to another! You'll have an eye-catching addition that will bring beauty and tranquility all year round! safaffect
15. Wonderful DIY Disappearing Water Fountain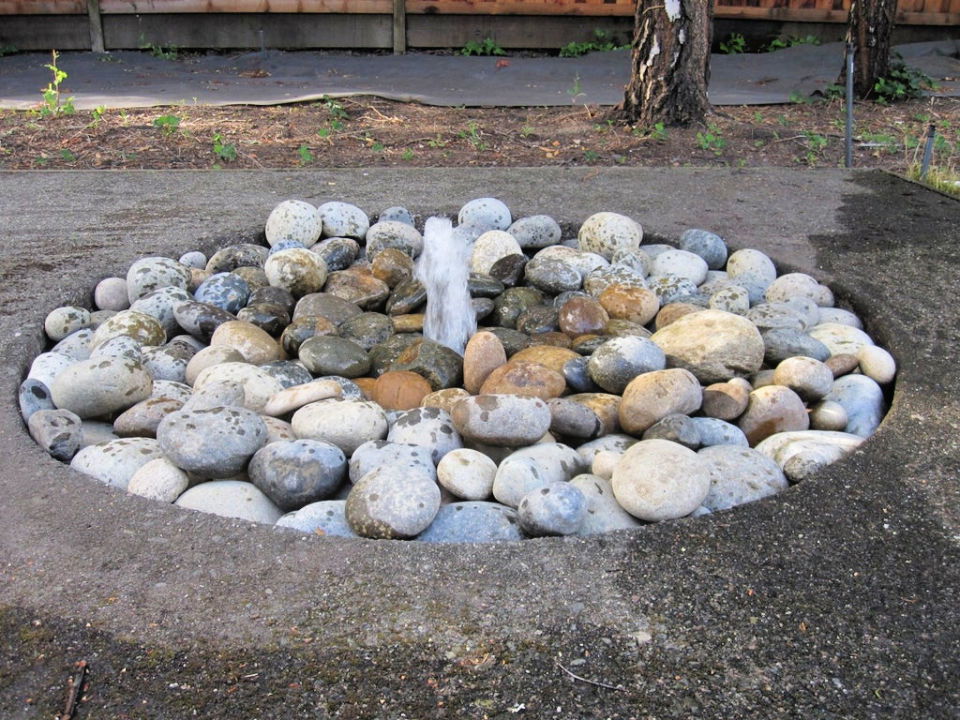 Make a stunning focal point for your garden with DIY outdoor fountain ideas that combine creative materials, soothing sounds, and elegant aesthetics. Change your backyard into a soothing escape with this easy-to-install disappearing water fountain. Perfect for small gardens or yards, it includes all the necessary components to build an eco-friendly water feature that can be easily hidden with landscape fabric and sheet plastic when not in use.
Includes a 15-gallon HP15 basin, 529 gallons per hour (GPH) Laguna pond fountain PT8160 pump, sprinkler drip-system tap, 10″ circular valve box, 1.25-inch x 10 feet electrical PVC conduit plus PVC sweep connector, slip cap, and glue for easy installation. Enjoy the serene sound of trickling water as part of your outdoor environment! instructables
16. Build a Water Feature With Water Jug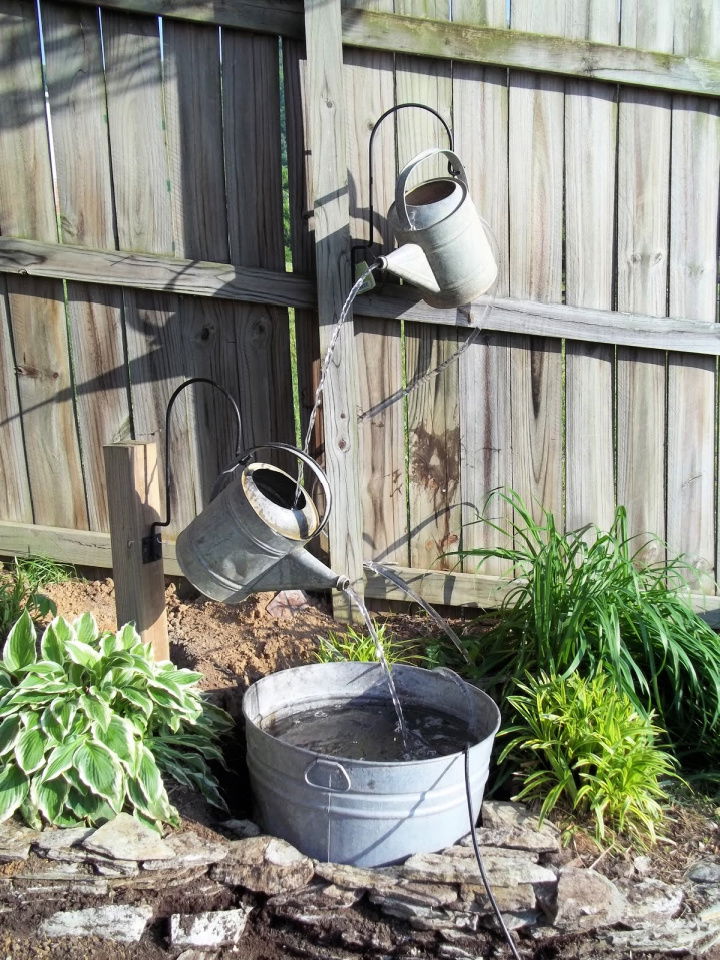 Convert your garden into an oasis with a simply crafted water feature! Start by gathering 2-3 galvanized watering cans, one large galvanized tub or ½ barrel, and a small water pump. You'll also need 6-8 feet of tubing, costing 75 cents per foot. Finish it up with a power drill and drill bit, along with the hanging brackets that can get the job done. Watch as you transform any backyard into an oasis of relaxation, complete with sparkling cascades and soothing music of trickling water! dawnmarie100
17. Inexpensive DIY Water Fountain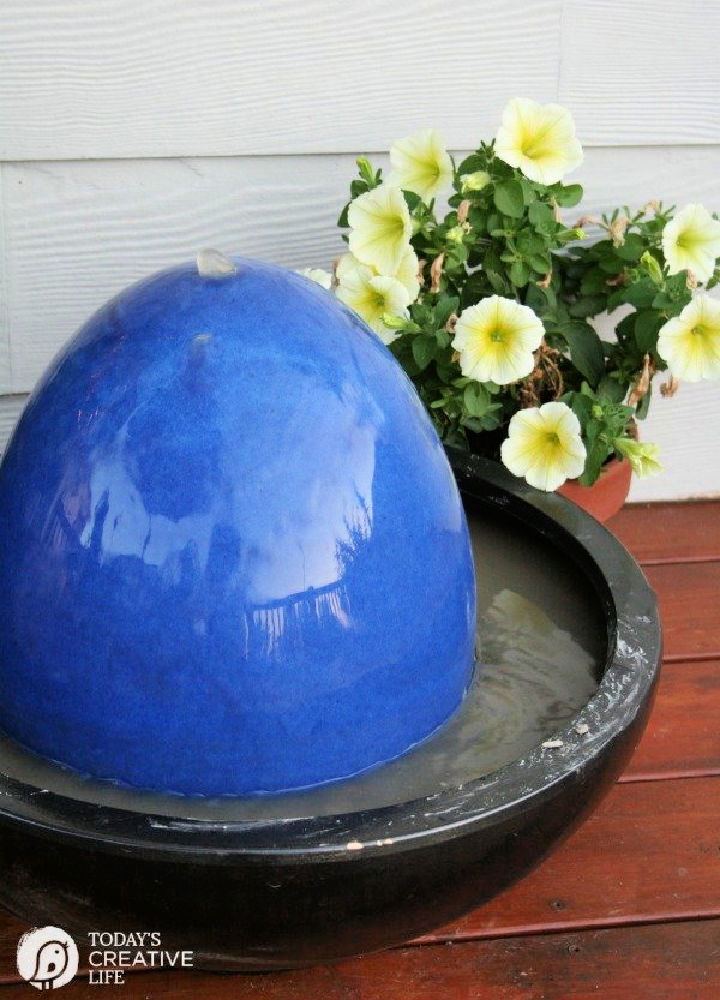 Bring the soothing beauty of nature into your home with a DIY fountain water feature. This easy-to-assemble water feature is perfect for adding to any outdoor or indoor living space. Start by selecting a large shallow ceramic or terracotta planter bowl and filling it with small river rocks or pea gravel. Then add the piped fountain topper or ball, followed by the small fountain pump and hose, then just plug in – it's that simple! Enjoy as you relax to the calming sound of running water while enjoying your new dreamscape! todayscreative
18. Building a Concrete Water Fountain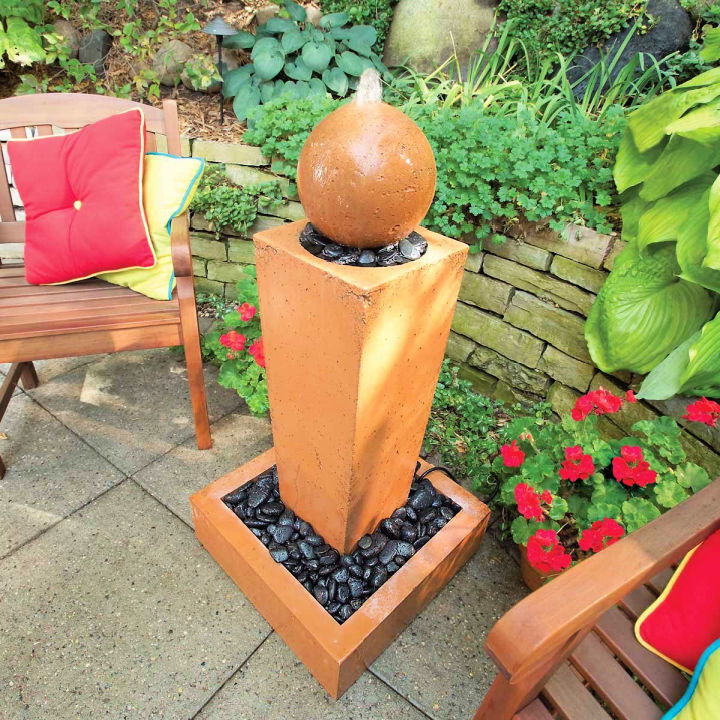 Enhance your landscape's ambiance with DIY outdoor fountain ideas that incorporate natural elements and materials for an eco-friendly approach. Build a stunning and unique custom concrete fountain for your outdoor space with this easy-to-follow guide! These instructions will walk you through how to make this beautiful feature from start to finish. You will need galvanized hardware clothing, a 12" flowerpot, PVC pipe, pump tubing, screws, duct tape, concrete mix, river pebbles, and a few more supplies. So, get started now for you to build something special today! familyhandyman
19. Turn Plant Pots Into a Water Fountain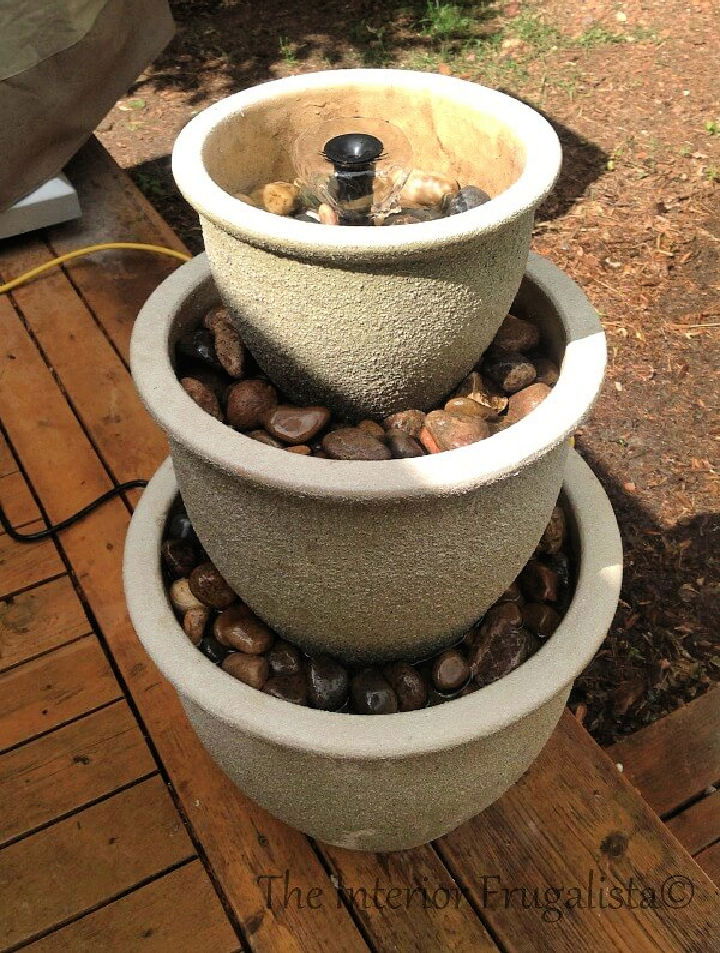 Transform your outdoor space with a beautiful and creative water fountain made using plant pots. This easy DIY project is an affordable way to make the perfect centerpiece for any garden or patio, adding visual interest while providing calming, soothing sounds of running water. Get creative by choosing different sizes and colors of plant pots to make unique designs that will become the focus of attention in your outdoor space. Along with that, you will also need terracotta saucers, a pond pump, PVC pipe, and river rocks.  interiorfrugalista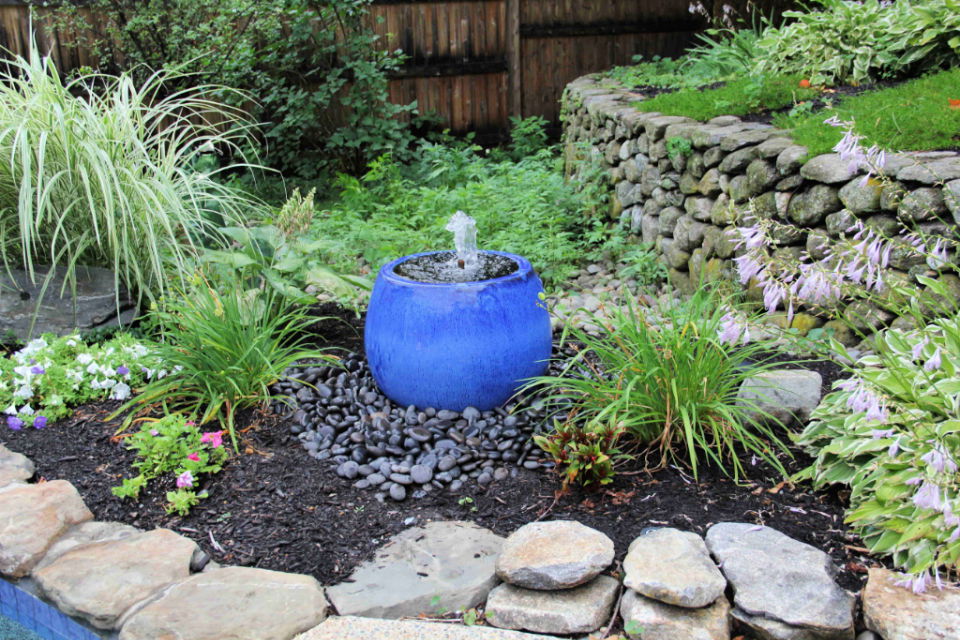 Unveil your garden with the mysterious and captivating wonder of a hidden water fountain! The 36"x36"x14" basin is made of strong plastic, covered by reinforced PVC grating with mesh netting to keep debris out. Ideal for adding a tranquil atmosphere to your outdoor space, the hidden fountain will add beauty and serenity all year round. Enjoy the peaceful sound of running water while admiring your self-made masterpiece! Get creative with your design ideas – make it truly one-of-a-kind! aconcordcar
21. Bowling Ball Garden Water Feature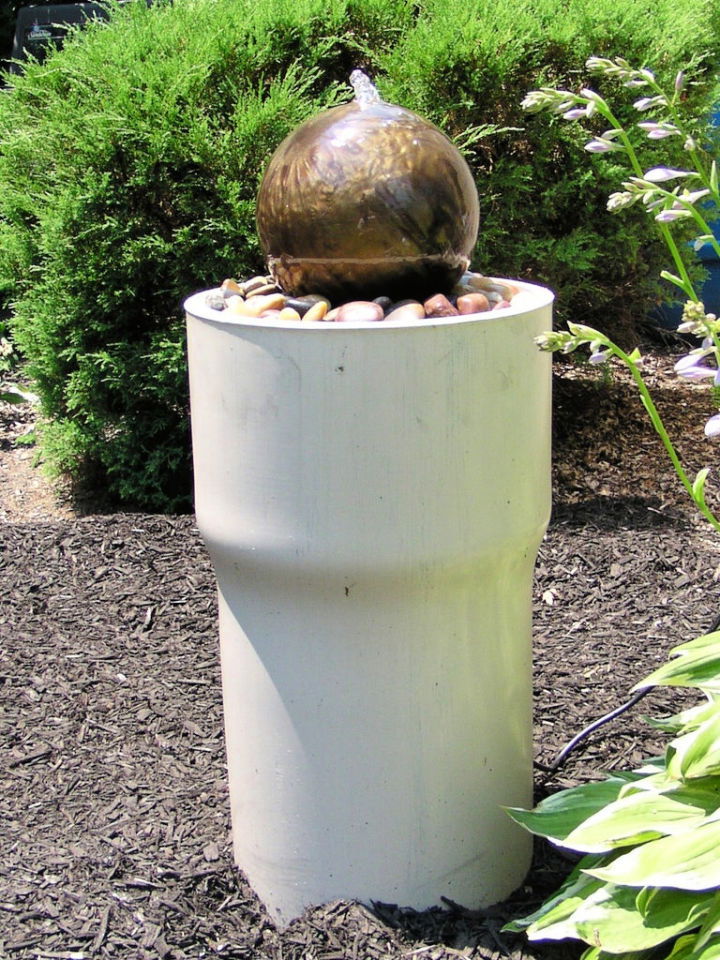 Bring a unique and whimsical touch to your outdoor decor with this Bowling Ball Garden Water Feature. This hand-crafted feature is easy to install and requires minimal maintenance, making it a great addition to any garden or patio. Start by placing the 12″ sewer pipe in the desired location before setting up the PVC elbow, plastic tubing, and small electric pump.
Use aquarium sealer to secure everything together before adding in the 9″ x 9″ PVC bell drain for extra stability. For an eye-catching display, fill around the base of your water feature with decorative stones, ceramic tile scraps, and concrete blocks. Finally, top off your design with a Tupperware cake cover for added charm! instructables
22. Pretty DIY Infinite Garden Fountain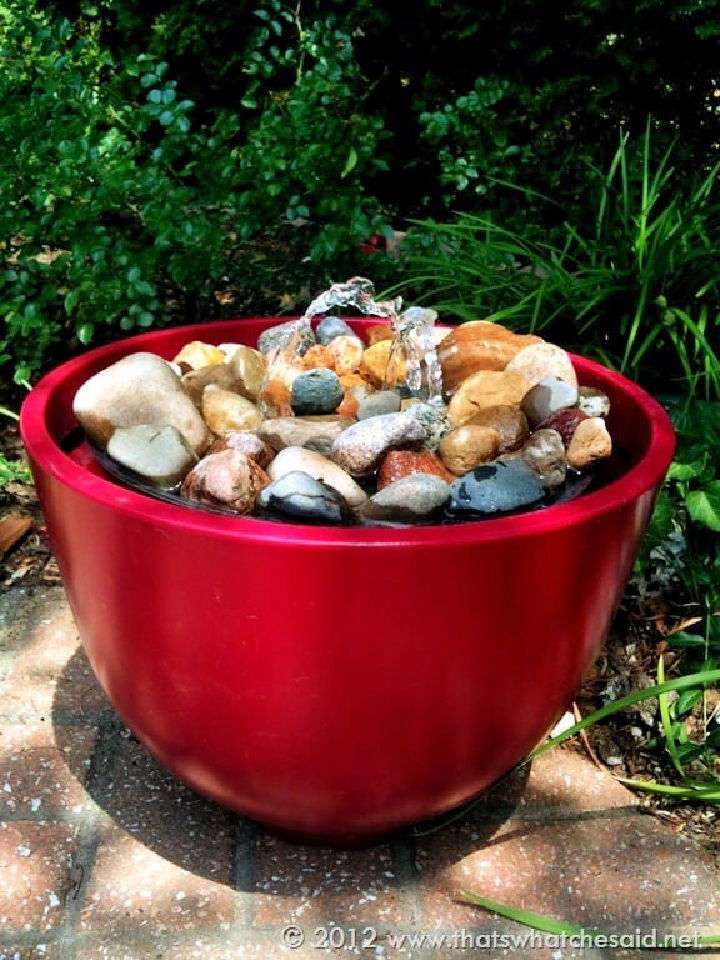 Discover the beauty of water features with these stunning DIY garden fountain ideas, transforming your outdoor space into a serene oasis. Build an eye-catching infinite DIY garden fountain with a few items in the comfort of your own home. All you need is a large decorative pot, a smaller plastic pot that fits inside the first when upside down, two cheap drip pans, a small water pump, a drill, and small screws/nuts (1/4" by 1/2" long). To complete your fountain, use 1/2″ plastic tubing and a tee. With minimal effort and these affordable items, you can make an impressive water feature to enjoy for years to come! thatswhatche
23. Backyard Water Fall and Stream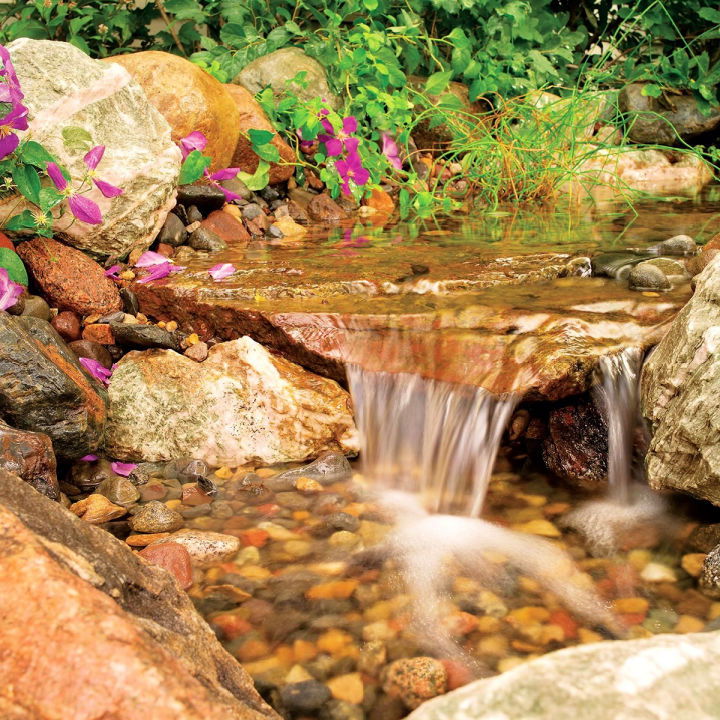 Enjoy this beautiful backyard oasis with this DIY waterfall and stream! All you need is just the right tools, materials, and some know-how. Tools required include a leveler, rubber mallet, spade, utility knife, and wheelbarrow.
Materials needed are ball valve clamps, decorative boulders, an EPDM pond liner for watertight sealant, and field stones to make a natural ambiance. Follow these stepwise instructions to build your own personal paradise in no time! Relax to the sound of cascading water in your own backyard waterfall and stream. familyhandyman
24. Make a Rain Curtain Water Feature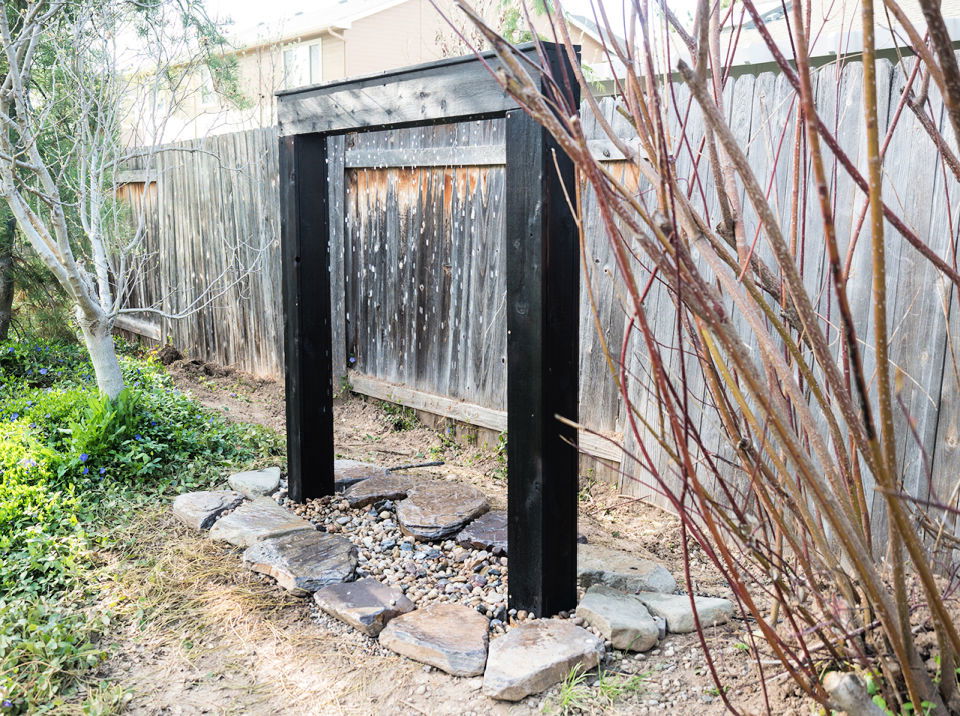 Introduce the sound of nature into your outdoor space with a beautiful rain curtain water feature! This easy-to-install fountain is perfect for creating a tranquil atmosphere in any garden, patio, or deck. Our customizable options let you choose the size and design to fit perfectly with your existing décor. The delicate stream of falling water creates an alluring visual effect while providing soothing background noise that helps relieve stress. With minimal maintenance required, this elegant addition to any outdoor area will give your home extraordinary character and charm for years to come. mrbuildit
25. Adorable DIY River Rock Water Feature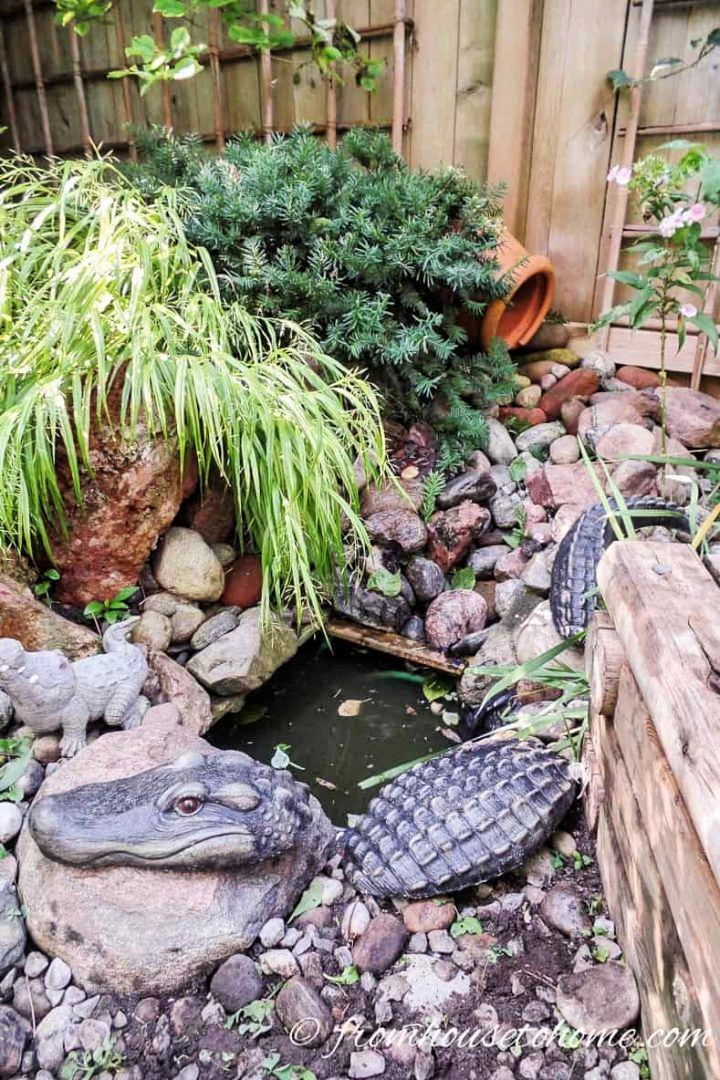 Construct a unique and beautiful outdoor oasis with this DIY river rock water feature. With just a few simple supplies, you can make an eye-catching water feature that will transform your landscape into a tranquil space.
Start by finding a plastic tub to serve as the basin for the bottom of your waterfall. Use shovels to excavate the area for the pond liner and clay garden pot before adding river rocks and gravel around them for decoration. Now connect your pump with tubing, apply caulk if needed, then plug it in to enjoy!
Watch as this DIY project comes together to provide an inviting ambiance full of sound and beauty all day long! fromhouse
Conclusion: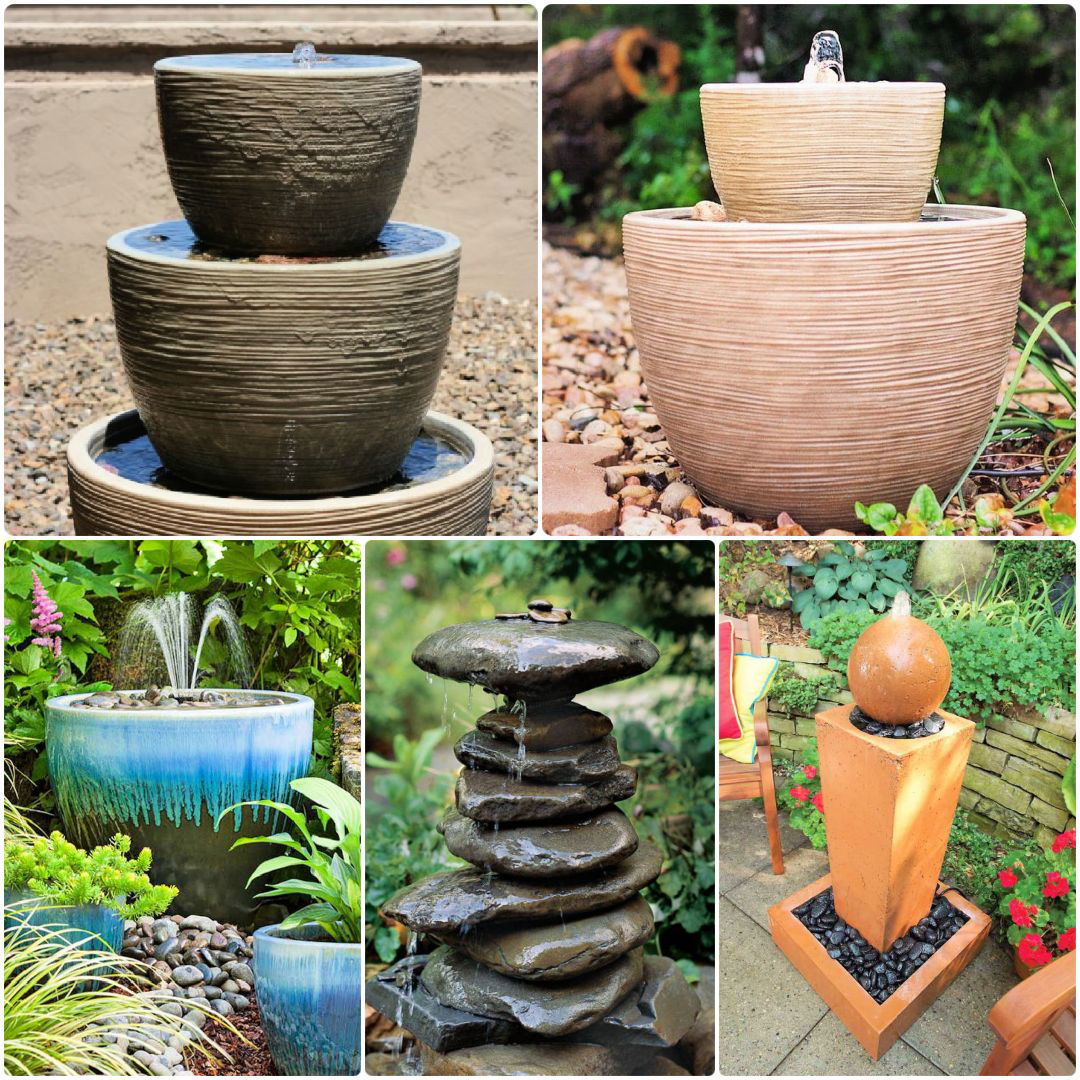 In conclusion, these DIY water fountains offer a creative and affordable way to enhance the beauty of your garden or backyard. With the 25 DIY water fountain ideas mentioned above, you can create a unique water feature that suits your personal taste and style. From low-maintenance options to solar-powered fountains, converting household items like plant pots or storage containers, these ideas cater to various skill levels, budgets, and creative visions. So, why not start your own DIY water fountain project and transform your outdoor space into a soothing oasis today?