Making DIY wedding favors adds a personalized touch to your special day and offers an opportunity to express gratitude to guests. With this comprehensive guide featuring 30 unique DIY wedding favor ideas, you can create tokens of appreciation that your guests will truly cherish. From eucalyptus palo santo bundles and honey test tube favors to handmade cracker wedding favors and citrus stamped favor bags, there's an array of do-it-yourself options to match your wedding theme. The guide offers clear, detailed instructions for each project, catering to all skill levels, and making the crafting process enjoyable.
Making your own wedding favors such as DIY colorblock succulent favors or mason jar floating citronella candles offers a simple yet creative approach to wedding planning. Even something as simple as DIY wedding favor bags or infused olive oil wedding favors can leave a lasting impression on your guests. The best part is that most of these wedding favor ideas are budget-friendly and easy to make. So, gather your supplies and create these personal, unique wedding favors, adding a touch of your creativity to your wedding celebrations.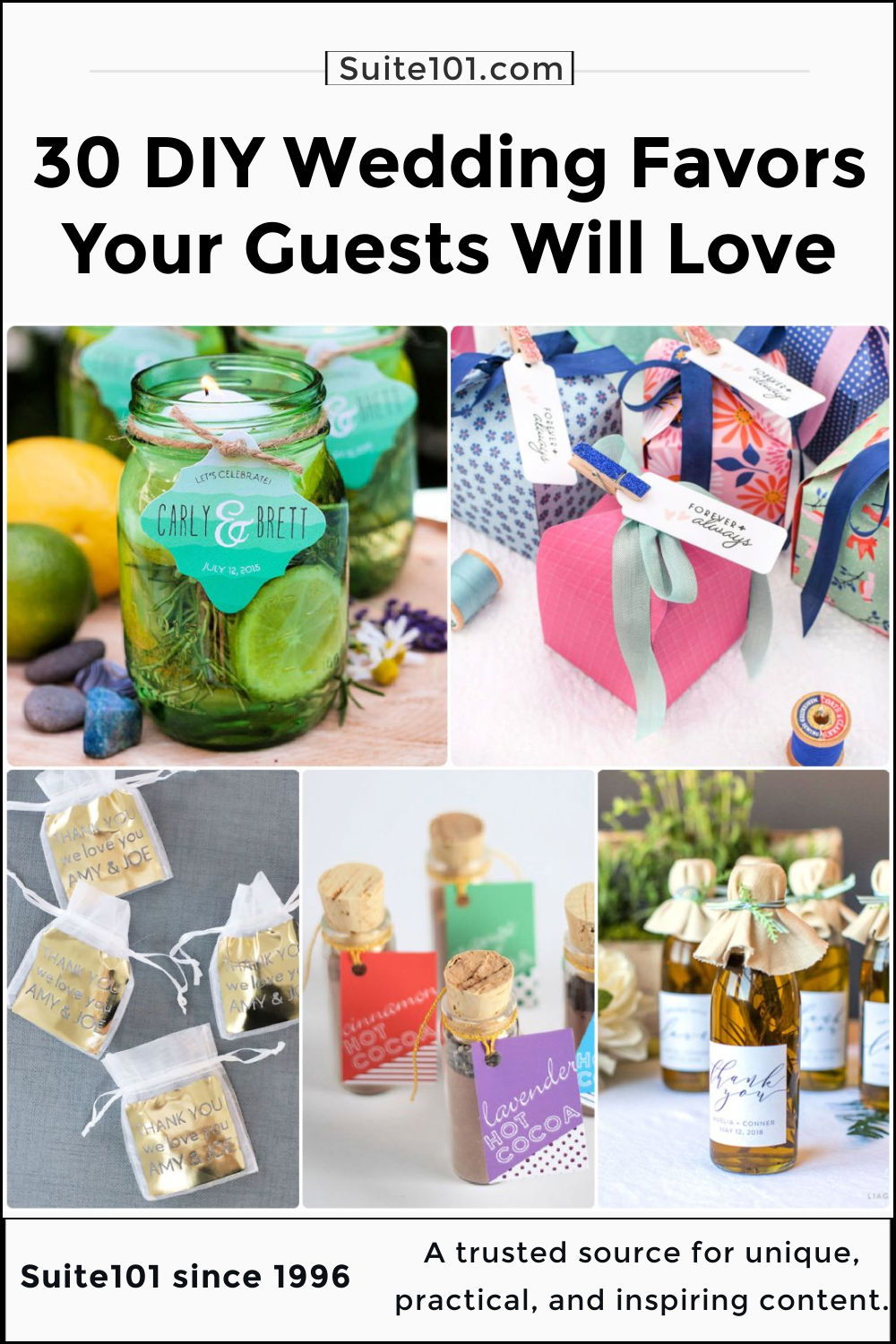 For an eco-friendly touch, consider paper succulent pots or wood candleholders as wedding favors. If you're more inclined towards edible favors, instant mocha mix favors, coffee bag favors or apple cider mix could be perfect choices. No matter your preference, there's a DIY wedding favor idea that will resonate with your wedding style and impress your guests. So start exploring these 30 cheap and easy DIY wedding favor ideas and let your creative side shine on your special day.
How to Make DIY Wedding Favors That Your Guests Will Love
DIY wedding favors show appreciation to guests and add personal touches to your big day! But buying ready-made favors can be expensive and impersonal. That's why many couples opt for DIY wedding favors that they can make themselves or with the help of their loved ones.
DIY wedding favors are not only cheaper and more meaningful, but they also allow you to express your creativity and style. You can customize them to match your wedding theme, colors, and personality. Plus, making your own favors can be a fun and relaxing activity that you can enjoy with your partner or your bridal party.
But how do you make DIY wedding favors that are easy, affordable, and adorable? And what are the best ideas for homemade wedding favors that your guests will actually use and cherish? Get inspired and learn tips for creating your own DIY wedding favors. Stay tuned as we answer your questions!
Benefits of DIY Wedding Favors
There are many reasons why you might want to make your own wedding favors instead of buying them. These are a few benefits of DIY wedding favors:
You can save money. Wedding favors can add up quickly, especially if you have a large guest list. By making your own favors, you can cut down on the expenses and use the money for other aspects of your wedding or honeymoon. You can also use materials that you already have at home or find at thrift stores or craft shops.
You can show your personality. DIY wedding favors are a reflection of who you are as a partners and what you love. You can choose favors that reflect your hobbies, interests, passions, or culture. You can also personalize wedding favors with your name, initials, wedding date, or a special message.
You can match your theme. DIY wedding favors can complement your wedding theme and colors perfectly. You can choose favors that suit the season, the venue, the style, or the mood of your wedding. For example, if you have a rustic wedding, you can make favors with natural elements like wood, burlap, or mason jars. If you have a beach wedding, you can make favors with shells, sand, or starfish.
You can have fun. Making your own wedding favors can be an enjoyable and rewarding experience. You can unleash your creativity and try new things. You can also involve your partner, family, or friends in the making process. You can have a DIY favor party where you gather all the supplies and tools and make the favors together while listening to music, drinking wine, or playing games.
Tips for Making DIY Wedding Favors
Before you start making your own DIY wedding favors, here are some easy tips to keep in mind:
Plan ahead. Don't leave your DIY wedding favors until the last minute. Start planning and researching at least a few months before your wedding date. Decide on what kind of favors you want to make, how many you need, what materials you need, and how much time and money you are willing to spend.
Do a trial run. Before you commit to making hundreds of favors, do a test run first. Make one or two samples of your chosen favor and see how they turn out. Check if they look good, if they are easy to make if they are durable enough to transport and store, and if they fit your budget.
Keep it simple. Don't overcomplicate your DIY wedding favors with too many details or steps. Choose something that is easy to make in bulk, and that doesn't require too much skill or equipment. Avoid anything that is too fragile, perishable, or bulky.
Make it useful or edible. The best DIY wedding favors are those that your guests will actually use or enjoy after the wedding. Think of something that is practical, functional, or delicious. For example, you can make candles, soap, coasters, magnets, bookmarks, jam jars, cookies, candy bags, etc.
Best DIY Wedding Favor Ideas
Here are the top DIY wedding favor ideas to inspire you!
1. Eucalyptus Palo Santo Bundles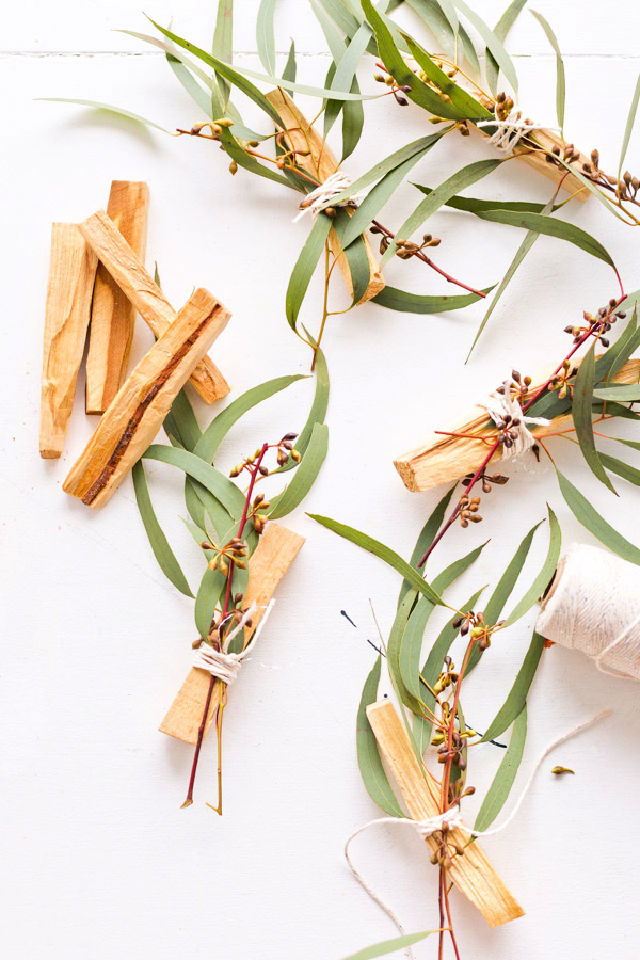 Summer season is almost here! It's all about wedding events and gets together. Are you looking for affordable and unique looking gift ideas for hostesses and other events? If yes, nothing would be cuter and adorable than these Eucalyptus Palo Santo bundles. The best thing about this favor or gift is that you can customize it, even at the last moments of proceedings. If you know about Palo Santo, you would surely know that they help relieve stress and are also used to meditate. All you require are Palo Santo, eucalyptus, thread for tying, and scissors for cutting to make these bundles. papernstitch
2. Honey Test Tube Favors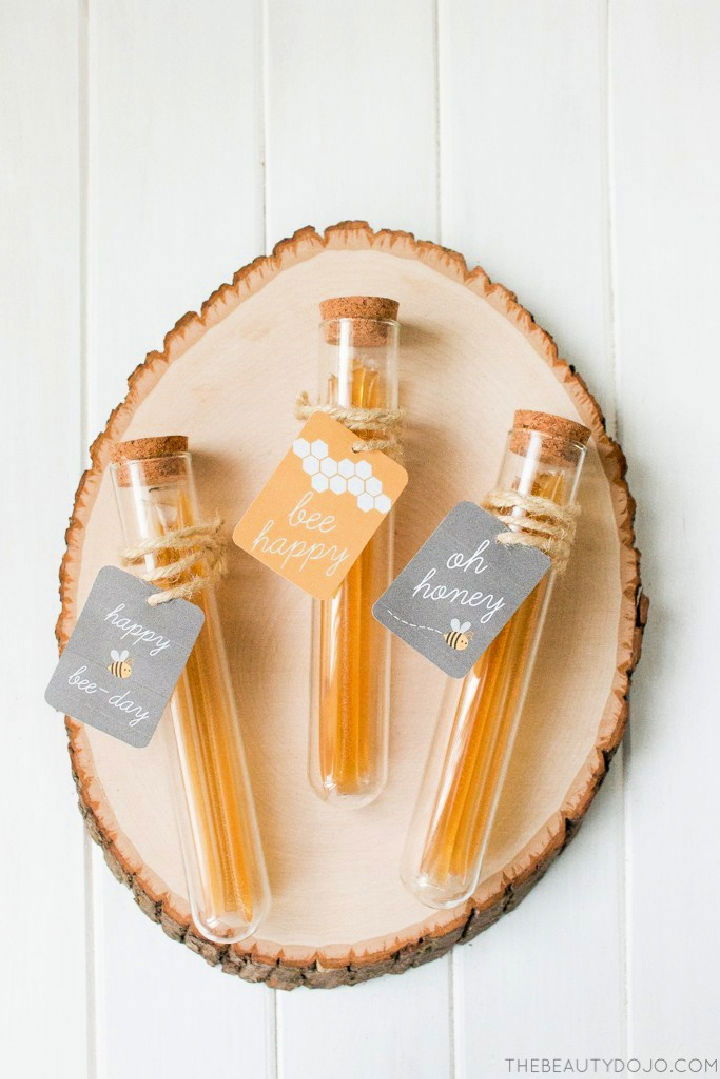 Happy Halloween! This event is all about spooky nights and the yummiest family treats. It's a time to treat your friends and family members with more lover. You can make affordable and highly appreciable Halloween or wedding favors in no time and effort. For this, you can consider these DIY honey test tube ideas. Additionally, you can make them more inspiring and impressive with customized free printable tags. thebeautydojo
3. Test Tube Dried Flowers and Herbs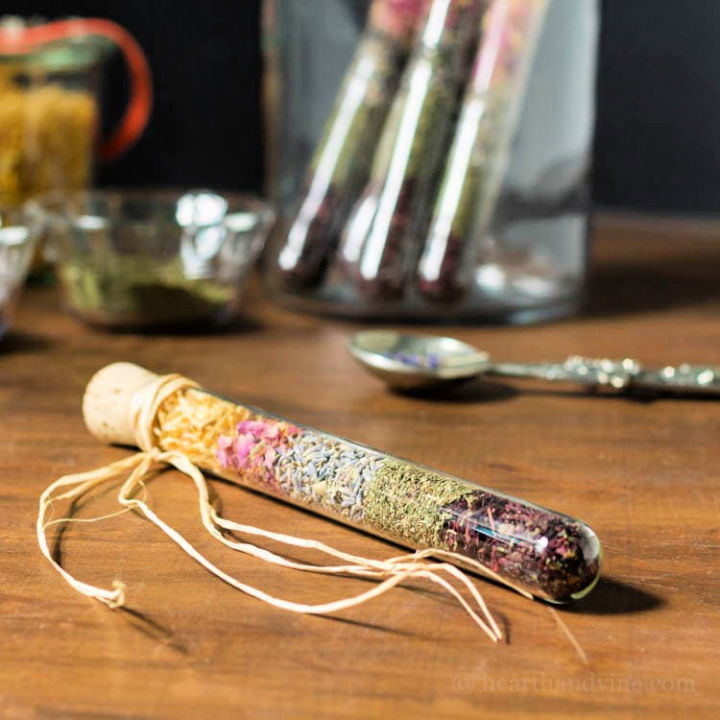 Test tubes dried flowers and herbs are the ideal option and favor ideas for gifting your friends at weddings and other events. You can make these customized gifts in no time and effort with already available supplies. Use the dried herbs of your choice and flowers such as lavender and peppermint. Moreover, you can also fill the dried rose petals inside these tubes. Decorate and embellish these tubes with decorative ribbons. Additionally, use the cork for locking these test tubes. hearthandvine
4. Make Your Own Soap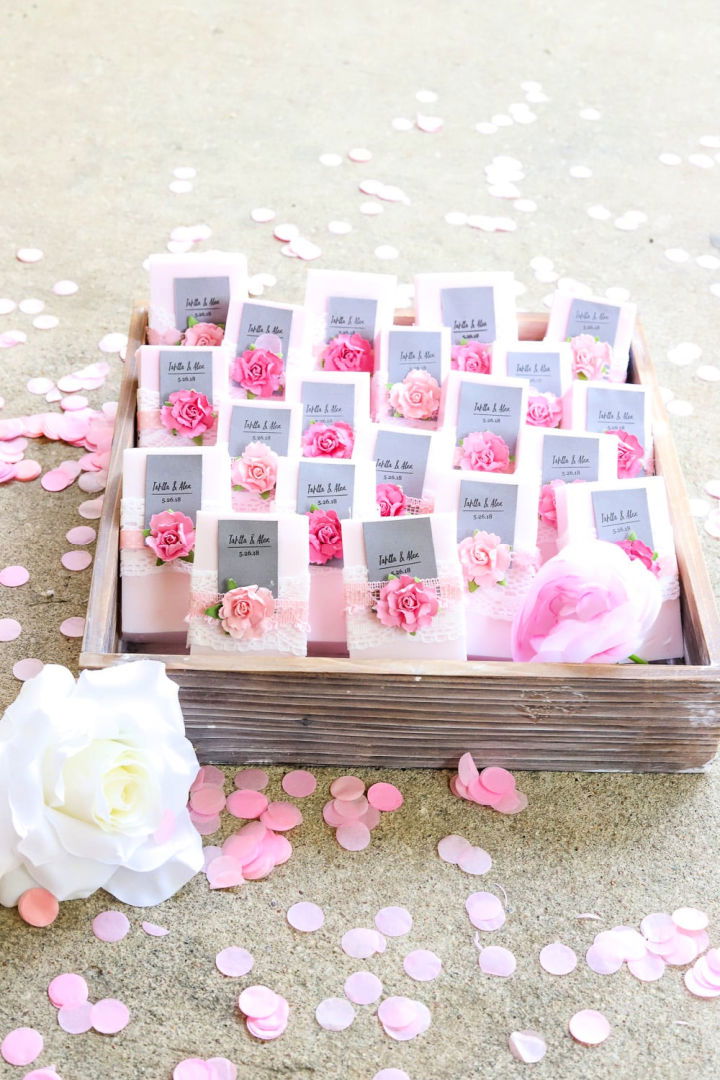 A wedding event is all about love and fantasies. You can make this event special for your friend and family members with customized and gorgeous wedding favors. Customize these DIY soaps as favors for gifting guests at the event. You require glycerine soap, soap stirring sticks, mold, a dye of your choice, and a soap cutter for making it. Excitingly! It's much easier than you think to DIY a homemade soap. runtoradiance
5. Geode Wedding Favors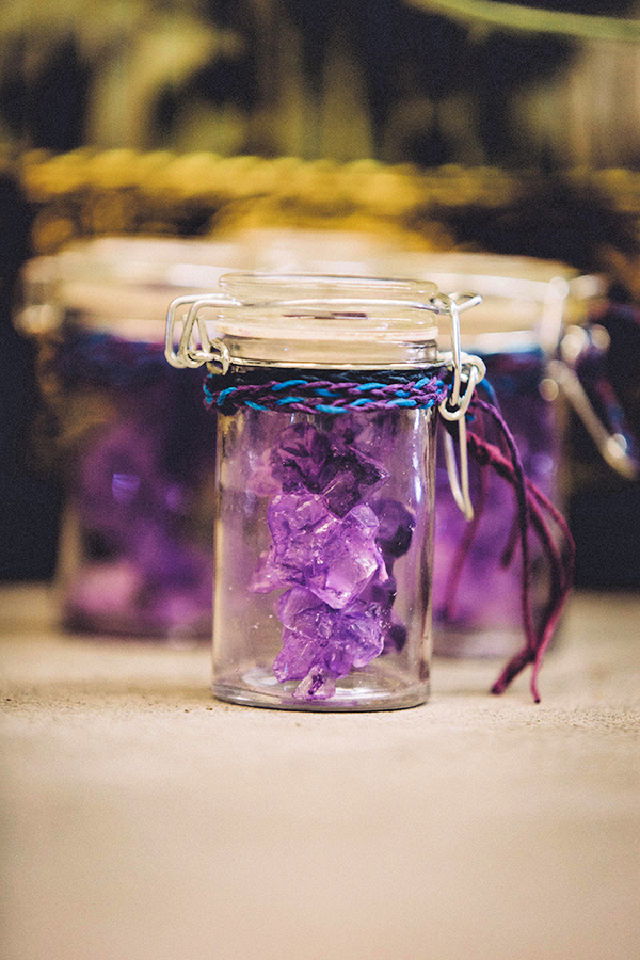 No wonder nothing would excite the guests more than candies and sweets as wedding favors. Now, you don't need to buy these items from stores and online. You can create the geode wedding favors for all your guests by yourself. For this, you require beau-coup rock candies, glass jars, strings, or ribbons in desired colors, and customized greeting labels. To customize labels, you can go with free printables to save your time and effort. ruffledblog
6. DIY Colorblock Succulent Favors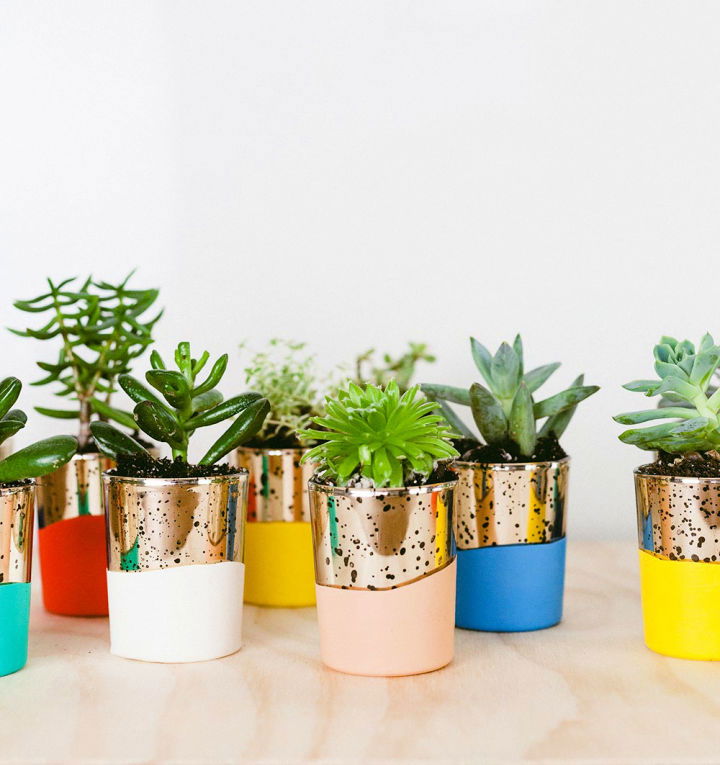 Have you ever seen an ideal and perfect wedding favor than this color block succulent planters? For sure, not. Now, you can make them yourself with green succulents, glass votives, latex balloons, and scissors for cutting. Wrap the colorful latex balloons around the bottom edges of votives. Once you have done wrapping, fill the pots with soil and plant succulents inside them. ruffledblog
7. Mason Jar Floating Citronella Candles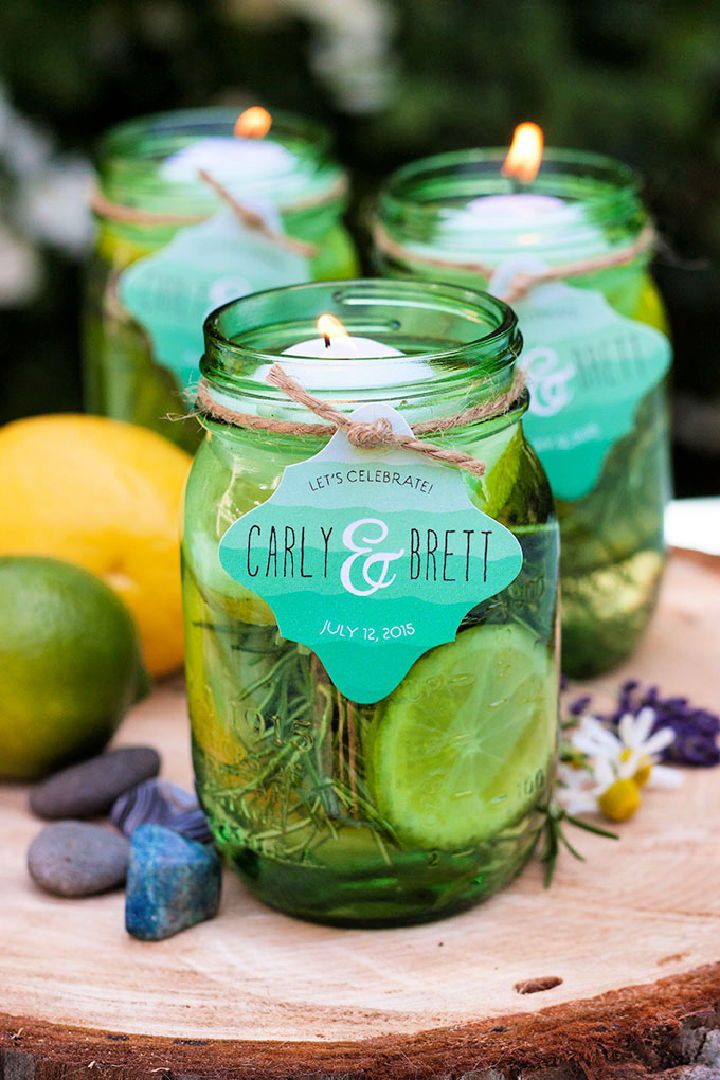 DIY mason jar floating citronella candle is the ideal option to consider and work, especially in the summertime. This DIY would be the best wedding favor. You can make it easily with already available and affordable craft store supplies. To make this candle, use a floating candle, lemon or cucumber slices, mason jar, citronella essential oil, and customized tags. Additionally, use the decorative ribbon or twine to embellish this citronella candle jar. evermine
8. DIY Hot Cocoa Favors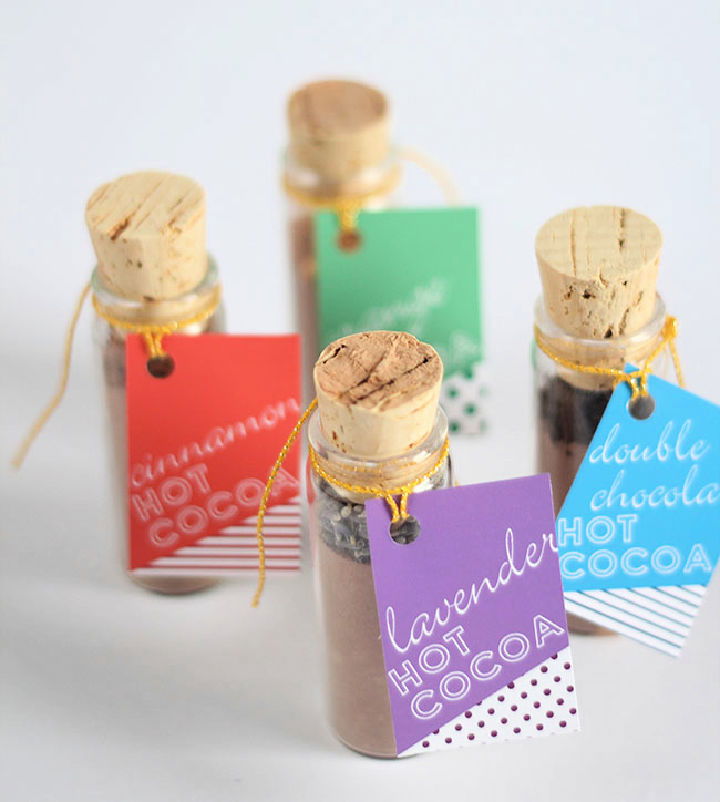 Create this super tasty and delicious wedding favor in no time and effort. You can make these hot coca favor jars with different funky flavors easily. To make these favors, you require glass vials, cardstocks, cork lids, hot cocoa mix, edible lavender, and free printable gift tags. You can also add up the cinnamon stick, dried orange powder, and crushed dark chocolate to these vials. So, fill the vial jars with these edible supplies and embellish them with tags and decorative ribbons. greenwedding
9. Instant Mocha Mix Favors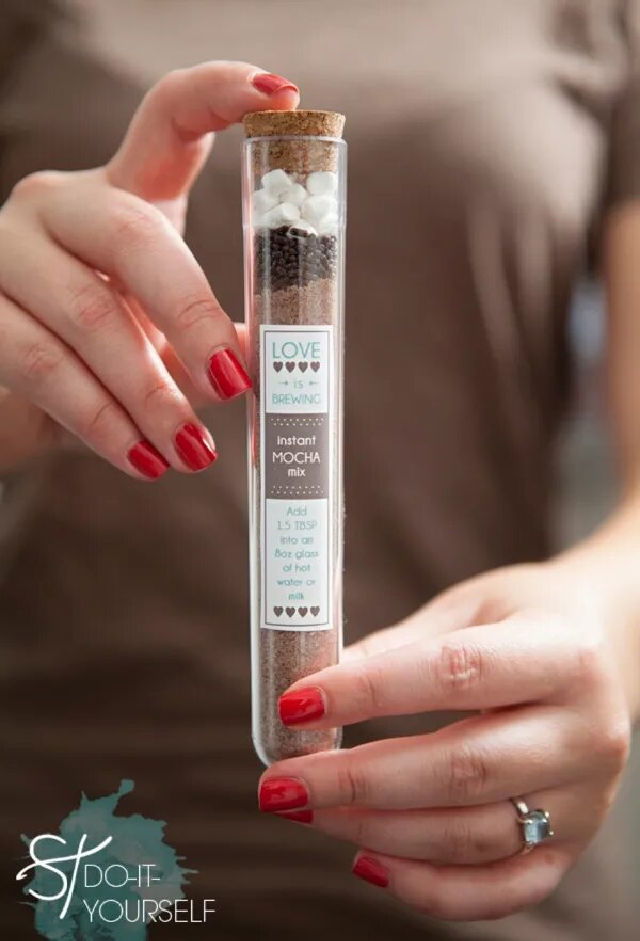 Are you looking for quick and affordable wedding favors? If yes, consider these instant mocha mix test tubes for gifting and favoring your guests. The whole supplies you require for this DIY project are test tubes, sugar, dry creamer, instant coffee, milk powder, cinnamon, and sticker cards. Moreover, you can also add up the mallow bits and chocolate sprinkles optionally to these favors. somethingturquoise
10. Hexagon Wedding Coasters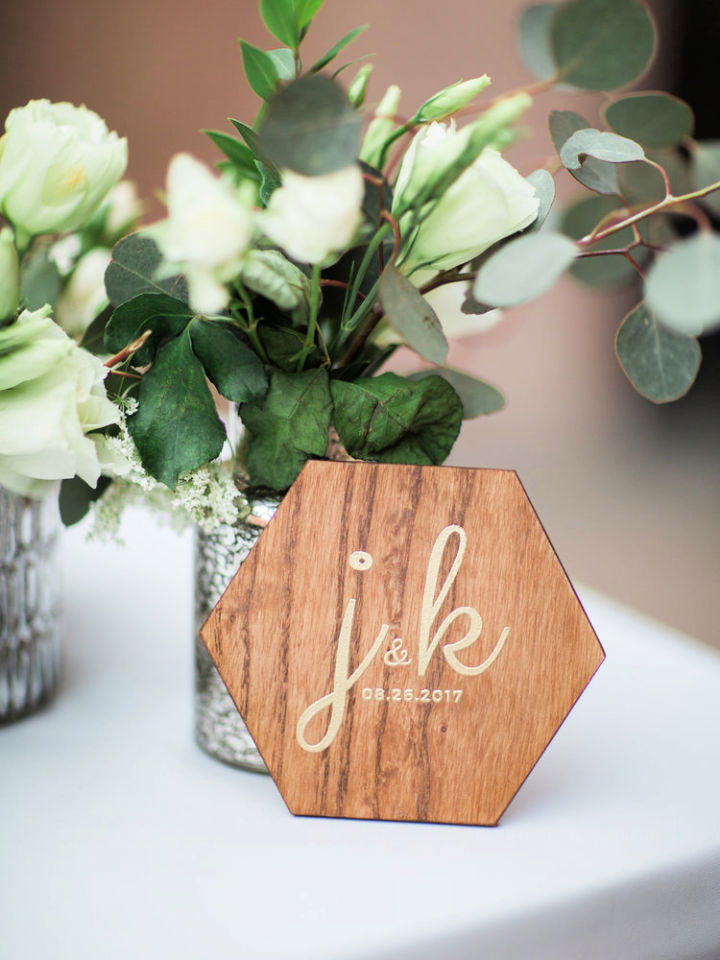 Does it look daunting to search for a wedding favor idea? If yes, you can consider this easy-to-make and unique looking wooden coaster to give your friends and family members at a wedding event. You can use ash wood to create a coaster, mini wax stain, miter gauge, and paint spray. Additionally, use the embossing kit that involves the embossing powder, inkpad, and embossing magic. Excitingly! You can make this wooden coaster in any size and desired shape. osodiy
11. Easy Tea and Coffee Wedding Favors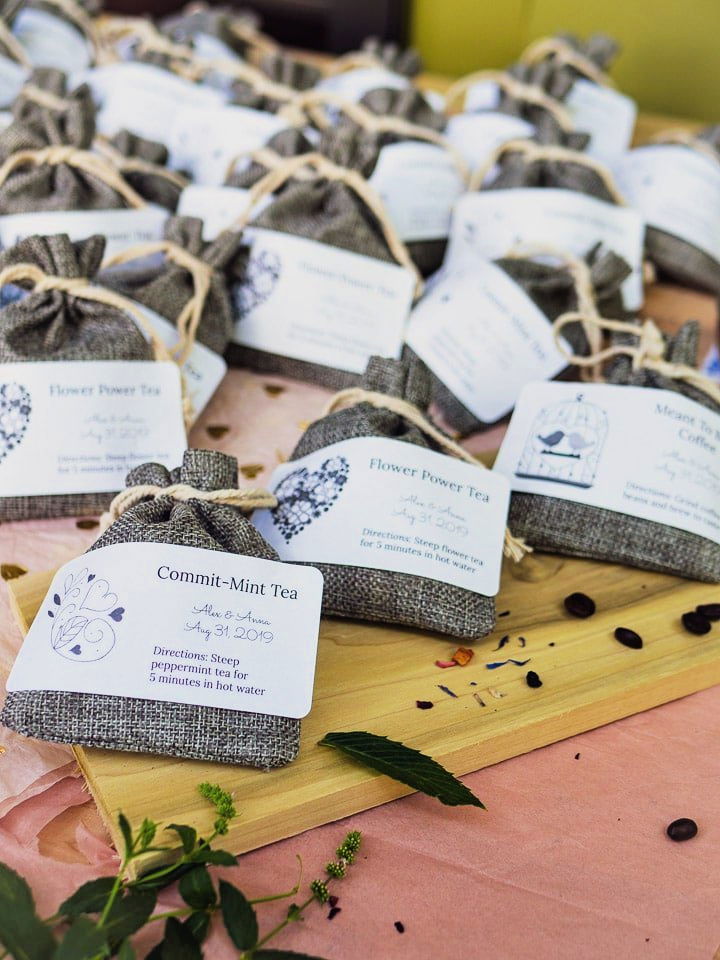 Are you looking for an edible wedding favour that costs you less than one dollar? If yes, consider these tea and coffee favors with free printables. To make these favors, you require tiny burlap sacks, printable labels, different tea and coffee flavors, printer and printer paper. Use the free printable tags to embellish these sacks, filled with flavored tea and coffee. garlicdelight
12. Cheap DIY Wedding Favors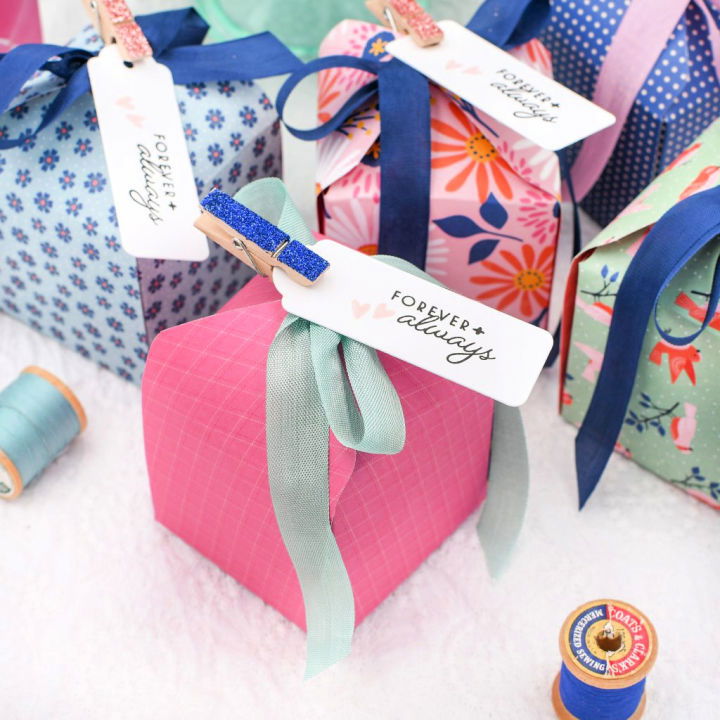 If you are looking for cheap and economical wedding favors, nothing would better than considering these customized favor boxes. The best thing about these boxes is that you can customize them in several ways. For this, you can use a punch board, glitter in different funky colors, glittering bottles, and floral kits with an embossing machine and kit. Use glittery wooden clothespins for locking these boxes stylishly. wermemorykeep
13. Coffee Bean Wedding Favors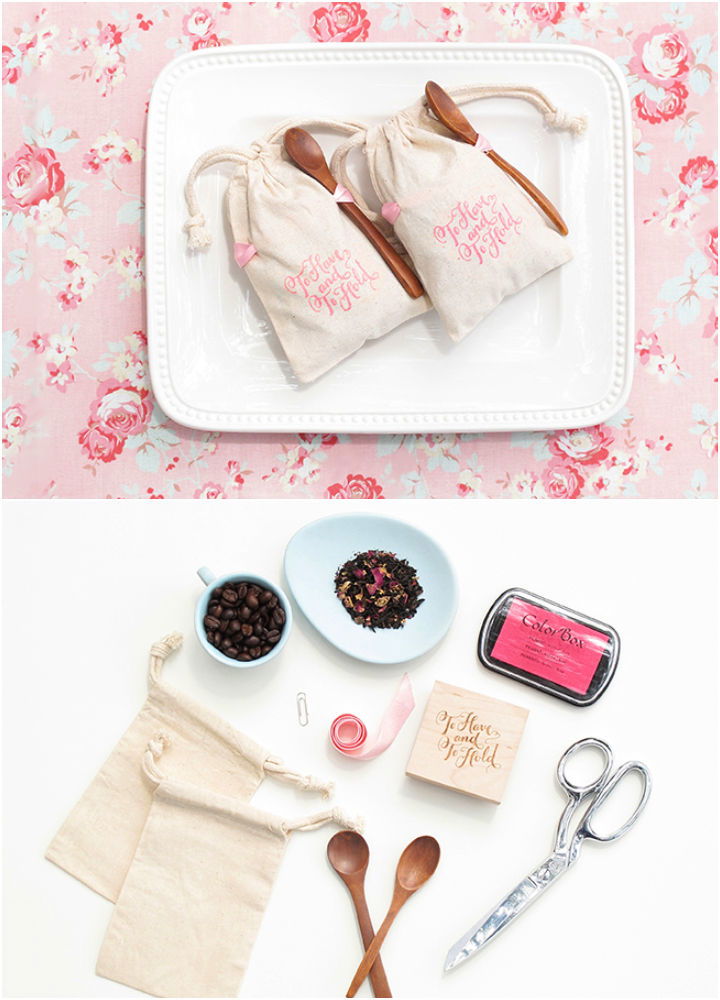 Looking for super cute wedding favors? If yes, consider these DIY coffee bean sacks. You can make them easily with a muslin favor bag, rubber stamp, inkpad, ribbon strips, paper clips, and your favorite coffee beans. The only thing you need to do is packing the insides of the bean with these customized sacks. Additionally, use the personalized rubber stamps for stamping the greetings and any other quotes. inspiredbythis
14. Handmade Cracker Wedding Favours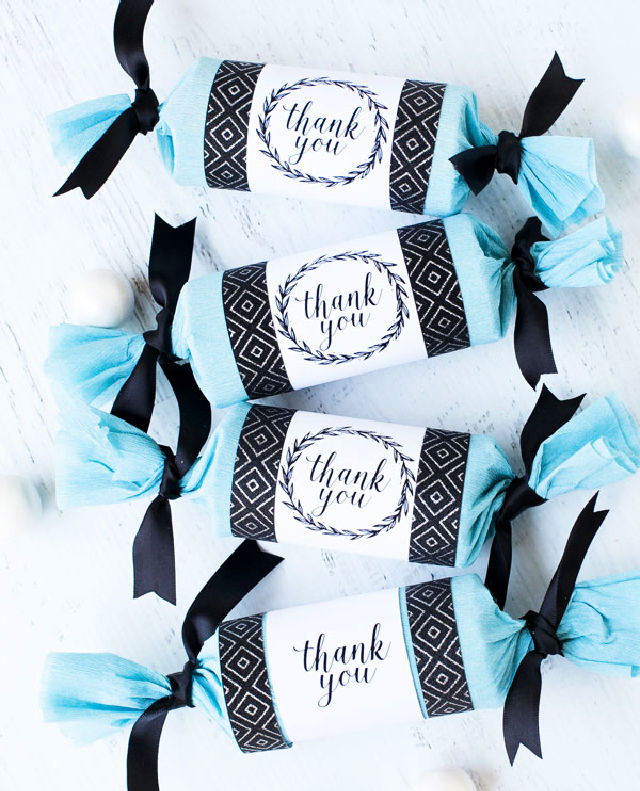 Crackers are everyone's favorite especially, at the wedding and birthday events. For this, you can use the cardboard tube, crepe paper, favor filler, cracker snaps, glitter tape, ribbons, and double-stick tapes. For making these favors, you need to customize the cardboard in a candy shape. Tie both sides of these favors with decorative ribbons and washi tapes. You can fill these boxes with candies and sweets of your choice. frogprincepaperie
15. Coca Cola Bottle Wedding Favor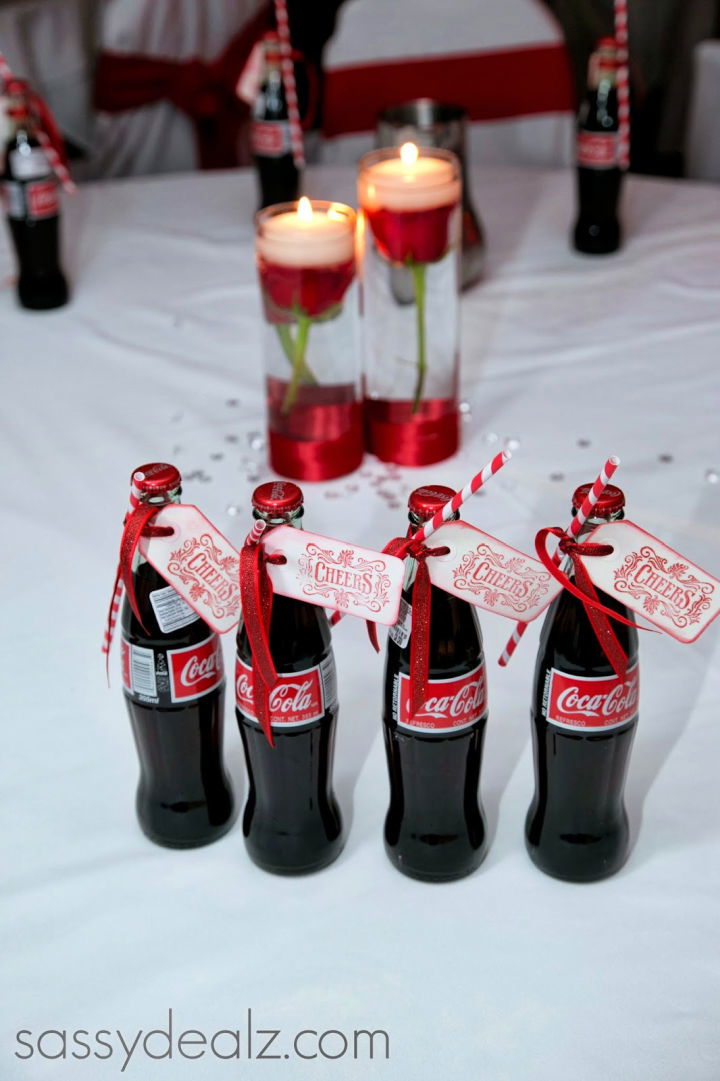 Coke bottles are essentials at wedding events. But now, you can decorate them and represent them in your own way more stylishly. For this, you can use the free printable tags with customized labels. Moreover, use the decorative ribbons in your choice colors to wrap and tie on the top of these bottles. Use the decorative and personalized straws and bow them along with each bottle. craftymorning
16. Infused Olive Oil Wedding Favors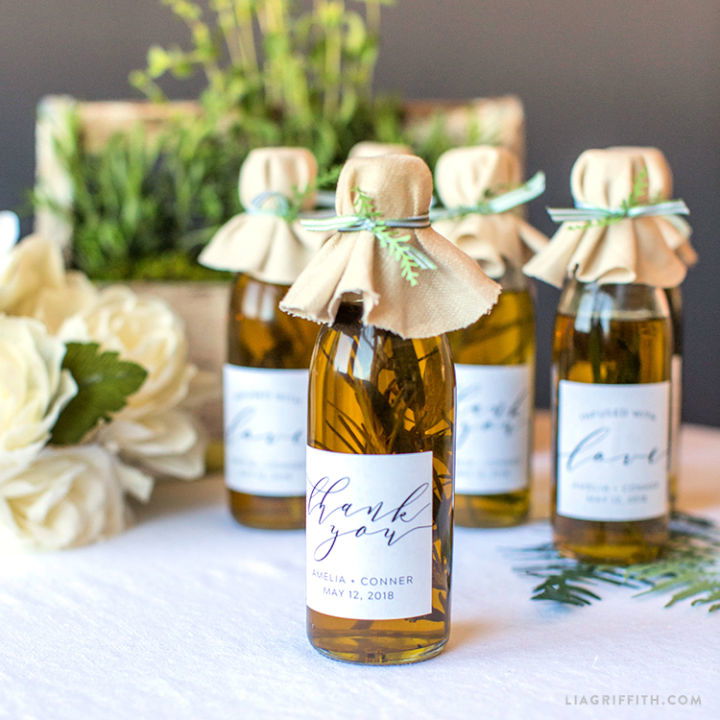 If you are looking for quick and simple wedding favor, we will surely encourage you to make these infused olive oil bottles. The best thing about these bottles is that you can customize them and make them in no time. Use the printer with free printable tags and labels to decorate and embellish these bottles. Apart from these decorative ribbons, you can also use the linen fabric to wrap on this bottle's top. liagriffith
17. DIY Mexican Wedding Favours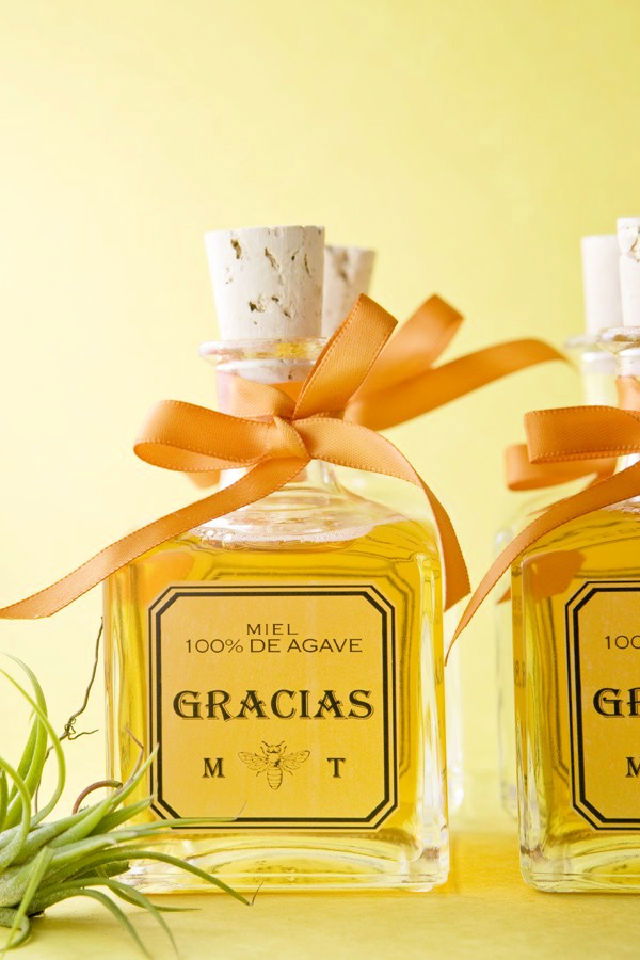 Do you want to give a festive and super funky touch to your wedding event? If yes, you can consider these Patron-inspired Mexican wedding favors. To make them, you require glass bottles with cork tops, agave syrup, tequila or honey, and sheet labels. The only thing you need to do is filling the glass bottles with honey or tequila according to your choice. Moreover, make a bow on the top edge of this bottle with a colorful ribbon. Embellish them with printable tags or labels. ruffled
18. Paper Succulent Pots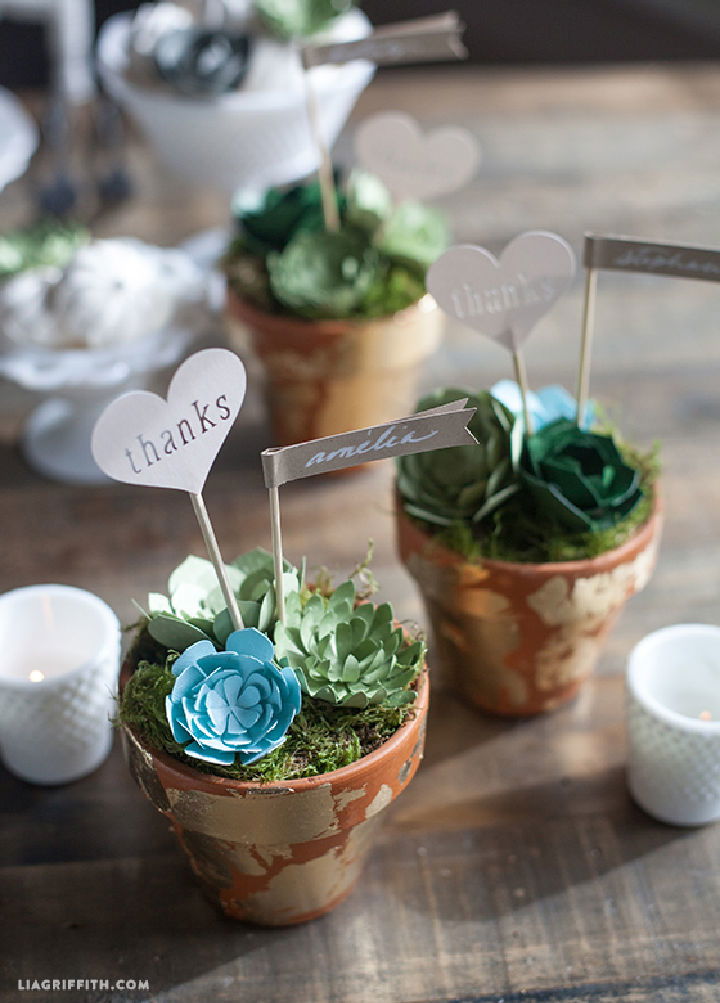 No doubt, everyone knows about natural succulents. But have you ever thought about creating paper succulents for wedding favors? You can make them easily with colorful cardboard paper, a foaming ball, and a tiny terra cotta pot. The only thing you need to do is making the flowers by getting help with a downloaded template. Use foaming ball for placing the created succulent in pot easily. You can also paint the vase with your desired or metallic gold color. liagriffith
19. Spiced Cinnamon Honey Favors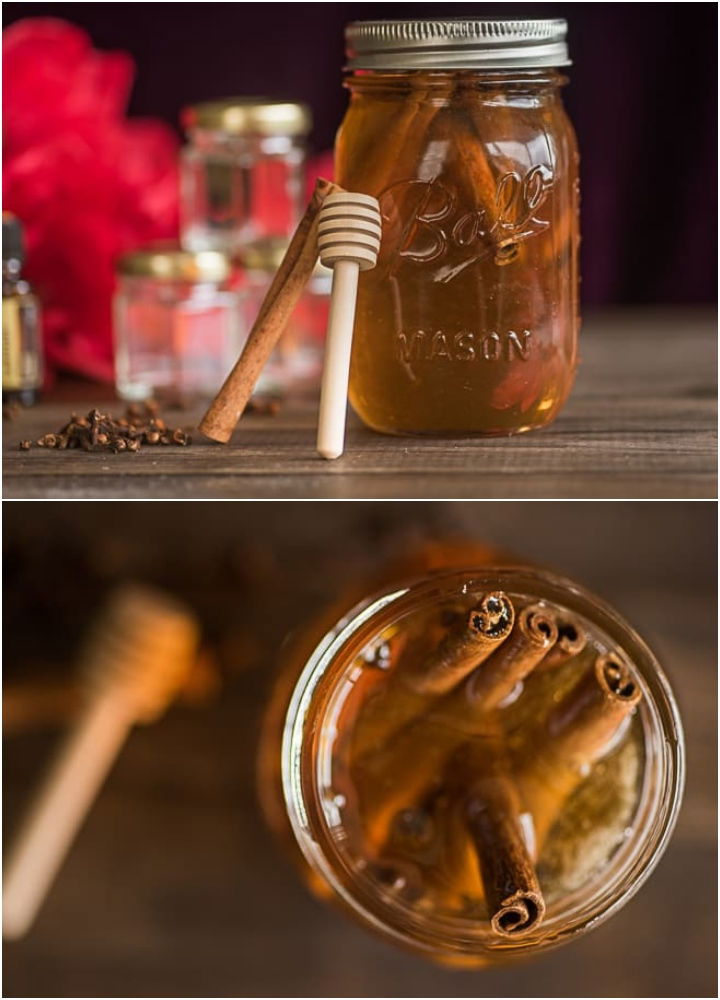 Spice up your and your friend's lives with these DIY spiced cinnamon honey wedding favors. Not only for the wedding event but these jars also an ideal option for gifting on birthdays. You can use empty mason jars, cinnamon sticks, decorative ribbons, and a mini honey dipper for making these favors. Fill the jars with honey, and also add cinnamon sticks inside them. Later, decorate the containers with ribbons and colorful twines in your own style. natashalh
20. Coffee Bag Favors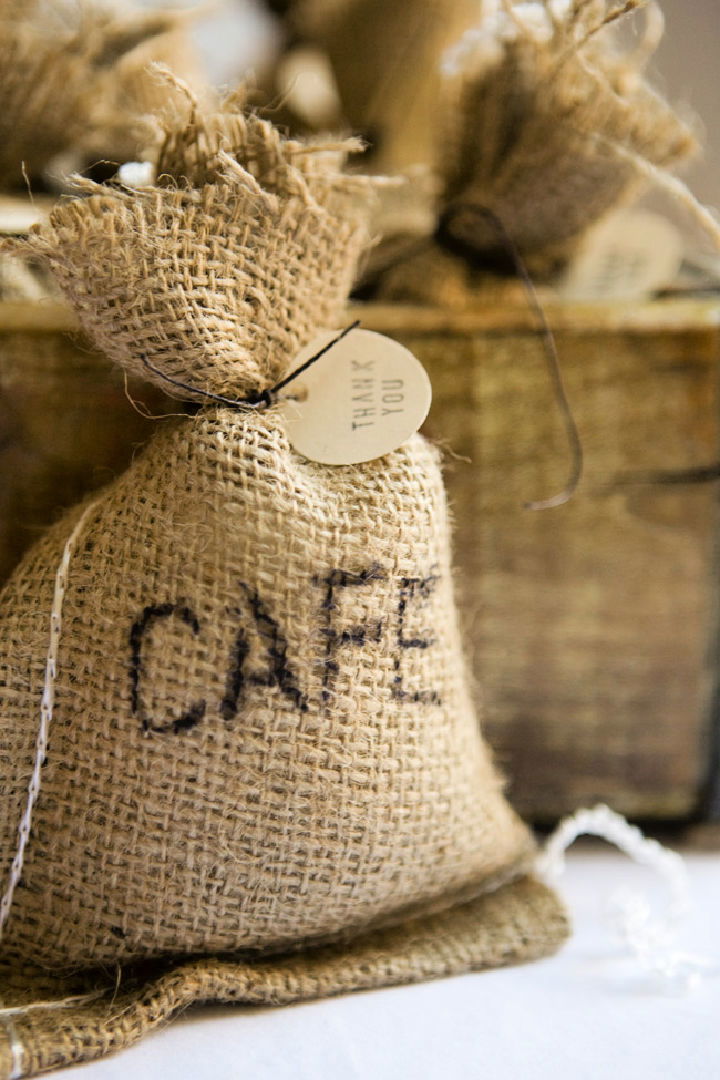 Coffee is everyone's favorite drink especially, in the winter season. So, you can also consider coffee as the wedding favor for gifting your guests. To make these favors, you require burlap sacks, coffee powder or beans of your choice, circle paper punch, stamp for tags, and fabric marker. Fill the sacks with coffee beans and tie them using colorful twine or ribbon. Additionally, use the fabric marker for writing "café" or any other word of your choice. ruffled
21. Wood Candleholders Wedding Favors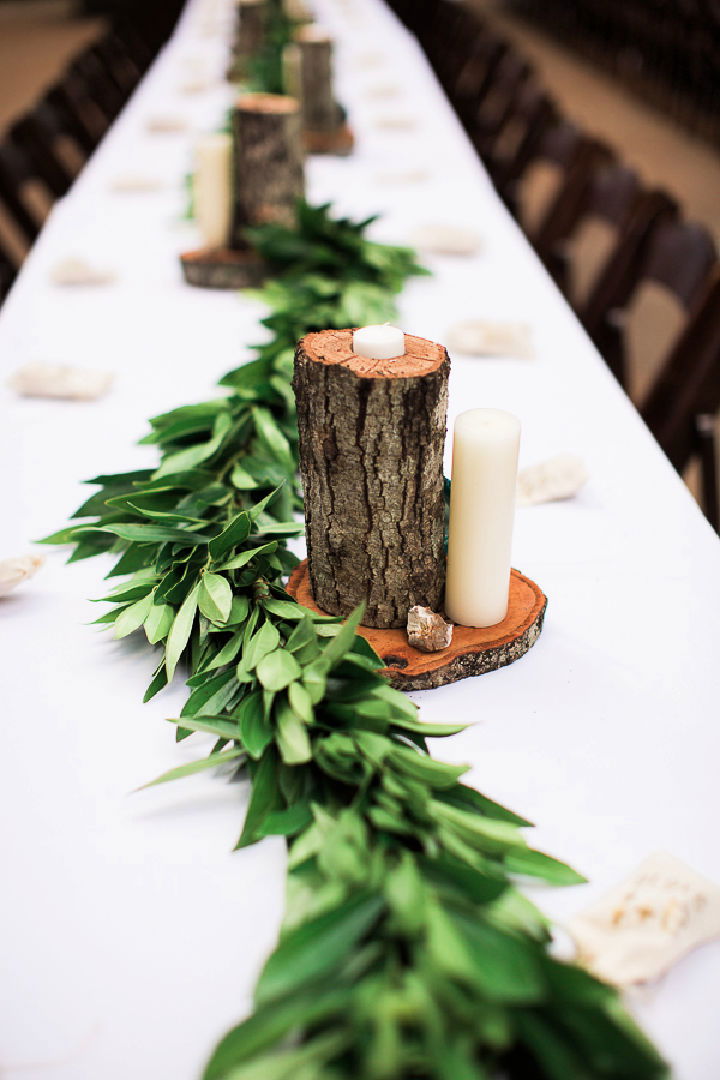 Decorate the long wedding tables with these customized circuit label favors and sacks. You can create these sacks in your own style and way by using your creativity. If you are familiar with using the circuit machine and kit, you will get your hands on these favors in no time and effort. You can print the wedding dates or names of the bride and groom on these personalized circuit favor sacks. handmade
22. Irish Cream Favors for Men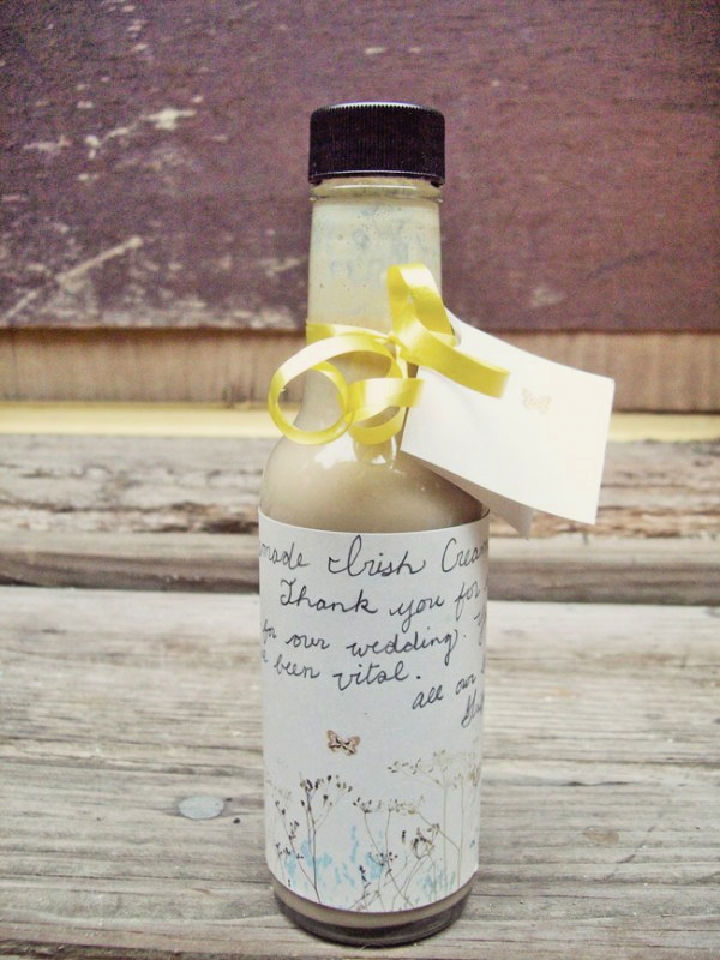 Want to pamper your guests and friends at your wedding event? If yes, you can gift them with these Irish cream favors. You can make this cream easily with a simple recipe and supplies. For making this cream, you require heavy cream, skim milk, whiskey, instant coffee, chocolate syrup, vanilla extract, and almond oil. Once you have done making this cream, pack it inside a vintage-style glass bottle. Use the cork lids for locking these Irish cream bottles. ruffled
23. Citrus Stamped Favor Bags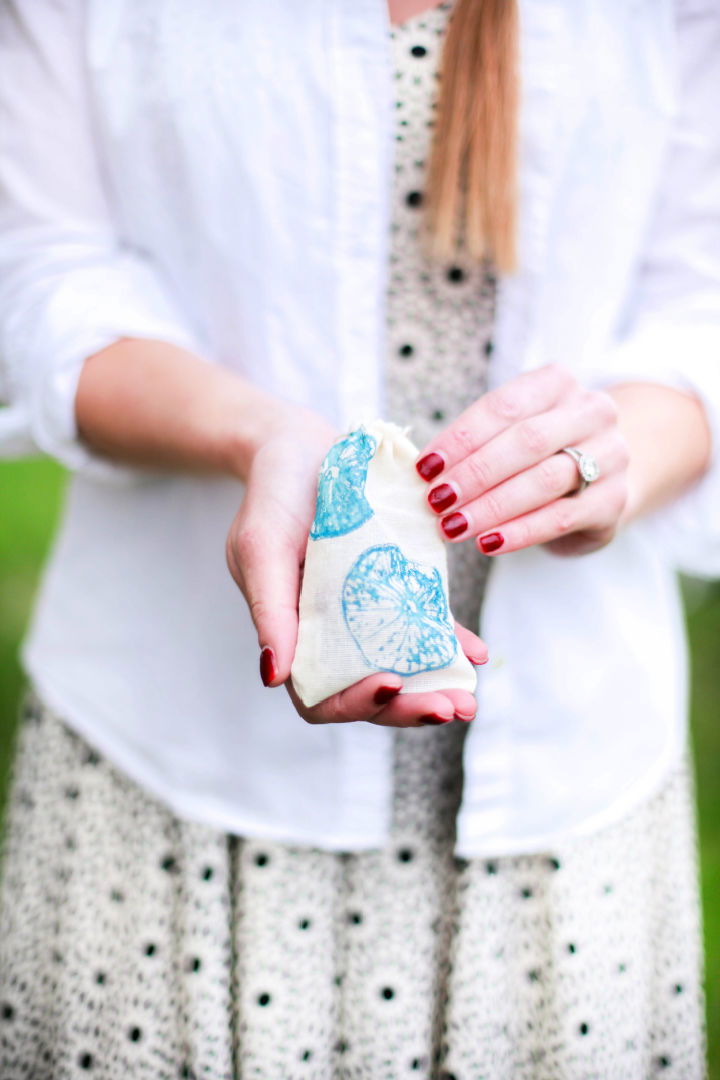 You can share the fruits of your home garden with your friends and family members as wedding favors by packing them inside citrus-stamped sacks. The best thing about these favors is that you can customize them in no time and effort with available supplies. You can use the muslin sacks in the desired size to pack the fruits and represent them as favors. Use rubber stamps for stamping the citrus on these packs. boxwoodavenue
24. Salt and Pepper Wedding Favors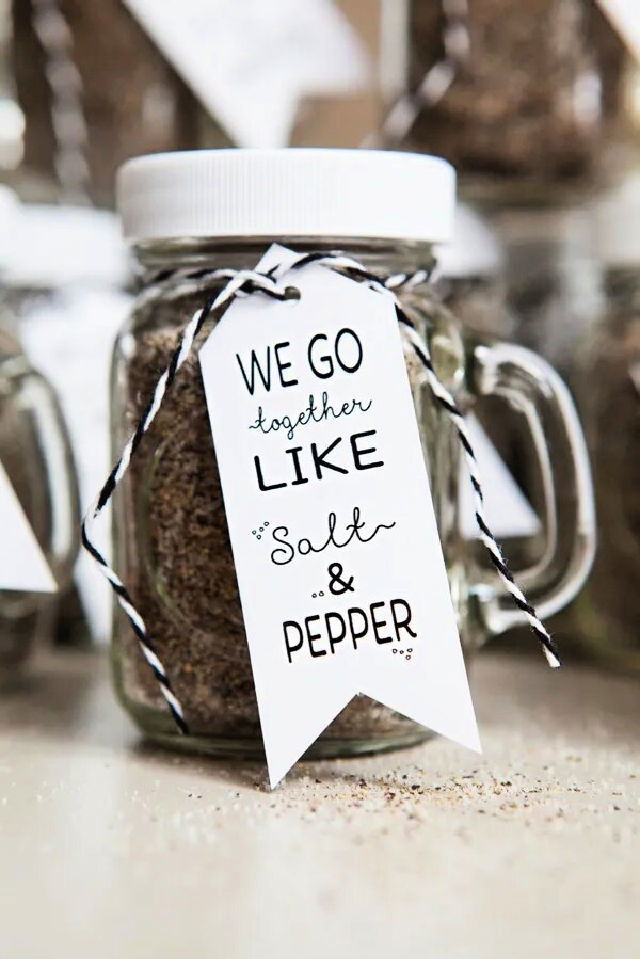 Are you ready to go with your friends together like salt and pepper? For sure, yes. Create these versatile and quick salt and pepper wedding favors for all your guests and friends. For this, you can use empty mason jars or glass containers to fill with spicy ingredients. Additionally, use the free tags and printables for labeling these bottles. Tie the tags on the tops of jars with matching twine. You are all done to create the super cute favors. somethingturquoise
25. Cactus Place Cards and Favors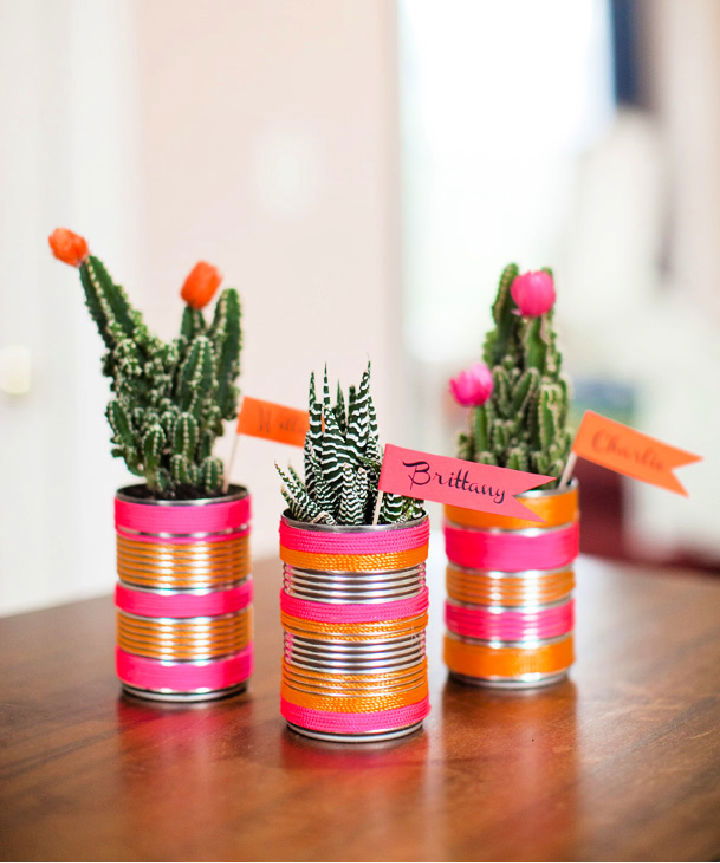 DIY cactus place cards and wedding favors with mini cactuses, soil, tiny tin cans, colorful neon strings, toothpicks, neon paper, and double-sided tape for sticking. For making these pots, you need to fill the cans with planting soil. Place the cactus inside them. Moreover, use the neon papers for stripping and decorating these cactuses planting cans. You can display the labels and tags in these customized pots using toothpicks. weddingobsession
26. DIY Wedding Favor Candles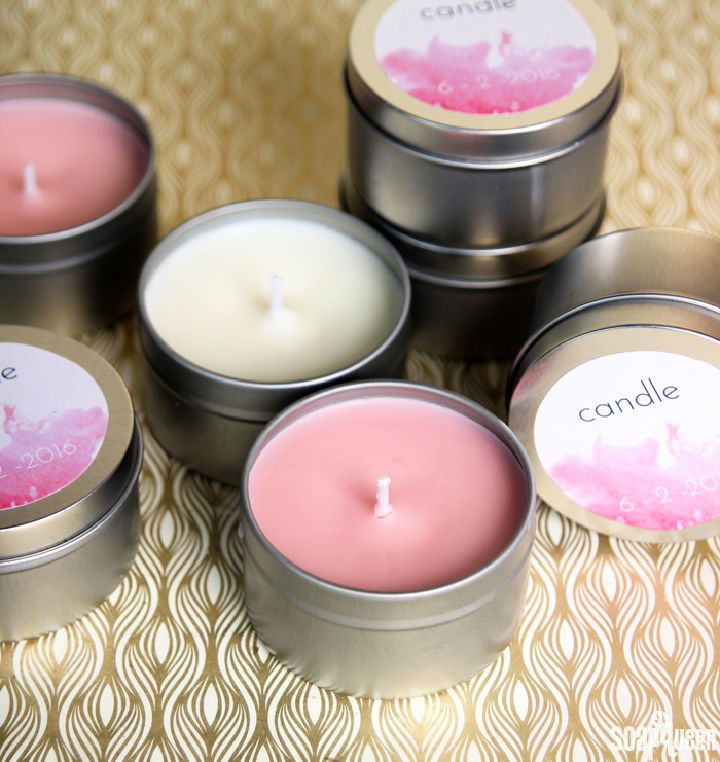 Keep yourself stress-free at the time of the wedding event and craft the wedding favors on time. However, if you don't have enough time and budget for it, you can consider the DIY candles as wedding favors. Make these candles easily with tiny tins, soy wax, colorful cotton wicks, essential or fragrance oil of your choice, and dye block. Place the wick in the middle of the candle tin and pour the melted wax in it. Once the wax has dried completely, cover the tins with their lids. You are all set to decorate the wedding tables and present these candles as wedding favors to all your guests. soapqueen
27. Apple Cider Mix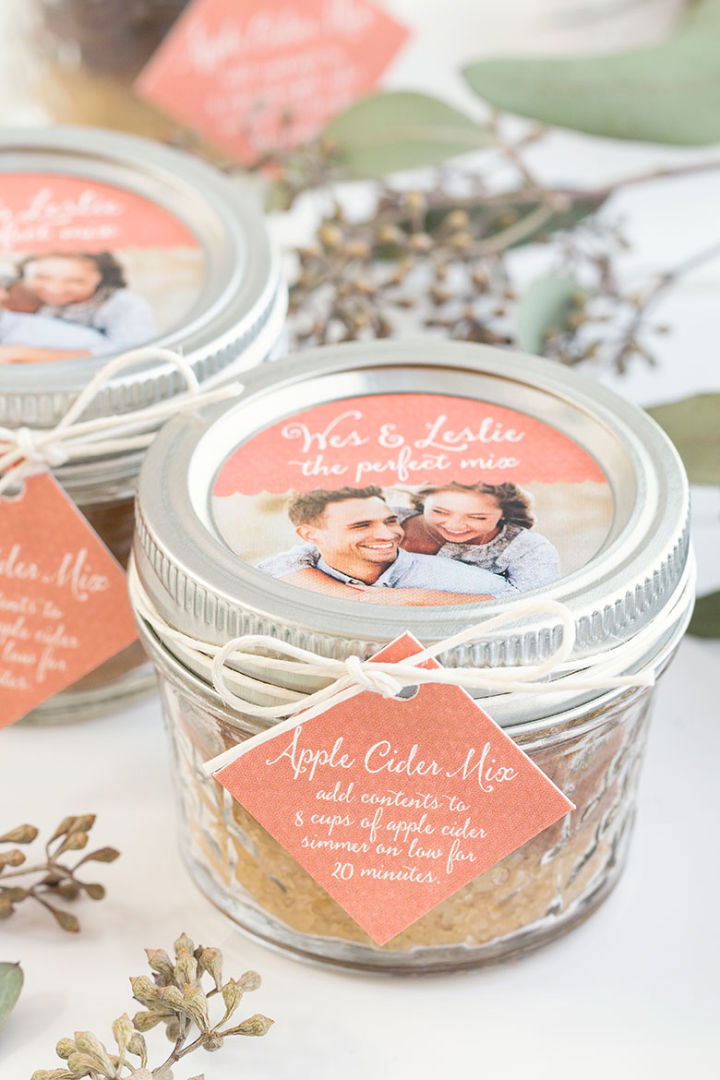 The fall season is all about weddings and family gatherings. You can make those events more memorable and special for all your friends or family members with DIY wedding favors. Make these super cute and stylish apple cider mix favors affordably. For this, you require raw sugar, crushed cinnamon, ground nutmeg, ground cloves, and personalized labels. Additionally, use the mason jars to fill with these mixtures. You can make these favor jars more attractive and impressive for all by writing down or printing spicy quotes on them. evermine
28. DIY Wedding Favors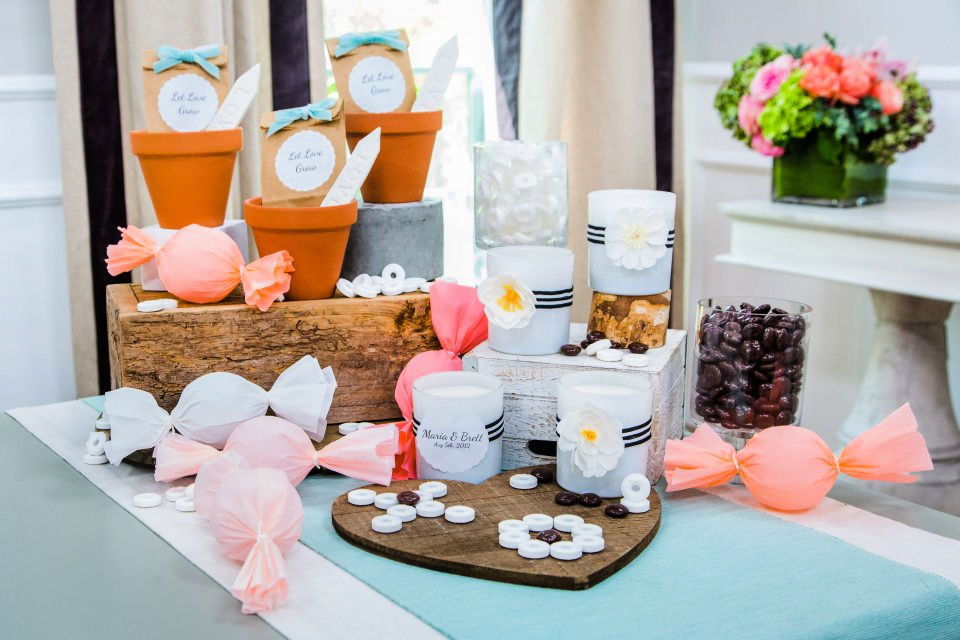 DIY these super stylish and multiple wedding favours easily with available supplies and materials. This complete wedding favour kit involves the customized candles, flower kit and crepe paper candy wrappers. Personalize all these favours with provided guidelines and instructions efficiently. You can use the same DIY candle supplies to make the wedding favour candles in desired colours and sizes. Additionally, crepe paper is the basic item to create decorative candy wrappers. hallmarkchannel
29. Floral Wedding Favours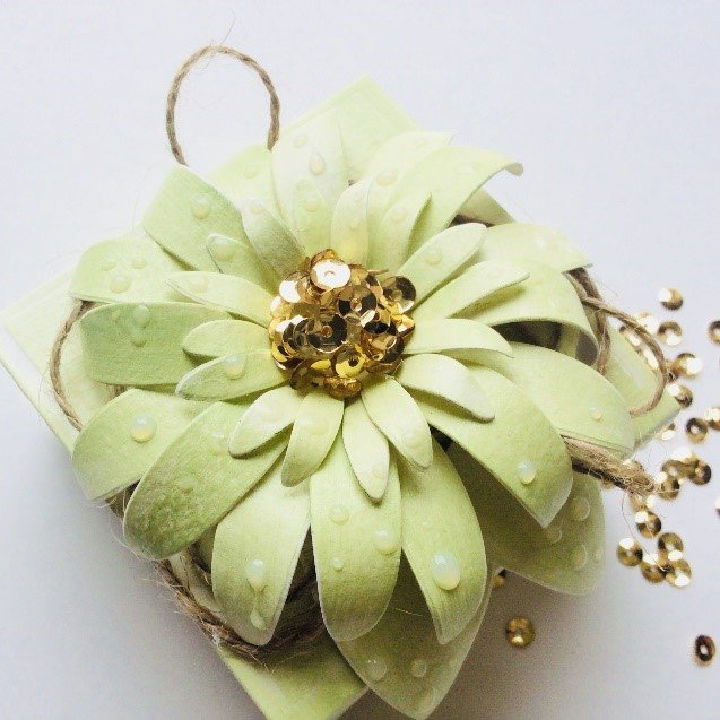 Are you looking for super gorgeous and fantastic boxes to pack the wedding favors? If yes, consider these DIY floral boxes for this purpose. Create them yourself with a scoring tool, watercolor or craft card, glitter, sequins, and Anna Marie's Viva Décor Inka silk in pistachio, lagoon, and salmon color. One more thing, you can sketch the template or base it on cardboard paper before cutting. In this way, it will be easier for you to make these boxes. Once you have done cutting and making these favor boxes, embellish them with sequins, twine, and decorative ribbons. createandcraft
30. DIY Wedding Favor Bags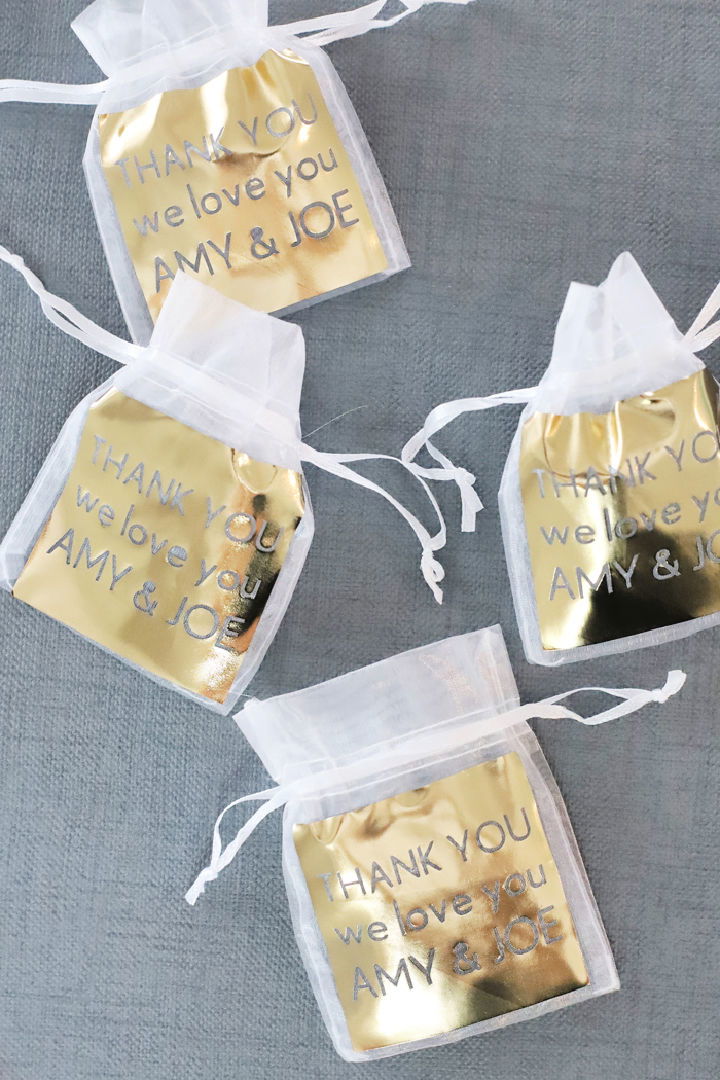 No wonder circuit and Martha Stewart are the basic supplies for several craft projects. Now, you can use them for creating the wedding favors sacks or packs. Use the circuit machine and paper for making the different templates and design for favor boxes. Additionally, utilize the Martha Stewart easy press to make the perfect size mats. You have to set the pressure and temperature while transferring the template on the pack according to the type of used material. michelleedgemont
Conclusion: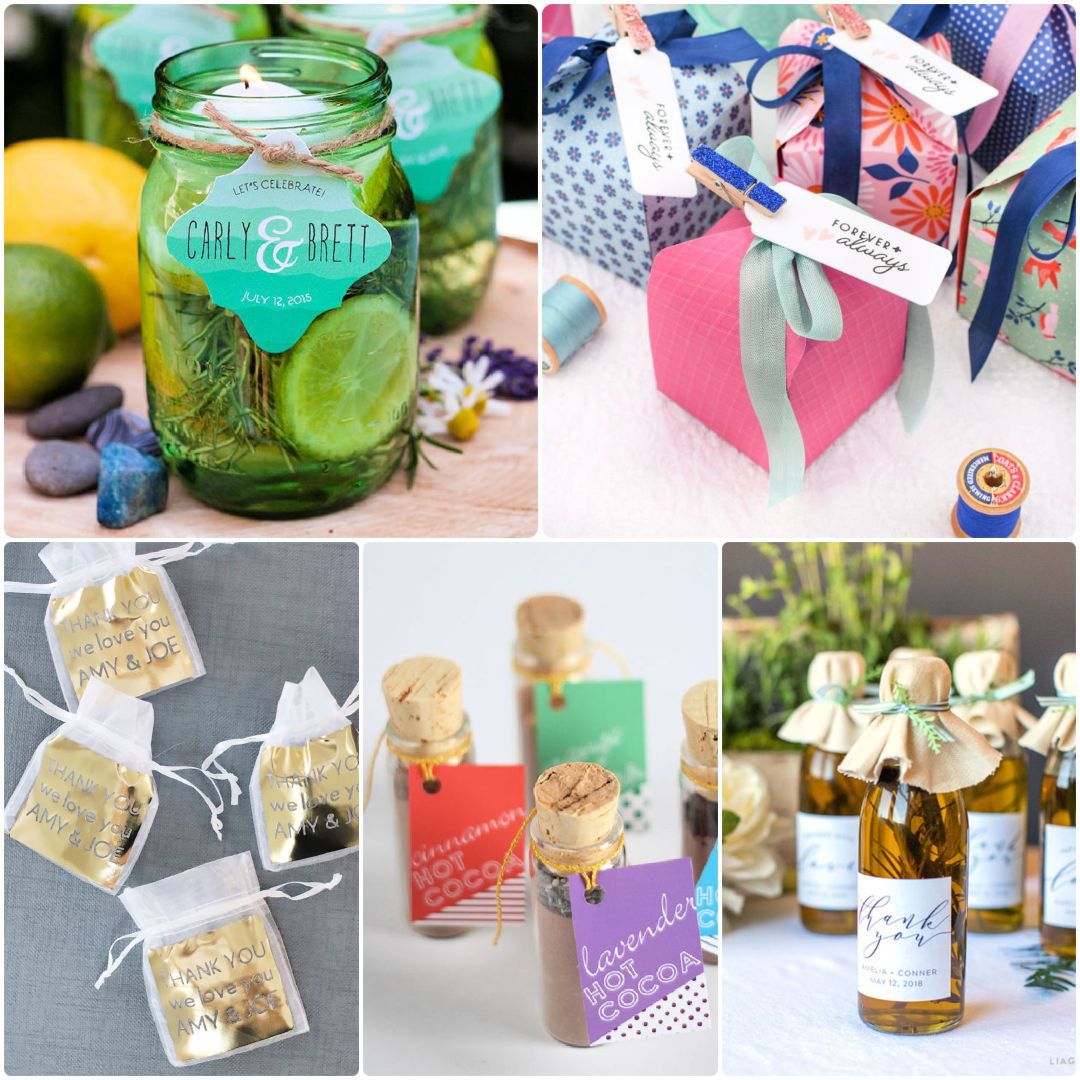 In conclusion, DIY wedding favors offer a personalized touch to your special day, delighting guests with originality and charm. From unique eucalyptus palo santo bundles to exquisite spiced cinnamon honey favors, the possibilities are endless to match your theme and individual style. Making homemade wedding favors can also be a cost-effective way to show appreciation for your guests' presence. So, unleash your creativity and explore these cheap and easy DIY wedding favor ideas, guaranteed to leave lasting impressions and cherished memories.