Bring a creative touch to your kitchen space with our exciting list of 25 easy DIY kitchen backsplash ideas on a budget. From acrylic and fabric kitchen backsplashes to coastal-inspired tile designs, our catalog covers a diverse range of backsplash styles suitable for different kitchen themes. Step by step, these detailed instructions will guide you through the process, making each project achievable and enjoyable.
Adding a DIY backsplash tile can completely transform your kitchen's aesthetics, providing a refreshing upgrade without breaking the bank. Consider a chic marble subway tile backsplash for a modern look or perhaps a tin tile backsplash for a rustic charm. If you're more into the farmhouse style, opt for a shiplap or beadboard kitchen backsplash. For a bold, artistic touch, an old CD kitchen backsplash can be an intriguing conversation starter.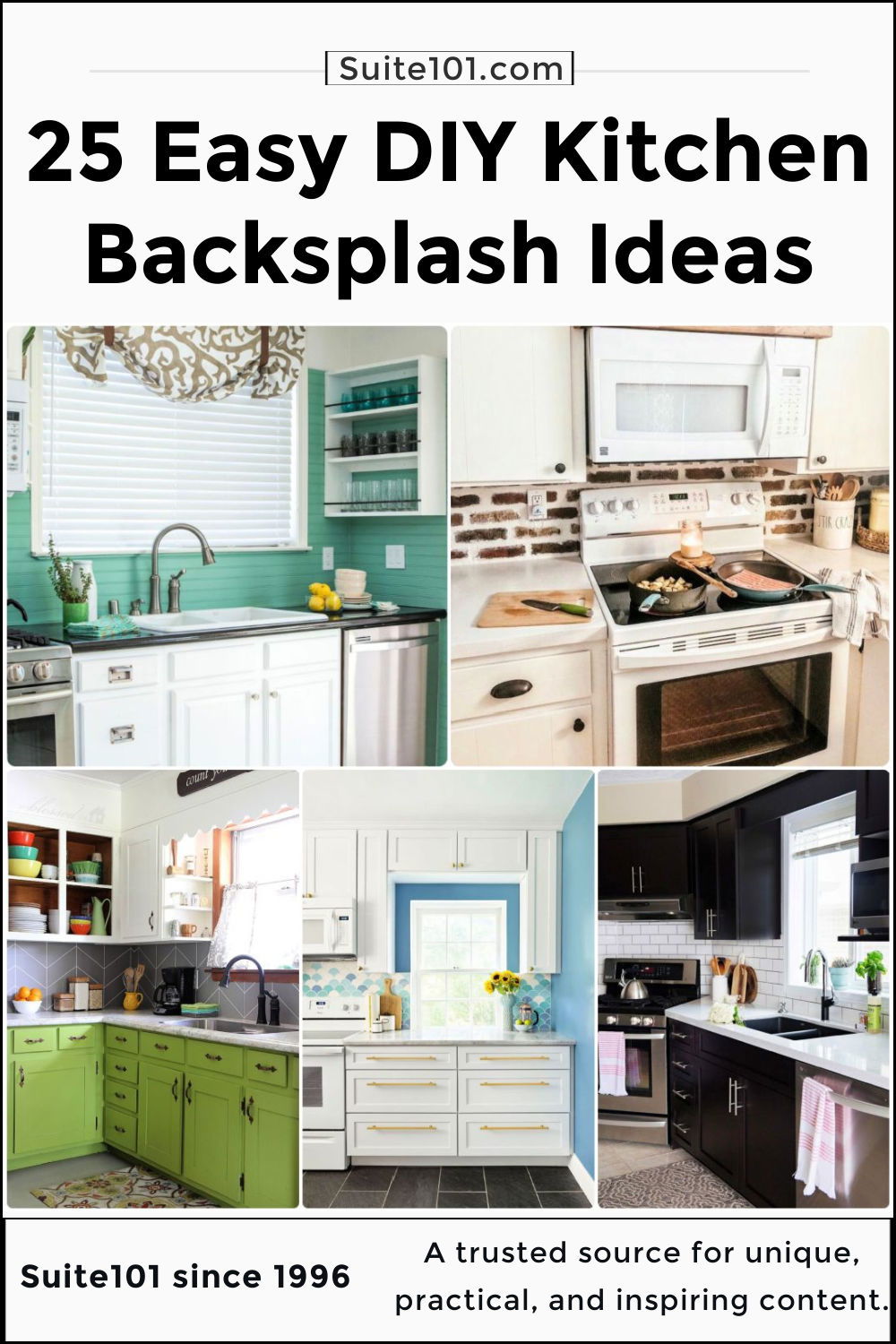 Feel the thrill of accomplishment when you complete your DIY tile backsplash project. You'll find these DIY kitchen backsplash ideas come with clear instructions and visual illustrations that make the assembly process straightforward. From beginner-friendly peel-and-stick subway tile backsplashes to the more intricate DIY mosaic tile designs, there's a perfect match for every DIY enthusiast.
So, don't wait any longer. Get started on your DIY kitchen backsplash journey today. With a little patience and creativity, you'll be showing off your new, stylish kitchen in no time. Happy DIY-ing!
1. DIY Painted Faux Tile Backsplash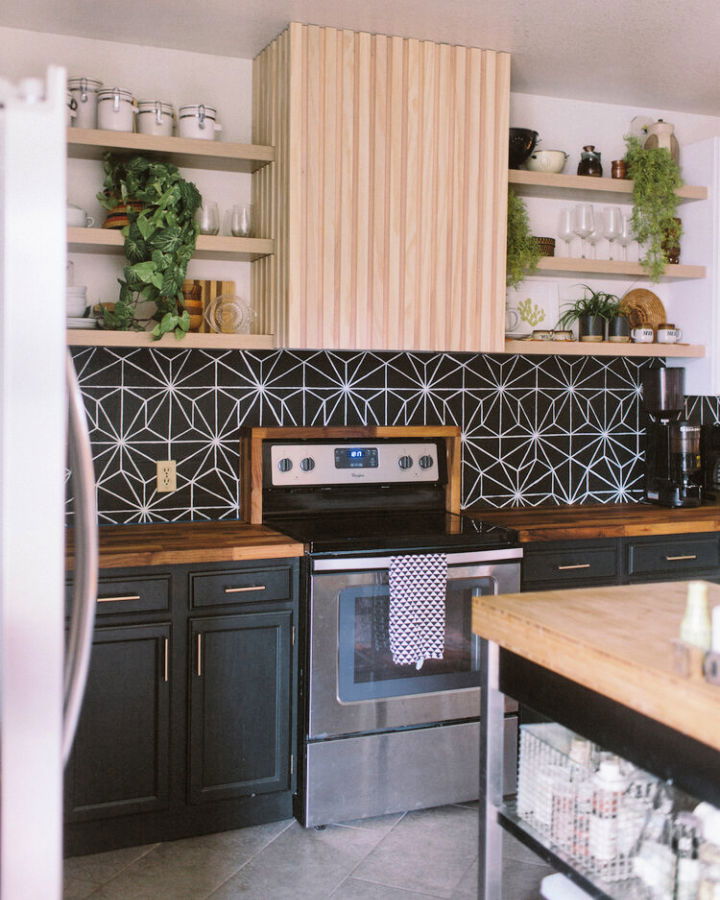 Create the kitchen of your dreams with a DIY-painted faux tile backsplash! This easy-to-follow project requires no specialized materials – just chalk, straightedge, interior latex paint and a template. You'll love how the dark paint adds depth to your space while achieving the look of luxurious zellige tiles. Start today and enjoy a stunning new backsplash in no time! lizmorrowstudios
2. Creative Driftwood Backsplash Idea for Kitchen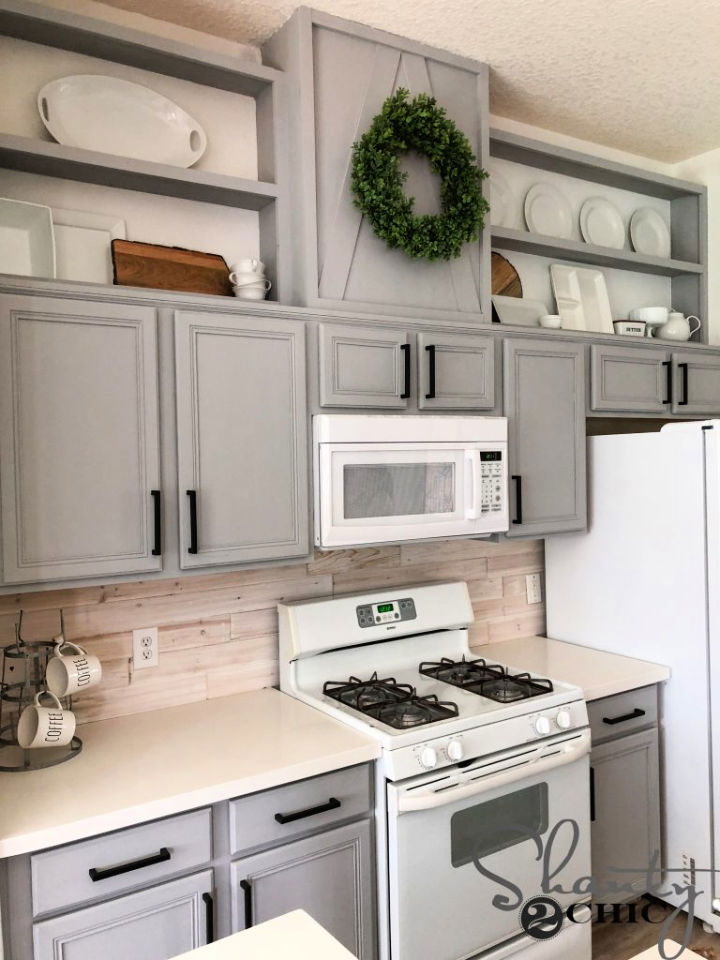 Transform your kitchen with this DIY driftwood backsplash! At only $2 per square foot, it's a great and affordable way to give the room an updated look. Installation is easy – attach each driftwood plank to the wall with some panel adhesive. To keep your new backsplash looking its best for years, apply a protective finish. You'll love how this simple project adds beauty and charm to any kitchen! shanty 2 chic
3. Kitchen Backsplash Using Musselbound Tile Mat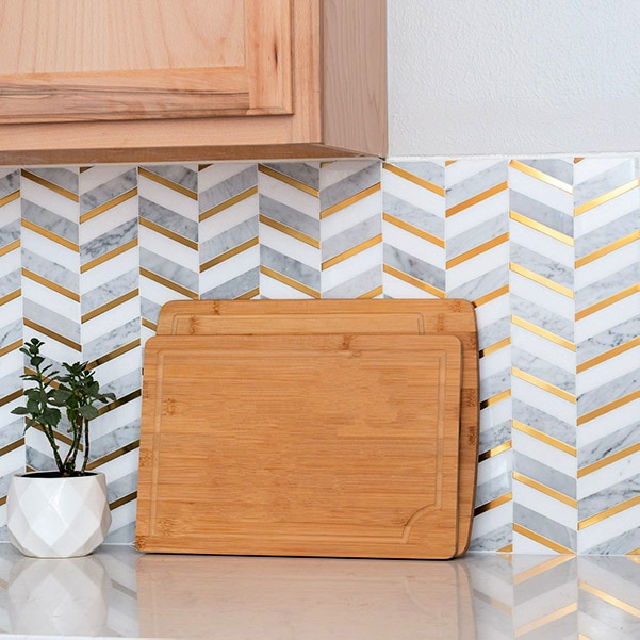 Install a beautiful, unique kitchen backsplash with the mussel-bound sticky tile mat! This adhesive tile mat is perfect for beginners who are new to tiling. It's easy to use, durable and can be used on any wall surface, making it great for kitchens or bathrooms. The result is a stunning mosaic backsplash that will transform your space and make your vision come alive! All you need is the mussel-bound sticky tile mat, grout float, and paper towels – and you're ready to start tiling! anikasdiylife
4. How to Do Checkerboard Backsplash in Kitchen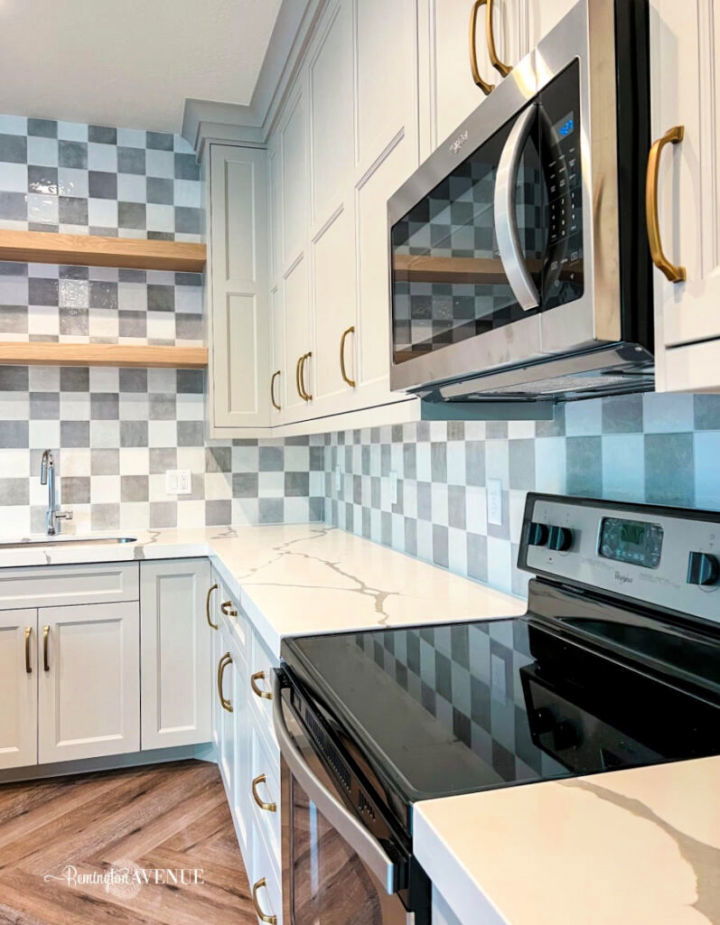 Bring a classic look to your kitchen with this easy DIY backsplash! Featuring gray chloe tile, white chloe tile and quarter-round end pieces in both shades, all you need is some frost non-sanded grout and double-sided adhesive tile paper to create an eye-catching checkerboard pattern. It's a time-consuming project but well worth the effort for stunning results – get started today on your beautiful DIY checkerboard backsplash! remingtonavenue
5. DIY Stainless Steel Kitchen Backsplash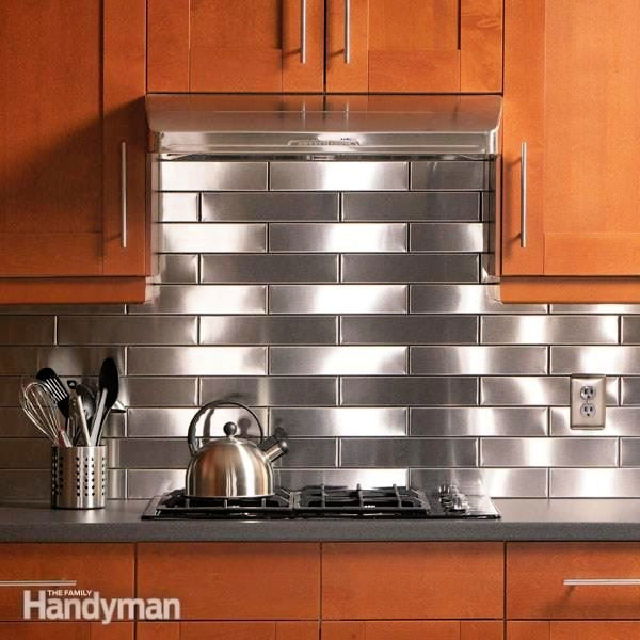 Upgrade your home kitchen with this stainless steel backsplash! This modern, easy-to-install solution is perfect for any budget. The subway tiles can be shifted to the left or right to avoid having to cut small pieces of tile and make installation faster. For a successful installation, you'll need some basic tools like cardboard, clear silicone caulk, construction adhesive, graph paper, plastic electrical box extensions, and metal tiles. Refresh your kitchen in no time with this beautiful stainless steel backsplash! familyhandyman
6. How to Install a Faux Marble Kitchen Backsplash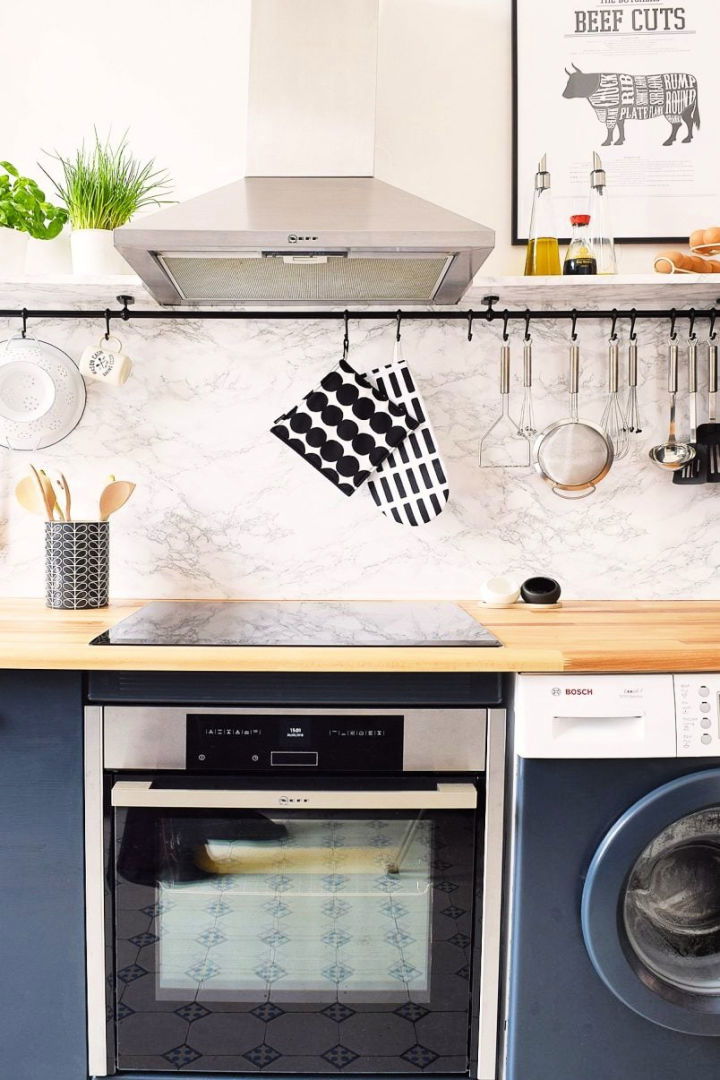 Are you looking for a stylish yet budget-friendly way to update your kitchen backsplash? Building and installing a faux marble backsplash is the perfect DIY solution! Start by measuring the area you'll cover before cutting MDF boards. Then add some sandpaper, marble contact paper, and silicone to get started. In no time at all – and only costing 28 € – you can have an elegant new look in your kitchen without breaking the bank. Follow these instructions for building and installing a beautiful faux marble backsplash today! littlehouseon
7. DIY Vinyl Tile Backsplash With a Cricut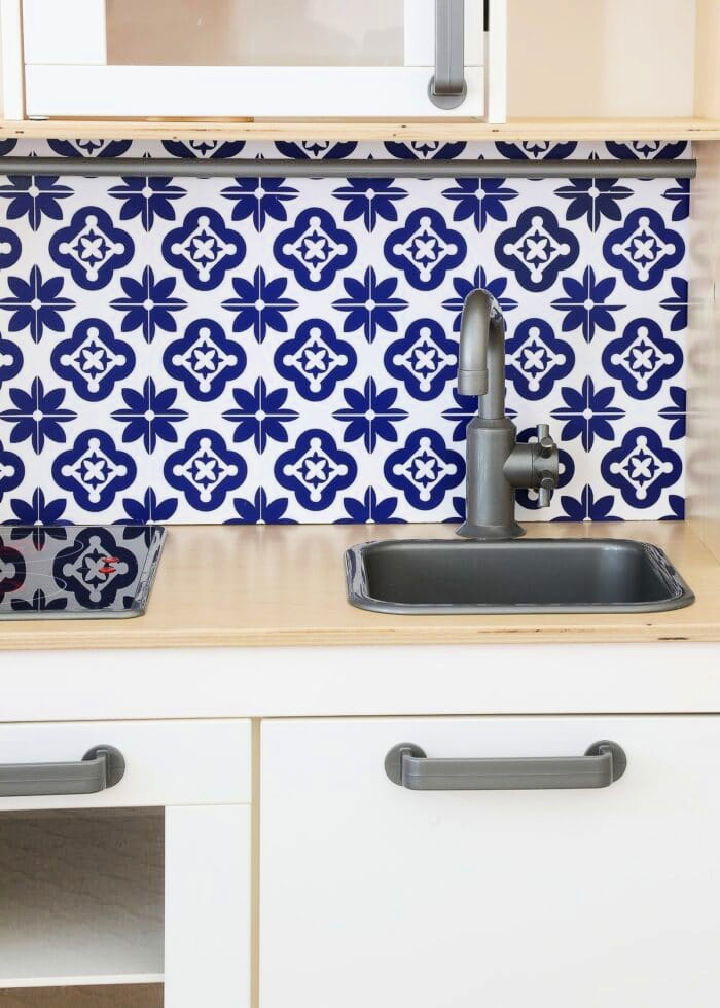 Design your kitchen with a personalized vinyl tile backsplash created by you. Making one is surprisingly easy and can be done in any kitchen using a cricut machine, vinyl, transfer tape and paint. All you need to do is measure out the area of the backsplash, design your pattern using the cricut software then cut it out on transfer tape. Finally, apply it to the wall and paint over it for added color or texture! Create something unique that will make all your friends envious! thehomesihave
8. Farmhouse Style Pressed Tin Kitchen Backsplash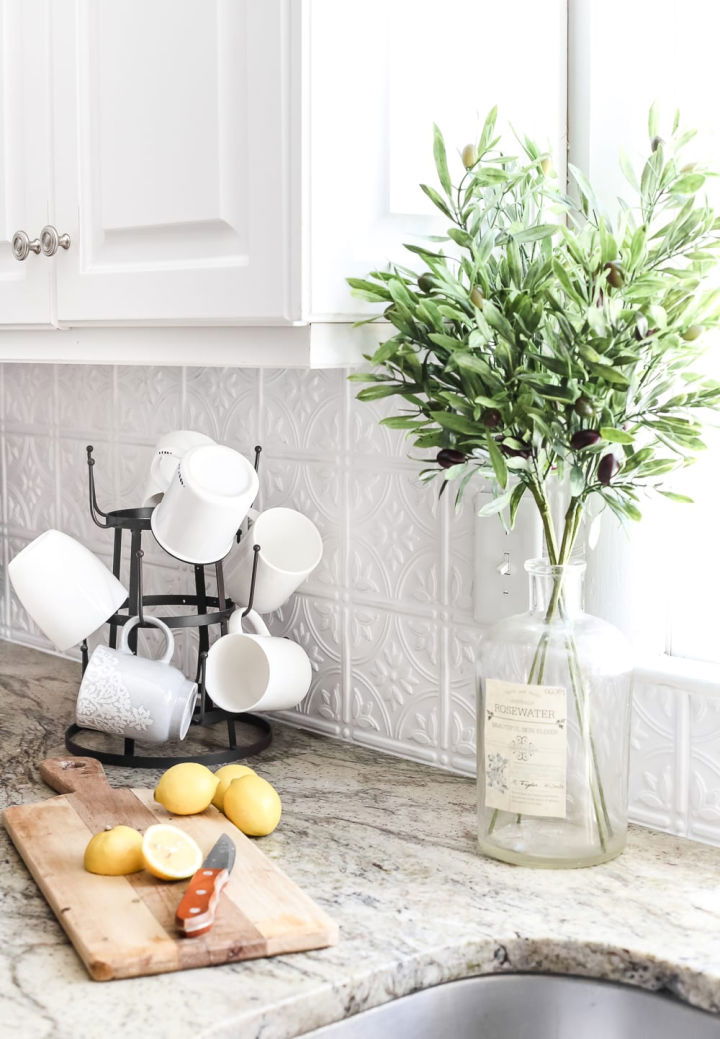 Change an outdated kitchen backsplash with a farmhouse-style pressed tin makeover! It's quick, easy, and inexpensive to create the look of tile – no power tools are required. All you need is primer, white pvc panels designed to look like pressed tin, a caulk gun, loctite power grab construction adhesive and white caulk. With these materials in hand, you can get started on your DIY kitchen transformation today! blesserhouse
9. Painted Kitchen Backsplash Ideas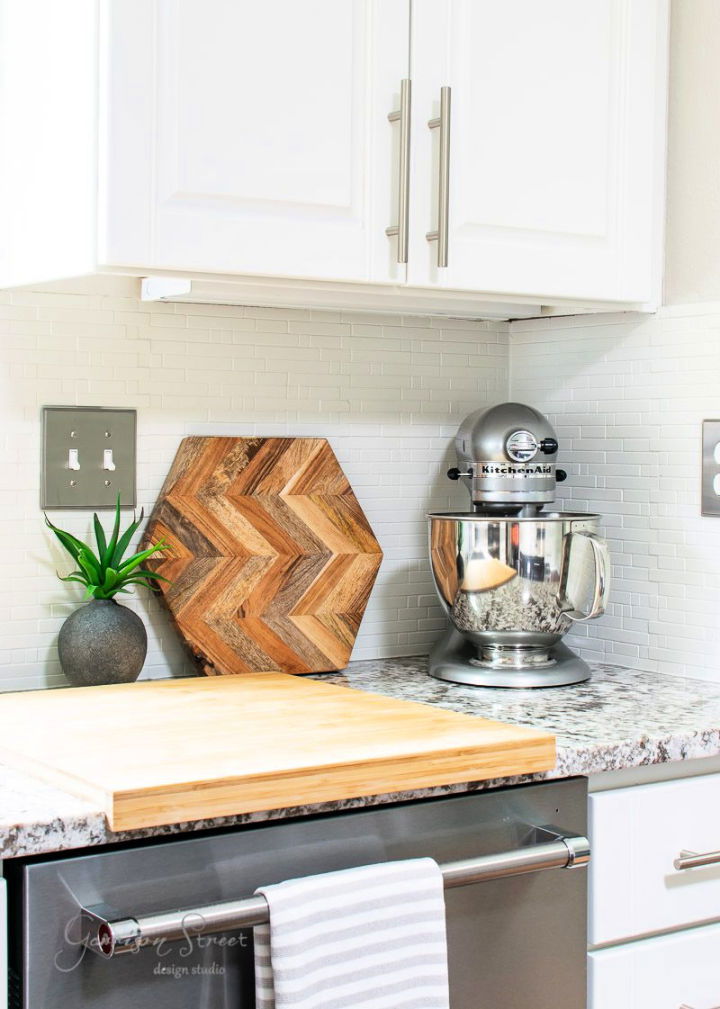 Get a whole new look to your kitchen with a painted backsplash! Change up the look of your countertops without spending a fortune! Replacing old tiles is possible, but painting is quicker and easier. You only need a few supplies: paint, a small roller, soap, a sponge and painter's tape. With these items in hand – plus some time to spare – you can give your kitchen an update that will last for years! Add color and texture to any space with this simple yet stylish project. So why not take it on? You'll be amazed by the finished result! garrisonstreetdesign
10. DIY Kitchen Backsplash With Free Stencil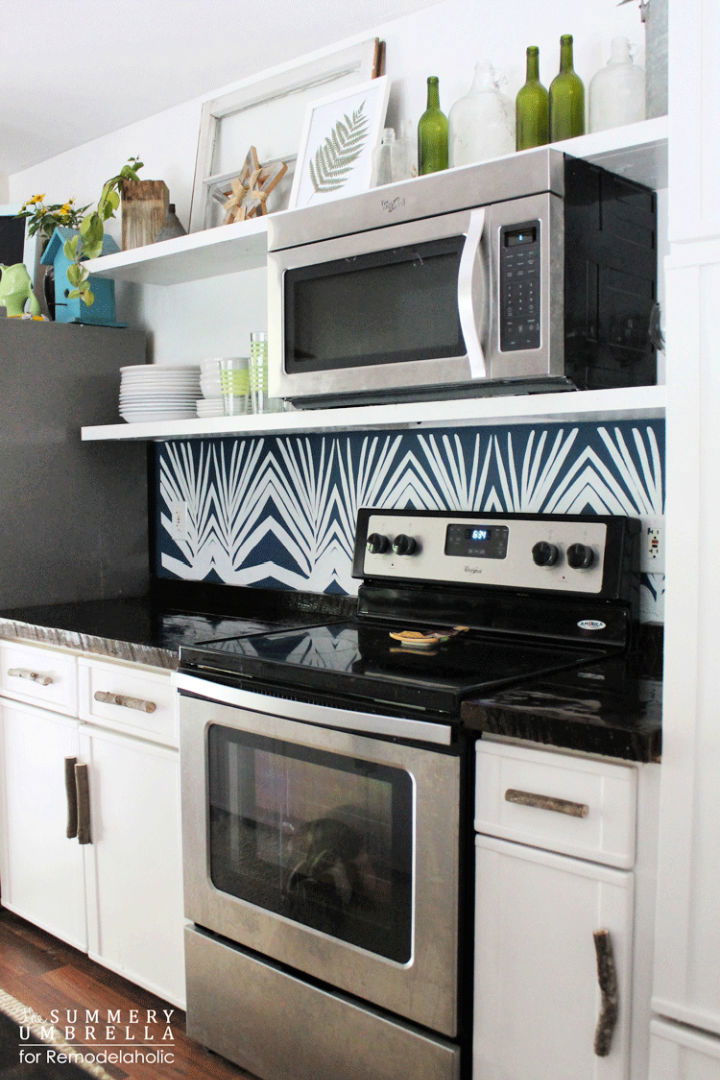 Add personality to your kitchen with a custom-designed stencil backsplash! Get out the semi-gloss paint and have fun painting your custom design. For this project, you'll need a stencil blank, painter's tape, and a printer or cricut machine. Create something different from anything you've seen before – let your creativity run wild! Make your kitchen stand out with an original design of your own making. Start designing today to create an unforgettable culinary masterpiece in no time! remodelaholic
11. DIY Subway Tile Backsplash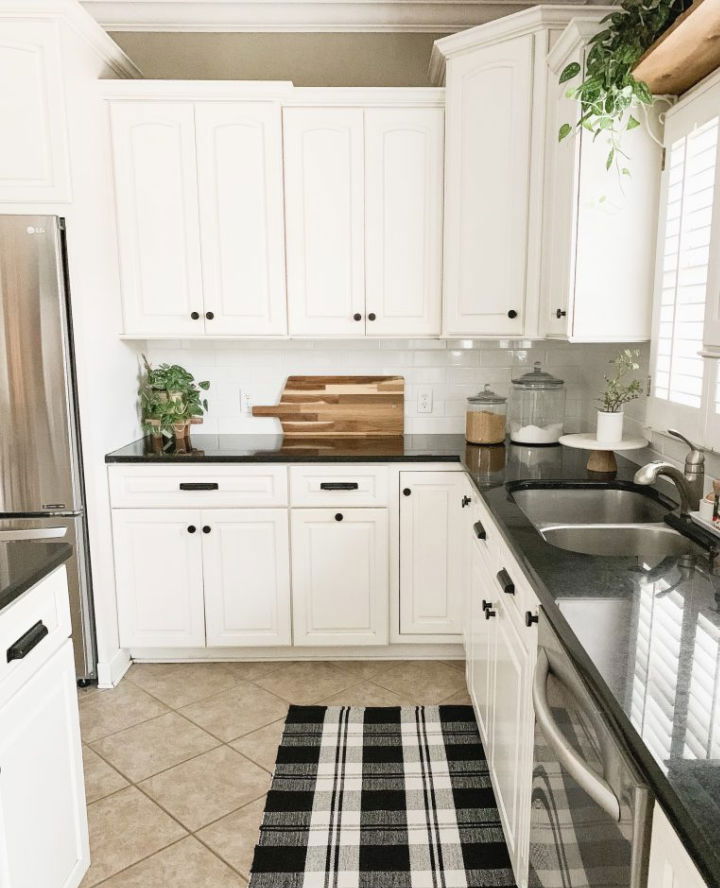 Want to spruce up your kitchen with a beautiful DIY ceramic subway tile backsplash? This guide is perfect for beginners looking for an easy, affordable way to create stunning results. All you need are the basics – ceramic subway tiles, tile spacers, thin-set mortar, grout float and sharpie. Get creative by using eye-catching colors or even going for a black and white patterned faux backsplash look that'll make your kitchen truly yours! Plus, it's easy for anyone to do it – no experience is needed! blessthisnestblog
12. How to Install a Tile Backsplash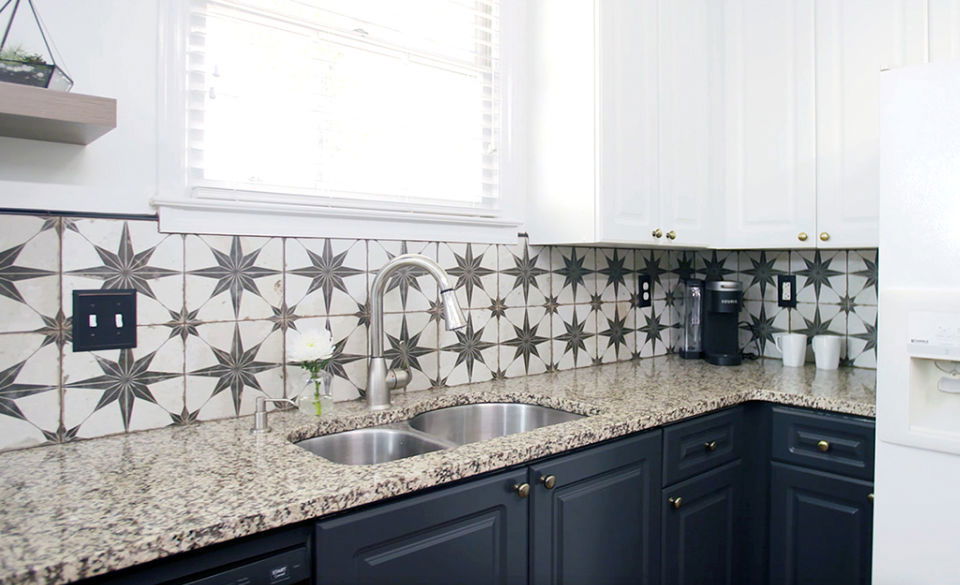 Learn to install a tile backsplash and transform your kitchen with our expert guide. Suitable for DIY-ers with intermediate skills, this process takes over a day but the result is worth the effort. It's an excellent way to upgrade your kitchen and create a standout focal point. Our step-by-step guide offers detailed instructions to ensure a flawless finish. Master the art of tiling a backsplash with our helpful tips and techniques, designed to provide you with the knowledge you need for a successful DIY project. homedepot
13. DIY Herringbone Tile Backsplash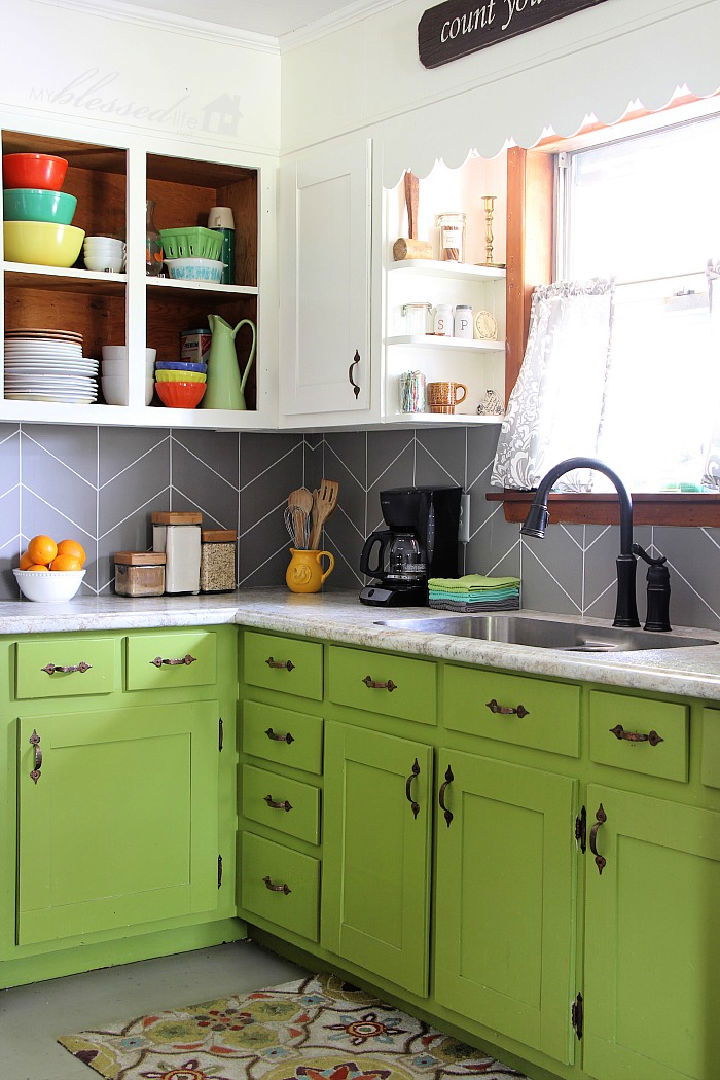 Step up your style game and transform the look of your kitchen with this stunning herringbone tile backsplash! It's easier than you think and turns out better than you could imagine. With just a few supplies like behr marquee iron gate gray, behr marquee cameo white, wooster pro woven cage frame roller, and scotch blue painter's tape, you can create an elegant tile-look backsplash in no time. Get creative and start tiling today for a stunning kitchen upgrade! myblessedlife
14. Make a Kitchen Wallpaper Backsplash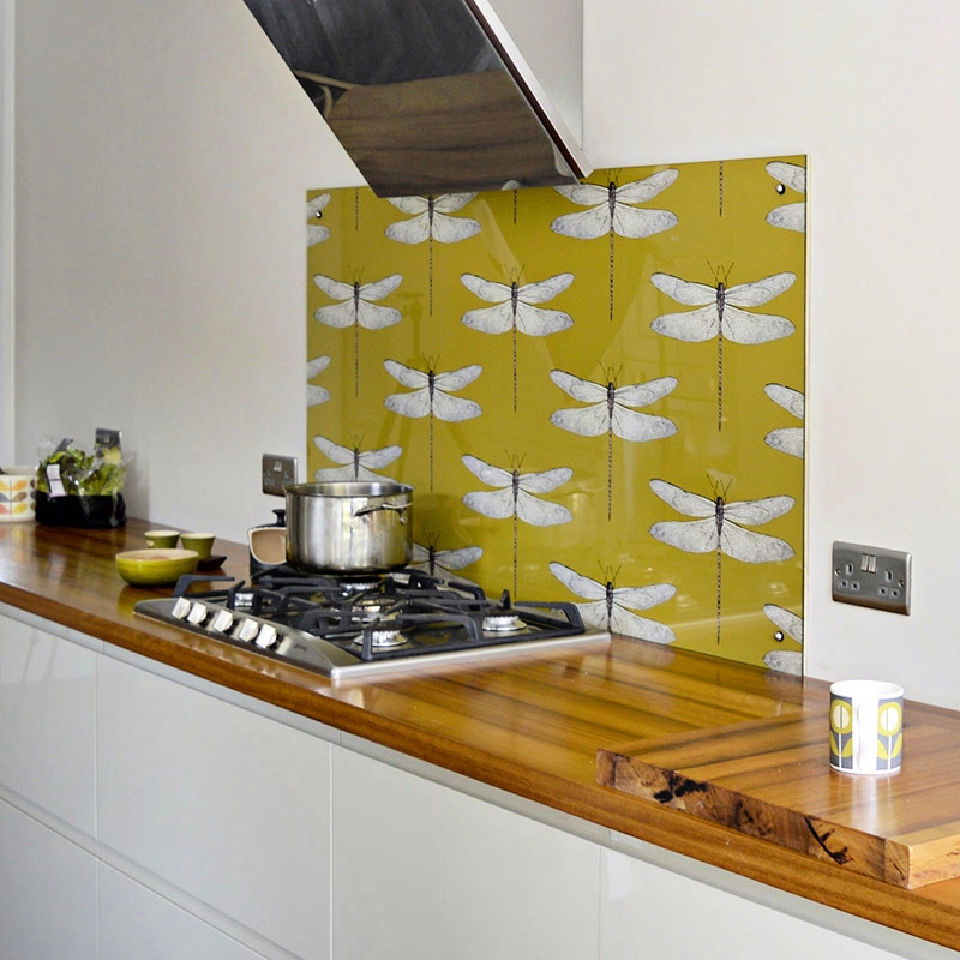 Give a new life to your cooking space with a DIY wallpaper backsplash! It's simple to install – screw the glass-protected wallpaper onto the wall. When you want something different, it's easy to unscrew the glass and change the wallpaper. You can also get creative by putting other items behind the glass, such as photo collages or printed images! All you need is wallpaper, wallpaper paste/adhesive, plywood base and glass for a stylish new look in no time. pillarboxblue
15. Simple DIY Brick Backsplash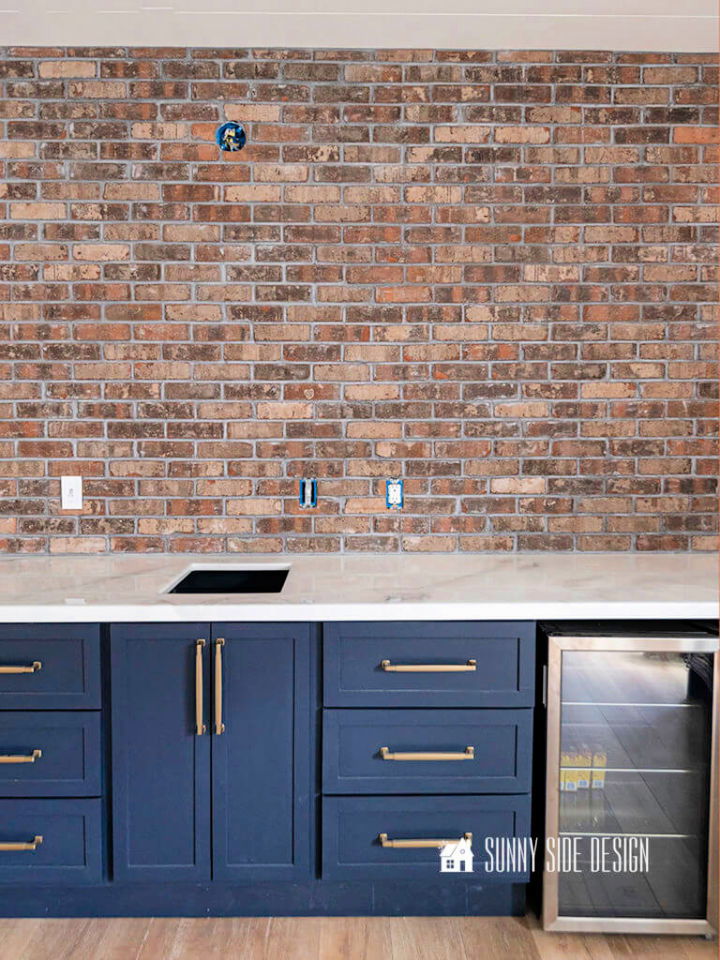 Experience a timeless elegance as you transform the look of your kitchen with a unique old-world charm. Installing a brick backsplash is strong, durable and easy to do with thin brick veneer. From start to finish, all you need are the right materials – old mill brickwebb tile adhesive or mastic, measuring tape, sanded grout and grout bag, plus a brick jointer for the finishing touches. With these few steps, you can create an amazing new look that will last years! 2thesunnyside
16. Inexpensive Plank Backsplash for Kitchen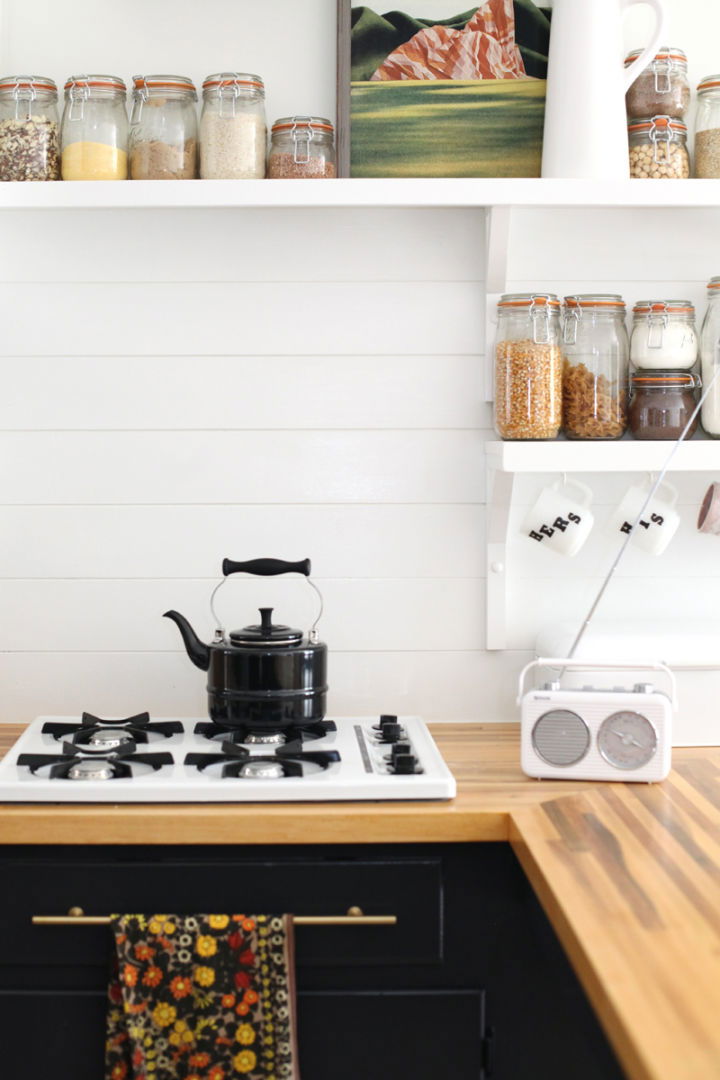 A simple plank backsplash can instantly elevate your kitchen's look and style! With the help of lauan plywood, construction adhesive, caulk, primer, and paint, you can dramatically change your kitchen without wasting pounds of sandpaper or replacing drywall. Transform any textured wall quickly and easily for under $61* – making an impactful change on a budget is simple. abeautifulmess
17. DIY Marble Subway Tile Backsplash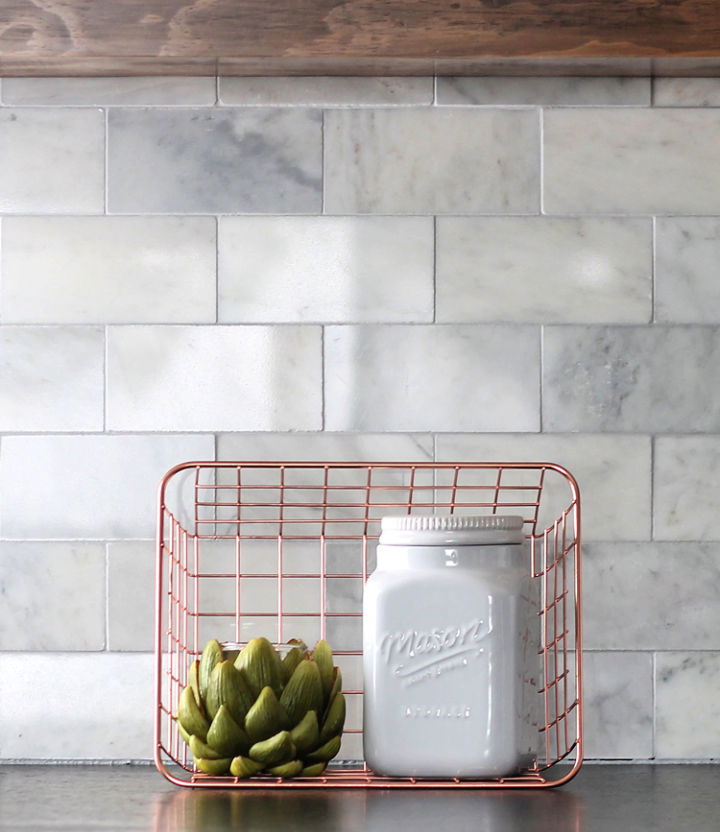 This DIY marble subway tile backsplash project may take some time, but it's worth the effort! You can create an elegant, durable backsplash that will last years with just a few tools and materials – including tile, grout, sealer, thinset, caulk, spacers and outlet extenders. This beautiful backsplash costs only $347, making it a great value compared to store-bought options. So if you want to add a touch of luxury to your home without breaking the bank or hiring an expensive contractor, consider this DIY marble subway tile backsplash! thecraftpatchblog
18. Laminate Flooring Kitchen Backsplash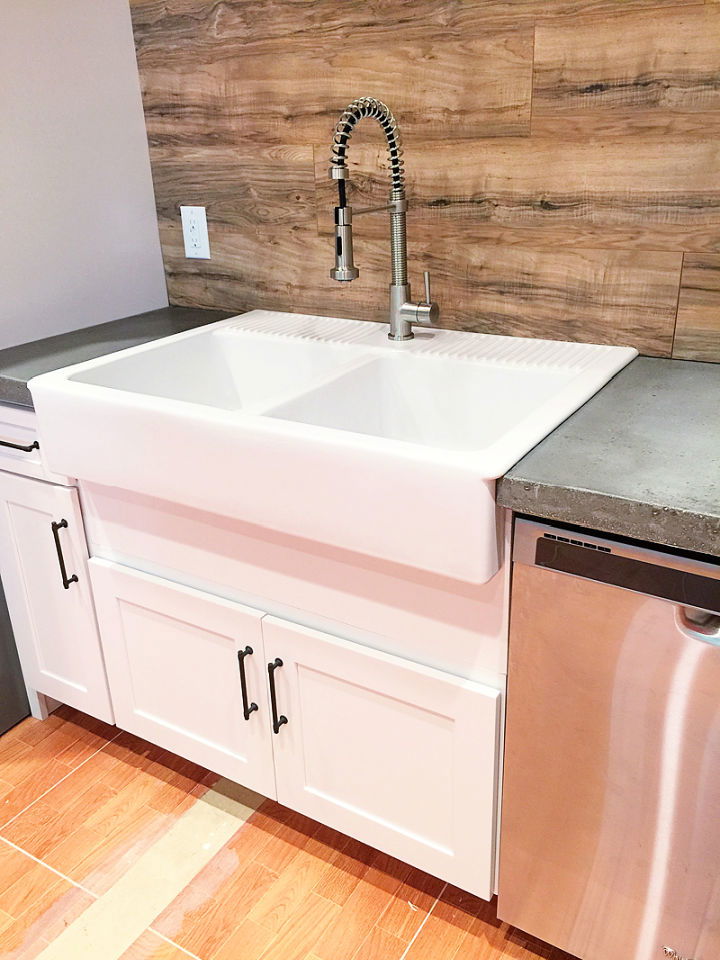 Upgrade your kitchen with a beautiful laminate flooring backsplash that looks like wood and won't break the bank! This affordable option is only $60 – perfect for anyone looking to add style and luxury to their home without spending too much. The best part? It's removable, so you can switch up your look whenever possible. Plus, it's wipeable, which makes cleaning up spills easy and fast. Get the triple crown of backsplashes today with this versatile laminate flooring option! bowerpowerblog
19. DIY Mosaic Glass Tile Backsplash on a Budget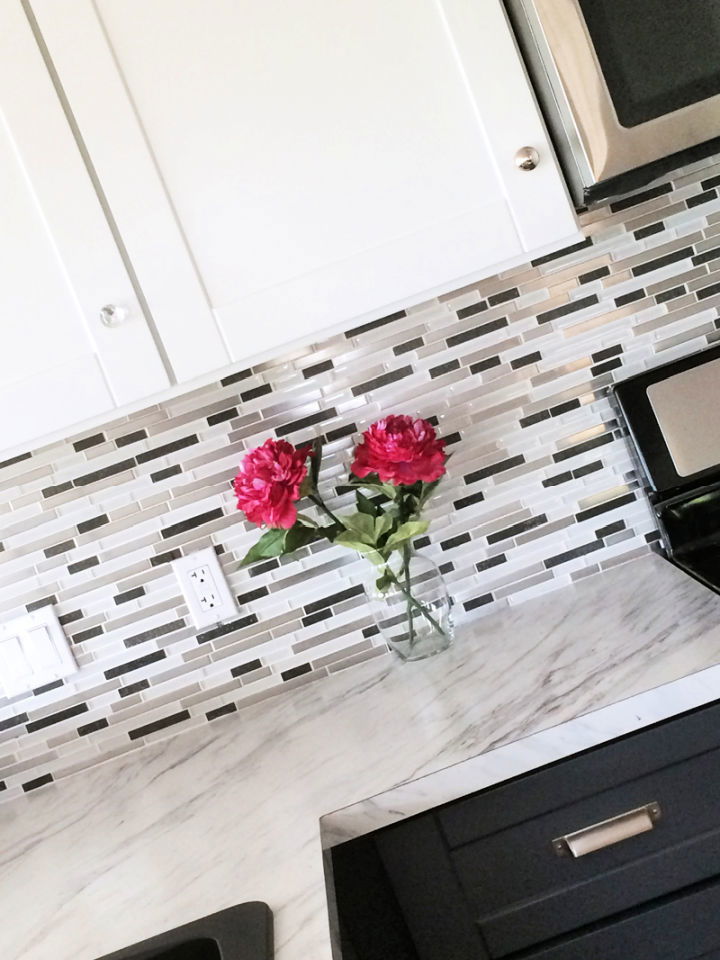 Transform your kitchen with a stunning mosaic glass tile backsplash! These tiles are designed to provide a reflective surface that will add color and texture. The stainless steel ties in perfectly with dark grey base cabinets, while white upper cabinets complete the look. These tiles interlock so they appear random but are placed with precision. Wipeable and easy to maintain, this mosaic glass tile backsplash adds an excellent finish you'll love for years! ana white
20. Cheap DIY Herringbone Wood Shim Backsplash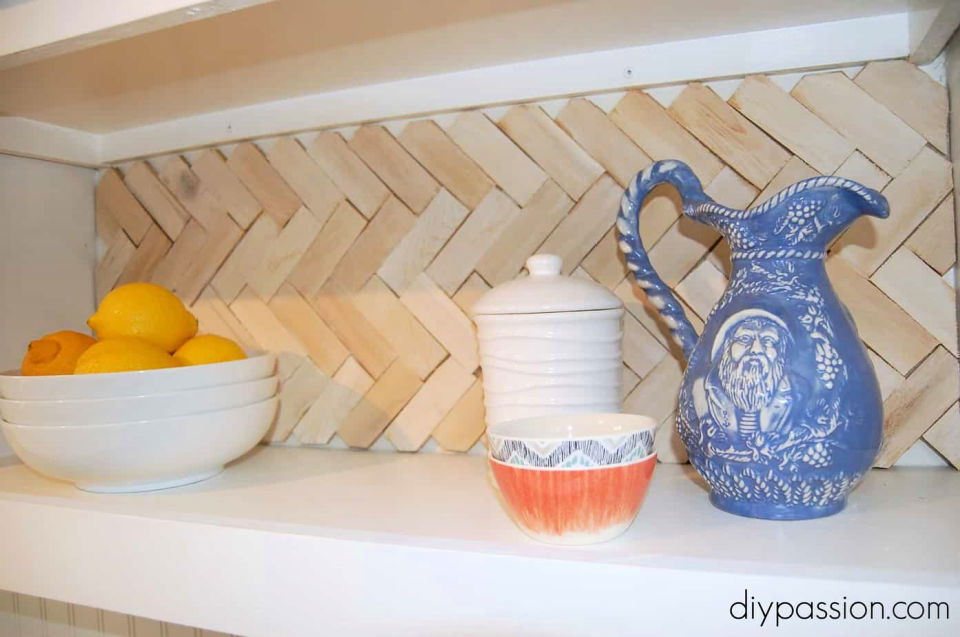 Create a stunning DIY herringbone wood shim backsplash for your kitchen in just minutes! This removable backsplash can be created with basic wood shims, wood glue, cardboard or foam board backing and whitewash stain. All you need to do is measure and figure out the positioning of the wood shims and adhere them together using wood glue. The result will give your kitchen an instant update that costs pennies! Get creative with this worthy project today! diypassion
21. Farmhouse Bakery Sign Stove Backsplash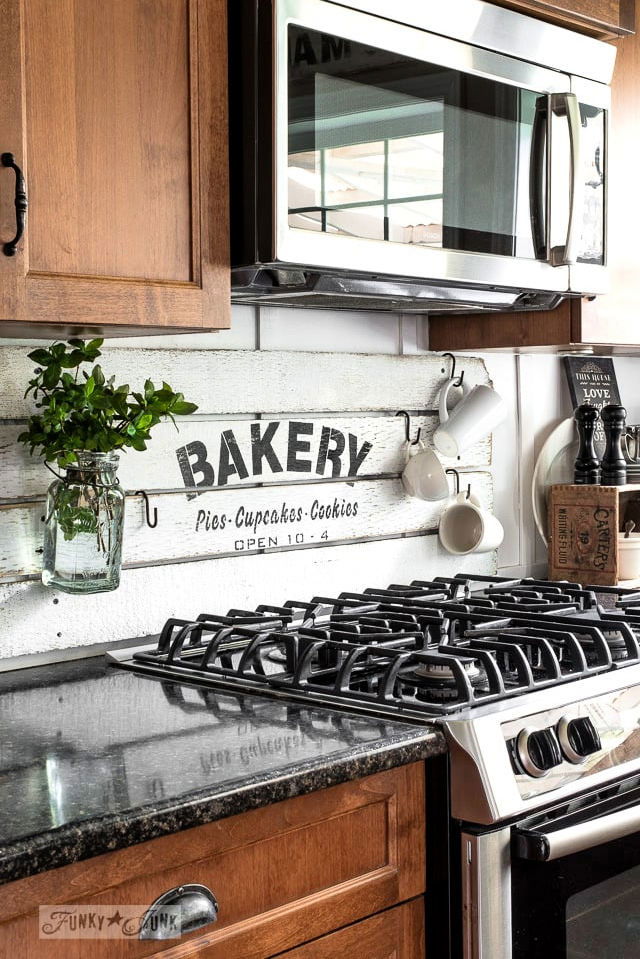 Bring the farmhouse look to your kitchen with this DIY bakery sign! Create an eye-catching decoration that will make you feel like the finest baker in town. Attach a few fence planks, then use a stencil and black acrylic craft paint to give it character. Add s hooks for hanging mugs or utensils and bask in the heavenly scent of freshly baked goods every time you walk into your baking haven! Get creative and design a unique farmhouse bakery sign for your kitchen today. funkyjunkinter
22. How to Install Peel and Stick Tile Backsplash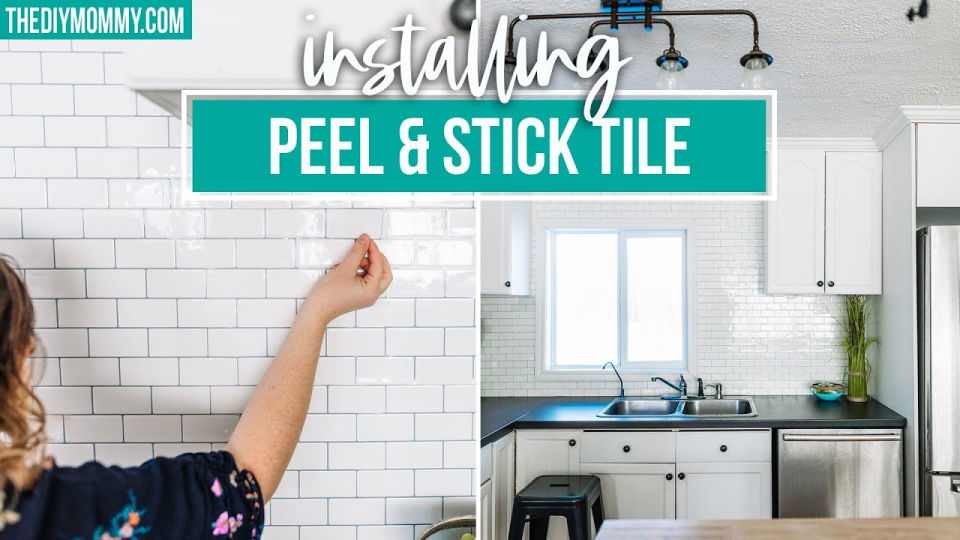 Change your kitchen with the snap of a finger; peel-and-stick tile backsplashes are here to save the day! Installing a tile backsplash can transform the look of any kitchen, but it doesn't have to be a daunting or expensive task. With peel-and-stick tiles, you get all the beauty of traditional tiling without the mess and hassle. Read this guide on installing peel-and-stick tile backsplash in your home in just a few simple steps – from cleaning the surface, cutting around outlets, trimming excess material & grouting – to enjoy an updated kitchen on a budget!
23. Renter Friendly Faux Stone Backsplash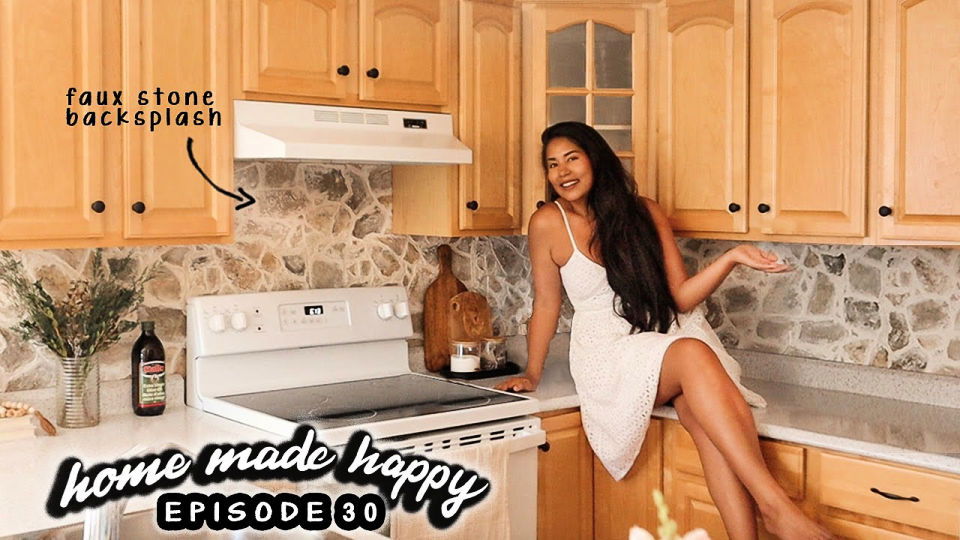 Add an eye-catching sparkle to your kitchen with this DIY faux stone backsplash! Easily one of the best DIYs you can do, it adds character, texture and visual interest to any space. It looks like the real deal and is 100% fully removable and renter-friendly. All you need are some stone panels, a joint compound, and command strips – a simple yet effective update for your home that will take it to new levels of luxury. Dreamy and unique; make it yours today!
24. Easy Kitchen Backsplash Using Wood Pieces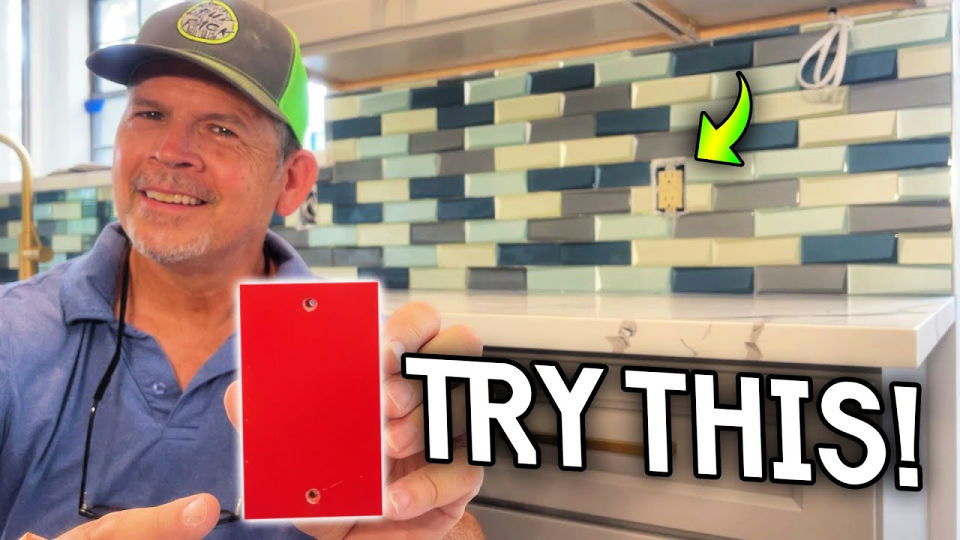 Get an old-world feel to your cooking space with this wooden addition backsplash! This glass tile will surely add a unique, interesting and wow factor to your project. This project guarantees it will turn out great, and you'll love how this tile looks once it's finished. Upgrade your kitchen space with this modern and stylish tile that adds character and personality to any room in your home. Start now for the perfect backsplash tile that will leave you speechless!
25. Easy Way to Install a Subway Tile Backsplash in Kitchen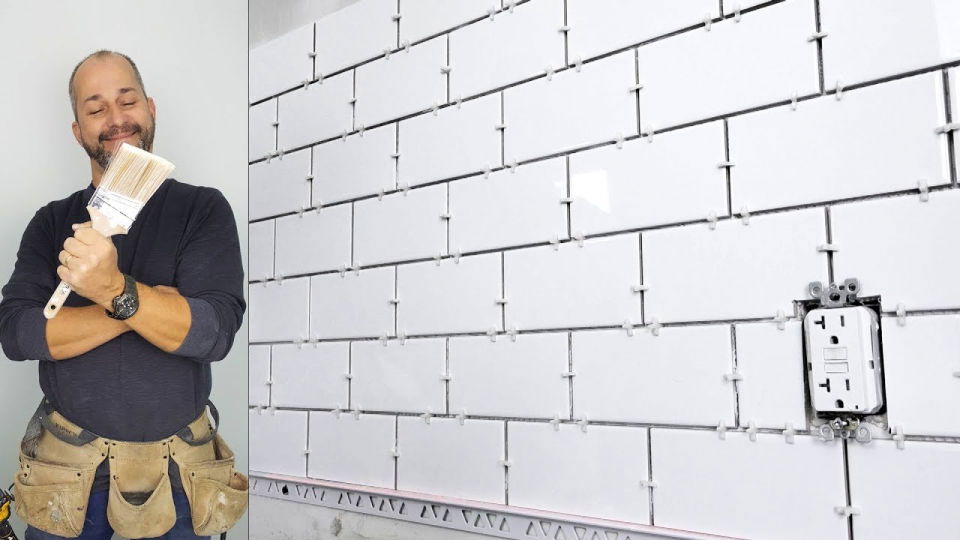 Installing a subway tile backsplash is an easy DIY project to update your kitchen instantly. With just a few supplies and some step-by-step instructions, you can quickly transform your kitchen with a stylish new look that's sure to impress! You'll have an attractive and long-lasting focal point for your home renovation project – all at a fraction of what it would cost to hire professional help! youtube
Conclusion: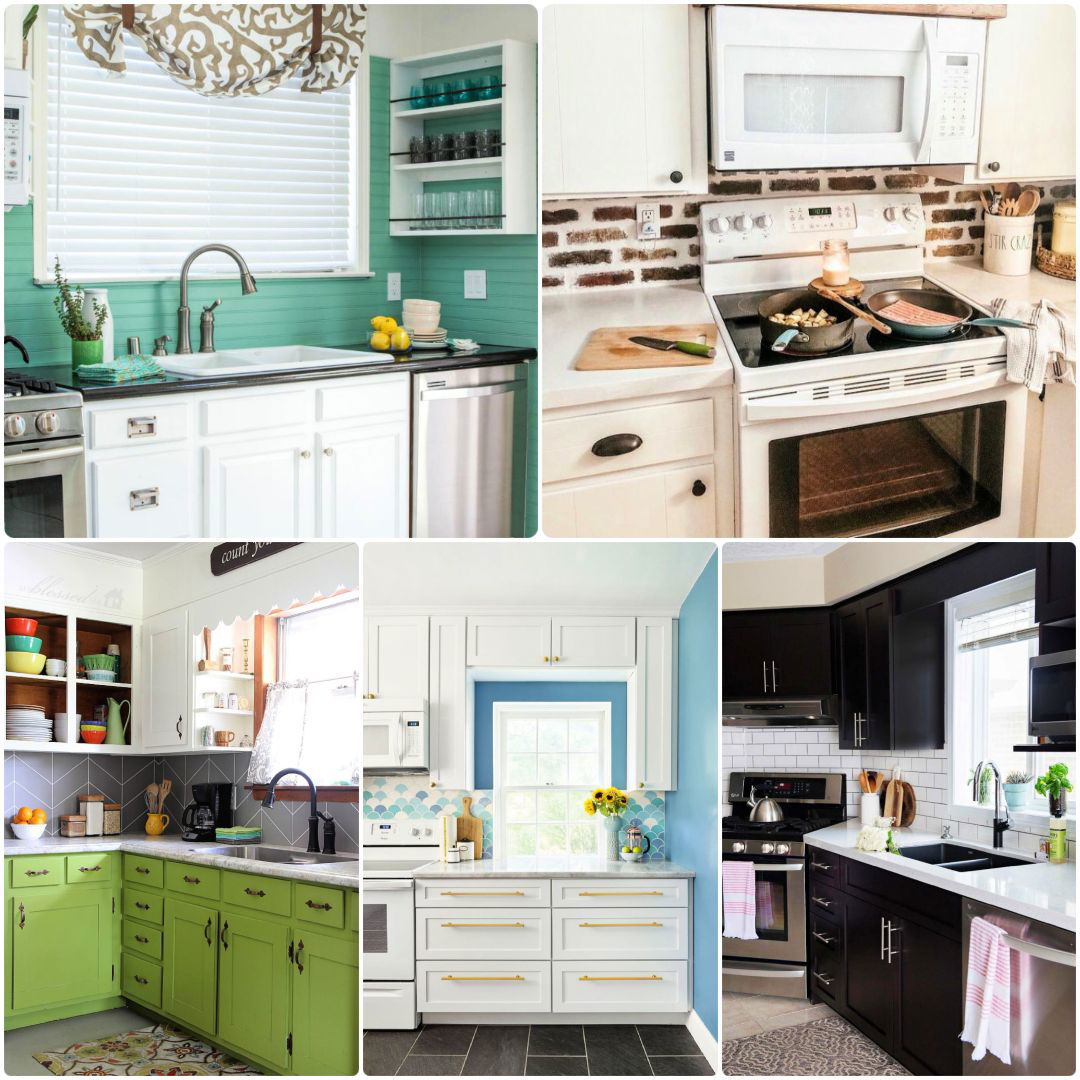 In conclusion, exploring various DIY kitchen backsplash ideas on a budget is the perfect way to renew your cooking space. From acrylic and fabric to marble subway tile, there are numerous options to suit different preferences and skill levels. With easy backsplash ideas like peel-and-stick options or repurposing materials such as old CDs, creating a unique and functional kitchen environment has never been more affordable. Customize your space with these 25 diverse projects and embrace the endless possibilities for a DIY kitchen backsplash transformation.