Revel in the pleasure of creating unique art and decor pieces by learning how to make your own stencils at home. DIY stencils offer an easy and cost-effective way to express your creativity, adding a personalized touch to your surroundings. Our curated collection of 30 DIY stencil ideas provides you with a range of simple stencil-making methods, suitable for crafting novices and seasoned hobbyists.
These easy DIY stencil ideas cover various techniques, such as using a Cricut Maker to create reusable stencils, the reverse stencil method for lettering, or making stencils for wood signs. Moreover, we provide guides to stenciling a focal wall, making glass etching stencils, creating patio concrete stencils, and more. All these DIY stencil projects come with step-by-step instructions and detailed guides to help you navigate the process effortlessly.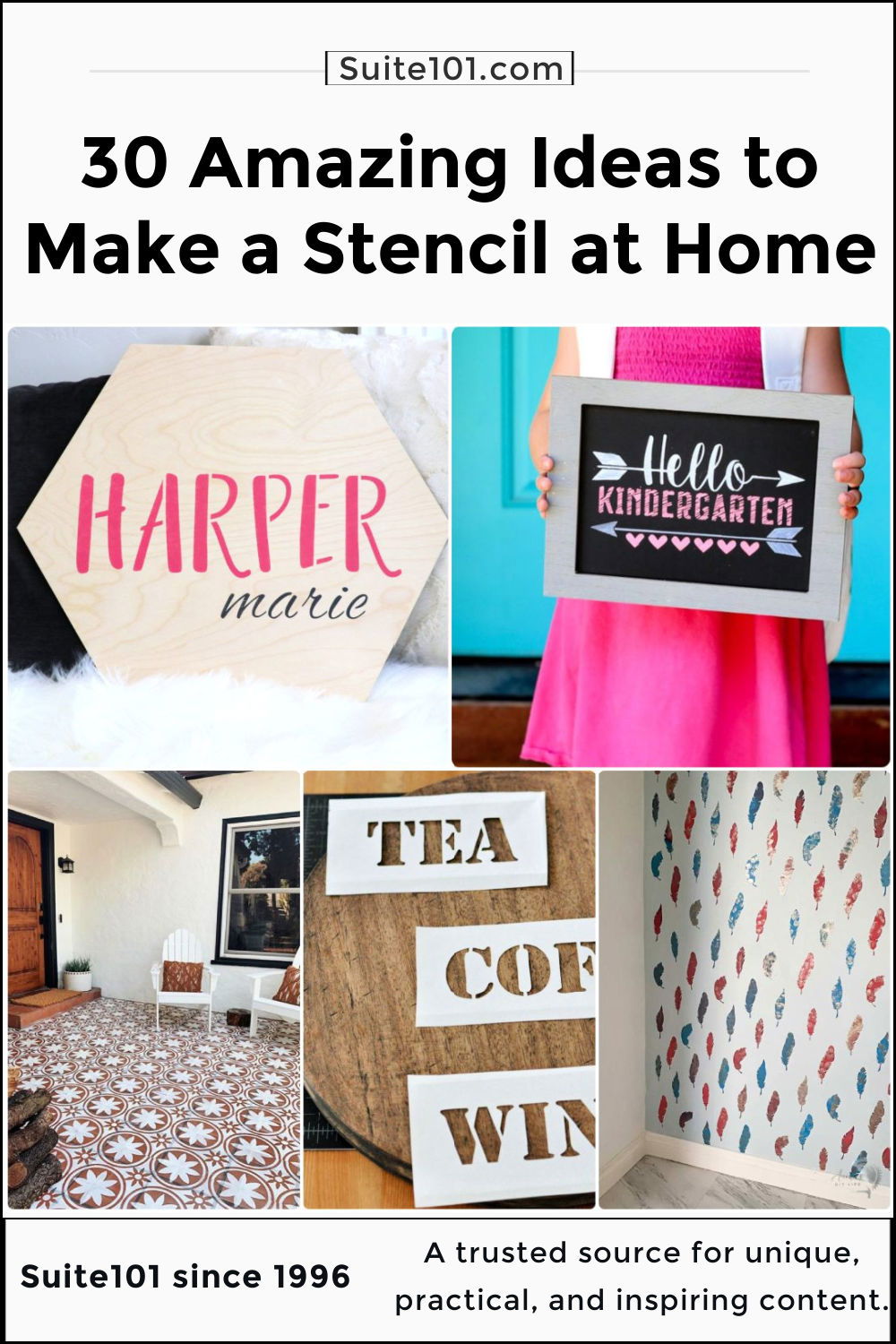 Dabbling in stencil art offers opportunities to experiment with different mediums, such as spray paint, chalk paste, and hot glue. So, bring out your art supplies, roll up your sleeves, and start your stencil-making journey today. Get ready to transform everyday objects into eye-catching pieces with our comprehensive list of DIY stencil ideas. Start your next DIY project by exploring these inspiring stencil designs and step-by-step tutorials today. With a little effort and creativity, you can create beautiful homemade stencils that reflect your style and personality.
Delve into the creative world of DIY stencils and elevate your crafting experience with our wide range of stencil-making ideas. Make your own stencils at home today, and let your creativity shine!
1. Reusable Stencil with Cricut Maker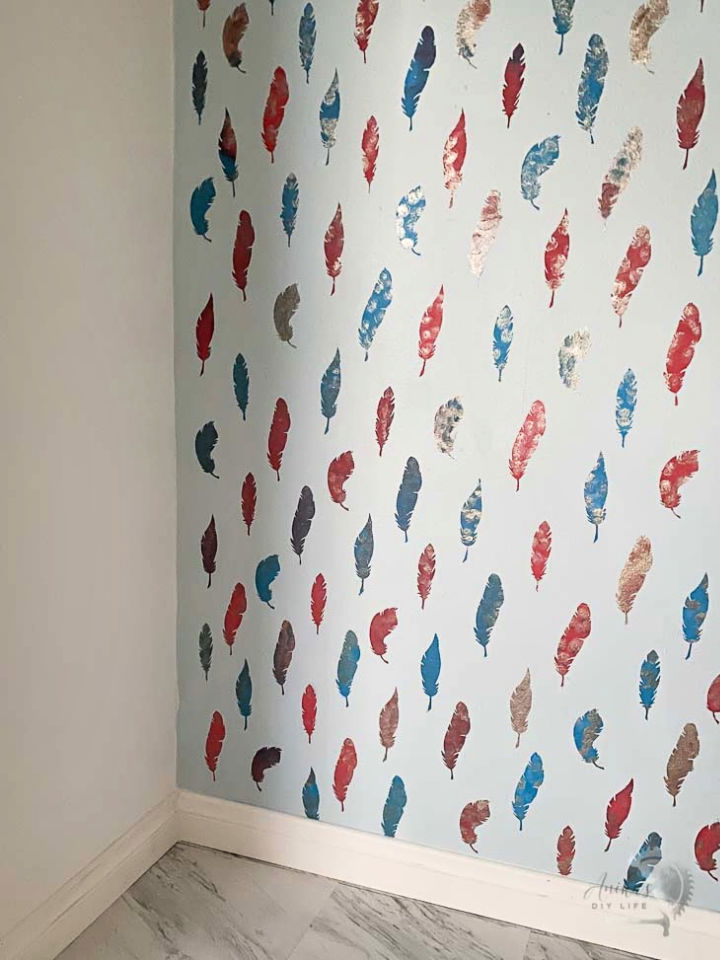 This step-by-step tutorial is for creating a reusable stencil with a Cricut maker. This DIY will help you stencil your home wall without spending a lot of cash. You probably already have all the materials to make your home decor elegant. The best part? You can use the stencil more than once. The materials you will need to make this reusable stencil are Cricut stencil vinyl, a Cricut machine, a fine point blade, a standard grip machine mat, access to Cricut design space, weeding tools, paint in the colors of your choice, a foam pouncer, and extra paper towels. anikasdiylife
2. How to Make a Skateboard Stencil at Home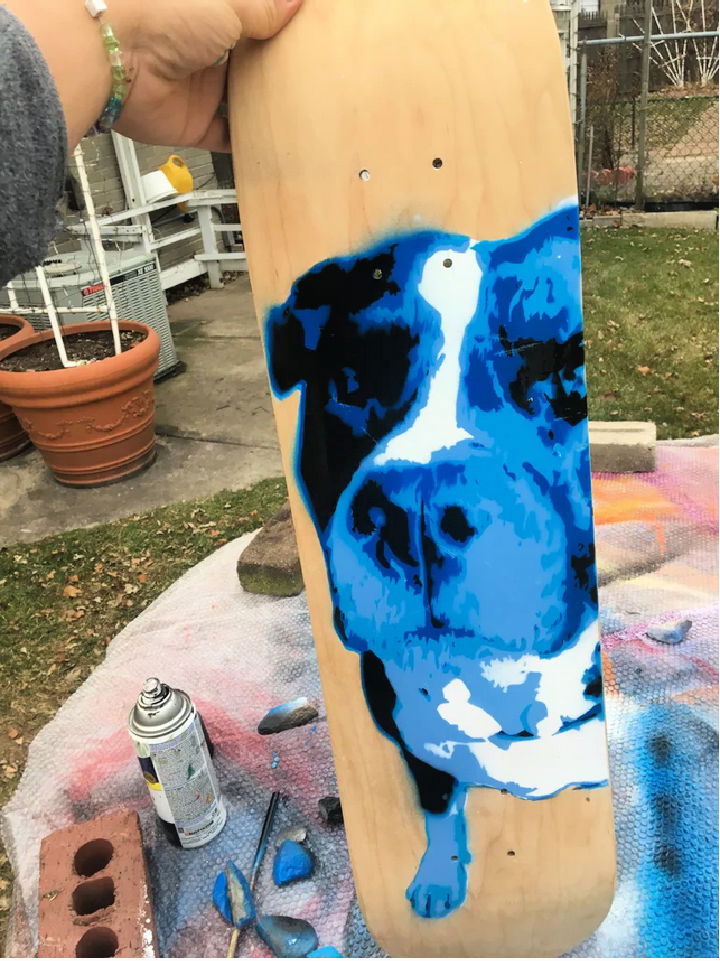 If you want to try your hands on the expanding trend of art techniques and skills, this how-to-make skateboard stencil is perfect for you. With this method, you can easily stencil almost anything wood, a table, and even a skateboard. If you are ready to stencil an oddly shaped object, check out a few steps of this DIY to get success in achieving your desired design.
The materials you will need are one computer with photoshop, an old skateboard, an orbital sander, a workbench, a reference picture, a cutting mat, spray paint in your desired colors, an X-acto knife, posterboard or comic cardboard, and heavy items such as rocks and lug nuts. instructables
3. DIY Cricut Stencil Using a Stencil Blank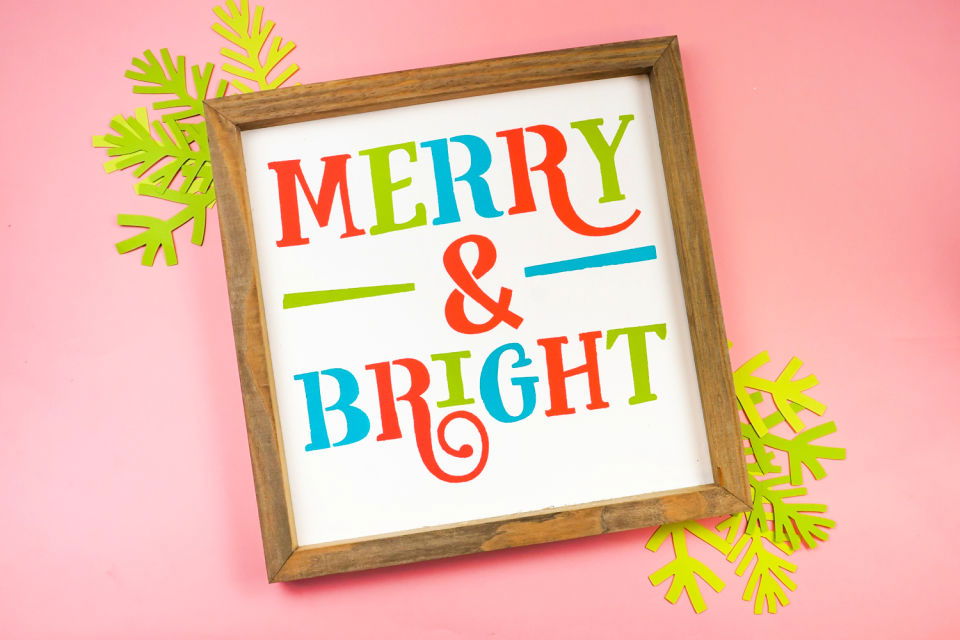 There are tons of ways to create a stencil out of Cricut. But this Cricut stencil using a stencil blank can be reused. Learn this simple method to create any pattern or design, or stencil to decorate your home walls, tables and anything that need a little finish. Cut your design once, and use it as many times as you desire. The essentials include a green standard grip mat, a wood craft frame, a stencil blank, a roll of masking tape, craft paint, sponge stippler brushes, a small stiff paint brush, a paint tray, and merry and bright SVG. heyletsmake
4. DIY Stencil with Cricut Machine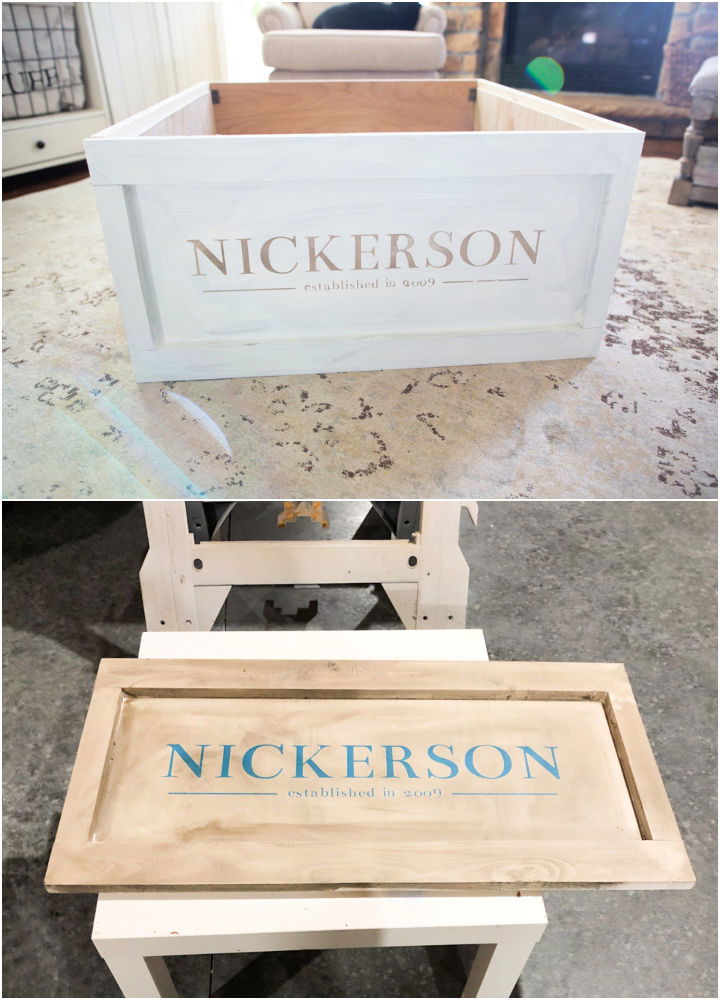 Using a stencil is perfect for adding personalization to your home decor. But what if you can't find the desired stencil design in the market? The solution to this problem is to DIY your own with any pattern you want. This DIY stencil with Cricut machine plan is simple to tackle, even for beginners, to make as many stencils as you want. Follow all the steps if you embark on this project for the first time. Supplies are Cricut Explore Air 2, Cricut design space, large standard grip mat cutting material, Cricut stencil vinyl, Cricut essential tools, and transfer tape. sengerson
5. Reverse Stencil Method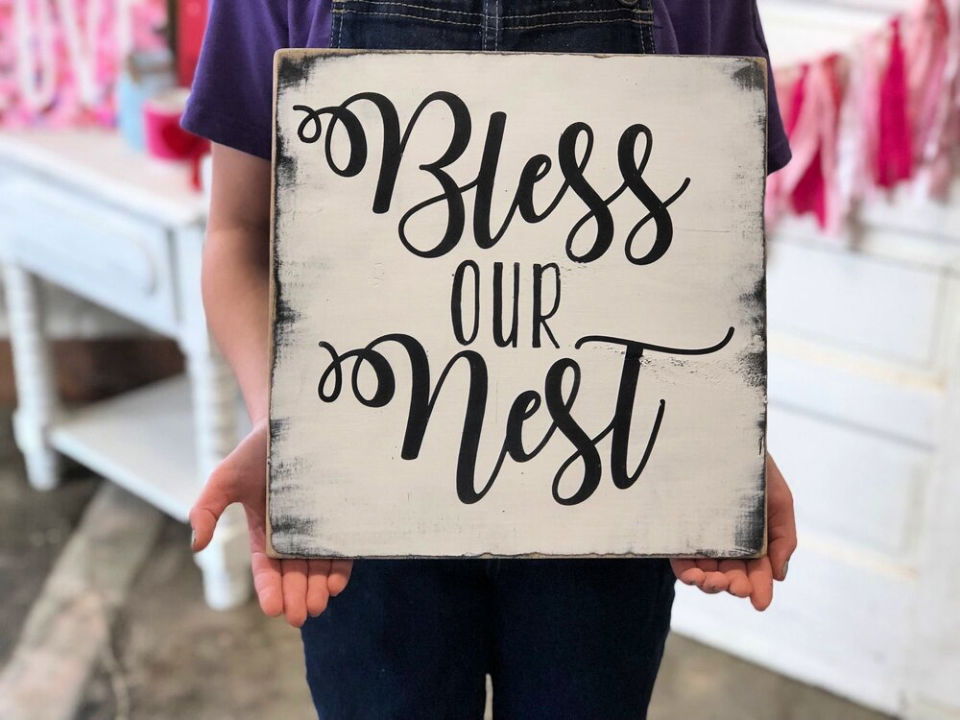 It's quite frustrating when you paint a wood sign, and the paint begins to bleed. We have brought you this reverse stencil method to paint many signs without issues. This method is easy to follow and will make your signs look more attractive. You can make an attractive wood sign in just an hour without spending a big amount. The equipment and tools needed are Cricut cutting machine, a Cricut design space, Cricut green cutting mat, a miter saw, an orbital sander, an SVG file, paint brushes, an X-acto knife, vinyl squeegee, a wood base, an oramask stencil film, acrylic paint, and transfer tape. meganplusfive
6. Easy DIY Letter Stencil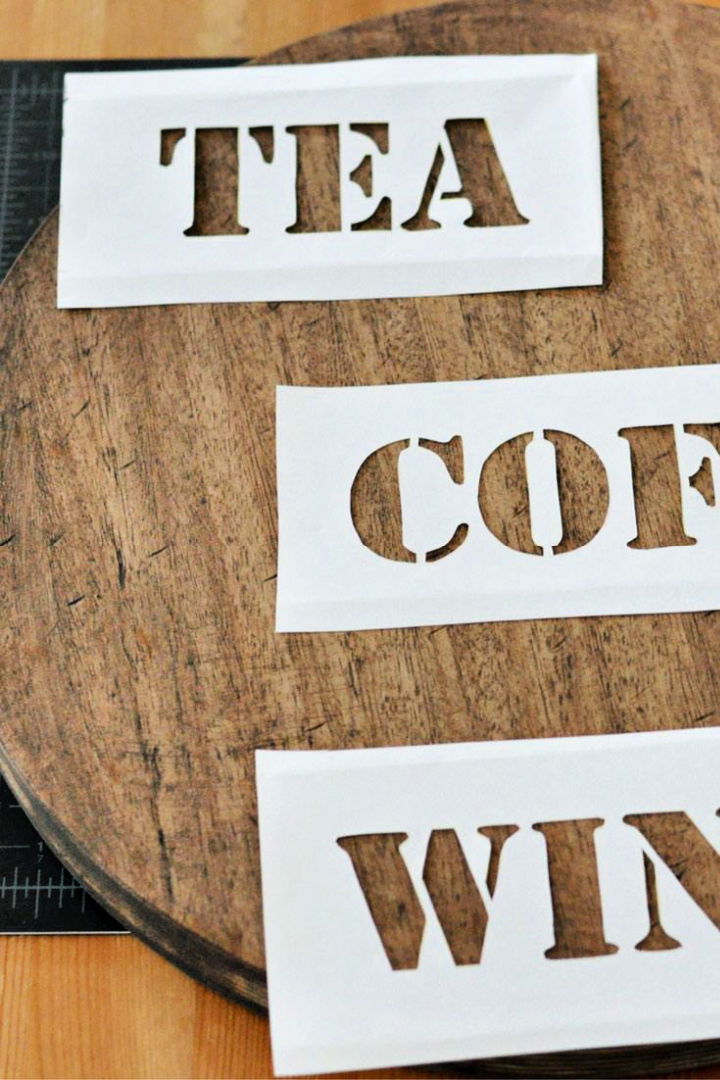 As the popularity of stenciling furniture increases, most people love to stencil gorgeous designs on their home furniture. If you too, this DIY letter stencil DIY will walk you through the entire project to create a cool statement. With minimal craft supplies and no time, create your stencil with your desired pattern and letters. This project will cost you nearly nothing but will greatly impact your home decor. If you are ready to tackle this simple project, you can check out the complete materials list here with step-by-step directions! pastelsandma
7. Make a Stencil for Wood Signs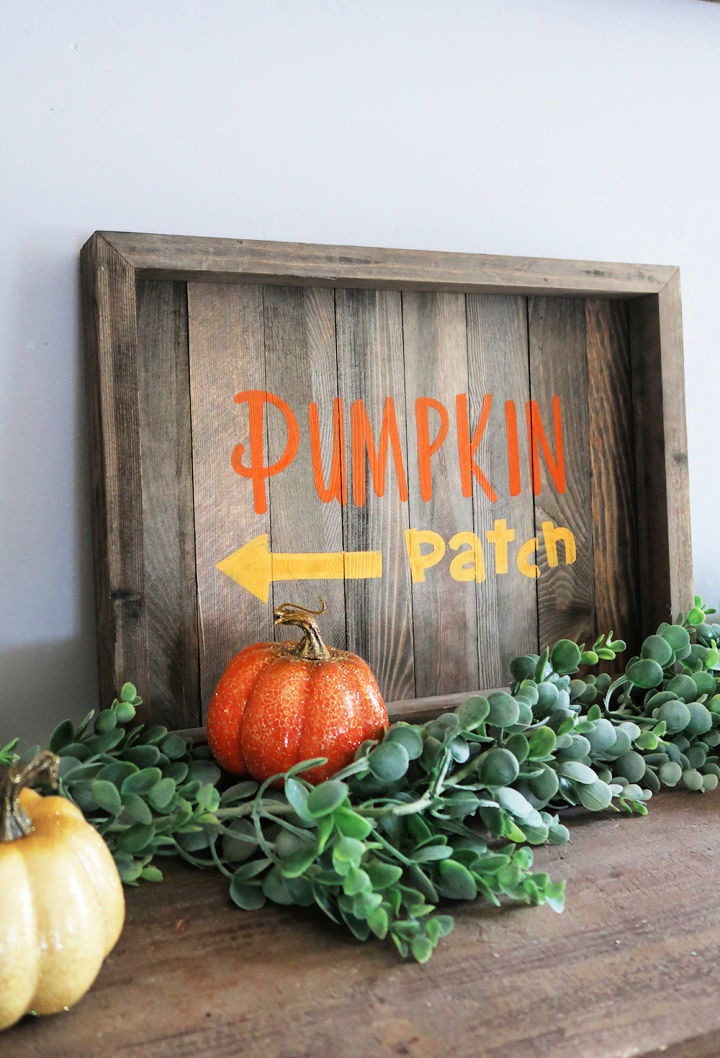 Fall is approaching, and it's time to tackle a few quick fall projects. How about creating your fall sign using a self-made stencil? Doesn't it sound great? If yes, follow this DIY of making a stencil for a wood sign. This tutorial will make you a pro at using a stencil on a pallet without any paint bleeding. The crips lines on your sign will make it look extra attractive. All you will need are a blank sign, Cricut Explore Air 2, ultimate font collection, vinyl, transfer tape, mod podge, a paintbrush, and paint of your choice. weekendcraft
8. Simple DIY Chalkboard Stencil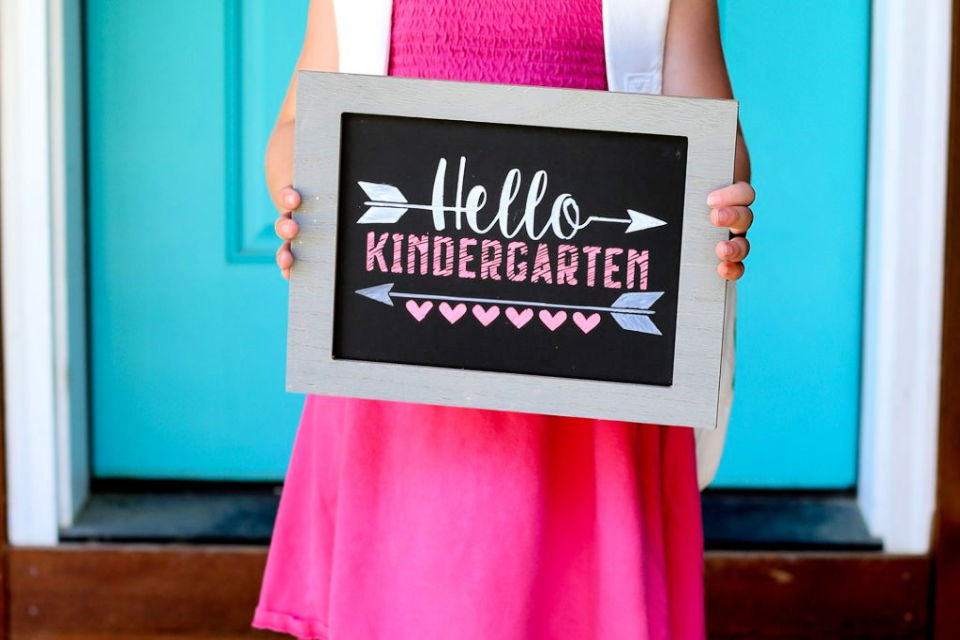 Chalkboard stencils are popular right now. But instead of purchasing a costly one from the market, try making your own with this DIY chalkboard stencil. Not only is this a perfect way of creating a personal stencil for any pattern, but it also costs you much lower than store-bought stencils. This chalkboard stencil is for back-to-school, but you can make this for any occasion. You will need a dazzling craft bundle cut file, a cutting machine, stencil vinyl, transfer tape, one chalkboard, and chalk or chalkboard markers. sugarbeecrafts
9. Making a Freezer Paper Stencil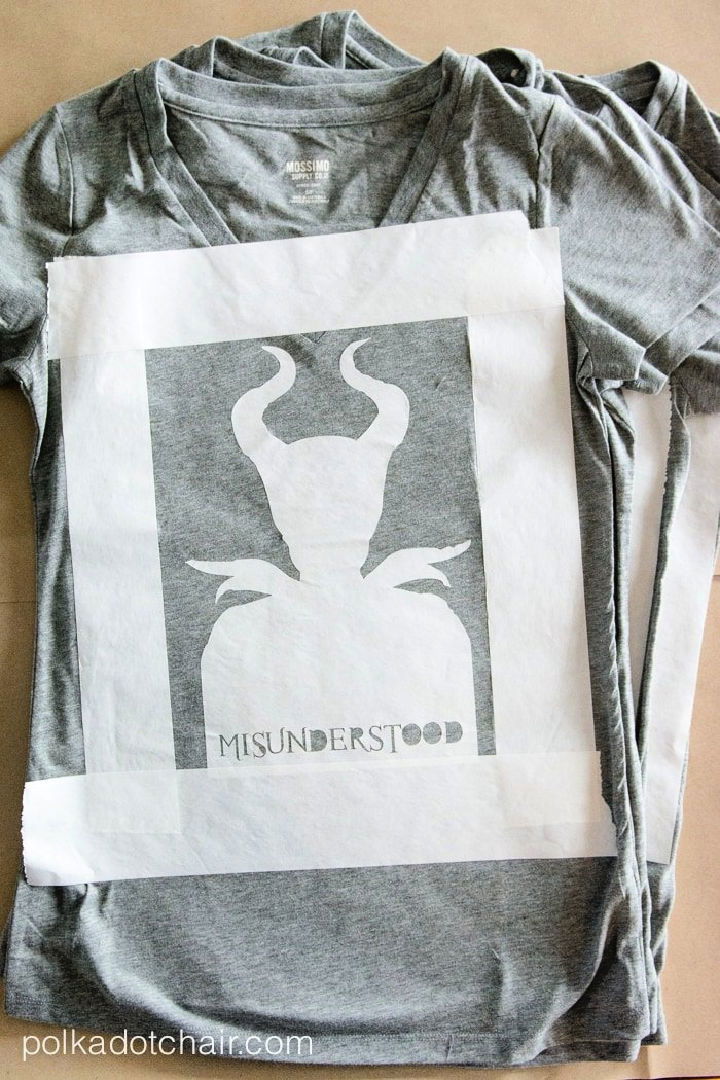 Have you ever wanted to create a design on your t-shirt or tote bag but don't know how? This impressive way of personalizing your t-shirts with this freezer paper stencil DIY is here. This is a very simple DIY to transfer any design on your items in no time. You can recycle the old freezer paper for this purpose, and this project will cost you next to nothing. Get the few needed materials if you are ready to hype your style. Like freezer paper, fabric paint, a foam brush, a plain t-shirt or tote bag, and cutting instruments. polkadotchair
10. Make Your Own Stencils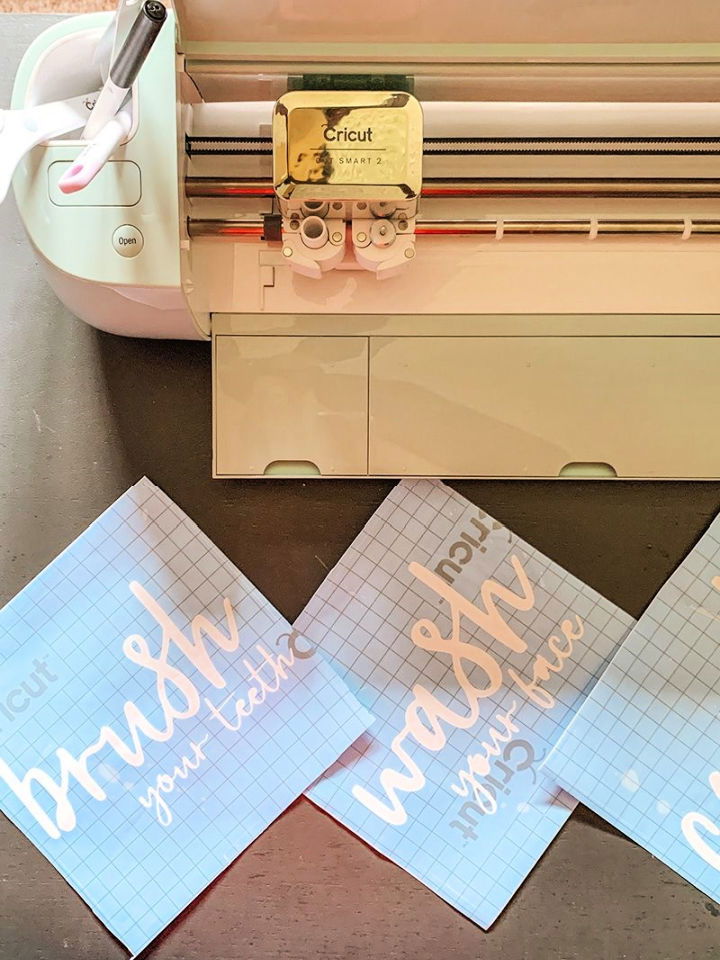 If you have a Cricut machine but are not quite sure how to make your stencil? Learn this DIY for making your stencils at home. Making your means to say the words you want that the store-bought stencils can't say. Moreover, DIYing stencils can cost much less than premade ones. Gather the needed materials if you are ready to personalize your home decor, wood signs, or gift boxes. Like Cricut Explore Air 2, Cricut stencil vinyl, weeding tools, and some time to work on this project. kenyarae
11. Custom DIY Stencil Design with Cricut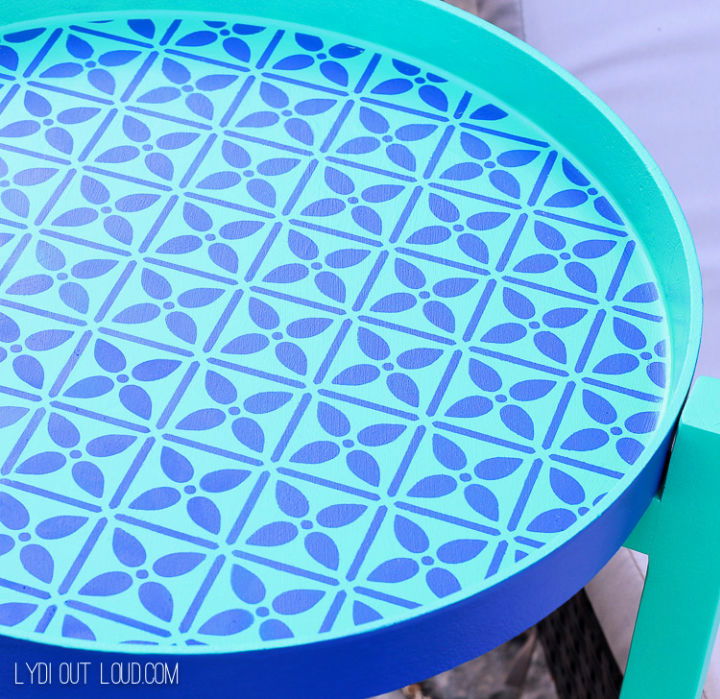 Sometimes you have a specific design of stencil in your mind, but you don't find it in the store. The best way to get any desired stencil pattern is to make your own. It will save you a little cash and a lot of time. This custom stencil design with Cricut will take no time to make but will allow you to decorate anything in your home with your favorite patterns. You will need a custom stencil design: a Cricut maker, a standard grip cutting mat, a Cricut stencil vinyl, a Moroccan tile cut file, and an essential tool set. lydioutloud
12. How to Create Stencils Step-By-Step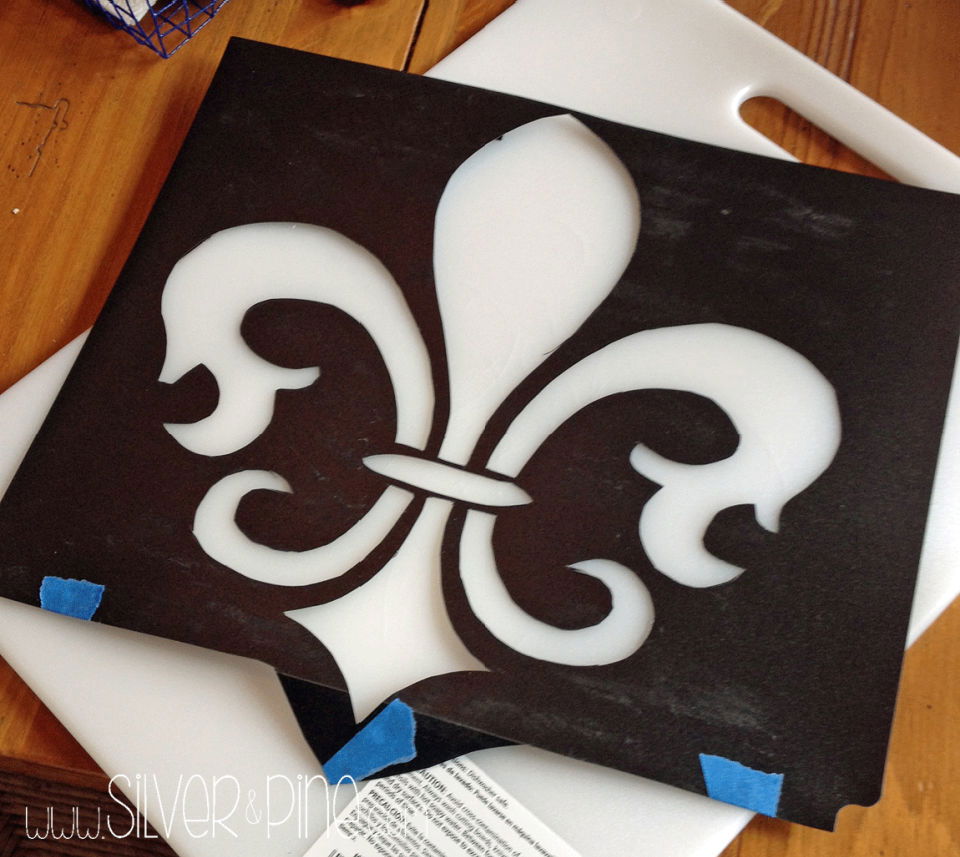 Stencils are in trend to make desired shapes and patterns on your home furniture and walls. If you have never made your stencils before, this DIY will help you greatly. In this way, you can save yourself some cash and a lot of time. Once you have made the pattern of your choice, stencil anything in your home that needs a little life. If you are ready to tackle this project in your free time, you can check the complete list of supplies and step-by-step tutorial here! silverandpine
13. How to Paint a Reusable Plastic Stencil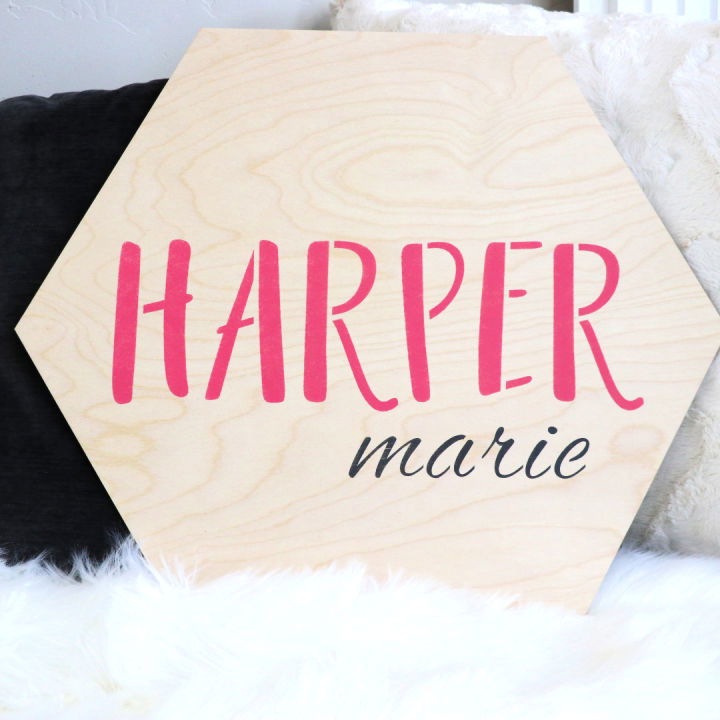 Learn how to paint a reusable plastic stencil for making a gorgeous sign for your nursery. A plastic stencil is durable and last longer than other stencils. The best part about this project? You can make the sign for anything you want. Customize the stencil by choosing the name, font style, and size to suit your style and needs. The complete materials list includes a wood sign base, custom stencils, stencil brushes or sponges, latex paint, spray adhesive, masking tape, a pencil, protection for the workspace, a paper plate, paper towels and a ruler. craftcuts
14. DIY Silk Screen Stencil Art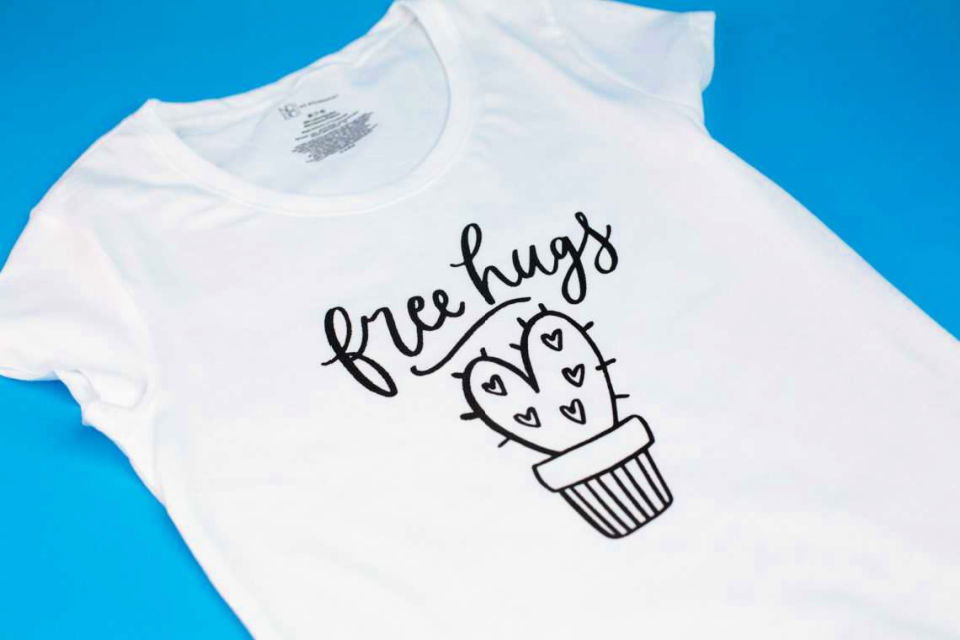 One of the great options for creating and applying a custom design or pattern to fabric is to make a silkscreen design. This silk screen stencil DIY will allow you to add your favorite design to your to-shirts to hype your style. Not only is this a perfect way to personalize your clothes, but it also costs you nearly nothing to do. This project acts like a stencil and uses fabric ink. You will need Silhouette Cameo, a Silhouette studio, a Silhouette cutting mat, a Silhouette cutting blade, a Silhouette starter kit, and your design. You can check the complete instructions list here! silhouette101
15. Large Furniture Stencils with Vinyl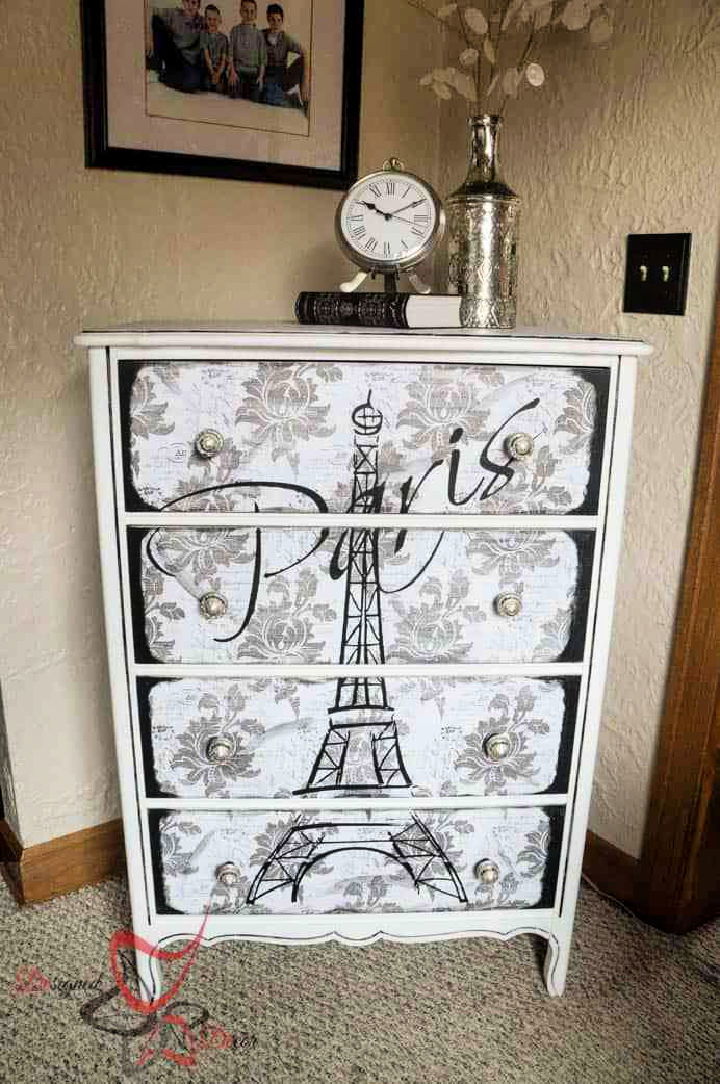 Stencils are great for decorating almost anything in your home. From walls to large furniture, stencils cost you almost nothing to change the look of your old items. But the problem is there are no such big and stylish stencils in the market. The solution is to DIY with these easy-to-make large furniture stencils with vinyl. This simple project will give a gorgeous update to your home furniture. Are you ready to tackle this simple and cost-effective project of creating stencils? If yes, you can find the complete materials list and step-by-step directions here! designeddecor
16. Spray Painted Floor Stenciling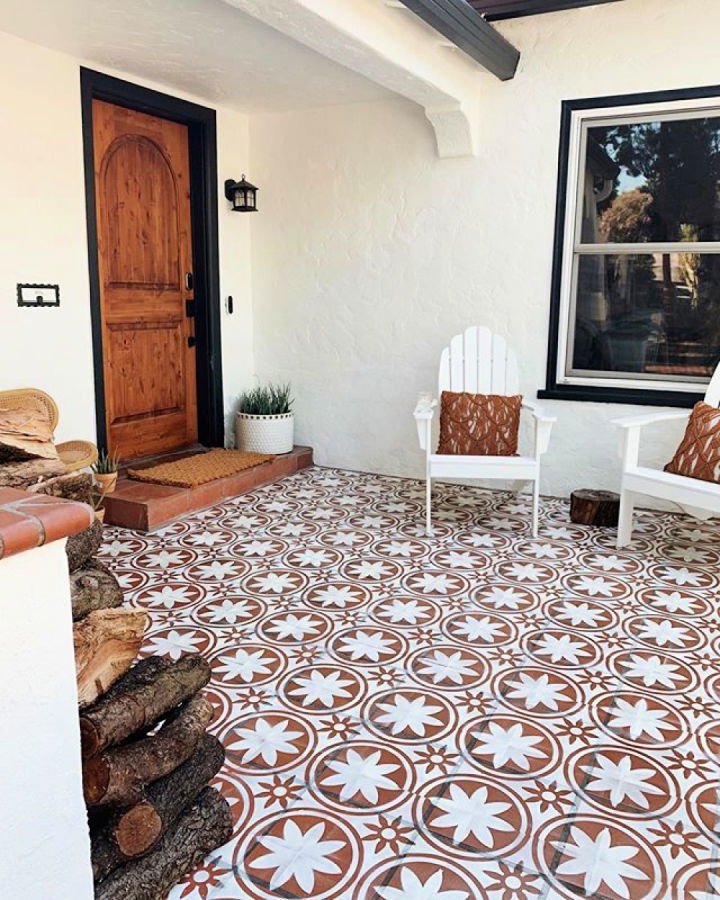 Are you tired of staring at your plain porch? If yes, then you don't need a contractor to give it a new look. This spray-painted floor stenciling DIY is perfect for giving a handmade makeover to anything that needs a little update. This is a great summer project to change your patio's decor without spending a lot of cash. If you are ready to tackle this simple yet attractive project, you can check out the complete list of materials and step-by-step directions here! mycolorshot
17. DIY Stencil with Silhouette Cameo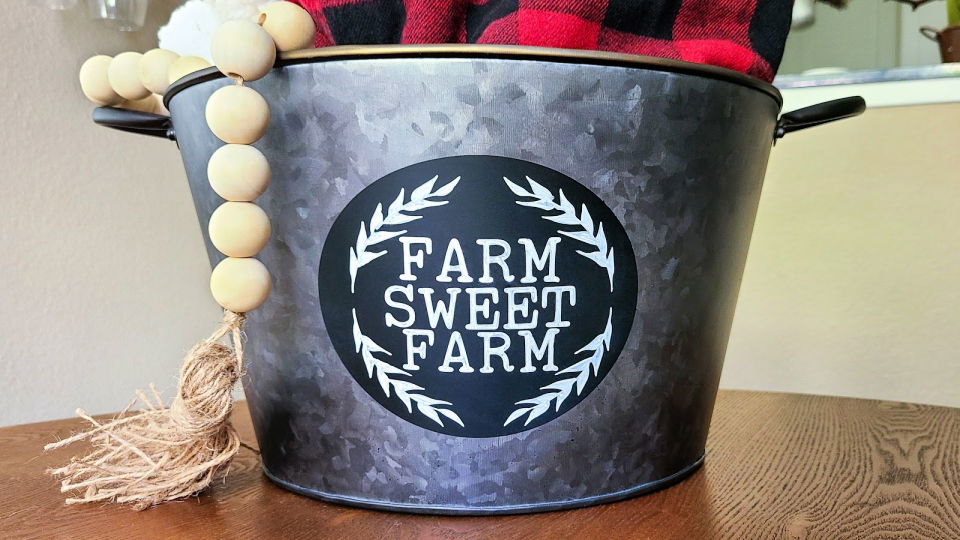 This impressive way of creating your stencil with a Silhouette cameo is here. This is a simple project to tackle and will turn out great for decorating anything in your home with your desired designs and letters. Not only can this stencil be used on chalkboard vinyl with chalkboard markers, but it can also be used for paint. Moreover, making your own will save you a little more cash than purchasing a premade stencil. Are you ready to work on this great project? If yes, you can find the materials list with step-by-step directions here! silhouetteschool
18. How to Stencil a Focal Wall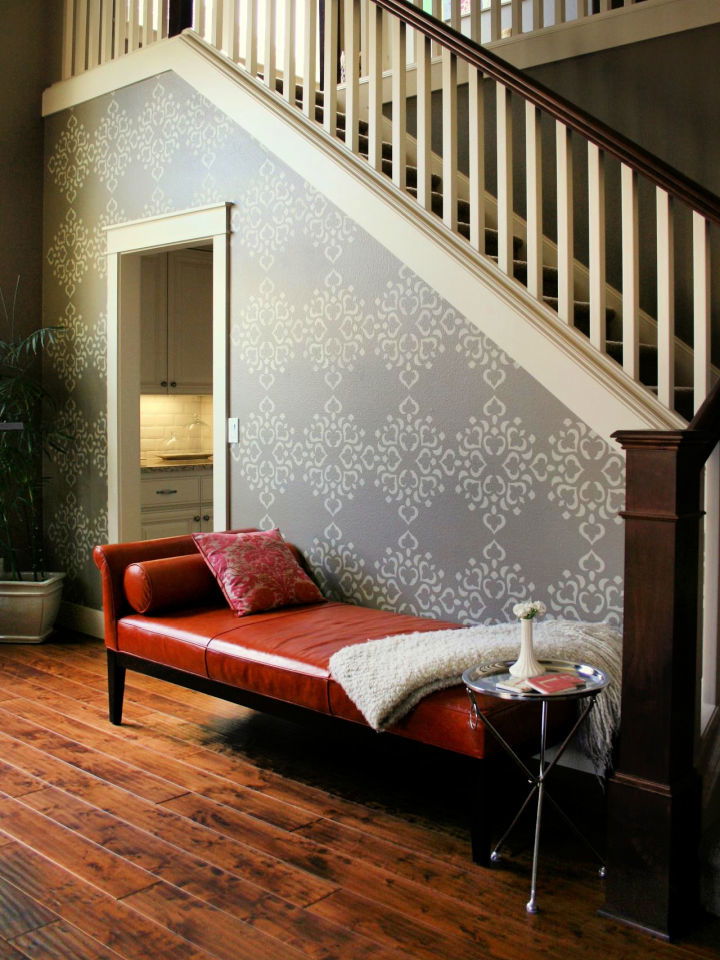 Introduce a dramatic focal wall into your bedroom using this how-to-stencil a focal wall DIY. The best thing about making your stencil is to get the pattern you have had in your mind for a long time. Rather than calling a professional to this project, take this challenge in your own two hands to save a huge amount of cash. The materials needed are a stencil, brush, painter's tape, a pencil, wall color paint, accent color paint, paper towels, and a level. Get the detailed plan here, including the entire instructions list. hgtv
19. Best Way to Make Glass Etching Stencils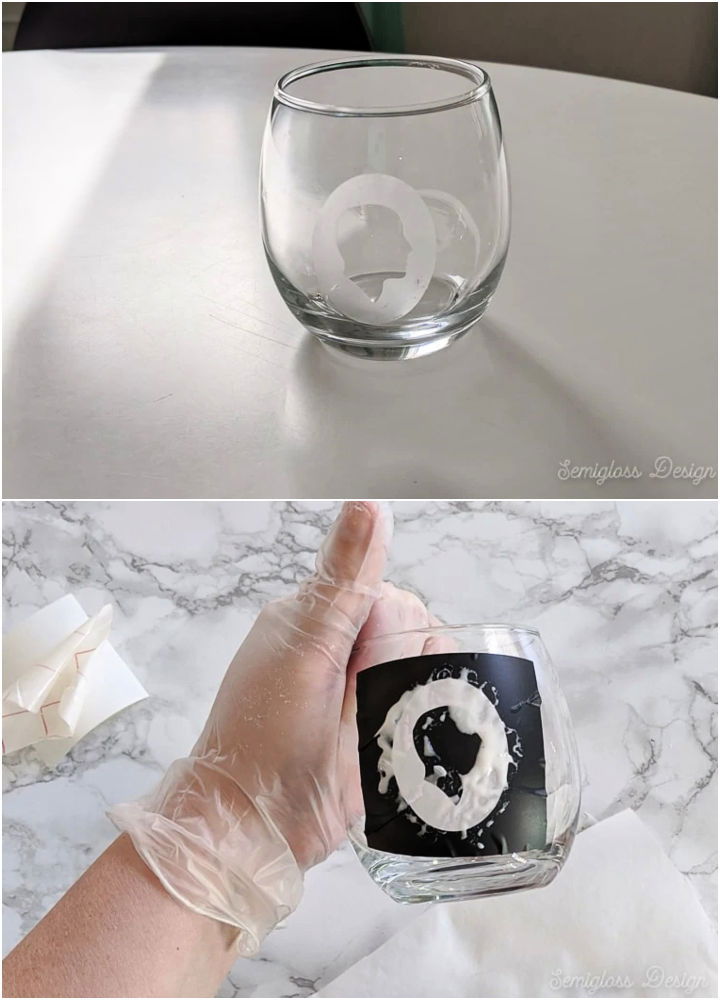 Most people love to decorate their gorgeous wine glasses. If you are one of those human beings, these how-to-make glass etching stencils are a perfect free-time activity. This easy-peasy technique will allow you to create beautiful wine glasses with lasting designs etched into the glass. You can make any pattern of your desire that you think looks best on your glasses. It will hugely impact your friends enjoying wine in your glasses. The basic supplies include wine glasses, Etching cream, a paintbrush, SVG designs, vinyl, a Cricut maker, transfer tape, weeding tools, and gloves. semiglossdesign
20. DIY Patio Concrete Stencils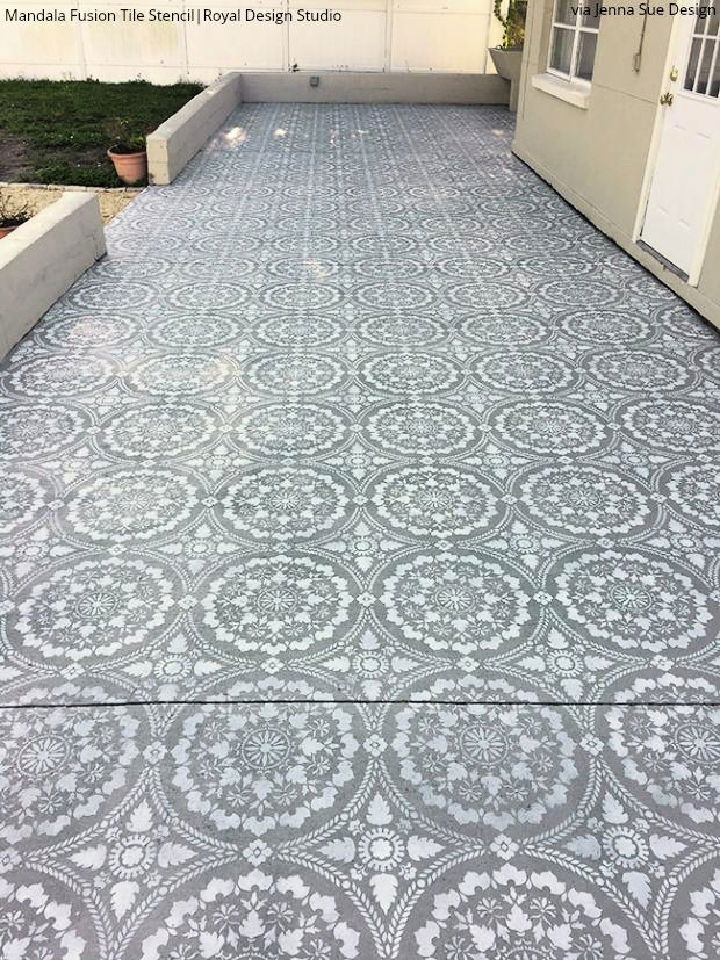 These DIY concrete stencils are perfect for renovating your patio floor without the costly expense of a professional. You can upgrade your patio floor in the afternoon without spending a lot of cash. Moreover, you can select any pattern or design you think look best on your patio floor. Your guests will appreciate your creativity, which will greatly impact your outdoor decor. Check the materials list and directions for those ready to save their hard-earned money by working on this project! royaldesign
21. Stencils from Contact Paper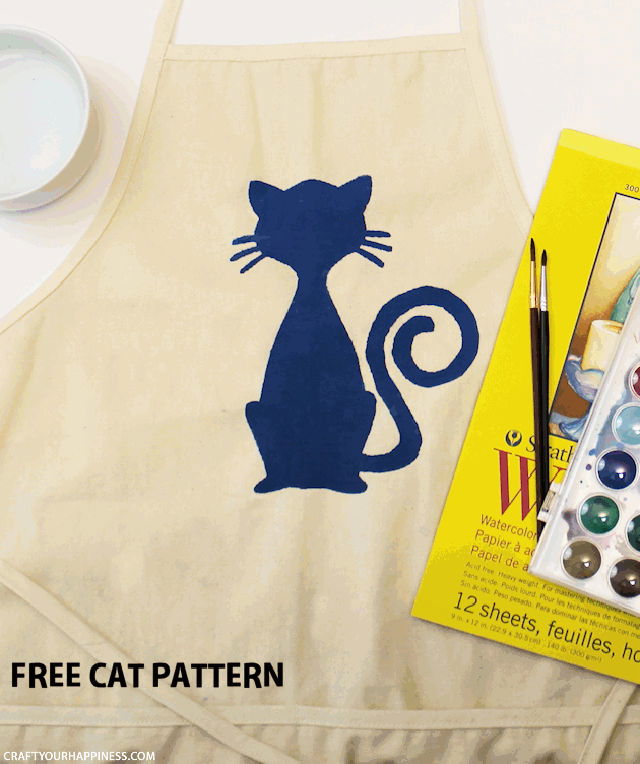 The benefits of making your stencils at home are saving money and getting super large stencils that you can cut easily. Whatever design you like, it will come together in a few minutes. These stencils from contact paper DIY will allow a beginner to add a little personal touch to your home furniture and even the t-shirts. You will need to grab contact paper, an X-acto knife, a cutting pad, paint of your choice, an item to stencil on, a brush or sponge, a paper design for the stencil, and scotch tape. craftyourhap
22. Make a Stencil Using Oramask 813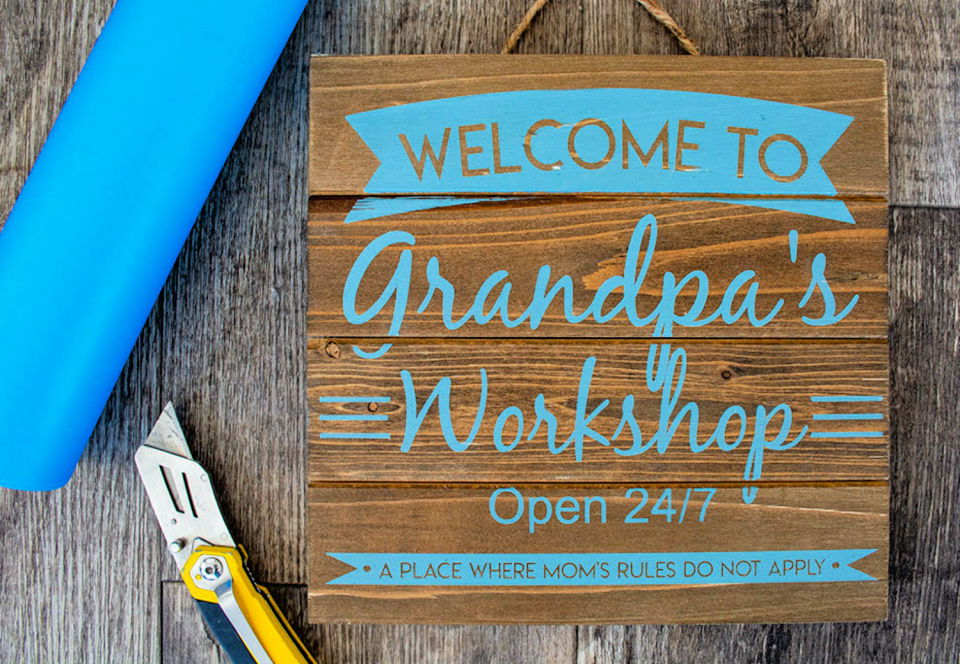 Are you the one who loves to make personal signs? From making workshop signs to backyard signs, this DIY of creating your stencil using Oramask 813 will help you a lot. This Oramask material looks like regular vinyl but has a little plastic feel. This simple project will cost nothing to add value to your handmade sign on the cheap. You can customize this project easily to meet your exact needs, and you are good to go. Check out the entire list of supplies and step-by-step instructions here! expressionsvinyl
23. Making a Large Stencil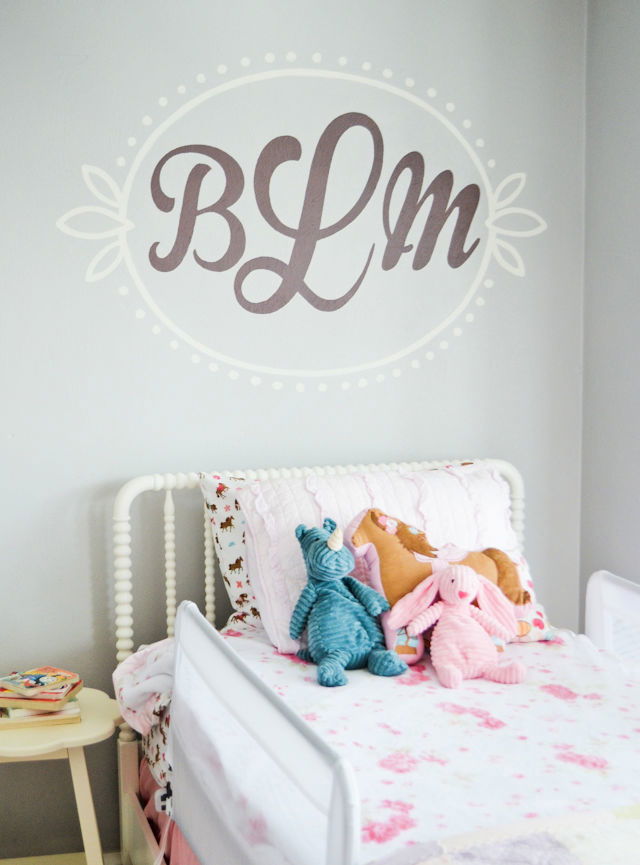 There is no need to be artistically gifted to add stylish flair to your room decor. Here is this DIY for creating your stencil to transform your boring bedroom walls into a focal point of your space. Not only are these stencils pretty simple to make under the budget, but they help you to personalize your space with any design you want. With this DIY on hand, you don't need to spend hours in the market searching for your desired stencil. The materials needed are Dritz quilting template plastic, quality scissors, a black sharpie marker, a correctly sized printout of the desired image, and some working time. projectnursery
24. DIY Stencil for Latte Art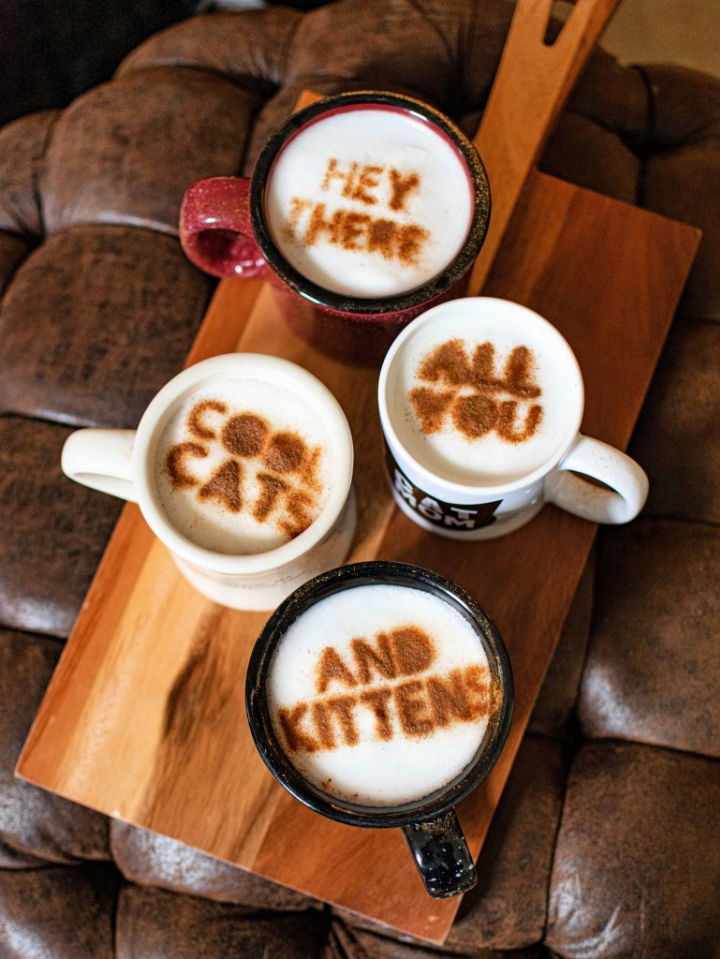 If you don't have much skills to produce latte art on your morning coffee, this DIY stencil for latte art will make your work easier. Not only is this project great for saving money, but it also helps you to impress your guests. You can customize the stencil to any shape or letter you want. You have the needed materials around your home for this DIY. Like a stencil, milk frother, whole milk, a mesh strainer, and cinnamon. onecrafdiygirl
25. Handmade Hot Glue Stencil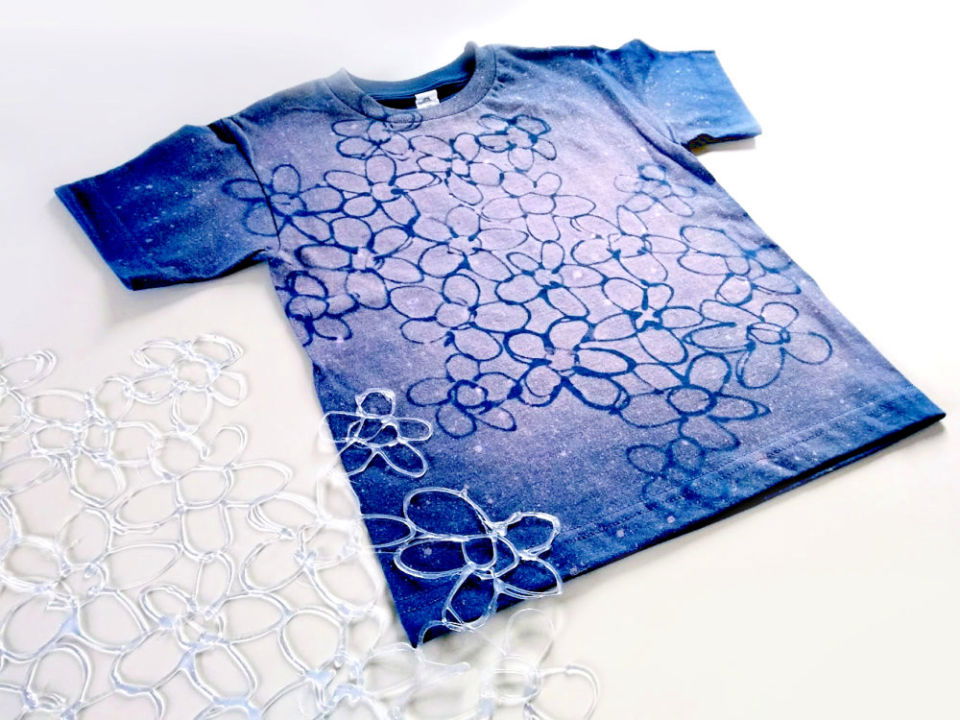 In search of the simplest and cheapest DIY for creating your stencil? If yes, this hot glue stencil would be a treat. This easy-peasy project doesn't need a number of skills and will upgrade your old T-shirts without spending a fortune. You already have the needed materials to work on this budget-friendly project. Are you ready to hype your style? If yes, then grab the needed materials. Like a glue gun, multi-temperature hot glue sticks, a parchment cotton T-shirt, bleach, a spray bottle, and an old toothbrush. thestudio
26. DIY Reusable Stencils for Chalk Paste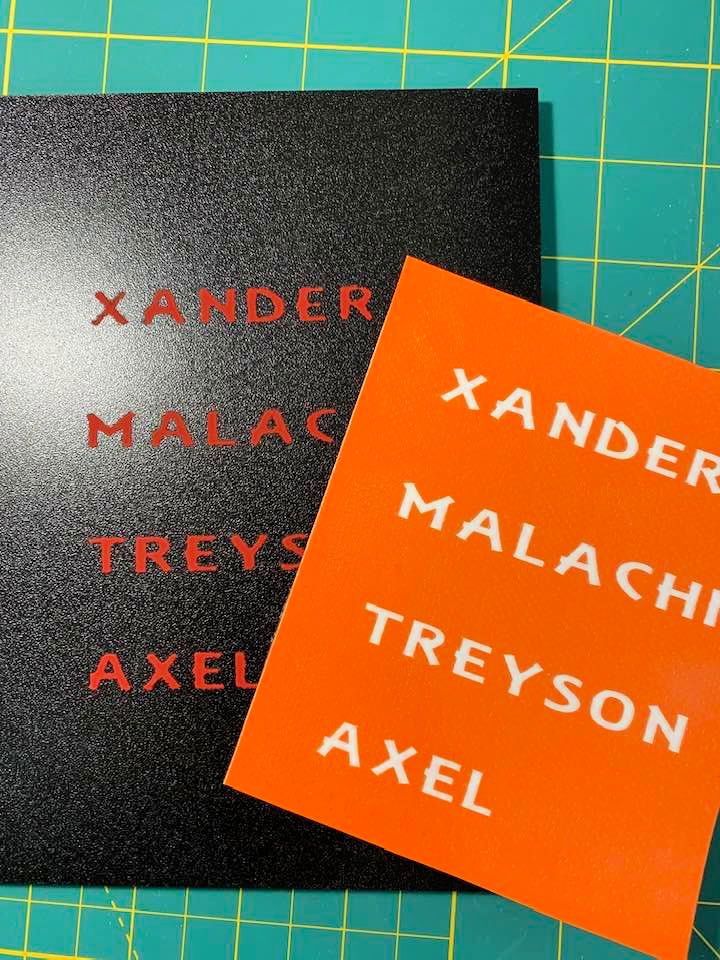 Sometimes you don't find the exact stencil you are looking for in the market. If you love to use chalk paste with premade stencils, these reusable stencils for chalk paste DIY are perfect for you. Not only is this DIY great for saving some money, but it also allows you to select any pattern you love to make your stencils are home. The materials needed are a Cricut cutting machine, vinyl in any color, a heat n board ultra hold, a Cricut easy press, parchment paper, and weeding tools. smartcutting
27. How to Make Reusable Stencils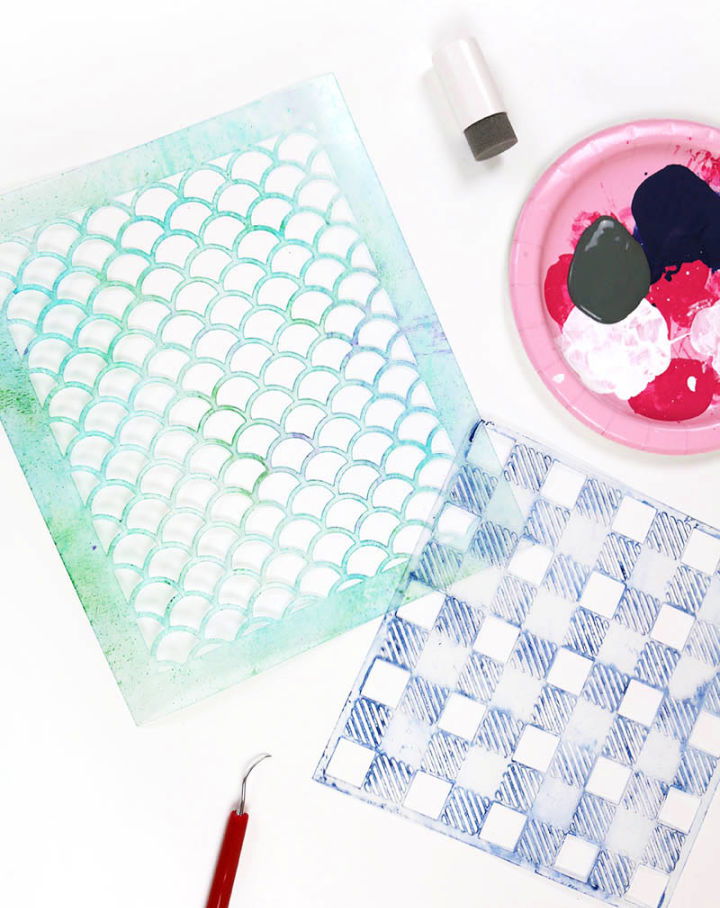 Store-bought stencils cost a bit high to purchase and can only be used once. Learn this how-to-make reusable stencils DIY that you can use over and over again. With this DIY, make any design of your choice and decorate your gorgeous planters, gift boxes and anything that needs a little update. The list includes stencil material, a Silhouette cameo, an unfinished wood planter, acrylic craft paint, a stencil brush or foam pouncers, a small round brush, a weeding hook, and a buffalo plaid stencil cut file. You can check out the entire list of directions here! persialou
28. How to Make Tattoo Stencil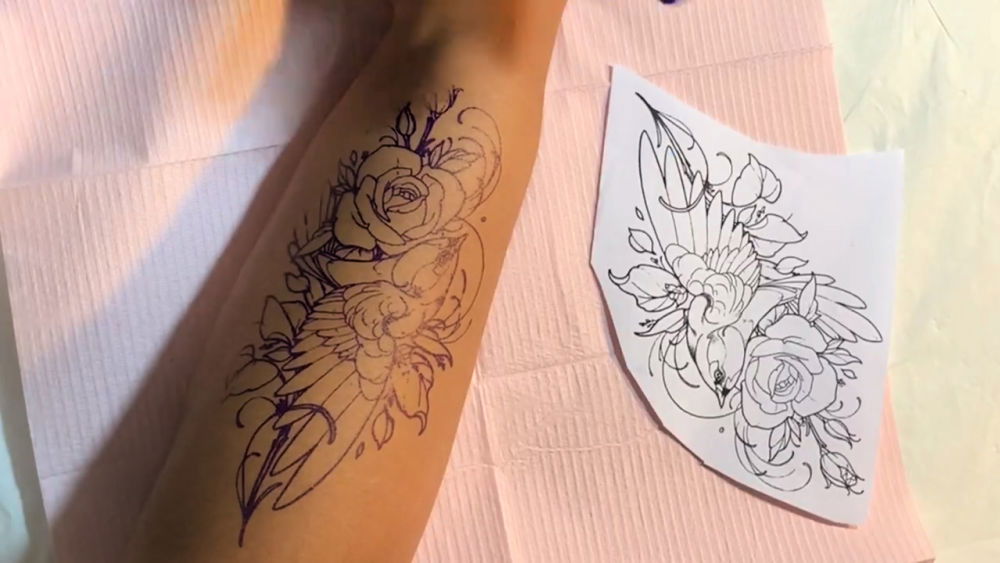 We will show you how to make and apply your stencil right in the comfort of your home. This simple tutorial allows you to get the desired tattoo on your body without spending a lot of cash. It's a great way to increase confidence and improve their image. Start picking up the necessary things if you are ready to tackle this project like a stencil machine, stencil paper, stencil stuff, dental bibs, and tattoo bed cover.
29. Street Art Stencil without Photoshop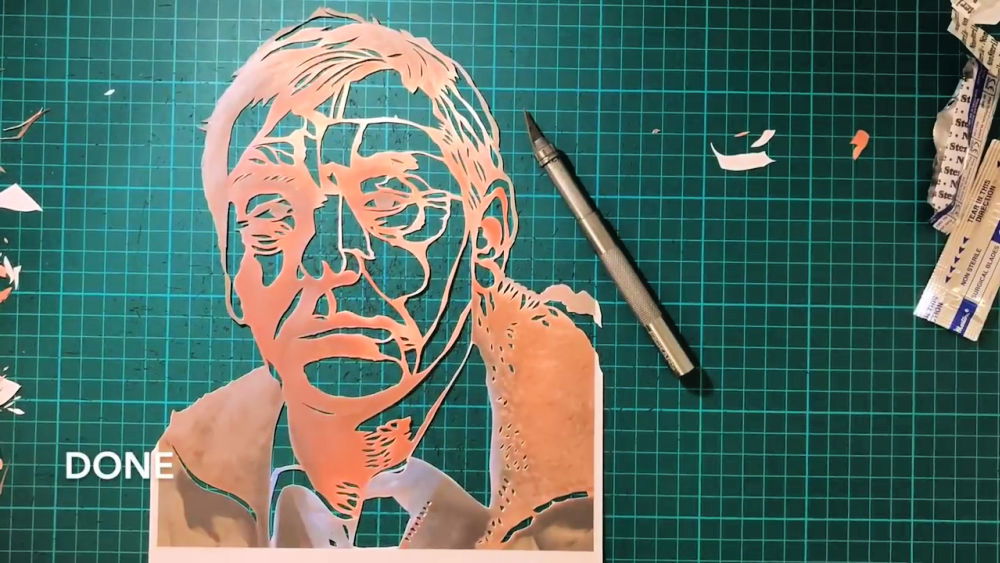 Stenciling is an amazing way to customize anything with clean and consistent patterns. But when acquiring stencils, most people could get what they wanted. That's why we have brought you this street art stencil without photoshop DIY to make your gorgeous picture patterns without causing any load on your wallet. Use this technique to decorate your home walls, furniture and signs with your lovely prints. Are you ready to put your hands on this project? If yes, you can find the details about the whole project here! youtube
30. Homemade Tattoo Stencil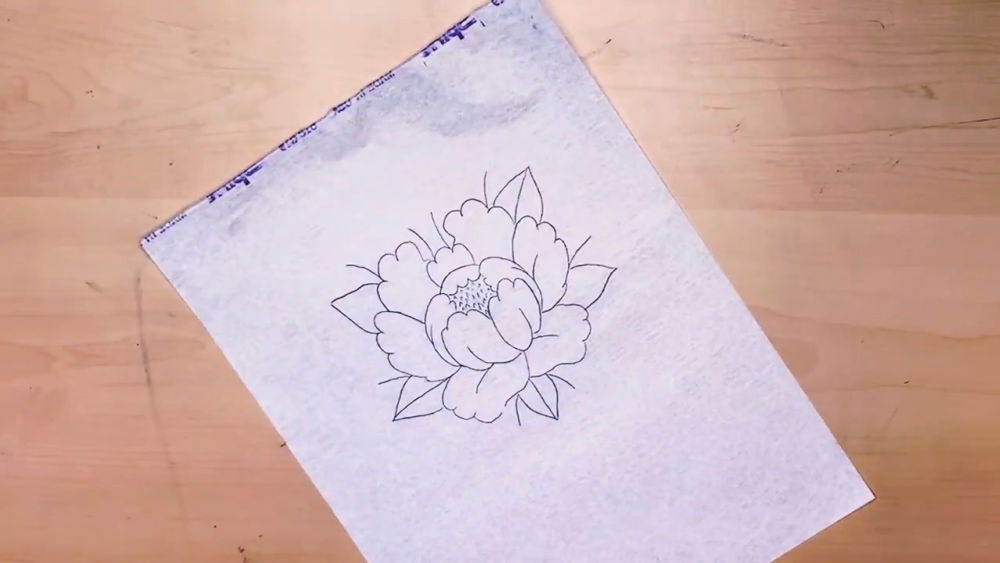 Consider this DIY for making your stencil in two different ways right in your home or anywhere. Not only is this DIY great for using any of your desired tattoo patterns, but it also costs you nearly nothing to feel confident with your stylish tattoo on the body. If you are one of those human beings who love to embellish the body for fashion, this project is just a ticket for you. To make this stencil, you will need a pencil, a sharpener, a pen, and stencil paper. Check the detailed plan here!
Conclusion: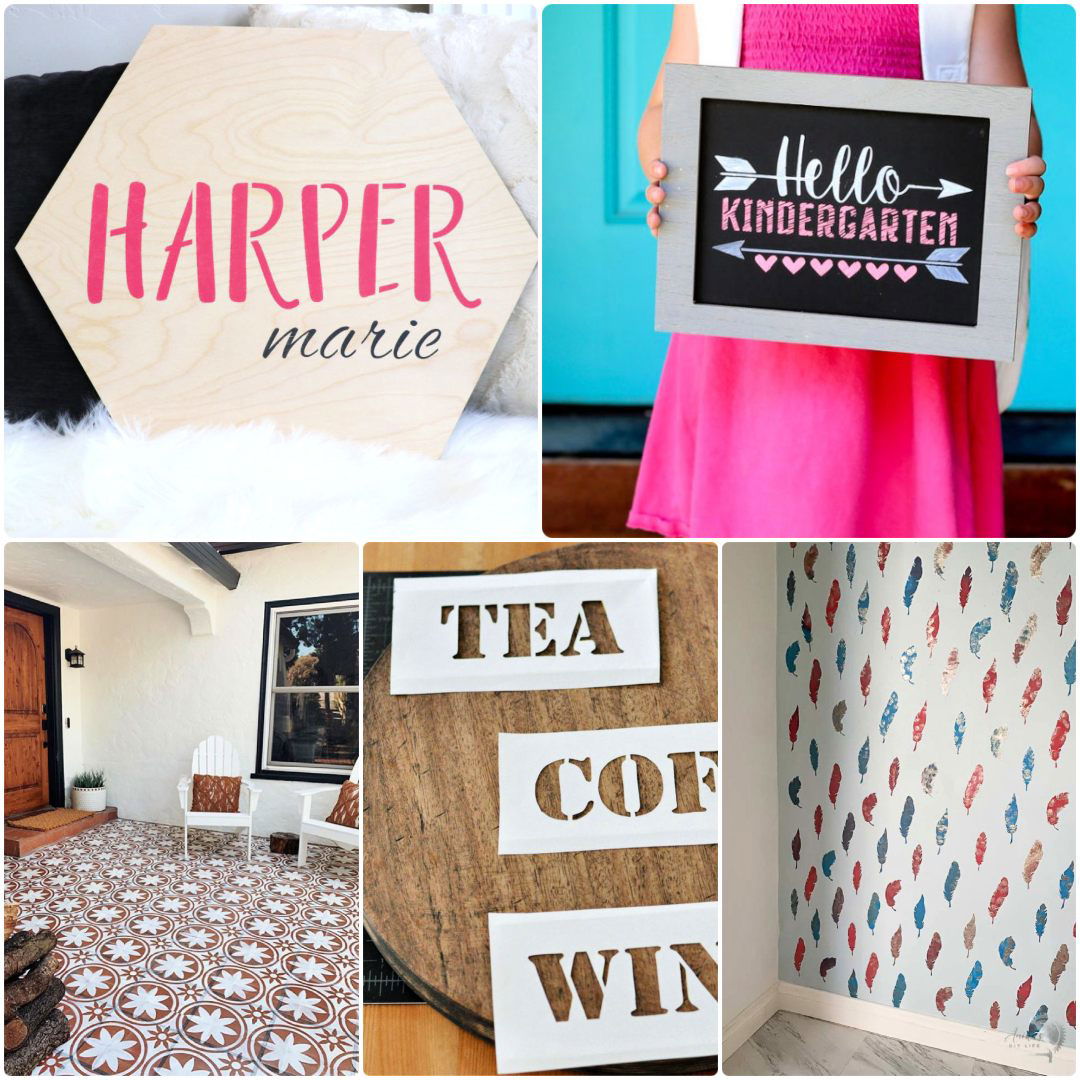 In conclusion, with this list of 30 easy DIY stencil ideas, you'll be well-equipped to create stencil art, make your own stencils, and explore various stencil-making methods. From using a Cricut machine or Silhouette Cameo to crafting homemade stencils for painting and tattooing, there's an lot of inspiration to tap into. So go ahead, unleash your creativity, and elevate your projects with personalized DIY stencils crafted from this comprehensive guide. The ideas are endless, and the results will surely impress. Happy stenciling!