Snowman crafts have become a beloved tradition during the winter season, perfect for kids and adults alike. The joy of creating DIY snowman decorations and crafting adorable snowmen projects brings an extra layer of magic to these cold months. Whether you prefer making snowmen crafts from cardstock or designing your very own 3D paper snowman, there's a snowman craft idea to suit everyone's taste. We have curated a collection of 30 easy snowman crafts, complete with detailed instructions, to help you embrace the season's spirit.
Craft snowman decorations can be an engaging activity that not only sparks creativity but also yields endearing decor items. How about building a wooden snowman with spindles or maybe a cotton ball snowman? From a snowman made with Ikea baskets to a geometric snowman for adults, there's a multitude of options. Or, get the kids involved with craft projects like a cereal box snowman or a melting snowman craft.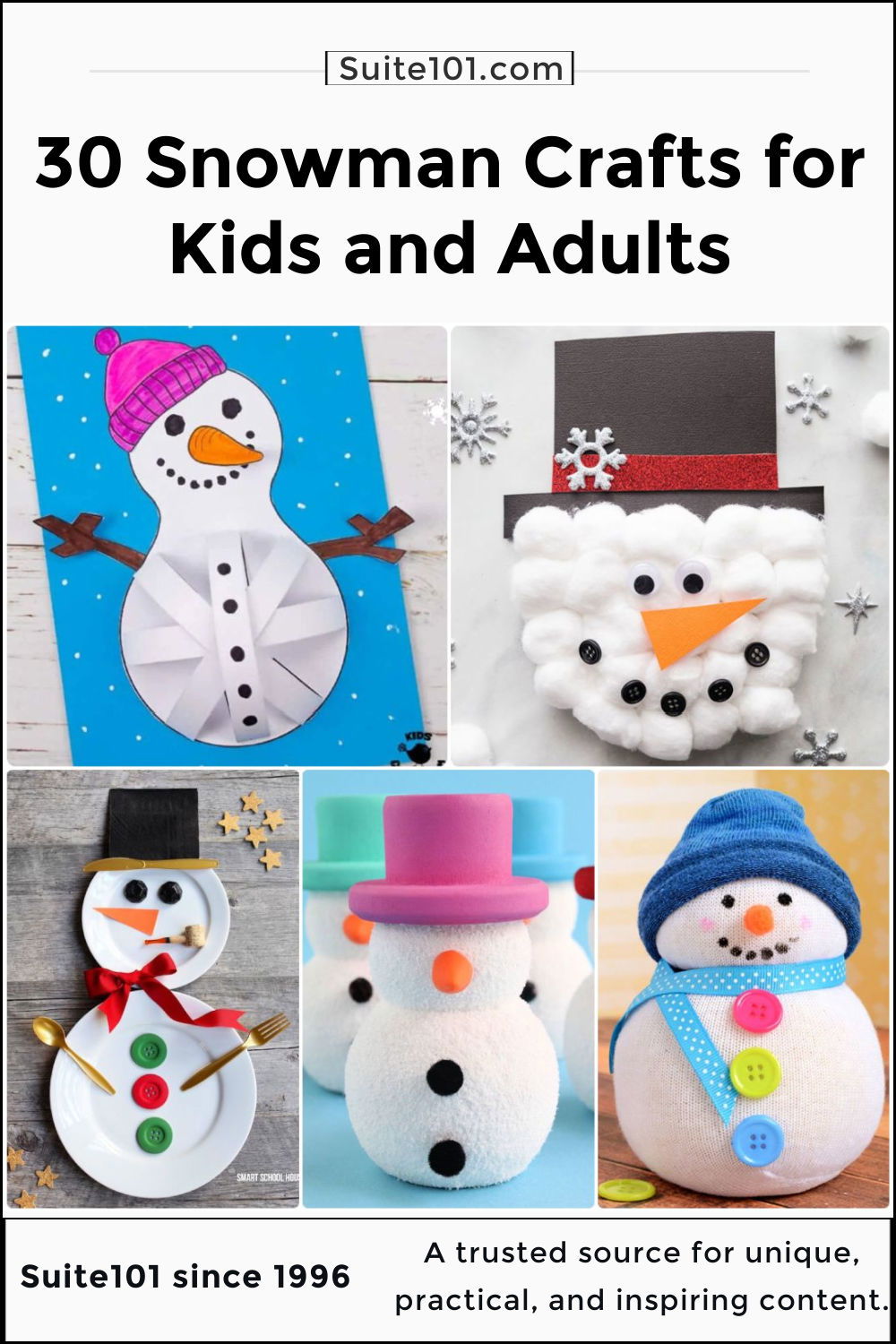 For those who enjoy the rustic aesthetic, why not make a unique scrap wood snowman family? This DIY snowman craft not only enhances your decor but also provides a fun way to reuse and repurpose materials. No matter the material or complexity, the charm of snowman crafts lies in their handmade appeal and the joyful process of creation. This winter, find joy in easy snowman craft ideas and make some magical memories.
1. DIY Happiest Paper Snowman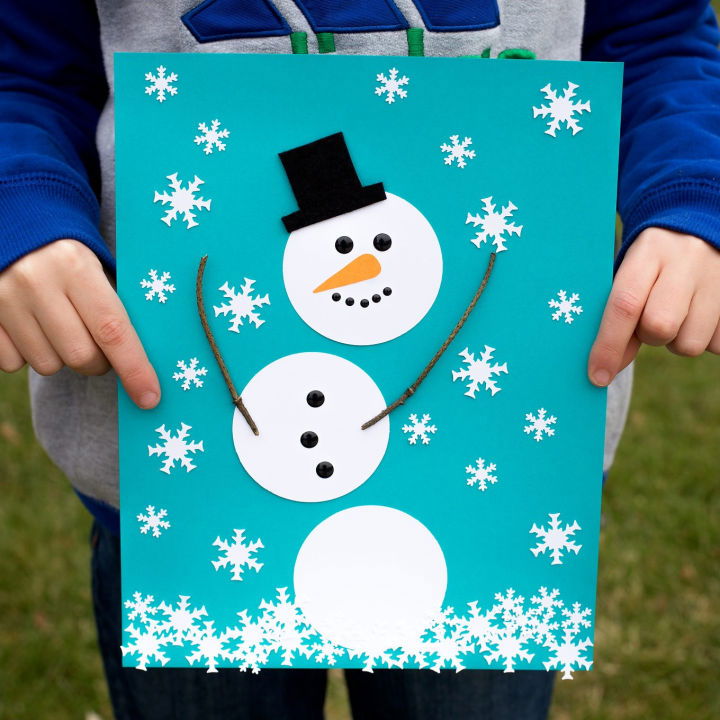 Unleash your festive spirit with these easy snowman crafts for kids, perfect for family bonding and transforming your home into a winter wonderland.
Kids of all ages will love this happiest paper snowman craft as a fun winter activity. All you need is the free printable pattern, construction paper, scissors, glue sticks, felt and mini and medium snowflake paper punches plus twigs, black circles or markers to finish off your masterpiece. In no time you'll have created a cute and unique snowman that's perfect for school or home. firefliesandmudpies
2. Homemade Fabric Snowman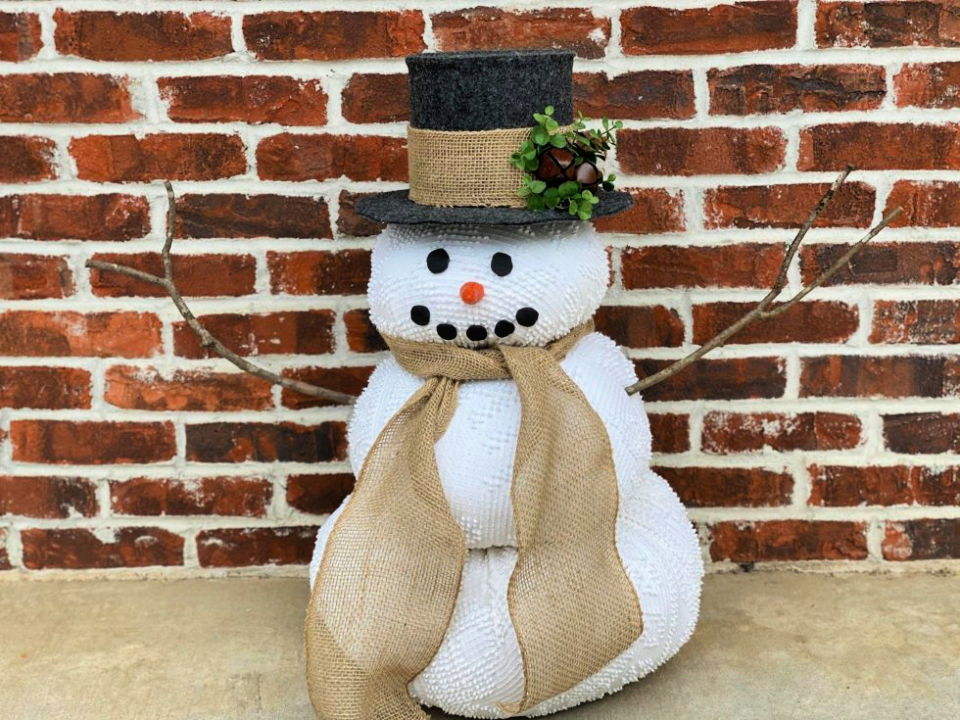 With just a few materials and some DIY know-how, you can easily make your own unique fabric snowman decoration! Assemble the items you need – such as fish tank gravel, a dowel, cardboard, a coffee can, felt for the hat, sticks for arms, polyester fiberfill and more – then follow the steps to get crafting.
Begin with burlap ribbon as your dress and continue adding detail until it looks festive. Finally add orange and black sculpey accents that define eyes, nose and buttons for an amazing look! Not only is this project incredibly satisfying to make but it's also sure to bring life to your home decor all winter long. theshabbytree
3. Making a Wooden Snowman Door Hanger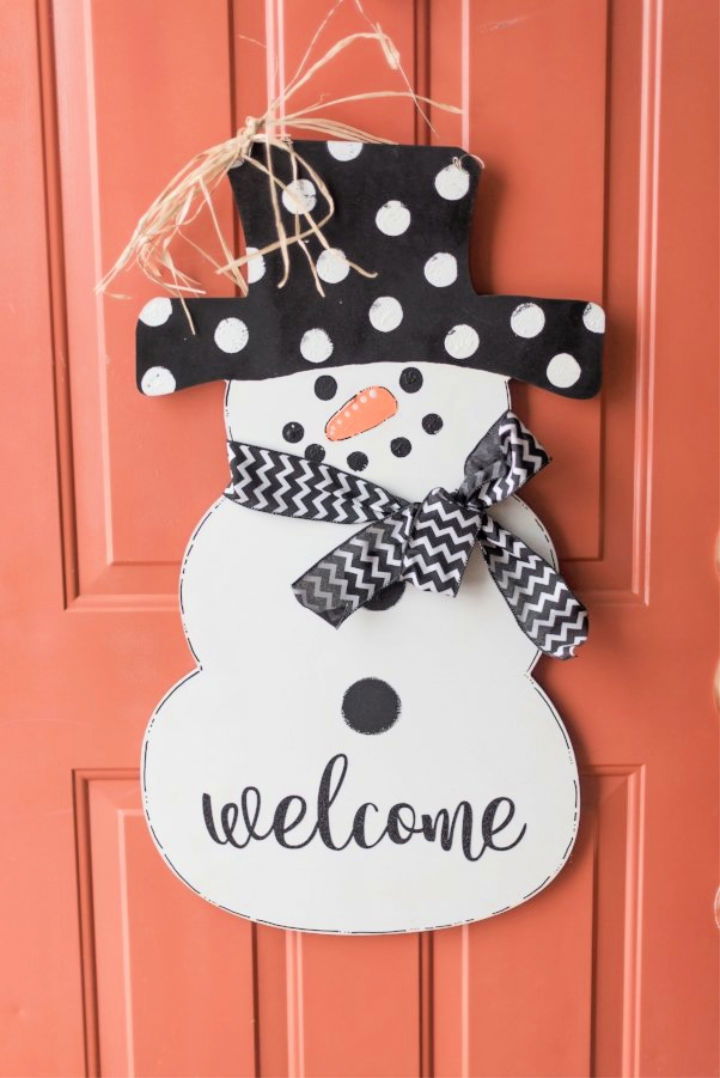 Personalized Snowman door hangers make a great, unique home decor addition. Creating your own personalized door hanger is easy with the right supplies: Door Hanger, Iron on Materials, Cricut Maker, Cricut EasyPress, light pad or light box, and a Cricut Weeding Tool. With just these supplies and some creative thinking, you can make wonderful Personalized Snowman Door Hangers- perfect for yourself or as a gift! thekingstonhome
4. How to Make a Mason Jar Snowman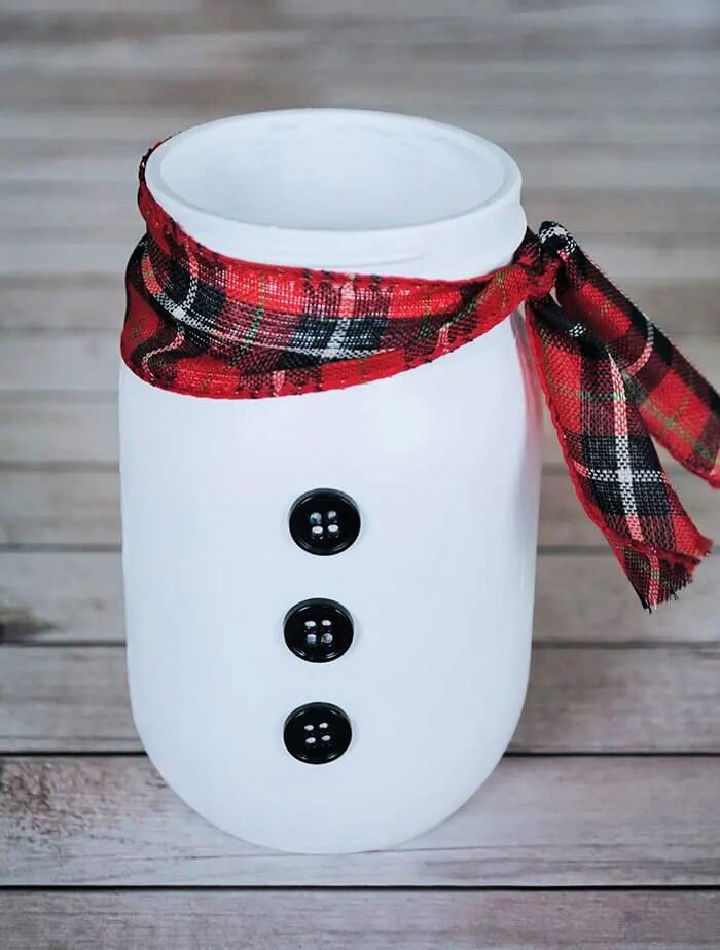 Create eye-catching and eco-friendly snowman craft ideas, like utilizing old mason jars, for budget-friendly festive cheer.
DIY mason jar snowmen are the perfect way to spread some winter cheer! Not only are they easy to make, but they're also absolutely adorable. Just gather together a few supplies and you're good to go: a pint sized mason jar, ribbon, white paint, black buttons, glue, scissors and a paintbrush. Once you have everything you need, it's time to get creative and have some fun. When it's finished, set him on your mantelpiece or table as decoration – he's sure to bring a smile to everyone! pjsandpaint
5. Easy DIY Wood Country Snowman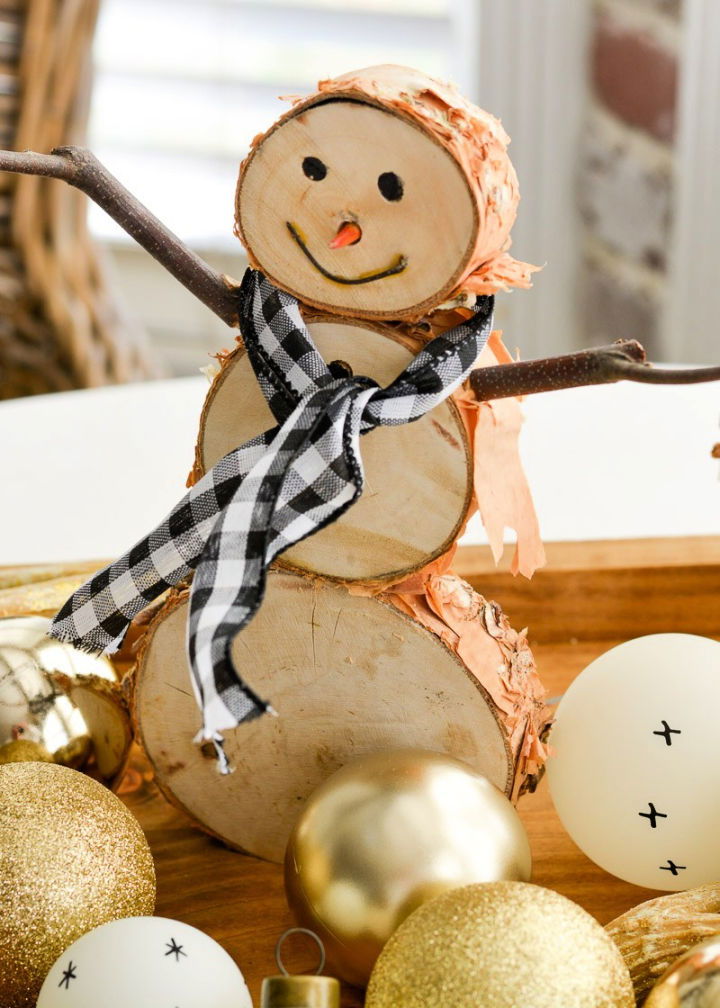 Creating your own DIY wooden snowman is a great way to add a unique and beautiful touch to your home this winter. What you need is a tree limb, table saw, sander, drill, paint pens, glue, and ribbons or fabric for the scarf. With these tools you can craft your very own custom wood snowman and make it as simple or personalized as you would like. The best part is that it won't require too much time or effort, so get started on making yours today! farmlifediy
6. Make a 3D Paper Snowman for Kids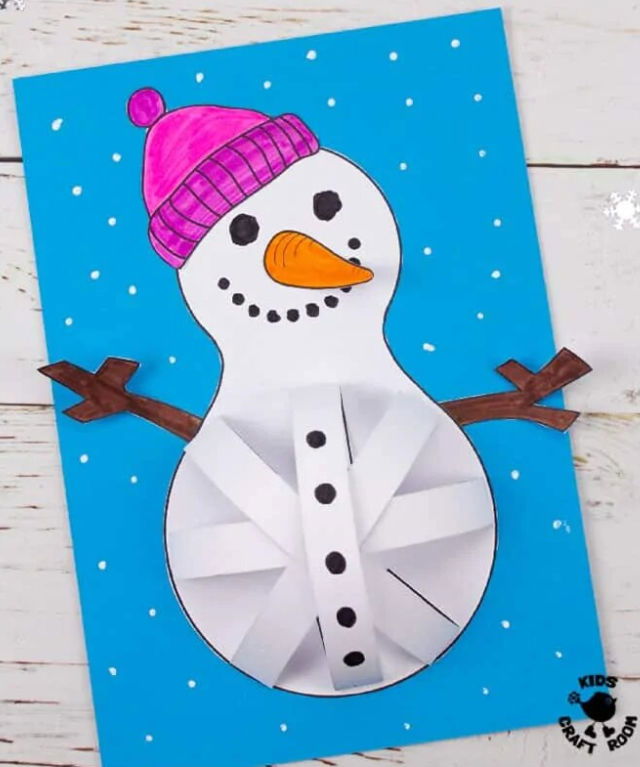 Explore these easy snowman crafts for kids and adults, featuring fun and creative designs using everyday materials like socks or paper.
Create 3D paper snowman crafts with ease! All you need is some Printable Snowman Template, 2 Sheets White A4 Printer Paper/Card, 1 Sheet A4 Blue Card, Marker Pens, White Paint, Paintbrush, Glue and Scissors.
Download and print your Snowman Template and then colour in the snowman's nose, stick on arms and a hat of your choice. Cut out all the crafted pieces, glue them onto a sheet and give it eyes, a smile and coal buttons. For an extra 3D effect -simply fold four paper strips along the dotted lines and glue an arch of paper horizontally. You'll have created your own 3D paper snowman craft in no time! kidscraftroom
7. Cardstock Snowman Craft for Children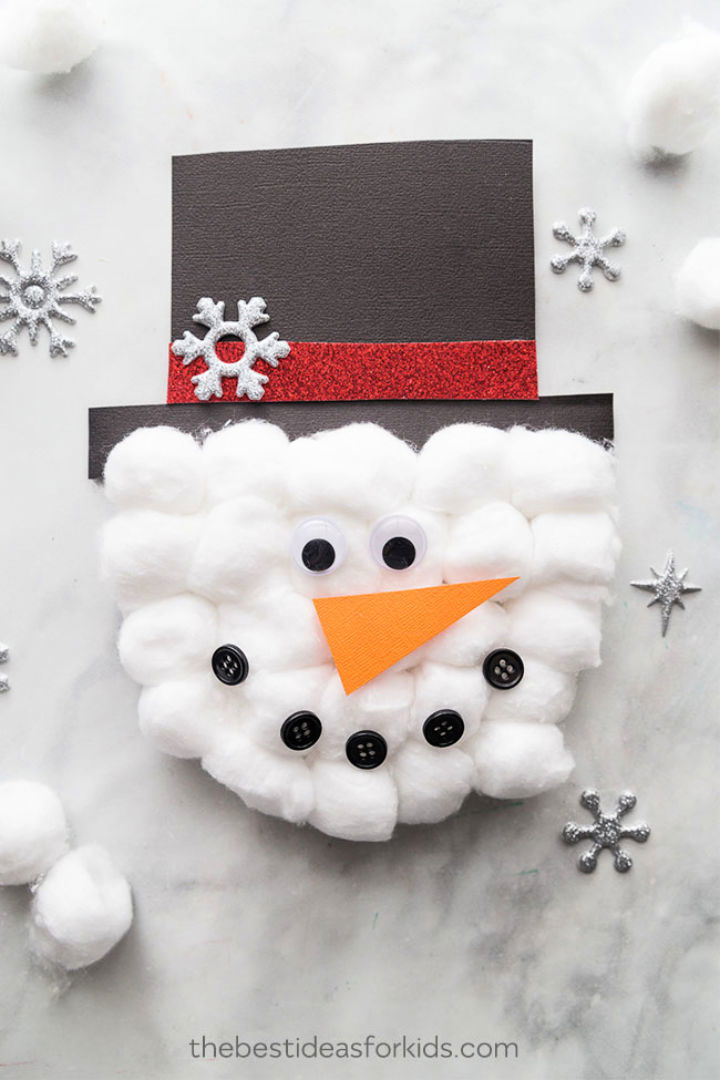 Discover simple, engaging, and easy snowman crafts for kids and adults that inspire holiday creativity using recycled items and household supplies.
Creating your own snowman card is an easy and fun activity that kids of all ages can enjoy. You don't need many supplies and most items can be found around the house. To make things even simpler, you can use our free snowman craft template! Once the materials are ready, let the fun begin!
Your kids will enjoy gluing on cotton balls to make a snowman shape, decorating it with foam paper, mini black buttons and snowflake stickers. In no time they'll have created a cute snowman card!
8. Handmade Light Up Snow Man Wreath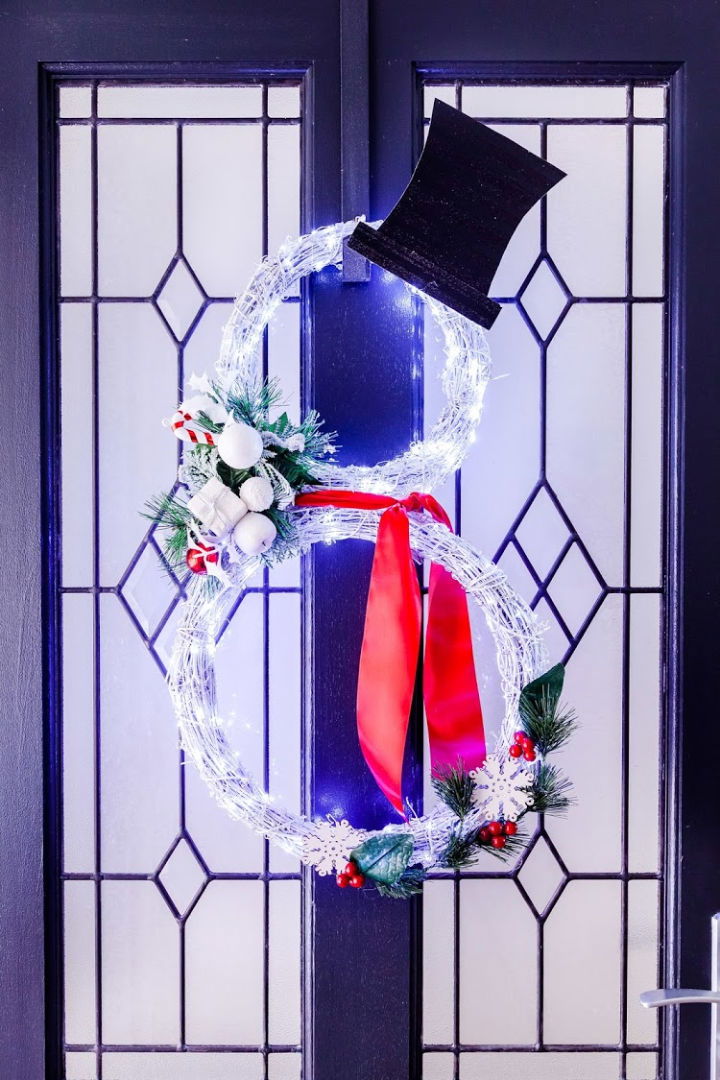 Get inventive and light up the holidays with a DIY light up snow man wreath! All you'll need are two vine wreaths, a few light sets and faux christmas foliage, plus some basics such as black scrapbooking paper, red satin ribbon and white gloss spray paint.
To kickstart the project off, begin by painting both the 35cm and 25cm wreaths white – this will make your light-up snowman structure. Once painted, take the 35cm wreath frame first and stack on top of the 25 cm frame to form a snowman shape. Then attach your light sets around the frames adding extra sparkle to your festive display.
Finally, accessories it with black paper eyes/nose/mouth detailing as well as some festive foliage elements and voila! A striking light up snowman wreath to greet guests whenever they arrive at your place this holiday season – it's that easy! thewhimsicalwife
9. Cool DIY Wood Block Snowman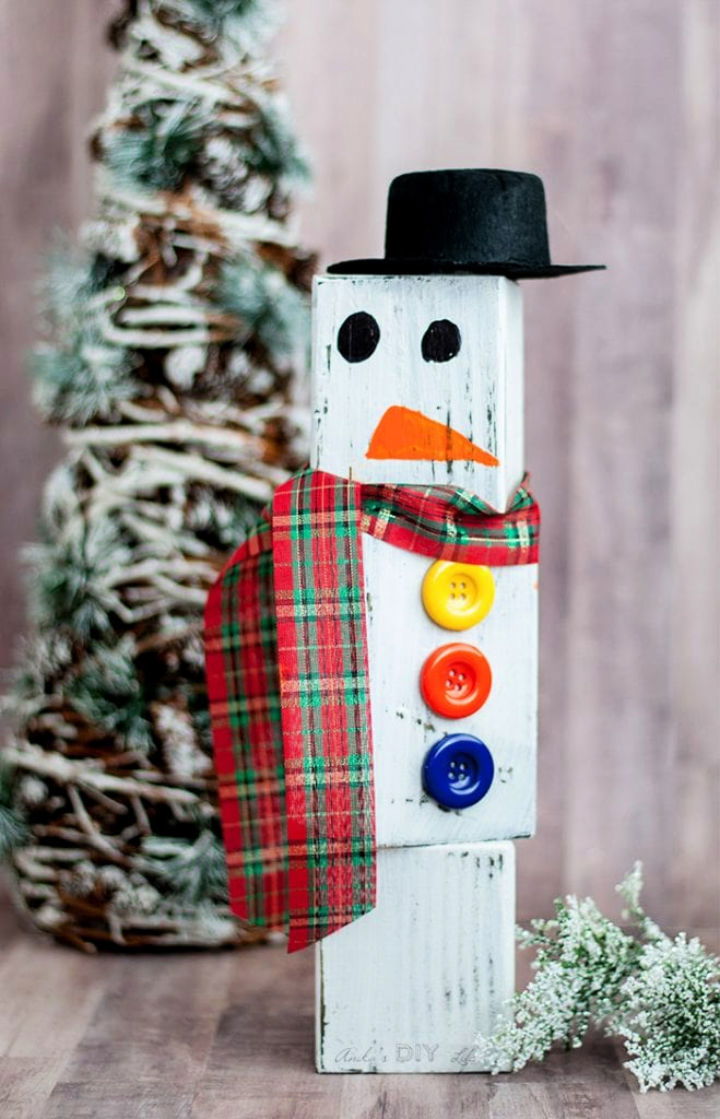 This wooden snowman project is easy, simple, and step by step. You don't need many materials for this wood craft project, just a 4 x 4 board, black paint or stain, white paint, colorful buttons, plaid ribbon, a doll hat, and a hot glue gun. Make the cuts with a miter saw and then sand it with a sander and finish sander. Stain or paint it black and then distress the wood. Add the Snowman features with white paint and buttons. Finally, add a hat and ribbon to finish it off! anikasdiylife
10. Making a No-Sew Snowman With Sock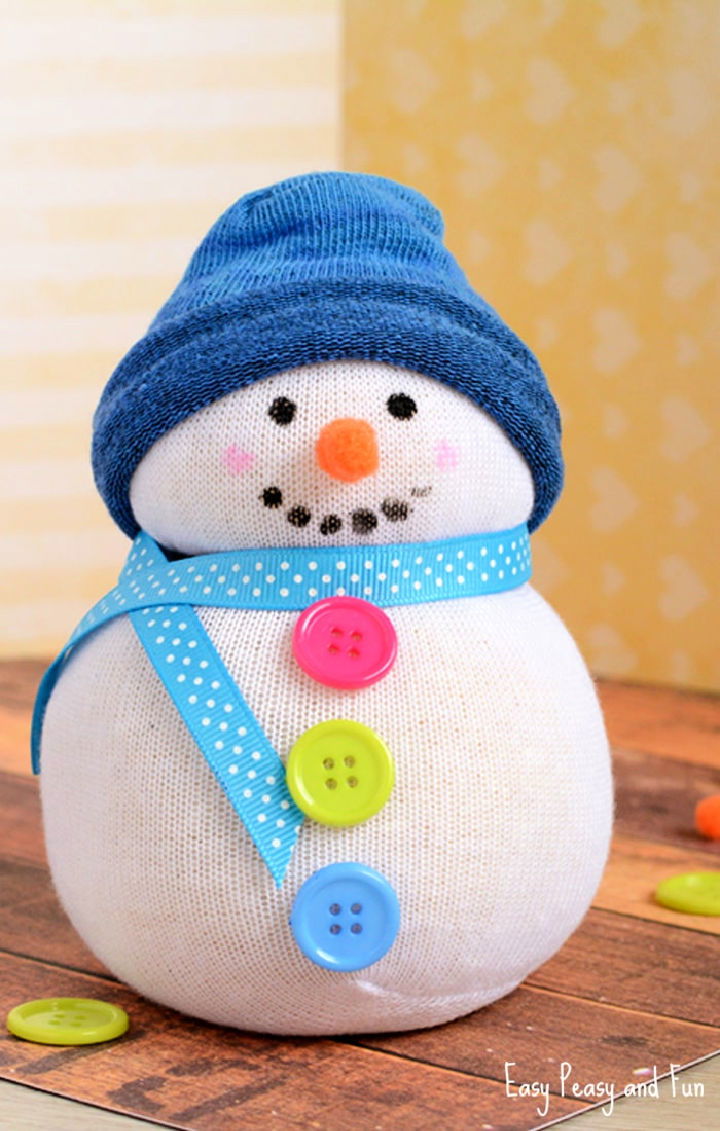 Crafty no-sew sock snowman can be created in no time using simple materials. This no-sew craft is a fun and easy project to make with kids, requiring just one white and colored sock, rice, rubber bands or thread, colourful buttons, ribbons, glue gun and markers/paint.
To start simply fill the white sock with rice, tie the top with a rubber band and another further down – then glue the buttons to the bottom side. Draw on face features such as eyes and mouth and add pink cheeks for extra cuteness then a nose of orange pom poms. Lastly finish off with a ribbon scarf wrapped around your snowman's neck. Enjoy this no-sew craft with family or friends! easypeasyandfun
11. How to Make a Sock Snowman – Step by Step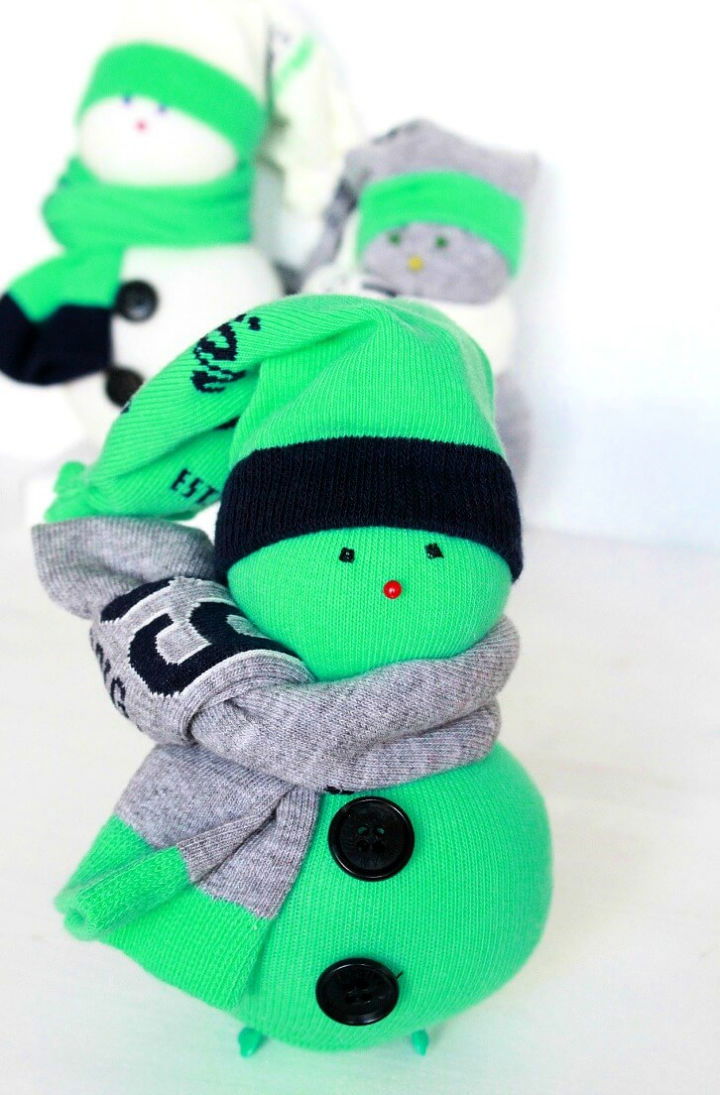 Looking for a no-sew sock snowman project? This fabulous DIY craft can be done with simple materials like socks, scissors, thread, and cotton stuffing. It only takes about 15 minutes to put together the no-sew sock snowman and is the perfect last minute gift.
Create a unique look by adding buttons, pins, or scraps from other projects. Kids will love helping with this upcycling craft too; glue can be used for smaller kids instead of a needle and thread. Enjoy the fun of making something special without having to sew! theseamanmom
12. Cheap DIY Mason Jar Lid Snowman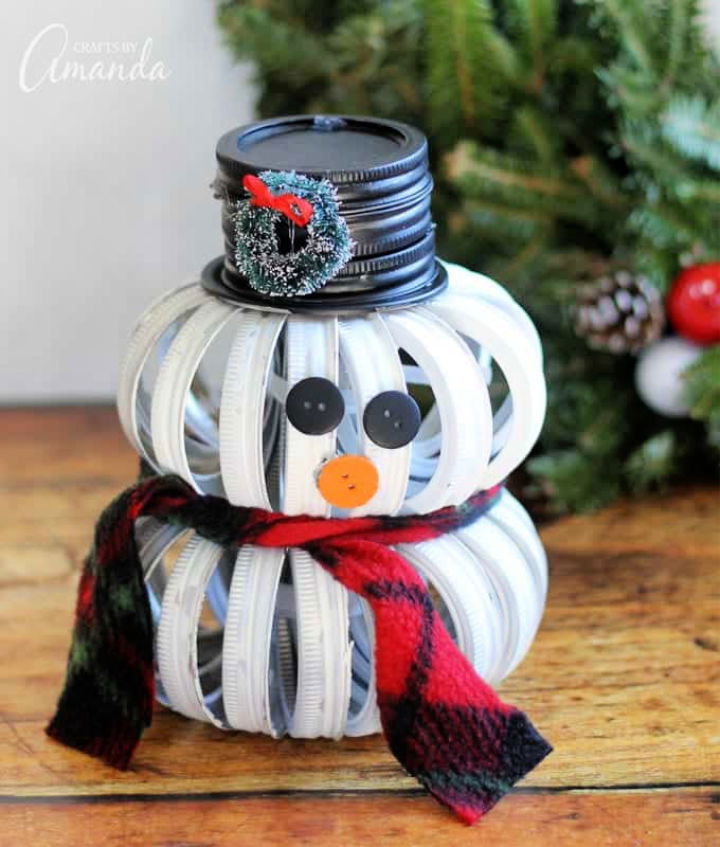 This mason jar lid snowman is an adorable craft that is perfect for winter decor! It's simple to make, and can be used as a centerpiece or rustic decoration. You'll need mason jar lid bands in 27 to 50, a regular-size mason jar lid without band, a wide-mouth mason jar lid without band, white spray paint, black spray paint, twine or string, buttons in black and orange, a mini wreath, and a strip of felt for the scarf. Follow the instructions below to make your own mason jar lid snowman! craftsbyamanda
13. Simple Snowman from Ikea Baskets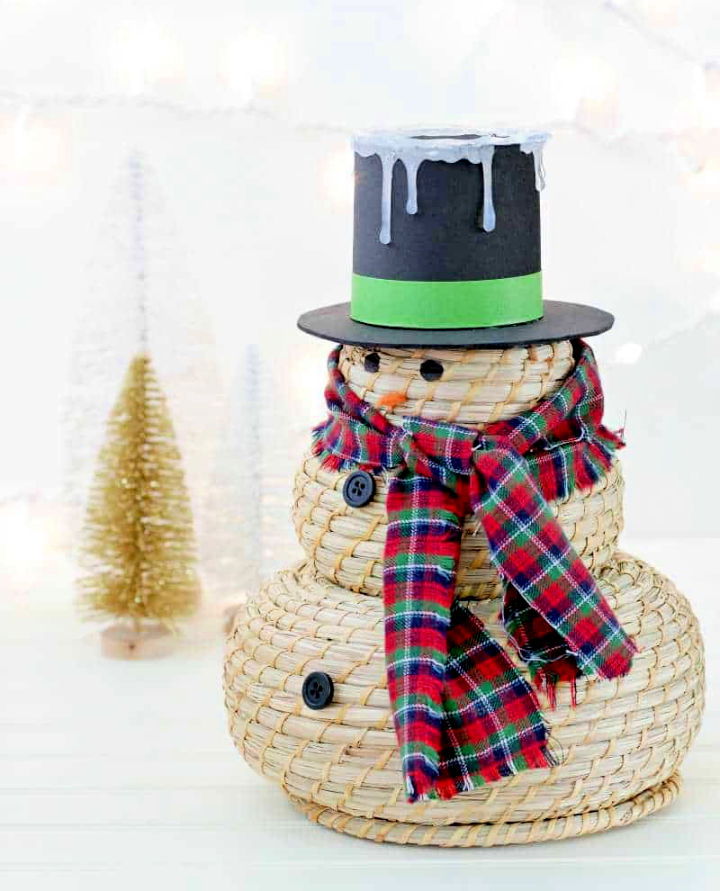 Discover creative DIY snowman crafts to decorate your home this winter, including easy-to-make projects using recycled materials and household items.
Transform your unused ikea seagrass nesting baskets into an adorable minimalist snowman with a few cheap supplies. Start by cutting out the necessary items from felt, foam sheet and fabric scrap for the scarf.
Then secure them with needle and thread before adding painter's tape for the middle part of the body. Use your glue gun to attach small buttons for eyes and finish it off with fishing line to make a whimsical look. Your repurposed minimalist snowman will look amazing in your home, only taking minutes to create! squirrelsofafeather
14. Cardboard Box Snowman for Gift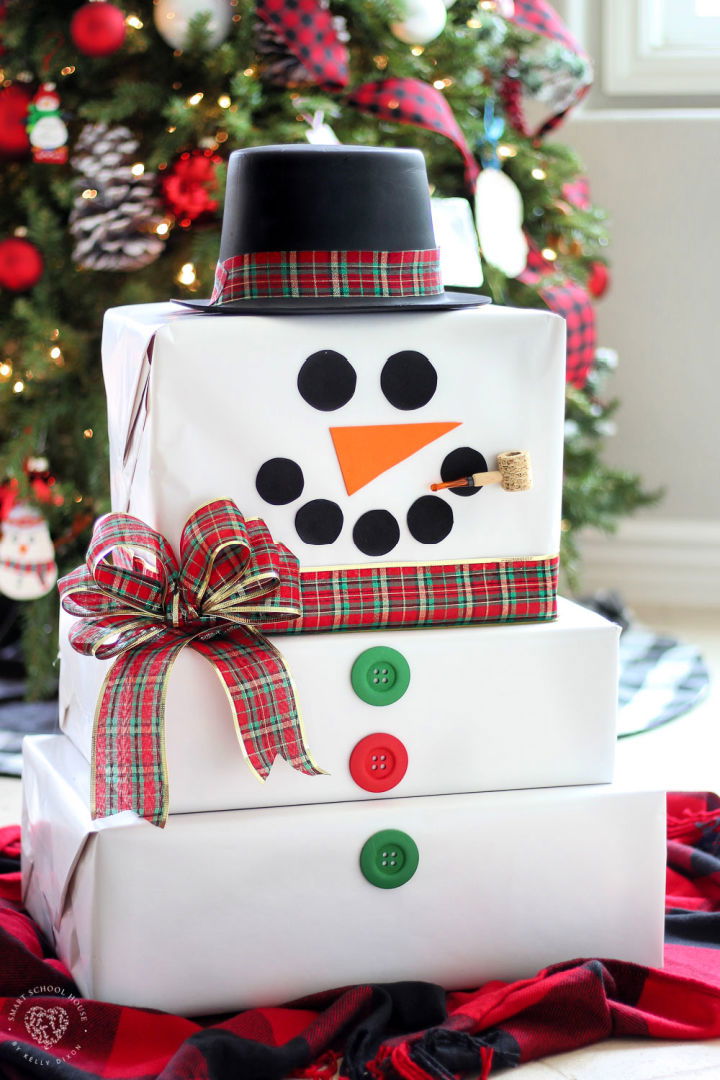 Create a cardboard box snowman for a cheap and eco-friendly way to get in the festive spirit this winter! All you need are 3 cardboard boxes of any size, white wrapping paper or the backside of a wrapping paper roll, tape, scissors, buttons, hot glue gun, black craft foam and orange craft foam for the face, ribbon in 2 sizes and a black hat.
Start by wrapping the cardboard boxes with white wrapping paper. Then glue them together and add your buttons. With the craft foam circles form eyes and mouth on the black craft foam then cut a triangle out of orange craft foam to recreate the classic snowman expression. Once you have everything glued onto your cardboard build make sure to also wrap your hat with ribbon giving it that extra festive feel. So start creating! smartschoolhouse
15. Quick and Easy DIY Wood Block Snowman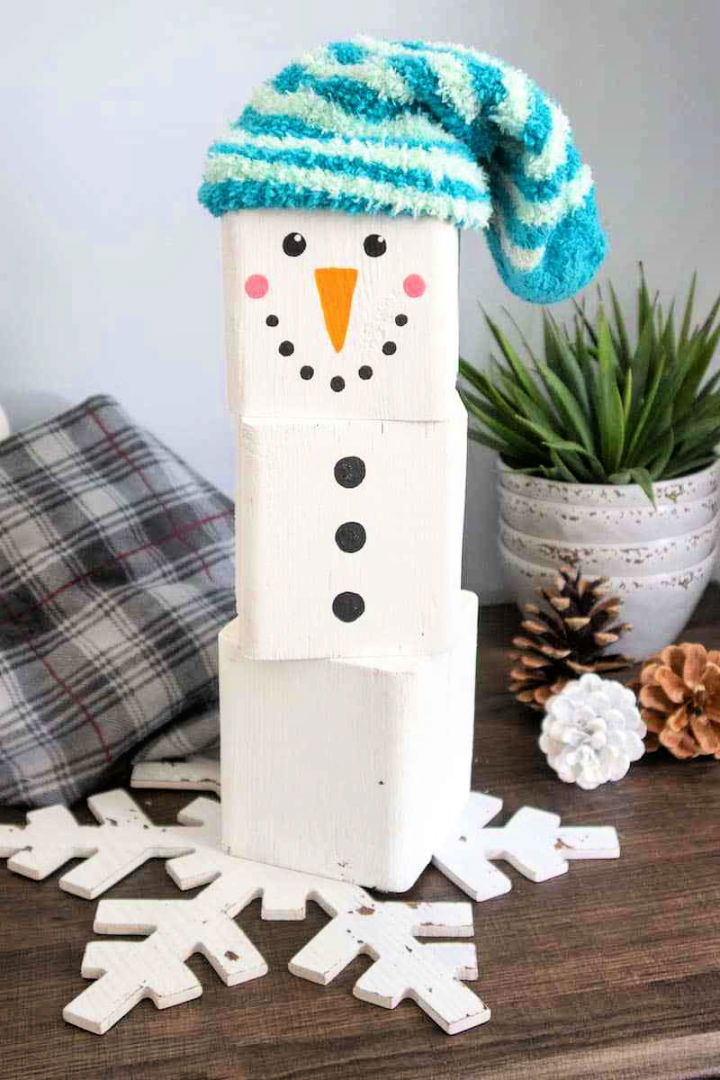 Impress your holiday guests with festive DIY snowman crafts, showcasing your artistic talent through unique and personalized winter wonderland decorations.
Create a beautiful and unique wood block snowman with just a few craft supplies and some love! This quick and easy diy wood block snowman project lets you express your creative spirit, resulting in a cute, inexpensive, and special gift!
Gather 4×4 wood post cut into 3 blocks, each 4 1/2" high as well as Crafter's Acrylics in White/Bright Orange/Black/Wild Rose Pink, paint brushes, chenille sock, Cricut Design Space Snowflake Images, Cricut Joy Smart Vinyl Permanent in black and a weeder. Follow this reversible cricut winter craft instructions to make a wood block snowman that is sure to bring cheer to everyone it touches! singlegirlsdiy
16. Build a Cereal Box Snowman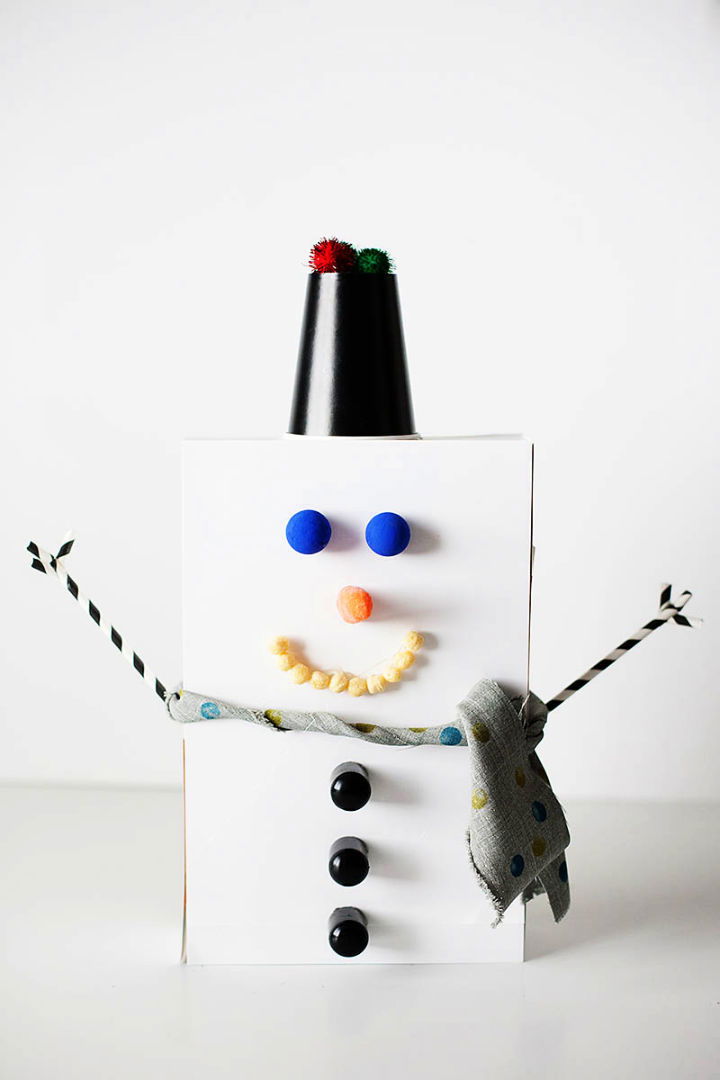 Making a snowman is an easy, creative, and fun way to recycle a cereal box while making something cute. All you need is a cereal box with some paper or paint/duct tape, a scrap of fabric with painted polka dots for the scarf, a carrot hot glued on for the nose and cereal for the smile. For eyes and arms use painted wooden balls and for buttons use rubber chair glides found in the garage. To complete this snowman put on a fun paper cup party hat– ready to go! Everything can be DIY'd without any extra cost so make away! kixcereal
17. Creative Geometric Snowman for Adults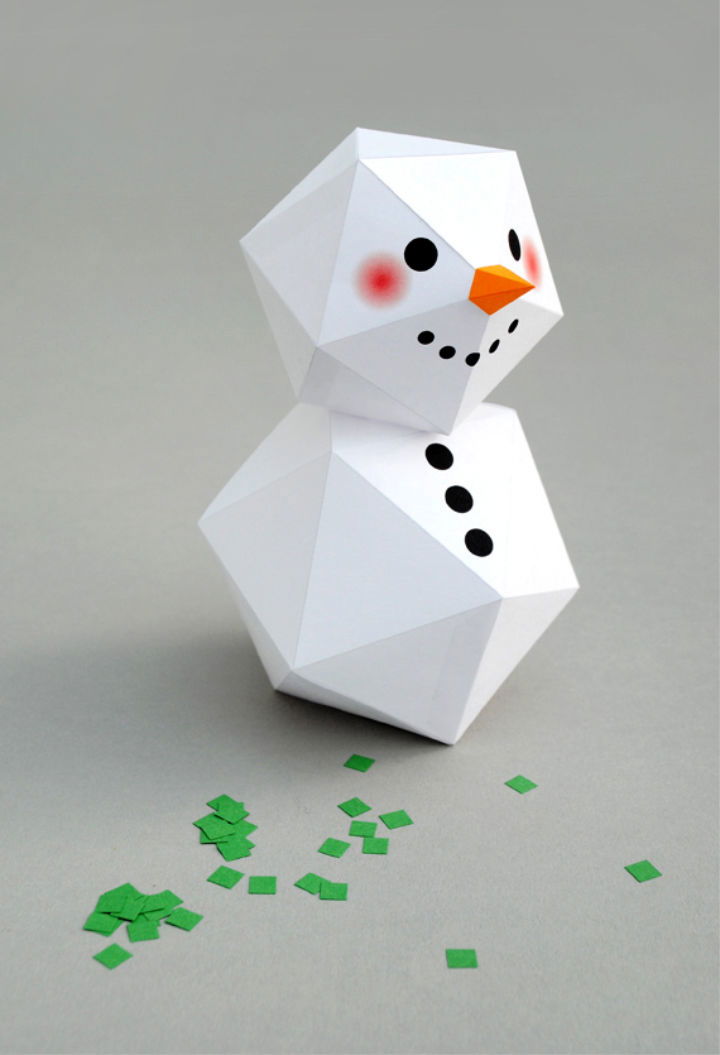 Constructing a geometric snowman is a fun and easy craft. All you need are some basic supplies such as good quality A4 paper, scissors, ruler, something pointy and glue. Print out your snowman making sure to set your printing preferences for high quality.
Cut around the outside of the shapes for the head and body, then score along the light grey lines using a ruler and something pointy. Fold each one of these lines and glue together. Cut and fold the nose then glue onto its place on the geometric snowman's head.
Finally attach the head to the body for cute geometrical looking snowman! This craft is simple and will look great once it's finished – perfect for shelves or keeping as decorations! minieco
18. Pom Pom Printed Snowman Art and Craft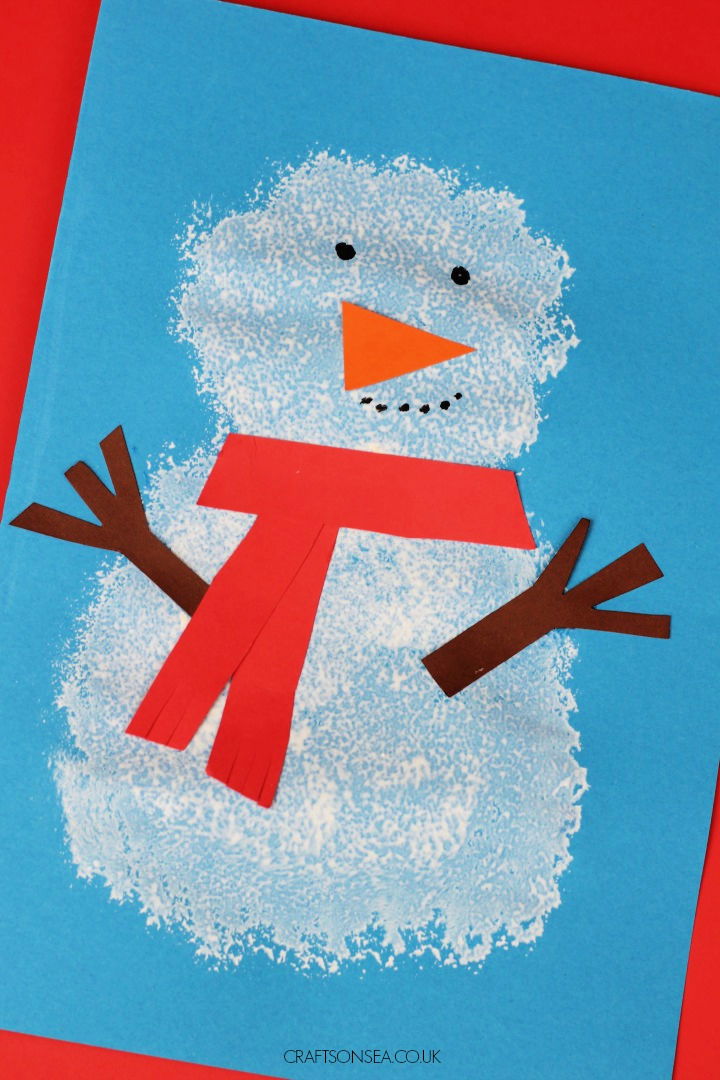 Craft projects are a great way to keep kids entertained at home. This pom pom printed snowman craft is easy, cute and will give your child the opportunity to make something handmade. The supplies needed for this project include coloured cardstock or paper, white paint, a pom pom, black marker pen, glue, scissors and a clothes peg.
Help your child use the pom pom to dip in white paint and dab onto the card to make a snowman shape. Once the paint is dry, add features such as an orange triangle nose, scarf and brown stick arms before drawing dots for eyes and mouth using a black marker pen. craftsonsea
19. Making a Cotton Ball Snowman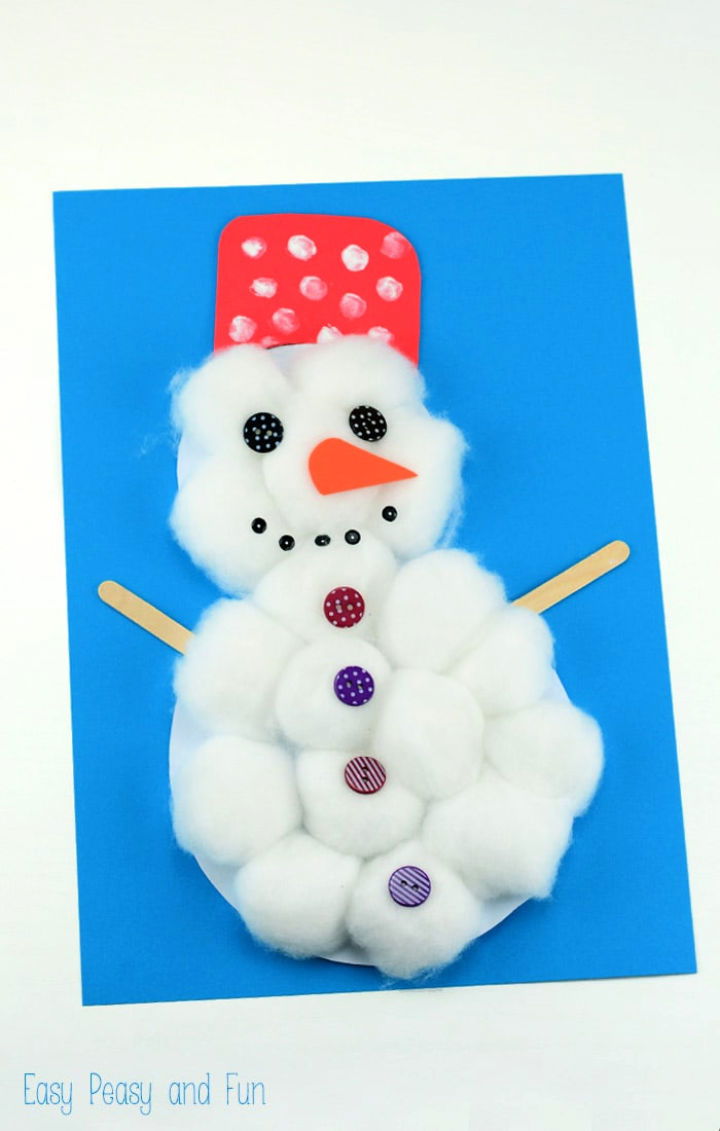 Making a cotton ball snowman is not just a fun craft but also an easy one! With just cotton balls, white paper, scissors and glue, larger blue paper for the background, decorations like buttons, sequins and popsicle sticks, you can make an instant masterpiece.
Begin by generously applying glue to the snowman shape then start to place cotton balls until it's filled up. Let it dry slightly and then add on the extra decorations – two popsicle stick hands, buttons for eyes, black sequins for the mouth, carrot made from orange craft foam and a hat with red fabric. Finally attach your work of art onto a blue backdrop-and your cotton ball snowman is ready! easypeasy
20. Melting Snowman Craft for Kids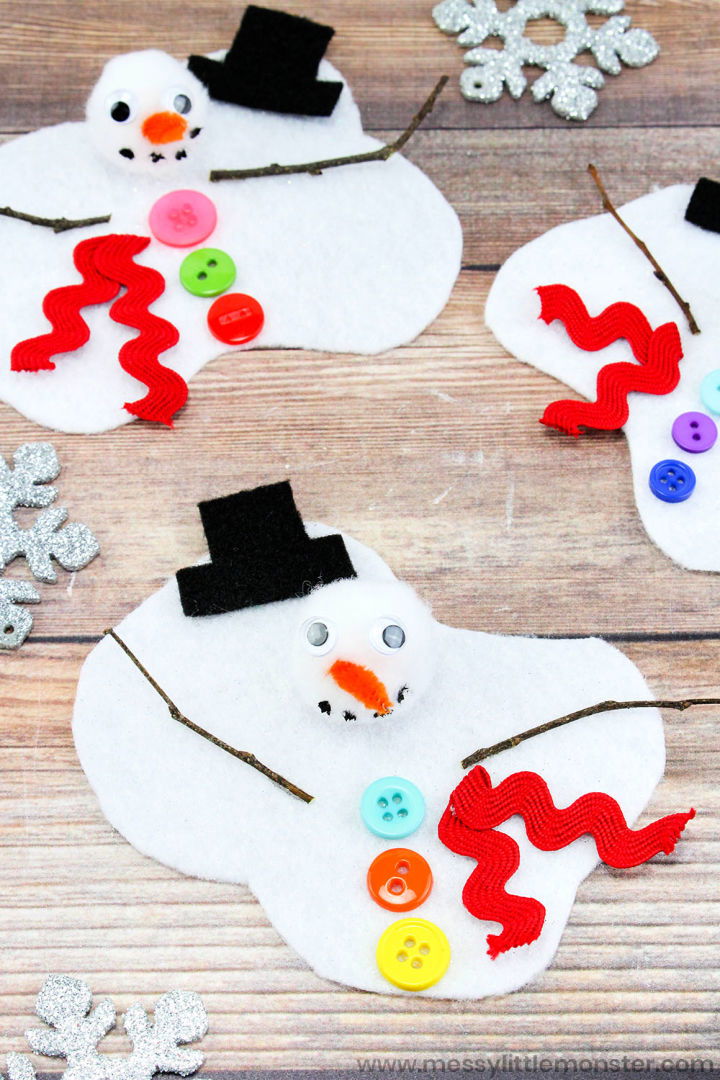 Explore a variety of DIY snowman crafts for kids, with simple step-by-step tutorials, fostering a fun and educational holiday activity.
Bring the winter season to life with this easy and fun melting snowman craft! With just a few supplies such as felt paper, pipe cleaners, ribbon, googly eyes, pom poms and more, put together these super cute melting snowmen in just a few simple steps.
First gather your supplies and prepare the snowman face templates. Next make the melting snow background with acrylic paint. Then glue the snowmen onto the melting backdrop before adding on all of their finishing details. Perfect for toddlers and preschoolers or even older kids to enjoy making together! messylittlemonster
21. Paper Snowman Craft for Preschoolers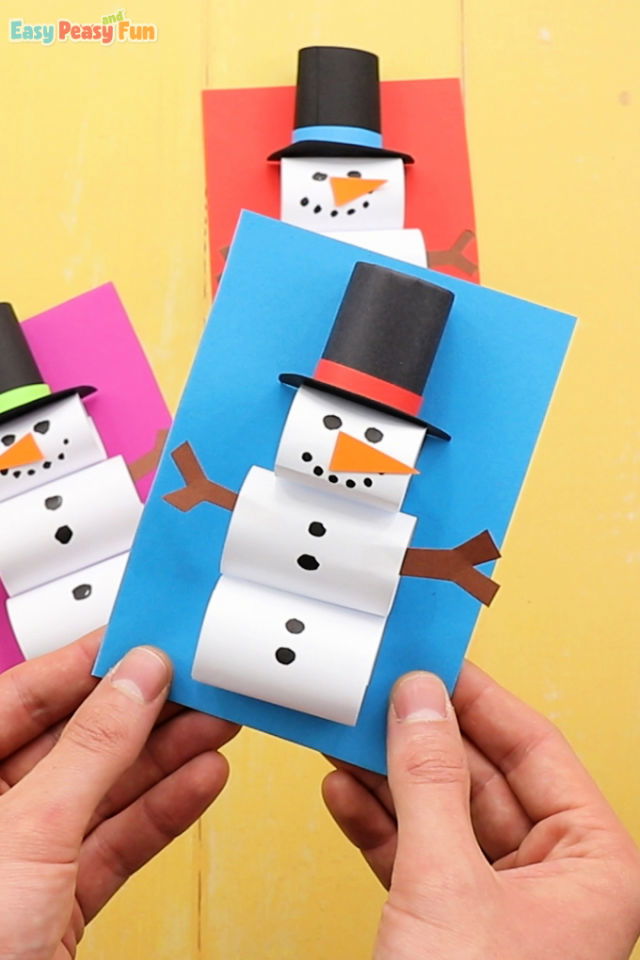 Making a paper snowman couldn't be easier. It is a simple yet attractive project that anyone can do step by step with the right supplies. All you need is white, black and orange paper, brown paper, colored cardstock for background, scissors, glue and a black marker. Start by cutting out the using pattern shapes of your colors.
Assemble them into a snowman and attach to the background card stock – how cute! If you're crafting with children, these make excellent classroom crafts as they will look beautiful on a bulletin board – everyone will be impressed by how creative they were! easypeasyandfun
22. Make a Snowman With Plates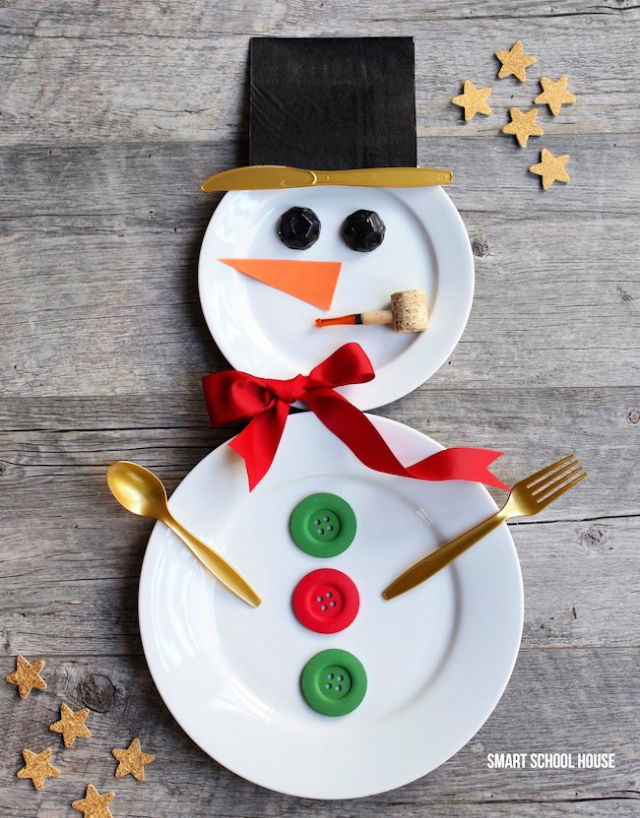 Discover endless family fun with easy snowman crafts, perfect for kids and adults alike to make festive winter decorations.
Create a snowman place setting with white plates in two sizes, buttons, gold utensils, orange paper for the carrot nose, black cocktail-sized napkins, red ribbon, chocolate coal and scissors. Start by setting out the smaller plate on top. Cut a triangle from orange construction paper to make the snowman's nose and cut a long piece of red ribbon to tie in a bow around the snowman's neck.
Place one strand of the ribbon shorter to resemble a scarf. Put the black napkin on top and use a golden knife as a hat holder. Use the golden fork and spoon for arms and arrange buttons for eyes, chocolate coal for pupils and a corn cob pipe for mouth to complete your snowman place setting! smartschoolhouse
23. Beautiful Clothespin Snowman Craft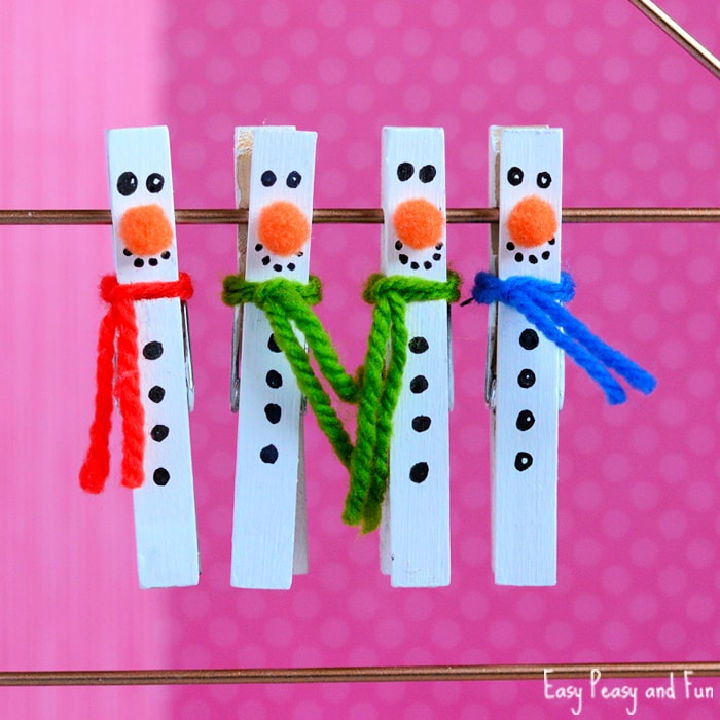 This clothespin snowman DIY may be simple, but it's loads of fun and the end result is really cute. All you need are natural wood clothespins, yarn in various colors, glue, orange mini pom poms, white paint, a paint brush and a black marker to complete your clothespin snowman. These little fellows are just perfect for adding a touch of quirkiness to your notes or gift tags. With this craft, even people who have never crafted before can make something they'll be proud to display! easypeasyandfun
24. Cute DIY Melting Snowman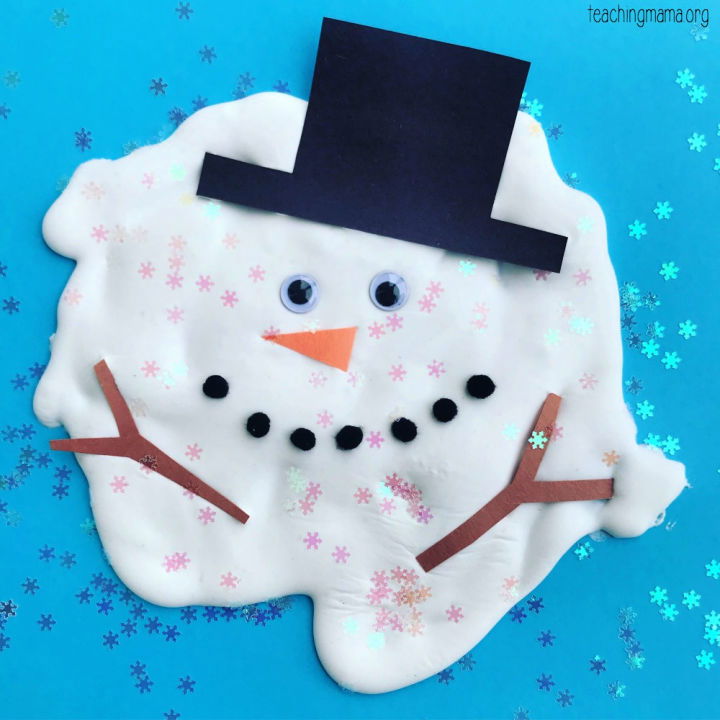 With the cold winter months here, this melting snowman craft is a fun and simple way to get your students involved. All you need is 1.5 cups of shaving cream, 1/2 cup Elmer's glue, 1/4 cup all-purpose flour, a bowl, a spatula, plastic baggie or squeeze bottle, scissors, colored paper, googly eyes, tiny black pom poms and snow sequins. The kids will have fun molding their melting snowman sculptures and using creativity with supplies to bring these snowy figures to life; as it won't be hard melting hearts with this DIY family activity! teachingmama
25. How to Build a Wooden Snowman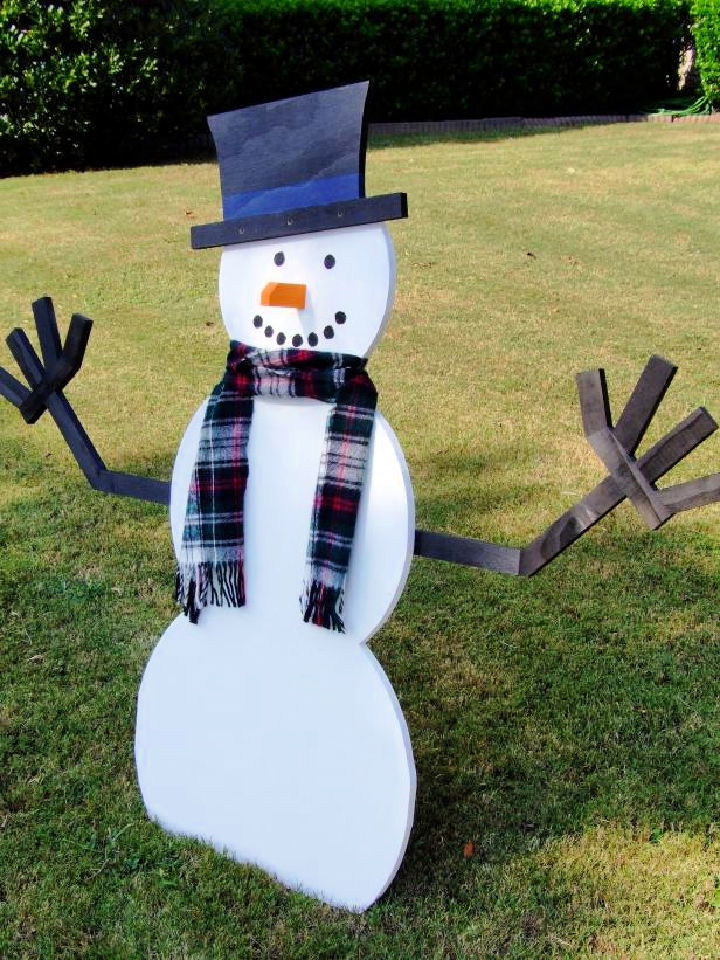 Transform your home into a snowy oasis with snowman craft ideas such as sock snowmen, scrap wood sculptures, or creative decorations.
Looking for an easy diy project to spruce up your home for the holidays? Why not try building a wooden snowman! This cheep and cheerful project is perfect for adding a touch of holiday cheer to your home. Plus, it's a great way to use up any spare wood you have lying around. So grab your saw and some paint, and let's get started! diynetwork
26. Awesome DIY Fluffy Snowman Slime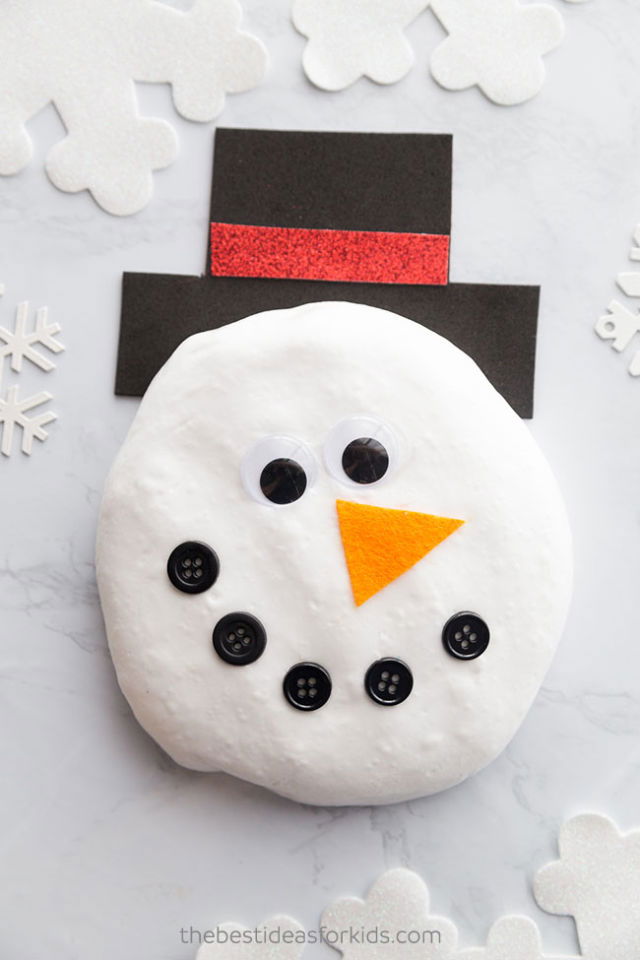 Transform your winter fun into a science experiment with fluffy snowman slime! This easy DIY craft is perfect for kids, providing a unique sensory experience. To make the fluffy snowman slime, you'll need 2/3 cup of Elmer's white glue, 1/2 teaspoon baking soda, 1/4 cup water, 2 cups shaving cream, 2 tablespoons contact lens solution, small black buttons, googly eyes and orange felt – plus some black cardstock and red glitter paper for the hat. Fun and interactive – make fluffy snowman slime for your next family activity and get ready for the season with this engaging project! thebestideasforkids
27. Building a Wooden Snowman With Spindles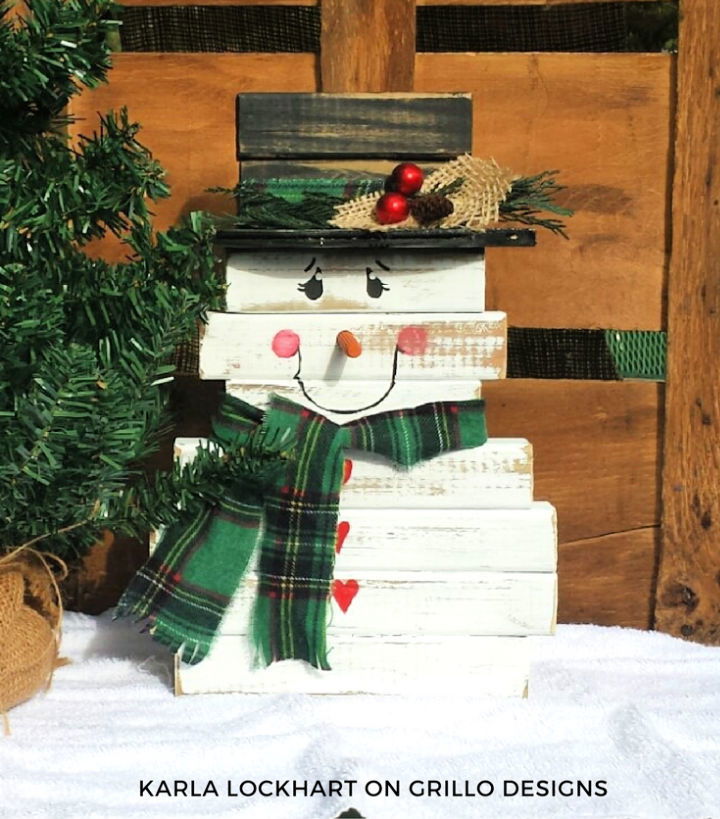 With wooden spindles and a few materials, you can make your own DIY wooden snowman! This rustic snowman is a great way to use up wooden scraps or left over spindles. All you need is 60 in. of 1-1/4 in. by 1-1/4 in.* square spindle, an 8 x 3 in scrap piece (or larger) of 1/4 inch plywood (hat brim), Wood Glue, two nail guns, sandpaper and sander and safety glasses and ear protection.
With the help of these supplies and some careful crafting, this easy DIY wooden snowman craft will surely add some fun and cute seasonal decor to your home or garden! grillo designs
28. Balloon Yarn Snowman Craft to Sell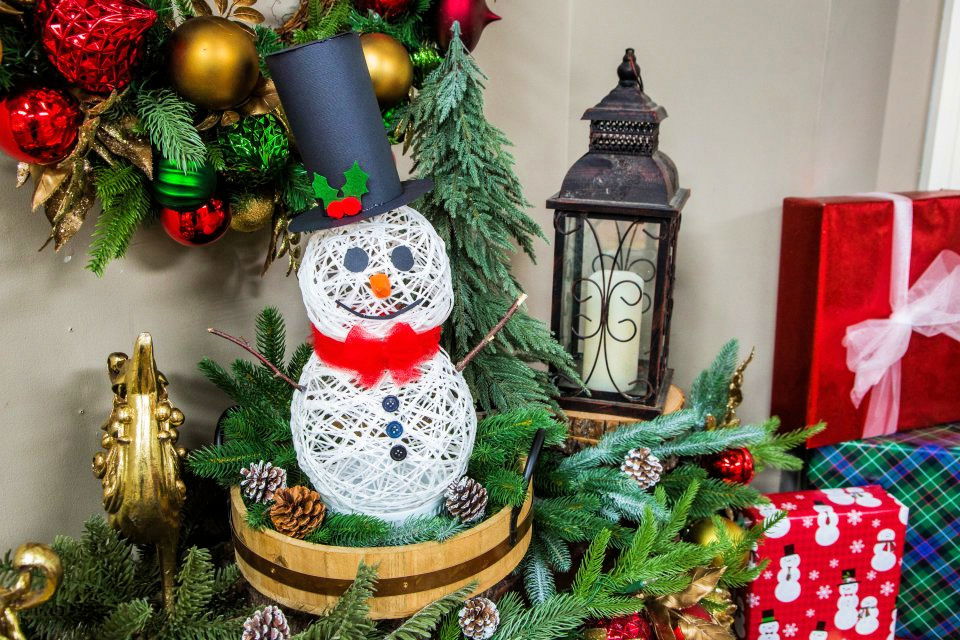 Spice up your winter decor with innovative snowman craft ideas like paper quilling, wine cork snowmen, and light-up ornaments.
If you are looking for a cute, kid-friendly project that's also fun and easy, then DIY balloon yarn snowman is perfect for you. All the supplies you need to make these cheerful snowmen include yarn, school glue, bowls, balloons, tape, black buttons, sticks for arms, an orange cone or clay for the nose, black yarn or clay for the mouth (or use black paper alternatively), gloves (optional), black scrapbook paper for hats and a hot glue gun with glue sticks.
Once you have all the supplies handy, simply follow some quick and easy steps and your balloon yarn snowman will be ready in no time. Enjoy crafting! hallmarkchannel
29. Colorful DIY Wooden Snowmen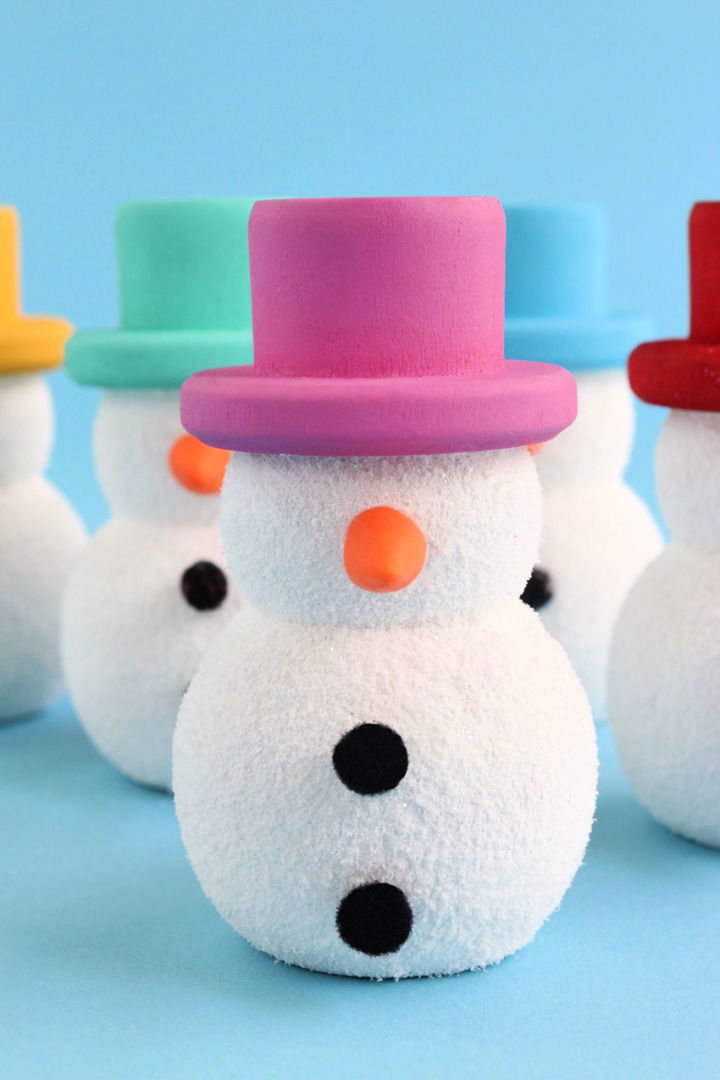 Crafting colorful wooden snowmen is an easy and fun activity suitable for the entire family. The colorful snowman decorations created with Beacon Adhesives Glitter It glue have a unique, fuzzy texture that will bring some winter cheer to any room. With the addition of mini black pom poms, orange clay, various paints, and some fake snow and glitter you can craft your own colorful wooden snowmen in no time! Have fun with it and get creative – these colorful winter friends never go out of season. crafterward
30. Unique Scrap Wood Snowman Family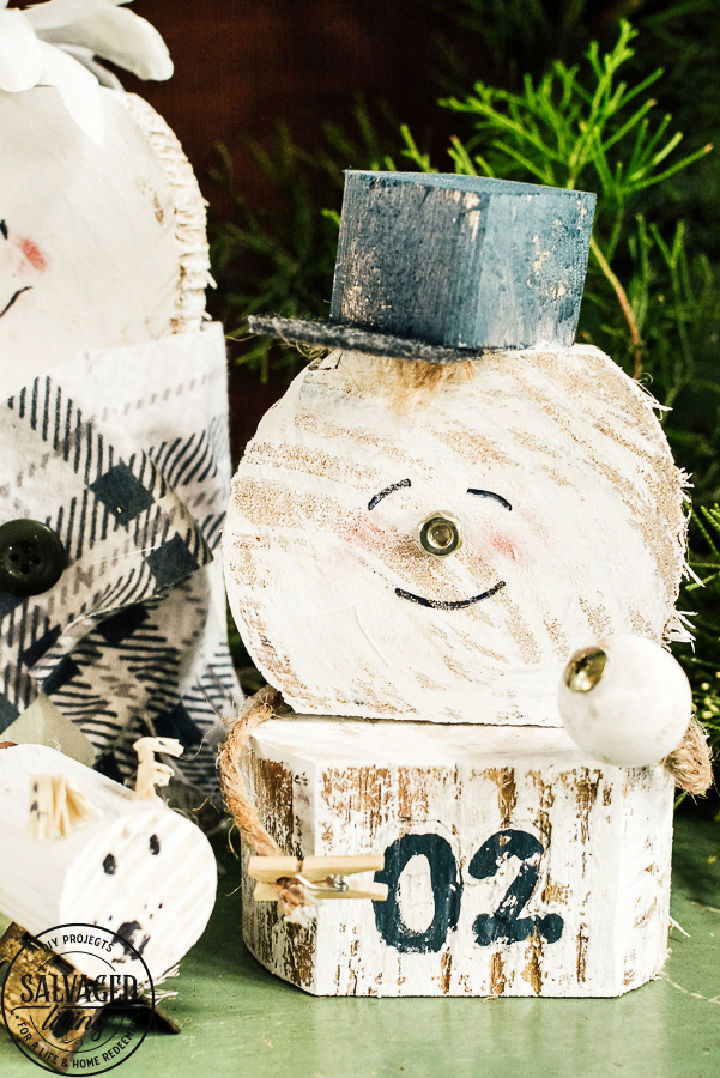 Building a scrap wood snowman family is an easy, fun, cute, and simple project. All you need is landscape timber sized to 1-5″ and 4-3″, 3-2″, a 1″ thick dowel rod, 2X2 piece of wood, scrap fabric for decorations, nuts and bolts. Paint with scrap fabric or use hot glue and other items from your junk drawer to decorate your snowman family. Add a sharpie to add facial features and enjoy the cute scrap wood snowman family you made! salvagedliving
Conclusion: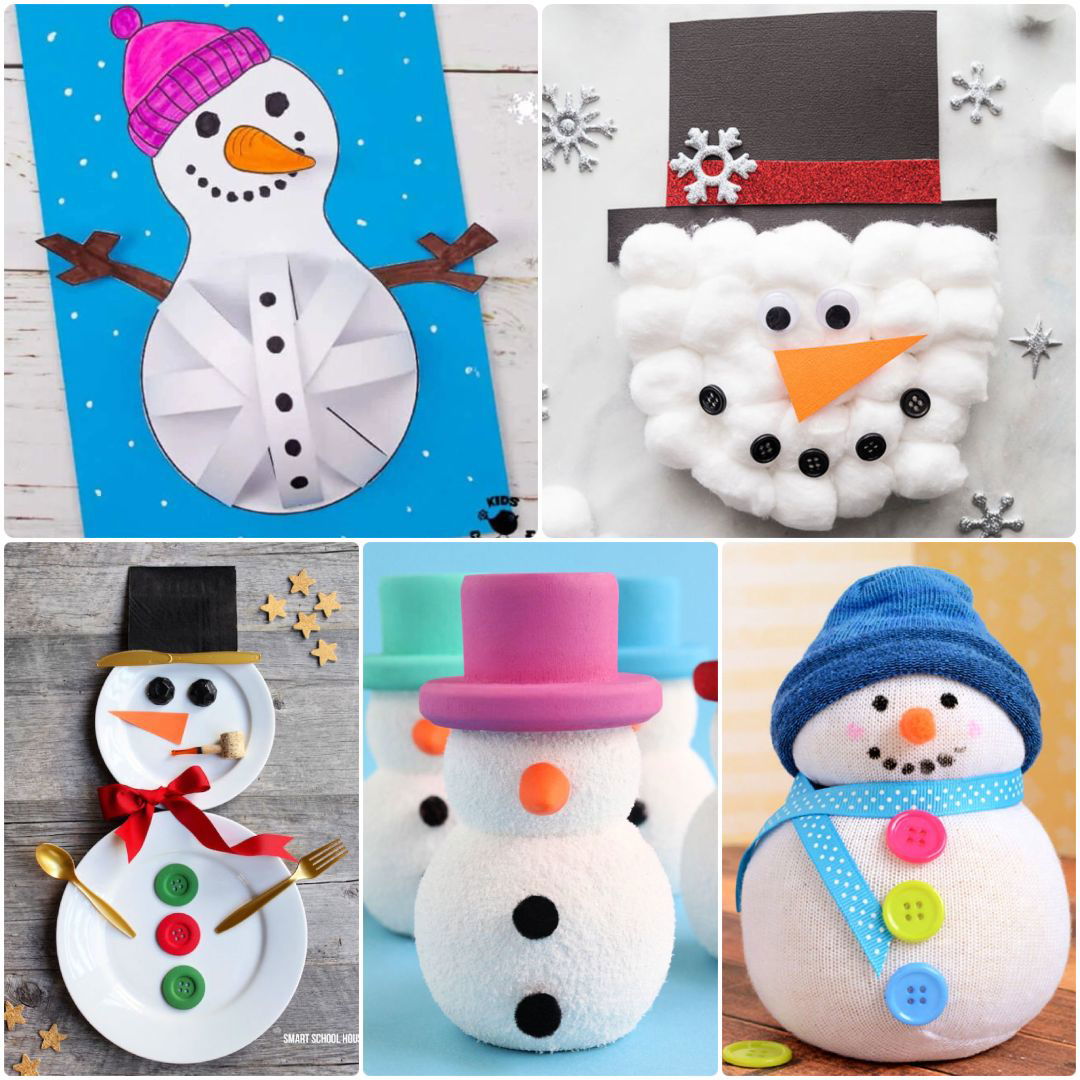 In conclusion, snowman crafts offer a delightful way for individuals of all skill levels to explore their creativity. With various options like DIY paper snowmen, wooden snowman decorations, or even unique sock snowmen, the possibilities are endless. Engaging in snowman craft ideas can be the perfect activity for both kids and adults, providing an enjoyable way to celebrate the festive season. So, go ahead and unleash your imagination with these 30 easy snowman crafts and ideas, making the winter season more magical and memorable for everyone.