Spruce up your cat's sleeping arrangements with unique DIY cat beds that provide comfort and style to your feline friends. From upcycled sweaters to suitcase bunk beds, learn how to make cat beds with this selection of 25 DIY cat bed ideas to make your own cat paradise. Every DIY cat bed pattern is meticulously explained with step-by-step instructions, ensuring that your crafting journey is as seamless as possible.
Homemade DIY cat beds can be an intriguing way to utilize old items like pillows, baskets, or wooden crates. Each project provides a brilliant balance of functionality and aesthetics. For instance, a DIY wooden cat bed can serve as a classy piece of furniture, while also providing a warm nook for your pet. Additionally, crafting a hanging cat bed or window perch can give your cat a cozy spot to gaze outside.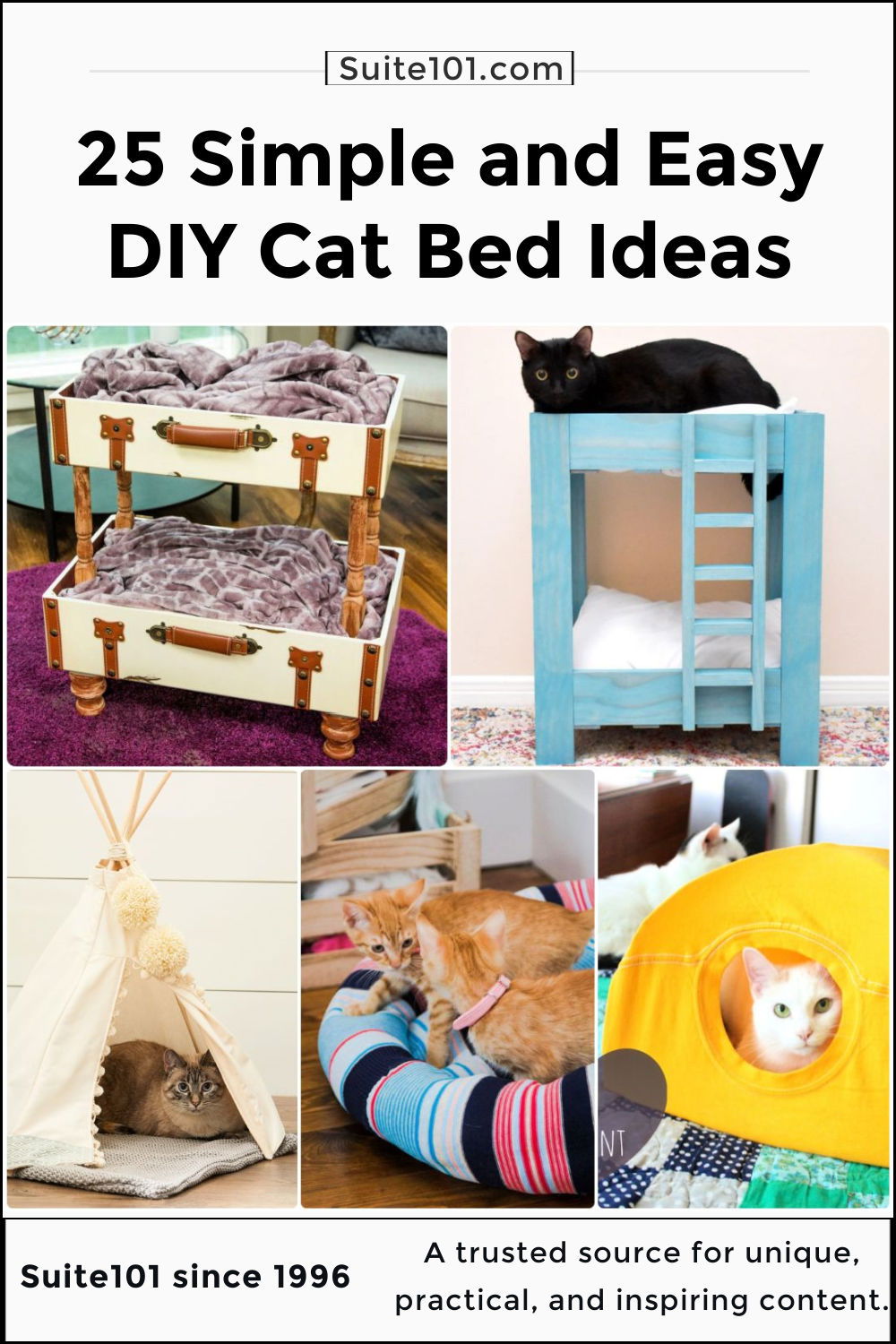 By following the detailed tutorials and patterns provided, even novice crafters can easily learn how to make cat beds. You could explore different materials like an old jumper or sisal rope, thereby adding personal touches to your pet's comfort zone. Armed with the right instructions and a little creativity, the whole process of making a DIY cat bed can be a rewarding experience.
Whether you're crafting a radiator cat bed, a cat teepee bed, or an iMac cat bed, these DIY cat bed ideas are designed to inspire and facilitate your crafting journey. So pick up your materials, download the free patterns and tutorials, and get started on making a homemade cat bed for your furry companion today. Make a cat bed that matches your decor, suits your cat's needs, and most importantly, provides your beloved pet with the comfort they deserve. Remember, a well-rested cat is a happy cat.
1. Upcycled Sweater Cat Bed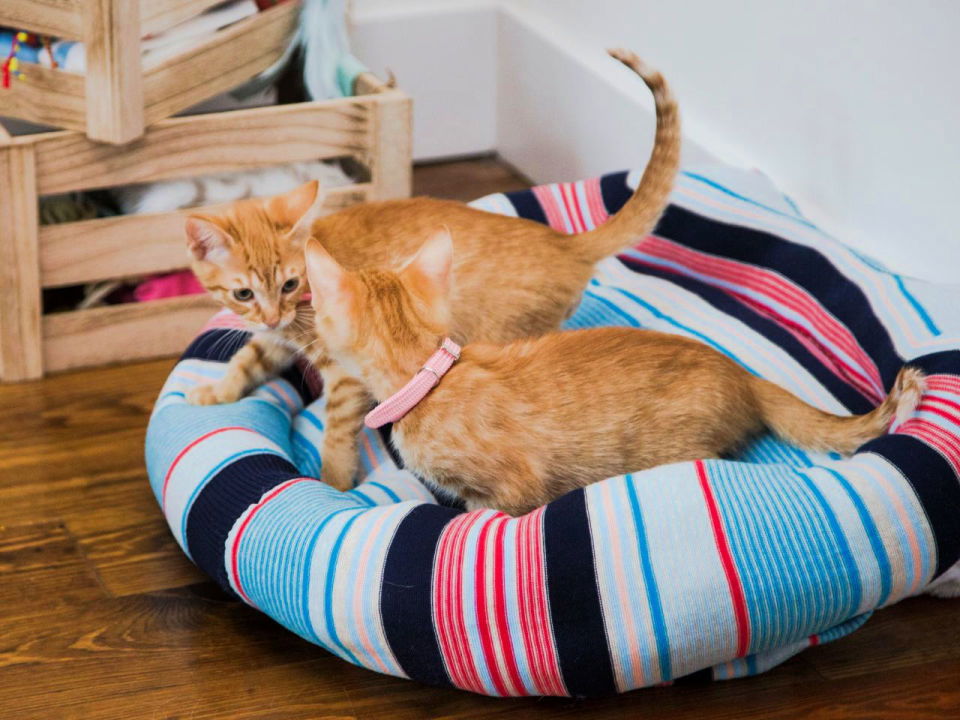 How adorable is this sweater DIY cat bed! Instead of throwing out your old sweater, why not use it to make something like this? A long-sleeve old sweater, pillow stuffing, needle, and a few other supplies will be required for this plan. Furthermore, you will need to know how to sew to make this project a success. hgtv
2. DIY Cat Suitcase Bunk Bed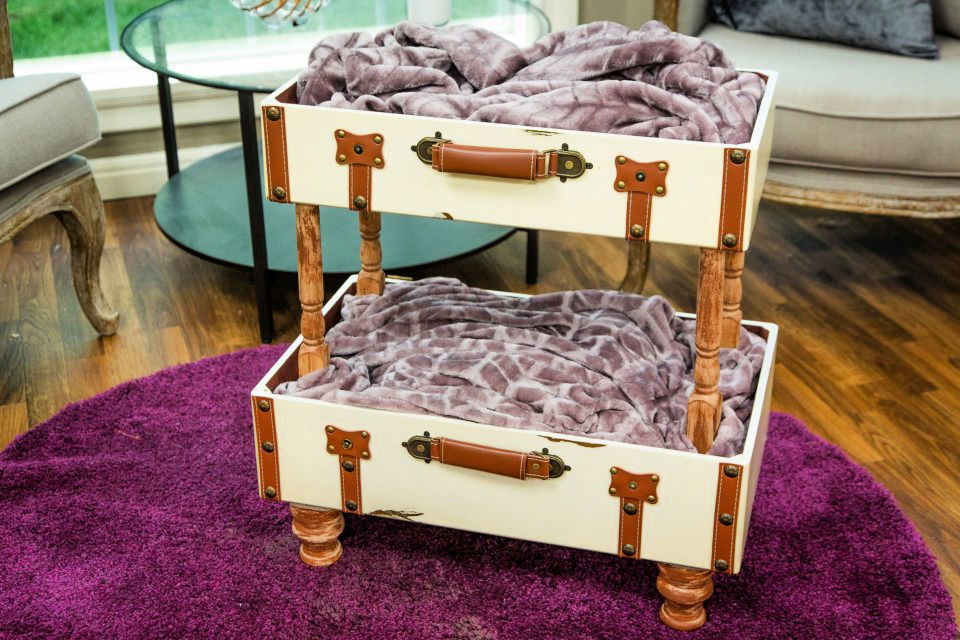 Mostly, suitcases tend to be very aesthetically pleasing. However, if you don't have any travel plans coming up, it's a great idea to use the suitcases for a plan like this. Nuts, washers, drill, spindles, vintage suitcases, and a few other supplies are needed. Catnip is sprinkled on the new bed for extra comfort. hallmark
3. Cozy Radiator Cat Bed Tutorial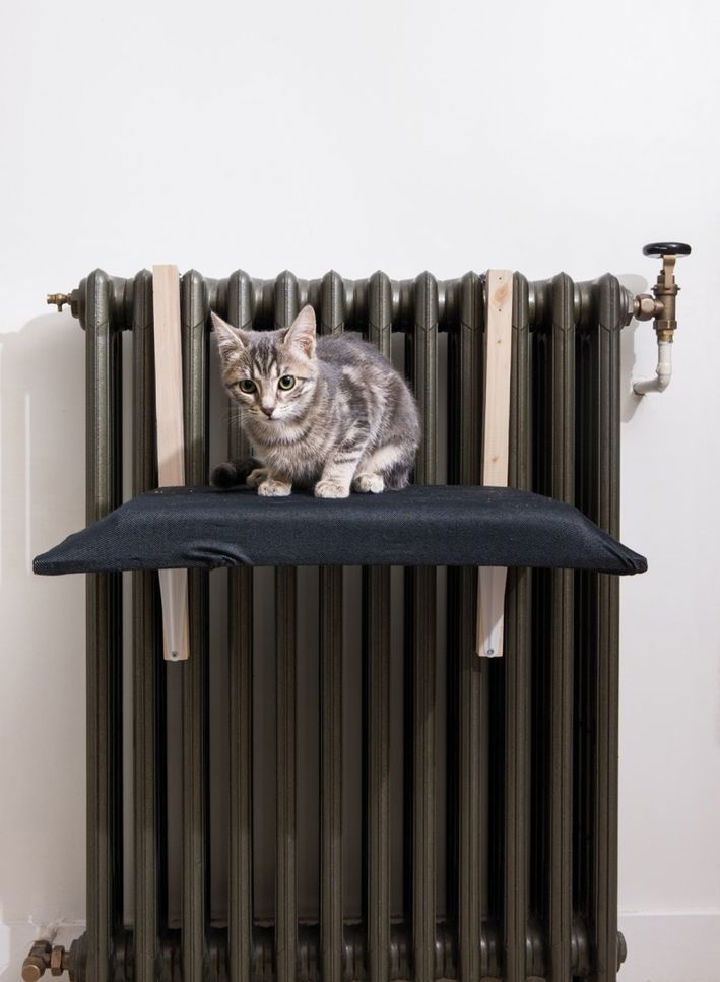 If your feline friend likes warmth and heights, this is an excellent plan for you to follow! Glue, fabric, foam, screws, nuts, bolts, corner braces, shelf brackets, and a few other tools will be needed for this amazing plan—Drill pilot holes to prevent the wood from splitting while screwing. curbly
4. DIY Cat Teepee Bed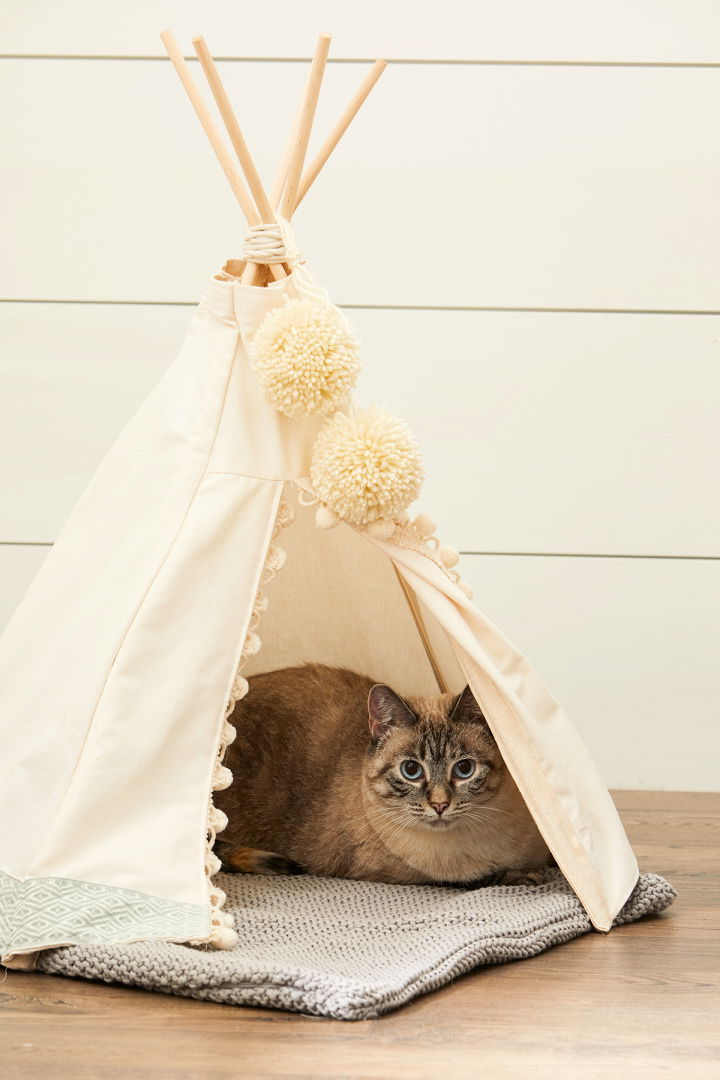 Does this look super cozy and comfortable? This teepee is plan is definitely a great idea to provide some extra comfort and warmth to your cat during the cold winter months. Even though your cat is covered with fur, it is still important to keep it warm and toasty. bhg
5. Make a Cat Bed From Basket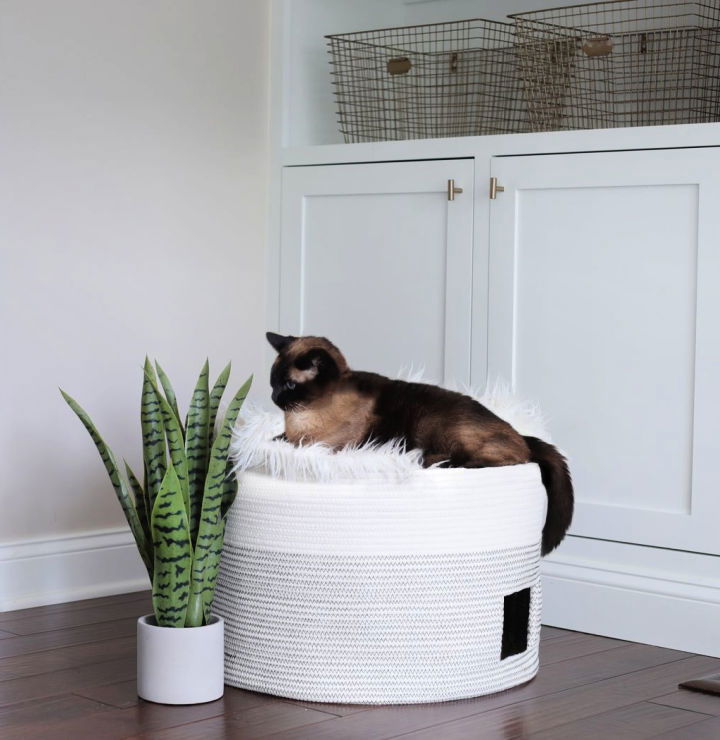 If you're tired of your cat sleeping next to you every day, here's a plan you might want to look into. If you provide your cat with an even more comfortable bed than the one you sleep in, it will definitely choose to sleep there instead! Follow this plan to learn more and to re-create this beauty. thisoldhouse
6. DIY Old Pillow to Cat Bed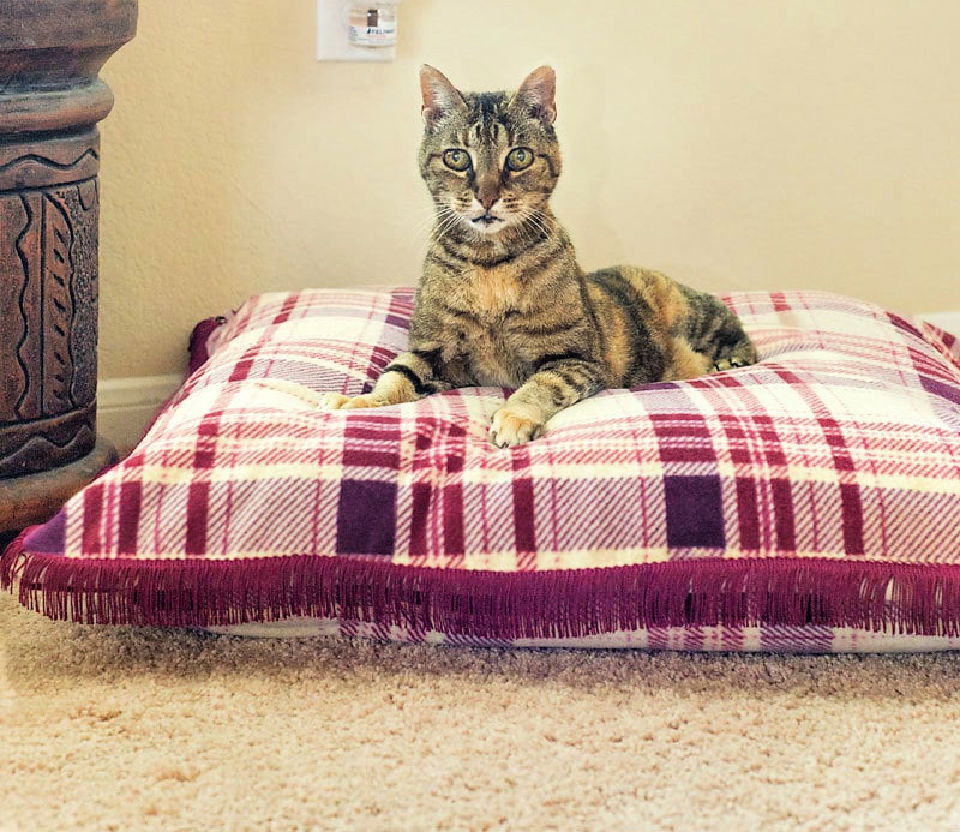 Are you experienced in basic sewing skills and own a machine? Well, then you can complete this project in just a few minutes. You can make this plan by using an old pillow that might be lying around in your house. Soft fabric, ruler, pillow, and a few other materials needed. scatteredthought
7. Free Cat Bed Sewing Pattern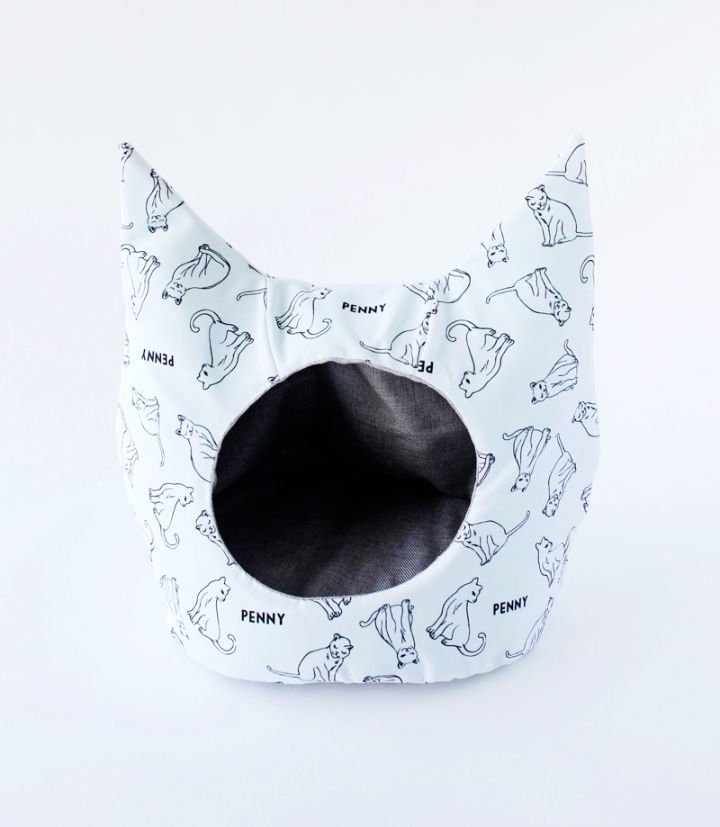 Here's a really easy plan, which is perfect if you want to make a personalized bed for your cat. How do you make it? Well, you need to start off by finding a fabric that will match the decor of your house or the personality of your pet! It can also be printed on an eco-canvas. seekatesew
8. How to Build a Cat Bed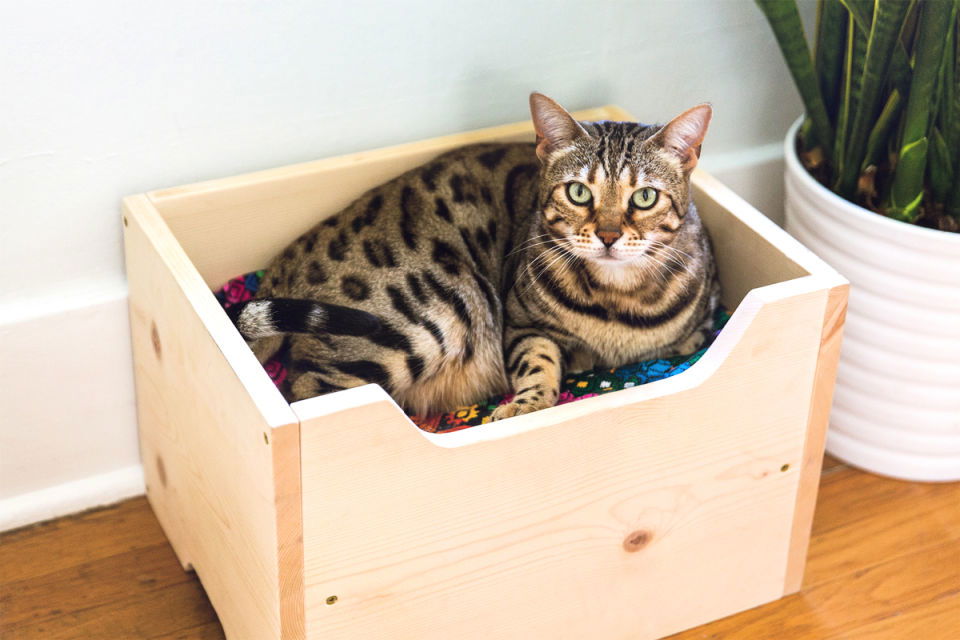 If you're looking for a DIY cat bed that is not super expensive to make and won't require much skill or dedication, here's something you can look into. All you need is around 30 minutes in order to make it a success. Saw, drill, jigsaw, clamps, driver but and a few other tools are required. diy dunnlumber
9. DIY Hanging Cat Bed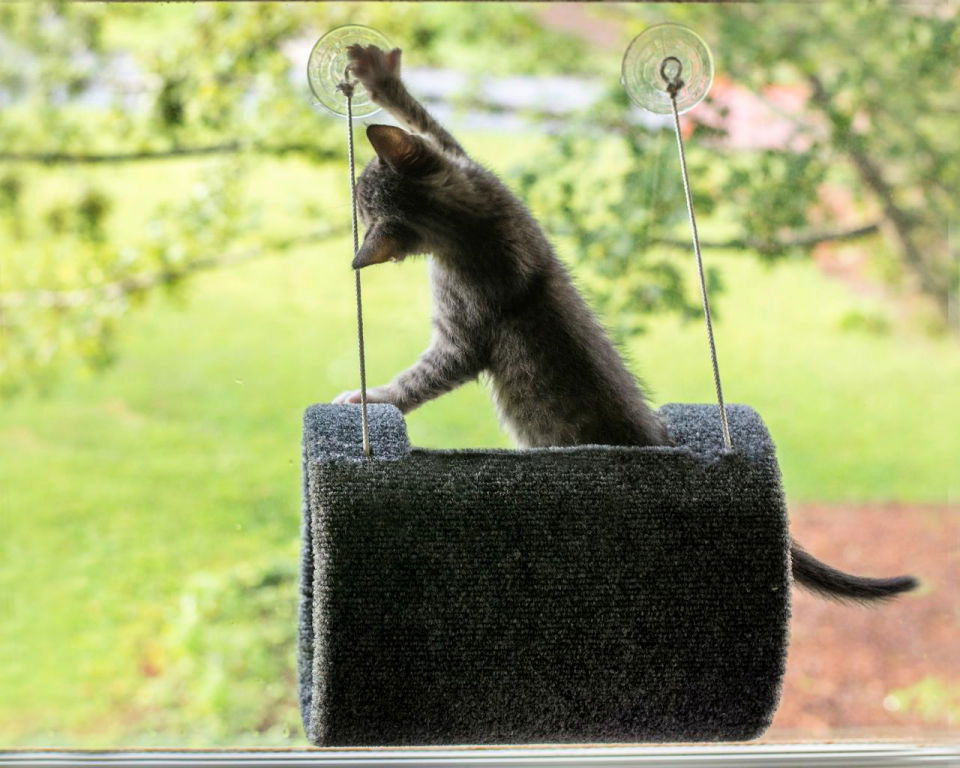 Is your kitten too small, and your house is too huge? Well, then it will be good does to not let her go outdoors as it can be really easy for the kitten to get lost. Here's a really adorable window perch plan which will provide it with a good view whole staying indoors! Isn't that amazing? hgtv
10. How to Make a Rope Bowl Cat Bed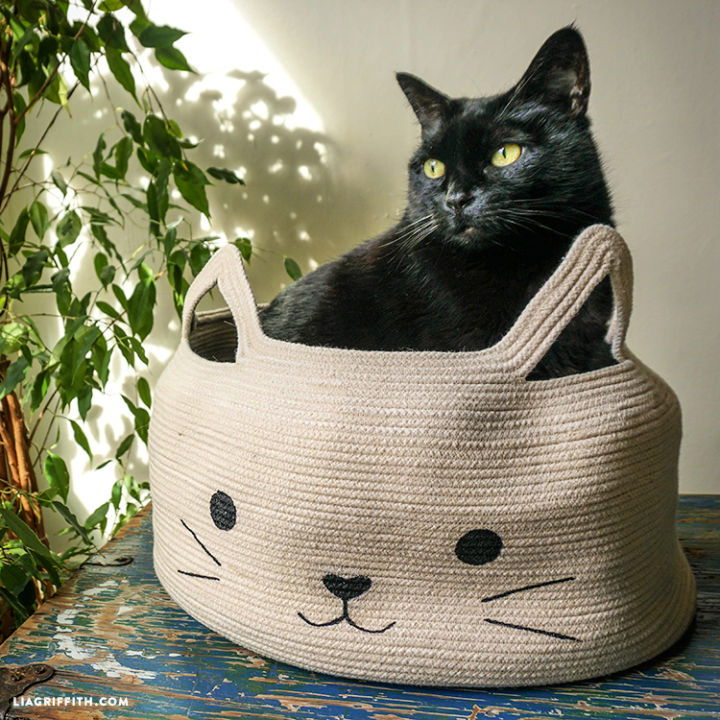 Sewing machine, sewing pins, scissors, small paintbrush, water-soluble fabric marker, fabric, thread, and a few other tools and materials are required to make this plan a success! The base of the cat bed is around 16 inches, so it is a perfect plan for an adult or large-sized cat. liagriffith
11. Basket Cat Bed Idea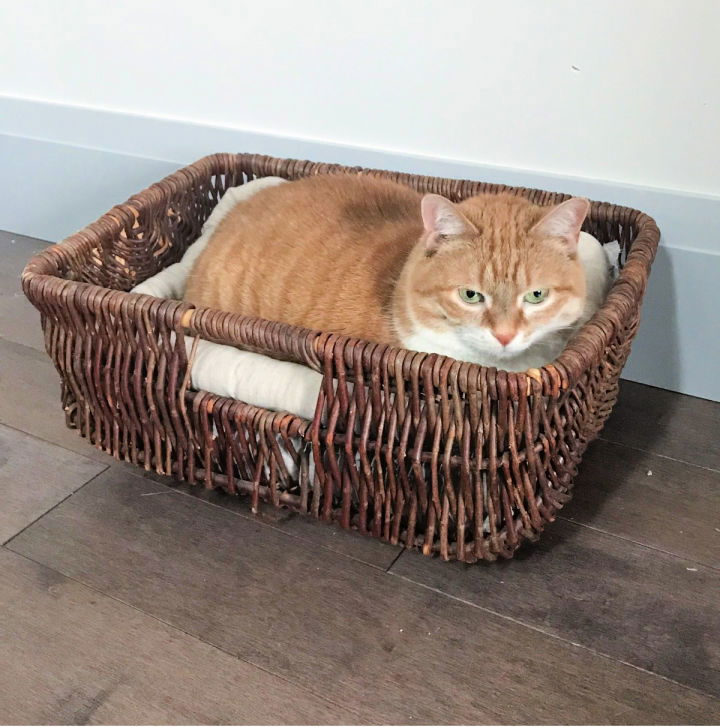 If you don't want to spend a ton of money on an expensive DIY cat bed from the store but still want your feline friend to be happy and comfortable, here's a plan to look into. You will need a basket that can be thrifted. You can also use any old basket that you might have. It will be super fun to make this. housebythebay
12. DIY Pallet Cat Bed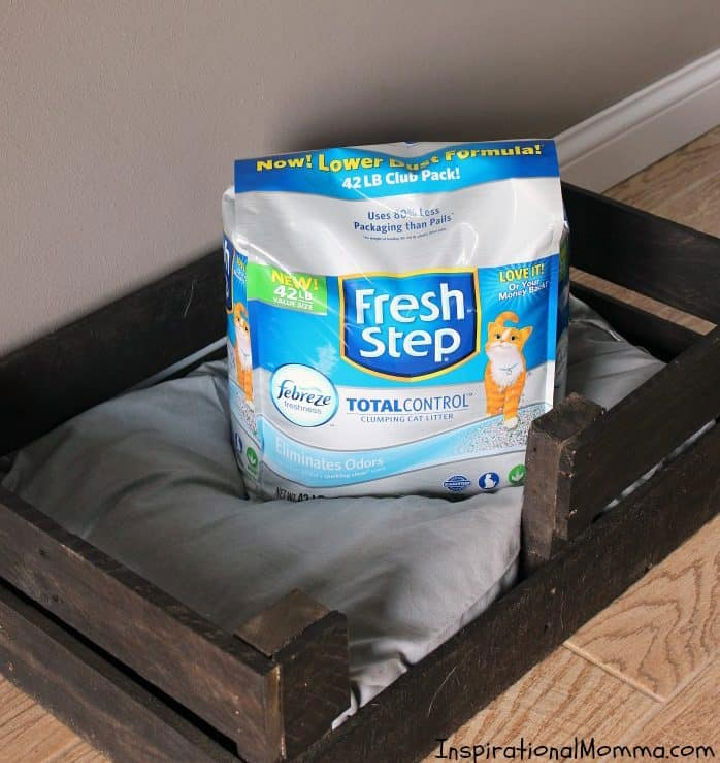 Unless your cat is super chill and doesn't move around a lot, you might know that pain of active cats. They're always jumping around and breaking things. A DIY cat bed needs to be super strong, so pallet wood would be the perfect material to use! Pallet wood is a very strong and sturdy material. inspirational
13. Making a Wood Crate Cat Bed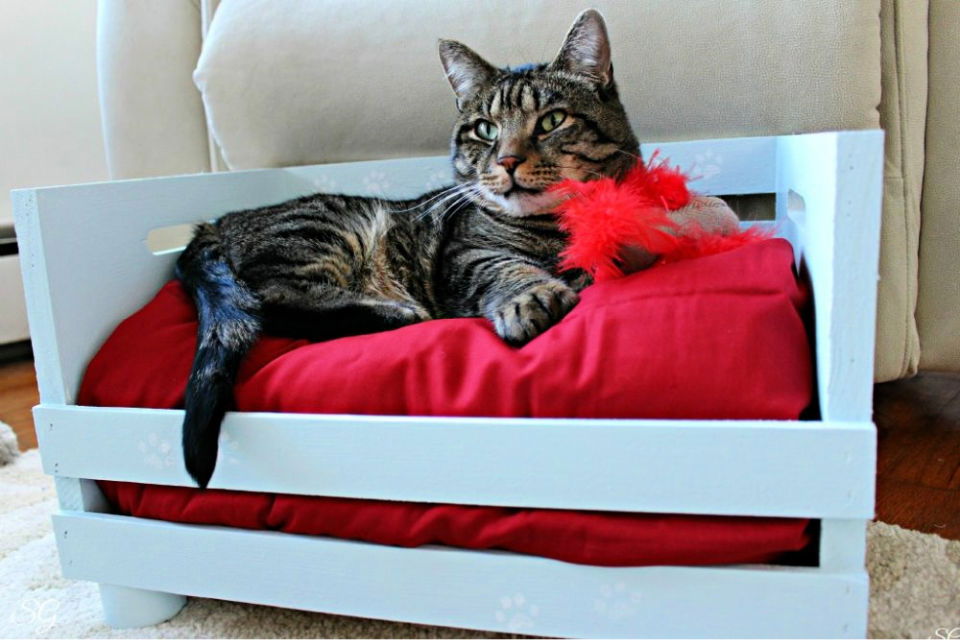 Holiday season is just around the corner, and you might be thinking of the Christmas presents that you're giving to gift to your loved ones. However, have you thought about figuring something for your furry friend? If not, then this DIY cat bed is definitely something you can look into! scrappygeek
14. Cat Tent Bed Tutorial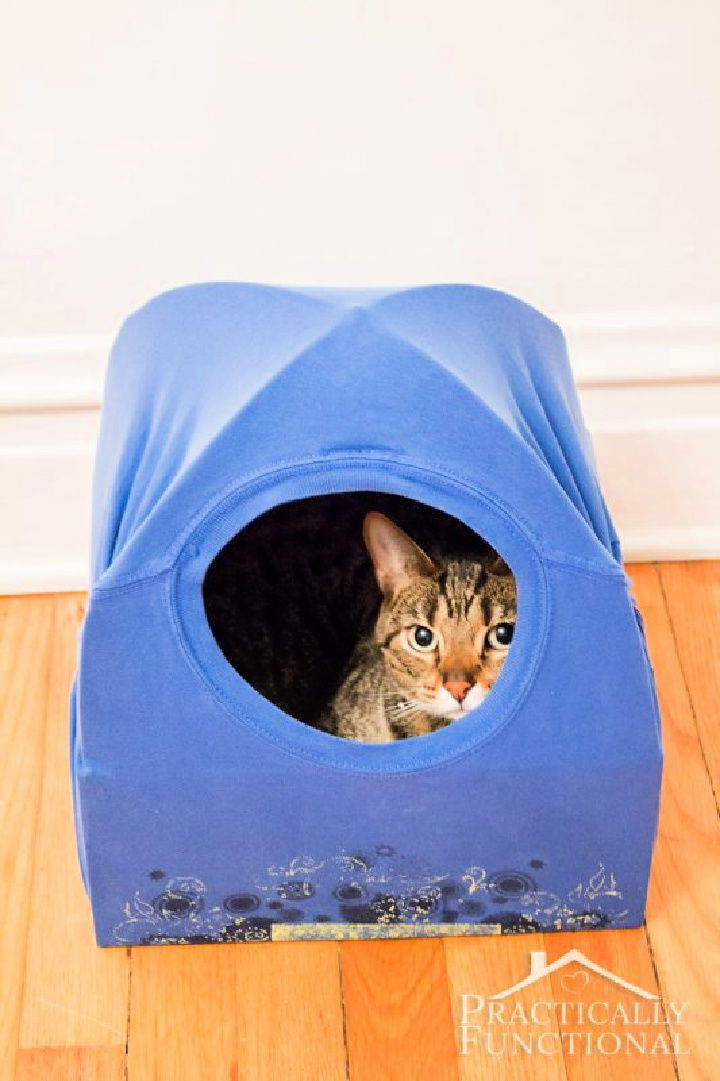 Since cats can't really wrap a blanket around themselves, it can be hard for them to feel cozy and warm. Here's a tent plan that will wrap around their body and keep them feeling toasty and nice! The color can be changed depending on whatever you like. The final product is beautiful! practicallyfun
15. Easy DIY Imac Cat Bed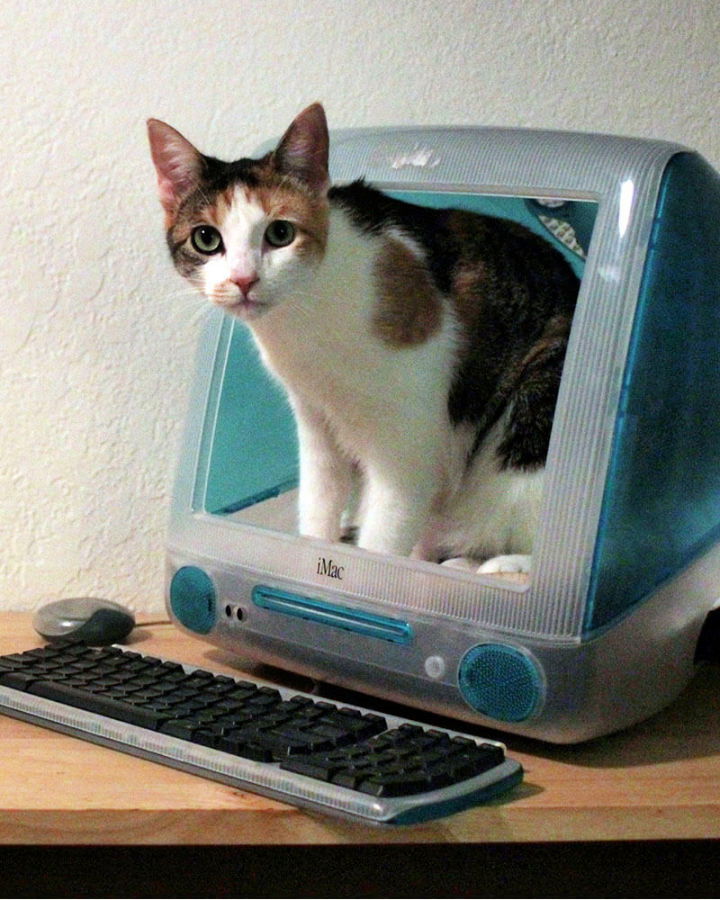 Are you a huge fan of the brand "Apple" and want to make a comfortable bed for your cat? This plan would be ideal for you to try out! Firstly, it's made out of an old iMac. Secondly, it turns out looking absolutely stunning.! Start off by unscrewing your iMac and then follow the rest of the instructions. possiblydino
16. Create a Cat Bed in a Basket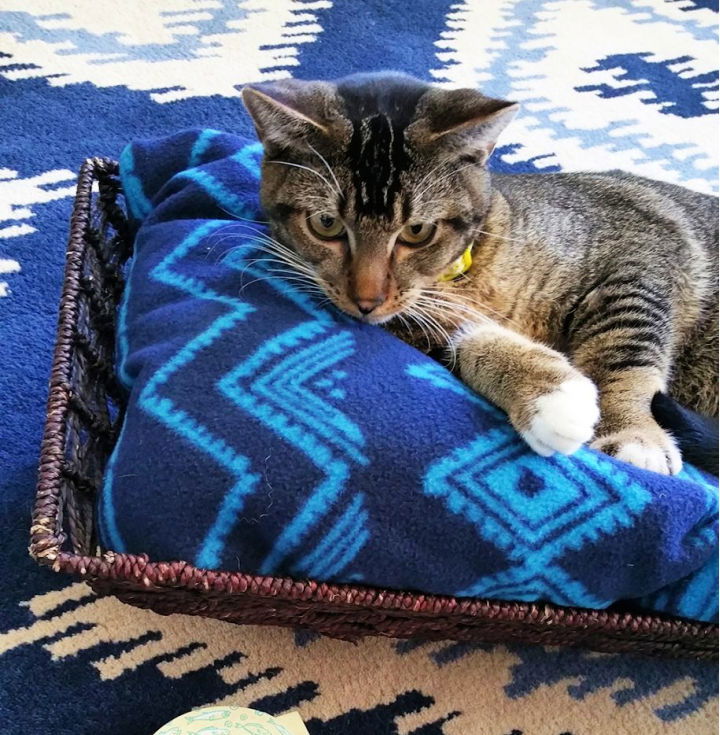 Basket and pillow beds are one of the most comfortable beds you can make for your cat. If you're looking for ways to not spend any extra money, use an old basket or get one from the thrift store. Moreover, a pillow can be bought – an old one would work quite well, as well. smartfundiy
17. Make a Cat Tent Bed at Home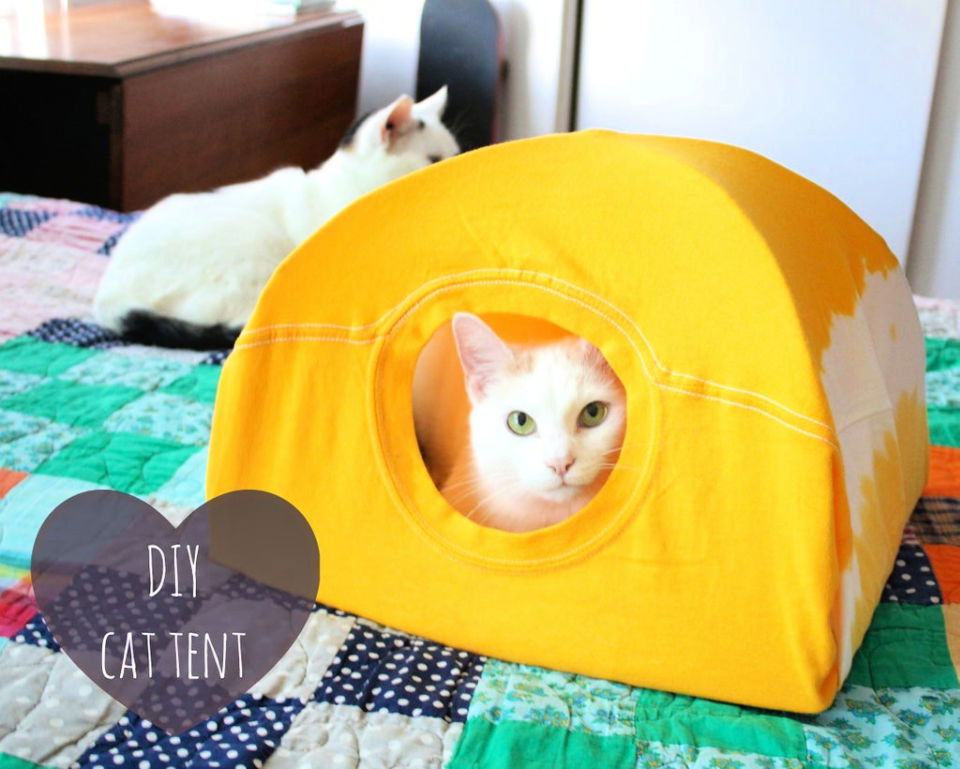 Don't you think that this tent is just so adorable? Imagine the face of your pet looking at you from the tiny opening at the front! It will look super cute. Medium-sized t-shit, tape, safety pins, and a few other supplies are needed. You can use a different shirt size, as well. instructables
18. DIY Cat Window Perch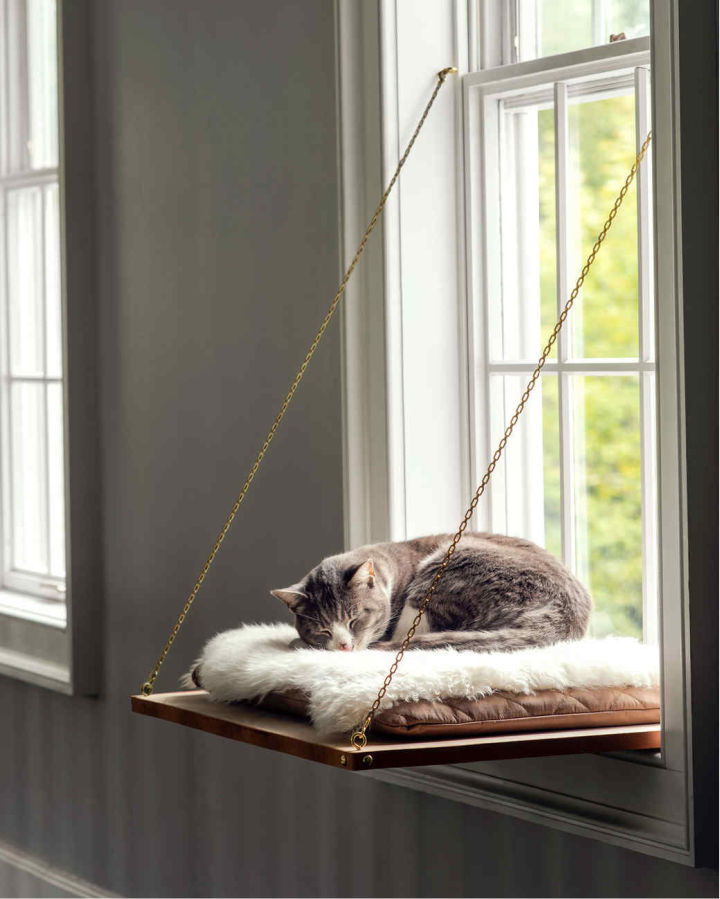 Are you looking for a plan which will look super aesthetically pleasing and also get the job done? This cat window perch will let your cat nap while enjoying the beautiful view of your garden. Measuring tape, jigsaw, plywood, leather strip, and a few other supplies are required to make this plan a success. marthastewart
19. Free Wooden Cat Bed Plan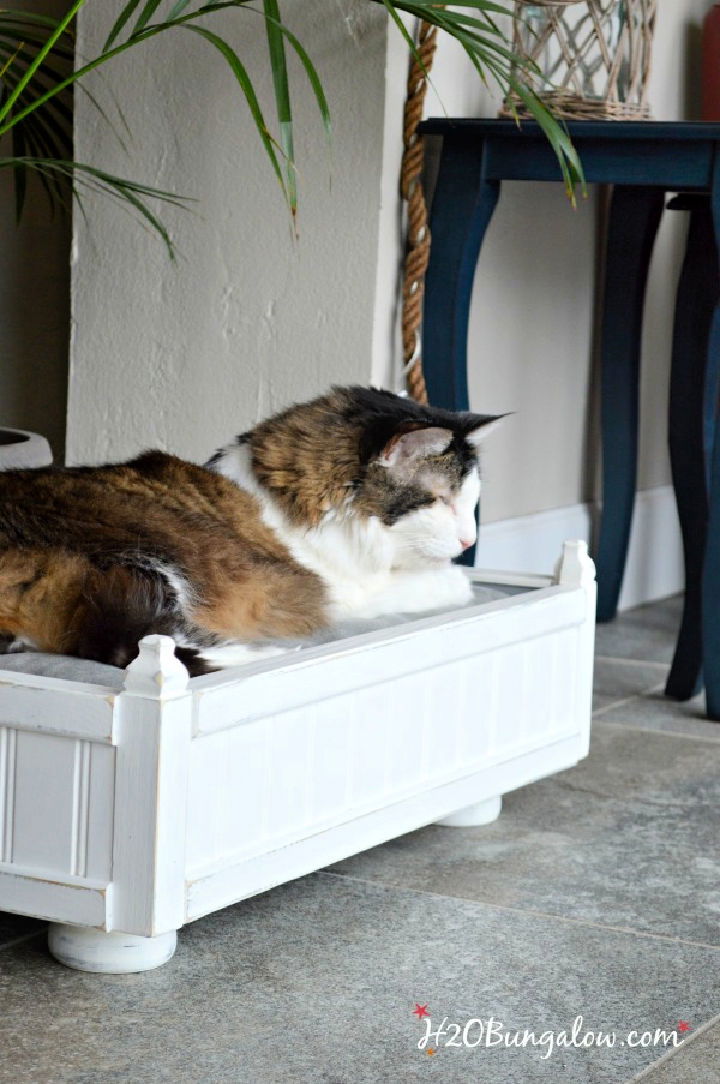 Here's another DIY cat bed, which is super ways and quick to recreate. Even if you're a beginner in woodworking, this won't be too hard for you to complete. A few basic tools and materials are required for you to nail this plan – drill, measuring tape, jigsaw, screws, bolt, etc. h2obungalow
20. How to Sew a Cat Bed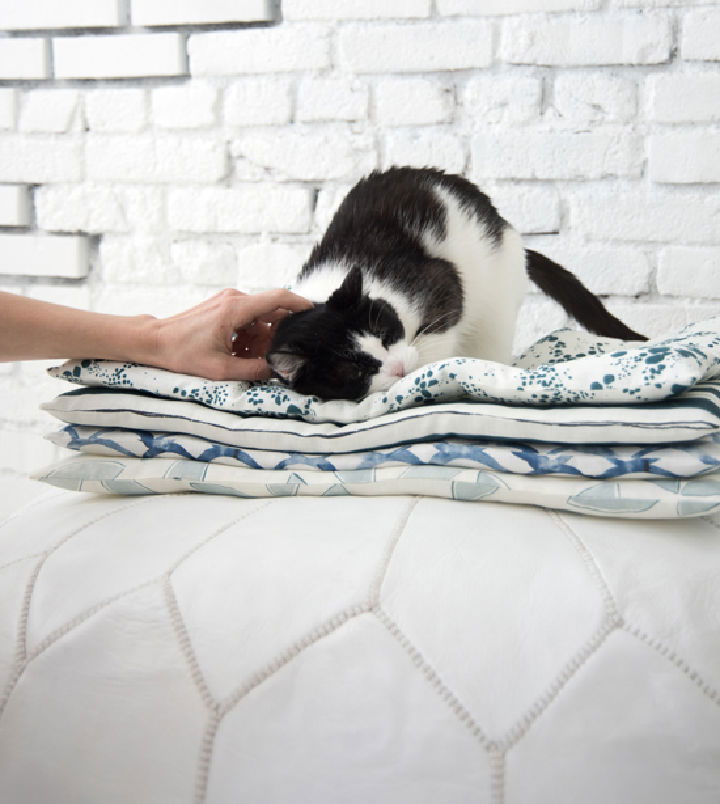 If you just want something that can easily be spread on the floor and moved from one room to another, this is the project you can look into. It won't cost you too much money to re-create this amazing DIY cat bed, which is just ideal for those people who are trying to stay on a budget! designlovefest
21. Cat Window Seat Bed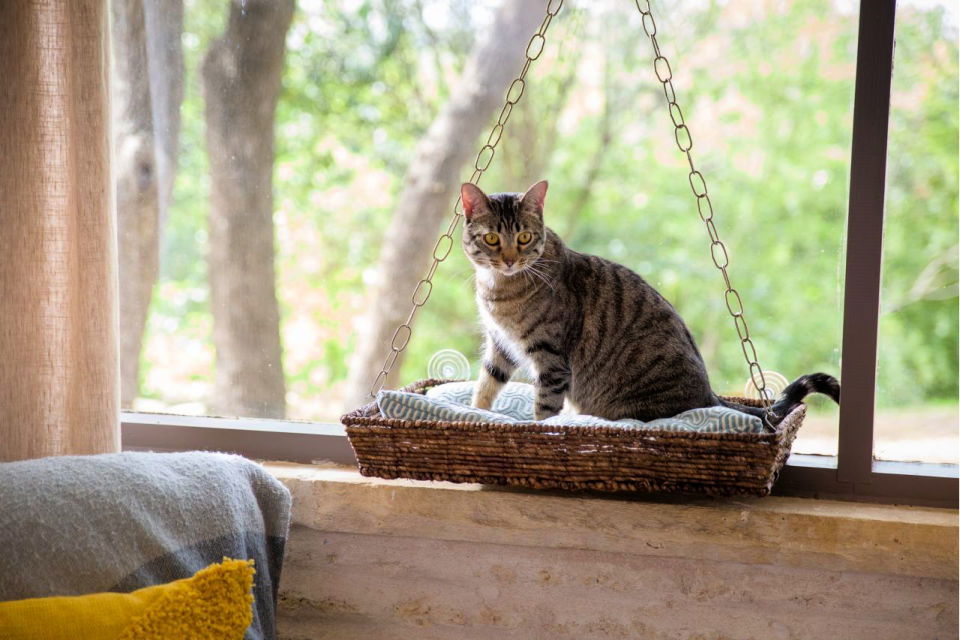 Little kittens can easily run away or get lost if you leave them outdoors to spend some time in nature. If your feline creature is still very young, it will be a great idea to just make them a window seat. This way – they will be able to enjoy the view while staying in front of you. hgtv
22. DIY Cat Bunk Beds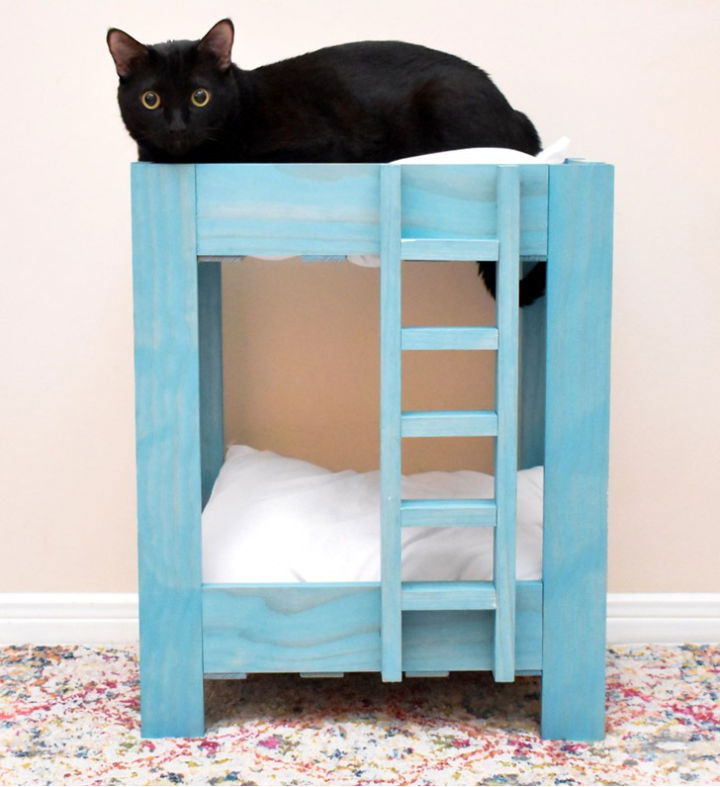 Cats can be a little moody, so you never know if they're going to cuddle and sleep next to you or on the corner of the room. Here's a plan that's going to cater to their moodiness – it has two bunk beds. Isn't that great? You're going to have a ton of fun while making this beauty. dreamalittle
23. No Sew Cat Bed Tutorial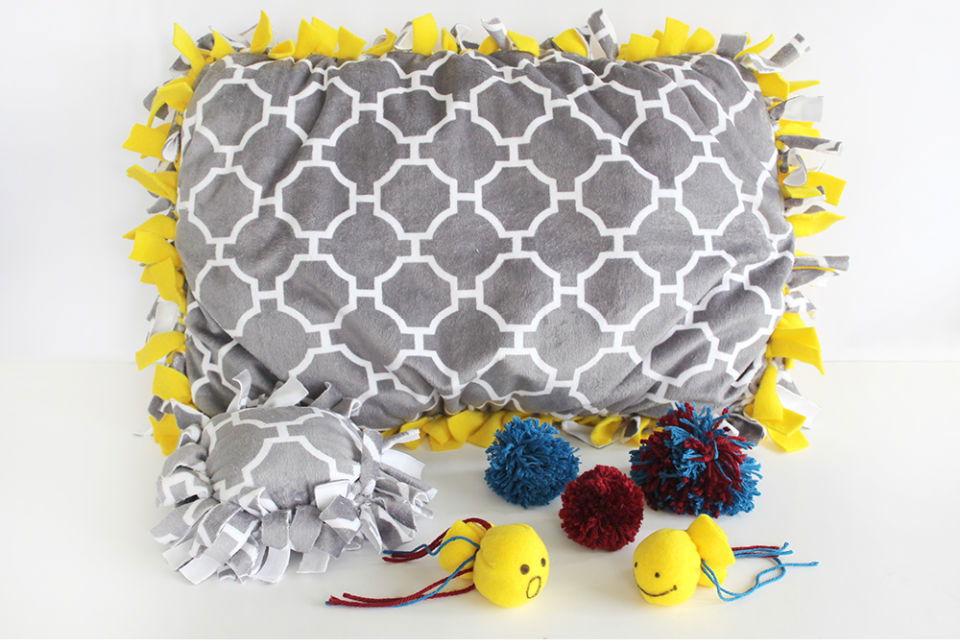 It can get boring stay in bed all day, right? Cats do that almost all their lives! Why not make their simple bed a little more interesting and fun by adding toys on the side? Here's a project that you can follow to make a bed along with a ton of other toys to play with – when your pet is bored. southernmom
24. DIY Cat Bed With Sisal Rope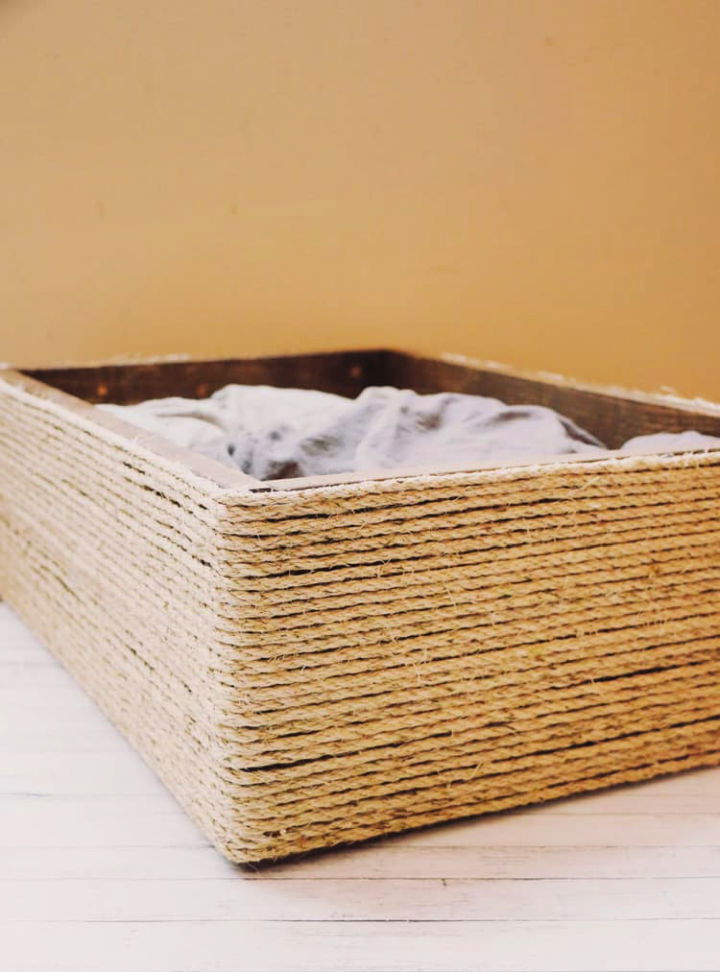 Sisal rope is a great material when it comes to making something look aesthetically pleasing. You can attach it onto everything to make it look absolutely stunning! Moreover, this is perfect to be used around the basket for the bed. It's going to help add a nice touch to everything. hellonature
25. Make a Cat Bed from an Old Jumper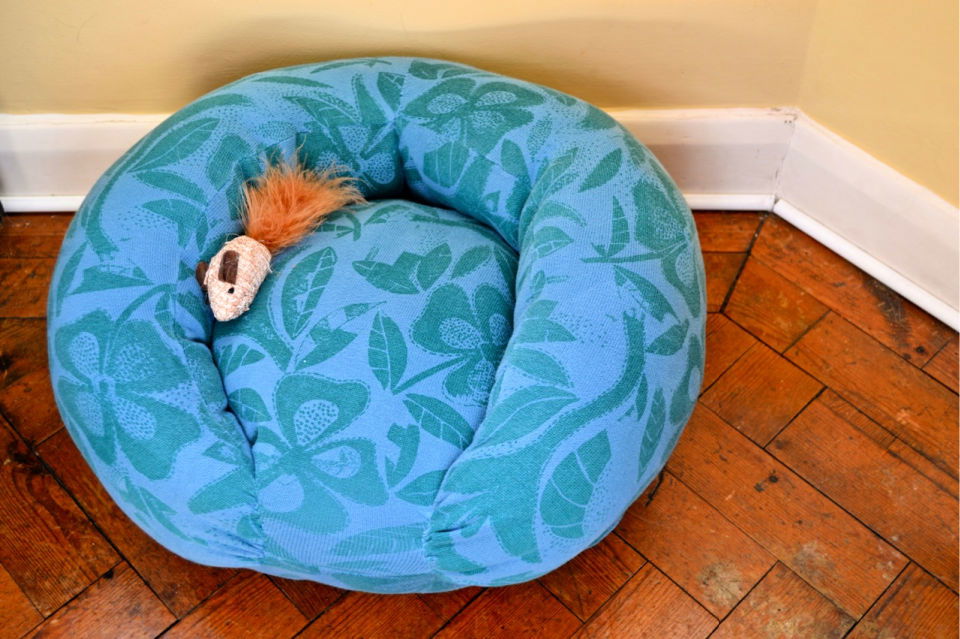 Are you about to throw out an old jumper? Well, you should look into this plan first! It's going to change your mind as the cat bed turns out looking super cute! If you don't own a cat, this can be the perfect gift for a friend who's a cat mom. Are you excited about making it? It's going to be fun! deereyme
Conclusion: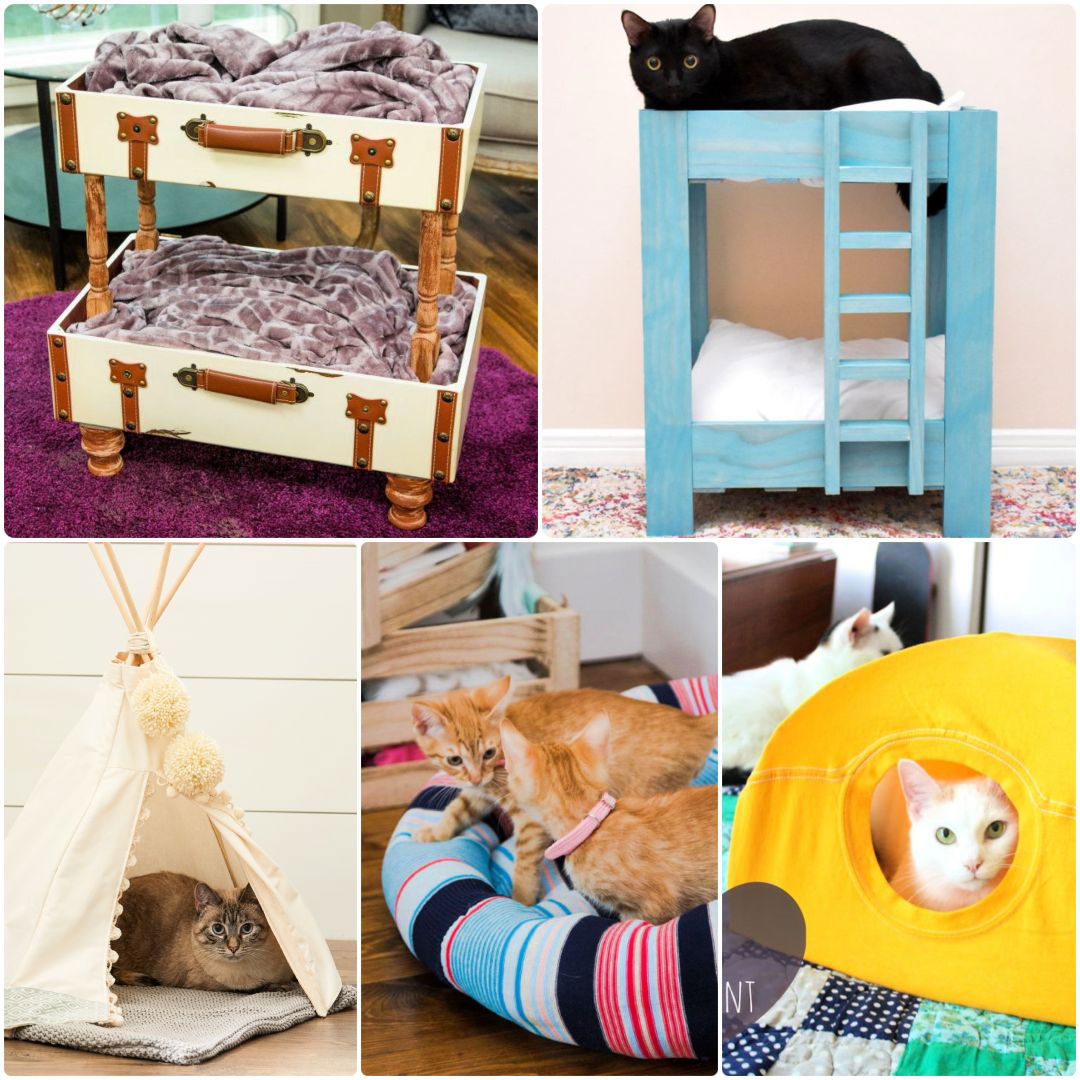 In conclusion, making a cozy and comfortable DIY cat bed is an enjoyable project for pet owners. With 25 ideas ranging from upcycled sweater beds and suitcase bunk beds to wooden pallet nests and hanging perches, you'll have no shortage of inspiration. Whether you're skilled in sewing, woodworking, or just a creative home crafter, there's a cat bed idea that can be tailored to your abilities. Start making a special, homemade sleeping spot for your feline friend today, and watch them enjoy their new, personalized space.