An outdoor cat house can be a perfect shelter for your feline friends to enjoy the fresh air and a sense of freedom while being safe. Learn how to build an outdoor cat house with these 15 easy DIY outdoor cat house plans provide an extensive list of designs for making a weatherproof shelter that's both comfortable and functional. Each diy outdoor cat house plan includes detailed instructions, making it simple for any cat lover to construct their own outdoor cat shelter.
We have 15 free DIY outdoor cat house plans to choose from, offering a variety of designs. Ranging from an outdoor heated igloo cat house for cold winter nights to a solar-powered cat house for eco-friendly cat lovers. The list also includes plans for a waterproof outdoor cat house, perfect for any weather. Or you could create a unique feral cat house that provides a safe refuge for stray cats in your neighborhood.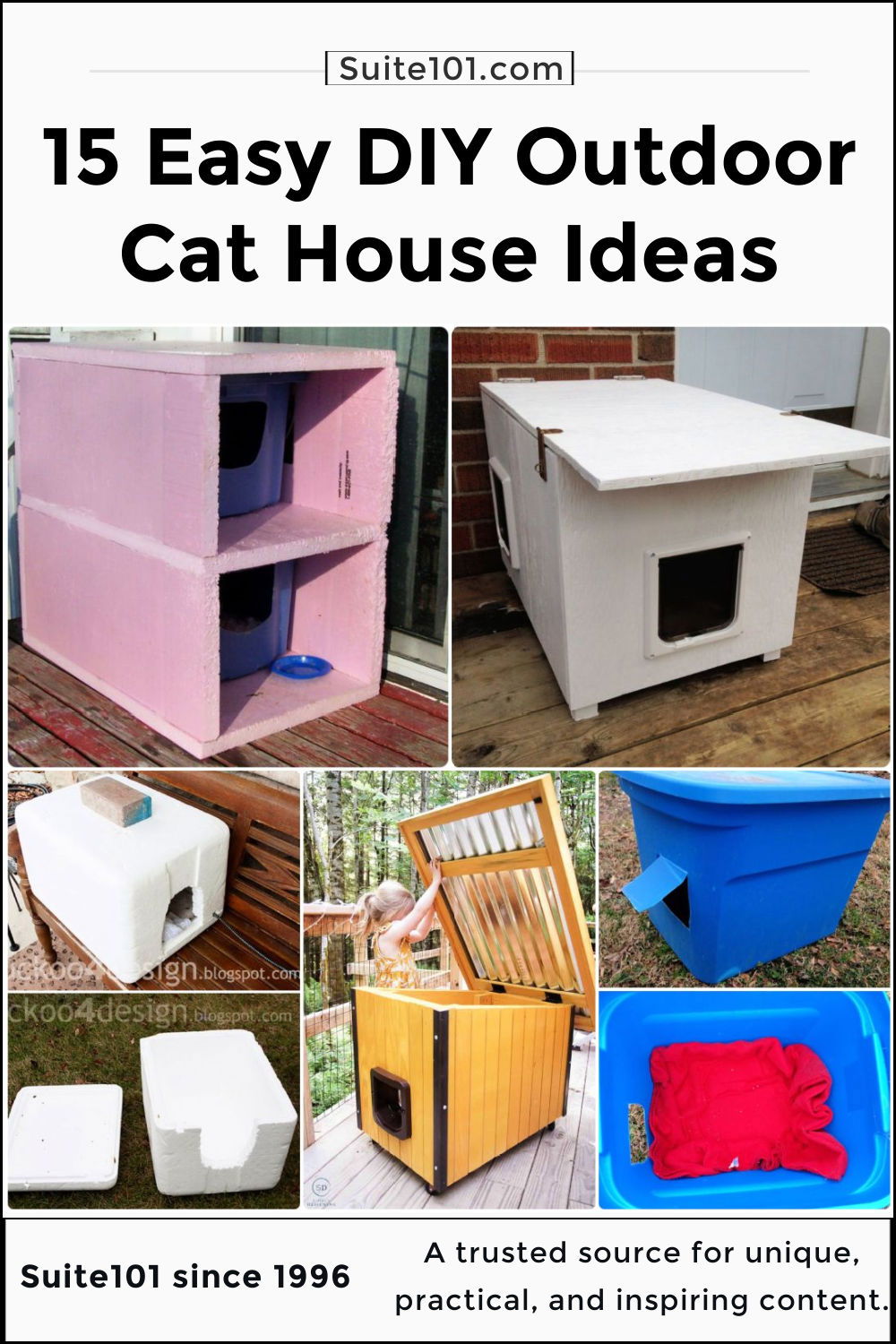 Each DIY outdoor cat house plan is complete with easy step-by-step instructions, supply lists, and clear illustrations. Additionally, many of these cat house plans offer a downloadable PDF guide, making the construction process easier than ever. The outdoor cat shelters are ideal for summer and winter, ensuring your furry friends are comfortable throughout the year.
So why wait? Start crafting your DIY outdoor cat house today. The plans are versatile, simple to follow, and provide a valuable addition to your backyard or patio space. Moreover, they're a fantastic way to offer your cat a shelter they can call their own. Get started today with these easy and free DIY outdoor cat house plans. It's the perfect project for pet owners and a great way to enhance your outdoor living space.
1. DIY Outdoor Cat House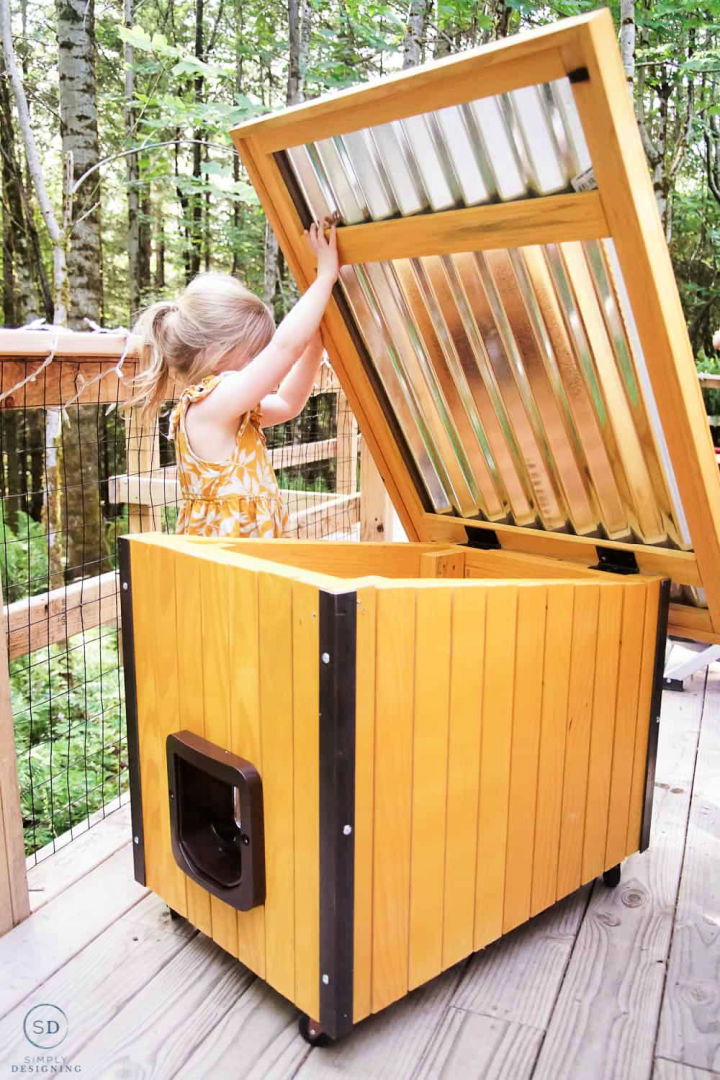 Build a modern and minimalistic DIY cat house that is perfect for outdoor pets. This unique pet house is made from wood, ensuring durability against the elements. It features a microchip or RFID pet collar access, making it safe from other animals. The house is designed with gaps for easy cleaning and a metal roof that lifts for convenient feeding. If you wish to make it warmer, you can insulate it like a regular house. Although the cost of building this pet house is around $300, it can be reduced by modifying certain elements. This DIY cat house is a stylish and practical solution for your pet's outdoor living. simplydesigning
2. Outdoor Heated Igloo Cat House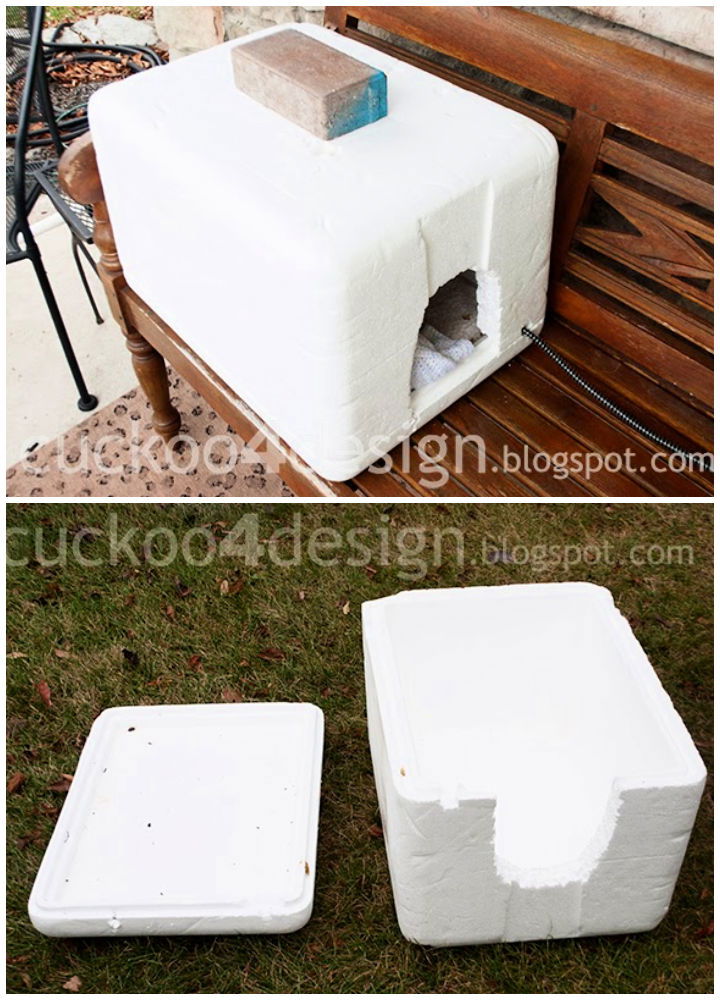 Make a cozy and warm shelter for your outdoor feline friends with this DIY heated cat house igloo. This project uses a styrofoam box and a heated pad that activates with the cat's body heat, providing a warm and safe space for the cat during winter. The house is easy to clean and maintain, and it's designed to be sturdy and resistant to the elements. The total cost is affordable, and the materials are easy to find. This DIY project is a great way to ensure that stray and outdoor cats have a safe and warm place to stay during the cold months. cuckoo4design
3. Outdoor Winter Cat House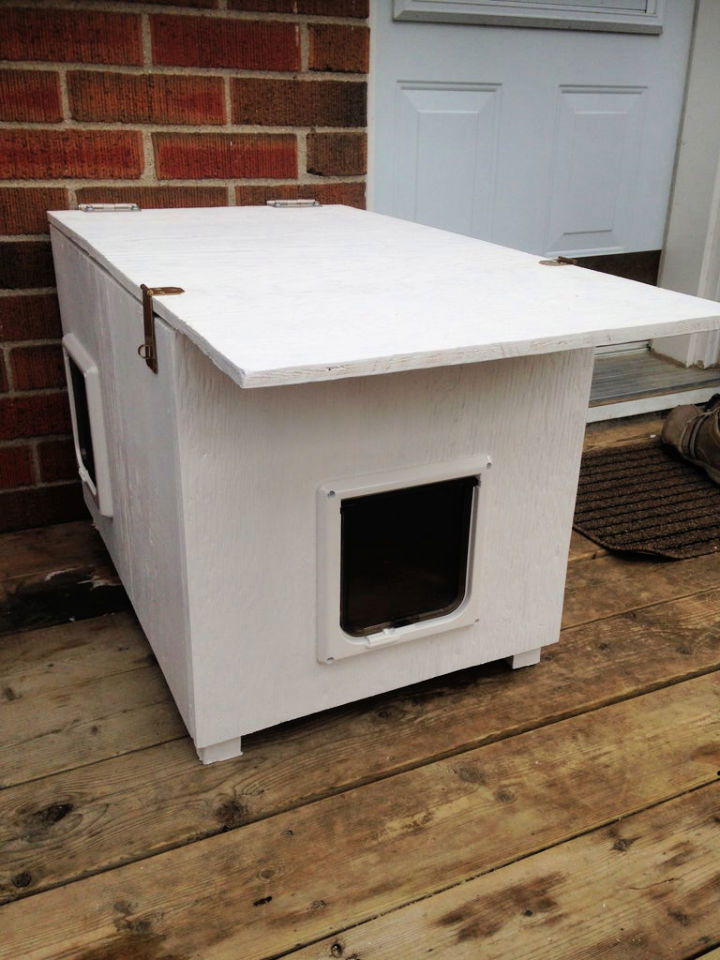 If you have a pet cat and you are looking for an outdoor house, this project is more than perfect for you. This winter surviving cat house is a better place for any cat in winter season. This house is made with plywood, screws and nails, insulation board, cat doors, weather stripping, glue, two hinges, two latches, solar lights, outdoor paint and straw. instructables
4. Build an Outdoor Cat House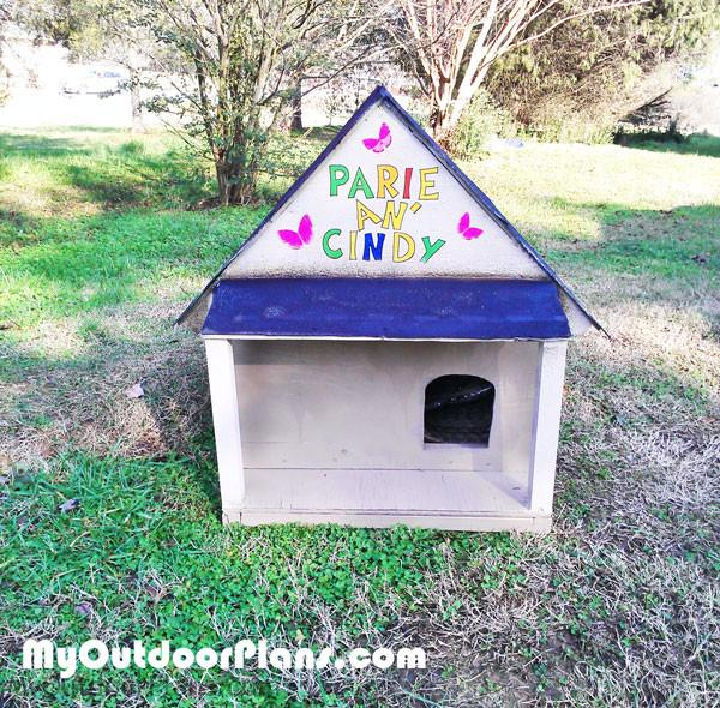 Building your own pet's house all by yourself is definitely so much fun and adventure. You are the only one who knows the best about what your pet needs, so its time to build his home with all your creativity and some acquired skills. This project is definitely helping you out in that matter. This wooden house for your cats will protect them from bad weather and some other factors as well. myoutdoorplans
5. Outdoor Cat House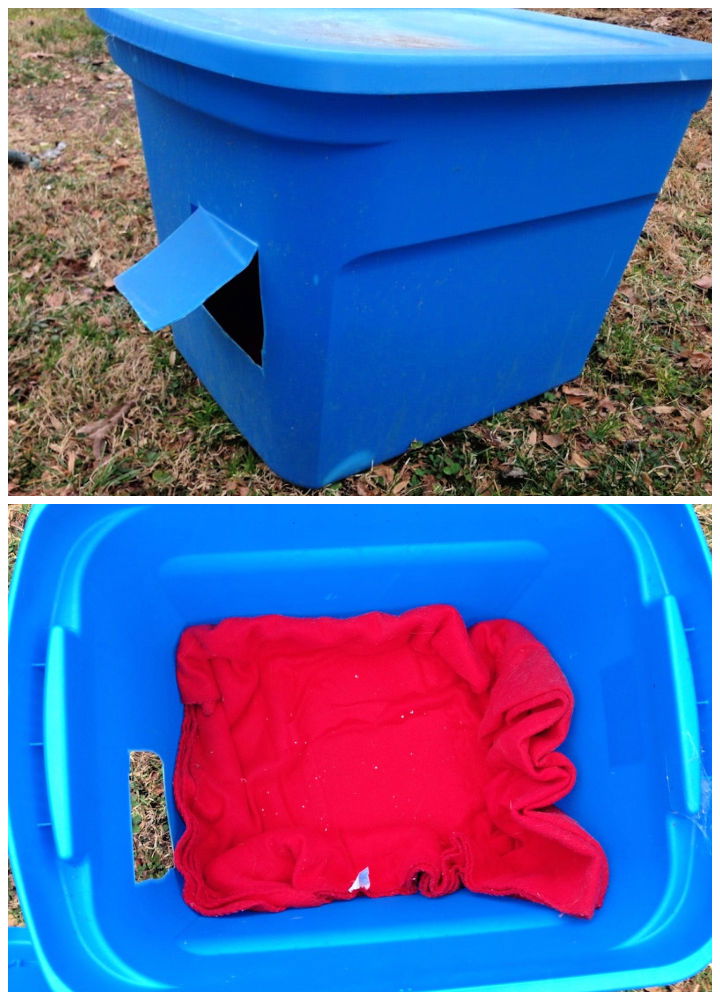 For this highly budget friendly outdoor cat house, you only need three main things and those are plastic tub, foam and a small blanket. Besides this you will also need something to cut the tub in order to turn it into a comfortable house for your cats for all weather conditions. This house will be built in such a way that it will also protect your pet from rain. instructables
6. How to Build an Outdoor Cat House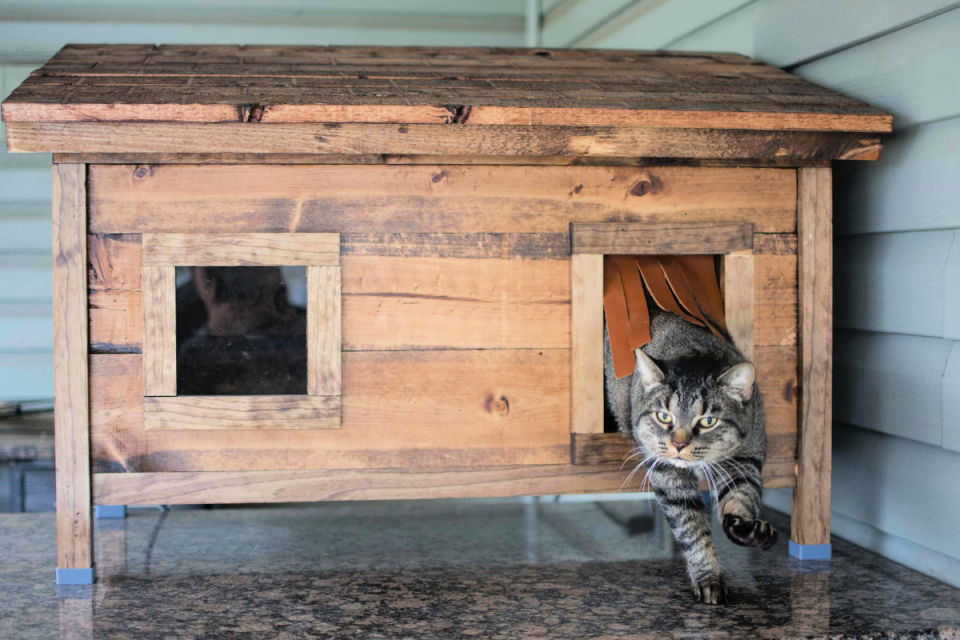 Many of us like to keep cats as our pets, however we prefer to keep them outside of the house for a variety of reasons. For such people this outdoor cat house is all you need to cater all the needs of your cat. Cats normally like to enjoy coming in and going out of their house every now and then therefore this special and convenience entrance has been made for them. Besides the door, the rest of the house is a simple wooden structure that you can easily create. cluttter
7. Solar Powered Cat House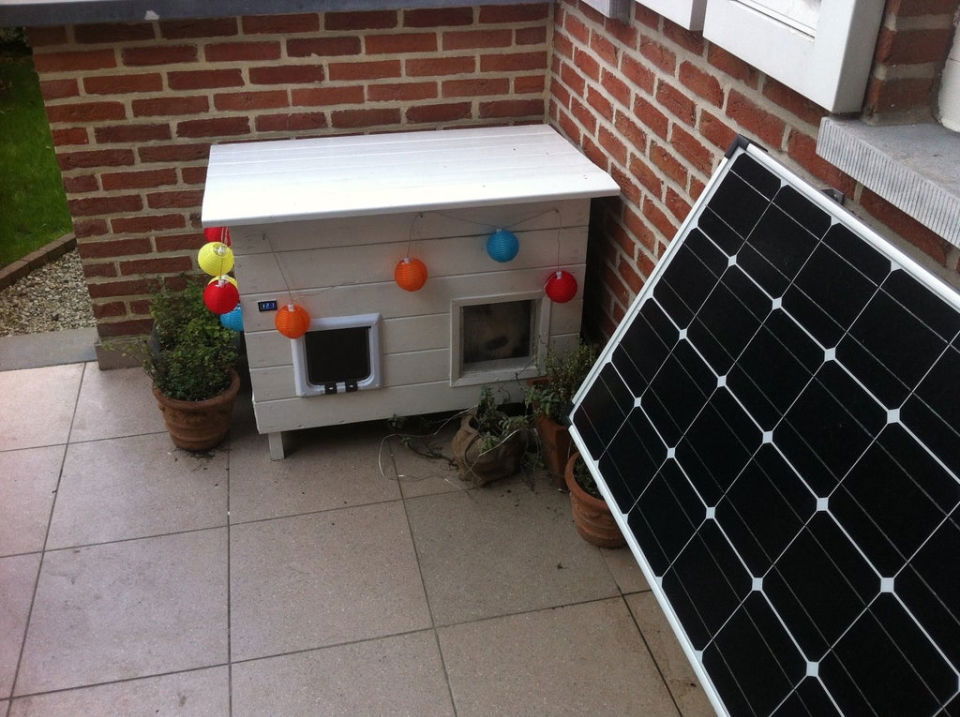 Have you ever tried making a special house for your cat house like this one? This is an environment friendly solar powered cat house that you can make all by yourself. This house will help your pet in moderate to cold climate. Get all the details of the making so that you can also attempt to make this beautiful diy outdoor cat house for your cat as well. instructables
8. How to Make a Cat House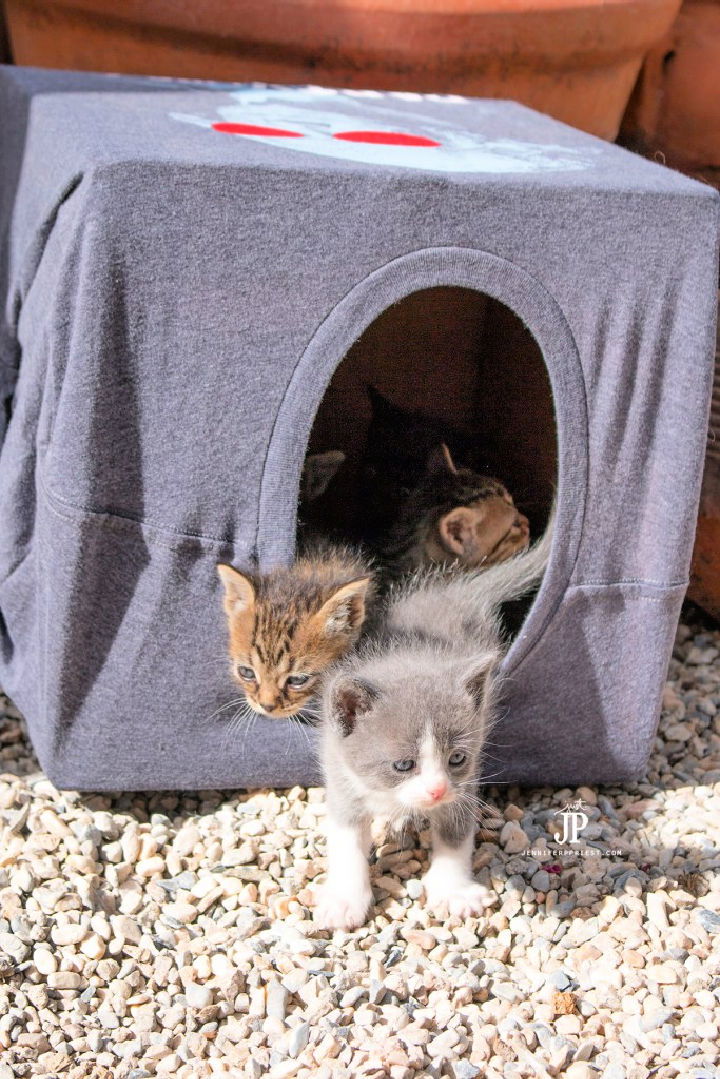 Many of us like to have beautiful house for our pet cats, however its not always easy as cat houses or condos can be pricey and not totally according to your needs and requirements. For this cat house project you need cardboard box, t shirt and scissors. By making this diy cat house you can help your cat be an isolation for a while and give birth to her babies with darkness and privacy around her. smartfundiy
9. Cat Houses for Our Feral Friends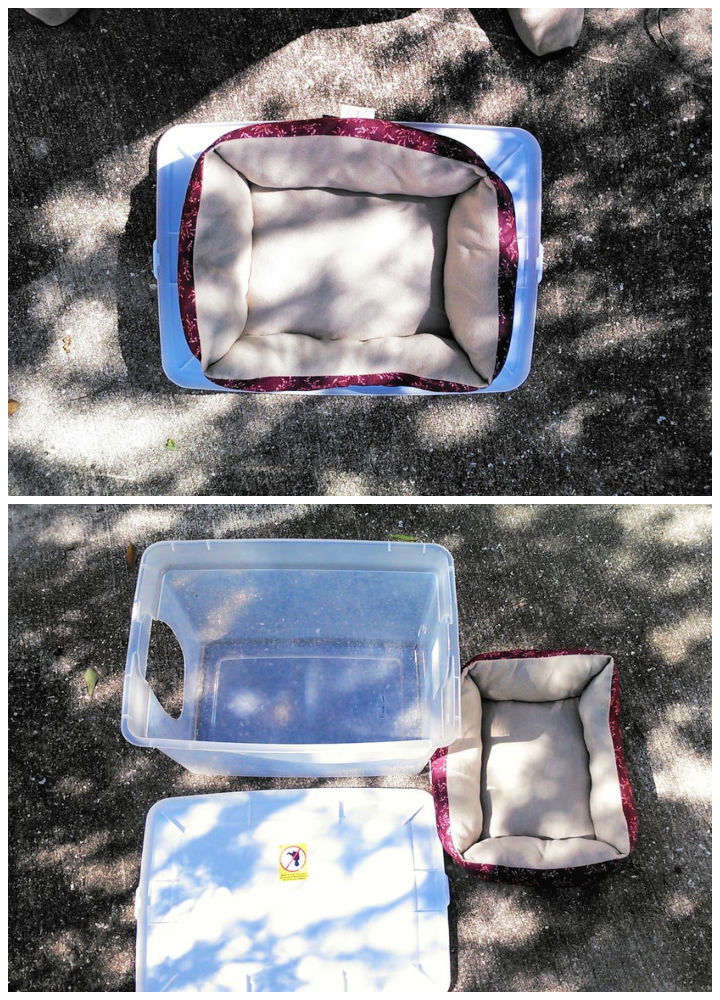 Cat houses can be of many different styles and designs depending on the needs of your pet and your budget. To make this diy outdoor cat house you need a semi clear plastic tub first, thermal mat, a pet bed that you can easily get from any store. Besides this you need to also make a ventilation inside in the tub by cutting it. instructables
10. Heated Outdoor Cat Shelters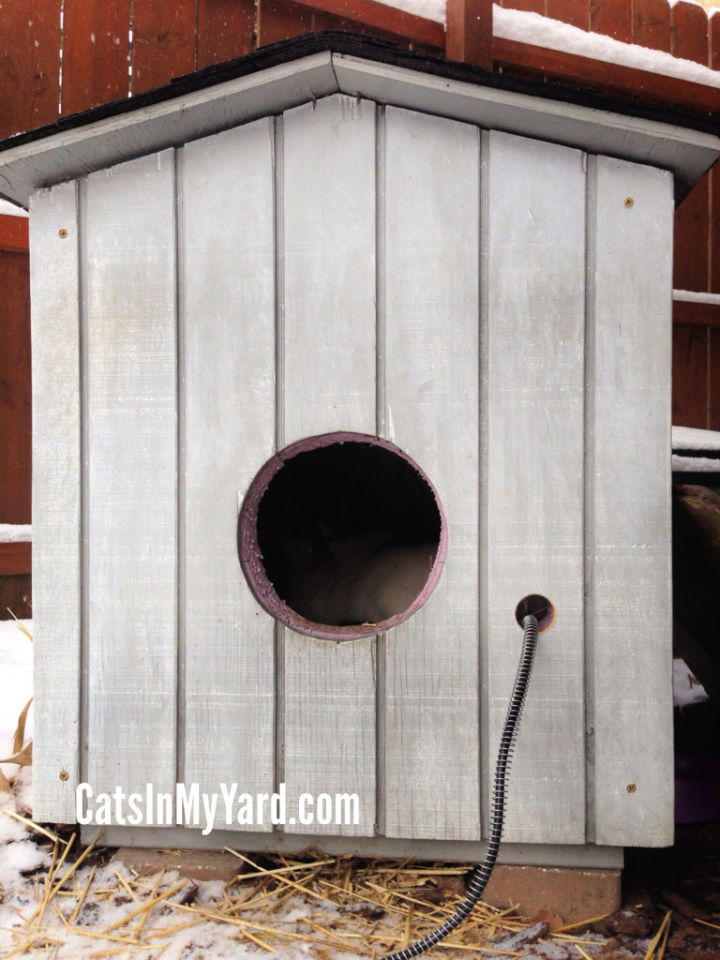 Have a look this heated outdoor cat house here. You can also make an attempt to build this house for your own cat and adjust the measurements and other things according to the requirements of your cat. This is a wooden structured house with heating pads inside it. The heating system can be bought from any company very easily. catsinmyyard
11. Outdoor Cold Weather Cat Condo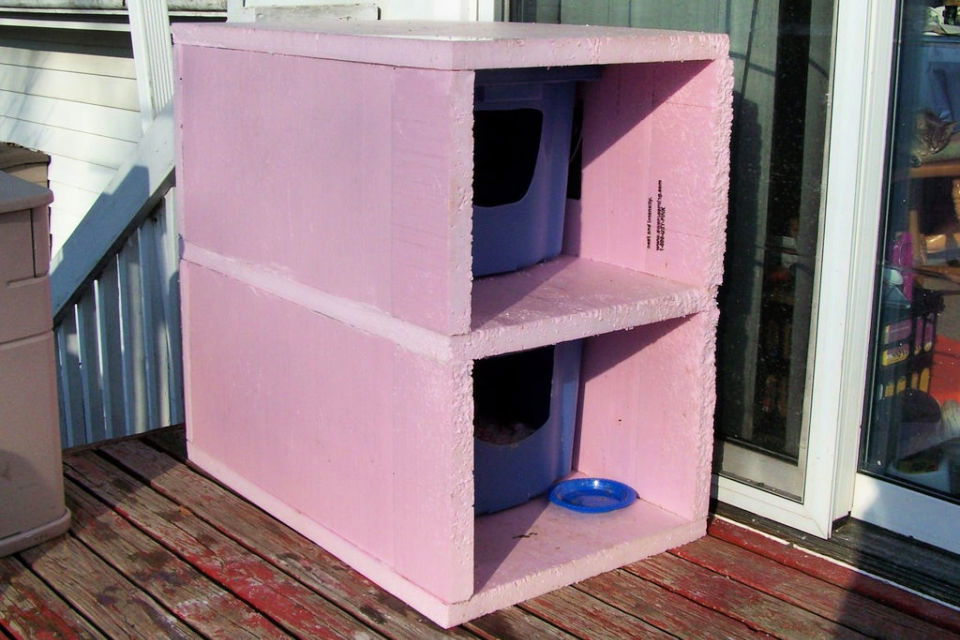 This diy outdoor cat condo is easier to make and cheap to afford unlike other pet houses in stores. For the feral cats, it can get difficult in winter when it's cold and wet everywhere. Start your mission with the step by step procedure given here. This house consists of two 18 gallon storage containers. Besides this old clothes and blankets are also used here in order to survive winters. instructables
12. DIY Outdoor Cat Shelter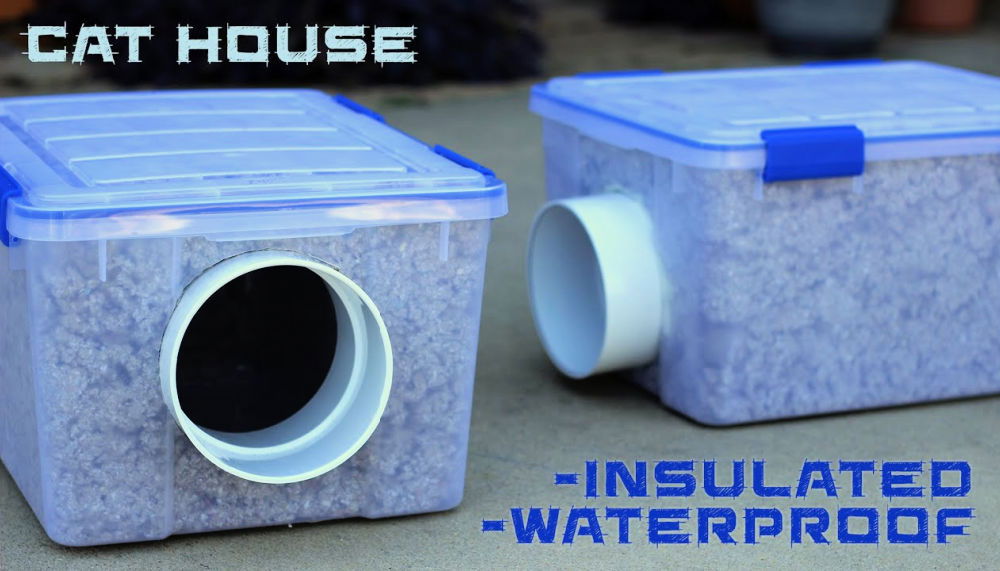 This is an insulated and water proof outdoor cat shelter that you see here. A complete tutorial along with the step by step description is available here so that your cats may also feel safe and secured in all weather conditions. There are many people out there who actually love and adore cat but they can't keep them inside of the house due to a variety of reasons and this is a perfect diy cat outdoor cat house for such people.
13. Build an Outdoor Cat House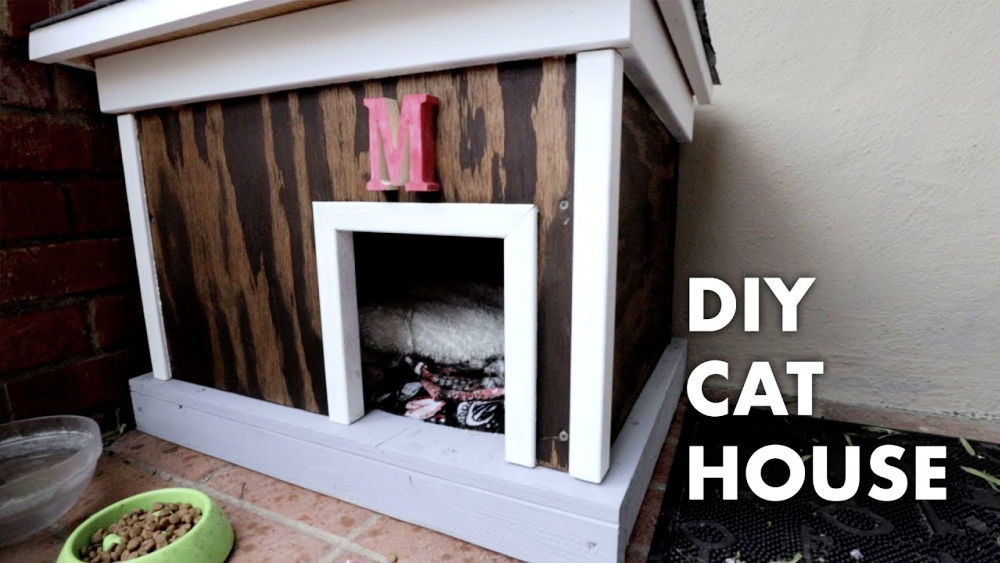 If you want your feline friends to have an outdoor spot where they can curl up, relax, and take a cozy break, you might want to consider a DIY outdoor cat house. This unique shelter is designed to brave any weather condition and environmental challenges, providing your cats with the coziness and security they deserve.

Unlike dogs, cats don't usually require large indoor spaces, so having an outdoor cat house can be a great addition to their living quarters. Learn all the necessary details from this project, and start building to ensure your lovely cats feel safe and right at home when they're outside.
14. How to Build a Cat House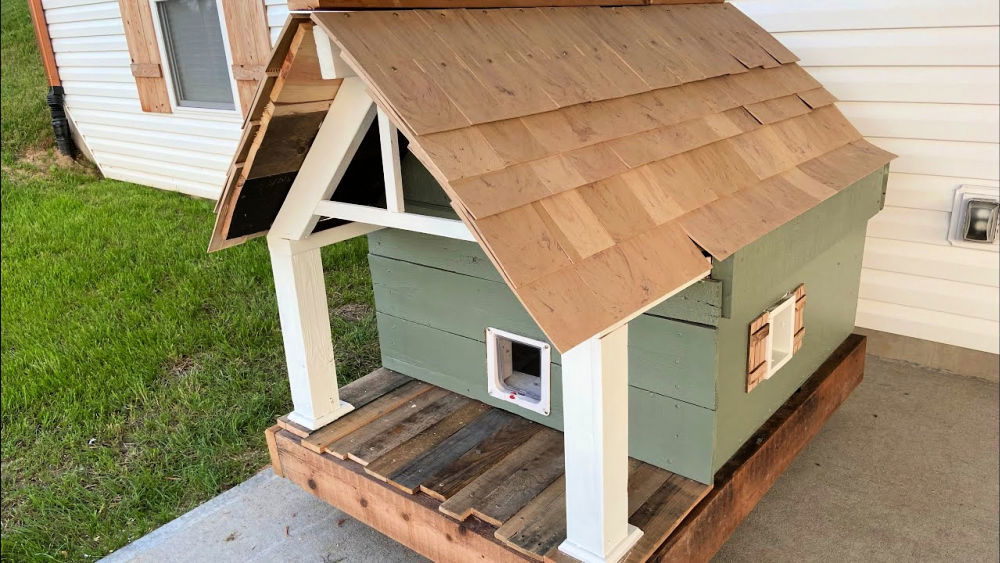 This miniature villa can be your cats new outdoor house if you make some efforts for it. This mini luxurious home can be a perfect place to be cozy and curl up for your cat in the outdoors. Its not always easy for the pets to live outside. When the temperatures are extreme and outdoor situations are not very favorable, you must make special effort to look after your cats so that they don't feel abandoned. youtube
15. Outdoor Cat House Plan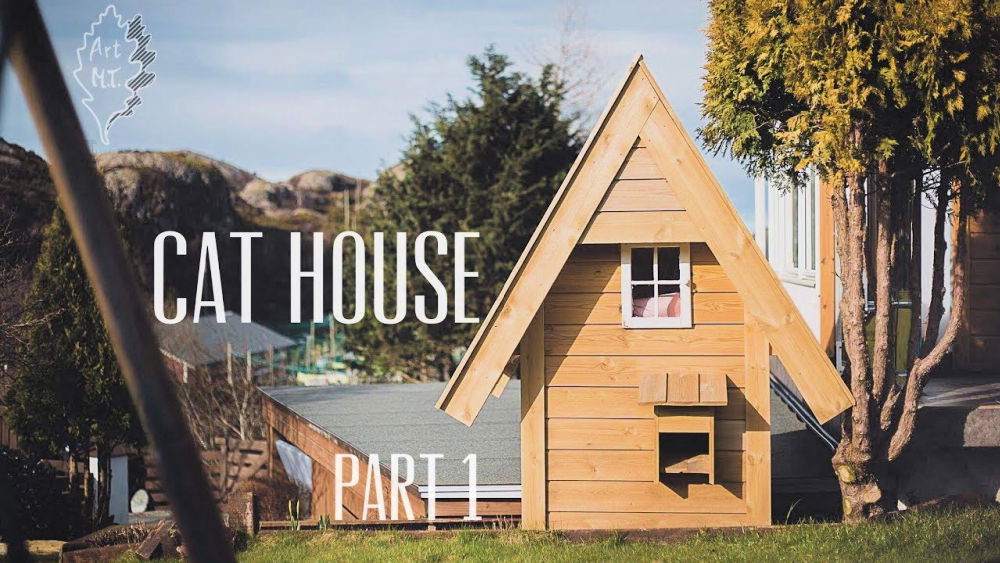 Spending time in nature is a blast, especially with a furry companion. If your four-legged friend has an appetite for adventure, this DIY outdoor cat house is perfect for them. Generally, cats don't need a lot of indoor space, so instead of building a massive abode, go for simplicity with a smaller design similar to this one. youtube
16. Outdoor Cat House Tutorial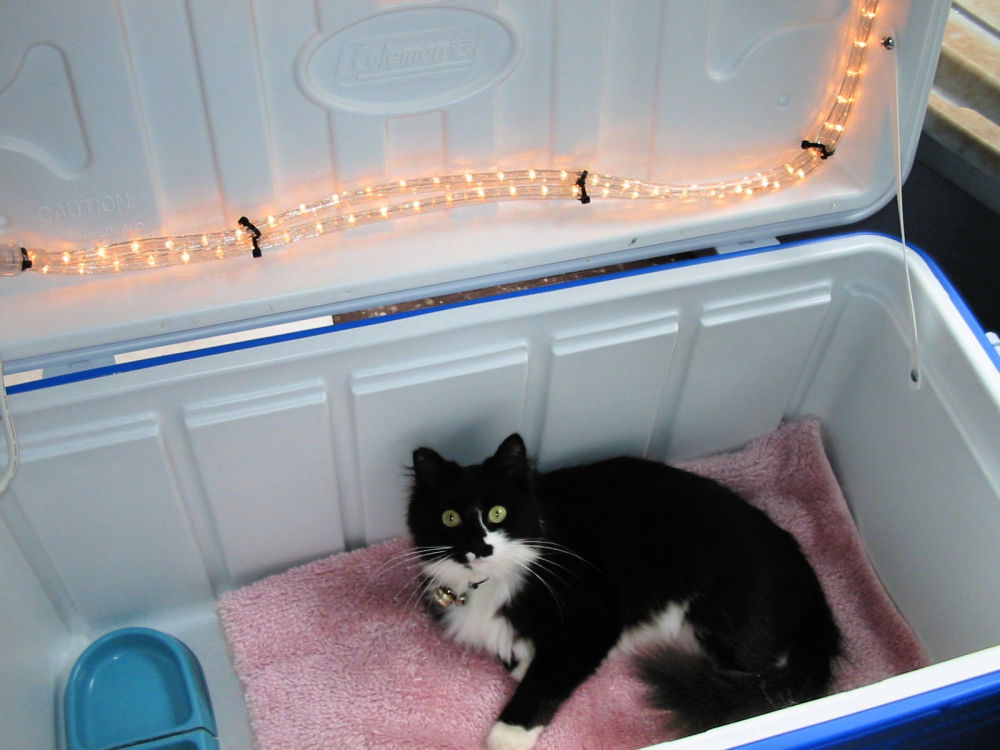 Introducing a temperature-adjusting cat house – the perfect solution to protect your furry friend from extreme weather conditions. To get your cat accustomed to it, start by feeding it inside the house. Afterward, just leave it outside and your cat will start using it for every meal. Keep your cat comfortable while enhancing your home with our innovative cat house! instructables
Conclusion: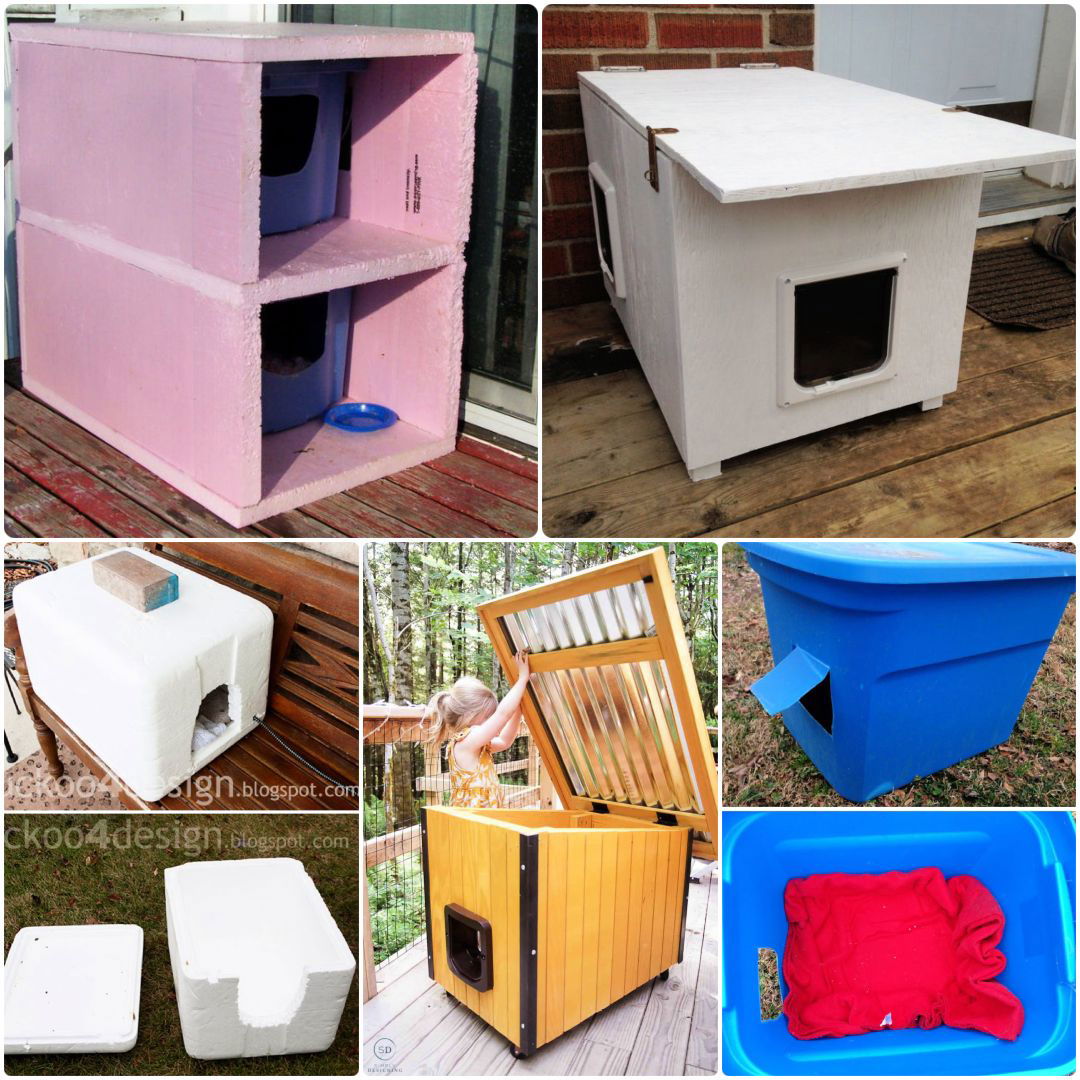 In conclusion, these DIY outdoor cat house plans provide a great opportunity for cat lovers to create safe and comfortable shelters for their feline friends. With numerous cat house plans, outdoor cat shelter designs, and feral cat house plans available online, you can easily embark on a DIY adventure to build an outdoor cat house for summer, winter, or all-season use. Don't forget to consider waterproofing, insulation, and heating options to ensure the optimal well-being of your furry companions. Happy crafting, and give those cats the cozy homes they deserve!