Outdoor benches provide a great way to enjoy the outdoors while spending time with family and friends. But outdoor benches also serve another purpose – they can help to define the space and make it more inviting. If you're looking for a simple and efficient way to add seating to your outdoor space, then consider building an outdoor bench. Find these DIY Outdoor bench plans come in various styles and can be made from various materials, but one of the most popular options is a wooden bench. Wooden benches are durable and easy to maintain, making them a great choice for any outdoor setting. And best of all, they're relatively easy to build yourself!
If you're interested in building an outdoor bench, then check out these 25 free DIY outdoor bench plans. These plans include everything you need to get started, including detailed diagrams and step-by-step instructions. So whether you're looking for a traditional garden bench or something more unique, you're sure to find a plan that fits your needs.
These DIY outdoor bench plans will let you and your family members to take time out of gadgets and video games to enjoy Mother Nature. Having DIY outdoor bench plans at your disposal will urge you to try out one for your own backyard garden. Whether you are making residential or commercial benches, these garden bench plans are going to be perfect and environment-friendly. All benches are different in style, but every next bench plan is prettier and awesome-looking than the previous one. You are going to love them all! Moreover, all these benches are pocket-friendly, beginner's friendly, and end up very sturdy and strong.
Simple Outdoor Wooden Bench Plans
These 25 simple DIY outdoor bench plans that we share with you will assist in making a bench in just a few days and will be very economical as well. Different wooden material is used for every bench. Other than that, the rest of the tools would be the same. So, if you want to make more than one bench, you only need to change the wooden material. Some of the benches feature storage space that will help keep the clutter of the garden clean. Interested in building a garden bench for your own garden? Pick any plan from these outdoor bench plans, gather the supplies for it, and get started!
1. DIY Outdoor Garden Bench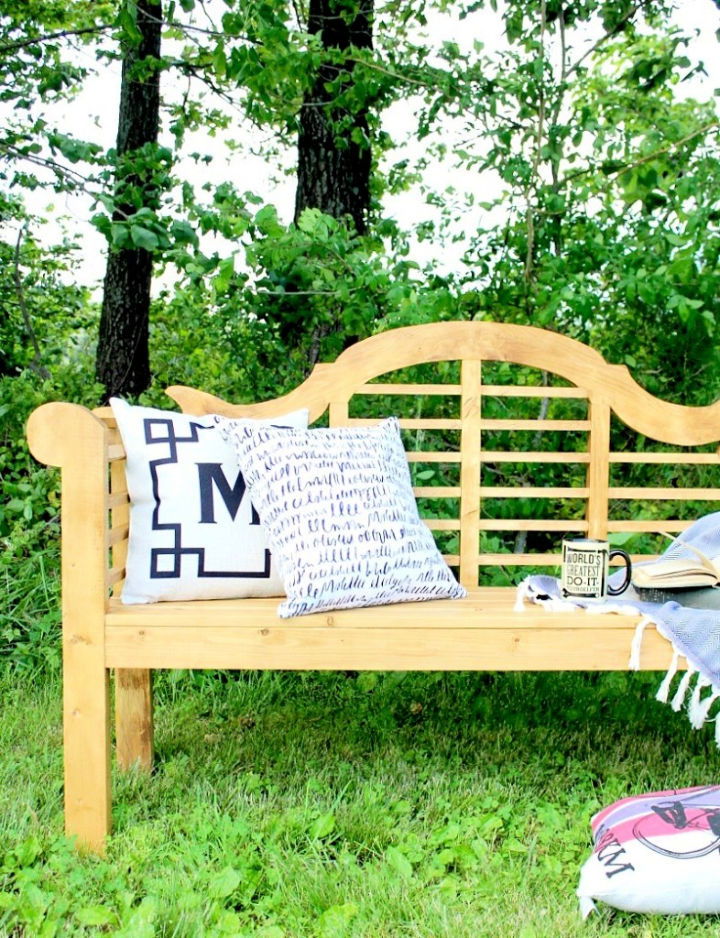 Garden benches help you to sit and enjoy the most of nature. No matter it is summer, spring, or fall, a garden bench provides you an excellent place to sit and ponder and enjoy at the same time. Here is the plan for building the bench at home, without any hassle. Just follow the video tutorial and get started. woodshop
2. DIY Garden Storage Bench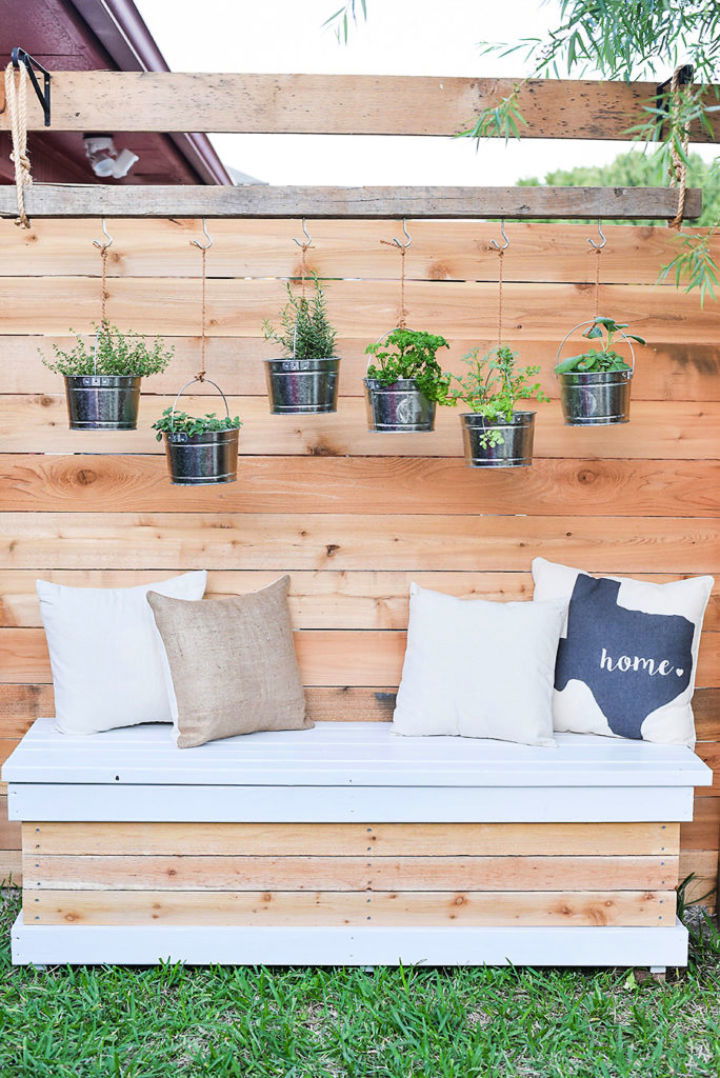 A bench that can give you a non-stop outdoor fun time and also gives you storage space is the most go-to furniture piece of your house. It has the space of storing two full-sized totes. To start constructing it up, you will need the following supplies: screws, hinges, paint, 2 x 4" boards, miter saw, and table saw. ourhandcraft
3. Heavy-duty Viking Bench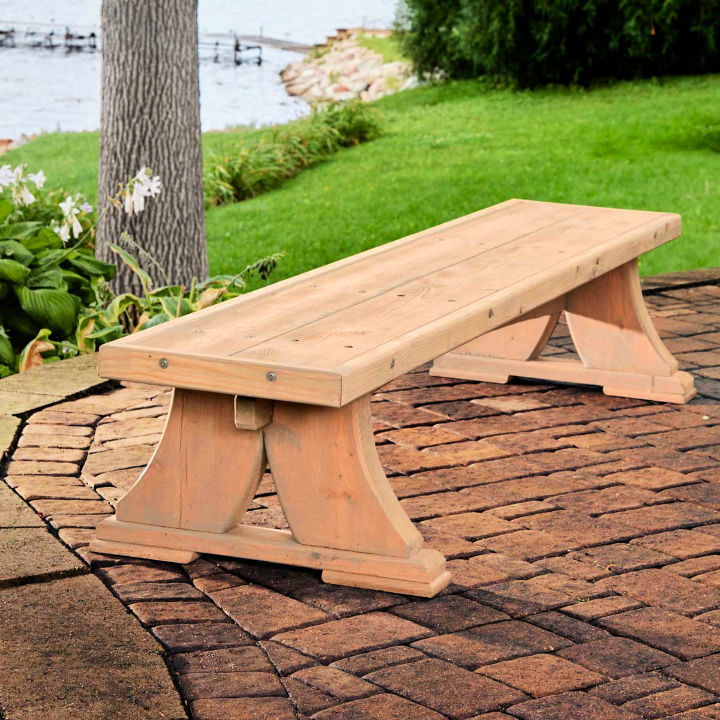 In just multiple days and by spending hardly 51 to 100 dollars, your heavy-duty Viking garden bench will be ready to serve you nature's view with birds chirping around and fresh air. This bench is very sturdy and simple, yet has a very elegant look to it. Follow the step by step instructions to start building. familyhandy
4. DIY Double Chair Bench with Table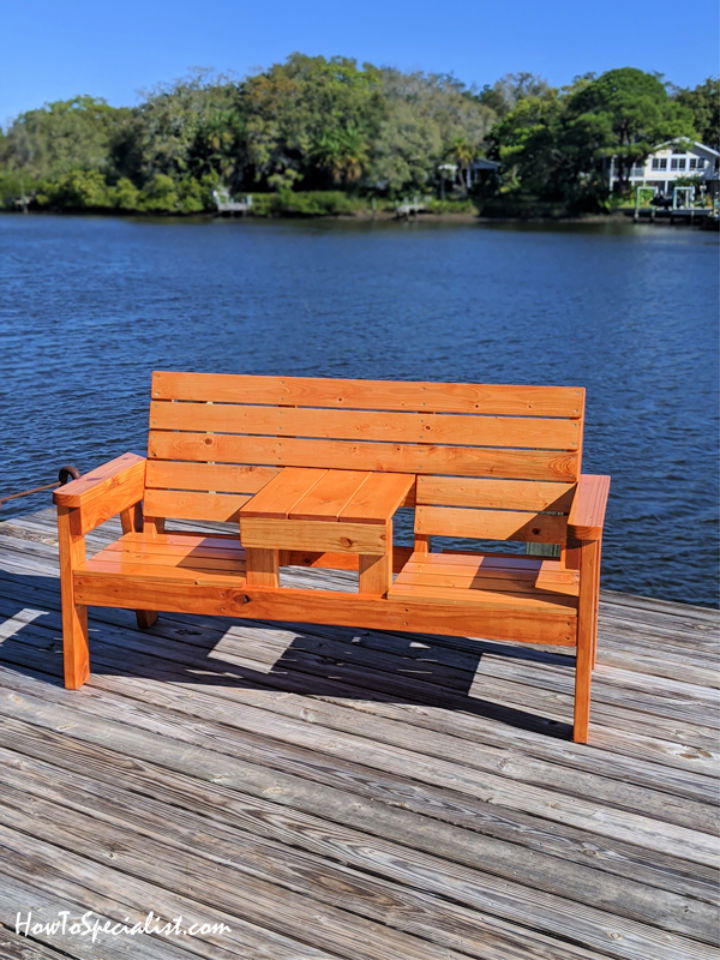 Check out this garden chair plan that offers a double chair and a table in between to place the coffee mug while chatting. The bench is durable and cannot get cracked even with heavyweight. Grab supplies like lumber, screws, wood glue, stain, varnish, saw, and drill to start building this fun project. howtospeci
5. DIY Log and Reclaimed Wood Garden Bench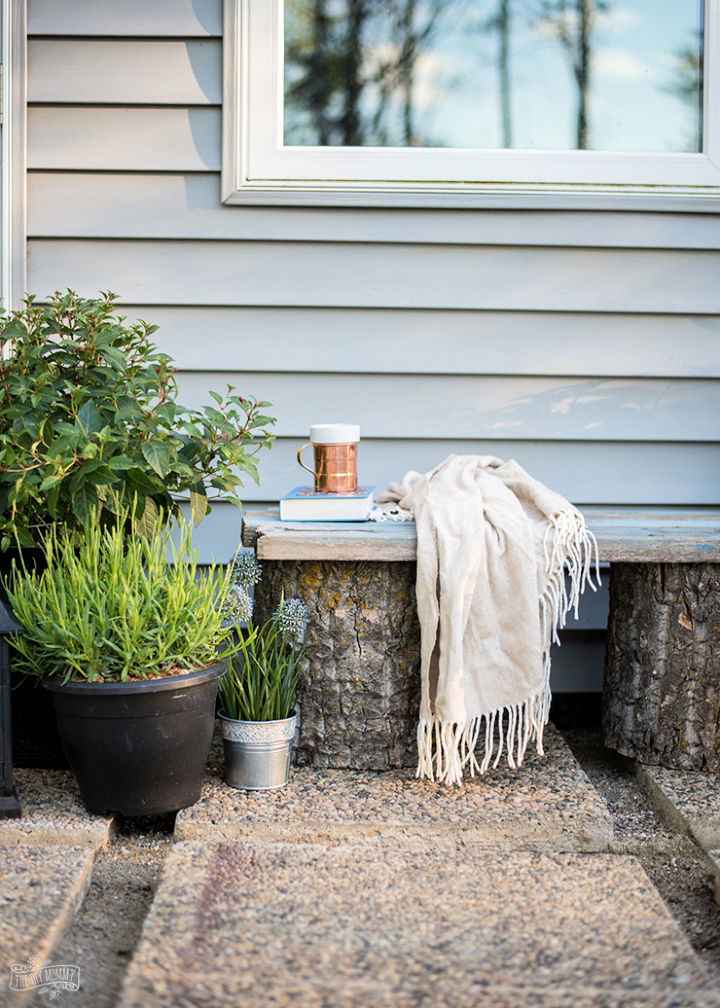 Construct a garden bench from the log and reclaimed wood that is sitting in your garage for years. Time to bring the best out of that extra wood lying around. It's an easy DIY project that won't need any expertise in carpentry. Go along with the instructions to create it single-handedly. thediymom
6. Hairpin Legs Garden Bench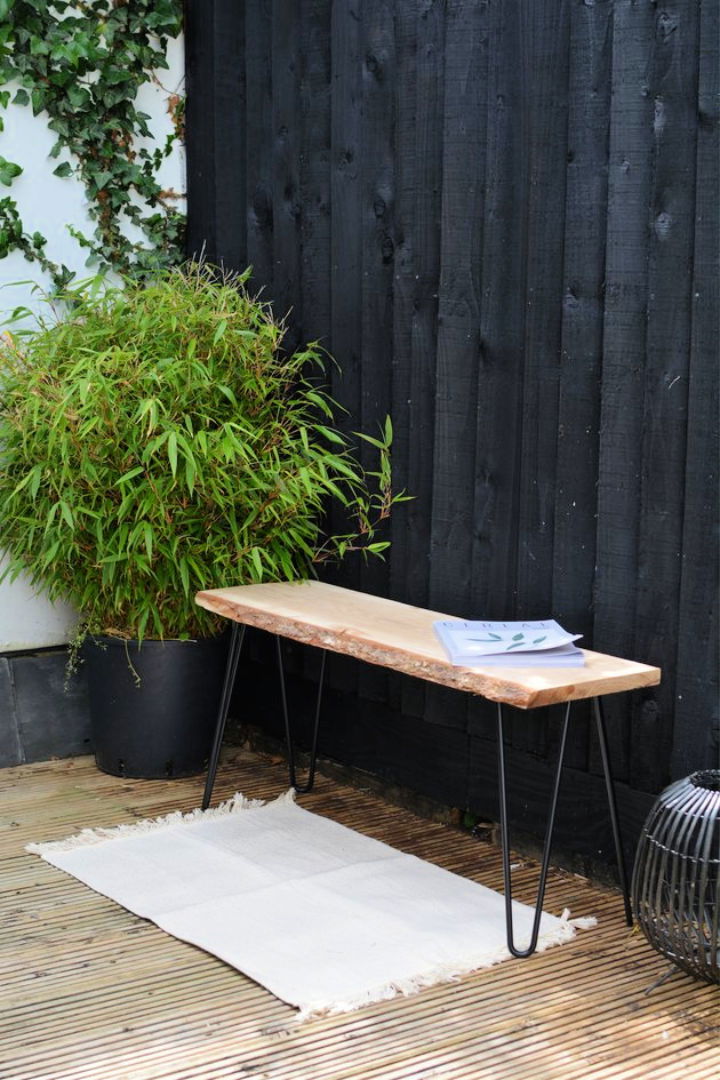 If your garden is missing a garden bench, then try building this hairpin legs garden bench. It will take just one evening of yours to complete this project. The materials you need to for this garden bench plan are hardwood, hairpin legs, a power drill, a hand sander, and wood varnish. Go to the link to learn more about it. hunker
Simple DIY Outdoor Bench Plans
If you're looking for a garden bench that's both simple to build and stylish, these DIY garden bench plans are the perfect place to start. With various designs to choose from, you're sure to find a bench that will suit your garden's needs. From classic wooden benches to modern concrete benches, there's a garden bench plan for every taste and budget.
And best of all, with a few inexpensive materials and some basic woodworking skills, you can build a garden bench yourself in just a weekend. So if you're ready to add a garden bench to your outdoor space, check out these 25 simple DIY garden bench plans.
7. DIY Farmhouse Garden Bench from Old Chairs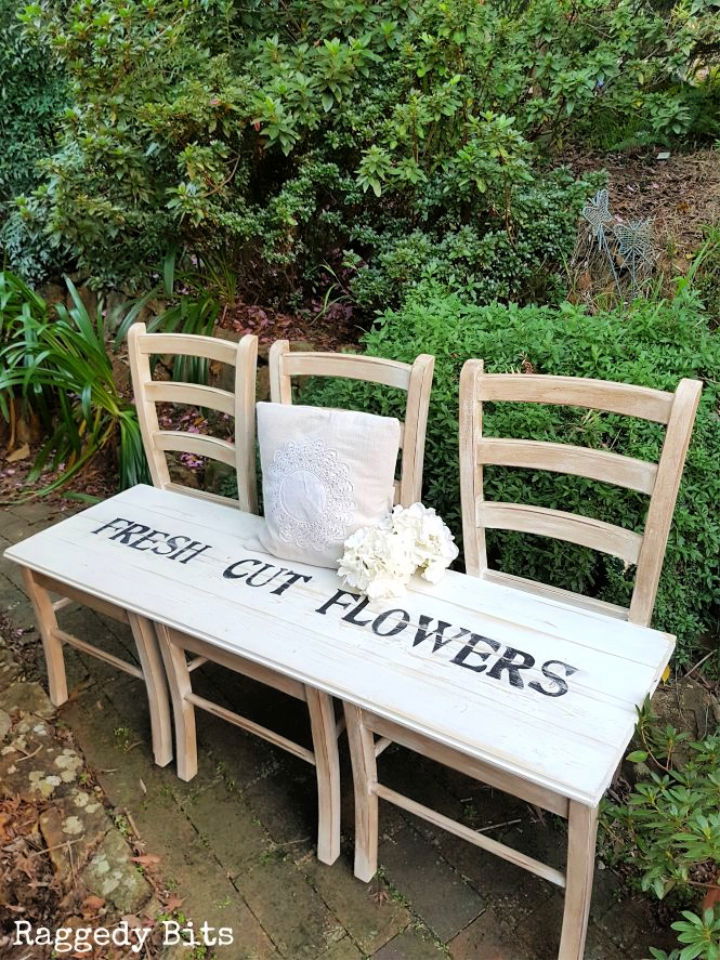 Do you need a sitting space in your garden to have some quality time with your friends and nature? Well, then build up this farmhouse garden bench from the old chairs. It is super easy to construct and is going to be very economical as well. Learn how to do so by walking through the step by step instructions after picking the supplies from the hardware store. raggedy
8. How to Make a Garden Bench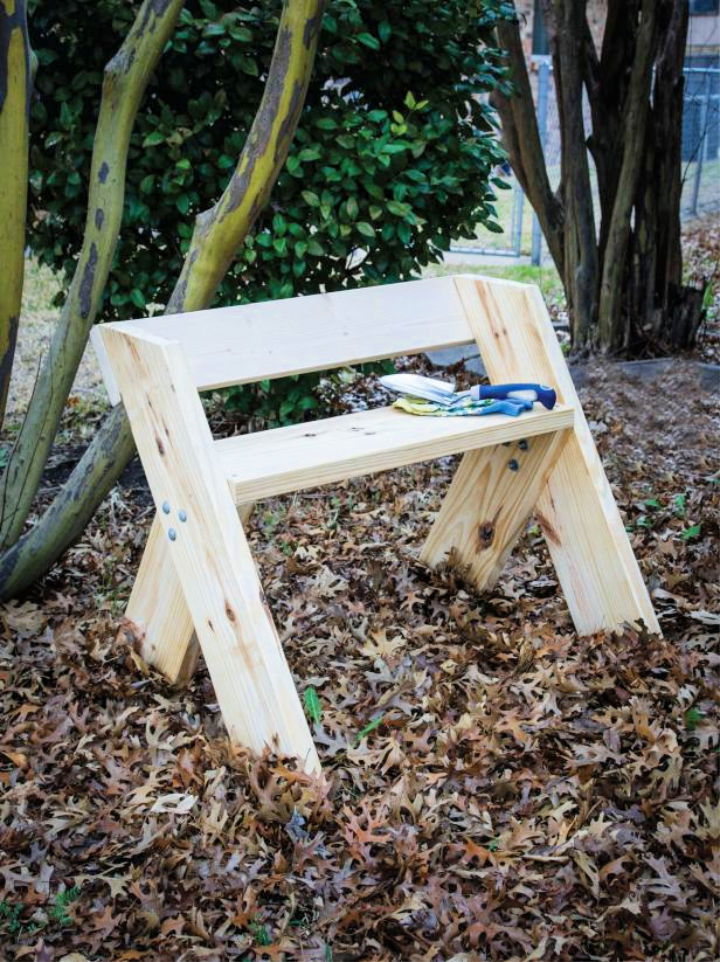 Instruct yourself on how to make a garden bench with no major carpentry skills. This garden bench is perfect for quality time; you can spend reading a book under the shade of a tree. Gather the materials like boards, screws, drills, bits, square, nuts, saw, sandpaper, and clamps to start the construction. It will hardly take an evening to complete this project. hgtv
9. Garden Bench Inspired by Williams Sonoma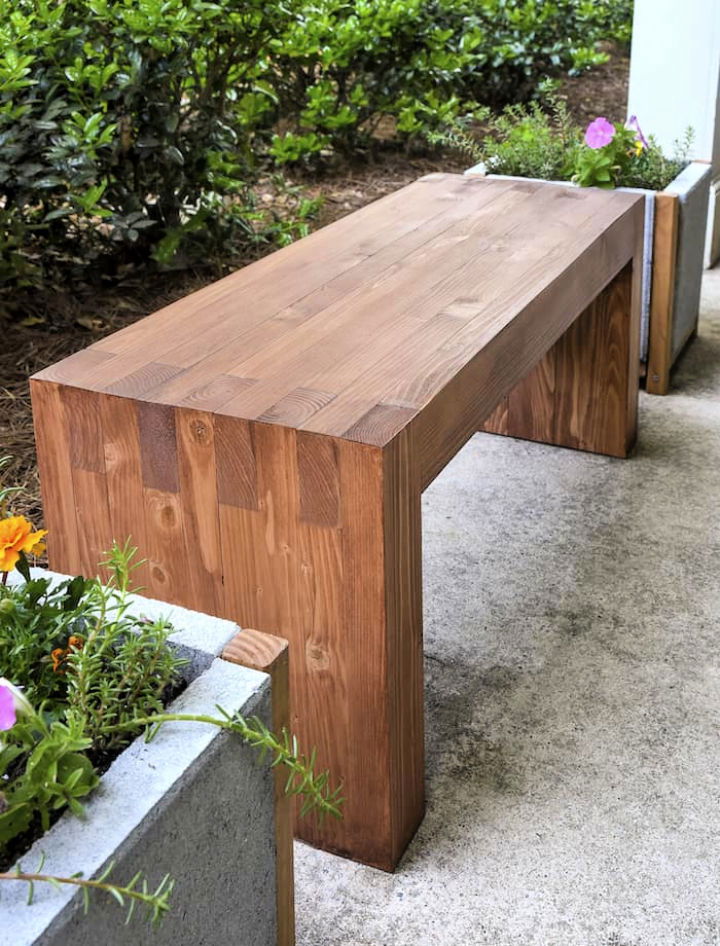 If you want to add a fun effect to your patio space or garden area, construct this DIY outdoor bench with style inspired by Williams Sonoma. Just invest 35 dollars on supplies and create a 1300 dollars looking bench in a day. No nails and screws are required for this project. diycandy
10. Garden Bench Using Scrap Wood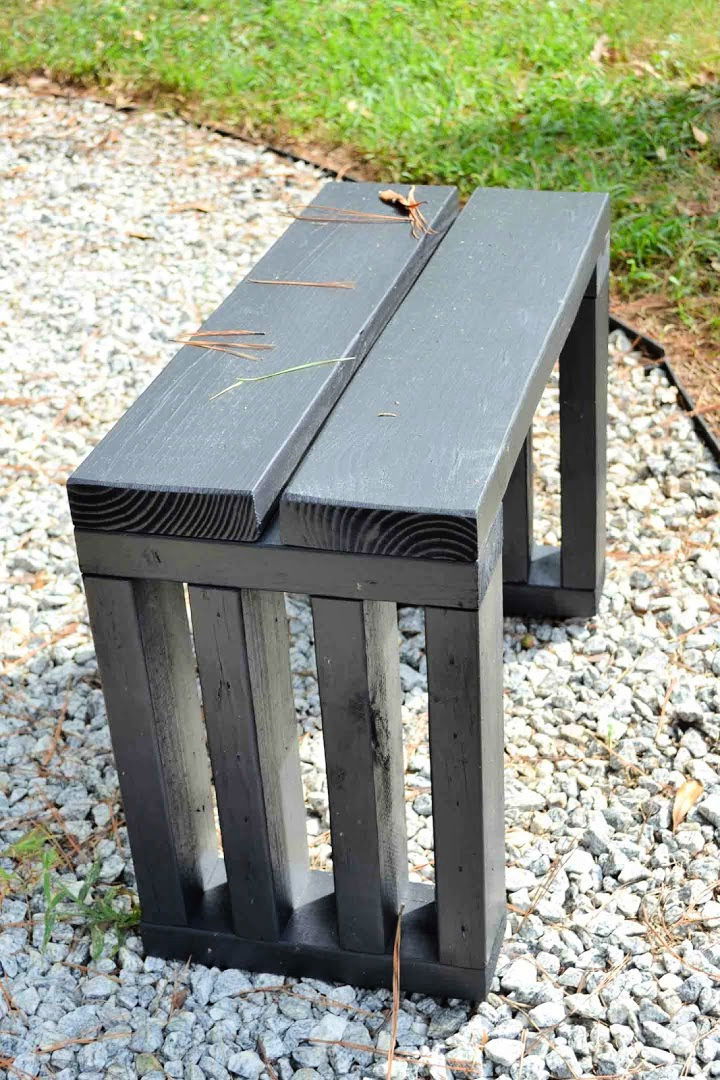 Here is a garden bench made using scrap wood, which is strong enough to hold up against any weather conditions. The deck boards really bring sturdiness to the bench. The information includes the list of supplies along with the directions on how to build this garden bench. Hit the link to get it! uglyducklin
11. Build a Garden Bench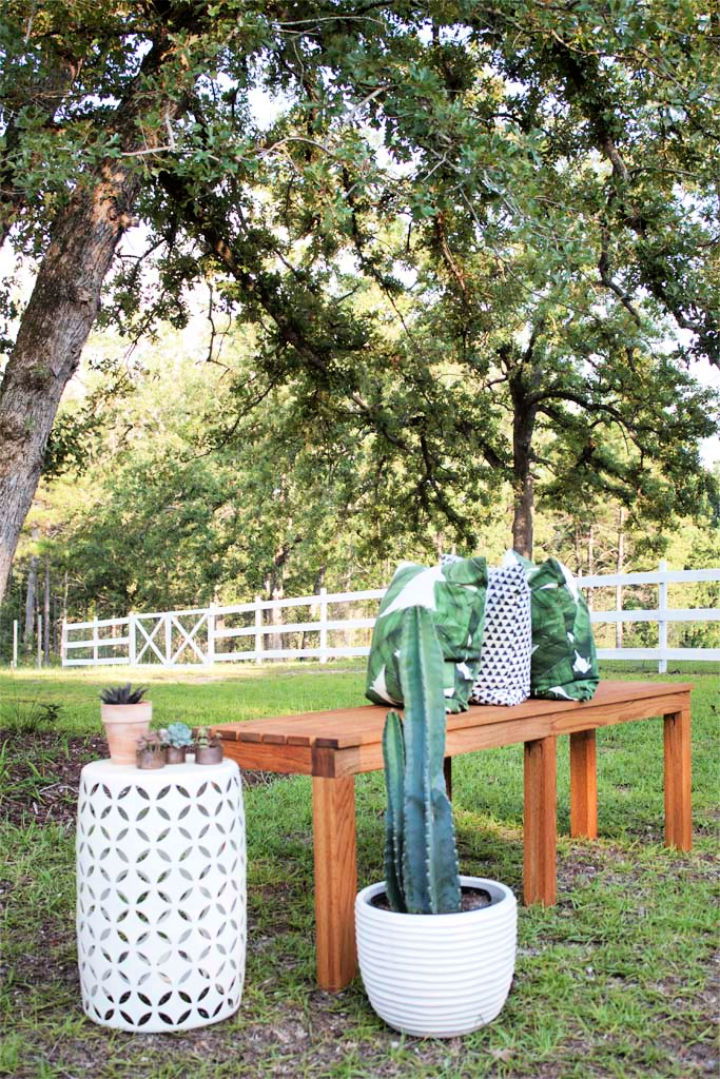 If you want to just relax under the sky with nature around you, then a garden bench plan is what you are going to need. Also, it is an essential part of making the exterior of your house look more defined. This bench is made out of oak wood that make it very durable in use. Gather up the supplies to get started! southernr
12. Natural Wood Garden Bench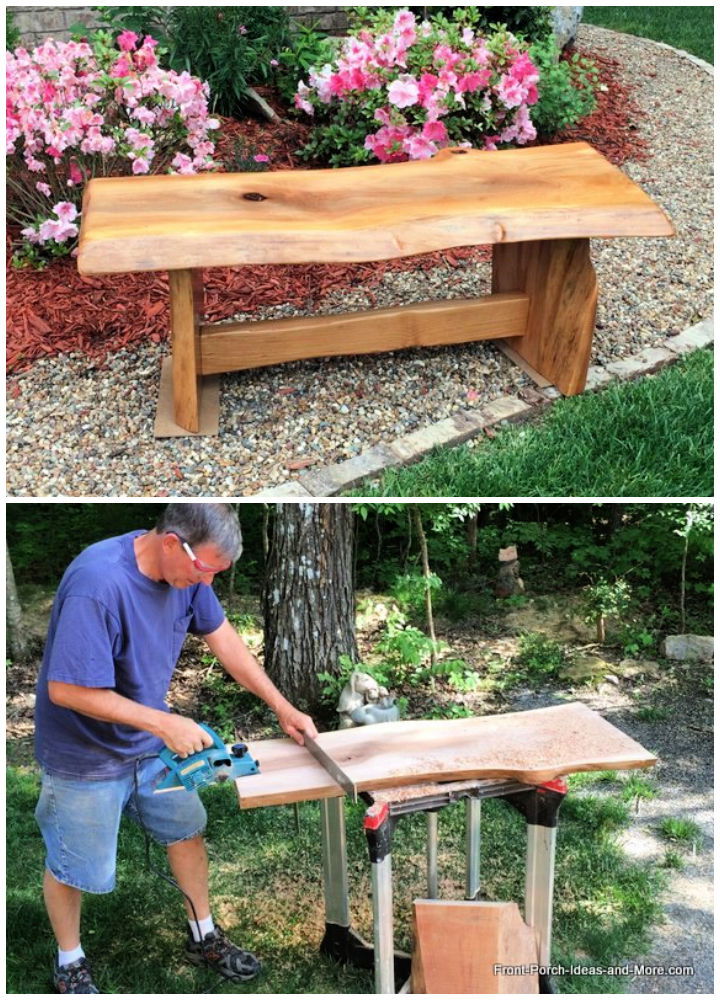 If you look at the furniture showrooms, you will come to know that outdoor furniture is quite expensive because they offer durability. Therefore, the best way is to construct a garden bench yourself with natural wood. It's not complicated at all; neither it will go heavy on your pocket. All you need is a few tools and supplies to get started. hometalk
13. HEADBOARD TO GARDEN BENCH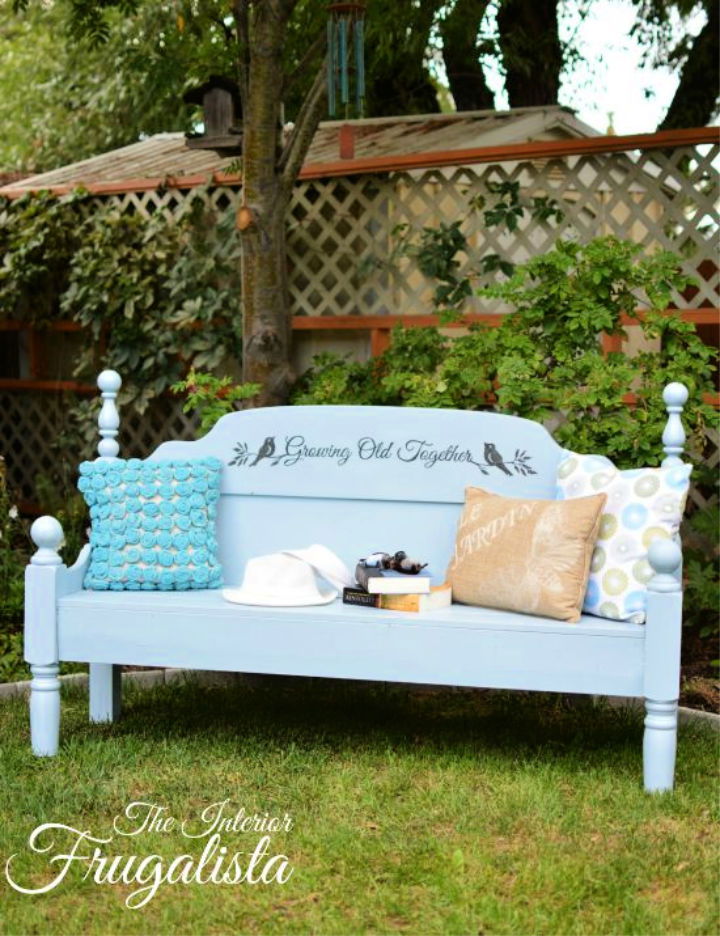 When sitting inside the home gets tiring, one prefers to move outside to the garden. For that, you need a garden bench to sit and enjoy your leisure time. Here is a plan to make one with the headboard and has this wide sitting capacity for two. Go along with the step by step instructions to create this beauty. interiorfrug
14. Concrete Garden Bench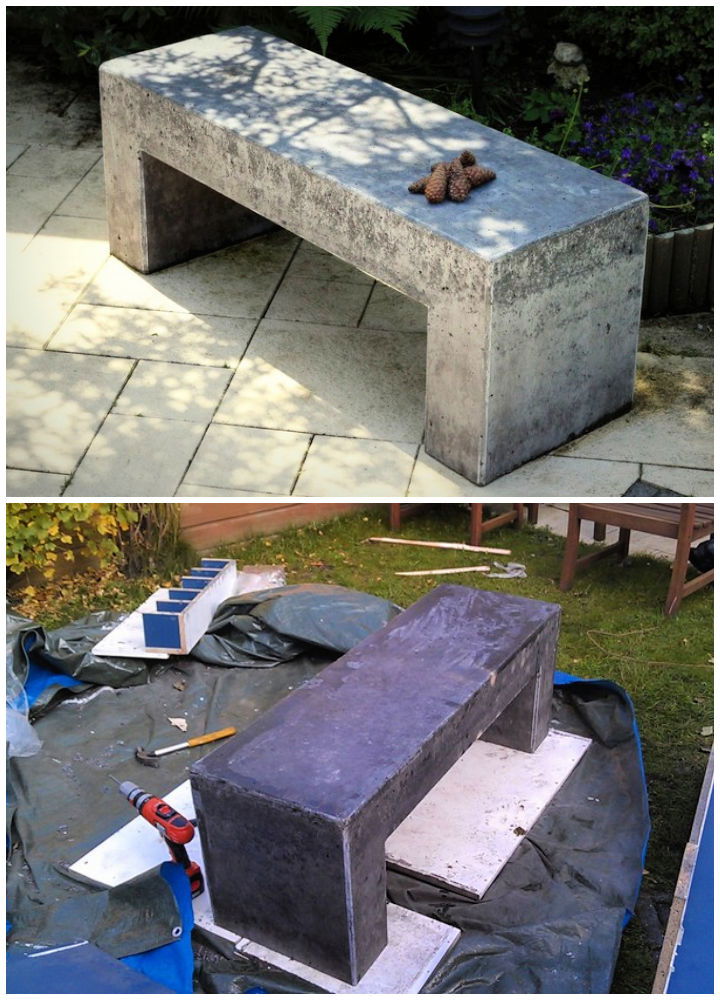 Who does not enjoy relaxing outdoors with a good book or a favorite beverage? Build up a garden bench that will serve you a place where you can relax and chill. This garden bench is made out of concrete, so it will last longer than you can imagine and give you a lifetime of outdoor enjoyment. Click the link to get the details. theownerbu
15. Garden Storage Bench for Three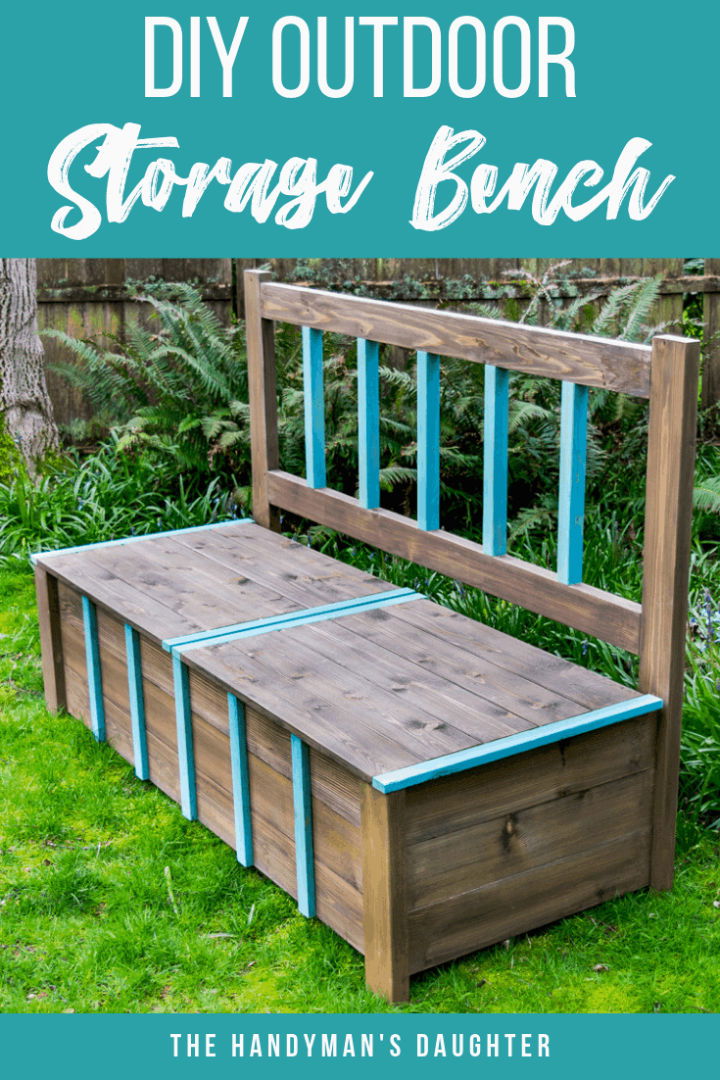 This DIY outdoor garden bench is large enough for three people and has the full-size storage capacity for your gardening tools. The construction of this bench is super-simple that any beginner can build it up easily. Supplies that are required to build this bench are cedarwood, boards, glue, hinges, and metal mesh. thehandyman
16. Garden Bench with Dowel Construction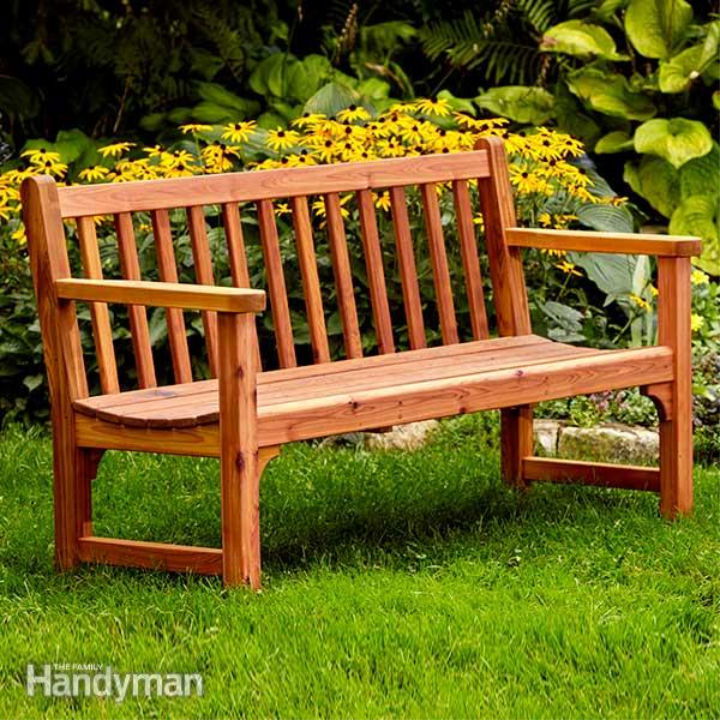 Build a classic garden DIY bench with dowel construction. Using dowel in the garden bench's constructions will make it simple, elegant, and surprisingly very sturdy. You just need a couple of days to finish it off by going along with the details. Grab the supplies, and hit on the link to get the garden bench plan. familyhandy
17. Playful Headboard Garden Bench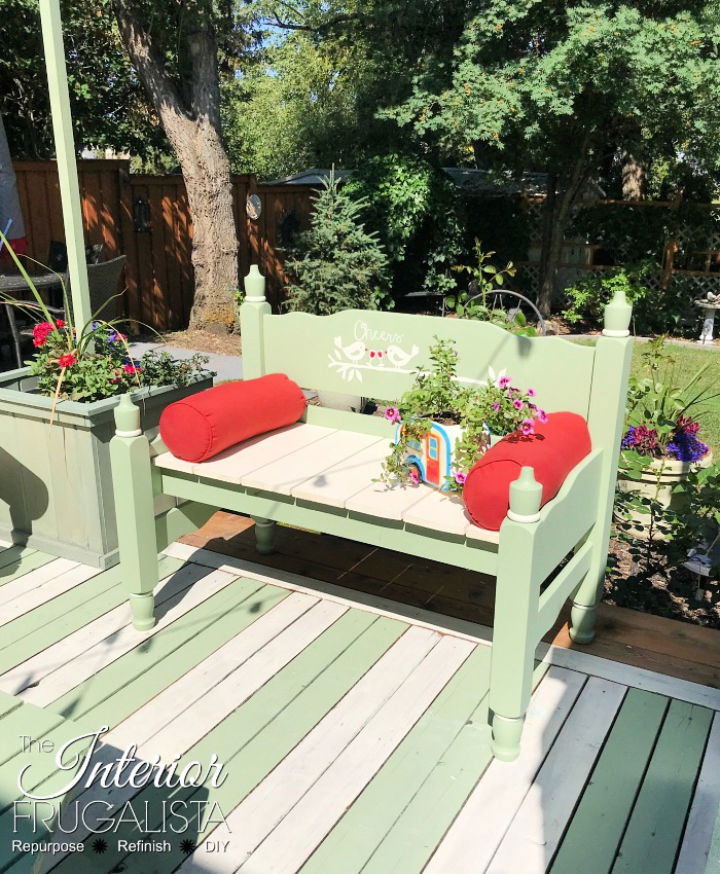 Your garden is incomplete without having a playful headboard garden bench. It's a great addition to your garden's interior and offers you and your friend quality time to sit, relax, and chat. This project can take up to two days to get complete—Walk through the step by step instructions to learn how to build it. interiorfr
18. DIY Cedar Garden Bench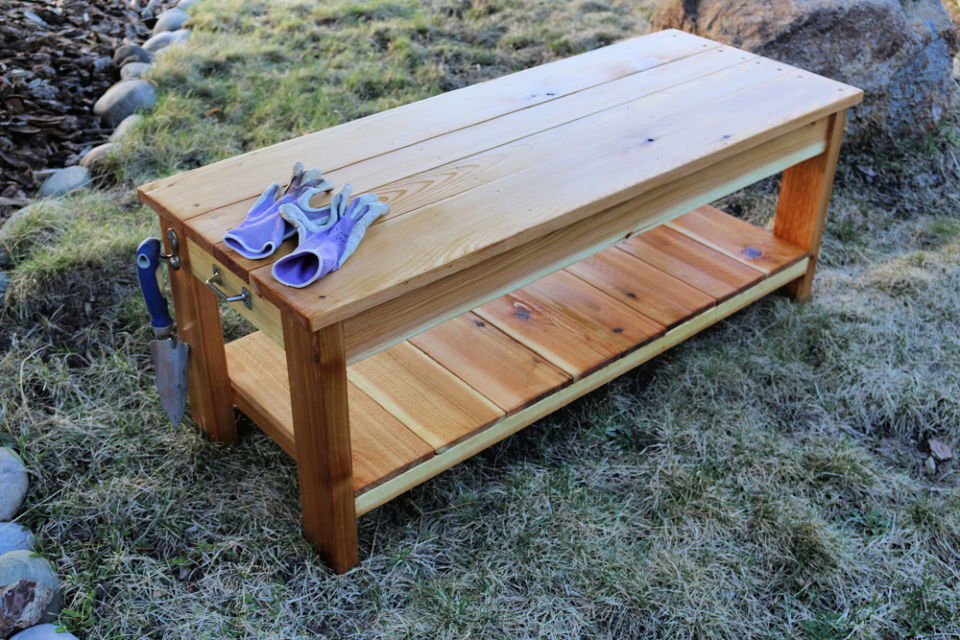 Using cedar in the construction of a garden bench will make it survive all the bad weather conditions. Moreover, cedarwood has the ability to carry heavy weights without leaving a teeny tiny crack. If you are interested in making one for your own garden, grab boards with other supplies that are mentioned in the link to start off. buildsome
19. Wooden Garden Bench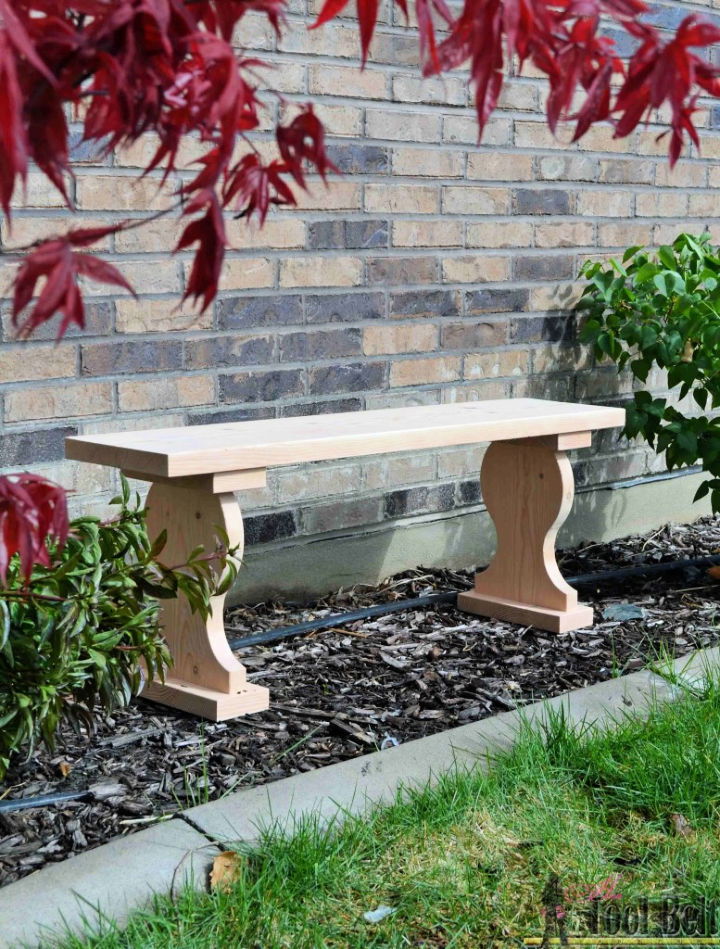 It's that time of the year when you love being outside more than being inside your home. Well, this outdoor garden bench will make your mornings, afternoons, and evenings better by sitting and enjoying the serenity of nature. It's a very beginner and budget-friendly project to work on. Hit the link to get the guidelines on it. hertoolbelt
20. Garden Bench from Old Pallets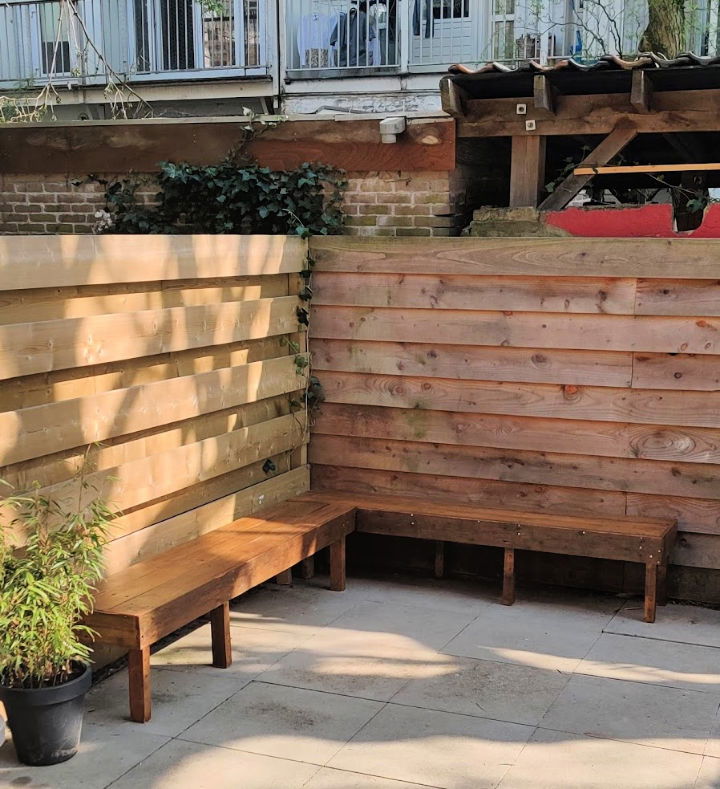 Want to add a cute bench to your garden area to give it a more elaborated look? Here is an easy garden bench plan on building a bench with the pallets. It is the simplest project that needs only a day to complete it. The supplies that you will need are a screwdriver, pallets, screws, wood stain, and an electrical saw. Hit on the link to get the details. imgur
21. How to Build a Garden Bench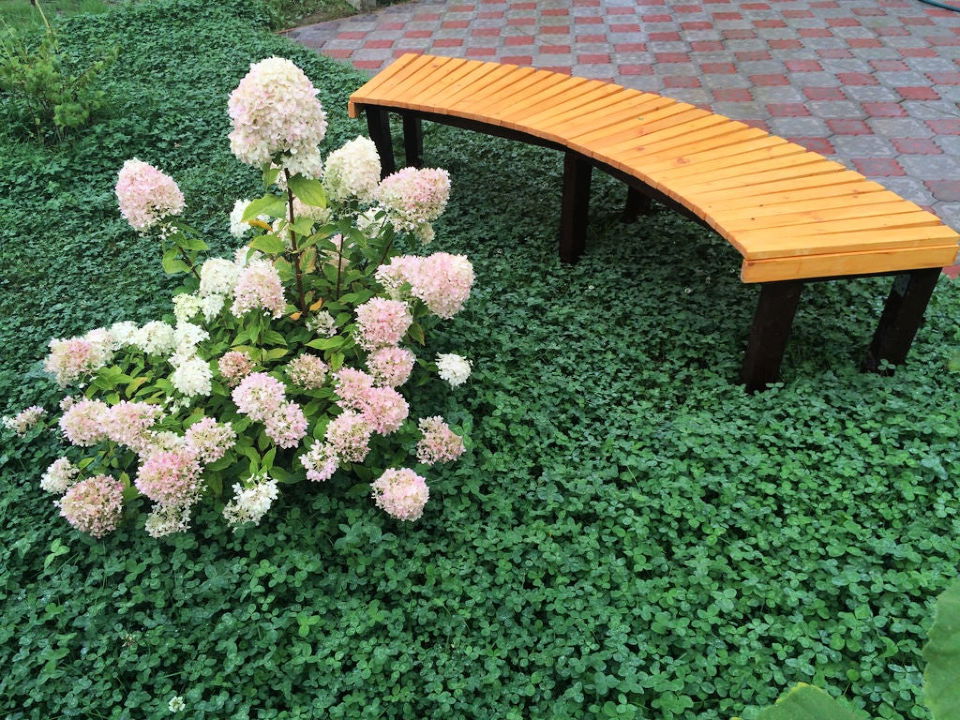 Take your garden's interior to the next level by building up this amazing looking garden bench. This bench is in a curved shape and has a sitting capacity of 4 to 5 people. You only need a couple of days to complete this project. Also, this project will only cost 15 dollars. Go along with the instructions to start off. instructables
22. Cinder Blocks and Wood Garden Bench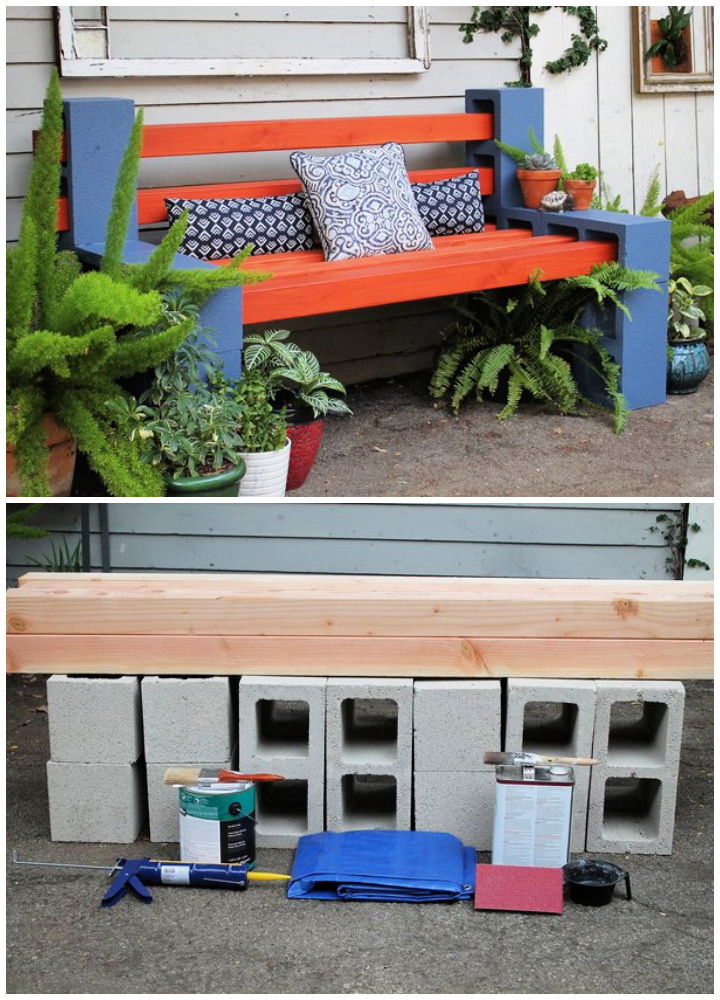 This garden bench plan is a combination of cinder blocks and wood. The finished product comes out as a very beautiful piece of furniture for your garden. You will love the red and blue combination for your patio furniture. Supplies needed to build this bench are concrete, drop cloth, caulking gun, sawhorses, and sandpaper. hunker
23. French-style Garden Bench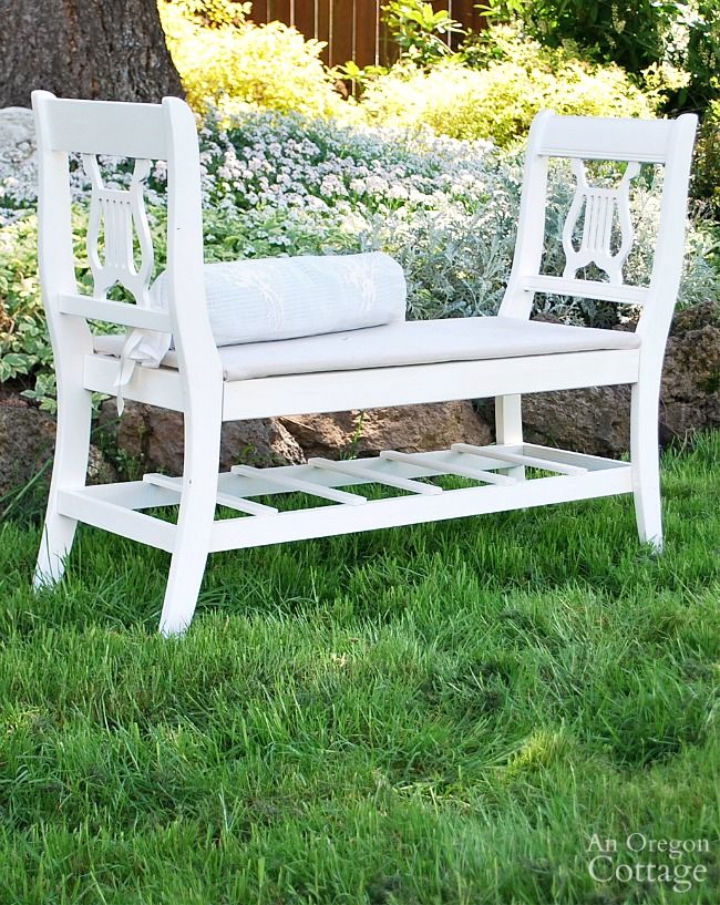 This French-style garden bench has a very modern and decent look. As for the sitting is concerned, this garden bench has a very comfortable building. Now, you can relax and spend time with your friends and family in the garden. So, get your hands on the supplies and start off building this easy-chic design of the garden bench. anoregonc
24. Basic Garden Bench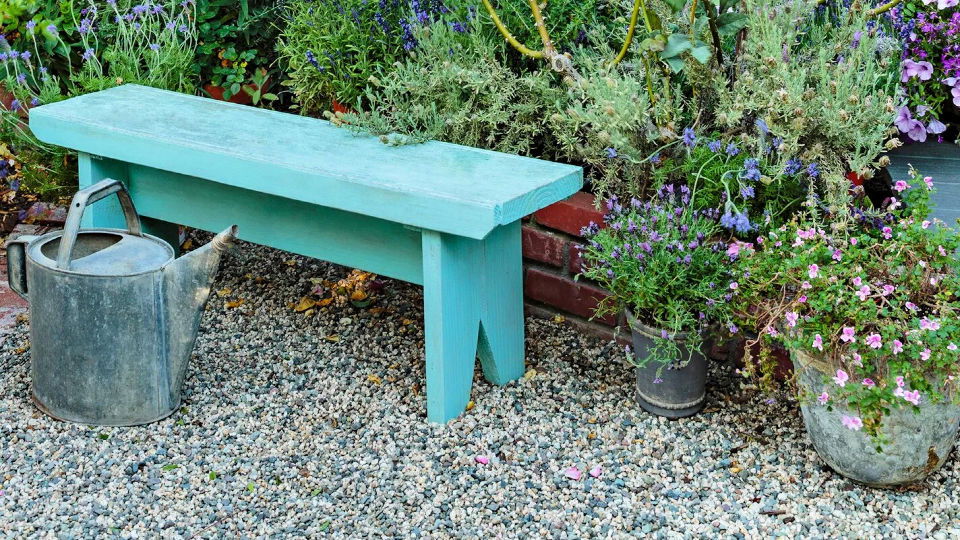 This basic garden bench can be built up by anyone having minor carpentry skills. This simple and decent bench needs some straight cuts on plywood with a circular saw so that the bench looks smooth and flawless. Click on the link to find out all the guidance you need to follow to complete it. thisoldhouse
25. DIY Bench with Backrest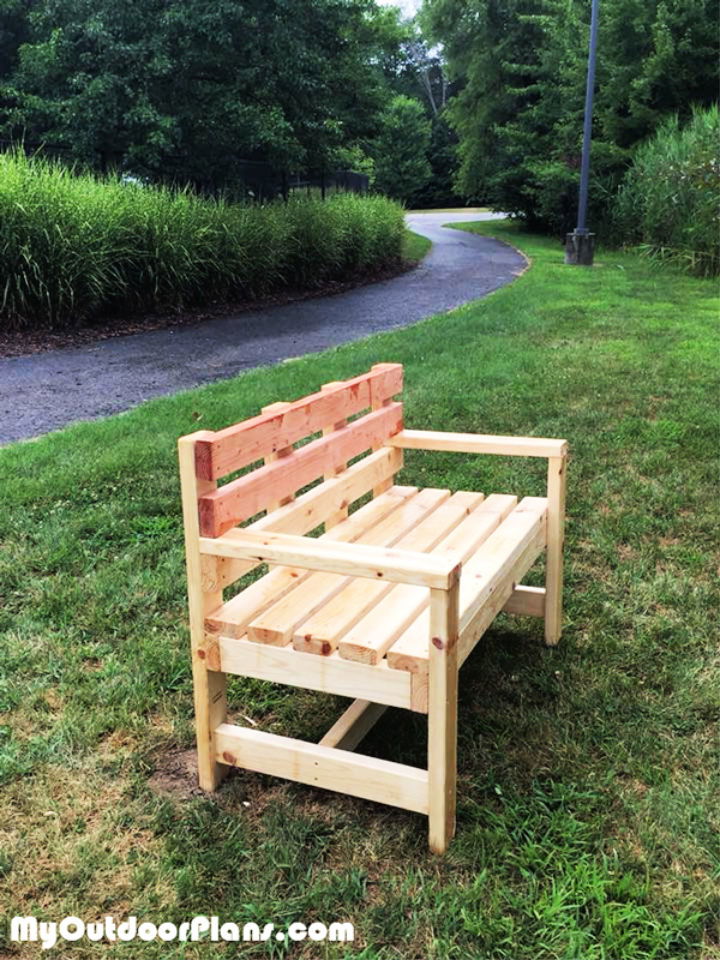 The backrest is the most essential part of a bench when it comes to relaxing yourself properly while enjoying the views of nature. This DIY garden bench plan isn't a complex task to do. It's a simple woodworking project with simple construction. Grab the high-quality material to start building this bench. myoutdoor
Related DIY Garden Projects
DIY Backyard Pond Ideas
If you're looking for a way to add some life to your backyard, consider adding a pond! Not only will it add beauty, but it will also provide a habitat for wildlife. Here are a few DIY backyard pond ideas to get you started.
DIY PVC Pipe Garden Ideas
Looking for some easy DIY garden projects? PVC pipe is a great material to use for gardening projects! You can make a simple PVC pipe garden trellis or a PVC pipe tomato cage. You can also use PVC pipe to make a raised bed garden or a rain barrel. Check out these easy PVC pipe garden ideas to get started!
DIY Garden Ideas To Make Your Outdoor Space Beautiful
If you're looking for ways to make your garden look beautiful, then check out these DIY ideas! From creating a rock garden to adding a pond, these DIY garden projects are easy and affordable.
DIY Fairy Garden Ideas for Backyard
If you're looking to add a little bit of magic to your backyard, consider creating a fairy garden! These miniature landscapes can be as simple or complex as you like, and they're a great way to get creative with your landscaping.
Conclusion:
This compilation of 25 easy DIY outdoor bench plans is so classic that it makes it harder to choose just one. Choose any of the above-described outdoor bench plans for your garden and start building it up. We are sure that it will make your garden stand out more. These DIY garden benches provide a comfortable place for resting and admiring the surroundings and give a very detailed look to your garden. Plus, there are many other ways in which they can be useful. For example, storage boxes make it easier to store gardening tools.