Learn how to build a wooden step stool with our 20 free DIY step stool plans that will guide you through making a functional and stylish addition to your home. With these DIY wooden step stool plans, you'll be able to handcraft a personalized step stool for adults or a safe and secure kids step stool. From a simple step stool plan to a foldable one, you can find a pattern that suits your needs and fits perfectly with your home decor.
Each free DIY wood step stool plan is accompanied by clear, detailed instructions and illustrative visuals, allowing you to easily follow along and assemble your step stool, regardless of your skill level in woodworking. Every step stool plan is crafted to be both practical and aesthetically pleasing, allowing you to build a functional, sturdy wooden step stool or even a wooden step ladder. Some plans even offer a dual functionality, serving as a chair and a step stool.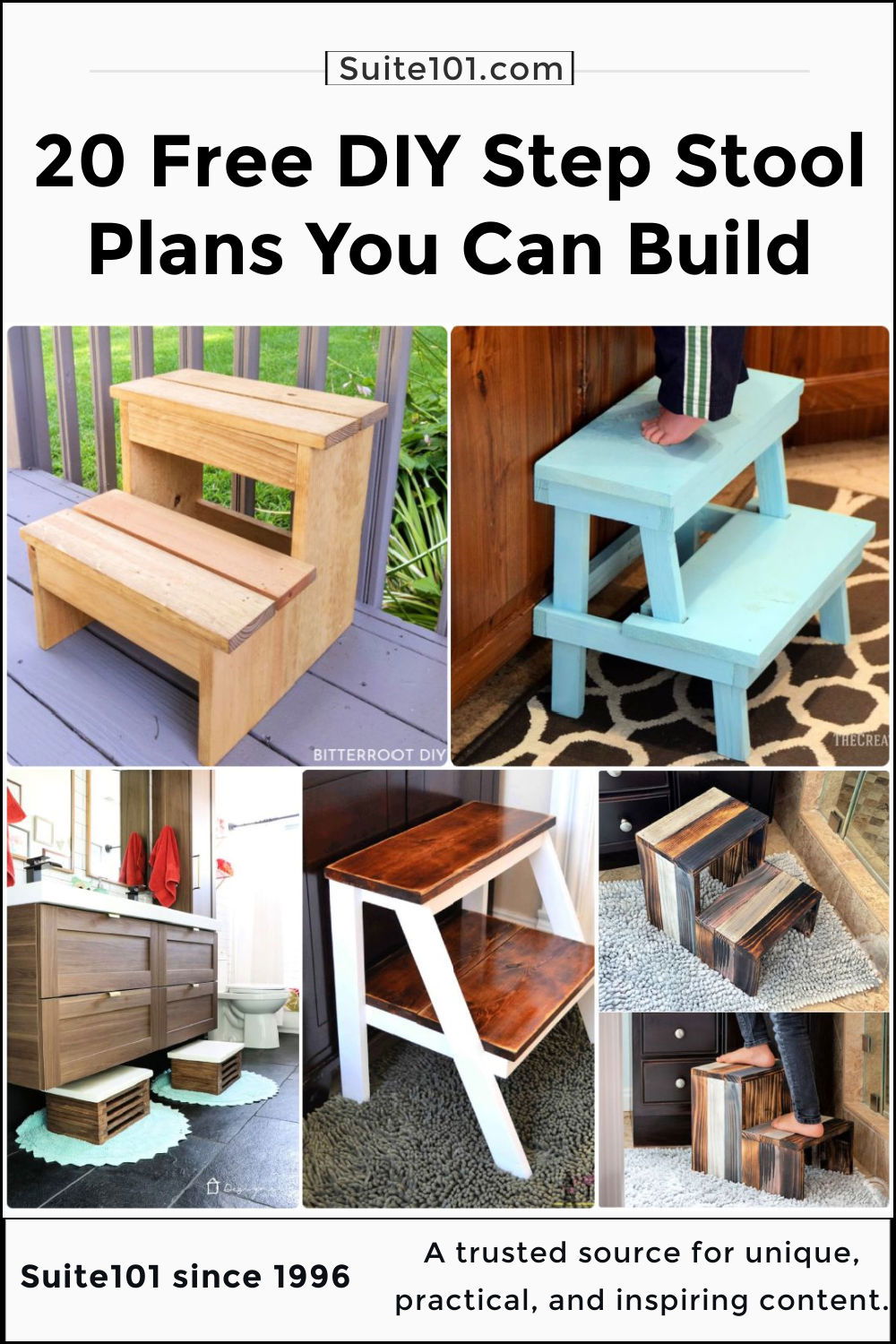 Furthermore, these step stool plans offer a creative outlet to repurpose scrap wood, providing an eco-friendly solution while making a useful piece of furniture. So why not choose a DIY step stool plan from our collection, pick up your woodworking tools, and start creating a useful and beautiful wooden step stool for your home today? It's time to add a touch of your personality and creativity into your home with a DIY step stool.
How to Make a DIY Step Stool for Your Home
A step stool is a handy piece of furniture that can help you reach higher places, such as cabinets, shelves, or windows. It can also serve as a seat, a table, or a game board. Learn how to make a DIY step stool that is easy, cheap, and fun to build.
What You Need
To make a DIY step stool, you will need the following materials and tools:
A 1 x 12 board of hardwood (oak or maple) that is at least 25 inches long
A jigsaw or a circular saw
A drill/driver with 3/32-inch and 1/4-inch drill bits
A random orbit sander with sandpaper
Wood glue
Wood screws (1 1/4-inch and 2-inch)
A tape measure
A combination square
A pencil
Paint or stain of your choice
A paint brush
Antiskid tape (optional)
A checkerboard template (optional)
How to Cut the Wood
First, you need to cut the wood into three pieces: a square top and two crisscross legs. Here are the steps:
To measure and mark accurately, use a tape measure and combination square., mark an 11 1/4-inch square on one end of the board. This will be the top of your step stool.
Cut out the square with a jigsaw or a circular saw. Be careful to follow the lines and make straight cuts.
Mark the remaining part of the board into two equal pieces, each 14 inches long. These will be the legs of your step stool.
Draw a line to divide each leg piece in half lengthwise.
At the center of each leg piece, mark a rectangle that is 1 inch wide and extends halfway into the wood. This will create a notch that will allow the legs to fit together in an X shape.
Cut out the notches with a jigsaw or a circular saw.
How to Sand the Wood
Next, you need to sand the wood to smooth out any rough edges and prepare it for painting or staining. Here are the steps:
Using a random orbit sander with sandpaper, sand all sides and edges of the wood pieces. Start with a coarse grit (80 or 100) and work your way up to a fine grit (220 or 320).
Wipe off any dust with a damp cloth or a tack cloth.
If you want to paint or stain your step stool, do it now and let it dry completely before assembling.
How to Assemble the Step Stool
Now, you are ready to put together your step stool. Here are the steps:
Apply some wood glue to the notches of the legs and fit them together in an X shape. Make sure they are aligned and flush at the top and bottom.
Drill four pilot holes with a 3/32-inch drill bit through each leg where they cross each other. Use a combination square to make sure they are perpendicular.
Drive four 2-inch wood screws through the pilot holes to secure the legs together.
Place the top piece over the legs and center it. Drill four pilot holes with a 3/32-inch drill bit through the top into each leg, about 1 inch from each corner.
Drive four 1 1/4-inch wood screws through the pilot holes to attach the top to the legs.
How to Add Some Finishing Touches
Finally, you can add some finishing touches to your step stool to make it more functional and attractive. Here are some ideas:
To make your step stool safer and prevent slipping, you can apply some antiskid tape to the top surface. Cut out strips of tape that fit the length and width of the top and stick them on.
To make your step stool more fun and versatile, you can turn it into a game board by painting or sticking on a checkerboard pattern on the top surface. You can use a template or draw your own squares with a pencil and a ruler. Then, use two contrasting colors of paint or stickers to fill in the squares.
To make your step stool more personalized and creative, you can decorate it with stickers, decals, stencils, or anything else you like.
Enjoy Your DIY Step Stool
You have just made a DIY step stool that is easy, cheap, and fun to build. You can use it for various purposes around your home, such as reaching higher places, sitting down, or playing games. Also, you can increase the height or storage space by creating multiple units and stacking them together.
Enjoy your DIY step stool and be proud of your work!
1. Kids Step Stool Plan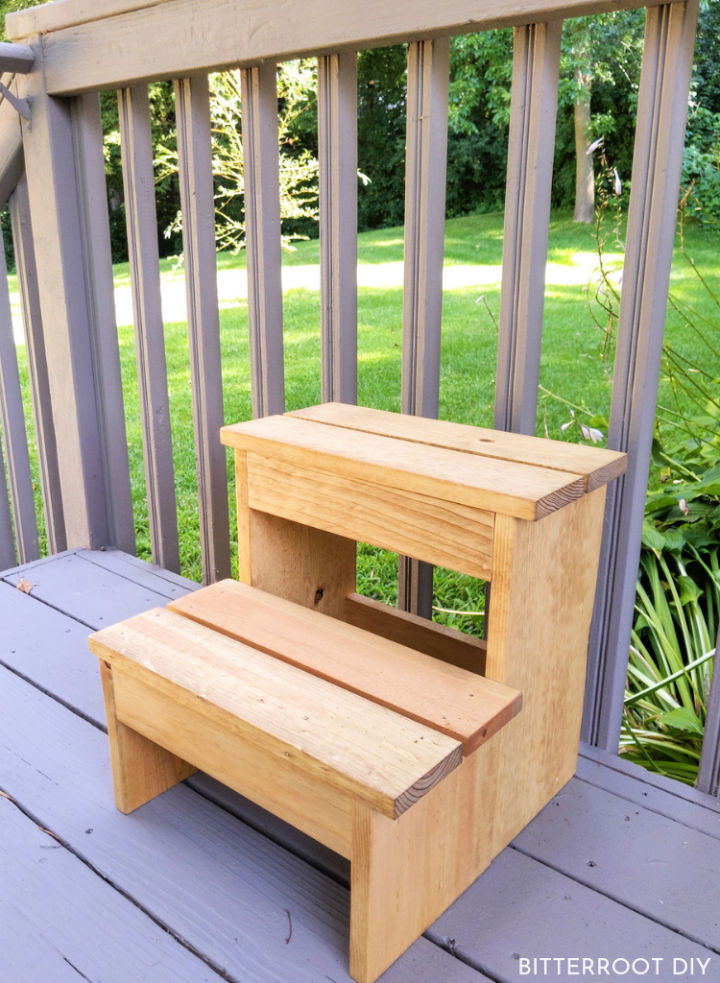 Do you want to offer and make more space for sitting in the home garden for your kids? If yes, build this super easy and affordable DIY step tool with a step-by-step guideline. You can make it with wood scrap and leftover. However, you can also buy the lumber from a craft store. Moreover, you require a jigsaw, wood glue, nails, drilling tools, tape measure, and safety kit. You can start working on it by making a template on paper before wood cutting. In this way, it would be easier for you to complete it with specified measurements. bitterrootdiy
2. Wooden Step Stool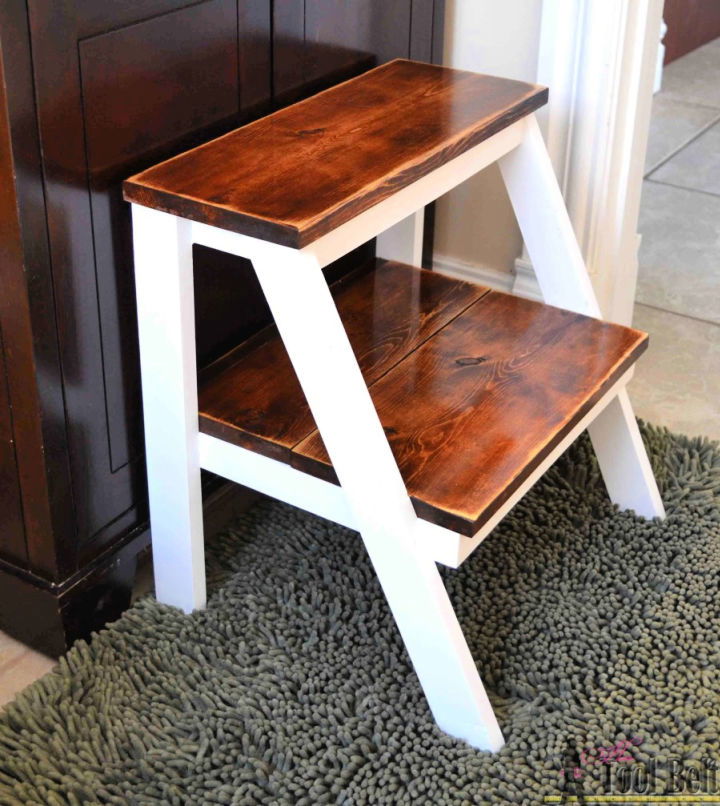 This step stool is not only for kids, but the elders can also use it efficiently. For making it, you can use lumber and wood boards. Additionally, you require pocket screws, wood glue, sandpaper, and nails. Get help from a printed format and diagram for appropriate cutting. The main thing that makes this DIY stool different from others is its more giant down-thread stair than the upper one. Once you have done cutting and preparing this stool, paint it with wood stain to smooth finish. hertoolbelt
3. Wooden Step Stool With White Concrete Top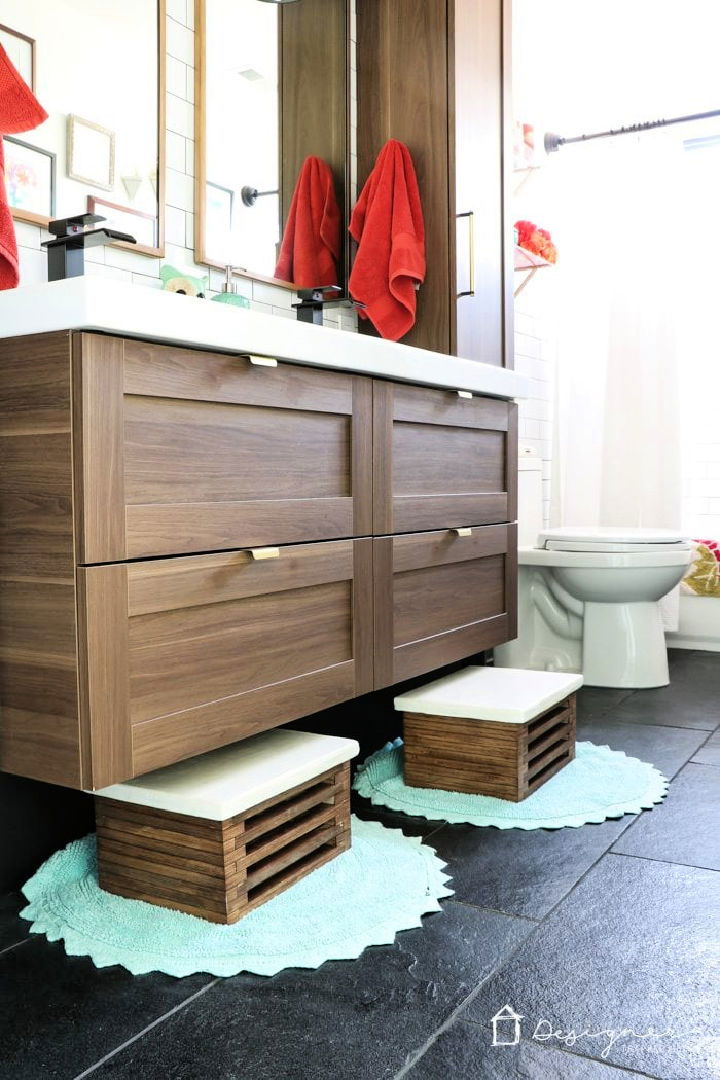 A wooden step stool with a white concrete top is the best and ideal option to consider for the bathroom. The main thing is that you can use the cabinets of this stool for organizing your bathing and skincare stuff without any mess. For this, you require plywood, strong wood adhesive, a white skim coat, a drywall pan, and a sander. It's better to use the router for cutting the wood. So, you can assemble all the pieces of wood in specified sizes and measurements. Later, place the concrete top on this customized step stool. designertrap
4. DIY Folding Step Stool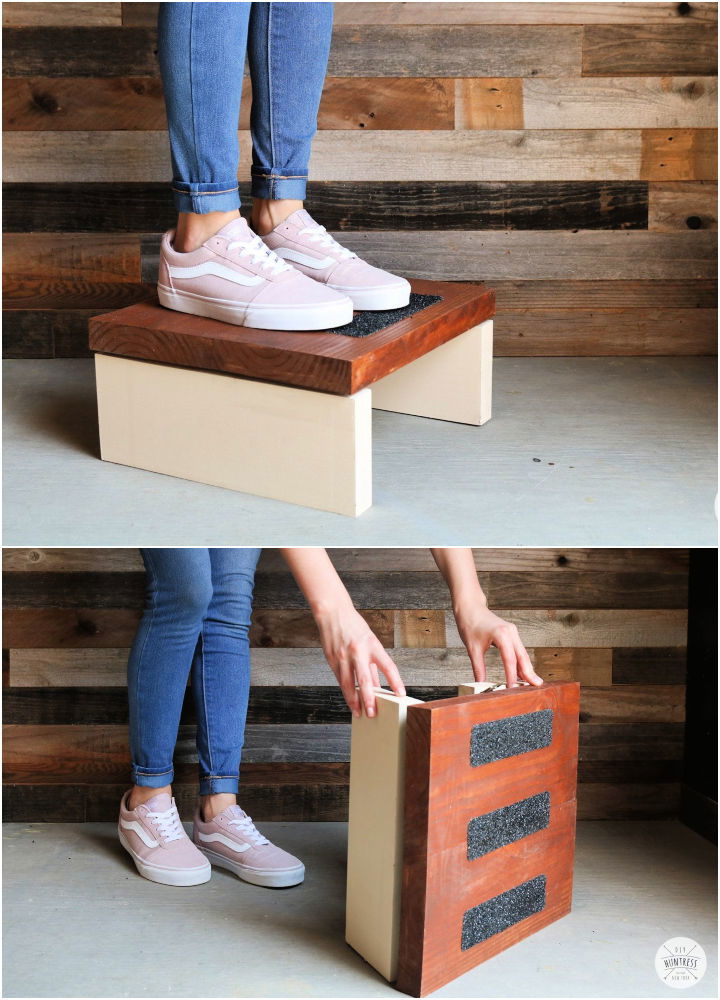 If you are looking for a space-saving and budget-friendly DIY step stool, this folding step stool is an ideal option for your needs. The best thing about this project is that you can work on it in less time and effort. You can use the scrap wood and board and other wood-crafting and drilling tools to make this super striking step stool. Make it more stylish and worth placing anywhere you want with your choice of wood stain paint. diyhuntress
5. Wooden 2 Step Stool Using Scrap Wood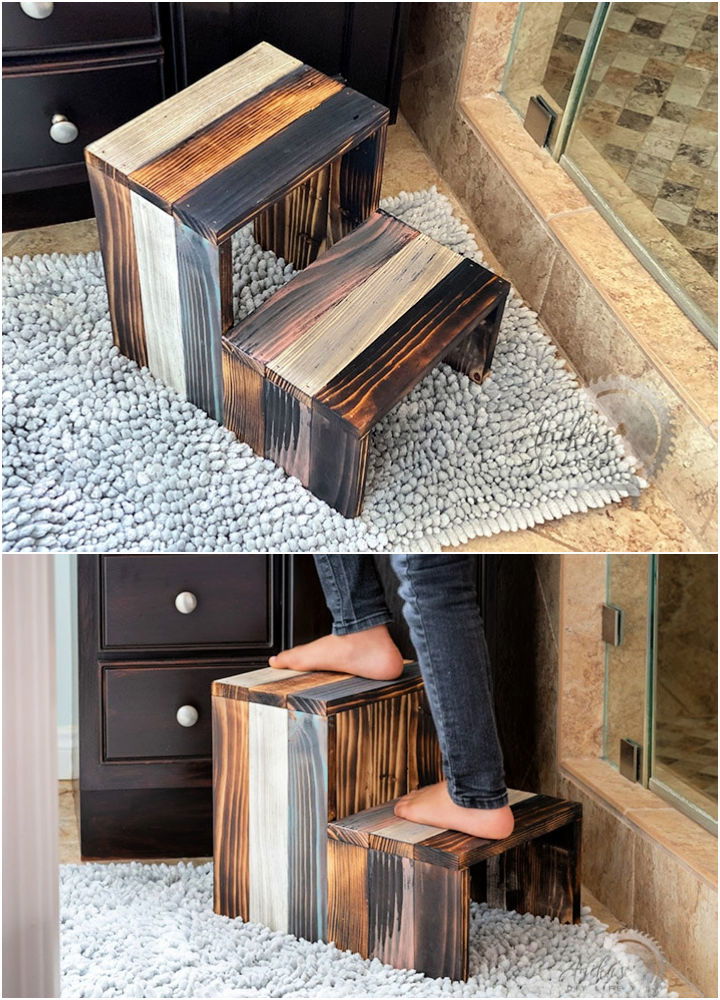 Happy Earth's Day! It's the right time to recycle and reuse the scrap from your craft store for productive projects. You can use the wood scrap to make this super adorable and inexpensive 2-step stool. For this, you don't require excessive supplies and material. All you need to do is cutting the wood leftover in specified measurements to make a 2-tier stool. Use nails and screws for attaching all the cut boards and pieces in a designed shape. Lastly, use the wood stain for painting and giving it a smooth finishing. anikasdiylife
6. Making An IKEA Step Stool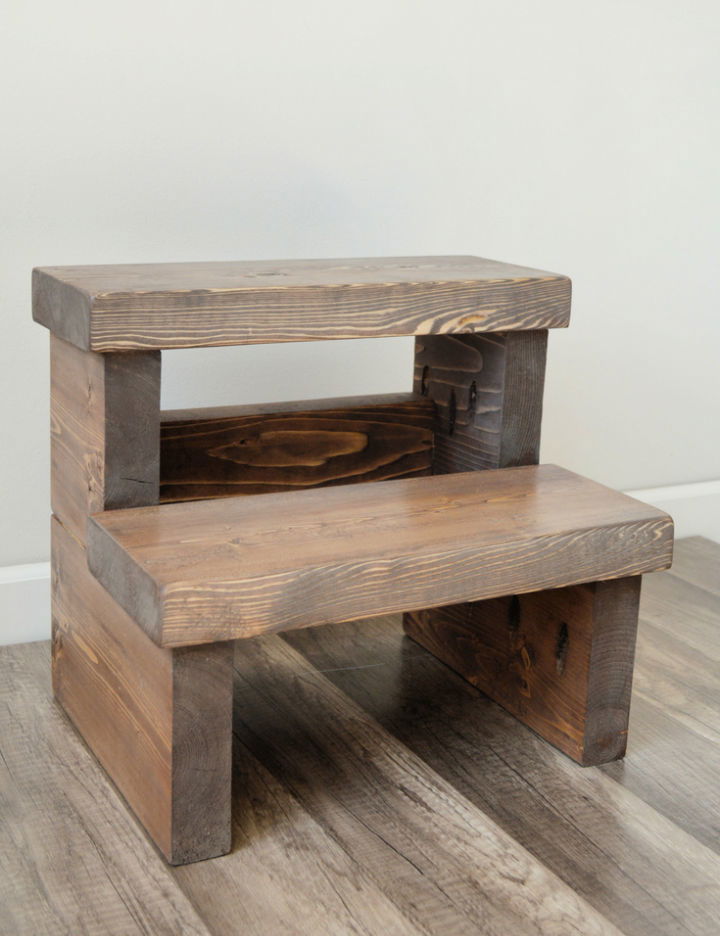 No doubt, IKEA is the best and suitable material for most wood-crafting projects. Similarly, you can use it to make a beautiful step stool. For making this stool, you require IKEA birch, Minwax stain in the desired color, chalky vintage décor paint, painting brushes, and painter's tape. The only thing you need to do is assembling the IKEA stool. Later, paint it with stain or any other color paint. You would love to have and placing this two-tone step stool in your room! lovelyet
7. Childs Step Stool Plan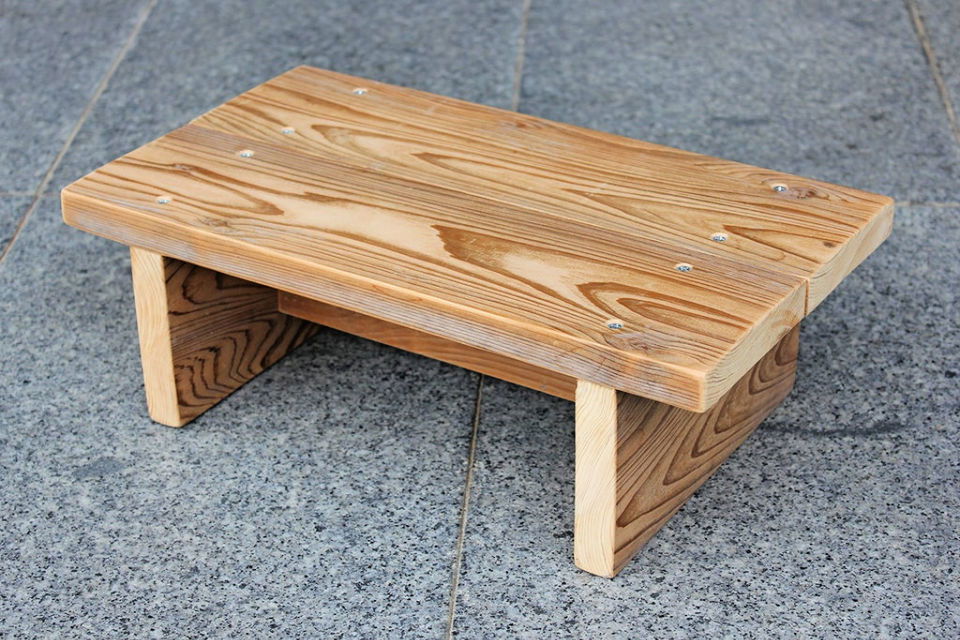 Build this simple and step stool for children, as well as elders. For this, you don't need to buy a new wood supply. You can reuse and reclaim the cedar. Furthermore, you require an orbital saw, screwdrivers, drilling machine, and sander. If you are new to this DIY project, you can get guidelines from a free provided pdf. Cut the wood in specified size and dimensions. Moreover, use screwdrivers with a power drill for assembling the legs and stool top. instructables
8. Small Wooden Step Stool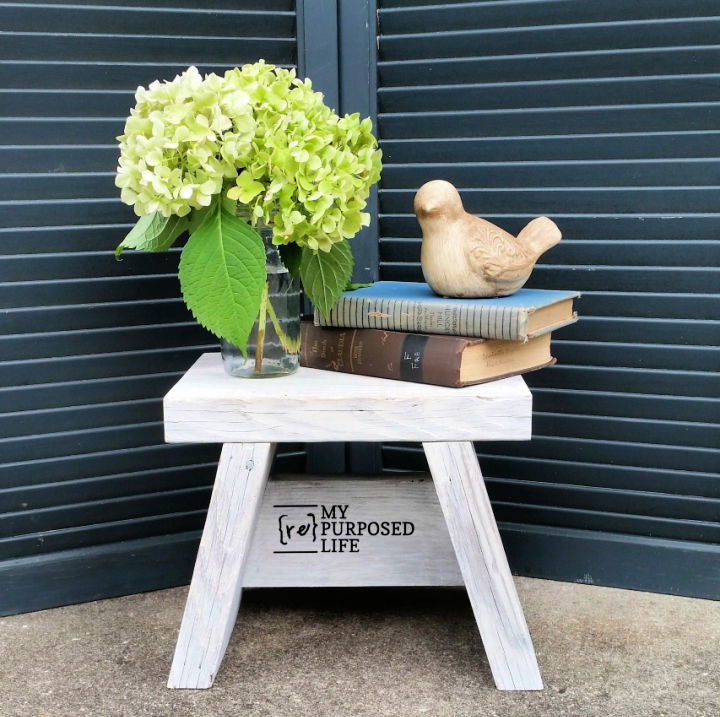 This small wooden step stool is the best option if you search for a quick and easy-to-make step stool. You can use it to reach the kitchen cabinets quickly and effortlessly. Moreover, it is an ideal DIY for kids who want to play and sit in the home garden. Make it efficiently with a reclaimed wooden board, screwdriver, power drill, wood glue, tape measure. You need to cut the wood in the cross, bevel, and miter cuts for stool top, legs, and brace. myrepurposedlife
9. Wooden Step Stool That Doubles as a Chair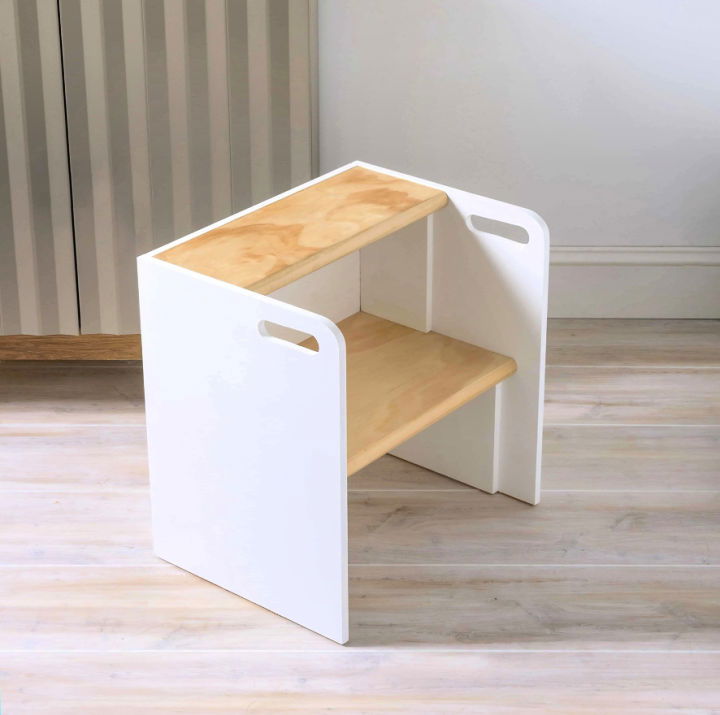 DIY this two-in-one-step stool that doubles as a chair with MDF, stair tread, drilling tools, and screws. Moreover, you also require hot or wood glue, a primer of your own choice, and sandpaper. Organize and cut the MDF in the provided format. Once you have done cutting and assembling all the parts, use the paint spray and primer for painting. You are all set to use this masterpiece as a stool and chair. diycandy
10. How To Make A Kids Step Stool Chair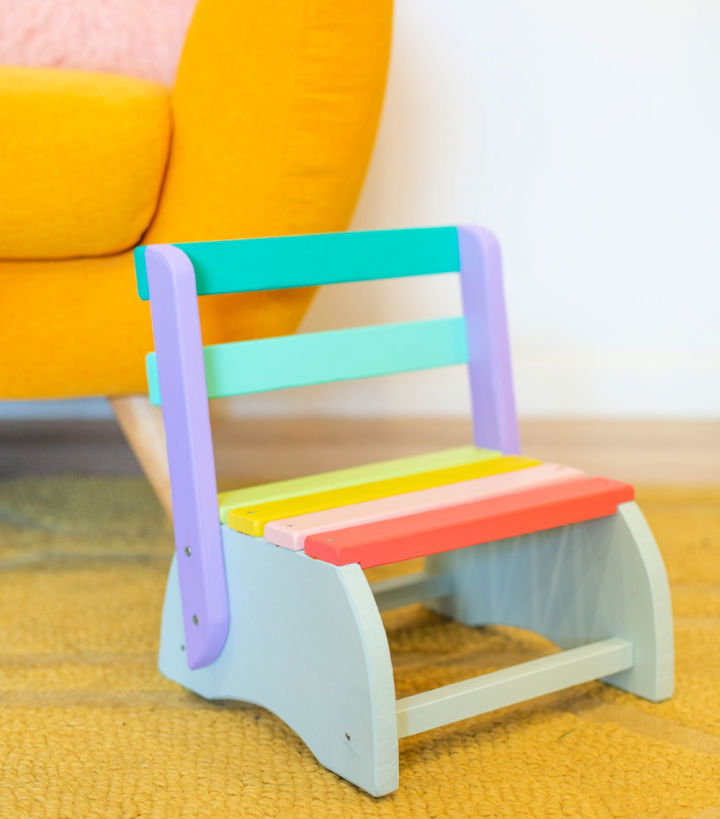 Make this colorful and super adorable step stool for the kid's room with wood scrap and leftover. This stool is also an ideal and perfect option for a kid's play area. You can build it yourself instead of buying from an expensive wood store. Use the standard wooden boards and plywood for dowels. Moreover, you require colorful craft paints, paintbrushes, drilling, and screwing tools. If you love to work on the wood-crafting project, you would surely enjoy creating this super cute and colorful stool. lovelyindeed
11. Kitchen Step Stool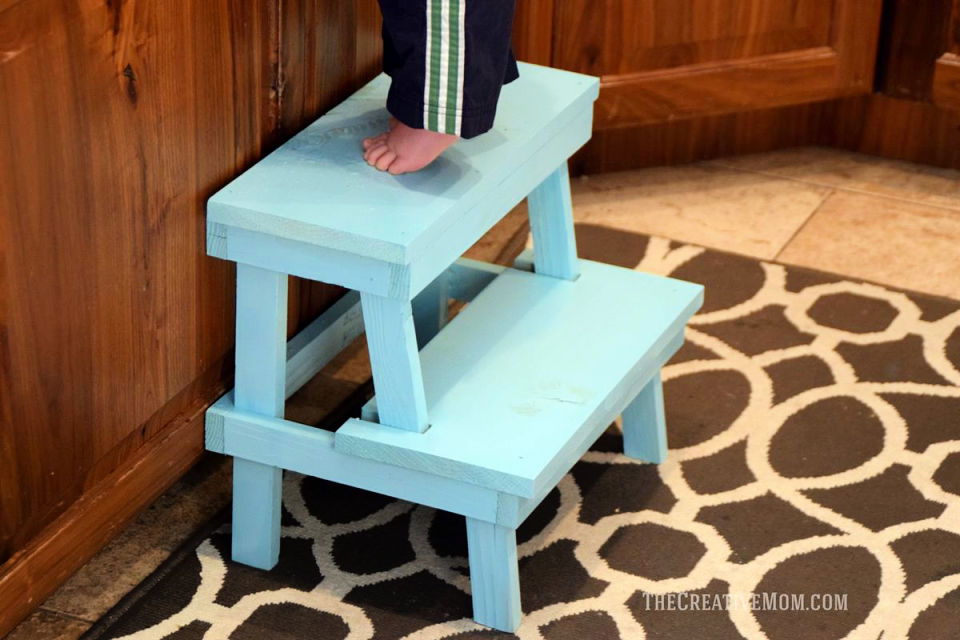 Build this most straightforward and short step stool with affordable craft supplies. This step stool is the best project to consider for kitchen purposes. You can reach the kitchen racks and cabinets easily with this bench. The best thing is that you can move it comfortably wherever you want because of lightweight. Doesn't it look gorgeous? Reuse wooden frames for the back and front infrastructure of this stool. Use a screwdriver and screws for assembling the legs, top, and sides of the seat. buildsomething
12. Ana White Step Stool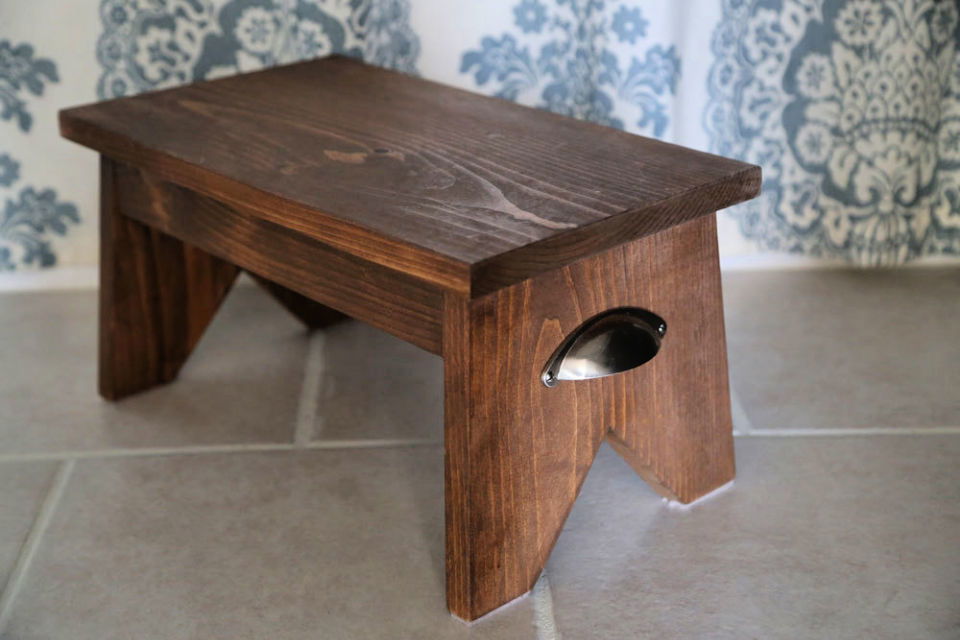 Do you want to polish your wood-crafting skills? If yes, take a start from a small project like this simple wooden step stool. Build it effortlessly and efficiently with wooden boards, pocket hole screws, wood glue, and wood filler. Additionally, you can also add the knobs and handles. But only if you want. Otherwise, handles are optional. Make this step stool and use it in the kitchen or bathroom. ana white
13. Modern Step Stool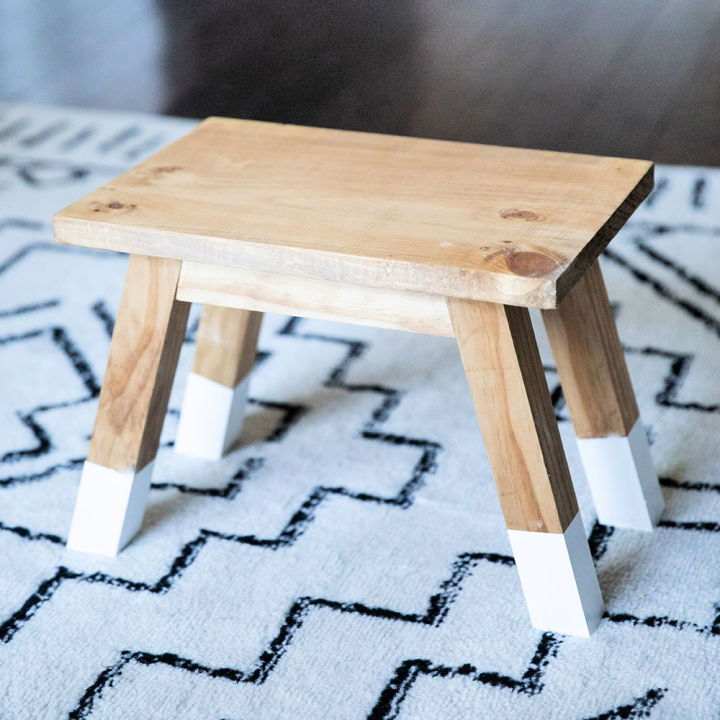 DIY this modern step stool for multiple purposes. You can make it quickly and effortlessly with rustic wood. Moreover, you can also reuse the reclaimed and woo scrap for this project. The best thing about this DIY step stool is its versatility with elegance. You can use the same wood supply for making the top, legs, and sides of the stool. Lastly, use the white paint spray only on the legs to give it a more stylish look. homedepot
14. Build a Step Stool with Guard Rail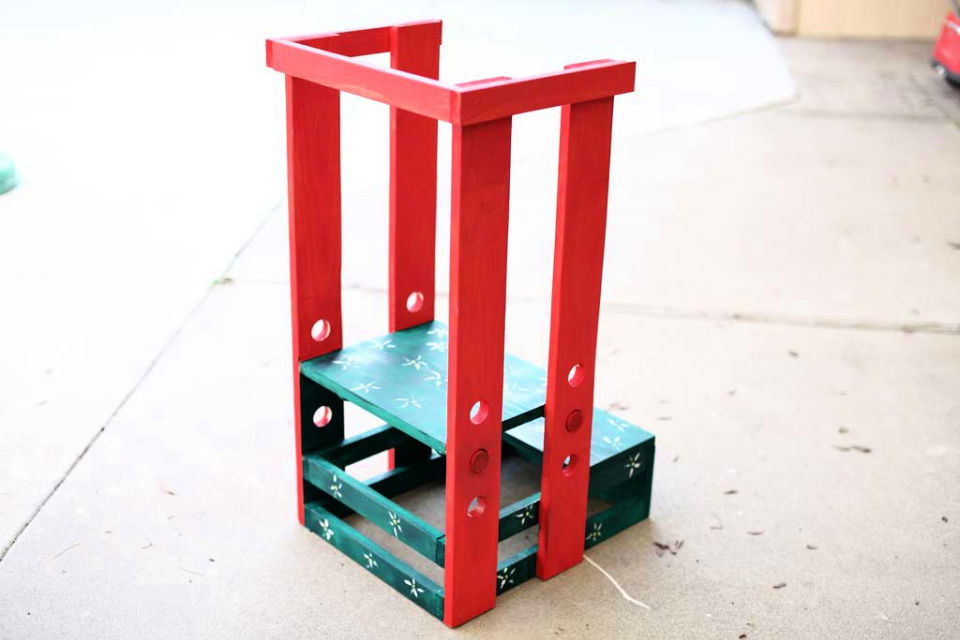 Build a step stool with a guard rail for the kid's room and play area. Kids would love sitting and playing on this stool. To make this stool, you require intermediate-level crafting skills. Furthermore, use an accessible pdf format, wooden board, dowel rod, strap clamp, wood glue, and drilling tools or materials. You can style and give this stool a smooth finishing by painting the rail guards in desired colors and combinations. thediyplan
15. 2×4 Step Stool Plan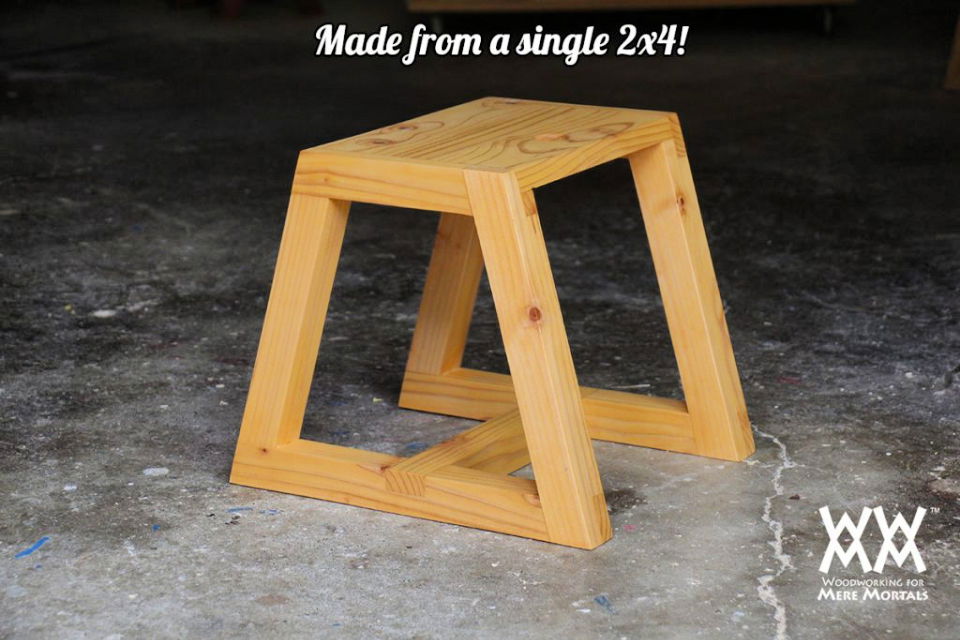 Make this simple 2*4 step stool with a single wooden board. Luckily! It's much easier to build and manage this stool because of a single and thicker plank. Use the miter gauge for cutting the wood in specific sizes and measurements. Once you have done cutting, assemble all the pieces in a designed format. You can also paint the top and bottom parts of this stool with different paint spray colors to make it more attractive. woodworkingform
16. Vintage Stepping Stool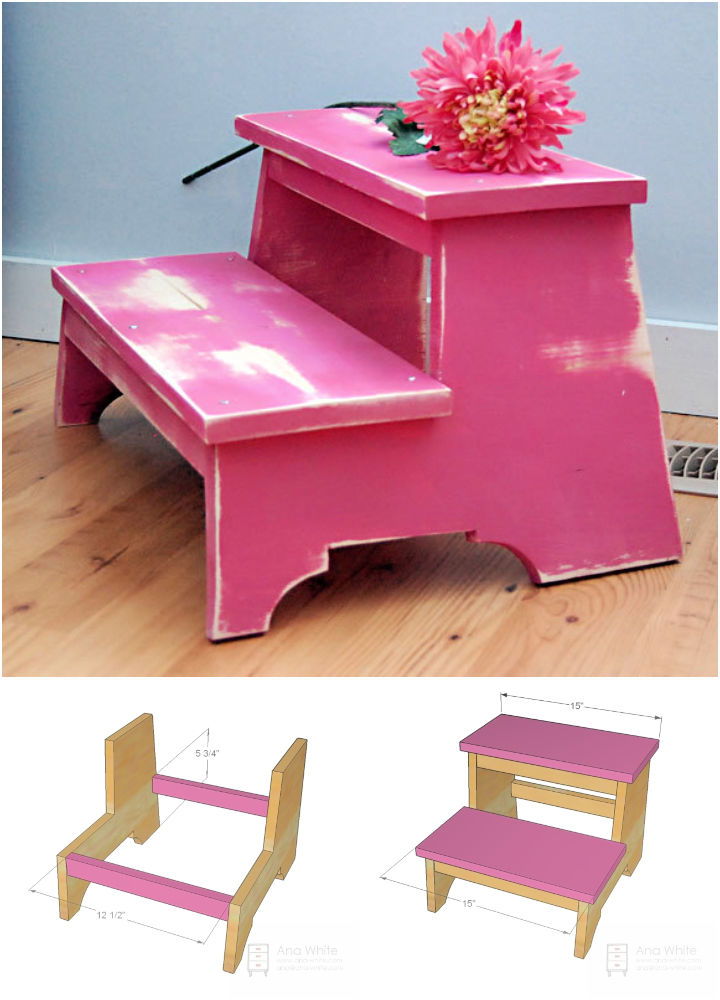 Build this vintage step stool for your room and living area with scrap and leftover supplies. The best thing about this DIY step stool is that you can also use it as an event décor because of its style. However, dimensions matter a lot in the customization of this stool. Therefore, you have to consider the measurements appropriately. On the other hand, use wood scrap, glue, wood filler, and pocket hole screws. Not only in pink color, but you can also paint vintage step stool with any desired color paint. ana white
17. Narrow Transformable Spiral Step Stool From Scrap Wood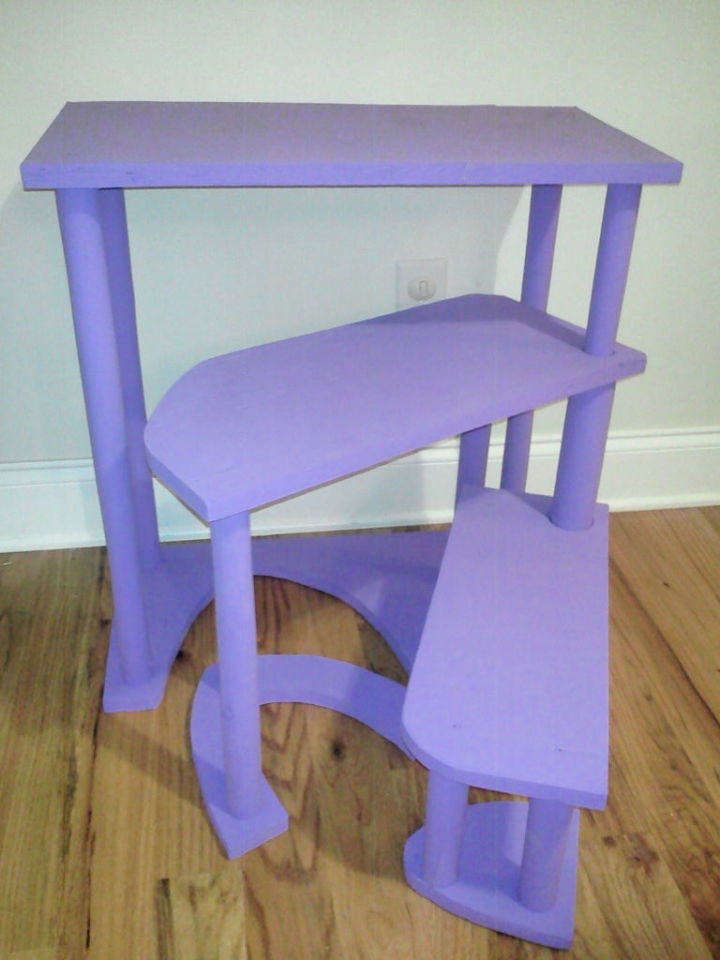 A narrow transformable spiral tool is the best and most suitable piece of furniture for your bathroom. You can build this good-looking and modern-style stool by yourself with wood scrap. However, it may look not easy to customize, but you can make it easy with a printed template. Use the power drill, screwing tools, and crafting supplies for assembling this stool's legs and basement. Make this stool more interesting with sky blue color paint. instructables
18. Josh Sarahs Modern Step Stool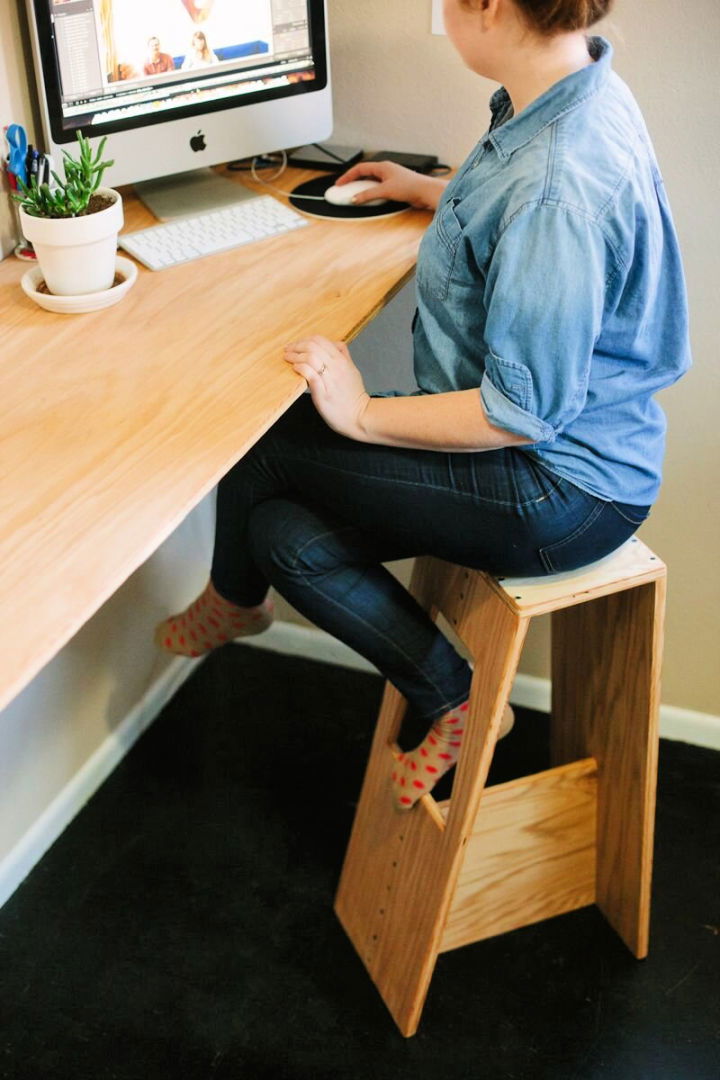 If you are looking for a comfortable and modern-style sitting space to work on desktop, this Josh and Sarah's stool is the best option for you. You can make it efficiently with hardwood or plywood. Moreover, use screws, screwdriver, strong glue, miter saw jigsaw, measuring tape, and shelf brackets. You can use the pencil for sketching lines for accurate measurements before cutting. So, you can get your hands on a desired and super comfy step stool. Make it more attractive by painting with the same interior color paint. abeautifulmess
19. DIY Step Stool with 3 in 1 Nesting Feature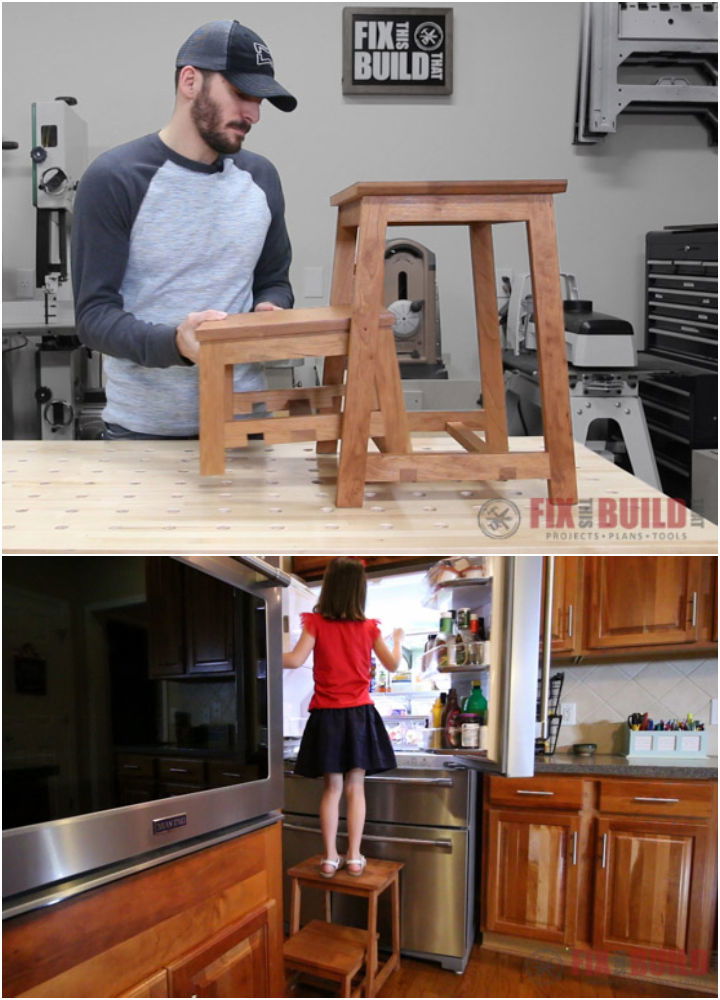 DIY step stool with three in one nesting feature using hardwood, dowels, pocket hole screws, table, and miter saw. Furthermore, use the clamps with a self-centering dowel jig. You can work on stool base, top, legs, and jointers separately for ease of work. Once you have done cutting and creating all the pieces, assemble them with wood clamps and screws. fixthisbuildthat
20. Building A Striped Wood Stool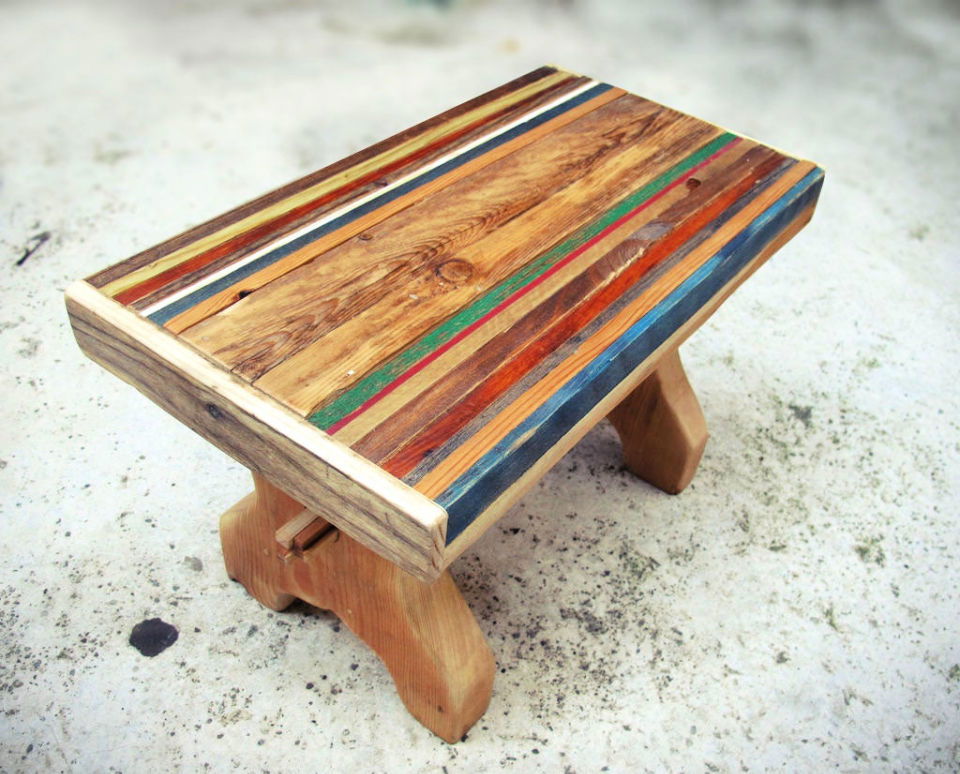 Add more colors and tones to your room and kid's play area with this striped step stool. Make it easy and effortlessly with wood stripes and wood boards. You would surely love playing with colors and painting all the bars. Moreover, use wood glue for assembling and joining all the strips. Customize the legs and sides of this stool with a wood board. In the end, use the screwing and drilling tools to assemble the base, legs, and stool top. instructables
Conclusion: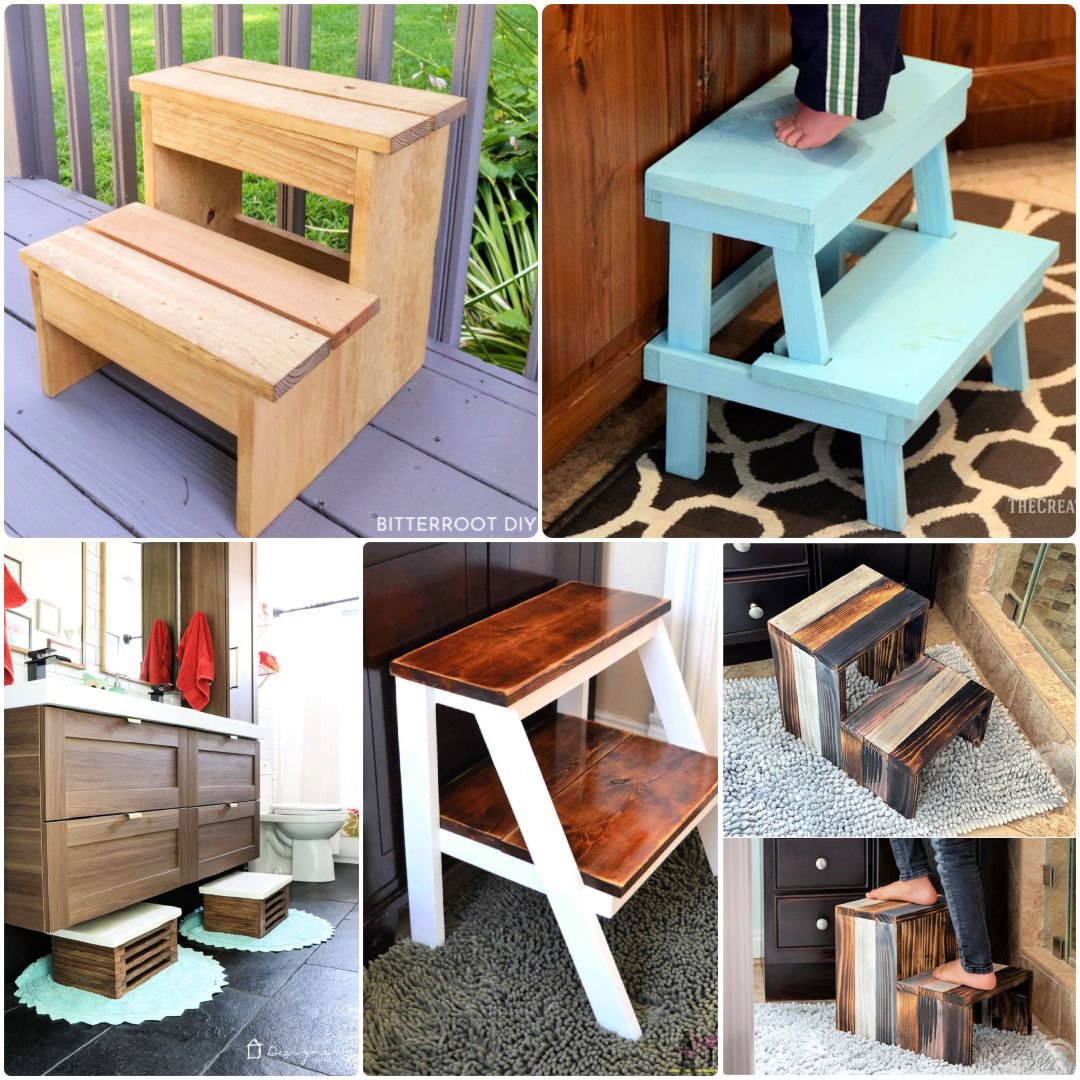 In conclusion, these 20 free DIY step stool plans offer an incredible variety of options for making the perfect wooden step stool to suit your needs. Whether you need a kids step stool plan, or a versatile wooden stool that doubles as a chair, these woodworking projects have you covered. Don't miss the scrap wood step ladder or the narrow transformable spiral step stool made from scrap wood to add a unique touch to your home. Equip yourself with these plans, and you'll be ready to make functional and stylish wooden step stools in no time.