Succulents are a trendy plant to have in your home, and there are endless possibilities when it comes to creating your own succulent planter. For those who want to add a touch of green to their decor, DIY succulent planters are a great option. These low-maintenance plants are easy to care for, and they can be swapped out easily to change up your look. If you're looking for some inspiration, here are 25 DIY succulent planter ideas to try.
For indoor succulent planters, consider using unique vessels such as mugs, teacups, or even wine glasses. Outdoor succulent planters can be as simple as recycled tin cans or baskets. And for a fun project, try making your own concrete succulent pot. Whatever route you choose, these DIY succulent planter ideas will help you bring some life into your home.
If you're looking for some creative succulent planter ideas, you've come to the right place. In this article, we'll be exploring 25 different ways that you can display your succulents, both indoors and outdoors. Whether you're a novice gardener or a seasoned pro, we're sure you'll find a diy succulent planter idea that inspires you.
So, what are you waiting for? Get your succulents ready, and let's get started!
1. DIY Outdoor Succulent Planter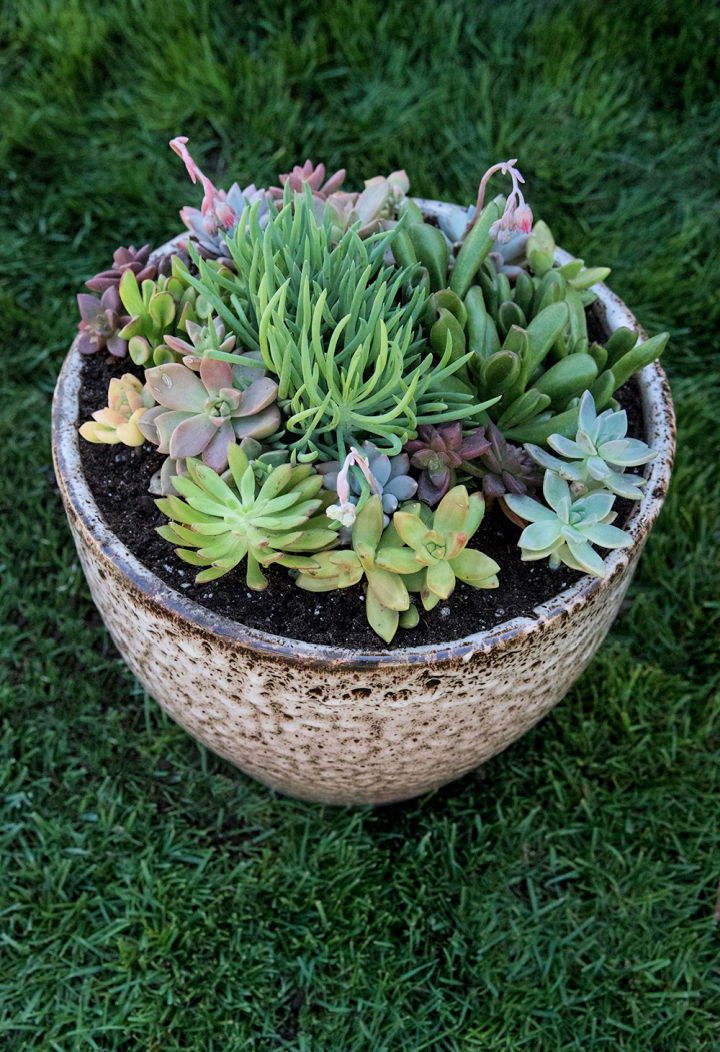 If you are about to display your succulent outside the house, then a bigger planter is needed, instead of small ones that can hold a larger bunch. Have a look at this diy succulent planter which is as beautiful as the succulents themselves. The benefit of a bigger planter is that it can hold more than one plant and you can see how beautiful all the colors have emerged. roomfortuesday
2. How to Make a Succulent Planter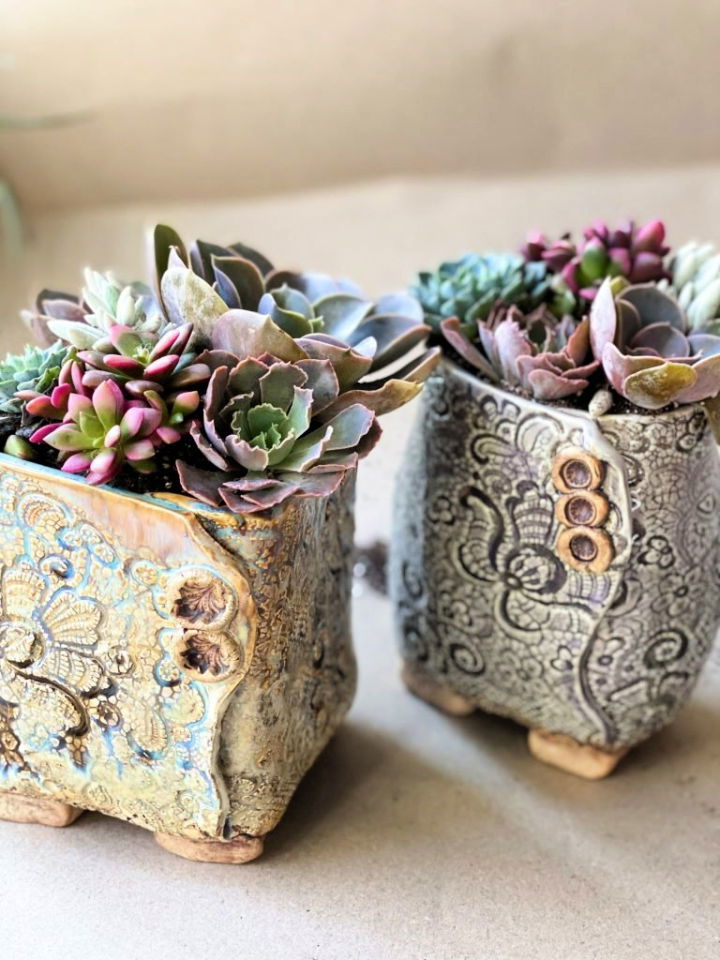 Succulents are most popular plant types these days. The reason behind their popularity is obviously their self-resistance, low maintenance, natural water storage system in extreme conditions. People keep succulent plants in beautiful planters bought form stores that are highly expensive. This is a diy succulent planter that you can easily make at home. tillysnest
3. DIY Wood Succulent Planter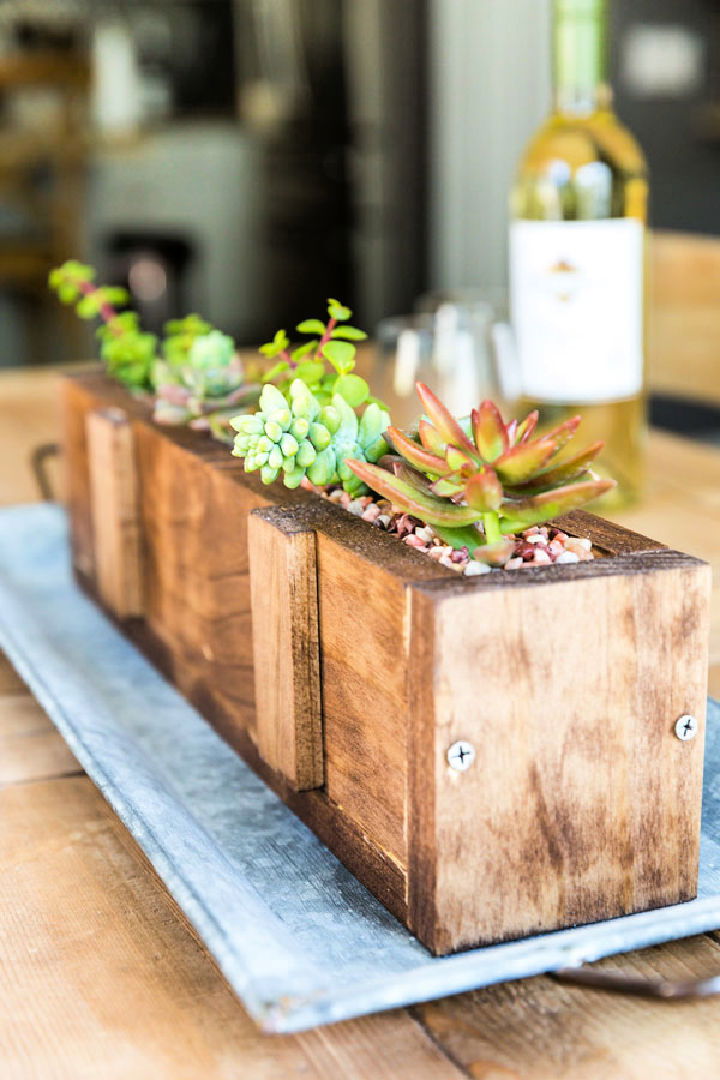 To make a wood succulent planter, you only need to have some basic wood cutting skills and some extra ordinary love for succulent. Make your own diy succulent planters at home with cheap supplies and crafts instead of buying some un affordable stuff from the market. kj
4. DIY Succulent Wall Planter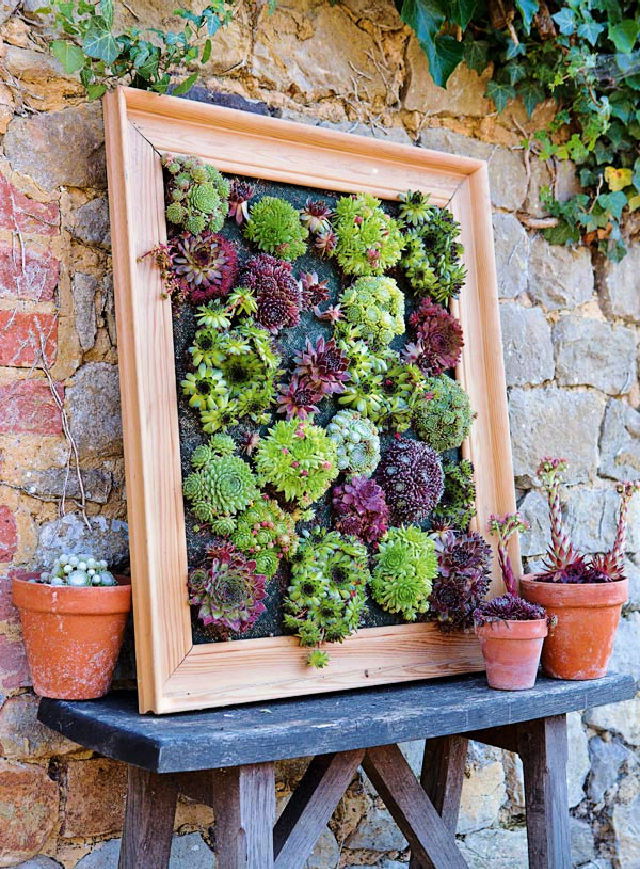 If you are one of those who look forward to display their succulent on the wall, this project is perfect for you. It's a simple project as you can see. A wooden frame is used as a display board for your favorite succulents. Choose some colorful and vibrant succulents for this display as it will absolutely make the wall look amazing. empressofdirt
5. DIY House Number Succulent Planter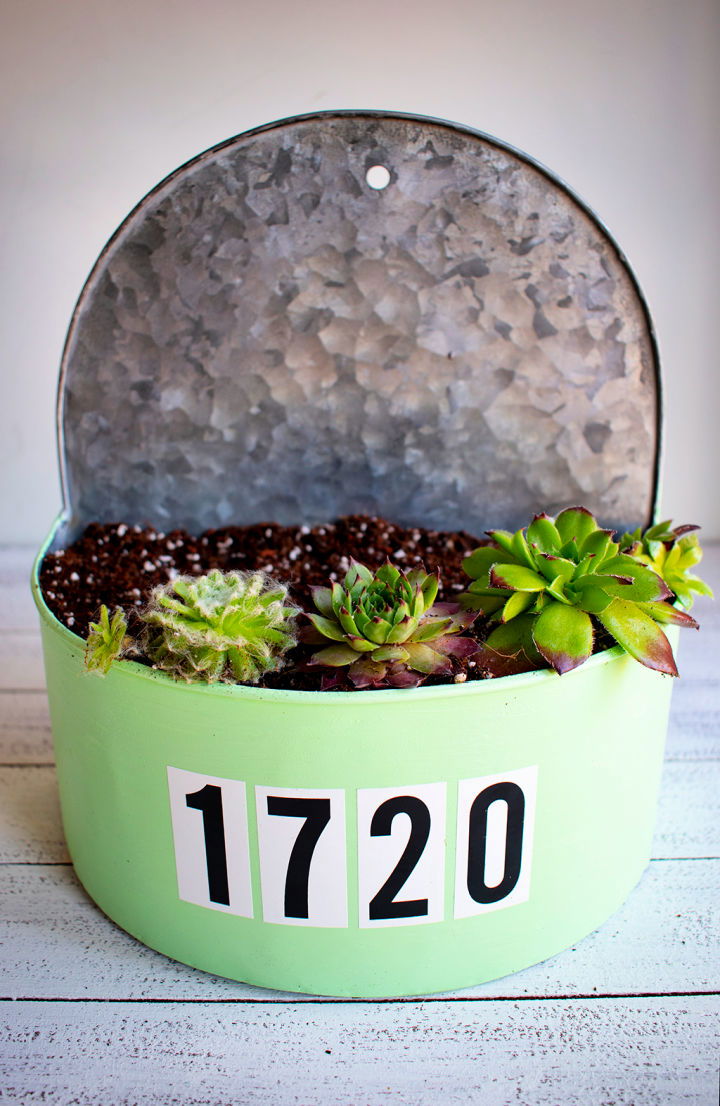 We mostly have different styles of number and name plates outside our house. This is the most unique kind of number plate you will see anywhere. Try making this diy succulent planter and also use it as a number plate for your house. This is useful in two ways so give it a shot. mountaincrestgardens
6. Modern DIY Succulent Planter Using Concrete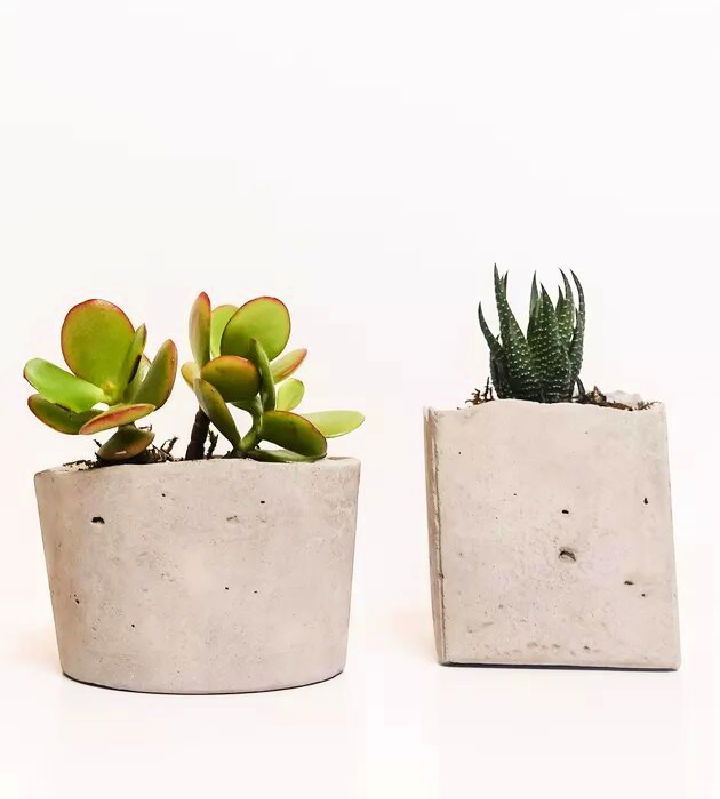 You may have seen many concrete planters and other diy concrete decorative stuff on the internet. This is the most simple concrete succulent planter and it has a modern look altogether if you observe. Gather the supplies and make immediate arrangements to make this succulent planter before anybody else try this out for their indoors. hunker
7. Make a DIY Succulent Planter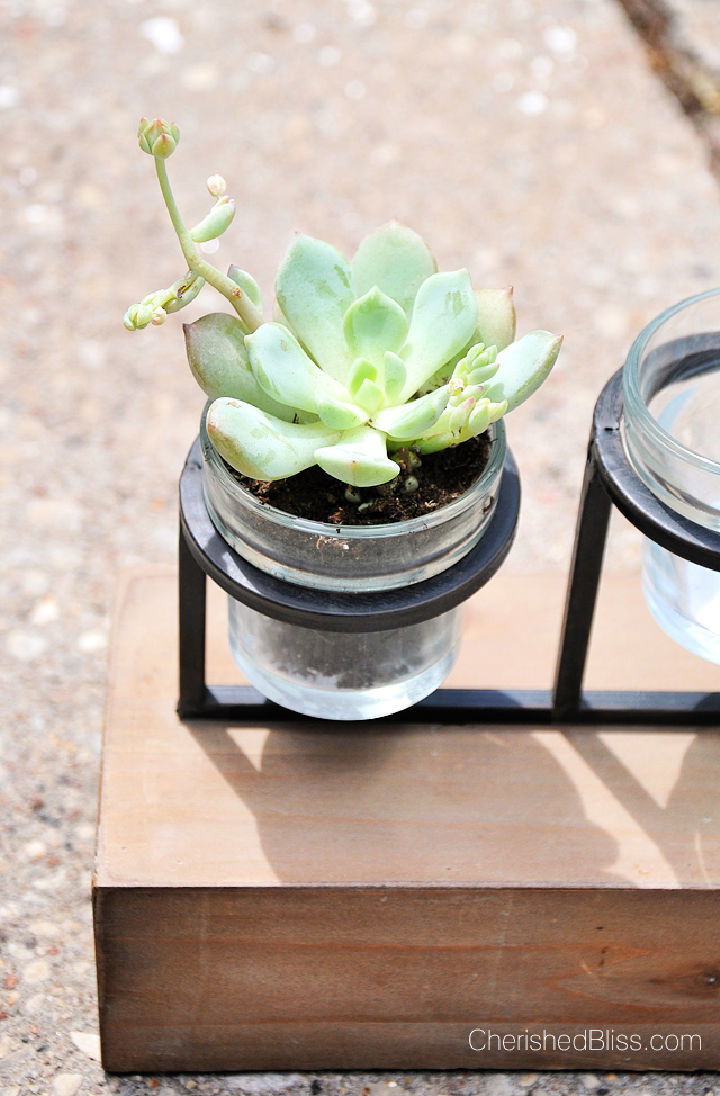 This seems to be a complicated succulent planter but the reality is just the opposite. These are simple plain glasses used as succulent keepers and besides this rot iron stand has been used to keep these small glasses in a decorative style. Try this project soon and place it on the outside of any window of the house. cherishedbliss
8. DIY Brass Succulent Planter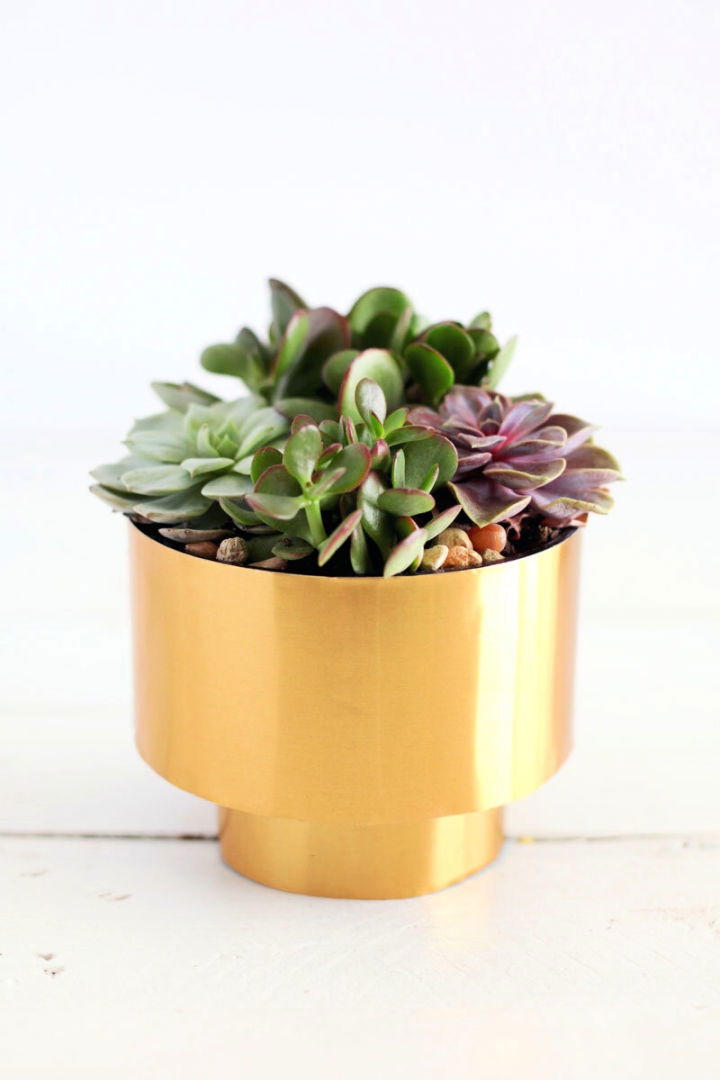 This diy brass succulent planter gives all that royal vibes as you can see. It's a simple brass pot polished and used as a succulent planter. The best part of this diy project is that you will find this planter right at your storage in your home. You can use that uselessly lying brass hardware for this beautiful purpose. abeautifulmess
9. Rotary Phone Succulent Planter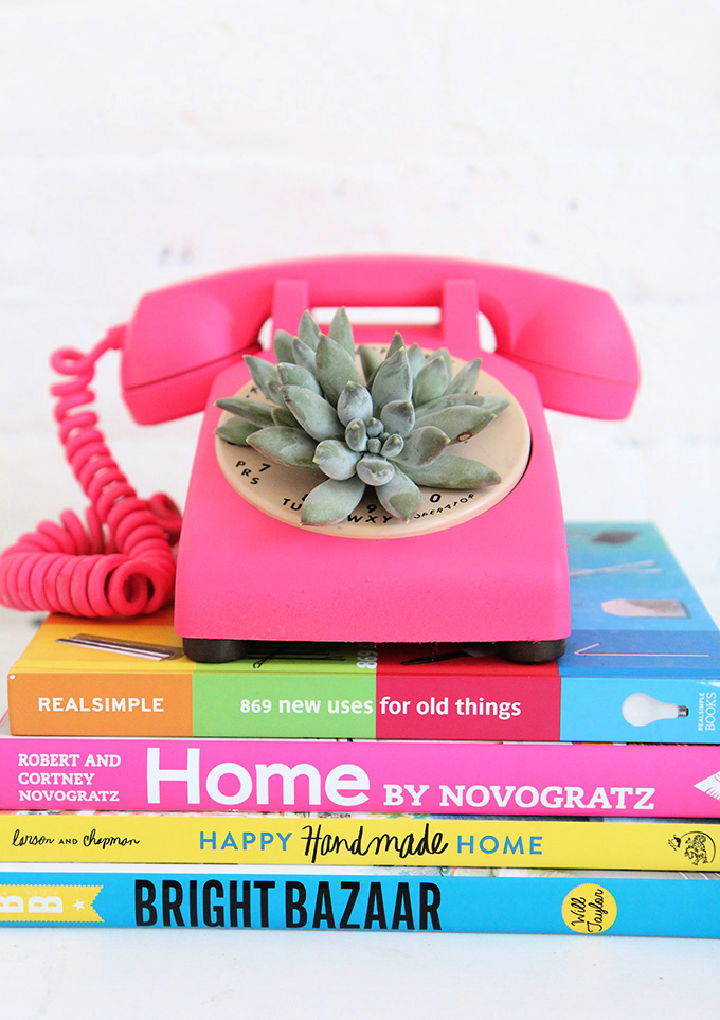 This is probably the cutest planters that you will probably see at the internet. It's a diy rotary phone planter that looks absolutely adorable and gives that old vibe whenever we look at it. Keep this planter anywhere in your home but your indoor garden is best for this. Use some intelligent ideas like these while thinking of making diy succulent planters. ispydiy
10. Mini Wooden Succulent Planter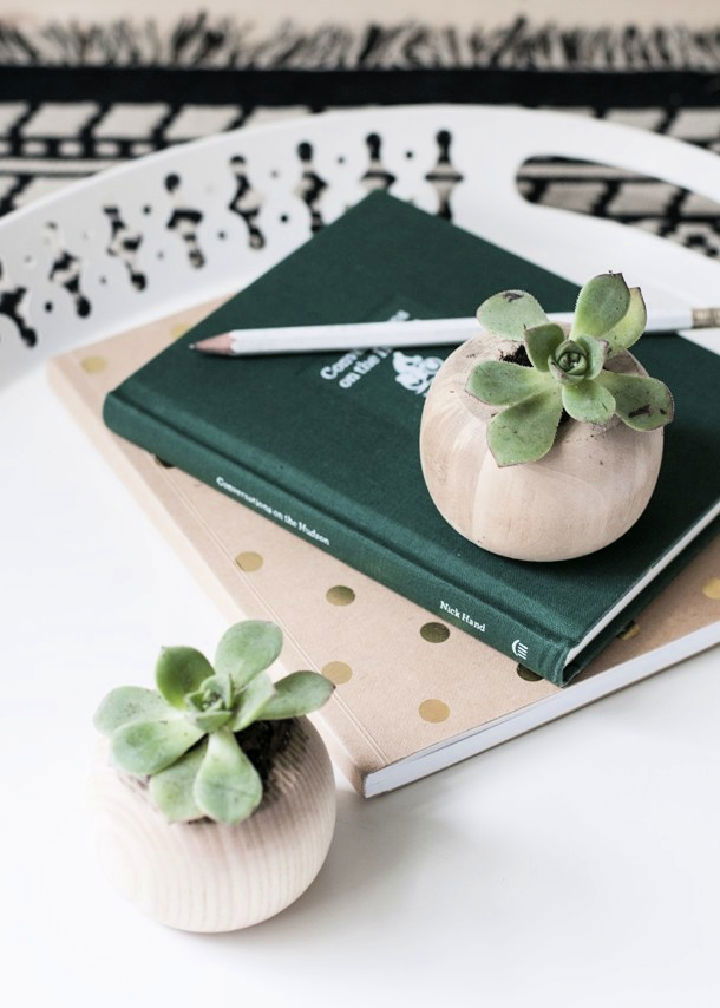 Wood is something that will always rule when it comes to diy projects. This is a diy wooden planter for your favorite succulents. Keep your succulents in these wooden small boxes and make a collection of these to create a particular vibe. Wood is always the best to work with, when you are making anything close to containers. earnesthomeco
11. Glass Yogurt Jars to Succulent Planter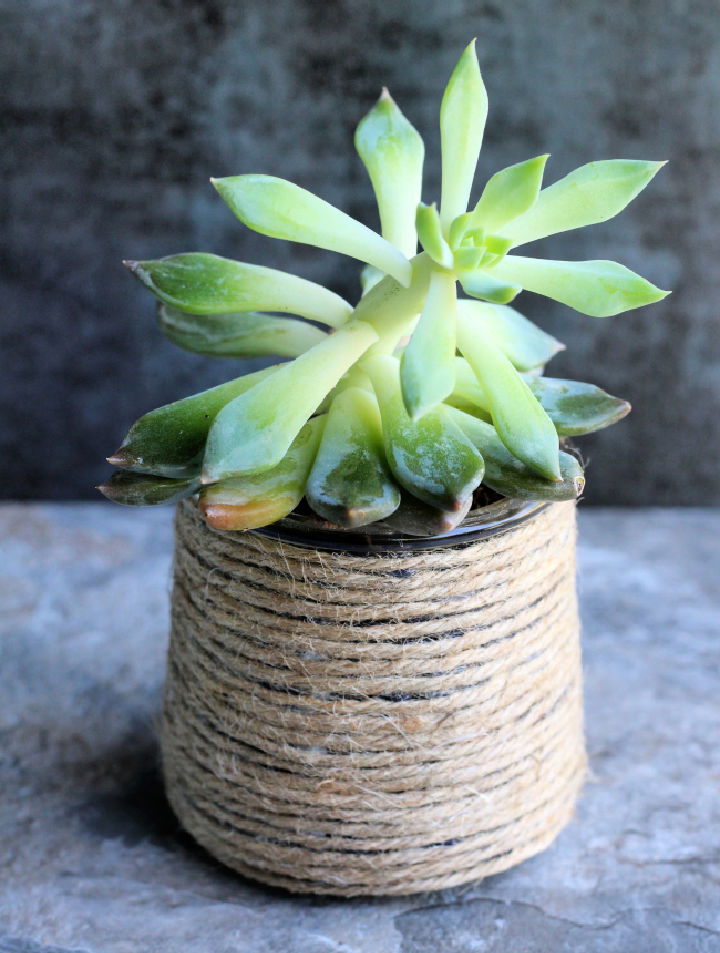 It's always fun when you recreate something into something entirely new. You probably have a yogurt glass jar lying at home. Turn that jar into a succulent planter and see how amazing it looks and does not seem as if we have used a yogurt jar for this purpose. gingercasa
12. DIY Tiered Succulent Planter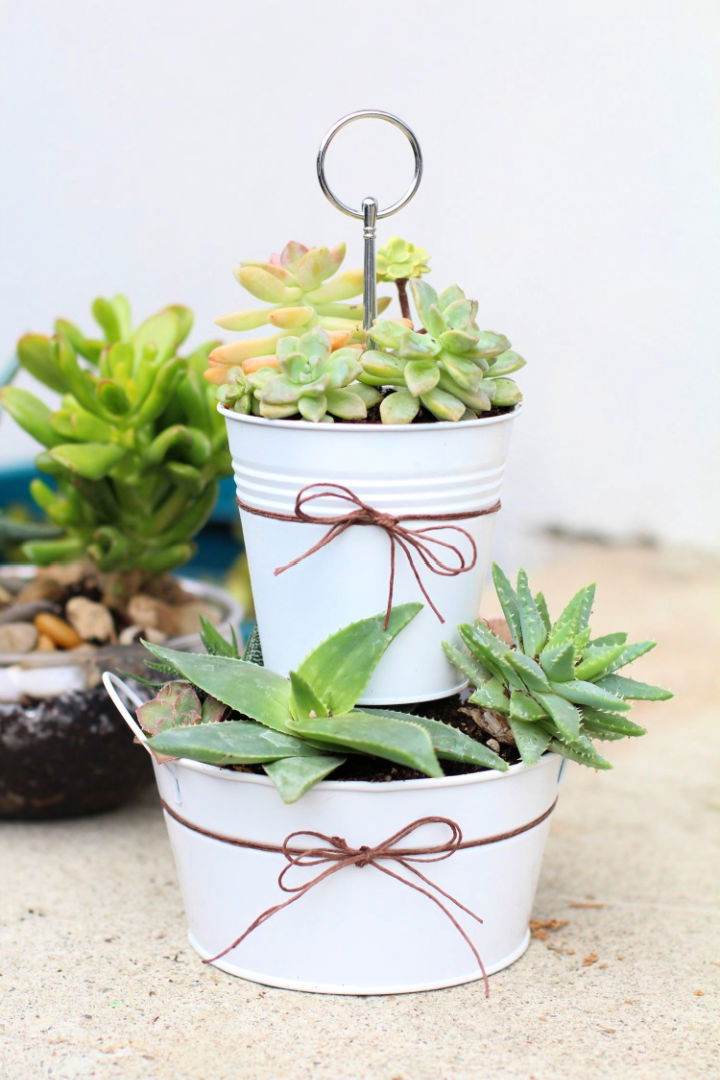 These are simple steel buckets panted into white color and kept one over the other. This diy tiered succulent planter is something eye catching for sure. It's a perfect thing to keep in the backyard of yours as it is so attractive than a regular planter. This simple diy project will not cost you anything but a little love for succulents. tealnotes
13. Succulent Planter from Beer Cans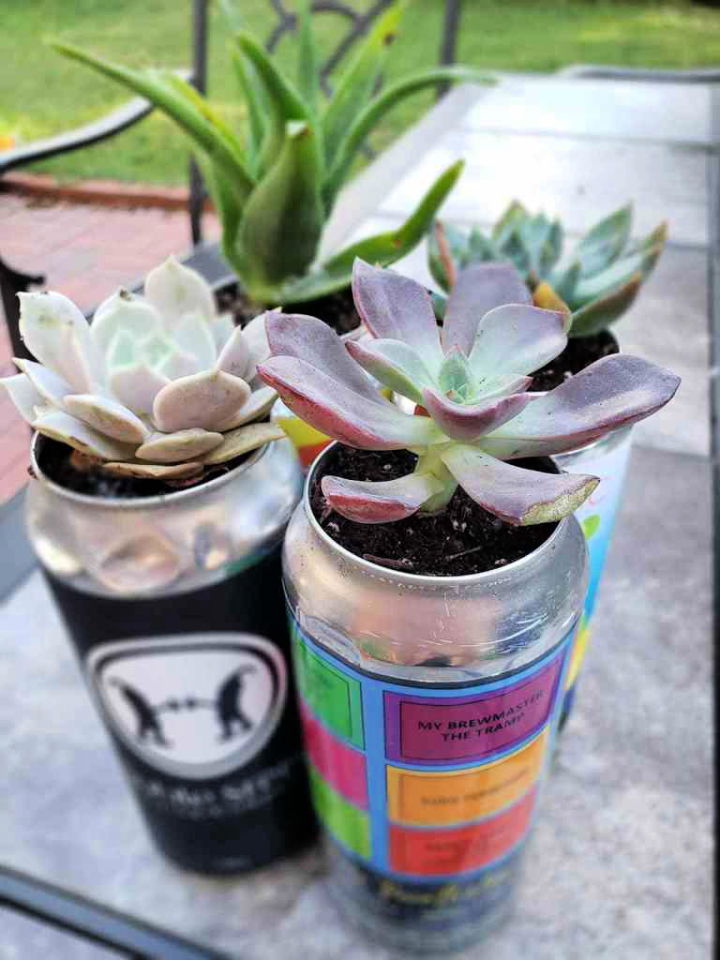 Do not throw away the beer cans from now as the can be used as the best succulent planters as you can clearly see. In this project the beer cans are not sprayed neither the outer look has been changed instead they are now only have become the new home for succulents. makesomething
14. DIY Succulent Pumpkin Centerpiece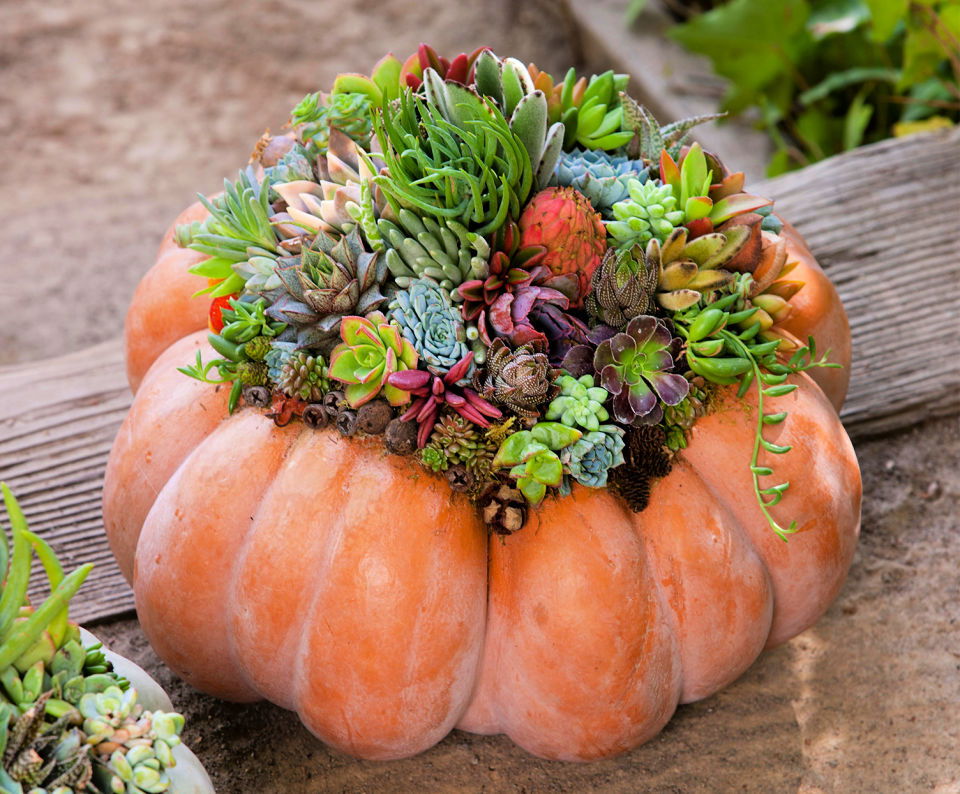 Here a pumpkin shell has been used as a home for succulent. You can display this as a center piece among all you other plants and this will surely stand out. Make this home more decorative and attractive by adding some very colorful and vibrant succulent plants. This diy project is so fun and interesting especially if you are a succulent lover. bhg
15. How to Make Mini Succulent Planters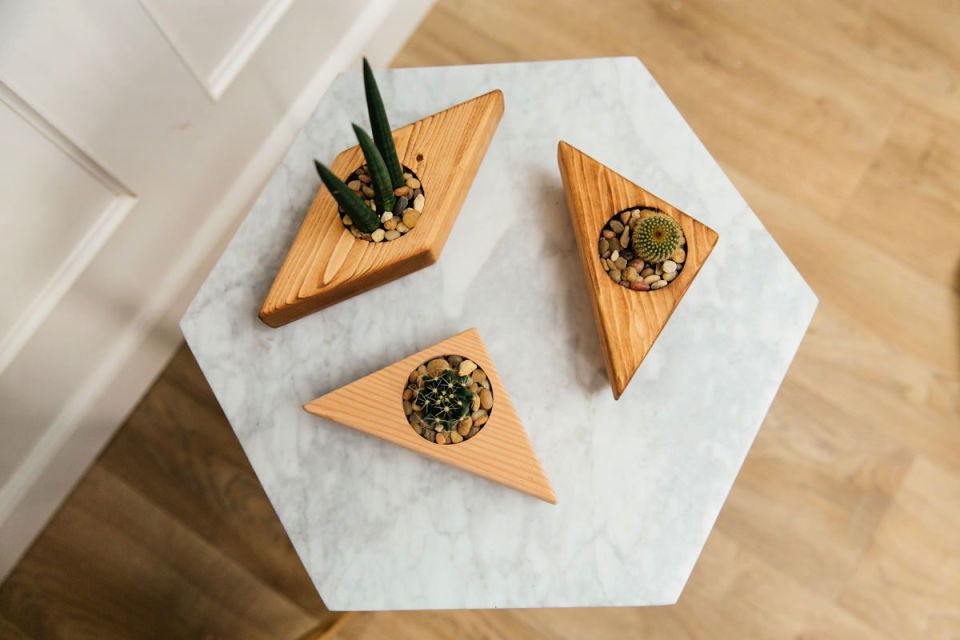 Some people love geometrical shapes a lot. Here they have made diy triangular shaped succulent planters which are the cutest thing to keep on a table inside your living area. If you want to follow this project you must make at least two to three planters like these to complete the entire look. diy dunnlumber
16. Repurposed Planters for Succulents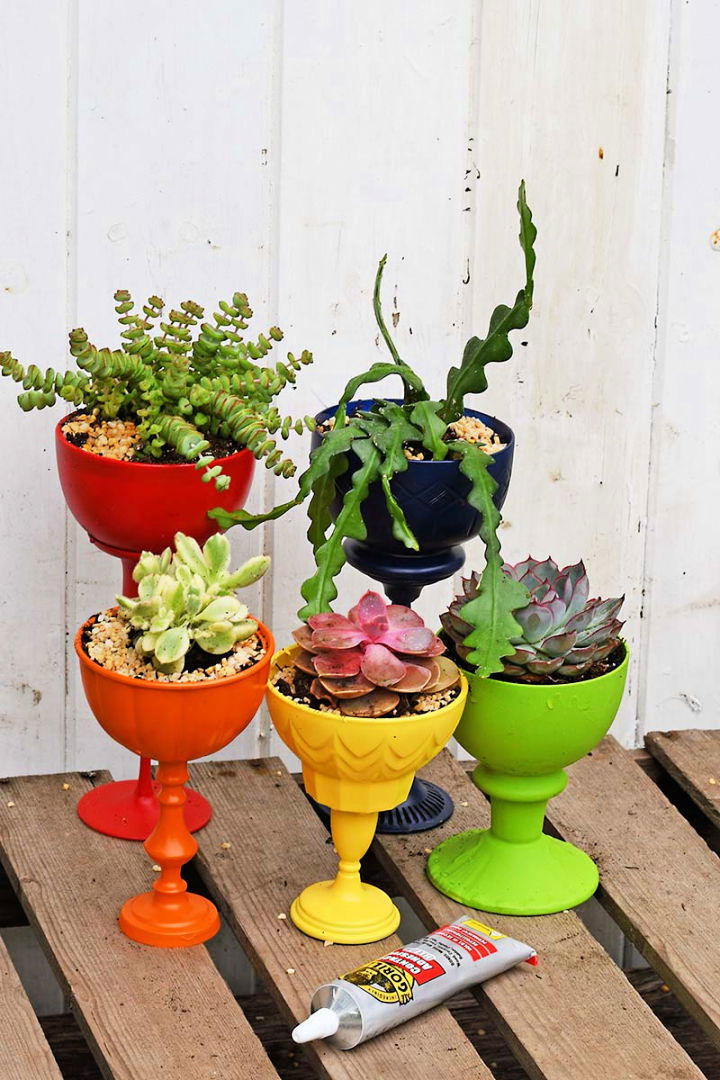 For the love of succulents, we can use some of our old planters as the new home for succulents. These are some old planters that once belonged to some other plants, now they have been painted differently and turned into a home to succulents. Try this diy project now to beautify your garden area. pillarboxblue
17. DIY Clay Succulent Planter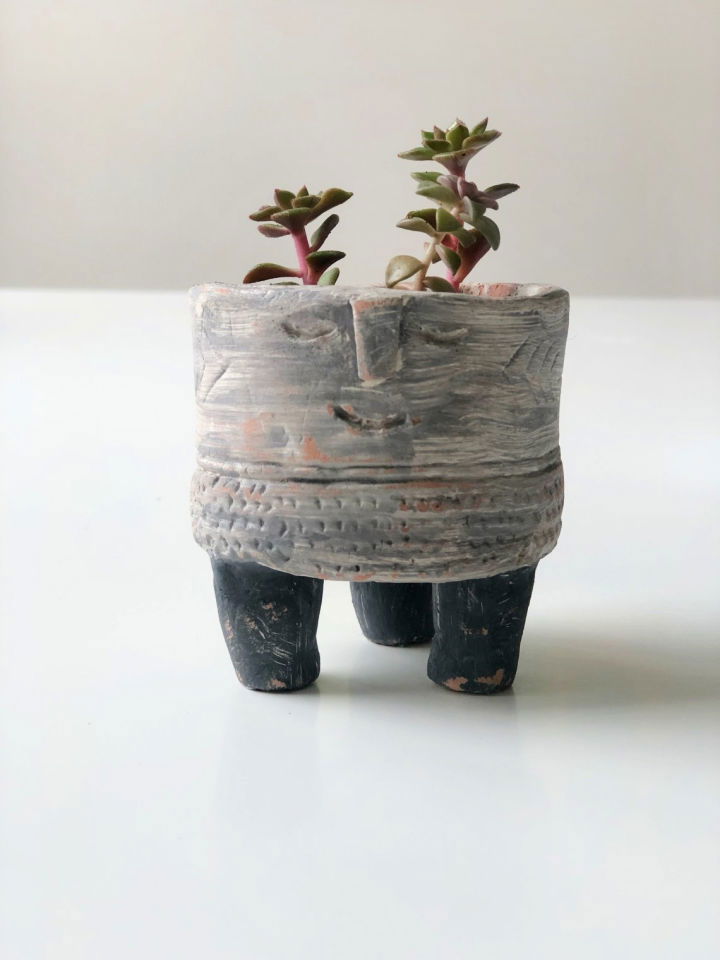 Clay has been very popular when it comes to diy projects. These are some beautiful diy clay planters for your succulents. It's very easy to work with clay and hence creating planters is not a hard task. You just have to give the shape correctly and it will dry up on its own taking the required shape. decorlovin
18. Anthropologie Inspired Succulent Planter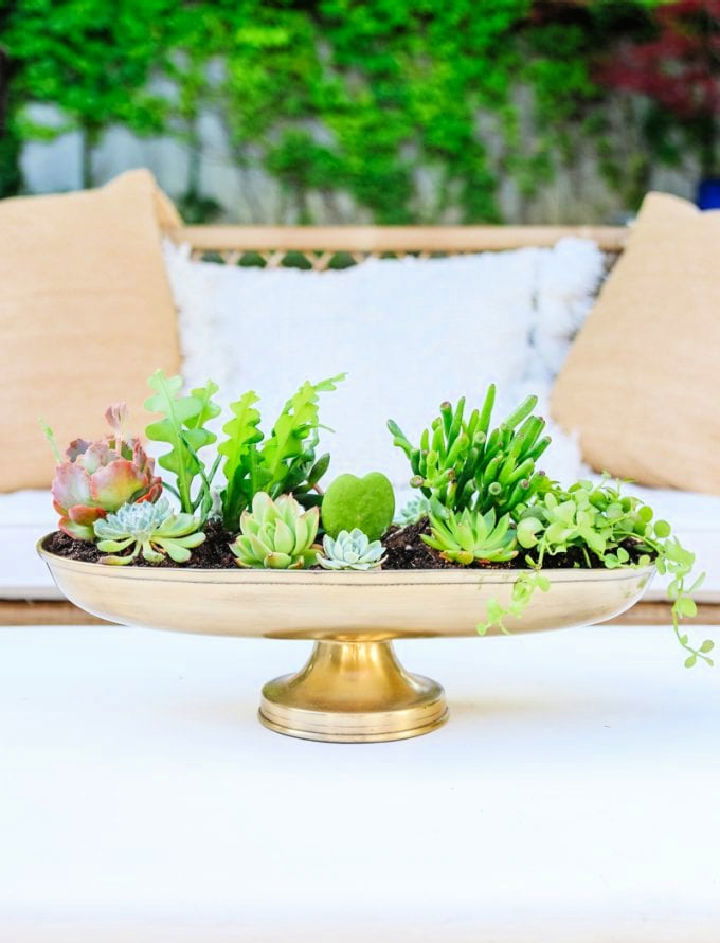 Succulents are the plants that does not require as much attention as other plants do. These are self-sustained plants. They store water for extreme conditions and you do not have to water them every day neither do they necessarily need sunlight. This is a beautiful diy anthropology inspired succulent planter that you see here. Due to the adjusting properties of succulents you can easily keep them inside house in your formal living area as well. modern glam
19. Make Your Own Mini Succulent Planters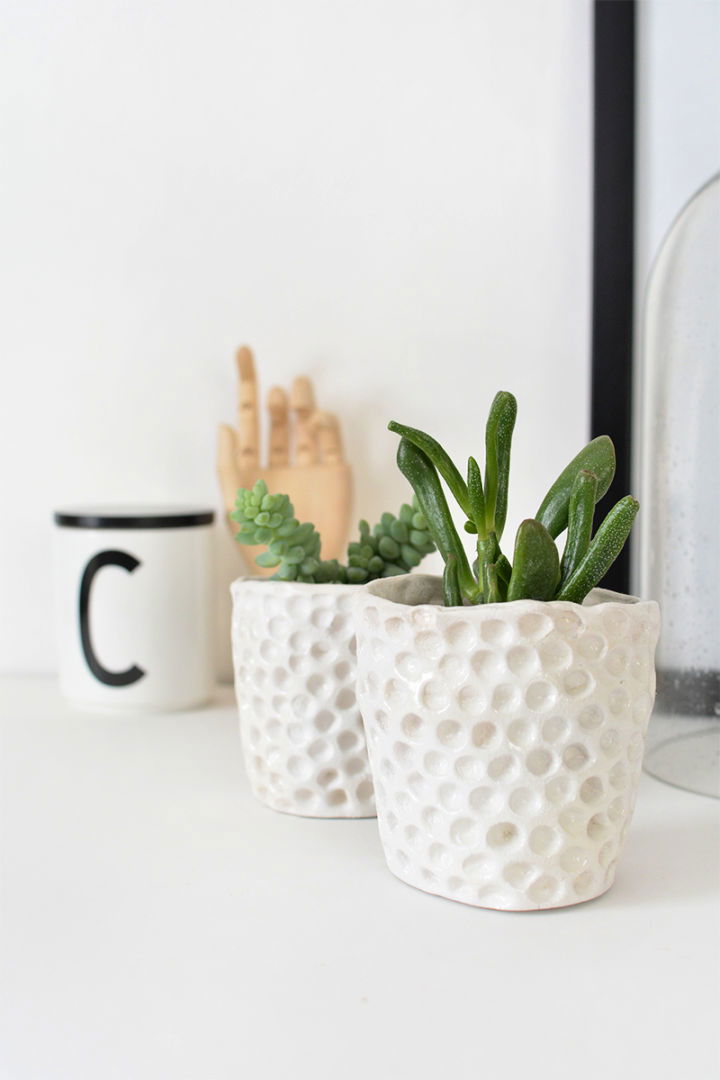 This is probably going to be the most favorite types of planters for people who love simplicity and white color. These are small easy to handle, adorable and mood changing planters that you can easily make yourself at home with the help of few crafts and supplies. All the effort that you are going to put in this project is worth it as the end result is amazing and eye catching. burkatron
20. Mason Jar Succulent Pots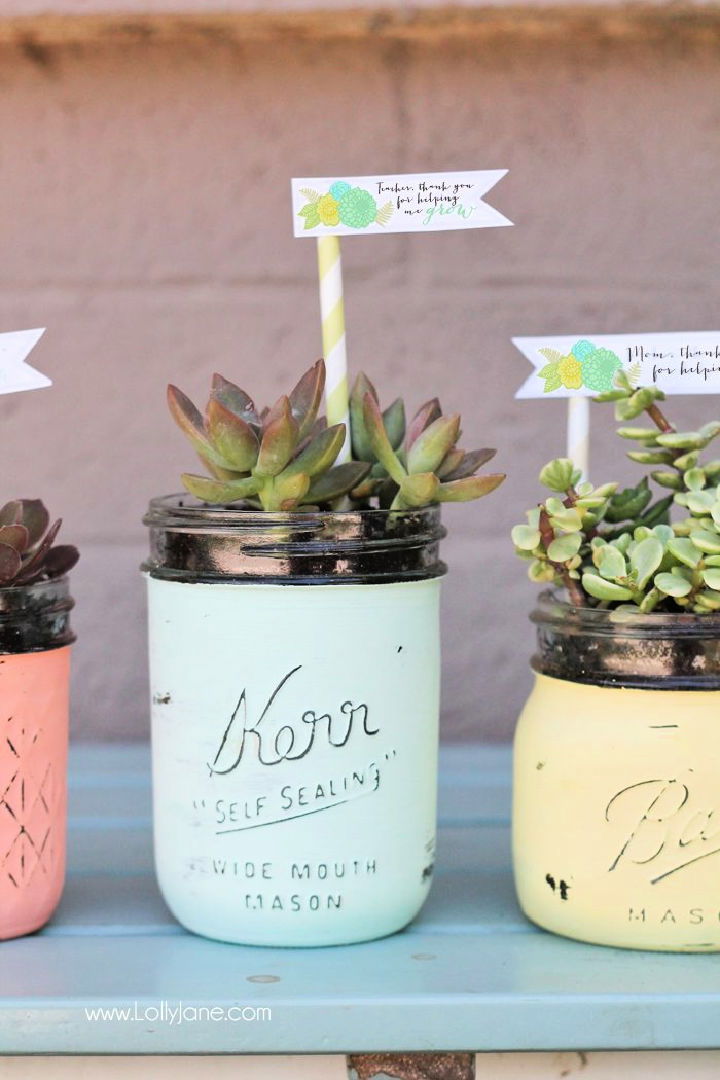 Mason jars can be used in many different projects such as diy candles, diy fairy lights jar, diy lanterns and the list goes on. Here the mason jars have been used to make planters out of it. You can see how beautifully the jars have been turned into succulent homes. lollyjane
21. Mini Succulent Container Garden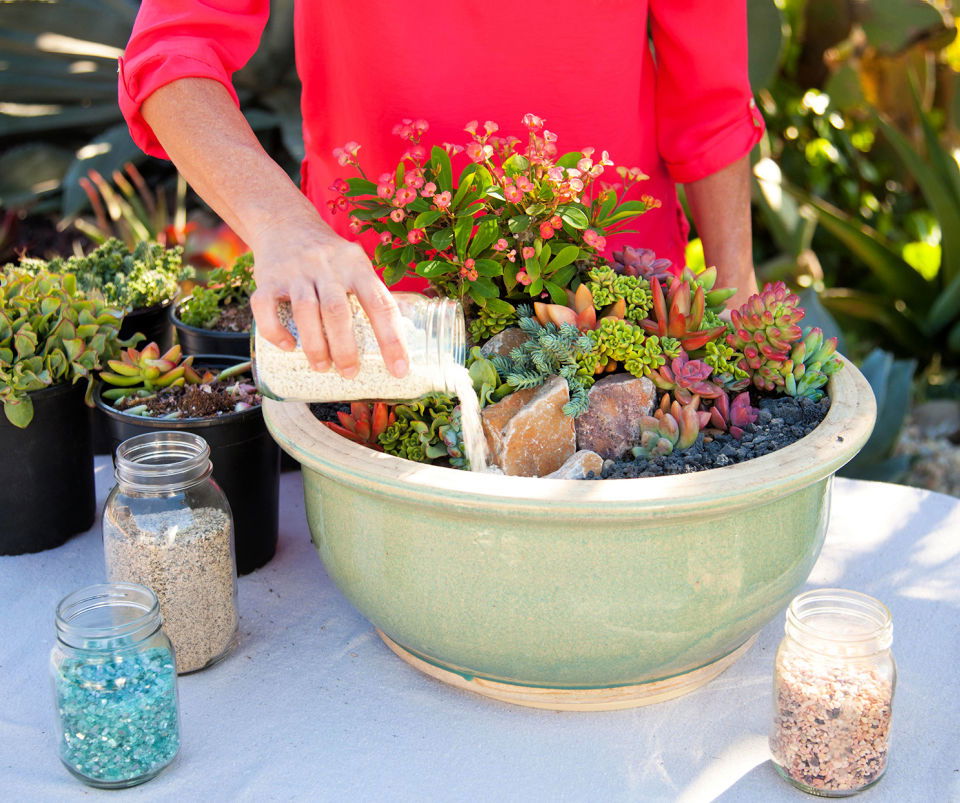 This is not just a planter but a whole little garden. You can create this massive sized planter at home and decorate it with many succulents at a time. for this huge planter you must add some vibrant and colorful succulents that can make this tiny garden look mesmerizing and eye catching. bhg
Need Large Succulent Planter Ideas?
Gardeners and plant lovers alike are drawn to succulents for their easy care and diverse range of shapes, colors, and textures. These drought-tolerant plants make perfect candidates for large succulent planters as well as small arrangements. With a little imagination and these unique succulent planter ideas, DIYers can turn almost any container into a stylish succulent planter.
For those who want to add a touch of whimsy to their home decor, consider repurposing an old birdcage or tea kettle into a large succulent planter. Or give an ordinary terra cotta pot a makeover by painting it in bright colors or adorning it with mosaic tiles. Succulent arrangement ideas are only limited by one's imagination.
Smaller containers are ideal for growing succulents indoors. To create a mini succulent garden, combine several different varieties in a shallow bowl or tray. For a more polished look, use matching pots in graduated sizes. Be sure to use potting mix specifically designed for succulents, as regular potting soil retains too much moisture and can cause the plants to rot.
With so many creative succulent planter ideas, it's no wonder that succulents are one of the most popular plants today. By thinking outside the traditional flower pot, even novice gardeners can create impressive indoor and outdoor displays that are sure to impress family and friends.
22. Modern Succulent Planters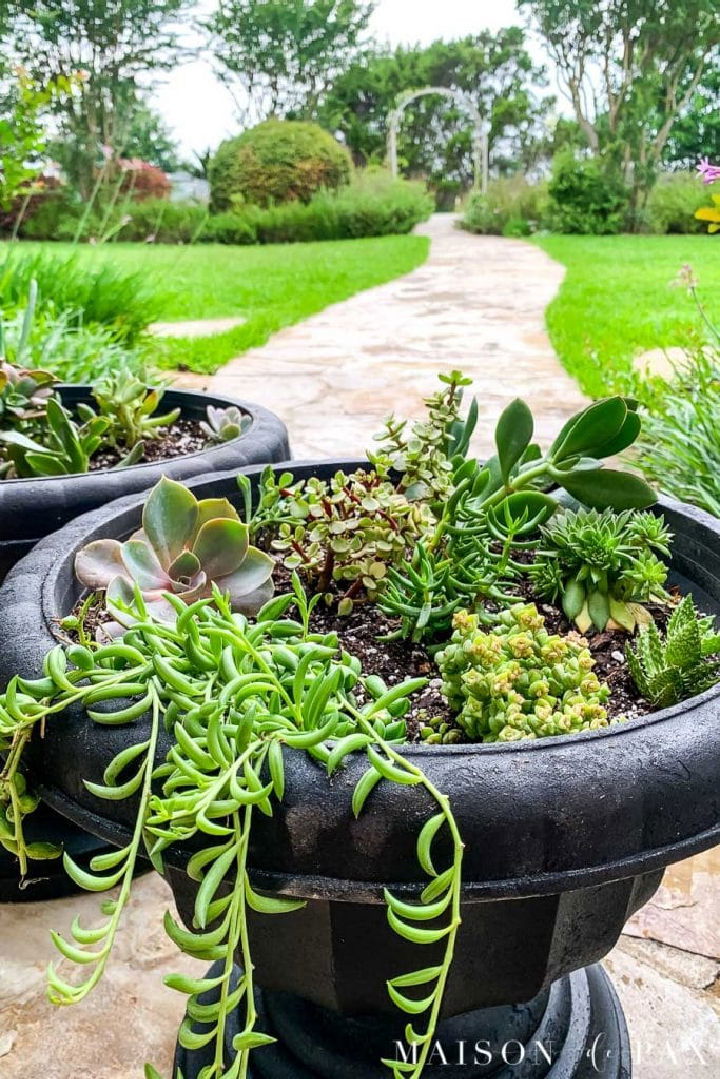 Here we have some modern succulent planters that you see here. these planters have a modern touch and you can easily create such planters at home. Give your favorite succulents an entire new place to live from now. You can keep these diy modern planters at the entrance of your house to create that green effect to the entrance. maisondepax
23. Succulent Container Garden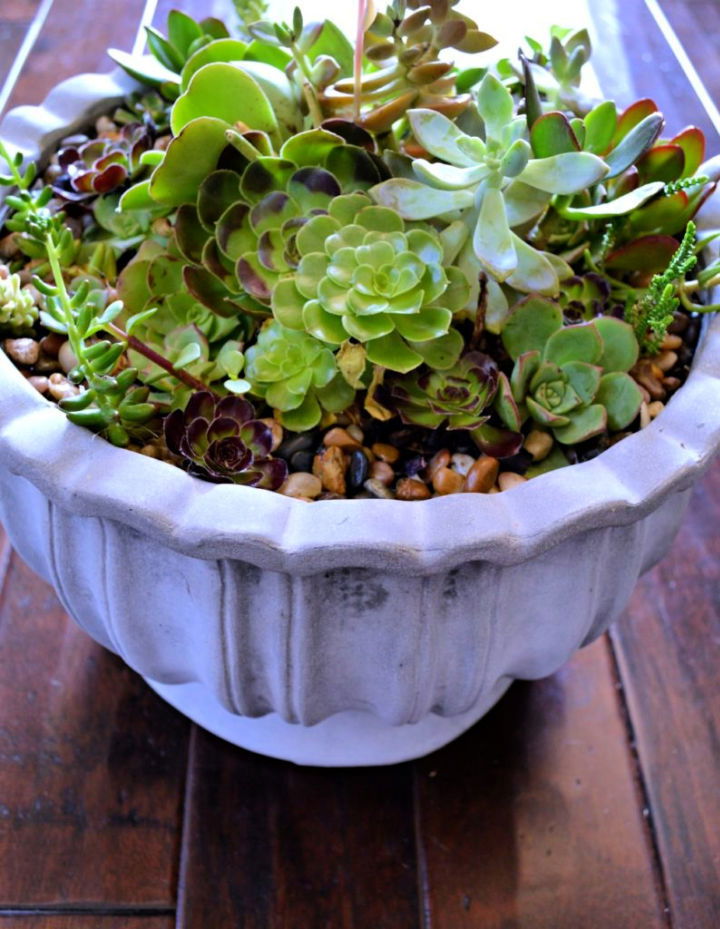 This diy succulent container is so huge that it almost seems like a mini garden. To make this planter you must follow the instructions given here in this project. Follow the step by step instructions to create this amazing planter that catches attention immediately. myuncommonslice
24. Cedar Pallet Succulent Planter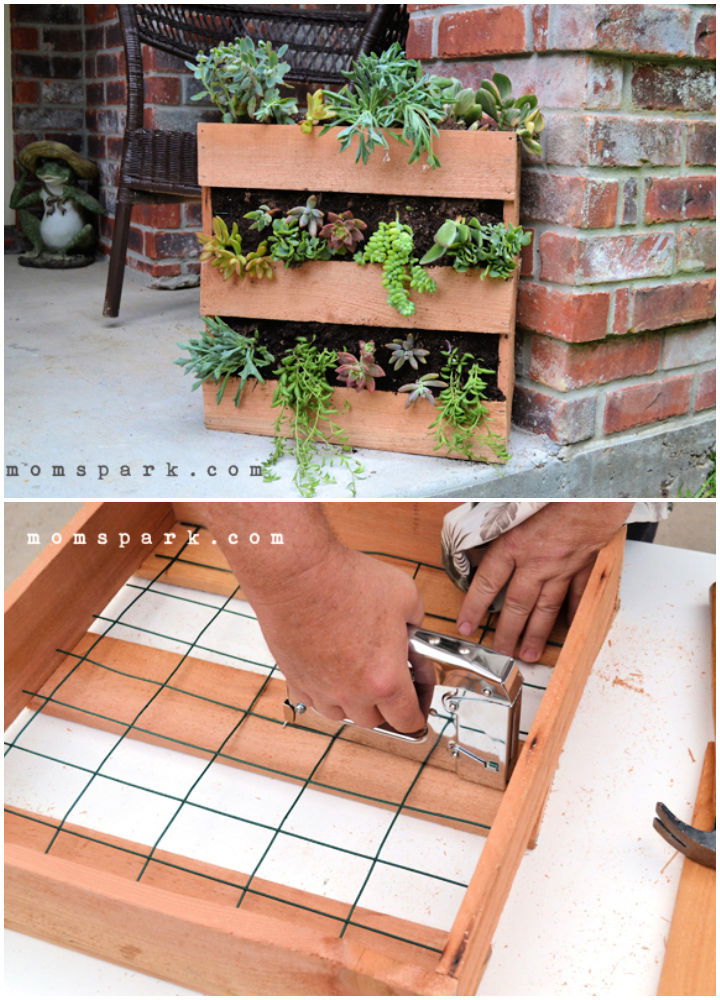 If you like to work with pallets, diy succulent cedar pallet planter is the best thing you can make for your garden area. This way you can display your succulents beautifully and conveniently anywhere you want. For this project some basic wood cutting and combing skills are required. The pallet looks amazing at the end and looks like the perfect home for the planters. momspark
25. DIY Succulent Birdbath Planter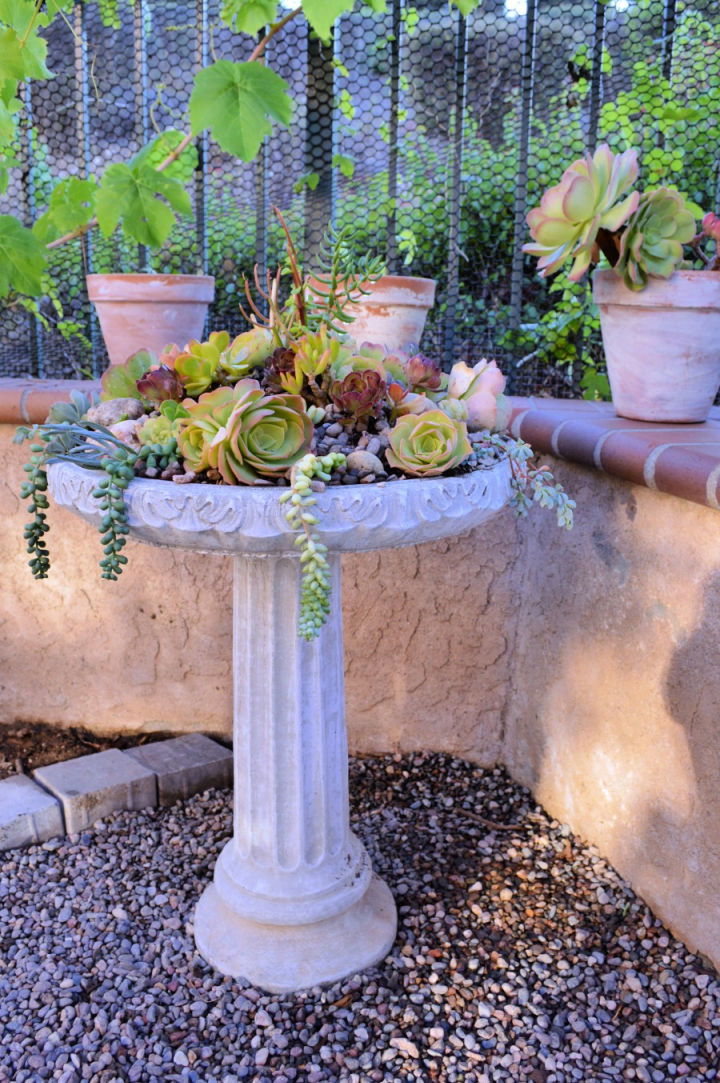 If you are trying to do something new for your garden, this is a perfect plan. Instead of making a regular planter, try to make planter form a bird bath. This diy project is so easy and required almost no effort at all. Turn the bird bath into a succulent planter and give your succulents a new home now. myuncommonslice
26. Make a Succulent Terrarium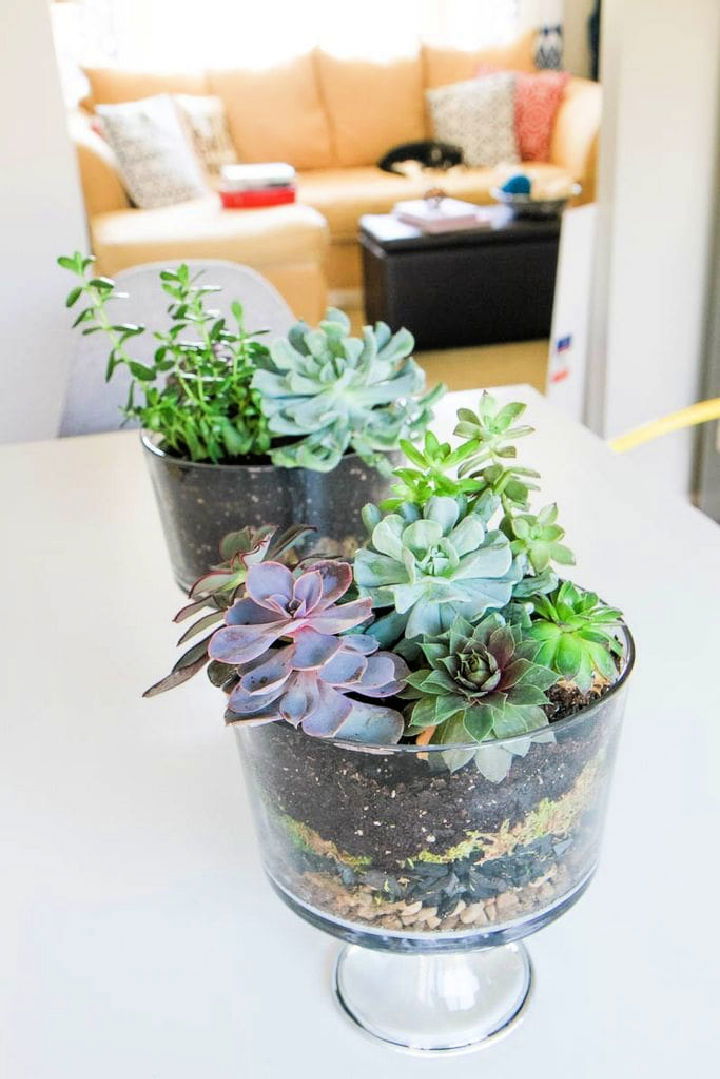 This is probably the most sophisticated succulent planter you will ever see. These succulent planters are mostly kept on tables at formal dinners and events. This is a diy terrarium planter. You can see the beautiful layers of soil, stones, grass and other variants of soil along with the succulent planter at the top. This look mesmerizing for sure. momadvice
Related DIY Garden Ideas:
Tin Can Planters
Looking for some cheap and easy DIY planters? Upcycle tin cans into cute containers for your herbs or flowers with these upcycle tin can planters!
Outdoor Bench Plans
If you're looking for a simple and inexpensive way to add seating to your outdoor space, try one of these free DIY outdoor bench plans.
Fairy Garden Ideas
Fairy gardens are a fun way to add a little magic to your backyard or indoor space. Check out these DIY fairy garden ideas for inspiration.
PVC Pipe Garden
PVC pipe is a cheap and easy material to use for gardening. Check out these PVC pipe garden ideas for inspiration.
DIY Raised Garden Bed
Raised garden beds are a great way to grow vegetables, herbs, and flowers. Check out these free DIY raised garden bed plans.
Mason Jar Herb Garden
Mason jars are a great way to grow herbs indoors or outdoors. Check out these DIY mason jar herb garden ideas.
DIY Garden Ideas
Make your outdoor space more beautiful with these cheap DIY garden ideas.
DIY Vertical Garden
Need some vertical gardening inspiration? Check out these DIY vertical garden ideas.
DIY Pond Ideas
Ponds are a great way to add beauty and interest to your backyard. Check out these homemade DIY pond ideas for inspiration.
DIY Self Watering Planter
Self watering planters are a great way to keep your plants healthy and hydrated. Check out these DIY self watering planter ideas.
Conclusion:
Whether you're looking for an easy indoor succulent planter idea or a more elaborate outdoor succulent pot, we've got you covered. With these 25 diy succulent planter ideas, you can add some green to your life no matter where you are. Have you tried any of these diy succulent planters? What was your experience? Let us know in the comments below.