Learn how to make an entryway table with these 30 free DIY entry table plans including step by step instructions and material list. DIY entry tables can significantly enhance your home's aesthetics, providing a welcoming touch right at the front door while offering a place to leave keys, mail, and other essentials. Crafting a DIY entryway table is not only an engaging activity but also a perfect way to personalize your home decor.
From farmhouse console tables to innovative old door repurposed entries, these DIY entry table plans and ideas cover a range of styles and complexities. The hairpin leg entryway table, for instance, mixes rustic wood with sleek metal for a stylish result. For a more minimalistic look, try the DIY round entryway table or the sleek X base console table with a middle shelf. If you're aiming for a bit of rustic charm, consider the free farmhouse entryway table plan or the corbel entryway table.
Each DIY entry table plan comes with step-by-step instructions and detailed guides, making the construction process straightforward. With the materials and tools listed in each plan, you'll be able to visualize and prepare for the process, ensuring a smooth DIY journey from start to finish. Crafting a DIY entryway table brings joy beyond the building process. Each time you see or use it, you'll appreciate the creativity and effort put into it.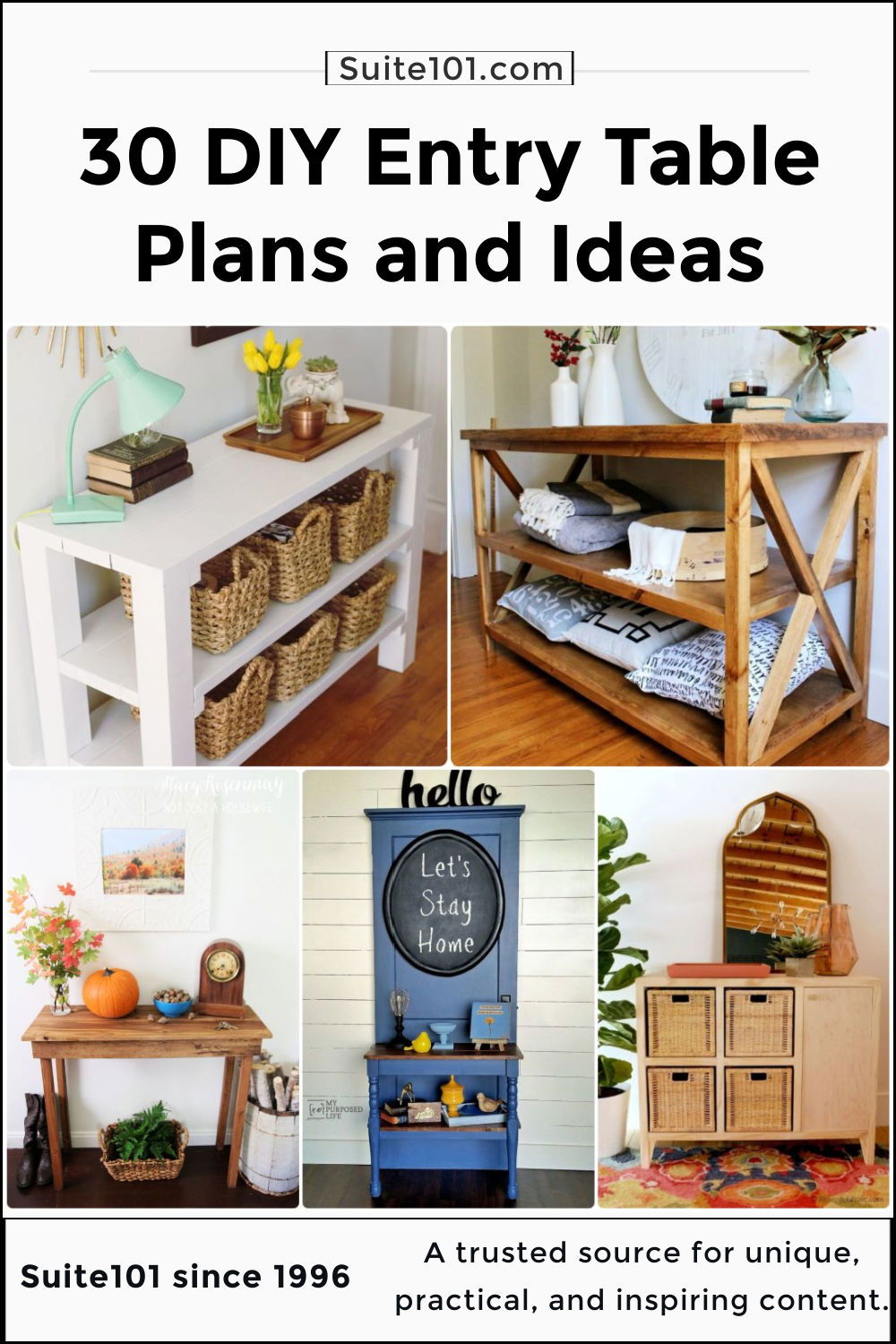 So, pick a plan that suits your style, gather your tools, and start creating your DIY entry table today. With a touch of creativity and effort, you'll soon have a beautiful, functional piece of furniture gracing your home's entryway. Let the world of DIY entry table plans inspire you to craft a welcoming space for your home with a unique handmade touch.
1. DIY Farmhouse Console Table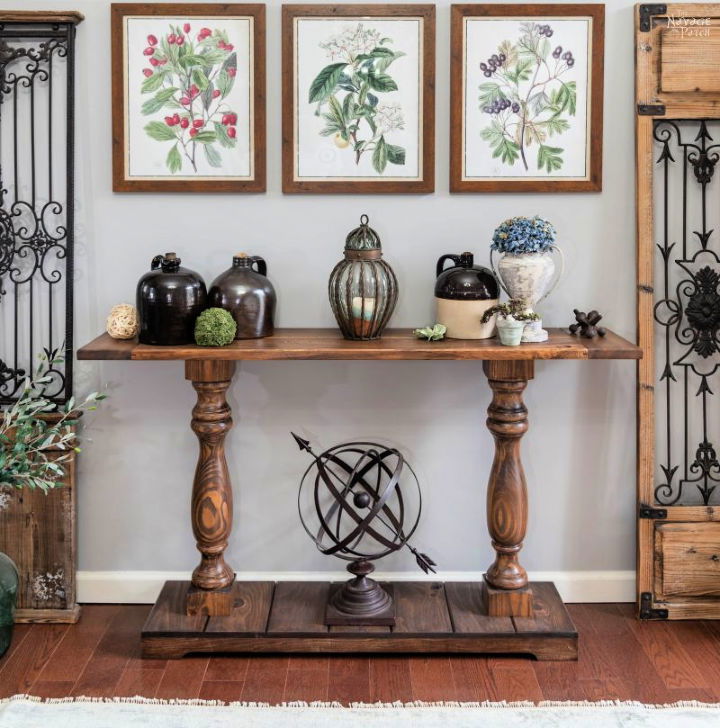 Instead of spending a ton of money on a professionally made entry table, here's something that you can make! Instead of yellow pine, cypress is used to work up this beauty! Cypress will give the final product a modern and friendly look instead of making it look old! You're going to love how this turns out! thenavagepatch
2. Old Door to Entry Table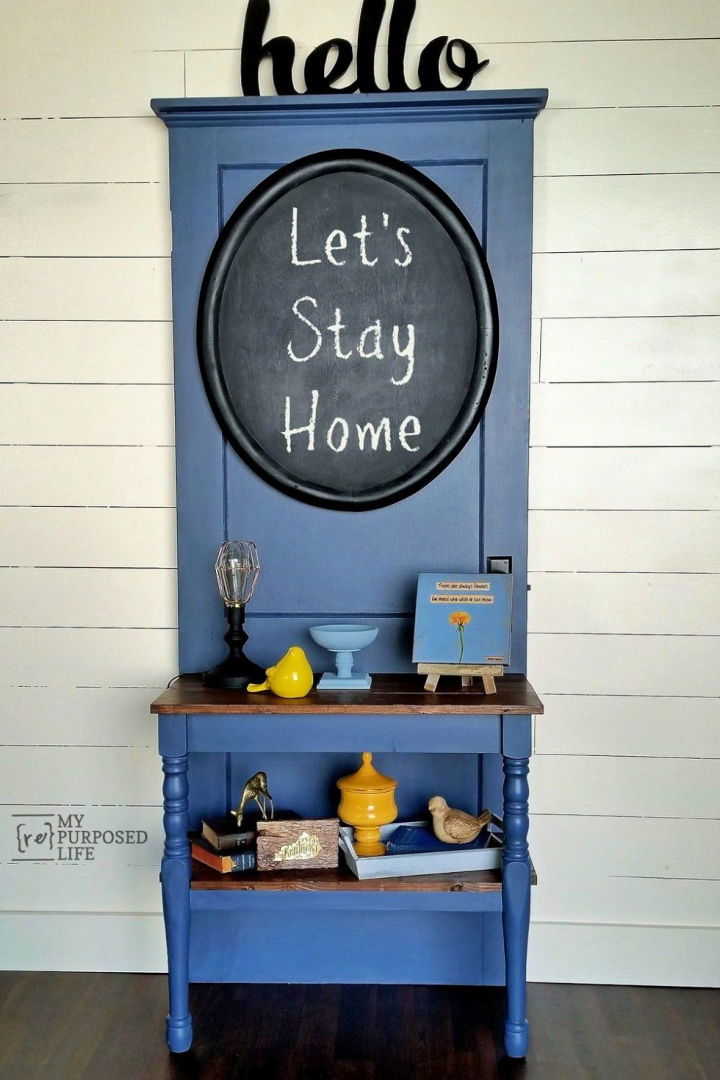 Who knew that a simple and old door could turn into such a stunning DIY entry table! Paint the door blue to add a pop of color to the entry of the house. Place a blackboard in the center to write any affirmations or words! You can almost use any decor to make it look even prettier! myrepurposed
3. Homemade Barnhouse Entry Table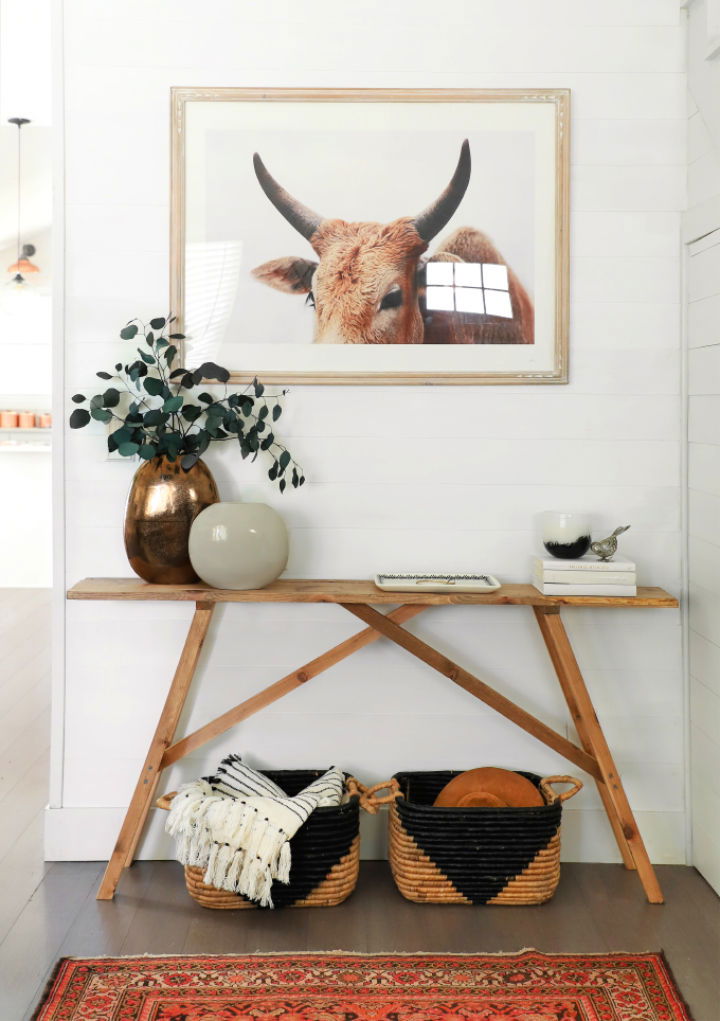 In comparison to the other DIY entry table plans, this is quite rustic and pretty! If you own a farmhouse or barn house, this will make the perfect table! You'll needed cedar board, finishing cloth, polycyclic, gorilla wood glue, drill, driver, exterior wood screws, miter saw and a few other supplies. ispydiy
4. Hairpin Leg Entryway Table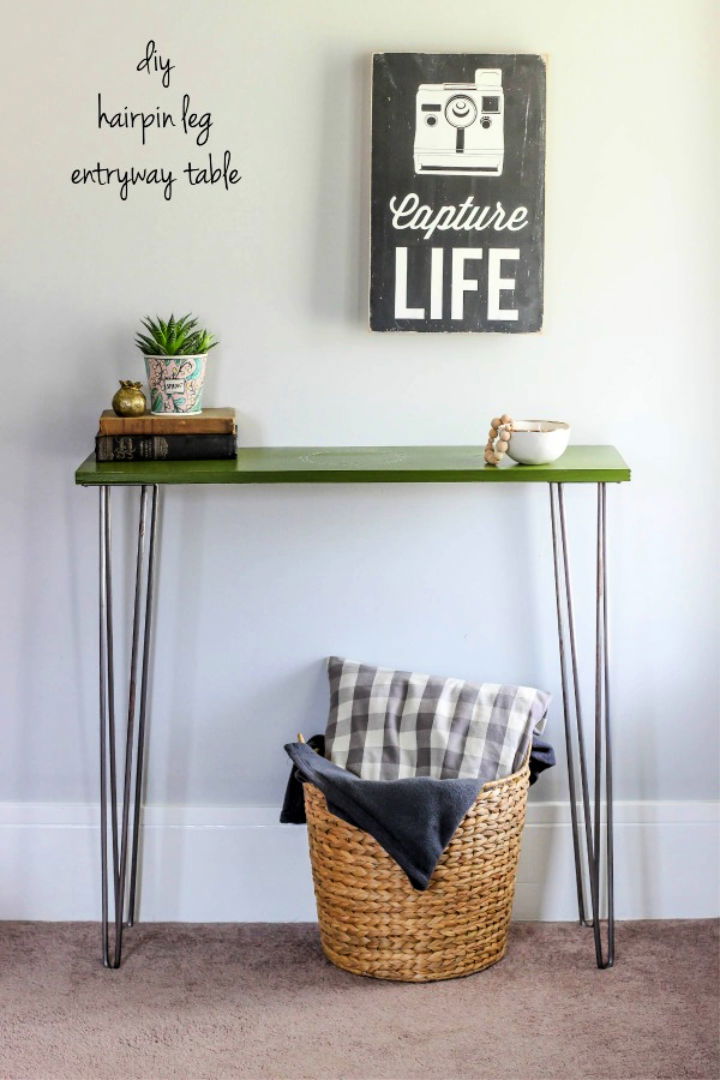 Here's a hairpin table plan that you're going to love! The best thing about a hairpin table is that it's super lightweight and can be moved around quite easily! Moreover, you need to paint the plank of wood and attach some hardware to it! Any beginner can quickly nail this fantastic project! purelykatie
5. DIY Round Entryway Table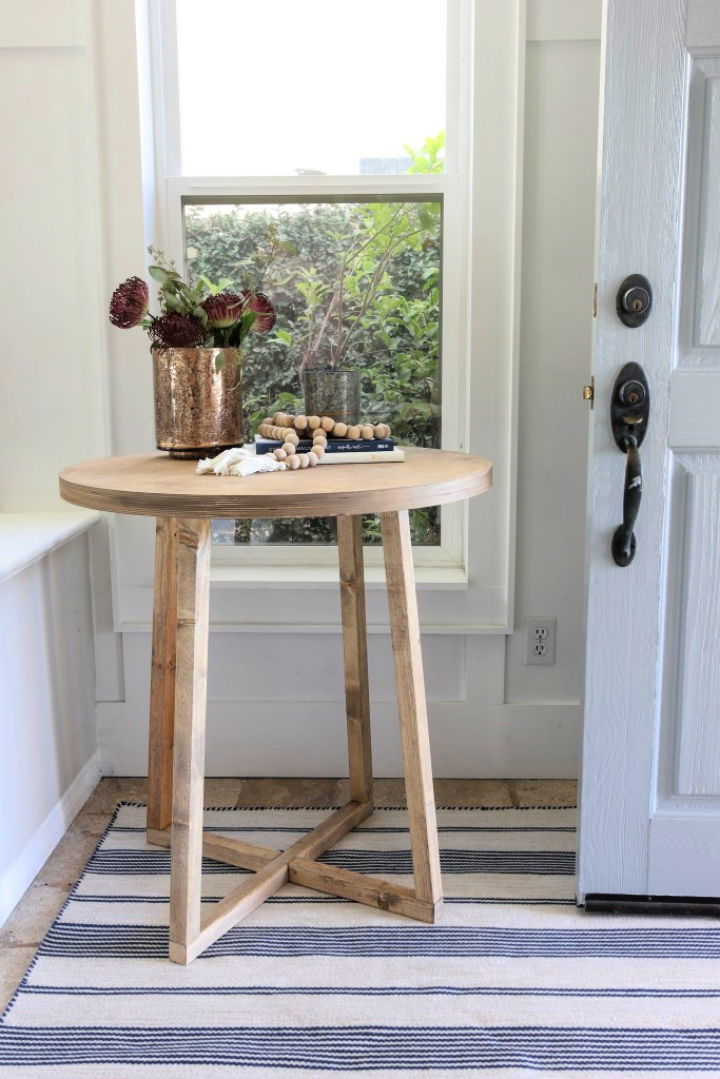 Round tables are not only super modern and aesthetically pleasing but also super easy to make! Not a lot of cutting is involved if you can find a round piece of lumber or wood! Place this in any corner of your house, and it will still look amazing – from a kitchen to a living room; from a bedroom to a laundry room. meaningfuls
6. Make Your Own Trestle Style Entry Table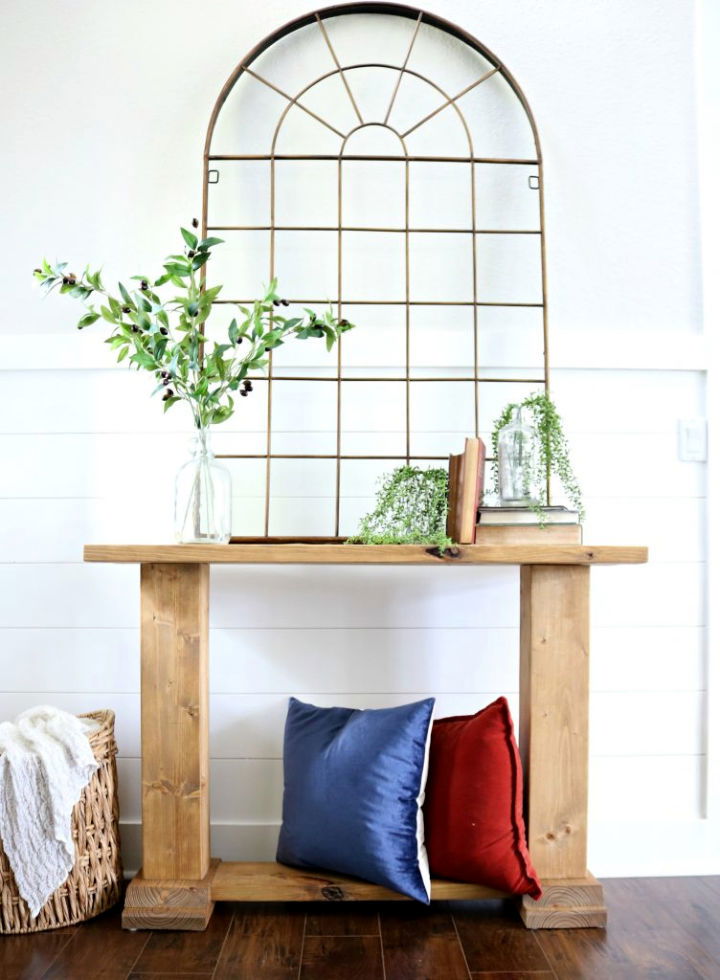 Are you looking for something fancy and beautiful? Well, then this is the project for you! It is a Trestle style table that means that it has a grid attached on top and a beautiful shape! Moreover, you can also pin your pictures and other things onto the grid! Isn't this just the most adorable thing ever? sawdust2
7. Free Farmhouse Entryway Table Plan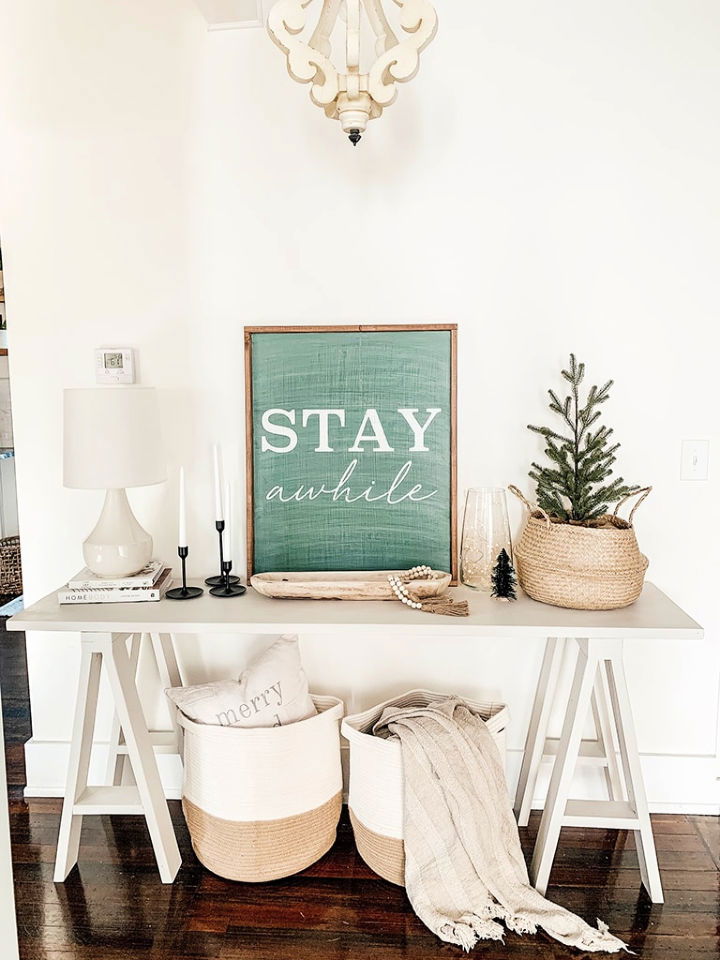 A DIY console table is a necessity that you need in your house! You can place it by your front door and use it to keep keys and any extra storage! miter saw, pocket hole drill kit, hand sander, cordless drill, lumber, speed square, sandpaper, primer and a few other supplies are required. michealadiane
8. DIY Corbel Entryway Table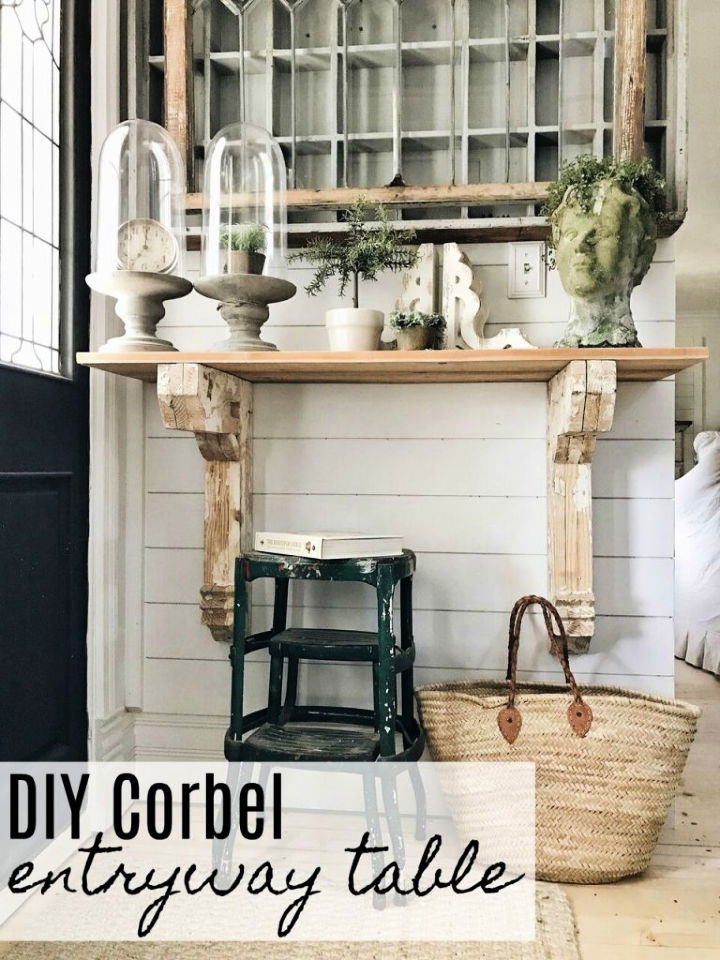 If you're into the dark academia aesthetic, this plan is going to be a piece of heaven for you! So, just take the entry table ever! Take a look at those rustic boards and vintage plank! Both of them together make the most beautiful entry table ever! It is also attached to the wall, which makes it take up less space! lizmarie
9. Entryway Key Throw Table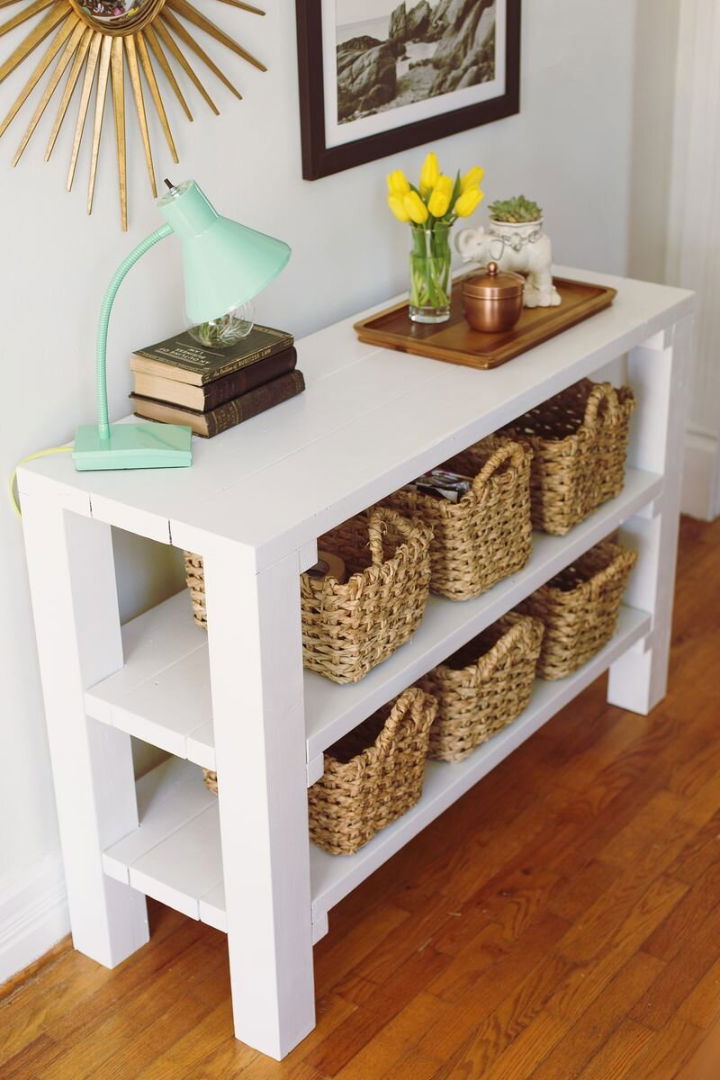 Here's a super cute and minimalistic plan that will look stunning with almost any themed house! 7 2 x 6's, 2 4 x 4's, Kreg screws, grit sandpaper, stain, polyurethane, miter saw, table saw, speed square, jigsaw, sponge brush, sander, tape measure, pencil and a few other tools and materials are required. abeautifulmess
10. X Base Console Table With Middle Shelf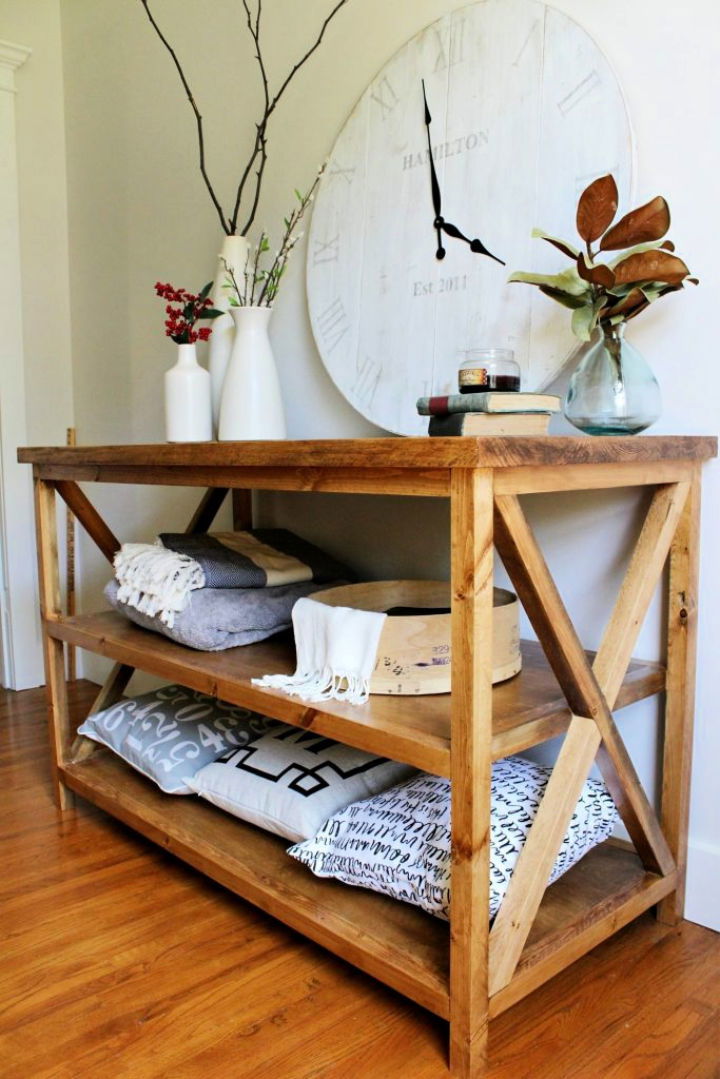 Everyone wants extra storage in their house! Here's how you can make an adorable table and have a middle shelf which will help you have more storage! You can also use this to place pretty stuff like picture frames, medals etc. The final result is stunning, and something you're going to love! woodshopdiaries
11. Hairpin Leg Console Table Tutorial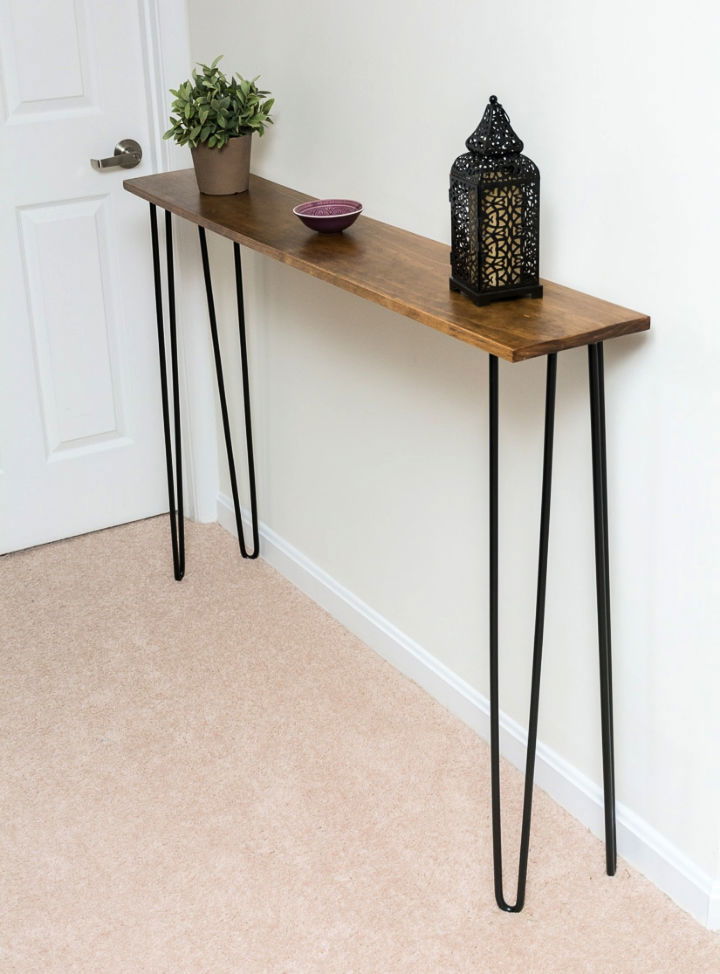 This console table can be made out of leftovers from previous projects; however, you will need to do a little more cutting. The hairpin table is very lightweight and super cute! Grit sandpaper, wood stain, polyurethane, paintbrushes, leg hardware, tack cloth, a power drill and a few other materials needed. bybrittanygold
12. Entry Table with Cubby Storage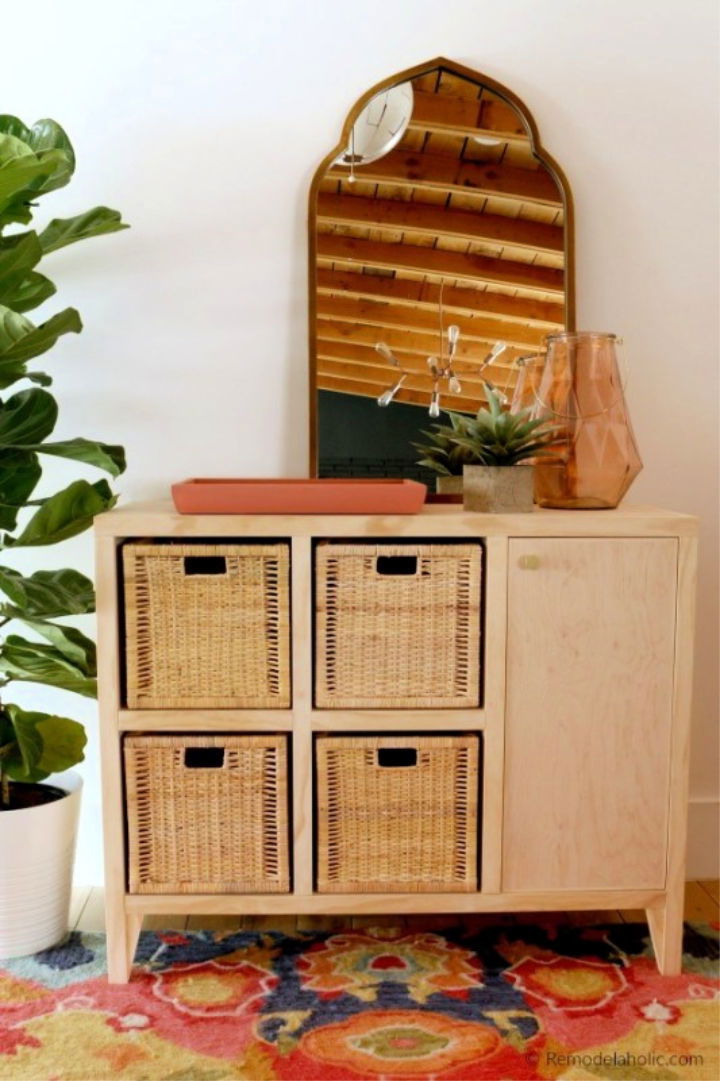 Compared to the other DIY entry table plans, this one is quite different as it has a lot of cubby storage! Done you love the baskets are hidden inside the table? This project will help you clean up faster when someone is coming over – hide everything inside those drawers! remodelaholic
13. DIY Pallet Entry Table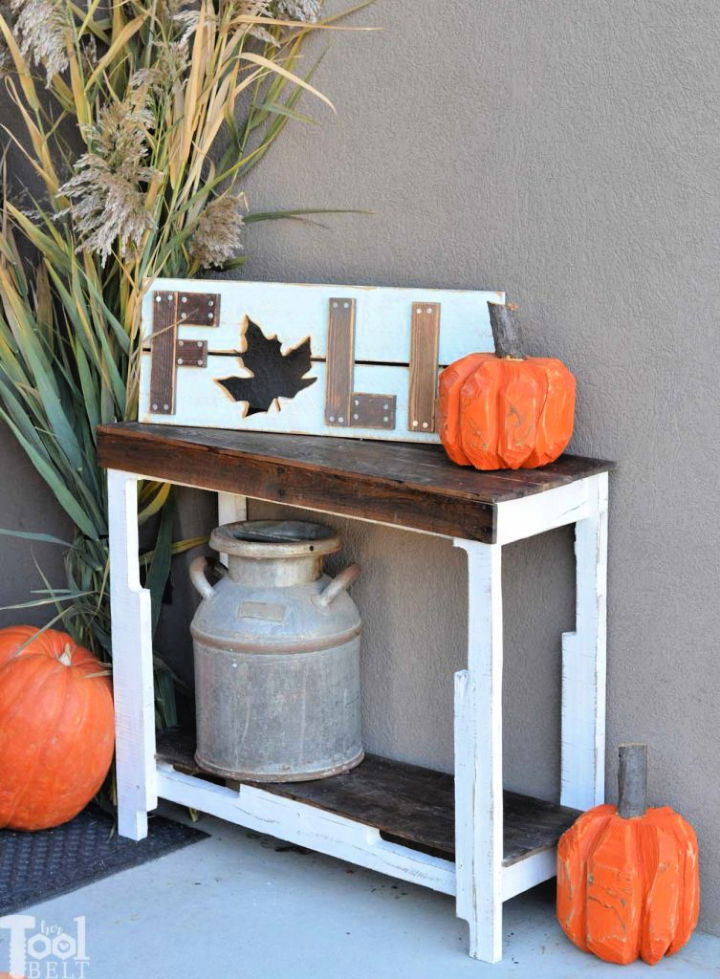 Pallet wood is not only beautiful to look at but also stable and durable! It might not be the cheapest option out there, but it will provide a lot of durabilities, so it's worth it! Screws, paint, sandpaper, brad nails, stain, jigsaw, tape measure, carpenter's square and a few other tools and materials needed. hertoolbelt
14. Building an Entry Table Under $50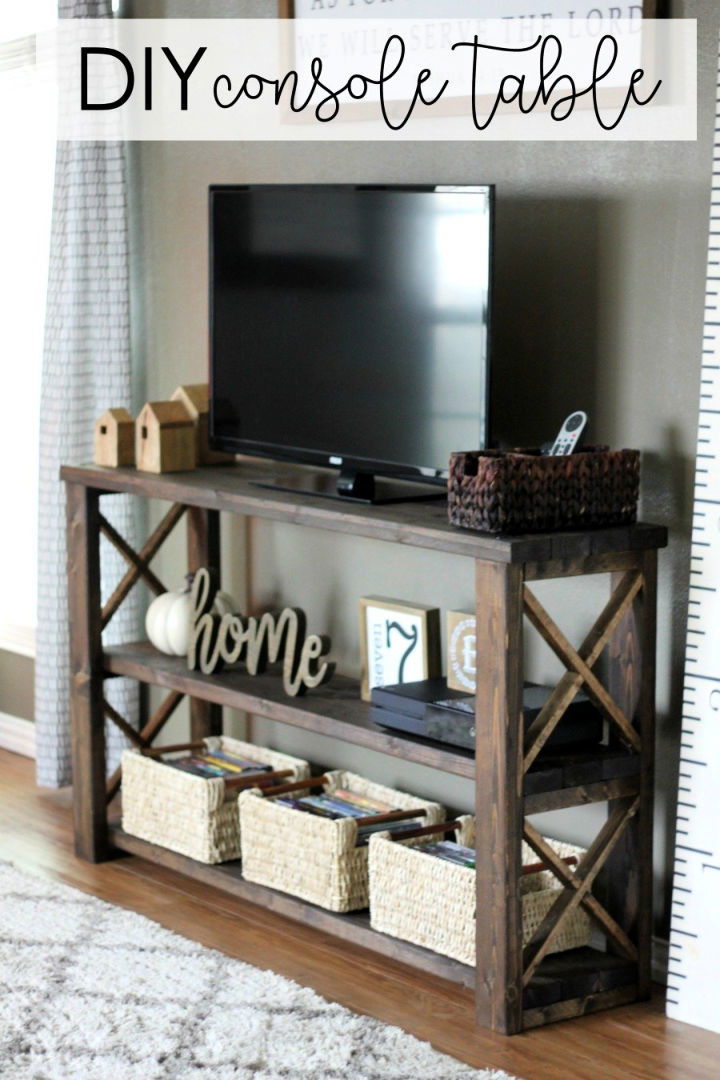 The $50 entry table is super affordable and won't break your bank! If you're trying to save some money and use it elsewhere, here is the simple plan to follow! You will only need to get a few necessary supplies and tools which will not cost you any extra money! So, are you ready to re-create this beauty? lifestorage
15. Farmhouse Style Entry Table Plan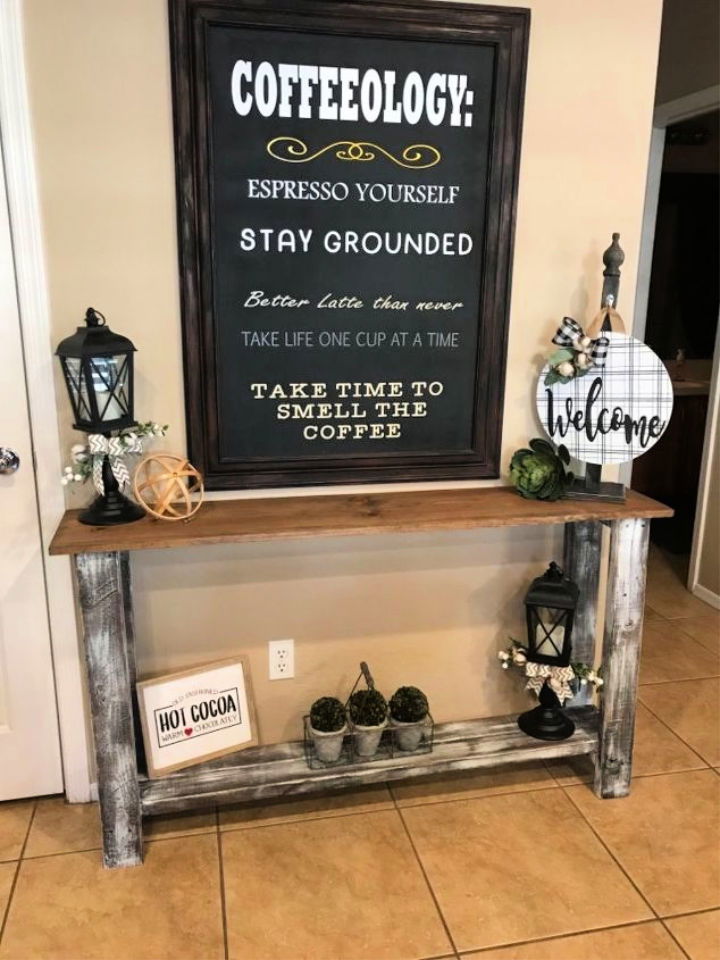 Farmhouse furniture is usually very rustic and vintage! If you're into that aesthetic, definitely take a look at this beautiful plan! Start by gathering the tools and materials – lumber, paint, stain, sander, screws, nails, and a few other supplies will be used. The two-tone detailing makes it look very luxurious. hometalk
16. DIY Pallet Entry Table

Here's a plan which features a grey bottom part that will look cute with the minimalistic and straightforward decor! The top part is made out of dark stain wood, to balance out the grey colour! How cute is the final result! It does not take up a lot of space, so it will be perfect for smaller areas. kleinworthco
17. Build a X-Brace Console Table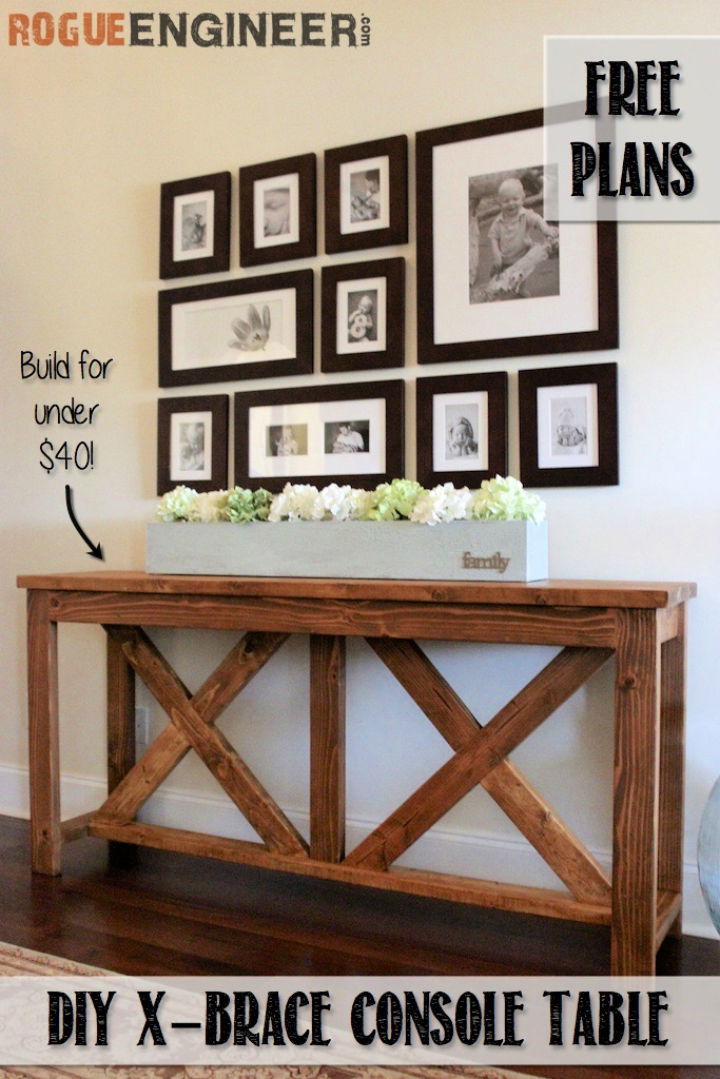 Are you looking for a unique and cool plan? Here is an X-brace idea that you can try out using necessary supplies and tools that you might already have in your garage – drill, miter saw, pencil, pocket hole jig, tape measure, safety glasses, hearing protection etc. This table can be completed in under $40! Isn't that amazing? rogueengineer
18. Console Table for the Entry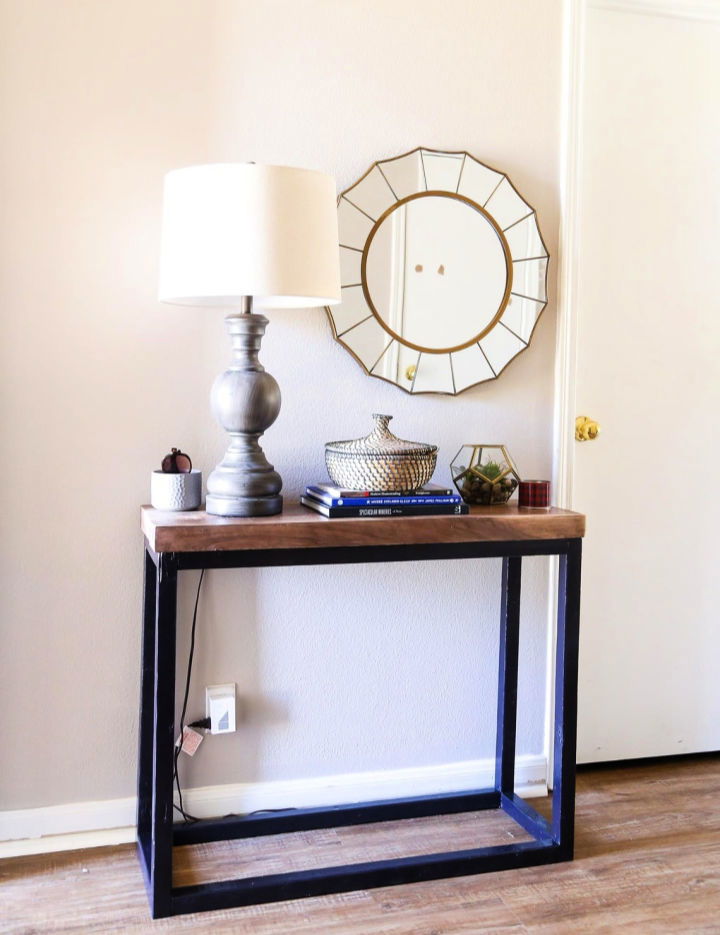 This plan is also one of those ideas what only cover a little bit of space! You can also add a mirror on top to pull everything together! Only a few essential tools and supplies are required! The tools used in this plan are the ones that you might already have in your garage! Isn't that just the best thing ever? loveandrenovat
19. How to Build Entryway Table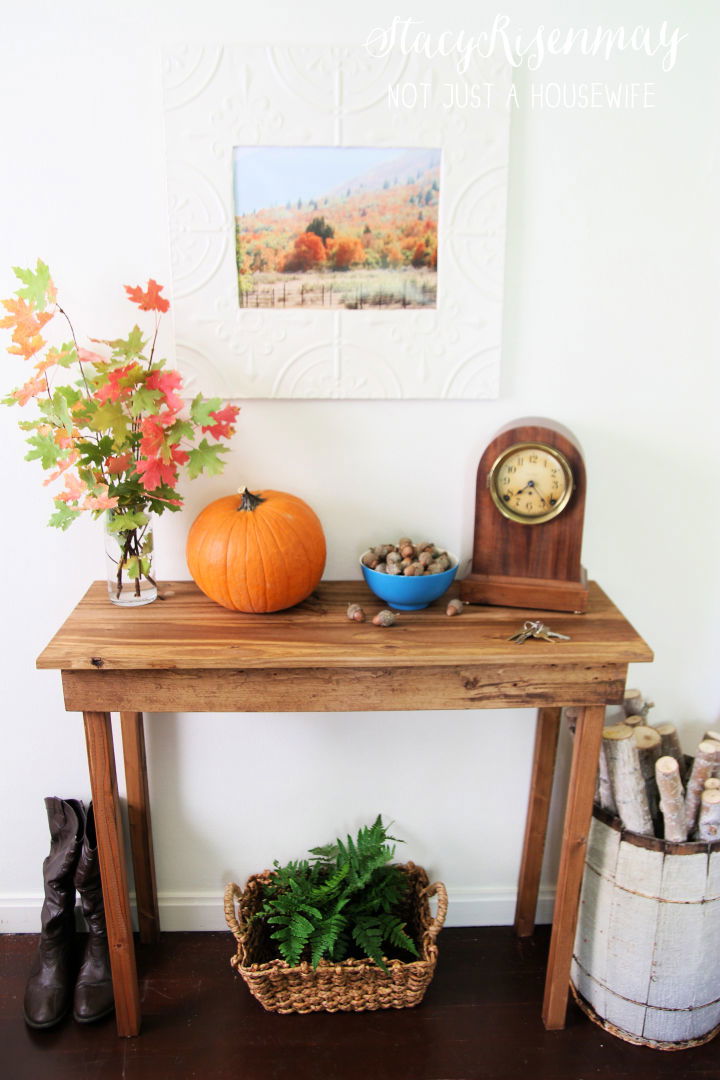 Here's another entryway table that's more on the darker side! Due to the stain, the colour is a lot darker compared to the other DIY entry table plans! Wood filler, advanced abrasives, wood adhesive, brad nail, stain, paint, brushes, eyewear safety, boards and a few other supplies are required. notjustahouse
20. Rustic X Base Console Table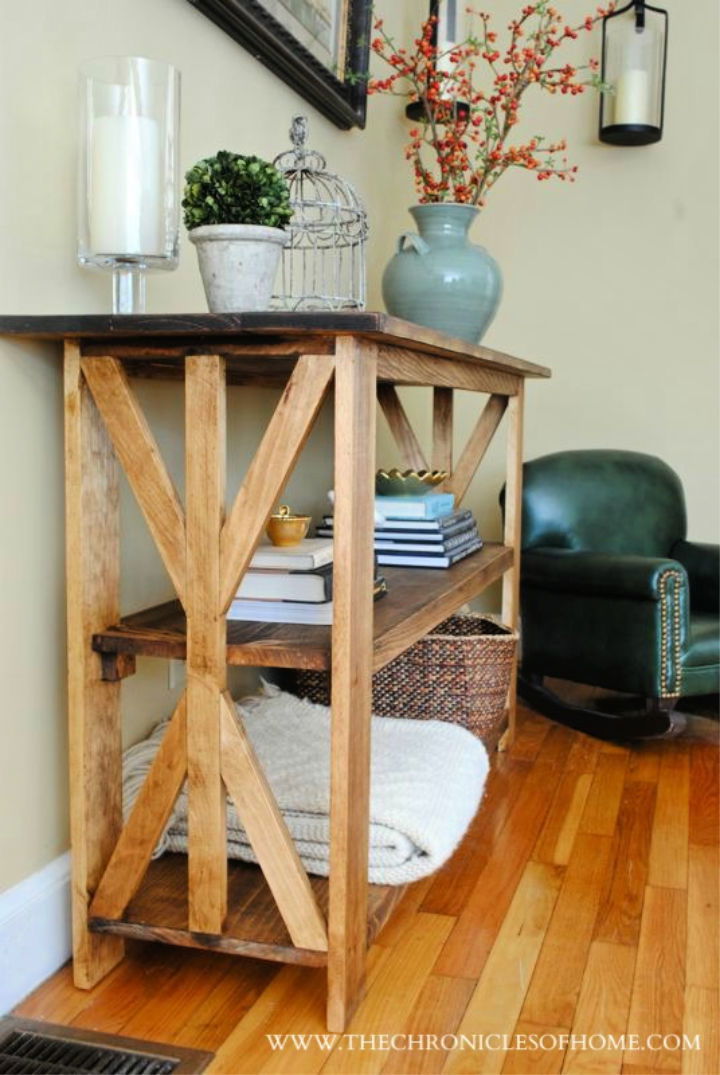 X-vase console tables are very trendy at the moment, and you can also make own for your living room or hallway by following this plan! Instead of two X's on top and bottom – the design of this one is a little different compared to the other DIY entry table plans! However, it's still gorgeous! thechronicles
21. How to Make Narrow Hallway Table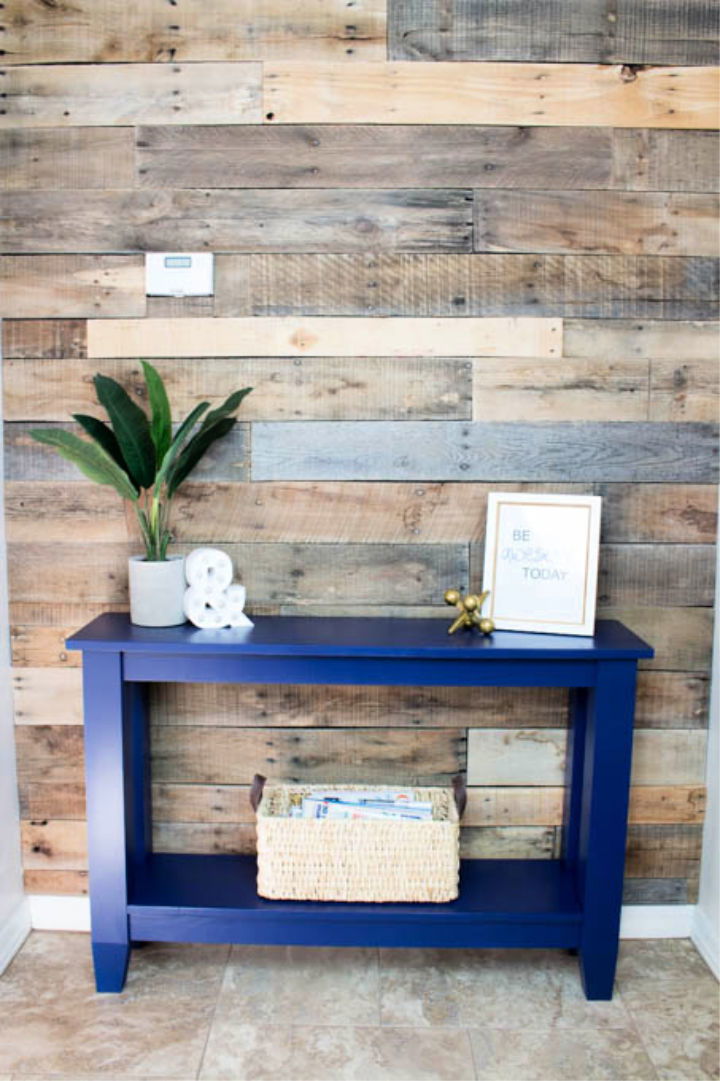 You will need table legs for this plan – they need to be made out of soft maple or look simple to add that modern look to the final product. After that, you will work each of the legs according to the measurements in the guide! Wood glue will also be used along with a few pocket screws! addicted2diy
22. Small Console Table Plan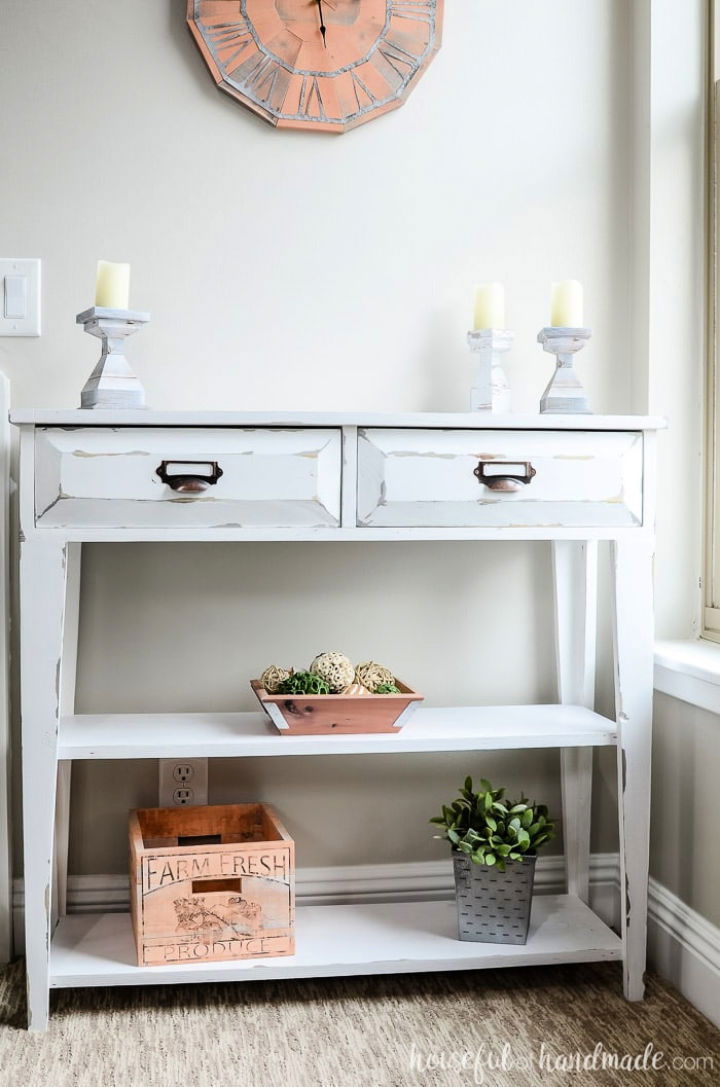 Mostly, apartments tend to have a tiny hallway! It can be hard to fit in a vast table, so here's a smaller plan in size compared to the other DIY entry table plans! Primer and paint will be required for this plan as you can paint over the surface or the paint will end up chipping! housefulofhand
23. DIY Walnut Entry Table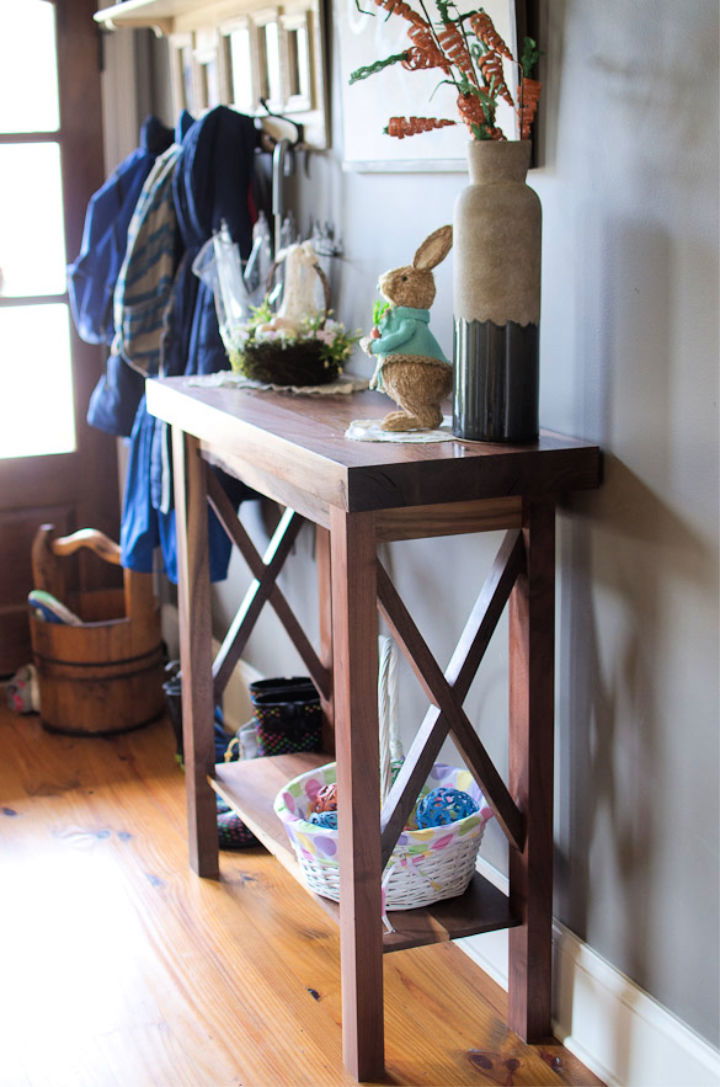 Who knew that something made out of walnut could look so clean, sharp and gorgeous! This project is perfect for making many different things – a desk, bunk bed, study table and much more! The walnut is the reason why it's super sturdy and strong! Make sure to add your display pieces and make this table look stunning! seededatthetable
24. Entry Table with Hairpin Legs

Here's another plan with hairpin legs! However, this one is not as lightweight as the plank of wood is quite heavy, and four hairpin legs are used at the bottom instead of two! However, it still looks very chic, stylish and modern! You can also paint the plank on top of a different colour to make it pop! doodlecraft
25. How to Make a Entry Table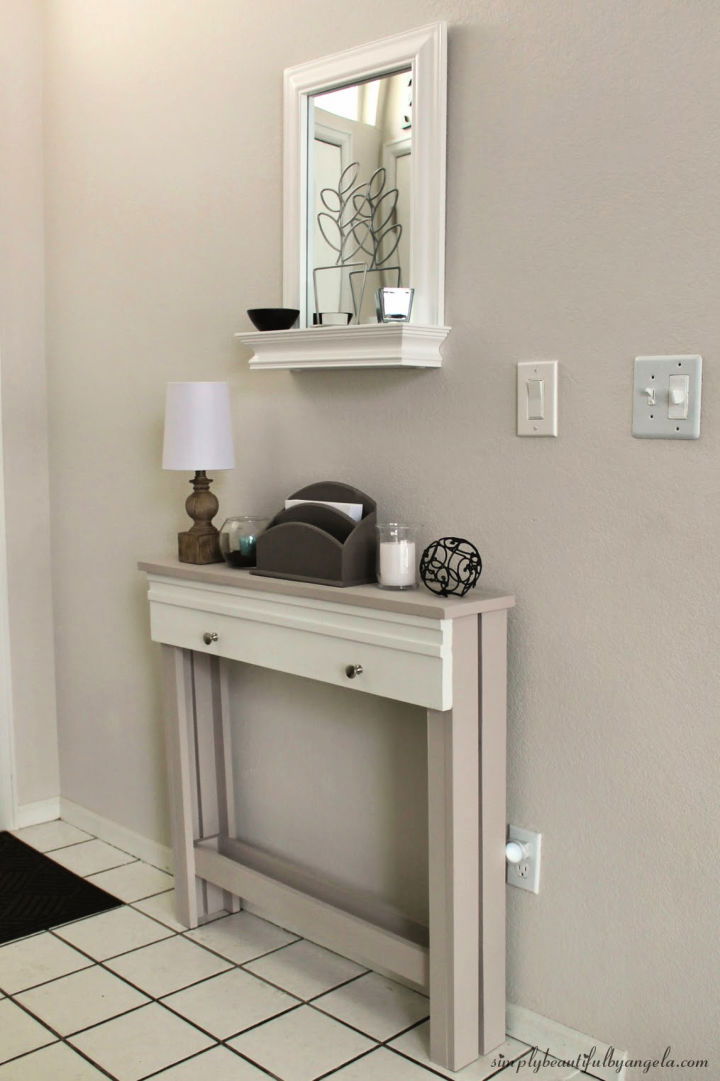 Do you live in an apartment or small living space? Well, then you will need to make a thin table that sticks to the wall and covers less space – follows this free plan! Wood glue, lumber, bricks, wood filler, primer, paint and a few other supplies are required to make this project a success! Are you ready to make it! simplybeautiful
26. DIY Bike Entry Table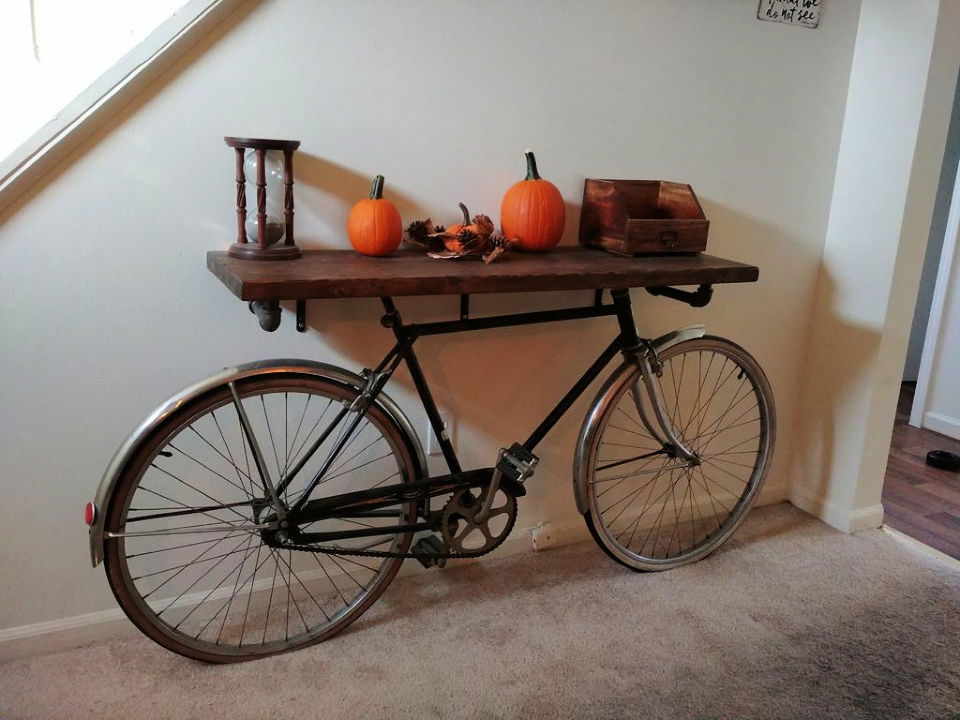 If you have an old bicycle and a wood plant, you can make this project a success! Bike, wood – 2 x 8's long, brackets, dowel rod, wood screws, iron piping, clamp connectors, paint, wood stain and a few other supplies are required for you to make this a success! The bike used here is an old AMC 3-speed. instructables
27. Narrow Console Table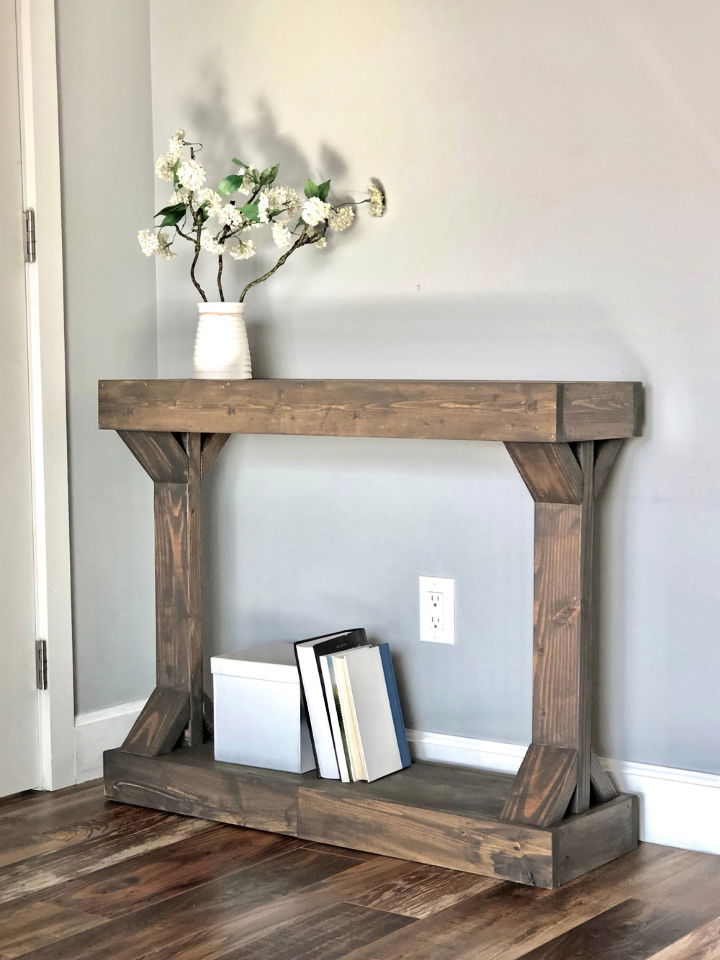 Narrow hallways can be a little frustrating as it becomes almost impossible to decorate them! However, here's a tiny table that will fit perfectly into your hallway! Wood glue, brad nails, lumber, tape measure, sander, ear protection, safety glasses, miter saw and a few other tools and materials are all you need for this project. ana white
28. Chalk Painted Entry Table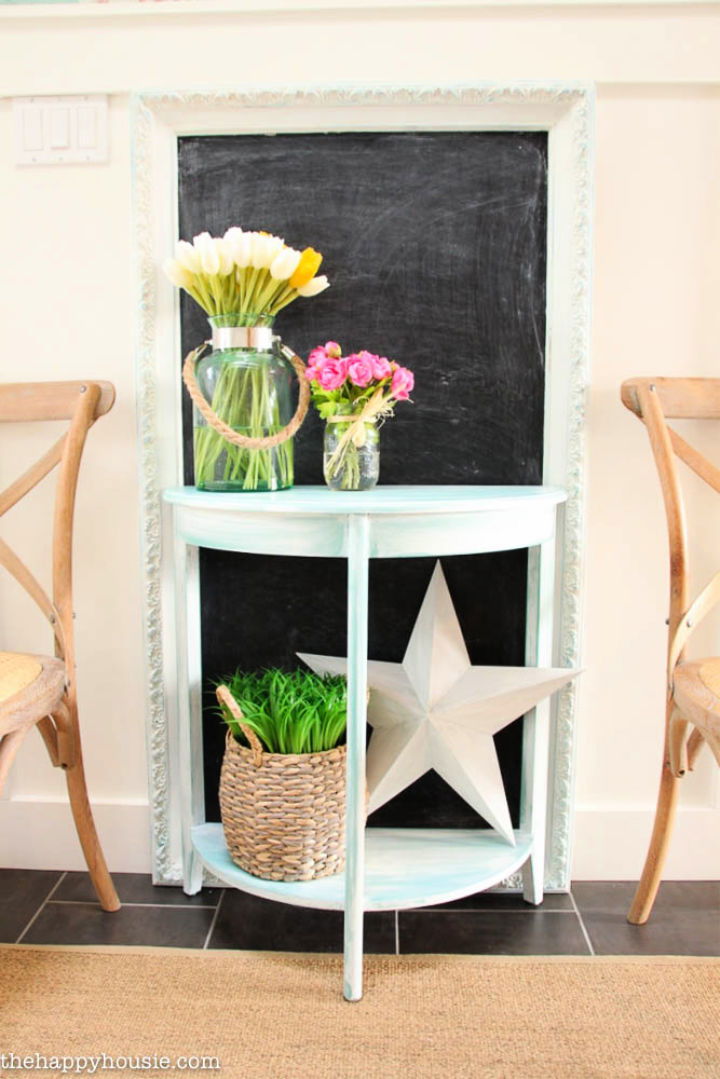 This amazing table plan features chalk painting! Do you hate working with primer and waiting for a long time for everything to dry? Well, you need to take a look at this plan! You will only need to wait a few minutes between the paint coats to dry so it will only take around a day to complete this project! thehappyhousie
29. Modern DIY Wooden Console Table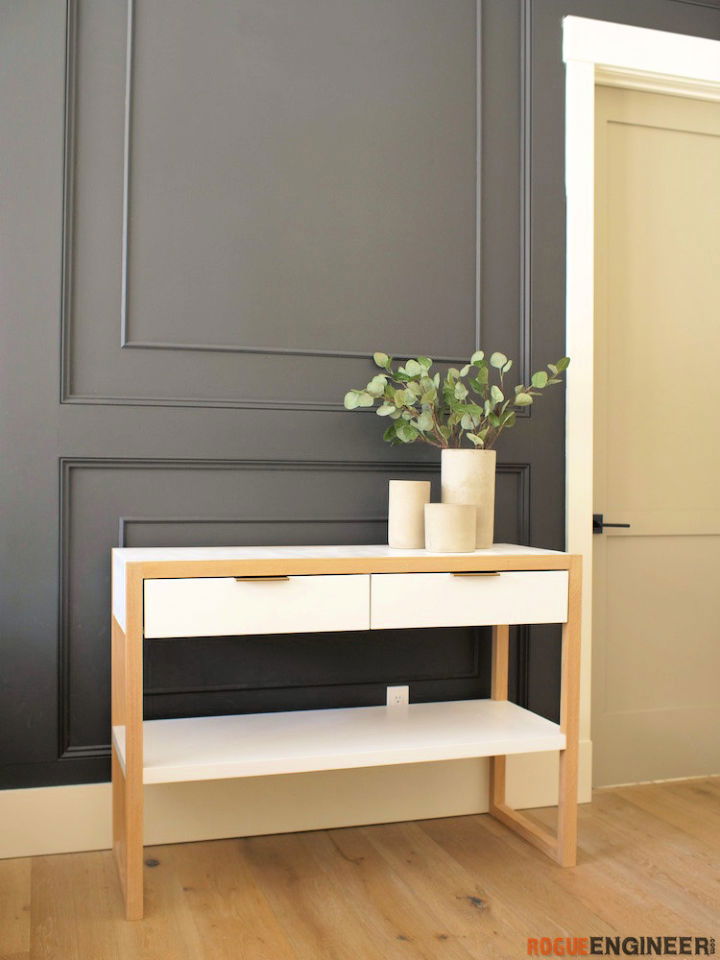 Pocket hole jig, drill, miter saw table saw, circular saw, jigsaw, band saw, square, tape measure, pencil, safety glasses, hearing protection and a few other tools are required for this pattern! Furthermore, plywood, oak, wood screws, drawer slides, carpenter's glue and a few other materials are required, as well. rogueengineer
30. Farmhouse Media Console Table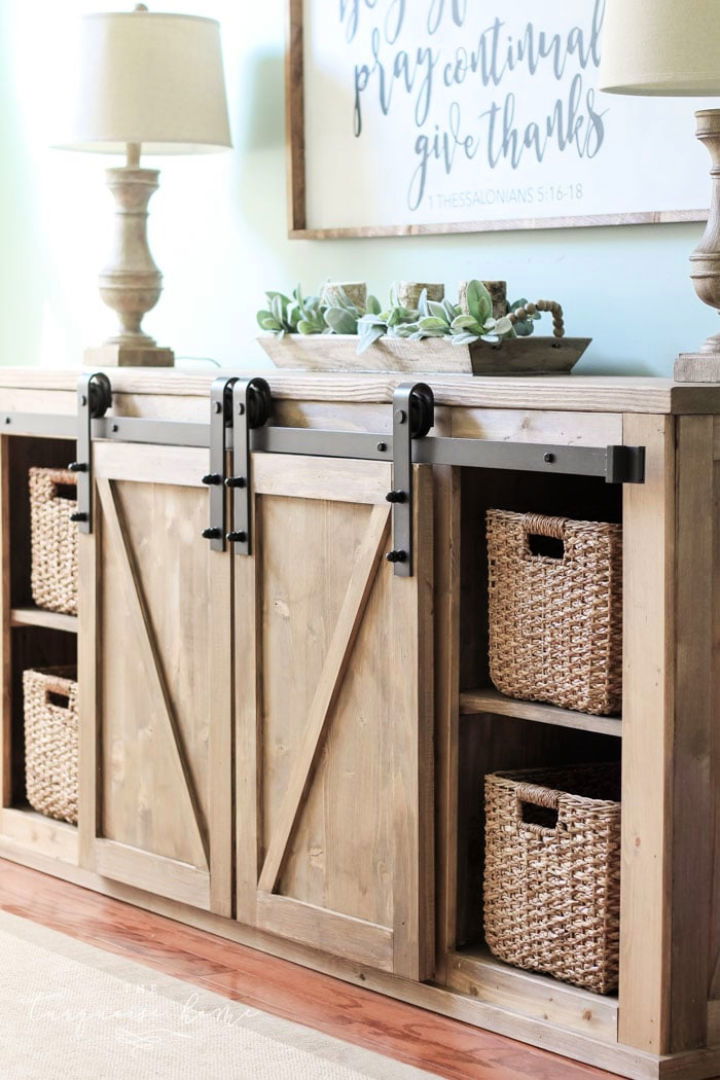 Here's another gorgeous console table that's super easy to make! You only need a few basic materials and tools for this amazing plan – drill, tape measure, safety goggles, miter saw, Kreg jig, clamp and a few other essential tools and materials will be required for the amazing project! Are you excited to give it a try? theturquoise
Conclusion: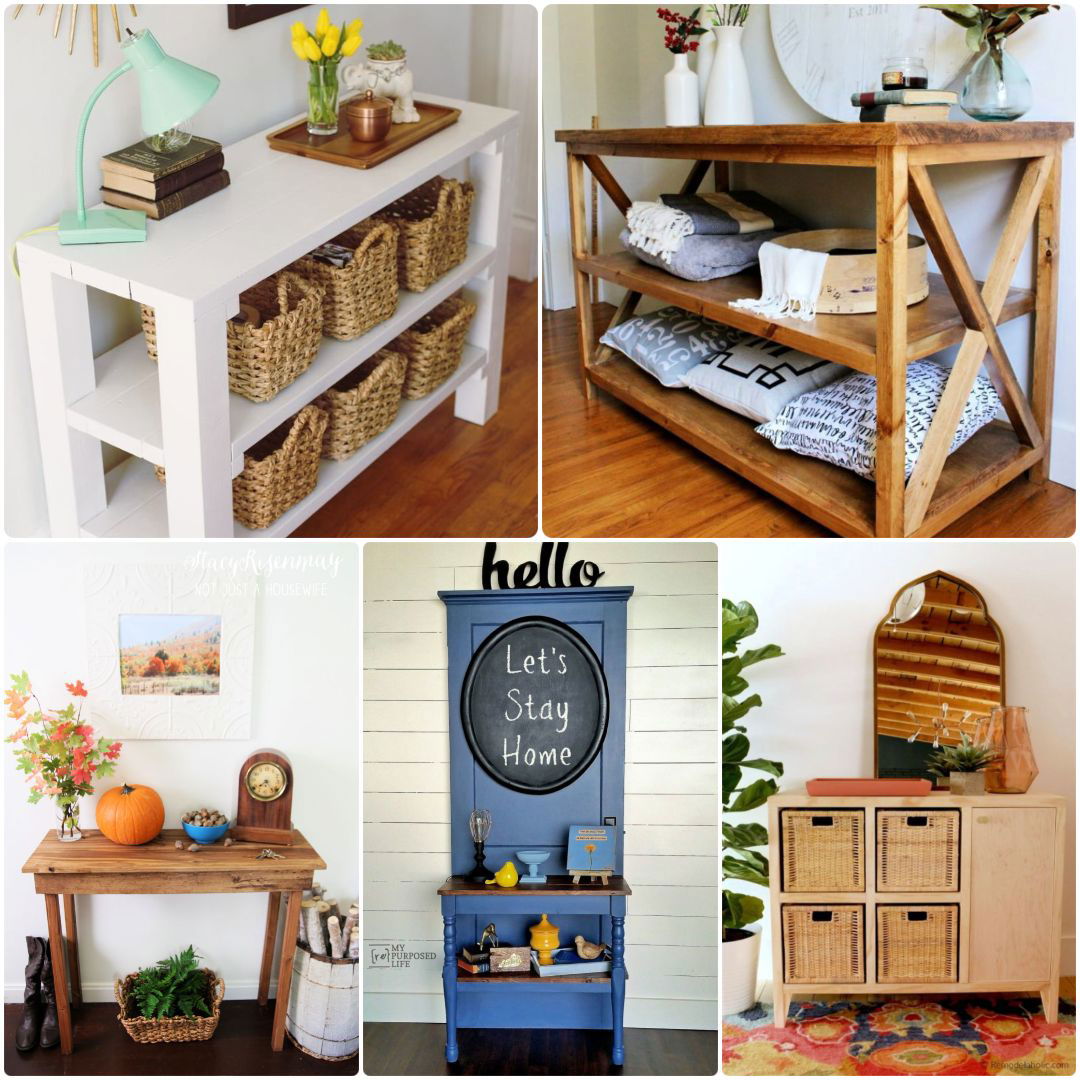 In conclusion, our selection of 30 free DIY entry table plans offers a wide range of designs to suit various styles, from simple entryway tables to creative and unique ideas like a bike entry table or an old door repurposed as an entry table. With these easy-to-follow plans, anyone can create their own entry table masterpiece, be it a rustic farmhouse console, a chic modern wooden console, or a practical entryway table with storage options. Welcome your inner DIYer and get started with one of these inspiring diy entry table plans!