If you are expecting a baby or have a little one at home, you might be looking for a DIY changing table that is functional, stylish, and budget-friendly. A changing table is an essential piece of furniture for any nursery, but it can also be expensive and take up a lot of space. That's why many parents opt to make their own changing table using some simple materials and tools. Learn how to make a change table with these 25 free DIY changing table plans that anyone can build, from modern to rustic, from dresser to wall-mounted.
One of the most popular DIY changing plans is repurposing an old dresser or buffet into a changing station. This way, you can save money and give new life to a piece of furniture that you already have or find at a thrift store. You can paint the dresser with chalk paint for a shabby chic look, or refinish the top with marble for a classy touch. You can also add some baskets or drawers for extra storage. Some of the plans that you can follow are: changing table with refinished marble top, buffet to a changing table, vintage wash stand changing table, and 5 drawer dresser changing table.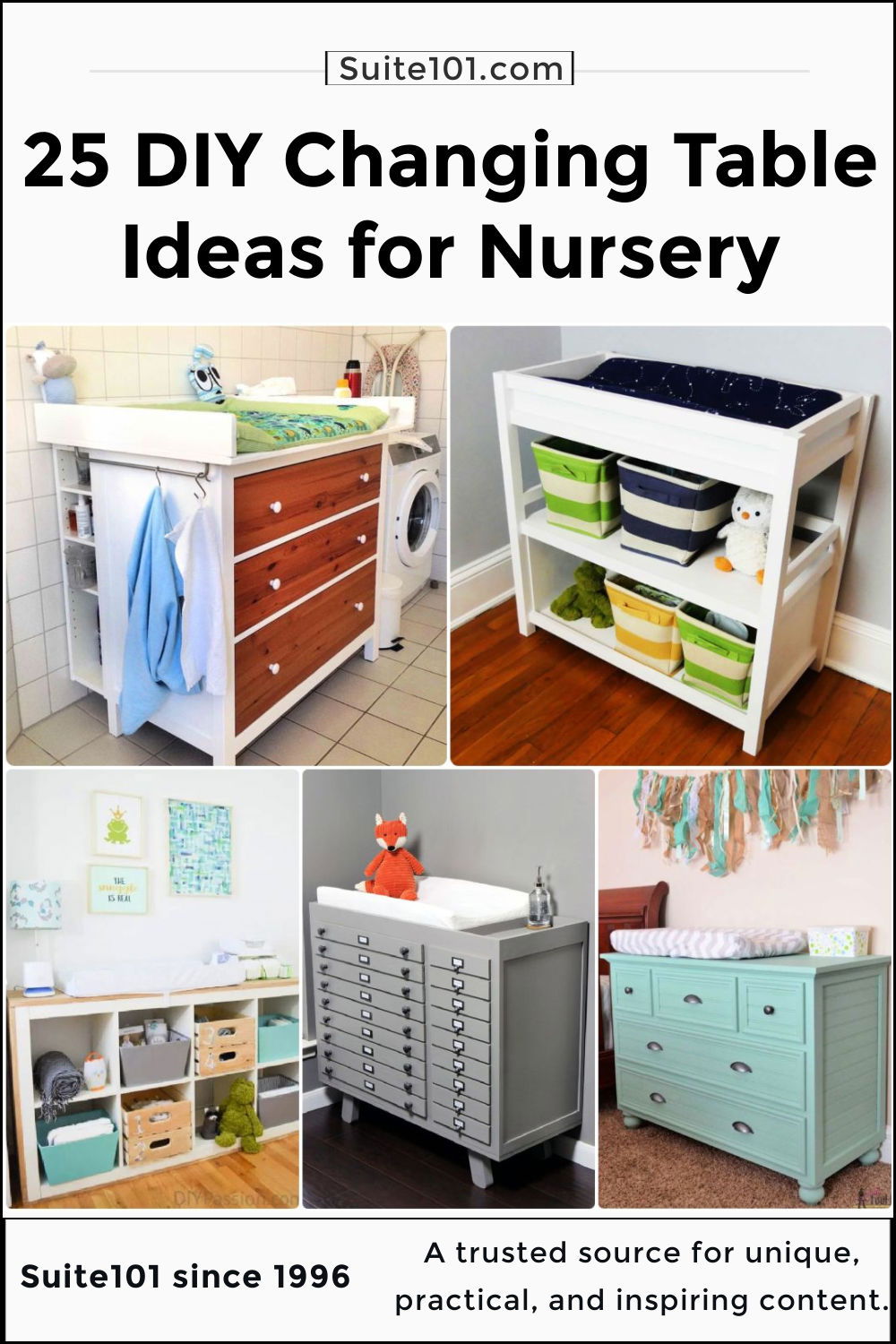 Free DIY Changing Table Plans
Another option is to build a changing table from scratch using wood, pipes, or other materials. This way, you can customize the size, shape, and design of your changing table to fit your space and style. You can also add some features like hidden storage, shelves, or hooks for convenience. Some of the plans that you can follow are: modern nursery changing table, rustic x diy changing table, diy industrial pipe changing table, with storage shelves and more.
As you can see, you can choose from many DIY changing table plans depending on your preference and skill level. All you need is some creativity and motivation to create a beautiful and practical changing station for your baby. Get inspired by one of these DIY changing table plans and make your nursery more comfortable and functional.
1. Modern Nursery Changing Table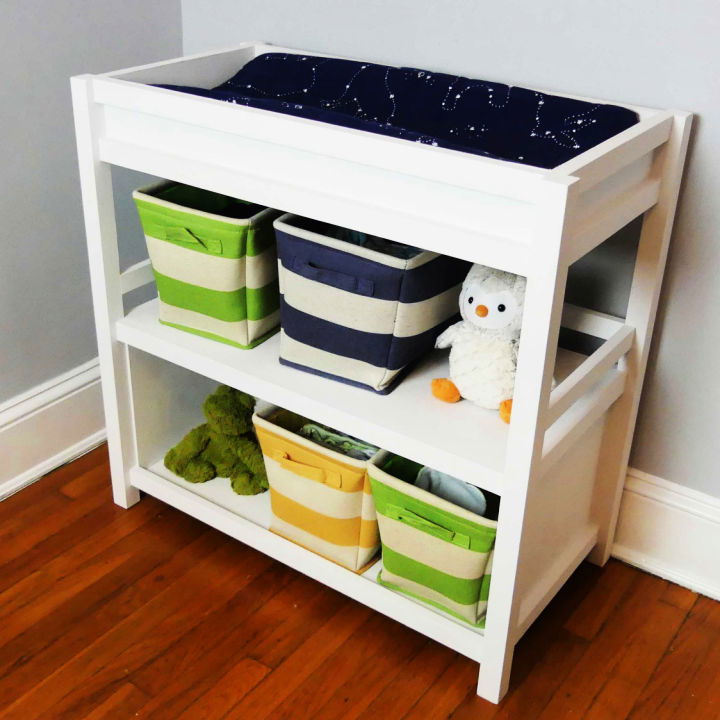 This modern DIY changing table is perfect for any nursery! You can easily build this piece in one weekend with a few basic power tools. Choose from paint or stain to choose the right finish that is safe around your baby. All materials needed, such as 2x2s, 1x2s, 3/4x48x48″ sanded plywood panels, and 24×48″ underlayment panels, are included in the instructions. This simple yet effective design creates a stylish and secure changing station for your little one! lazyguydiy
2. Free Changing Table Plan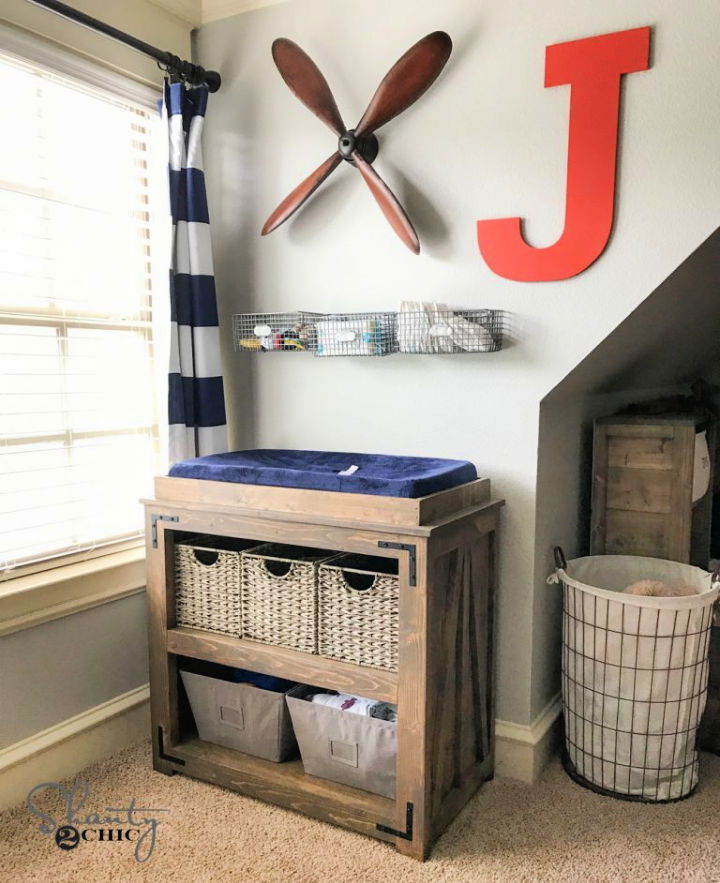 Transform your nursery with a versatile and stylish DIY changing table! This step-by-step guide provides free plans to build a changing table that can easily be repurposed as a side table or coffee bar in the future. With detailed instructions and a helpful video tutorial, you'll learn how to make precise cuts, assemble the frame using pocket holes, and add shelves for storage.
The farmhouse-inspired trim adds a touch of rustic charm, and the pine project panel creates a sturdy and attractive tabletop. Complete the nursery look with a changing pad and coordinating baskets. Get ready to welcome your little one with this functional and customizable DIY changing table. shanty 2 chic
3. DIY Baby Changing Table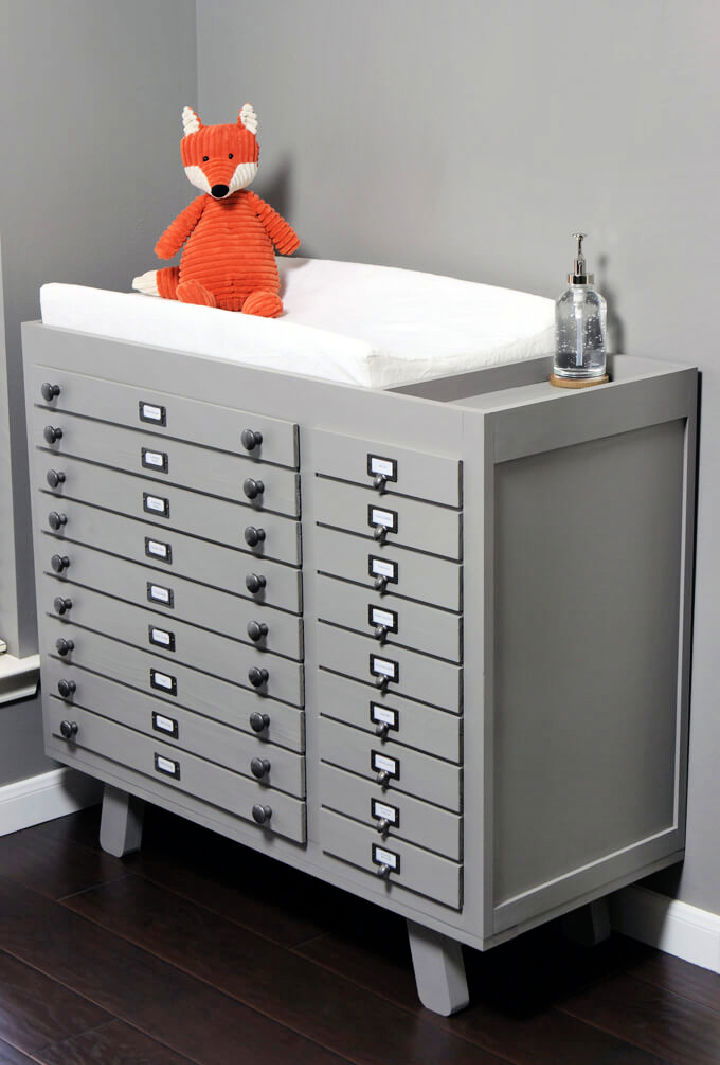 Here is this stylish baby changing table that is the perfect addition to any nursery. Designed with a modern printmaker cabinet aesthetic, it features select pine boards, plywood, masonite, and wood glue for durability. The metallic dark steel spray paint gives this piece an elegant touch while the labeled drawer pulls complete its sleek look. Behind the doors, you'll find all your essential supplies, including a diaper pail, neatly tucked away in faux drawers. Transform your child's space with this beautiful baby-changing table! grayhousestudio
4. Chalk Paint Changing Table from Dresser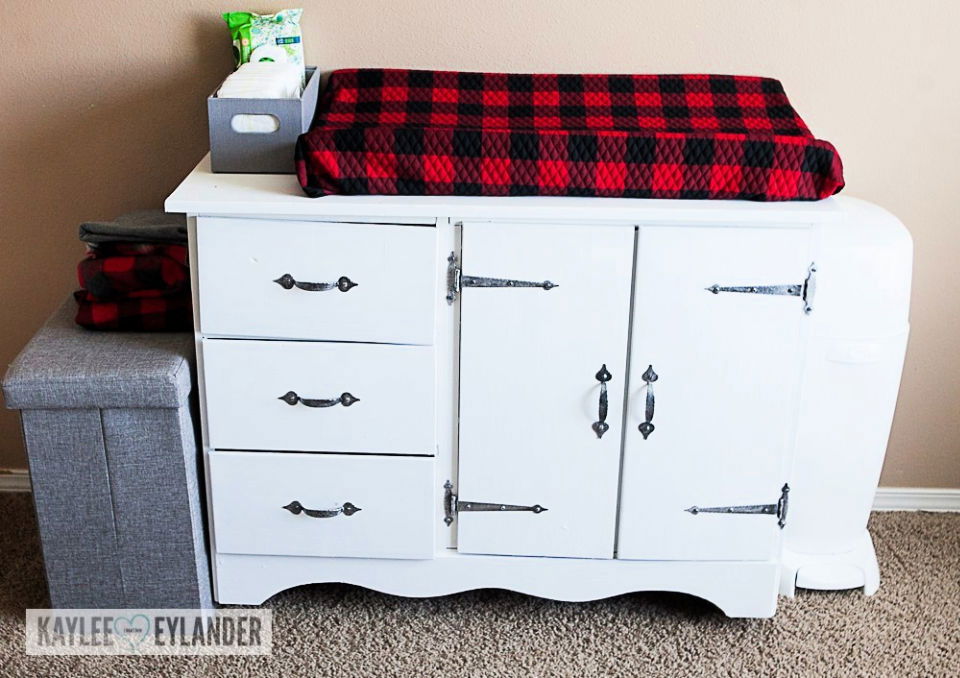 Transform an ordinary dresser into a beautiful changing table with DIY chalk paint! This simple project requires no sanding and is an easy way to bring some life to a piece of furniture. All you need is plaster of Paris, your choice of paint color, and two disposable containers for mixing the materials. With this guide, you'll have your custom-made changing table in no time – perfect for any nursery or bedroom. kayleeeylander
5. Changing Table with Refinished Marble Top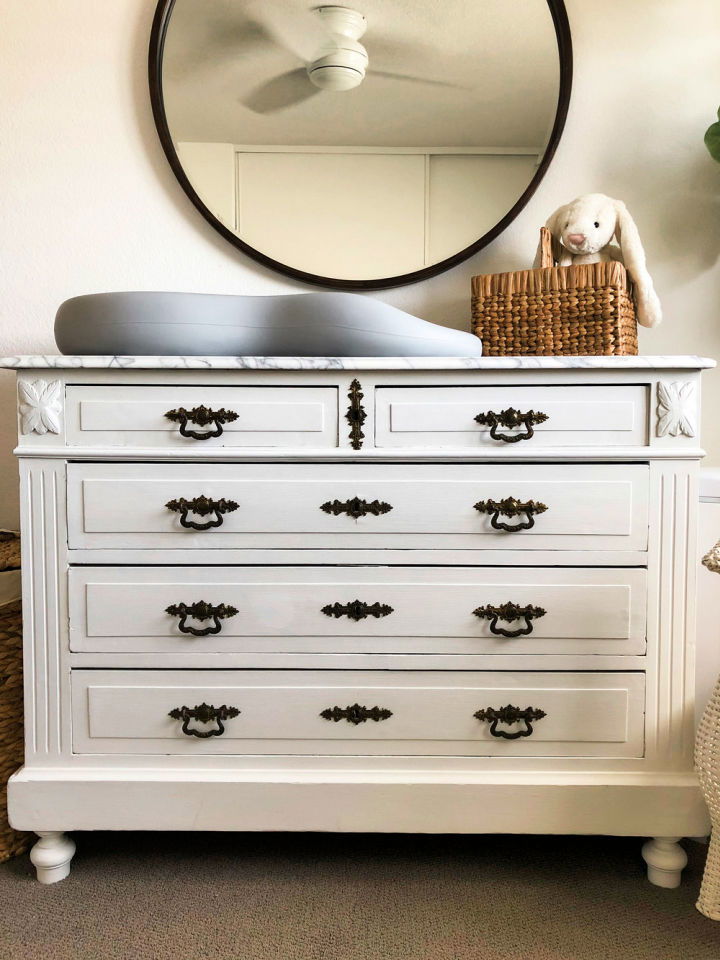 Change an old dresser into a stylish changing table with this easy DIY project! Refinish the antique dresser with a stunning marble top to make the perfect spot for changing your baby. With just minimal effort, you can achieve amazing results in little time that will look great in any nursery. Let your creativity shine as you craft this one-of-a-kind piece of furniture using materials from around the house or purchased at an affordable price. Allowing you to save on costs while still making something special and unique! me and mrjones
6. How to Build a Changing Table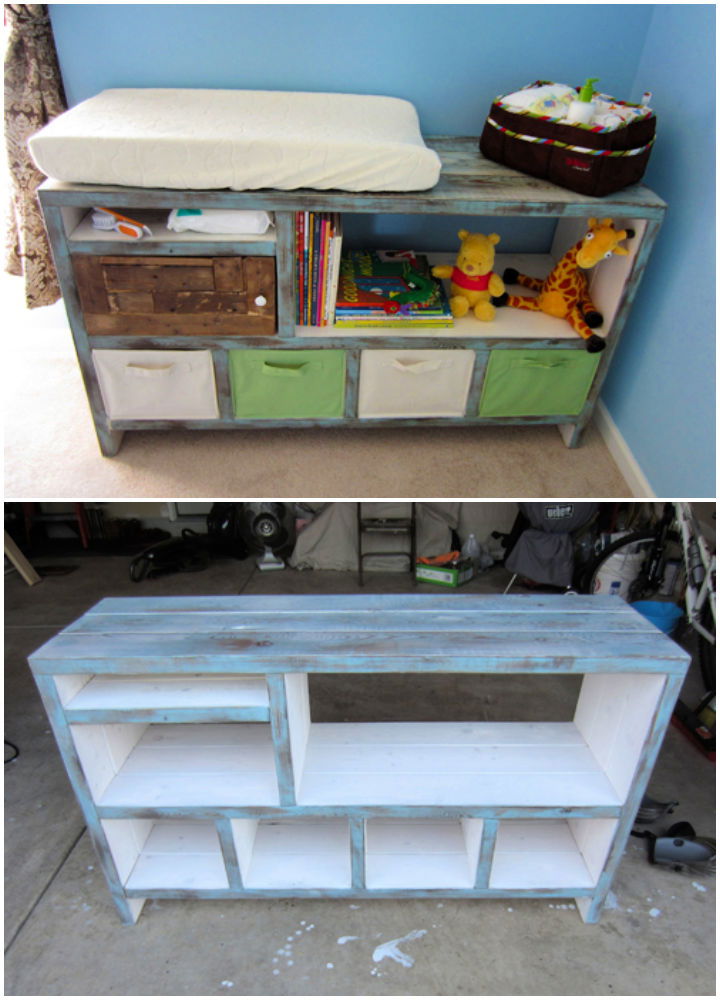 Save money and customize your nursery with this comprehensive guide on building your changing table. This DIY project is perfect for those who want to make a stylish and functional changing station without spending a fortune. Follow the easy instructions step-by-step, so you can build the changing table that best suits your needs in no time! Make an amazing piece of furniture that will last! Get started now! diywithrick
7. DIY Baby Changing Table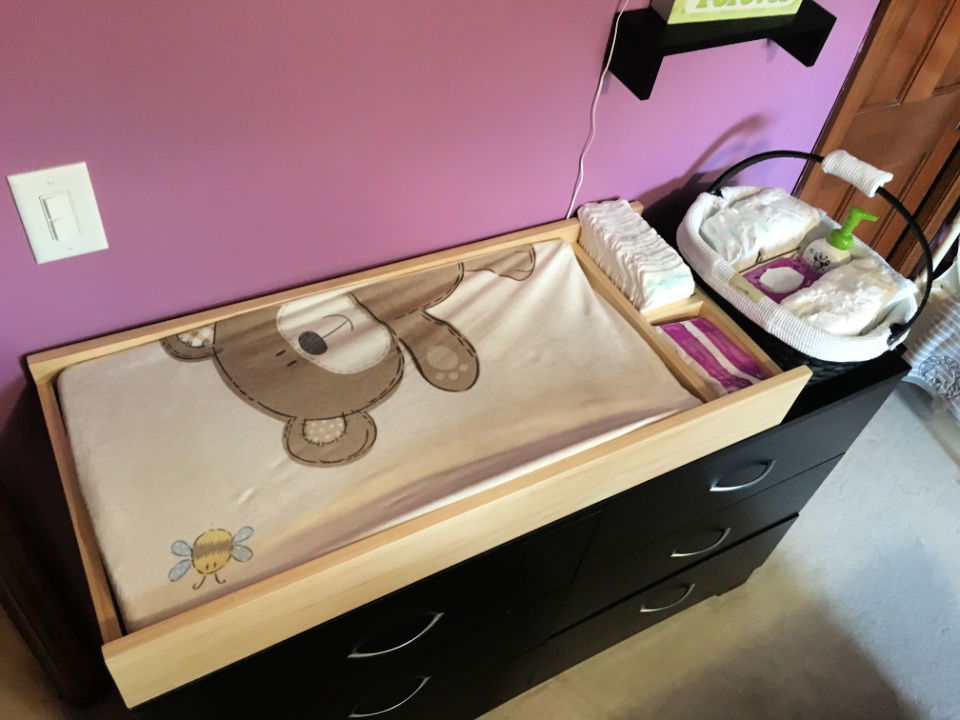 Make diapering and changing time easier with this DIY baby changing table – dresser mounted! This project uses 1/4 x 2 x 4 hardboard panel, 1 x 8 quality pine board, 1 x 6 quality pine board, and 1 x 4 quality pine board. Plus, wood dowels to assemble the frame and wood glue for attaching the boards. With some sanding and painting, you'll have a beautiful baby-changing table that can be used for years! Follow this easy step-by-step tutorial on how to make your own at home – perfect for those who love DIY projects or just want an affordable option. Get started on your new baby-changing table today! promincpro
8. How to Make a Changing Table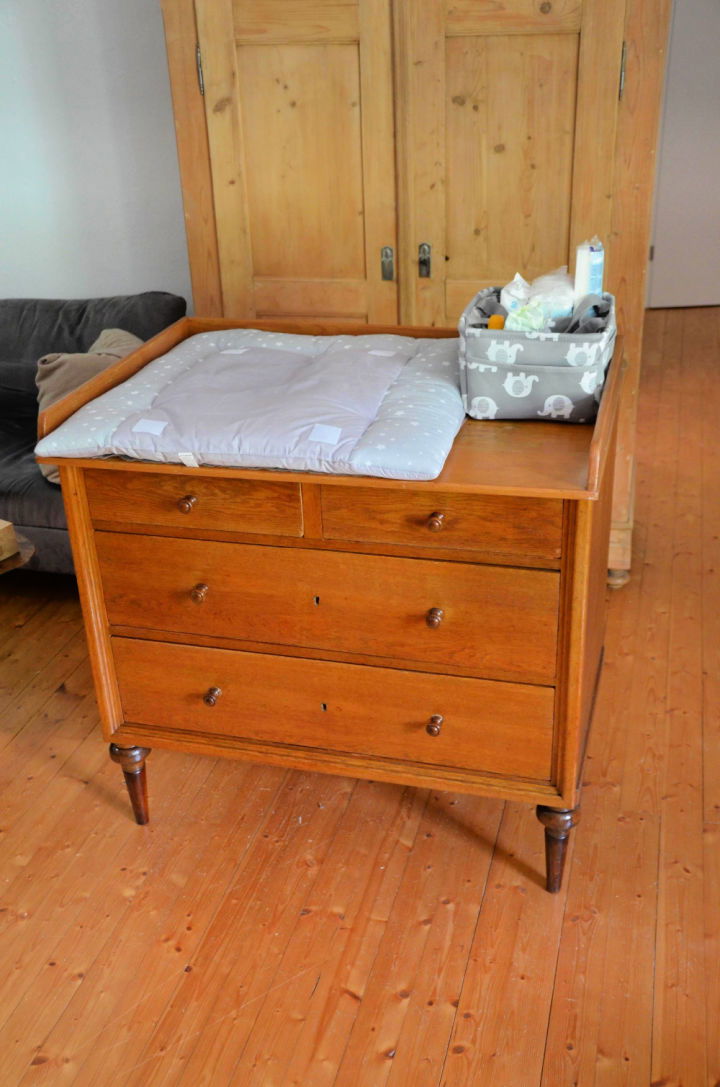 Turn an old piece of furniture into a new changing table with this simple guide! You no longer have to purchase a new one from the market – just follow the instructions, and in a little time, you'll have your own changing table, making diaper changes much easier. You can get a fresh-looking changing table that won't break the bank with only a few things. Save your next piece of furniture now by giving it a second life as a changing station! davidplanella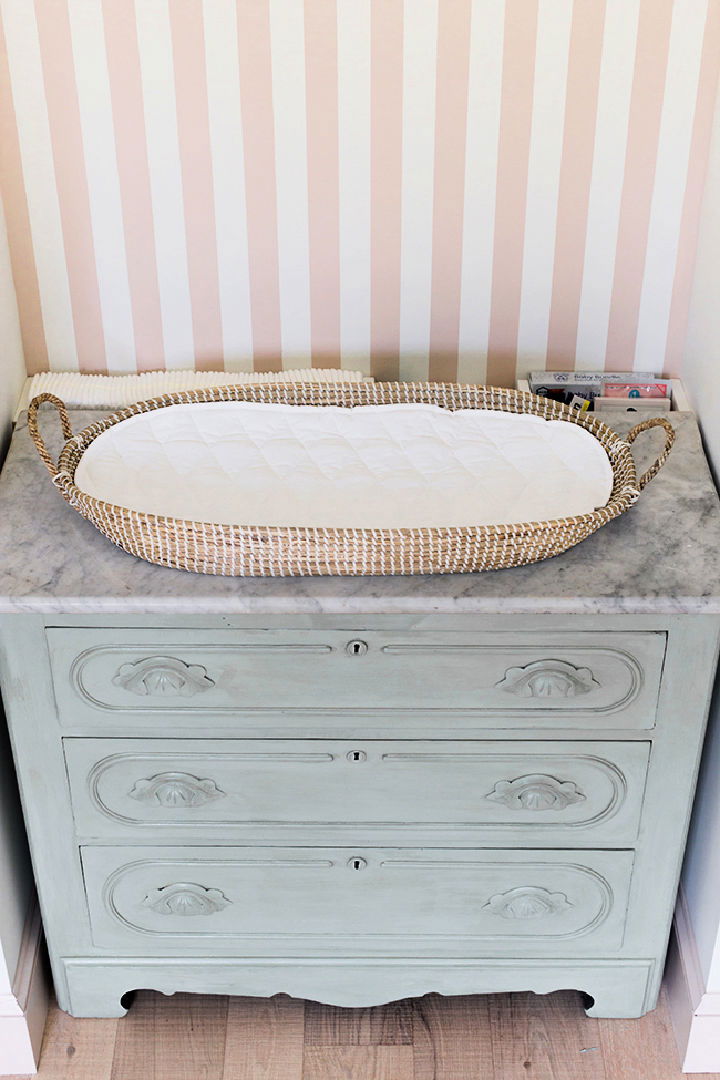 Modify any space into a convenient changing station with this nursery changing station with hidden storage! This simple DIY project only requires a 1x6x8′ pine board and brackets, yet it creates an incredibly useful station that can store your stuff out of sight. The cost is minimal, but the value is great – easily make a spot for diaper changes without sacrificing style or storage. Make this smart solution part of your nursery today and enjoy its functionality for years! jennasuedesign
10. Buffet to a Changing Table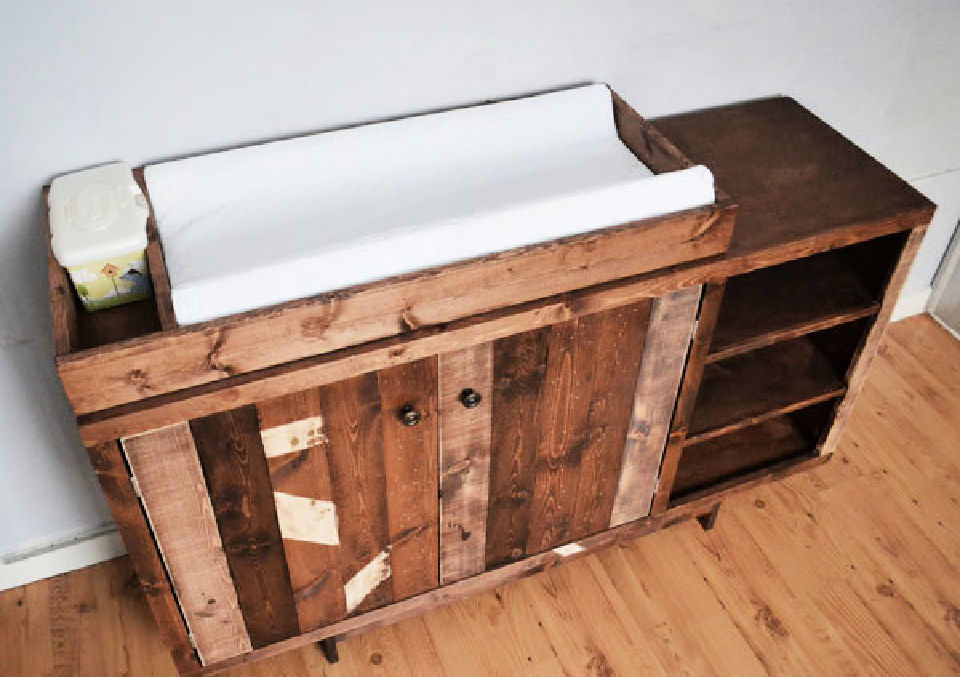 The perfect addition to any changing area, this baby changing table topper is crafted with simple wood and designed to fit standard 16″ x 32″ changing pads. A side compartment provides plenty of room for diapering supplies, and 1-1/4″ pocket hole screws secure the topper firmly on top of a console, tabletop, dresser, or desk. An easy-to-assemble solution for any home needing that extra touch in its nursery décor! ana white
11. Rustic X DIY Changing Table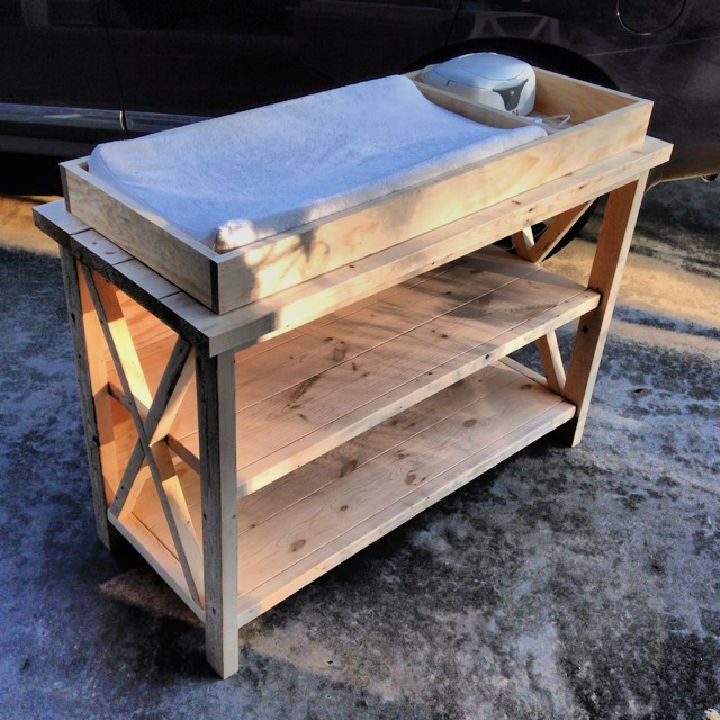 Make the perfect nursery for your little one with this rustic x DIY changing table! The detailed woodworking plans make it easy to build a beautiful changing table that's strong and sturdy. All you need is basic materials, such as 1 x 4, 2 x 2, 2 x 3, 2x 6 boards, and 1/4 x 24 x 48″ plywood. With these instructions, you can make a unique piece of furniture that will last for years – no matter how much your baby grows! It's time to get creative and put together something truly special – start building today with rustic x DIY changing table! rogueengineer
12. Ultimate DIY Changing Table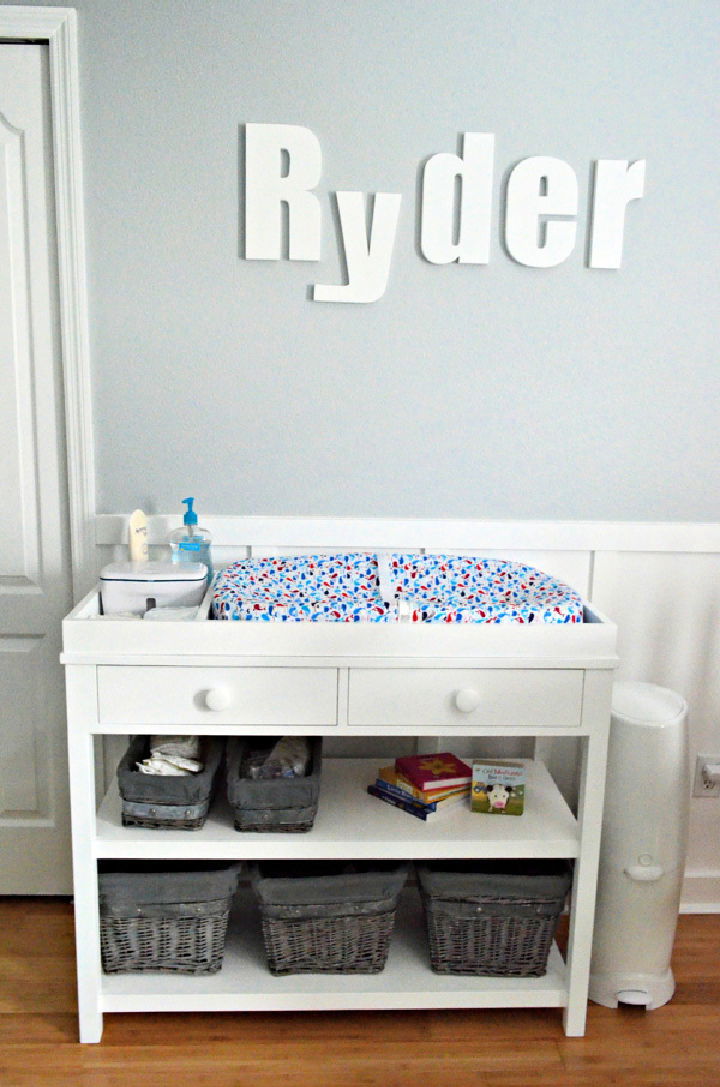 Give your little one the best start to life with the ultimate changing table – transforming their nursery into a stylish and practical haven. Made from a half sheet of 3/4″ plywood or MDF, 2×2, 1×2, 1×6, and 1×4 pieces of wood for added strength and stability—this table is built to last! With a top shelf for additional storage space and a ¼" plywood piece on the bottom to easily catch all those little messes that come along with changing time. Plus, it's easy to build yourself, making it the ultimate DIY project! Upgrade your nursery decor today with this beautiful changing table – you won't regret it! Have a great weekend. ana white
13. Vintage Wash Stand Changing Table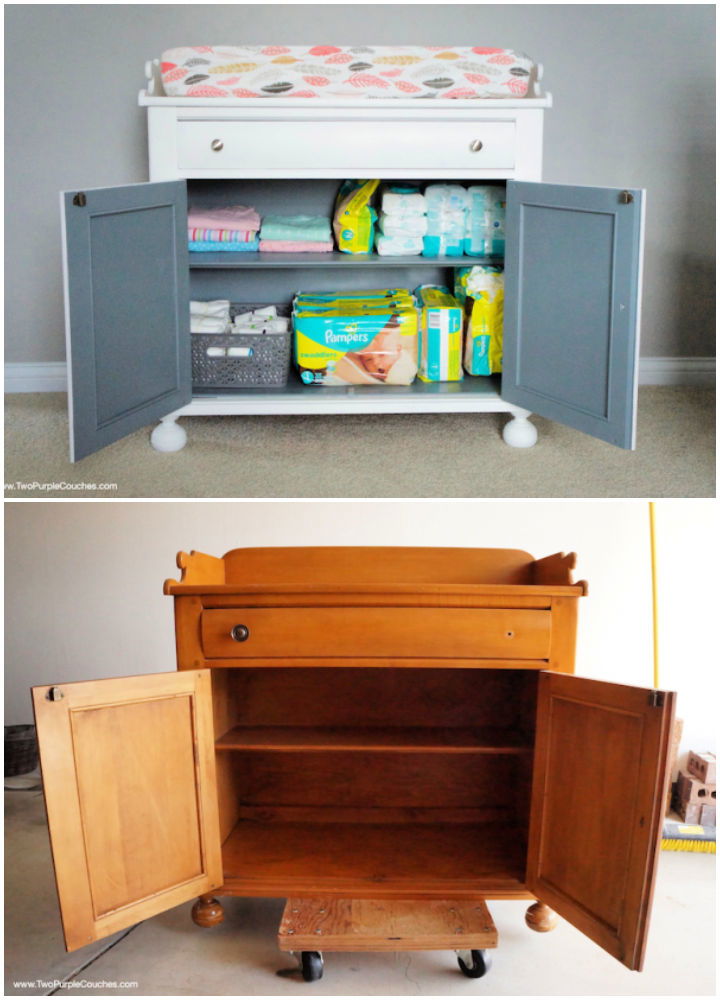 Transform an old wash stand into a functional yet stylish changing table for your nursery with this easy DIY makeover! You only need an orbital sander, sanding papers, a drop cloth, and paint supplies. Prime the piece with Zinsser cover stain primer and then finish it by painting it in deco art satin enamels in pure white and smoke grey – you can use brushes, foam roller, or even a paint sprayer to get the job done. Add cabinet knobs to complete the vintage-inspired look of your new changing table! twopurplecouches
14. 5 Drawer Dresser Changing Table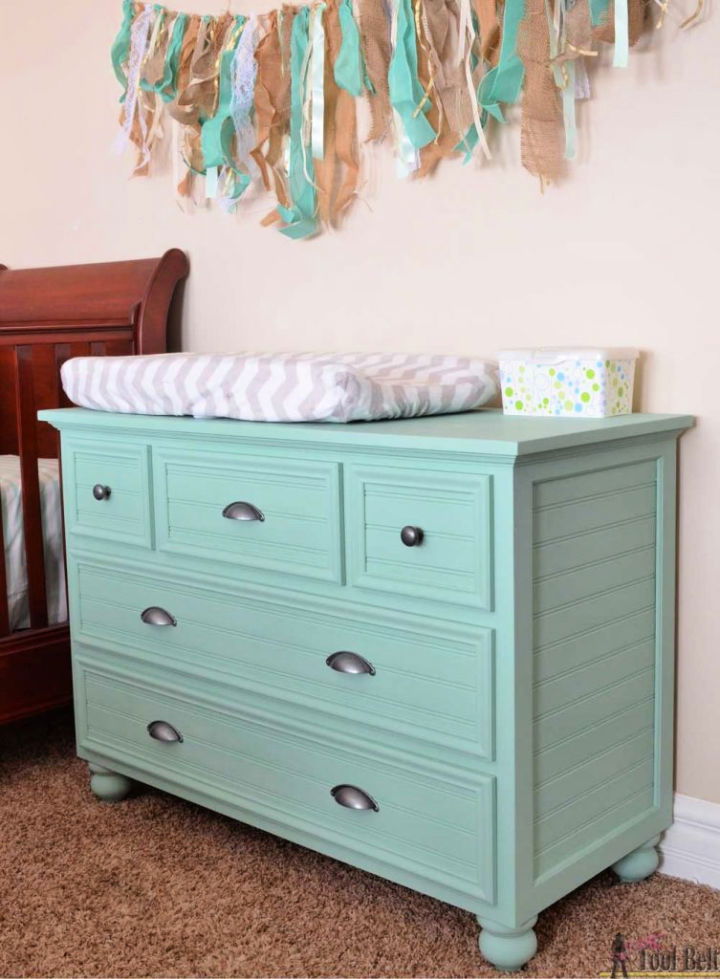 This 5-drawer dresser changing table will be the perfect addition to any nursery. Constructed with 3/4″ plywood (4′ x 8′), 1 sheet of bead board, 1″ x 2″ and 1″ x 3″ boards, 28 feet of panel cap molding, 4 'feet,' and 4 top leg plates, this dresser is sturdy and stylish. With wood glue, sandpaper, wood filler, drawer slides for drawers, knobs for doors, and cup handles for pulls, it provides ample storage space when needed. Get your perfect changing table today! hertoolbelt
15. Changing Table with Ikea Hack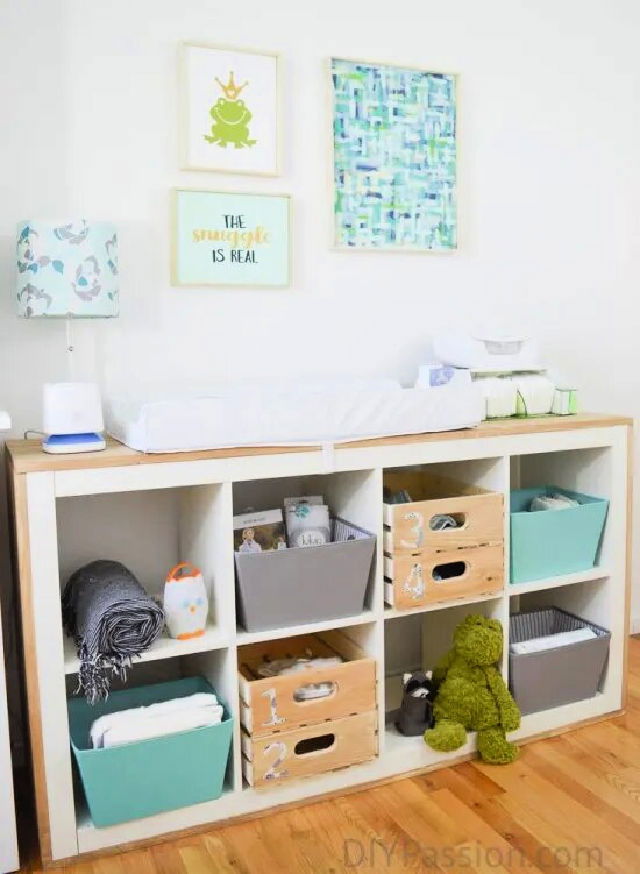 Banish those nursery blues and upgrade your baby's room with this simple changing table ikea hack! Get a kallax shelf as the base for an inexpensive yet super cute change table. This project will only take one afternoon to complete, making it perfect for busy parents looking to spruce up their baby's room in no time! With multiple storage compartments, you'll have plenty of space to store diapers, wipes, and onesies. Enjoy all the convenience of a changing table today without breaking the bank – try out this amazing DIY Ikea hack now! diypassion
16. DIY Industrial Pipe Changing Table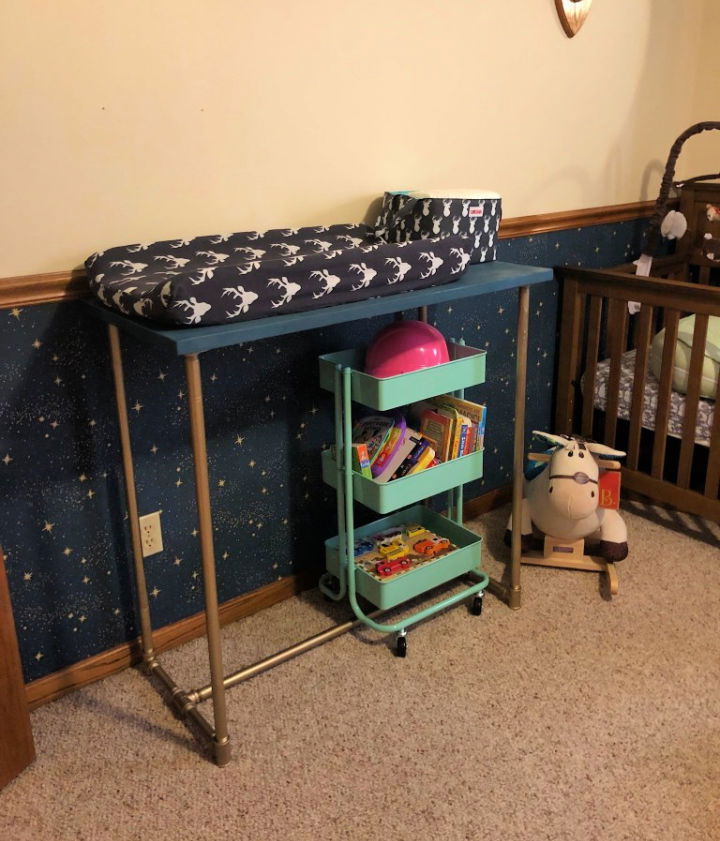 Do you want to save money while making something practical for your nursery? With this DIY changing table or standing desk tutorial, it's easy and affordable! You don't need to be a pro at woodworking; anyone can make their own changing table or standing desk. Plus, all the materials are inexpensive and only require a few tools. Get started with this step-by-step guide and get the perfect piece of furniture for your baby's room in no time! typicalmomstuff
17. Baby Change Table With Storage Shelves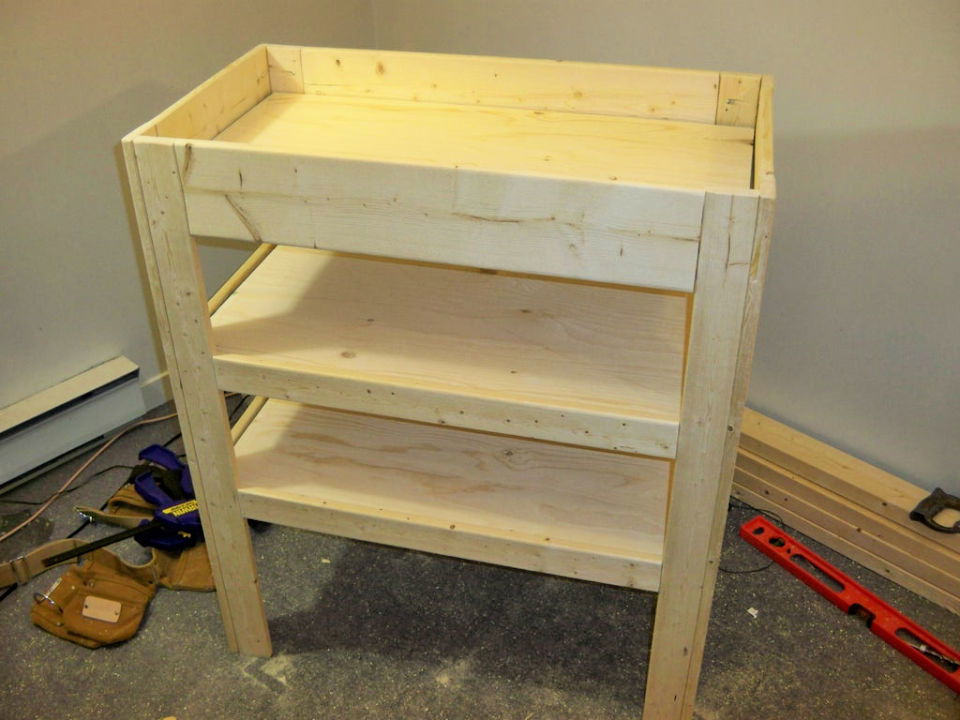 Grow your family with ease; this baby-changing table is the perfect companion! It is made from 8′ x 4′ 3/4″ pine plywood and also includes 1″x3″, 1″x6″, and 1″x2″ pine pieces. Not only does this changing table provides a comfortable space for diaper changes, but it also has plenty of storage shelves to keep all your essentials organized. And if that's not enough, this versatile design can easily be adapted to other uses as well! Get yours today, and make sure you're always prepared for those precious moments with your little one. instructables
18. Making a Nursery Changing Table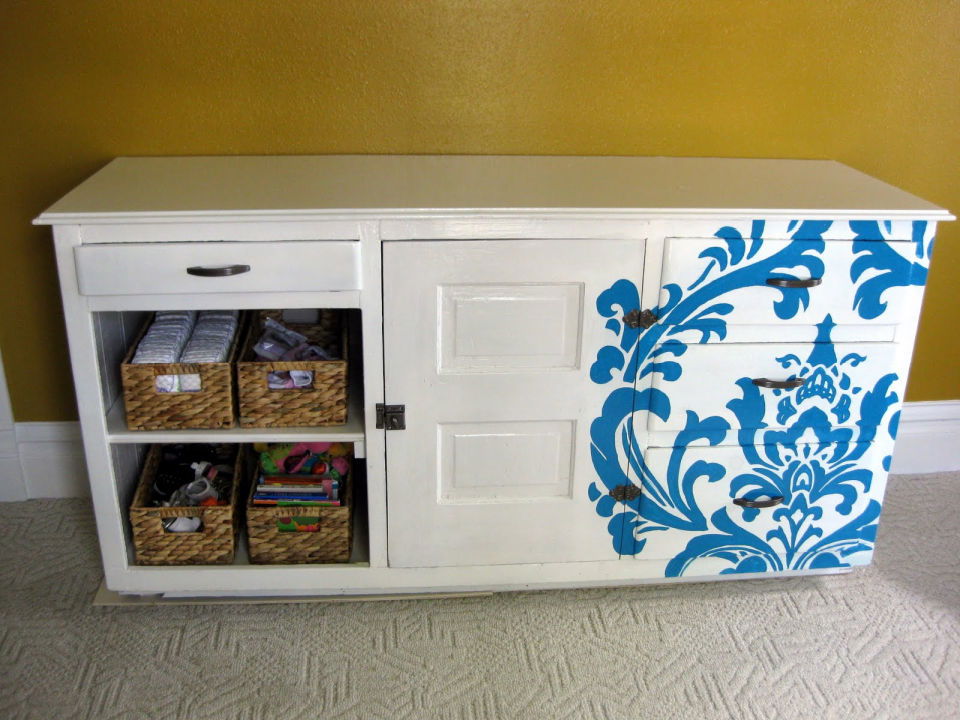 Transform your nursery with a creative DIY dresser makeover! Discover how this antique piece, found in a barn, was beautifully restored and repurposed into a charming changing table. With a fast 5-day makeover process, including paint stripping and reinforcing, the dresser was given a fresh coat of crisp white paint. The real magic happened when a damask pattern was hand-painted onto the surface using a simple tracing technique.
Add some hammered steel spray-painted hardware and handy storage baskets, and you have a one-of-a-kind changing table with sentimental value. Check out the stunning before-and-after photos and get inspired to transform your own furniture projects! realitydaydream
19. Homemade Diaper Changing Table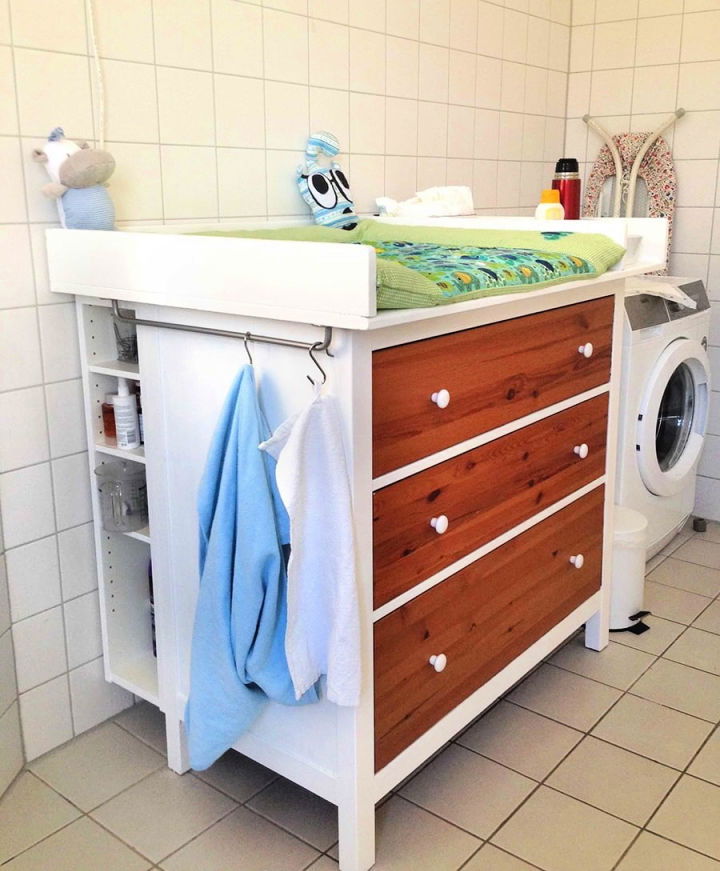 Put together a functional and stylish diaper changing station with an ikea hemnes chest of drawers! This DIY project uses an old ikea chest of drawers, 2 cd racks, and a few other materials to make the perfect spot for quickly changing diapers. With this homemade diaper-changing table, you can save time and money while getting the job done in style. Plus, it will look great in any nursery or bedroom! Get creative with your upcycled dresser project and build your custom diaper-changing table today! ikeahackers
20. DIY Changing Table Makeover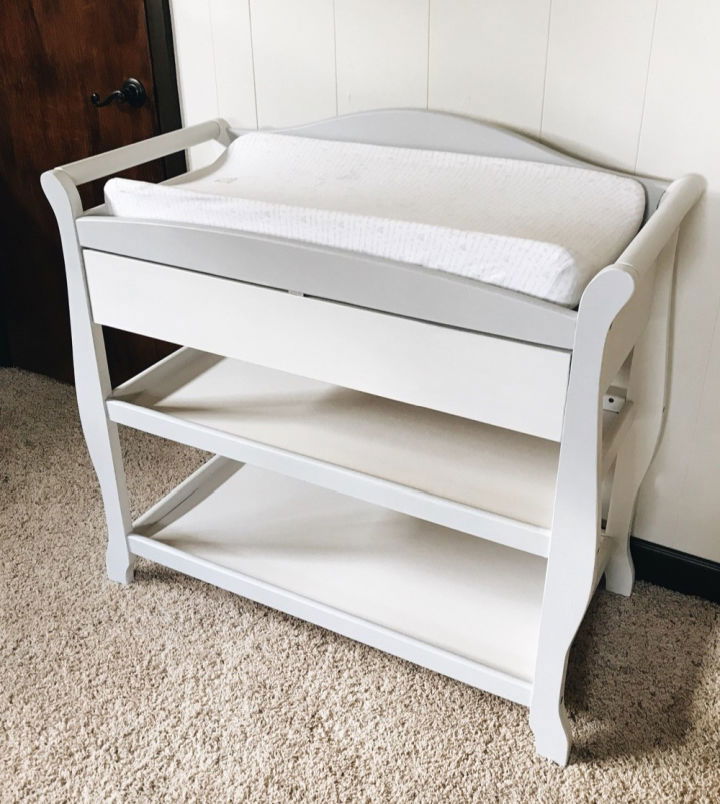 Refresh your nursery with this easy DIY changing table makeover! No need to buy a new changing table; with a bit of elbow grease and some paint and contact paper, you can transform the old one into something as good as new. Transform your baby's room today with this simple but effective project that won't break the bank. From rustic pieces to modern designs, upgrade any style of changing table. Get started today on giving your child's nursery the makeover it deserves! firstthymemom
21. DIY Wall Mounted Change Table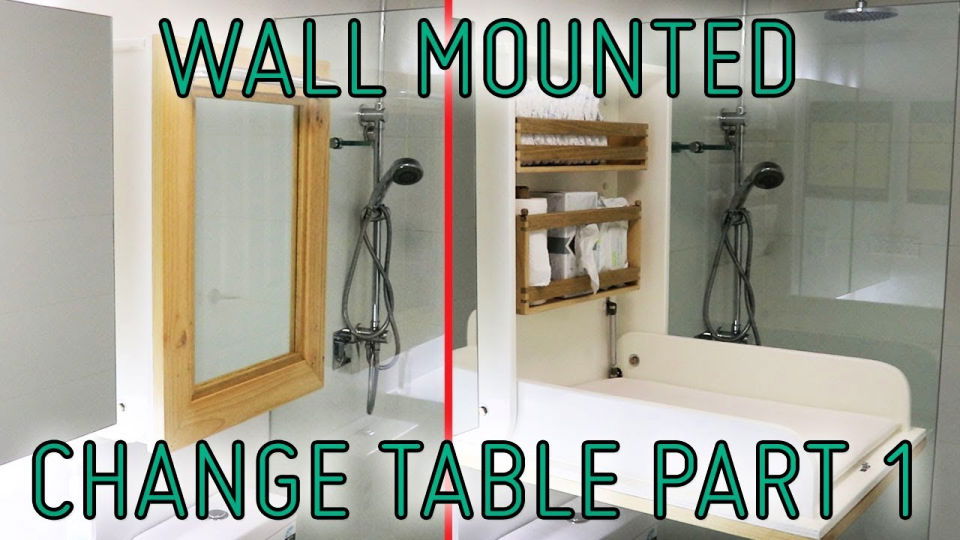 Here is this DIY wall-mounted baby changing table that is the perfect solution for tiny houses, shipping container homes, and all other confined spaces! With detailed instructions included, you can easily build a convenient wall-mounted change table that will free up valuable floor space and make it easy to care for your baby.
The folding or pull-down design makes it even more compact, so parents won't have to sacrifice any extra living area. This modern design also ensures safety and comfort with carefully crafted edges and angles for maximum protection, making diaper changes quick and simple. Save time, space, and money – try this DIY wall-mounted change table today!
22. Quickly Dressing Changing Table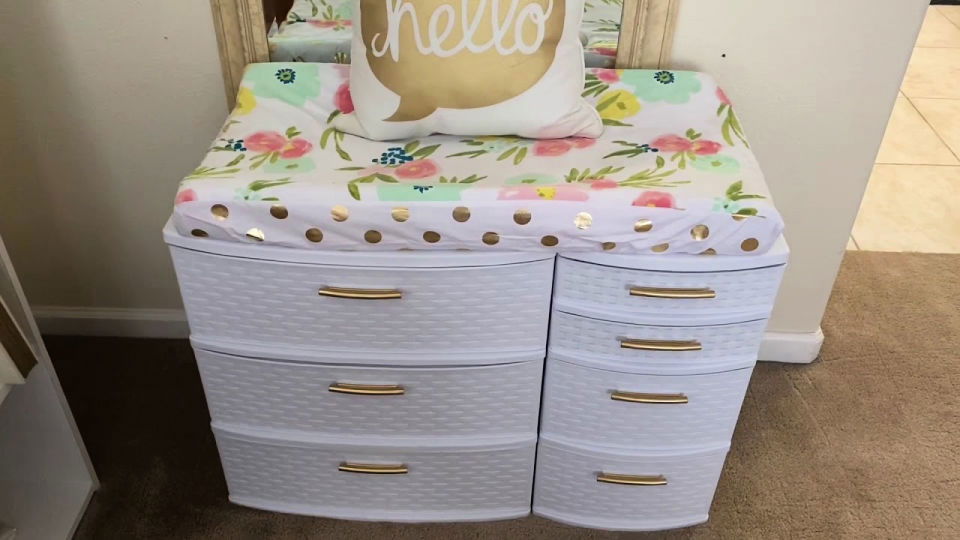 Add a bit of glamor to your little one's nursery with this DIY dressing-changing table for reborn or doll nurseries. It's simple, budget-friendly, and easy to assemble, allowing you to make beautiful furniture without breaking the bank. The set includes a small drawer set, a large drawer set, and gold spray paint for that extra sparkle. All you need is a few tools and some creativity! Perfect for any doll or reborn nursery – give it as a gift or make it yourself!
23. How to Build a Changing Table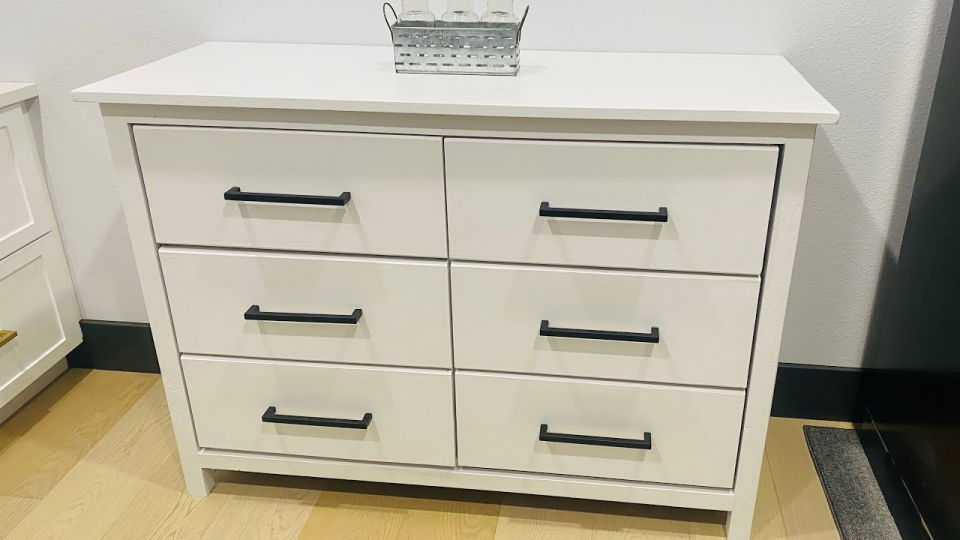 Searching to build a changing table/dresser combo with minimal materials? Check out this simple step-by-step guide! All you need is 1x2s, 2x4s, 1×10, 20″ edge glued lumber, ½" plywood 4×8 sheet and ¼" plywood 4×8 sheet. Plus, drawer slides and pulls for the drawers. With basic tools and these supplies, you'll have your new piece of furniture in no time! Get started today on this easy build that will last for years.
24. Modern DIY Changing Console Table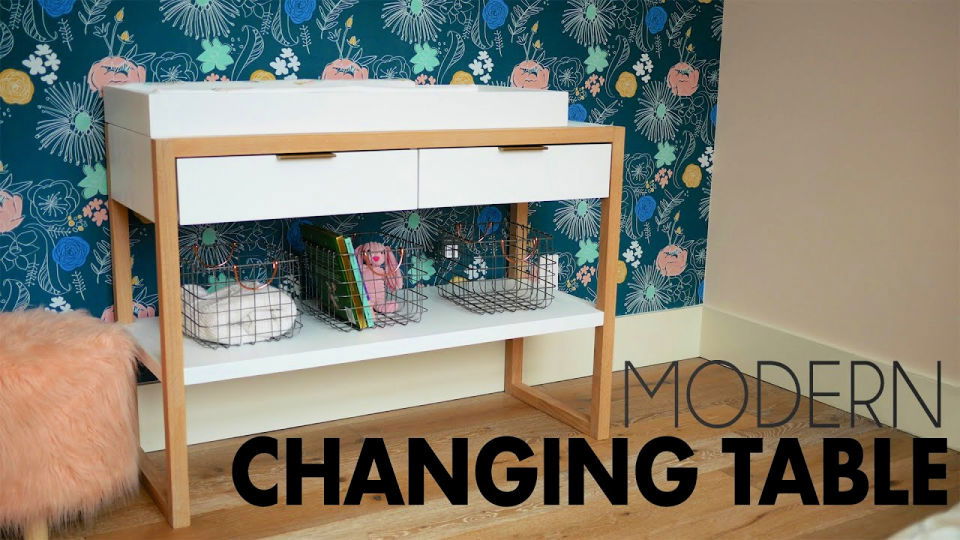 Make your own stylish changing table in just an afternoon with this easy-to-follow guide. Make a modern design and customize it to your needs without spending a fortune buying pre-made ones from the store. By following these plans, get the perfect console/changing table for any space in your home! Make sure you use high-quality materials that are safe and durable so you can enjoy your new addition for years to come.
25. Cheap Changing Table Using Pine 2x2s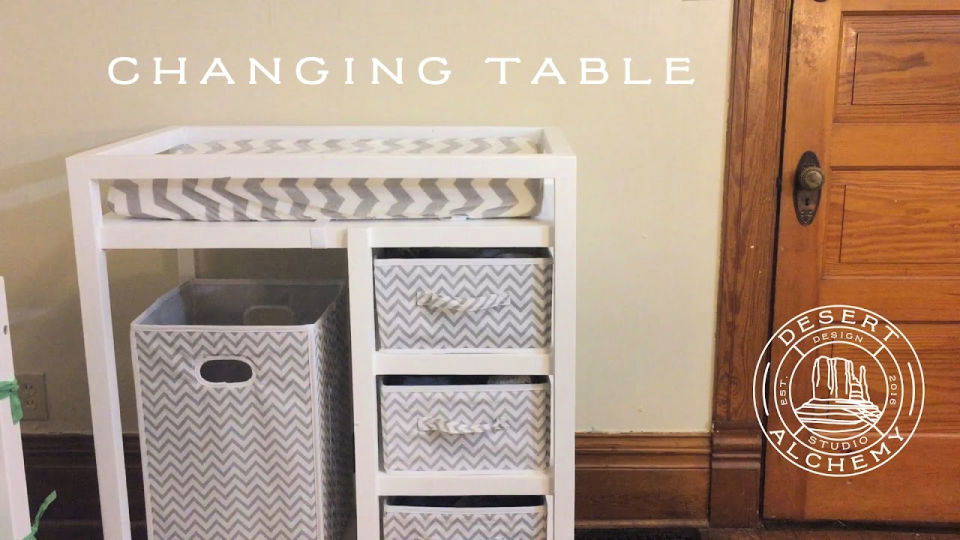 Assemble the perfect changing table for your baby's nursery without breaking the bank. This beginner-friendly design uses 2x2s and plywood to make a cheap changing table with plenty of storage space. Enjoy customizing it with color, paint, or accessories to match your style and needs – all at an affordable price! Get creative and save money while providing a secure place for diaper changes.
Conclusion: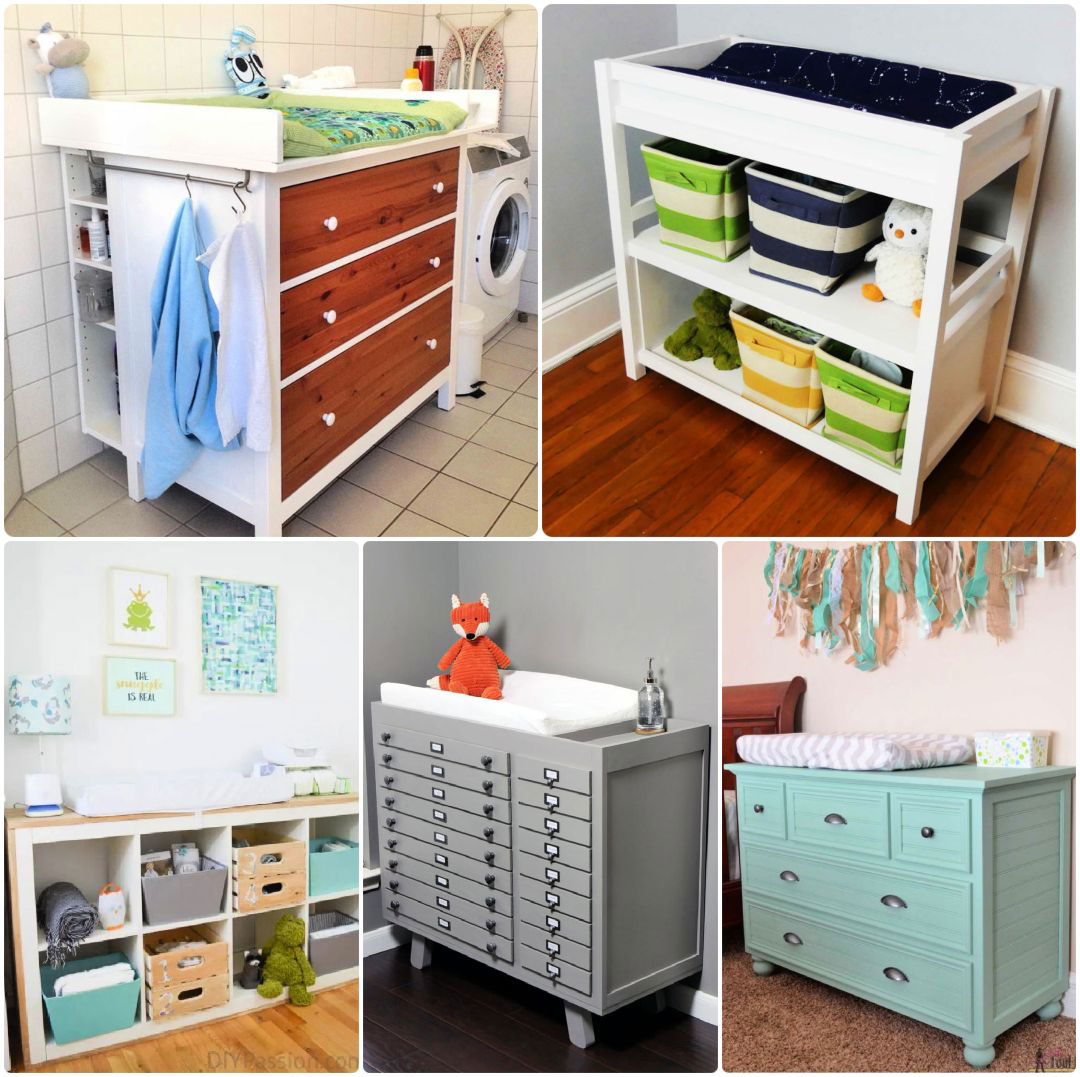 A DIY changing table is a great way to save money and space while creating a cozy and convenient spot for changing your baby's diapers. Whether you want to repurpose an old dresser, build a new table from scratch, or mount a changing station on the wall, you can find a plan from these cheap DIY changing table plans that suits your needs and style.