Making DIY tea bags could be a fun and satisfying activity to engage in. This hobby not only promotes relaxation but also provides the opportunity to enjoy homemade tea bags made from natural ingredients. Learn how to make a tea bag with these 20 homemade DIY tea bags that you can follow to make your own tea bags easily and quickly. This comprehensive guide gives you step-by-step instructions and illustrations for simple, effective DIY tea bag making.
These handmade DIY tea bags vary from being cute heart-shaped designs, perfect for Valentine's Day, to relaxation-inducing herbal bath tea bags; there's a pattern for every occasion. For instance, the Lavender and Chamomile Tea Filter Bags can provide a calming, aromatic beverage and the DIY Tea Bags Party Favors offer a creative and personalized gift idea.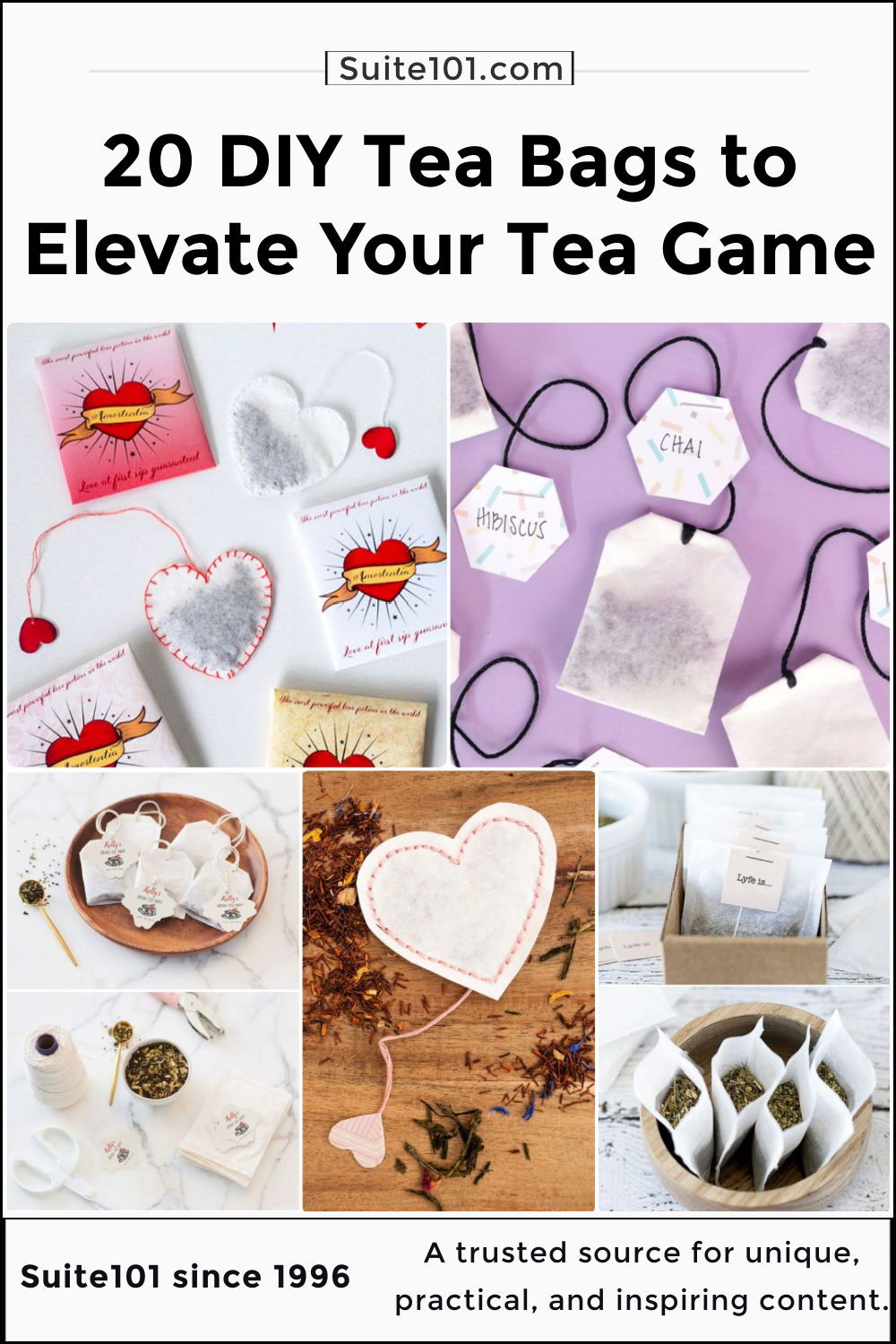 Making your own tea bags allows control over the ingredients, ensuring a wholesome and fresh experience each time you steep a cup of tea. All you'll need is a few supplies like coffee filters or fabric, your favorite loose tea, and some basic sewing equipment. Your personalized DIY tea bag won't just level up your tea-drinking experience, they could also serve as an innovative gift option. So, venture out of the box and start making your own DIY tea bags today.
1. Valentine's Heart Shaped Tea Bags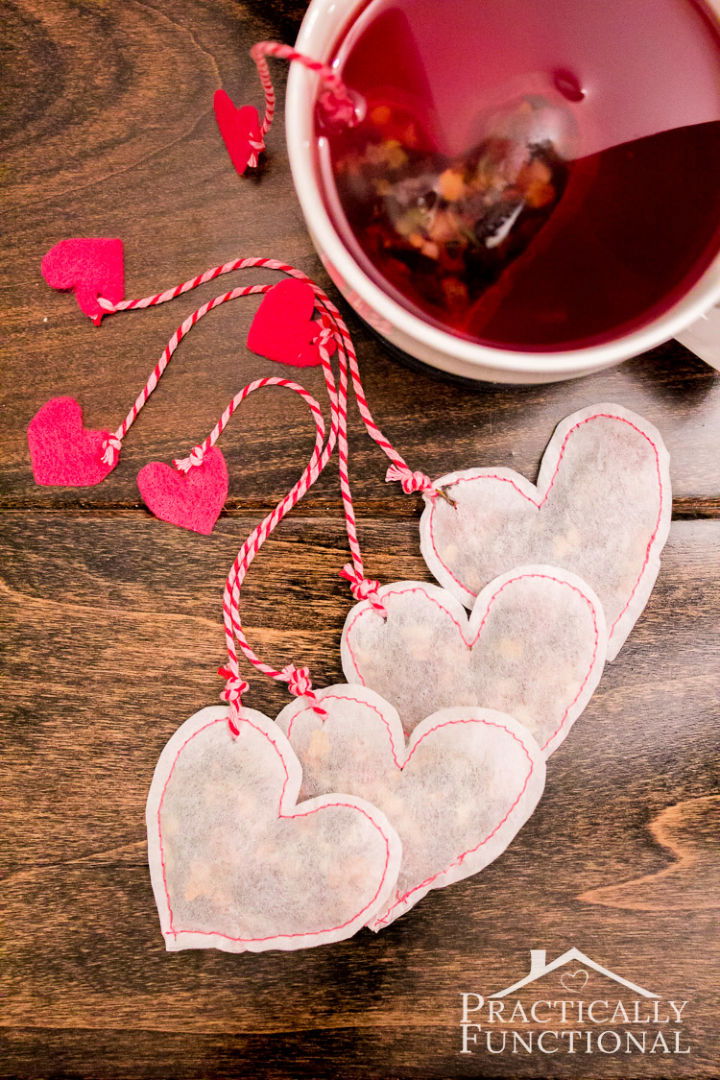 Delightful DIY heart-shaped tea bags are perfect for celebrating Valentine's Day! With just a few simple supplies, like fillable tea bags or coffee filters, pink or red thread, loose tea (cranberry orange is always a favorite!), pink or red baker's twine, felt, and scissors, you can easily make these show-stopping gifts.
All you have to do is fill the tea bags with your favorite loose tea blend, sew them into heart shapes, and add a special touch with a cute felt tag featuring personalized messages. These handmade creations will surely bring delight for any romantic occasion – be it as Valentine's Day gifts or thoughtful additions to a cozy afternoon of teatime. practicallyfun
2. DIY Amortentia Tea Bags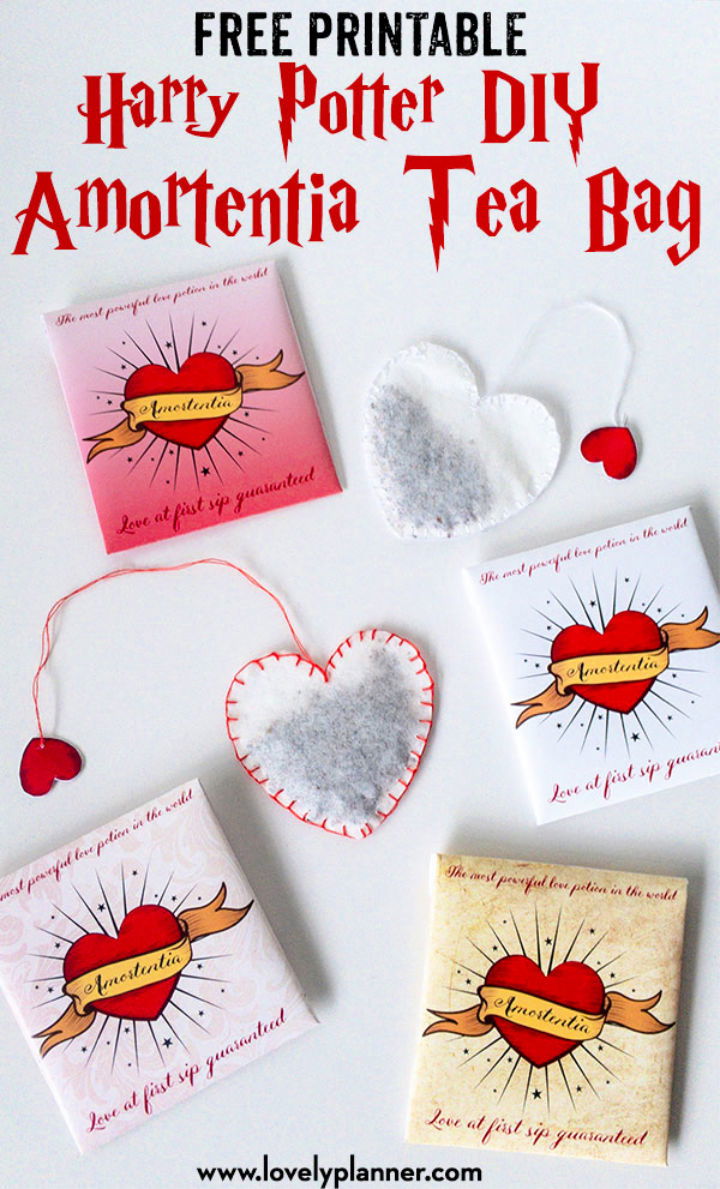 Impress your special someone with a magical DIY gift – make harry potter-inspired amortentia heart shaped tea bags! With free printable tea bag envelopes featuring references to the wizarding world, this tutorial will provide you with everything you need.
All it takes is coffee filters, cotton thread, a needle, adhesive (glue or tape), and your preferred tea (such as hibiscus for that beautiful red color transformation). Follow the step-by-step instructions and enjoy the delightful experience of brewing your love potion tea. Perfect for Valentine's Day or surprising that special harry potter fan! lovelyplanner
3. Homemade Tea Bags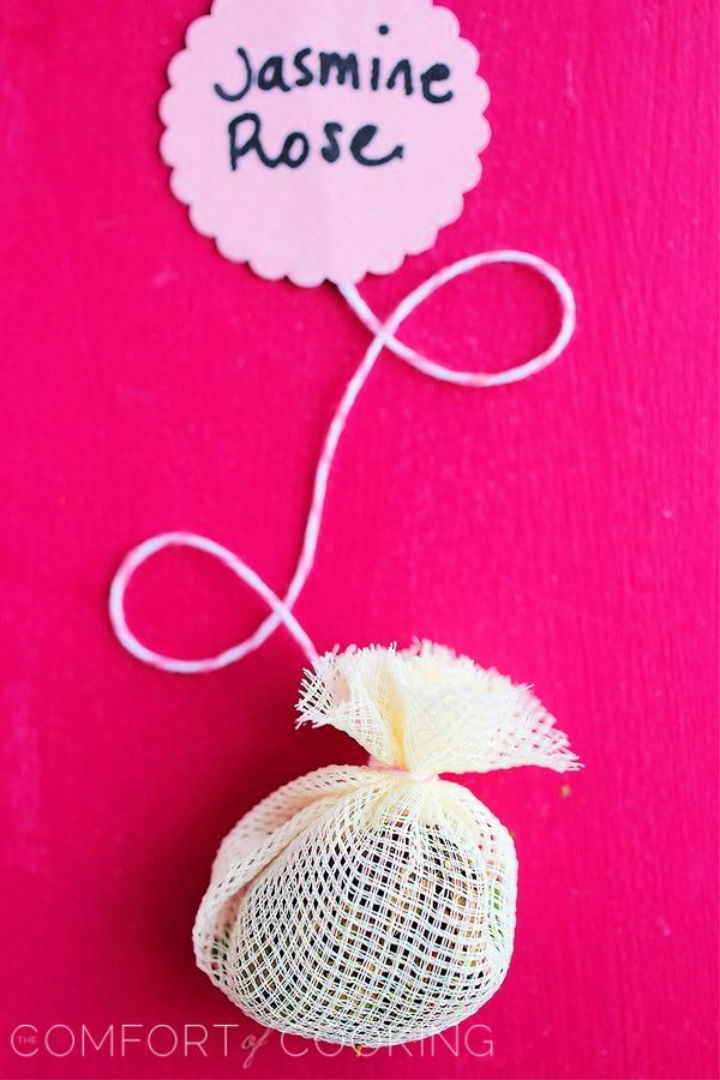 Surprisingly make an inexpensive and thoughtful gift with DIY tea bags! No sewing is required for this simple project which can be completed in minutes. Gather cheesecloth, loose tea of your choice, twine, cardstock, a decorative hole punch, and a glue stick. Cut fabric squares filled with the loose tea into small pieces; twist and secure them with twine. Combine the personalized tags with mugs to form a heartfelt present – perfect for mother's day or birthdays! thecomfortof
4. Tea Bags from Coffee Filters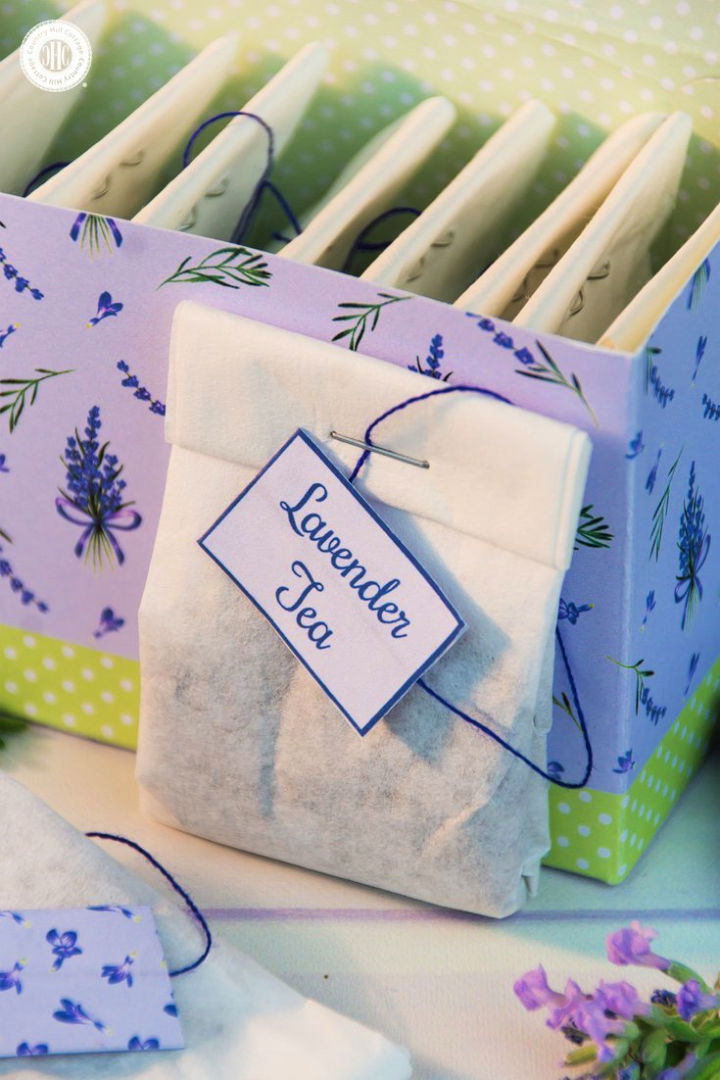 Make DIY lavender tea bags easily and quickly with this simple project! You only need a handful of supplies, including coffee filters, fresh or dried lavender buds and leaves, twine or string, and printable materials. Ready in just 15 minutes for a perfect make-ahead gift idea any season!
Download the accompanying tea tags and box, then fill up your creation with loose tea or herbs of your choice. This homemade lavender tea bag craft offers countless possibilities without taking too much time away from your schedule. Get creative and show off your handiwork to friends and family! countryhillcot
5. DIY Tea Bags Party Favors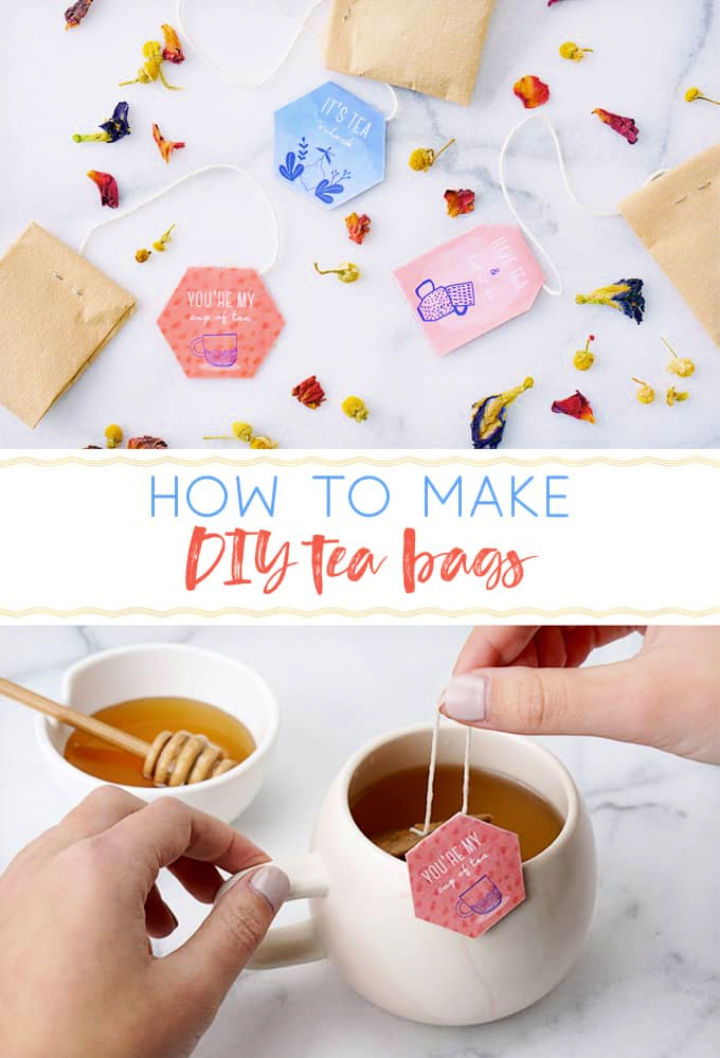 Craft and customize your tea bags with this DIY tutorial! These personalized tea bags are perfect for gifting and add a special touch to any afternoon tea party or gathering. Whether giving it as a unique Mother's Day gift or choosing the perfect blend of loose-leaf teas for a birthday, taking a moment to self-care is essential in our busy lives. With coffee filters, string, scissors, glue, and printable tags, learn how to make custom tea bags with various medicinal benefits. Enjoy personalizing your teatime, and add this crafty project into your routine today! burlapand
6. DIY Heart Shaped Tea Bags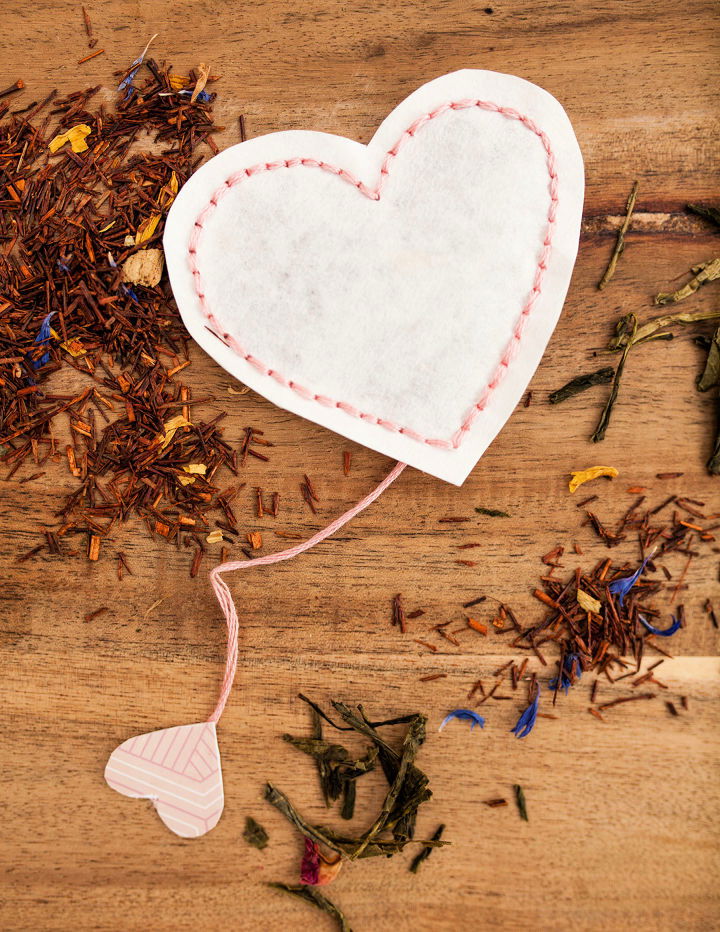 If you're looking for an impressive and effortless way to craft heart-shaped tea bags for a unique Valentine's Day gift or treat yourself, this DIY tutorial is perfect! You only need white coffee filter papers, loose-leaf tea, a pencil, a needle, thread, glue, a teaspoon, and a card.
Get creative with the embroidery thread colors, or blend your favorite tea flavors before gluing them in place. With minimal sewing skill required, it's an easy and inexpensive way to make delightful gifts that will impress anyone! So gather your friends over biscuits for a lovely shared experience crafting these charming tea bags – enjoy! festivalbrides
7. Coffee Filter Tea Bags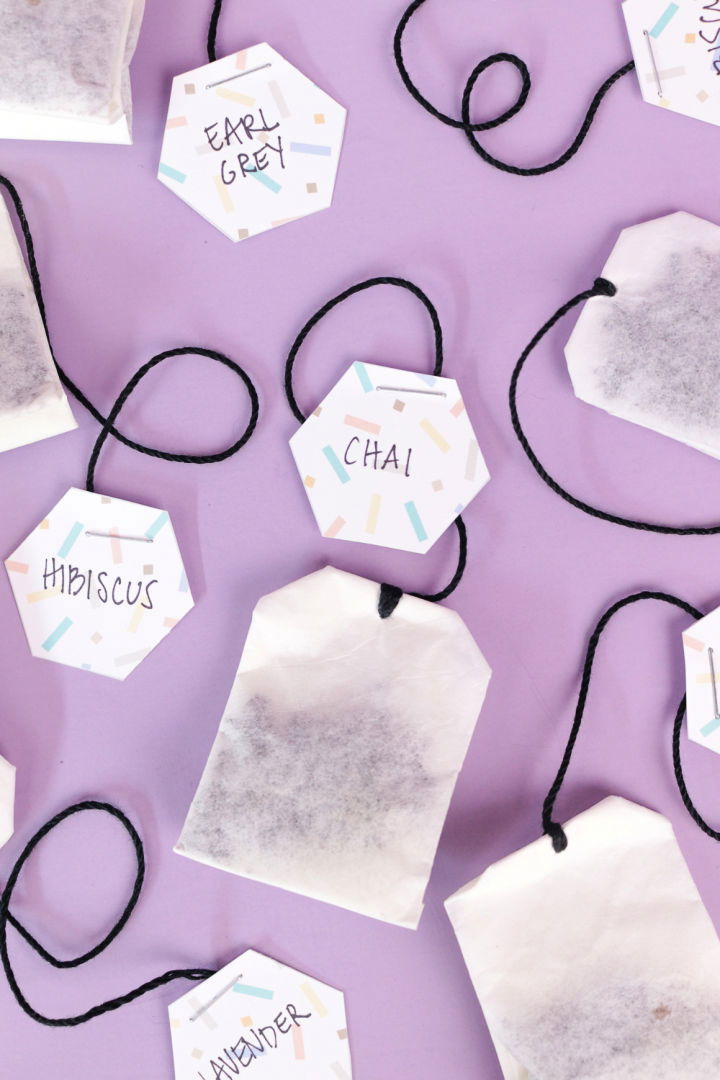 A great handmade gift for tea lovers! Make your DIY coffee filter tea bags with this effortless tutorial. With a handful of materials like small coffee filters, loose-leaf tea, string (like embroidery floss), a needle, and printable hexagon tags – making these captivating tea bags is super easy! The instructions are organized step-by-step, including confetti-inspired tags to give the perfect finishing touch. Personalize each bag with its type of tea for extra thoughtfulness when gifting it away. It's a fast and fun project that you'll love! clubcrafted
8. DIY Reusable Tea Bags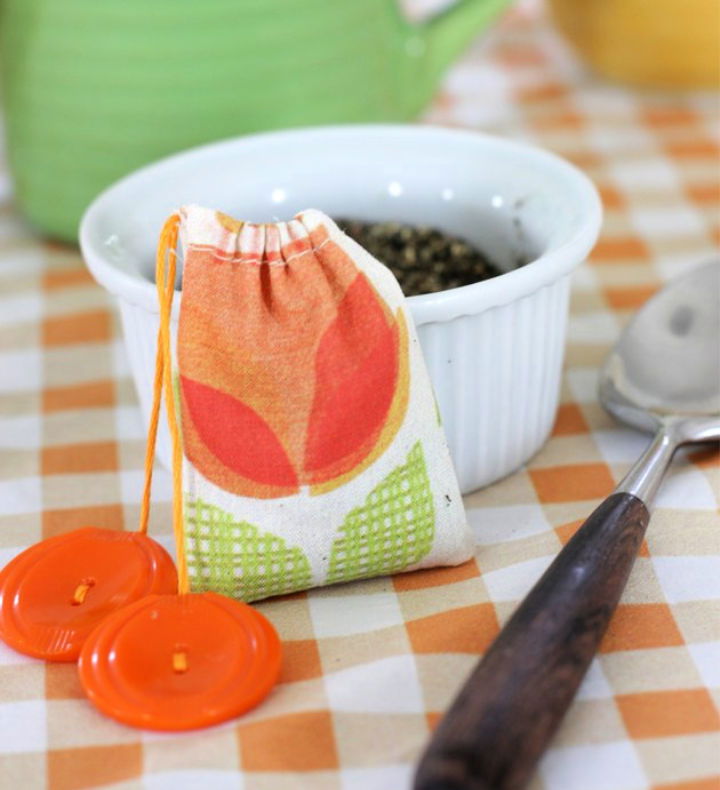 Discover the simple joy of crafting your reusable tea bags with this DIY tutorial. Make a unique and personalized tea experience using 4 x 3 inch pieces of pre-washed cotton, muslin, or gauze fabric for making the teabags. Add two buttons, charms, or beads in decoration for that special touch, and use 12-inch pieces of cotton string or embroidery thread to secure them! Enjoy sipping your favorite blends in style – while reducing waste with these eco-friendly homemade teabags! ehow
9. DIY No Sew Play Tea Bags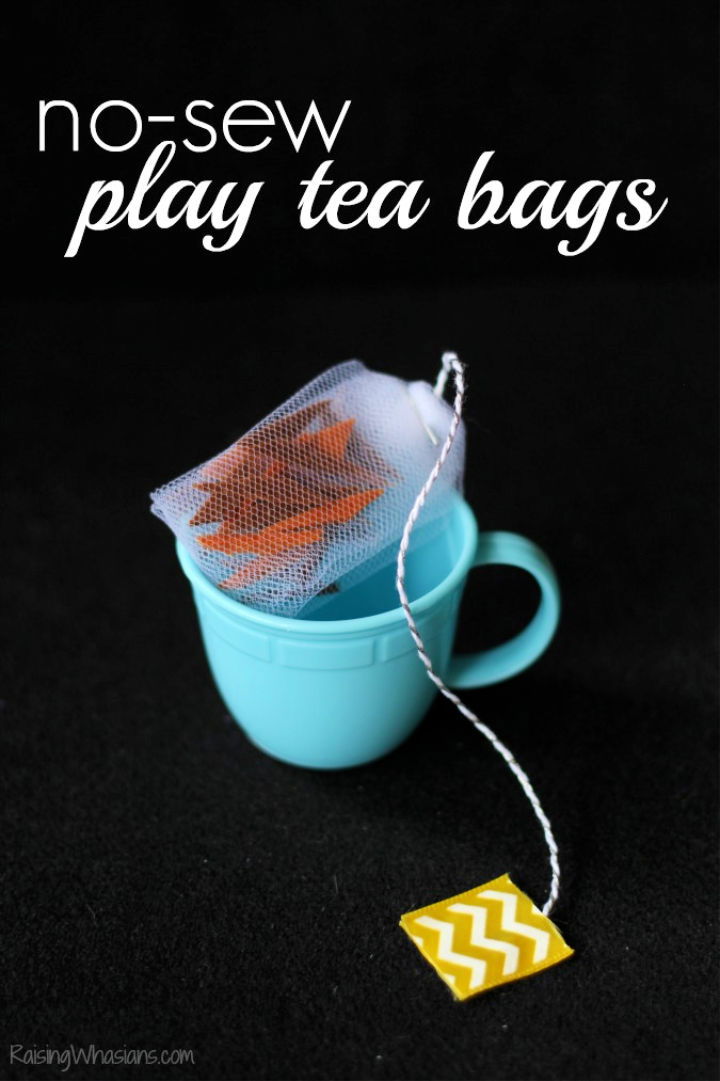 Make these lovely tea bags without sewing for your child's fun tea party! Gathering tulle, felt, a ribbon of preference, twine or thick thread, a stapler, and a hot glue gun will help you assemble these imaginative play pretend tea bags. An ideal addition to any toy kitchen or tea set, the effortless DIY steps make this a great project that requires no special stitching skills. Let the exciting festivities begin! Crafting these charming playtime tea bags will be enjoyable for parents and kids alike! raisingwhas
10. Relaxing Herbal Bath Tea Bags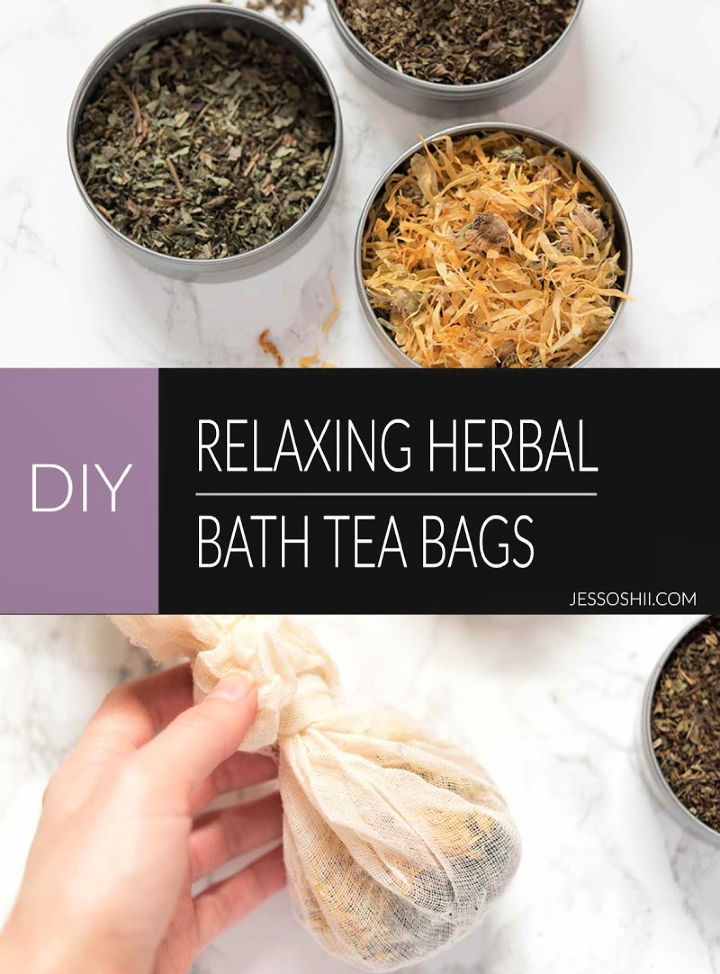 Indulge in a luxurious spa-like experience with this simple DIY recipe for herbal bath tea bags. Crafted from unbleached cotton muslin, cheesecloth, or resealable tea bags and filled with the calming effects of calendula, lemon verbena, and peppermint leaves, these homemade beauties will nourish your skin while providing a soothing scent. You can even tie them together with string (optional) to make adding directly to your bath easier! Enjoy the relaxing benefits of these herbal bath tea bags today! jessoshii
11. Make Your Own Tea Bags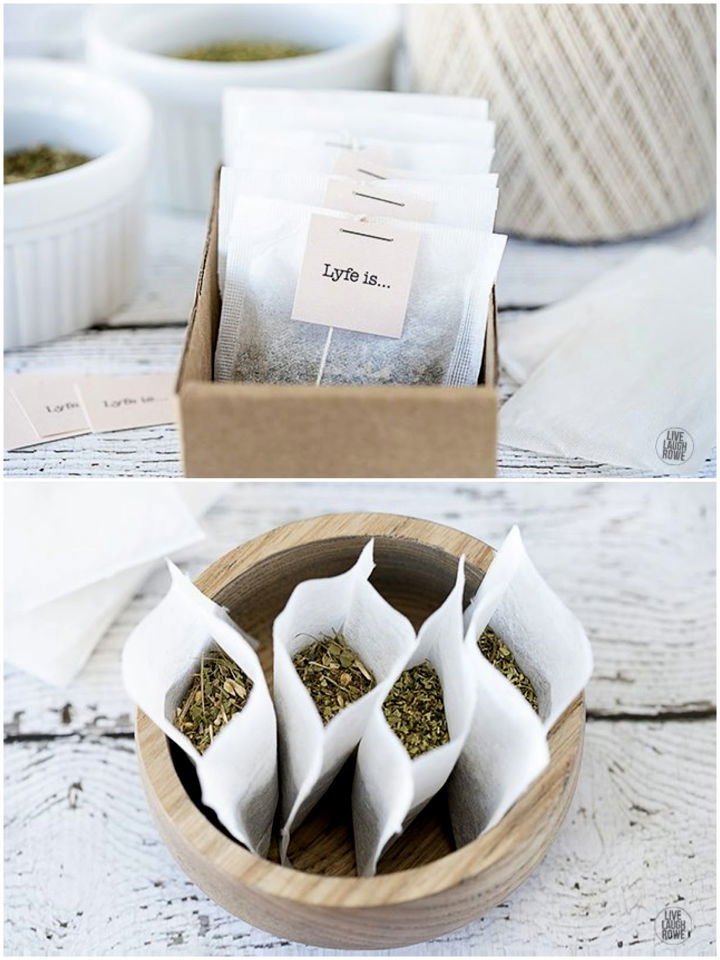 Fabricate your tea bags easily with this inspirational DIY tutorial! All required are heat seal tea bags, lyfe tea (morning or evening detox tea), a tablespoon, an iron or curling iron, string, a stapler, and "lyfe is…" tags. Fill the heat seal tea bags with the desired quantity of lyfe tea, secure them with an iron or curling iron, and fasten the string with a stapler. Lastly, add unique personalization to your homemade tea bags by adding the lyfe is… Tags. Enjoy! livelaughrowe
12. Tea Party Favors for Baby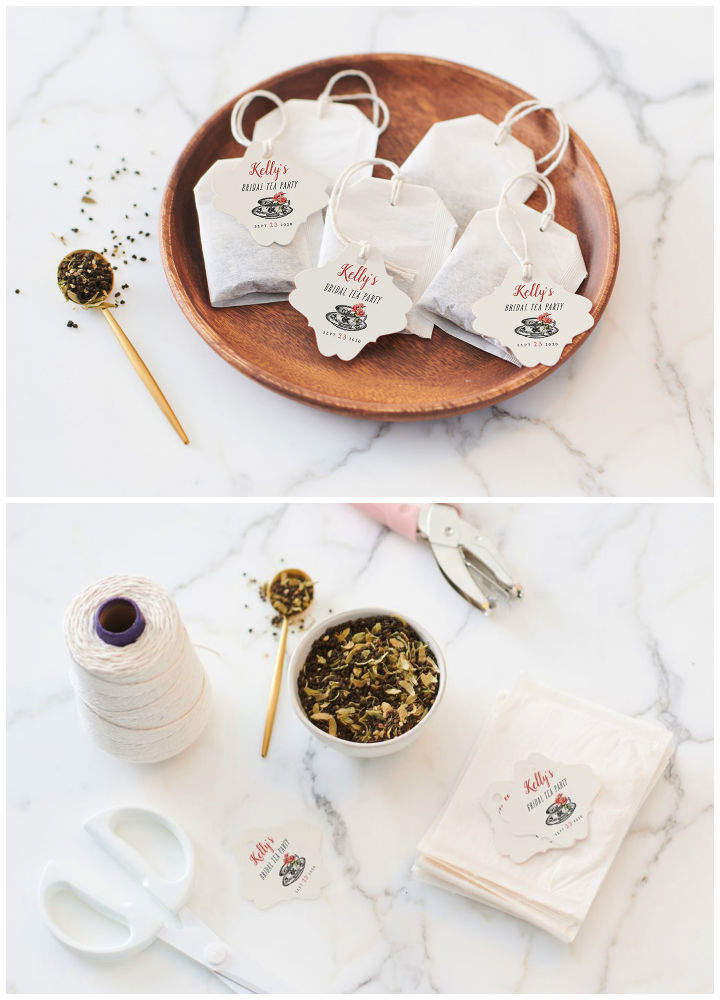 Craft your spectacular tea party favors with this DIY tutorial! Thrill your baby shower or bridal shower guests with personalized compostable tea bags, custom favor tags, a cardamom chai blend of loose tea, and natural cooking twine. Fill the bags with the delicious loose tea and seal them. Then attach the customized favor tags using the twine and add a small hole punch for easy attachment. Your special celebration will be 'tea-rrific' with these personalized mementos as party favors! zazzle
13. Lavender and Chamomile Tea Filter Bags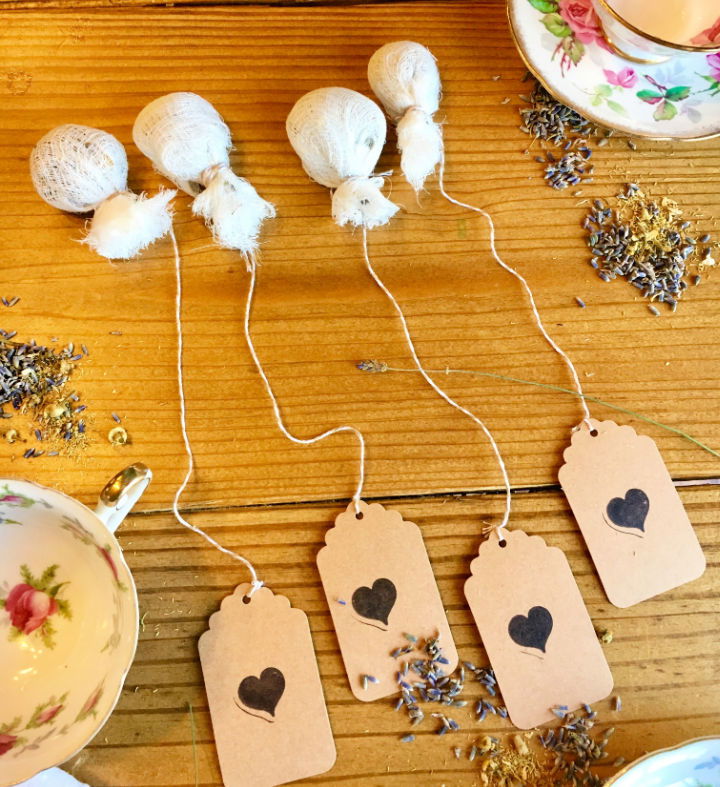 Make a calming cup of tea using this easy DIY project to make lavender and chamomile filter bags. Gather all the ingredients you need (dried herbs, cheesecloth, twine, tags, stamp pad, and marker), then cut the cheesecloth into squares filled with a tablespoon of dried herbs. Combine the corners with twine to form 4 tea filter bags. Embellish each tag with designs from the stamp pad or marker for added flair while steeping in hot water for an aromatic beverage! Enjoy your freshly brewed herbal infusion anytime you please! carolinagrownand
14. How to Do You Make a Tea Bag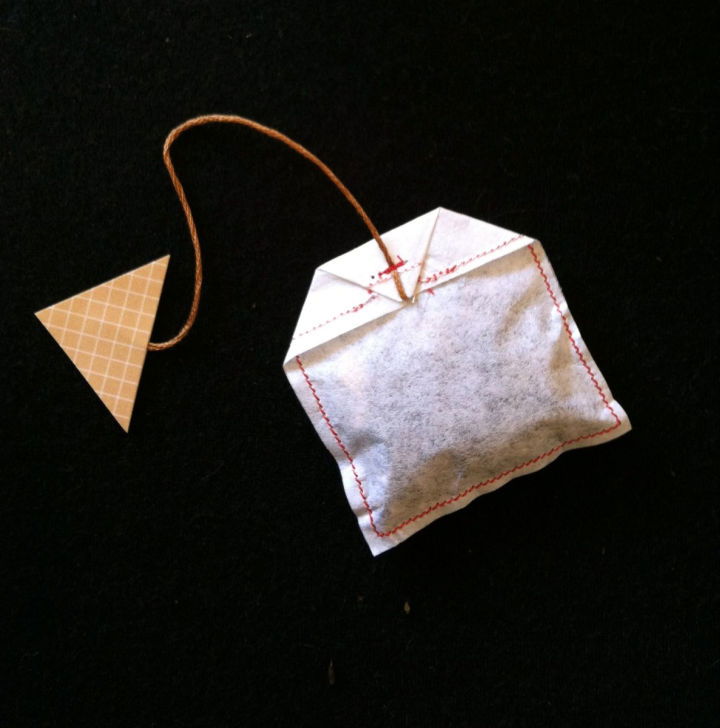 Make your flavorful tea bags with this easy DIY project. Gather the necessary materials, such as coffee filters, a sewing machine, thread in various colors and designs, loose tea leaves, embroidery thread, and paper for tags to bring the idea to life! Cut the filter into rectangles, fold it in half, then sew the sides using a sewing machine, leaving an opening at the top.
Fill each bag up with delicious loose tea leaves and seal them off by stitching them together at the top. Don't forget to add a unique tag to each bag that can be attached with colorful embroidery thread – now you have your personalized homemade tea bags ready for sipping! Enjoy! shetalks
15. Make Your Own Tea Bags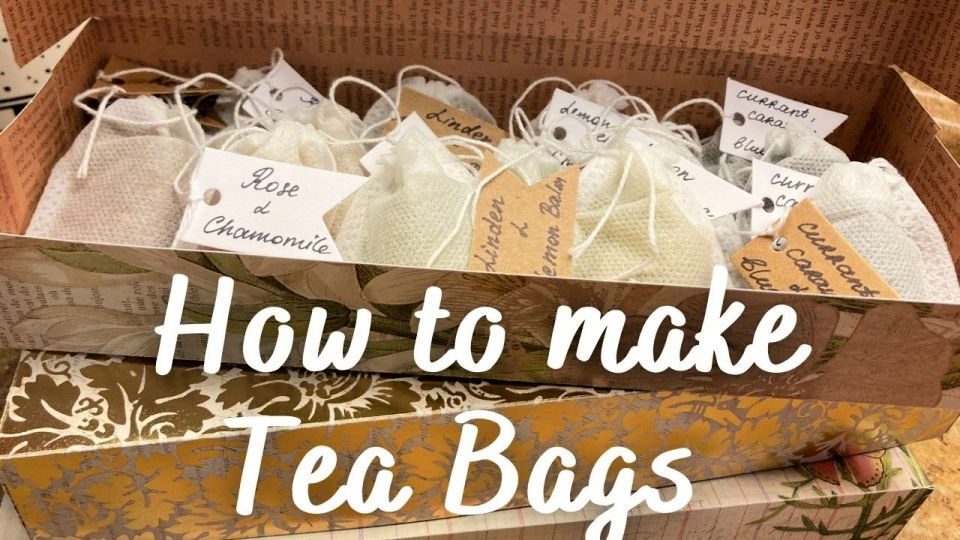 Nowadays, crafting custom tea bags for your enjoyment is easier than ever. Get creative and learn how to make your ground-herb tea bags with this simple tutorial! You only need a high-speed blender to grind any chosen herbs into a fine texture. Then cut homemade tags from cardstock and get empty tea bags which can be found easily online or from a store. Fill the teabags with two spoons of your personalized blend and attach the tag – voilà! Enjoy the unique experience of making and sipping on an entirely customized cup of herbal tea.
16. How to Make Tea Bag at Home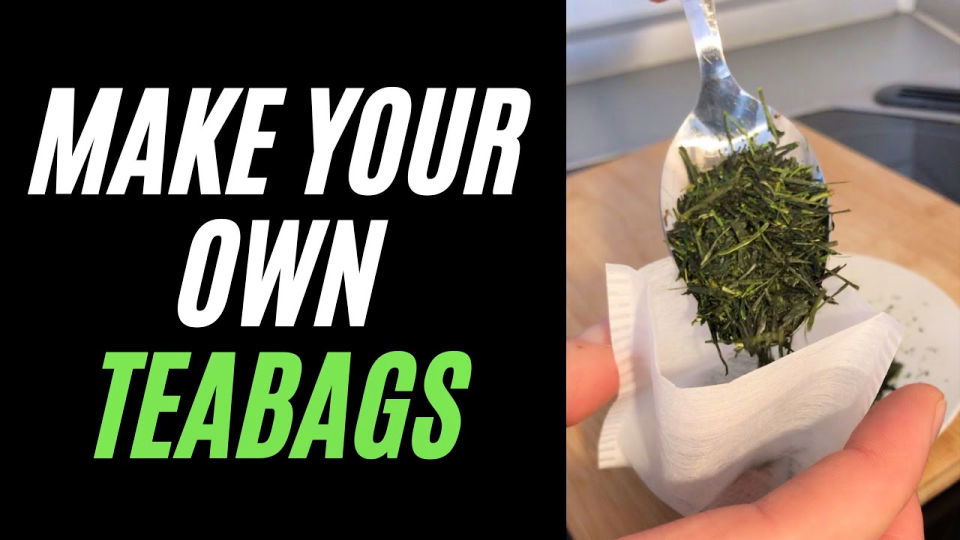 Venturing into the world of tea-making? Learn how to make your tea bags home for a unique experience! Compare them to loose-leaf teas and discover why store-bought tea bags often contain inferior-quality leaves and additives. You can craft your homemade tea bags with silk, allowing the leaves to expand and release more flavor. Use both tea bag and teapot preparation methods to establish a baseline comparison. Notice the color similarity between both teas, indicating the potential success in making your DIY tea bags!
17. DIY Tea Bags for Loose Tea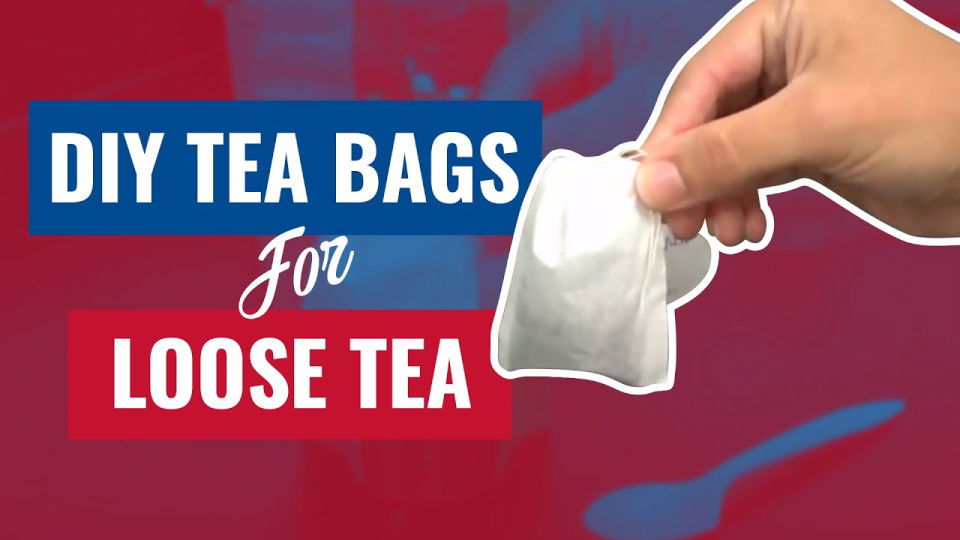 Indulge in the exquisite convenience of brewing loose tea with the English tea store's brand-new filters. Enjoy an effortless and mess-free tea experience with these innovative filters that are easier to fill and close than traditional DIY tea bags. Forget about the hassle and difficulty of filling other types of DIY tea bags – drop in your preferred loose-leaf tea into these convenient filters, sit back, relax, and savor all its delightful flavors!
18. Make Your Own Fabric Tea Bag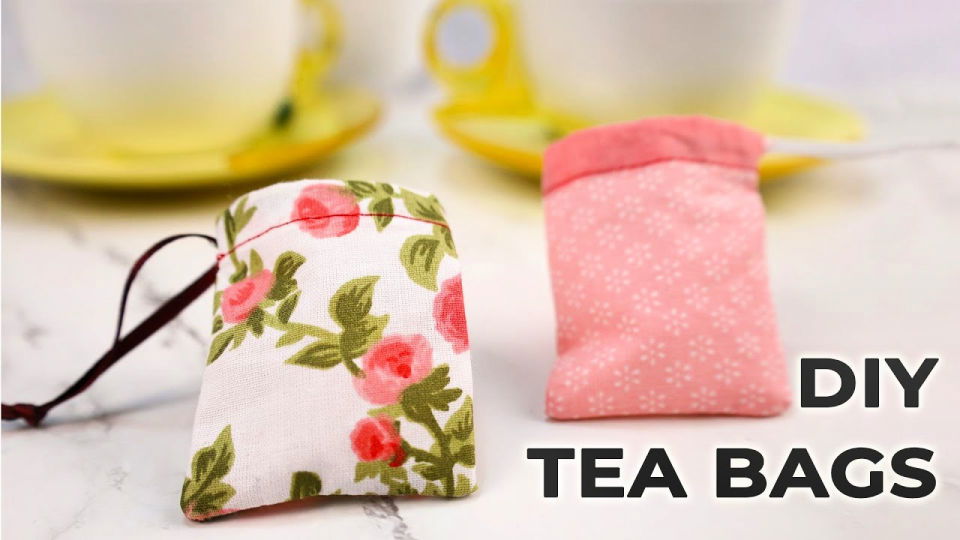 Enliven your tea time with this crafty DIY tutorial! In just 3 short minutes, you can make custom fabric tea bags that are reusable and stylish. Gather the necessary supplies, including cotton fabric, baker's twine or ribbon, a charm, pins, and scissors to start crafting. Cut a 4.5 x 3.5-inch rectangle of fabric, then fold it down to insert the 9-inch string inside the fold and stitch it in place.
Fold it again, then stitch up both sides for a complete tea bag; trim any extra corners before turning it inside out and attaching your chosen charm. Fill with loose leaves, draw the strings tight together – then sit back and relax with a cup of homemade tea!
19. DIY Reusable Tea Bags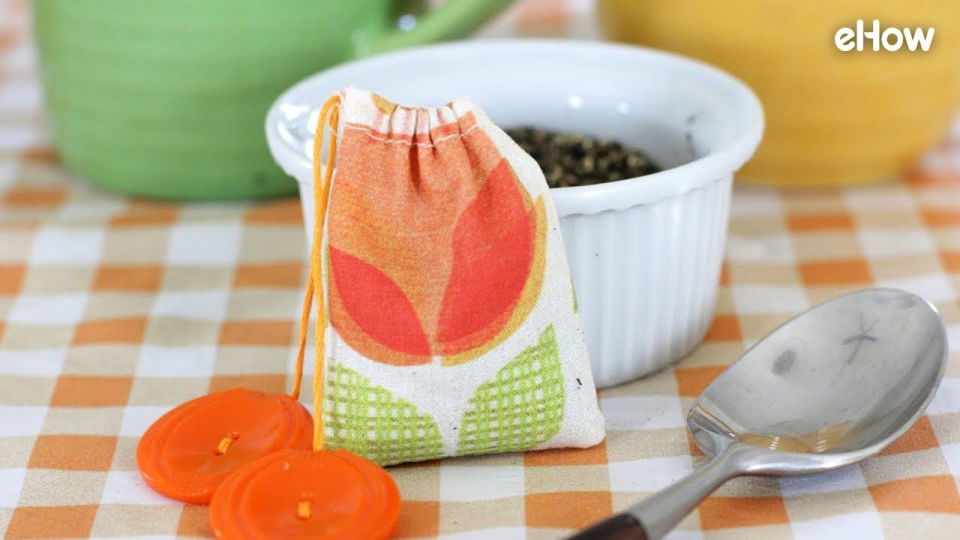 Delightfully craft your custom tea bag with this simple DIY guide! With these reusable tea bags, you can easily blend your favorite flavor and aroma. A few easy steps are all it takes to make sure each cup is as delicious as the next. Make a batch today and experience the difference between real homemade tea. Enjoy that special taste without sacrificing convenience – one DIY tea bag goes on for multiple servings!
20. How to Make a Tea Bag Gift Pouch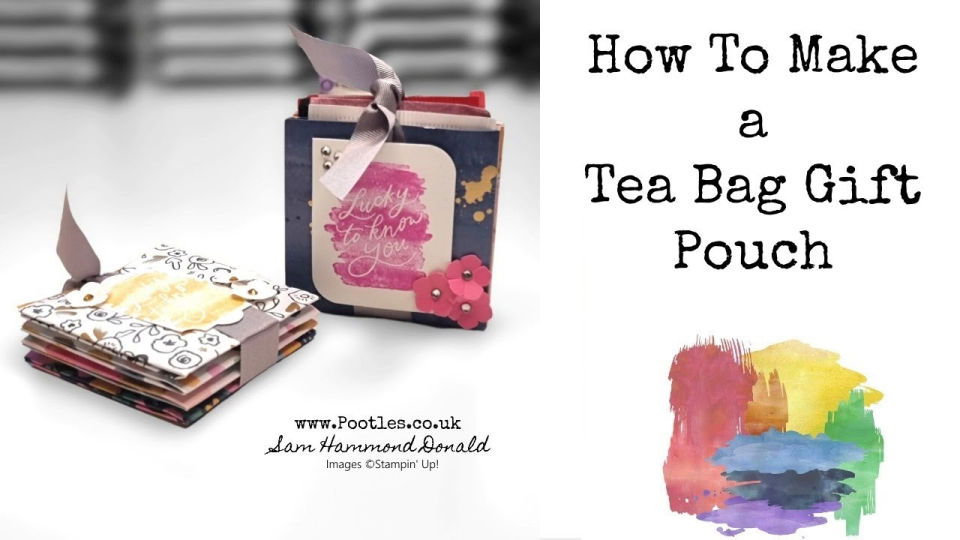 Discover how to craft a beautiful tea bag gift pouch with this straightforward tutorial. Gather your necessities, including the abstract beauty specialty designer series paper, stamp set, label punch, smoky slate textured ribbon, scoring tool, and tear & tape adhesive. Follow the instructions to assemble the gift pouch and make eye-catching packaging for your tea bags. The listed materials and tools are essential for completing this project and are easy to find and affordable!
Conclusion: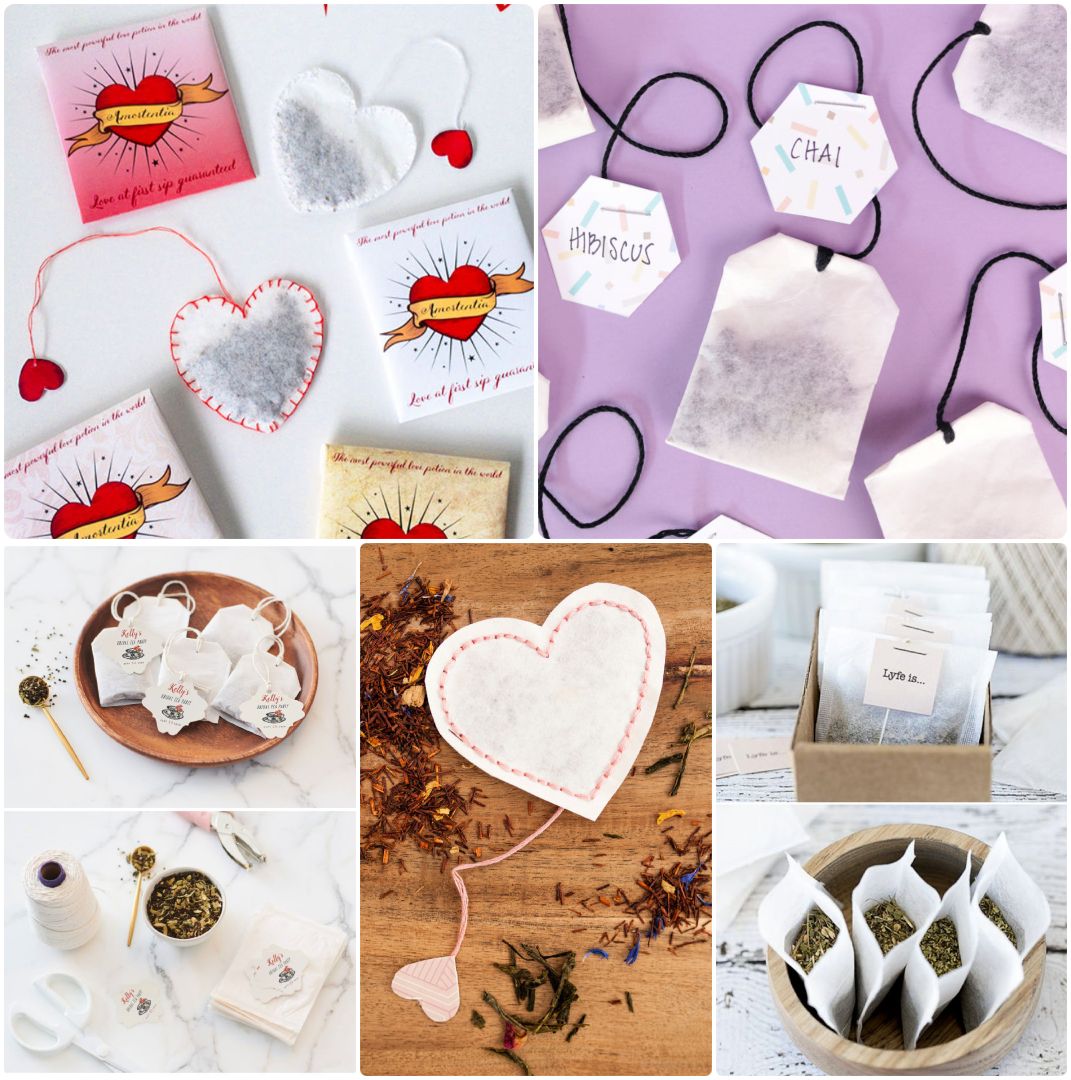 In summing up, making DIY tea bags is a vital craft that combines your love for tea, creativity, and sustainability. Options are abundant, from heart-shaped valentines tea bags to playful no-sew ones, each DIY tea bag providing a unique sense of fulfillment. Homemade tea bags can offer convenience, cost-saving benefits, and the satisfaction of a custom blend of your favorite tea flavors. Reusable, cloth-based tea bags reduce waste, making your simple cup of tea a step towards environmental consciousness. Making your own tea bags can indeed be an engaging, flavorful adventure.