Delight in the charming world of making friendship bracelets at home by yourself. Learn how to make friendship bracelets with these 30 free friendship bracelet patterns that will add style and charm to your wrist. These patterns are perfect for both newcomers to bracelet making and regular craft enthusiasts, promising a fun and engaging experience. These simple and easy friendship bracelet patterns offer clear step-by-step instructions, so you can confidently make your own beautifully crafted pieces.
From glitter friendship bracelets and stamped initial bracelets to beaded grown-up versions and knotted charm bracelets, there's a design to suit all tastes and interests. From choosing your preferred colors to mastering the required stitches, making friendship bracelets comes with an appealing challenge and a rewarding outcome. The offer doesn't limit you to making just one type but provides you with a whole array of friendship bracelet patterns to work on.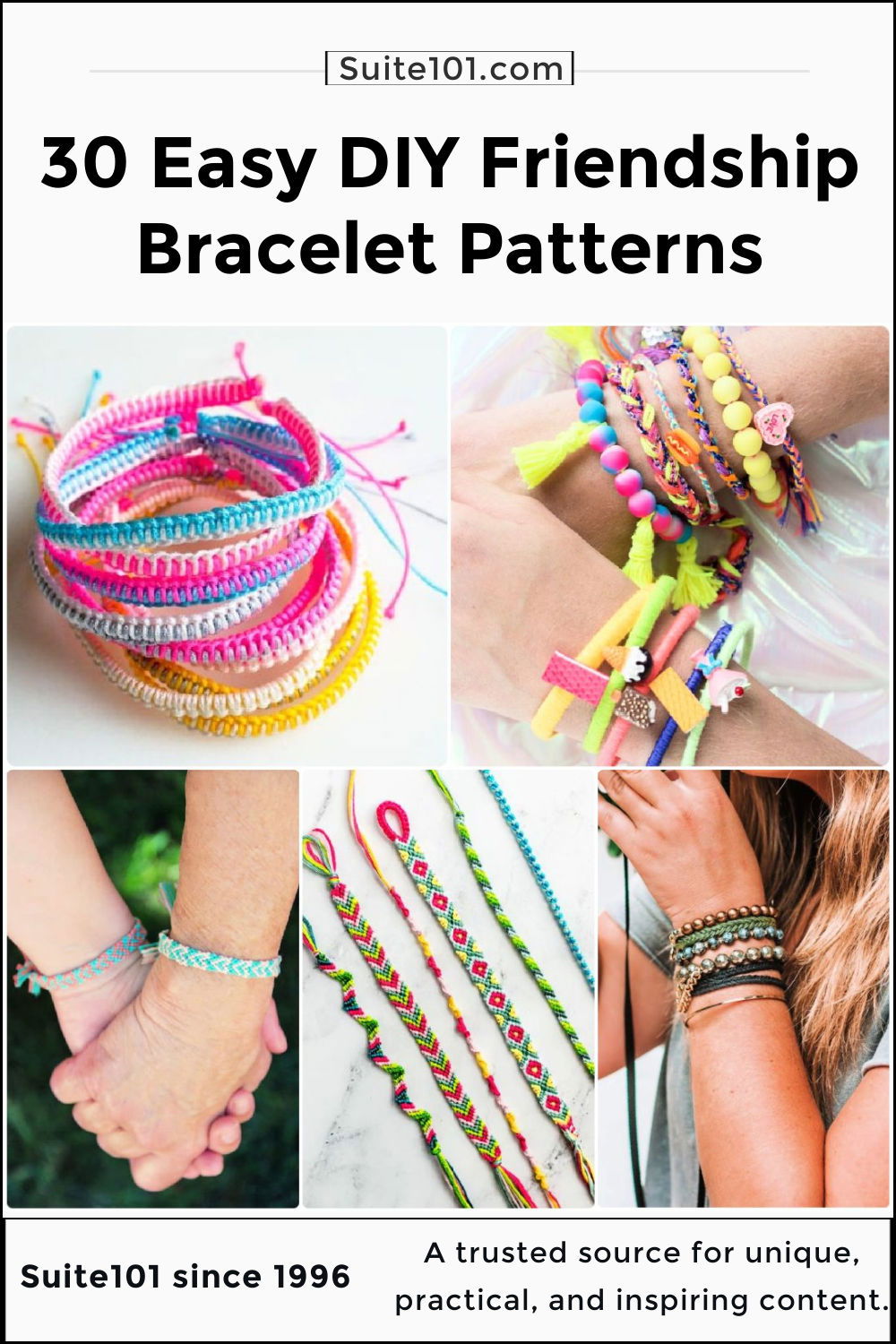 You can follow a DIY puffy paint friendship bracelet, a macrame friendship bracelet, and a fancy friendship bracelet pattern. Other options include a fishtail braid friendship bracelet, a heart friendship bracelet, and a netted stone friendship bracelet. Friendship bracelet patterns nurture your creativity, resulting in delightful arm candies you can wear or gift to friends. Grab your kit, and start your journey through our 30 free friendship bracelet patterns today!
1. DIY Embellished Friendship Bracelets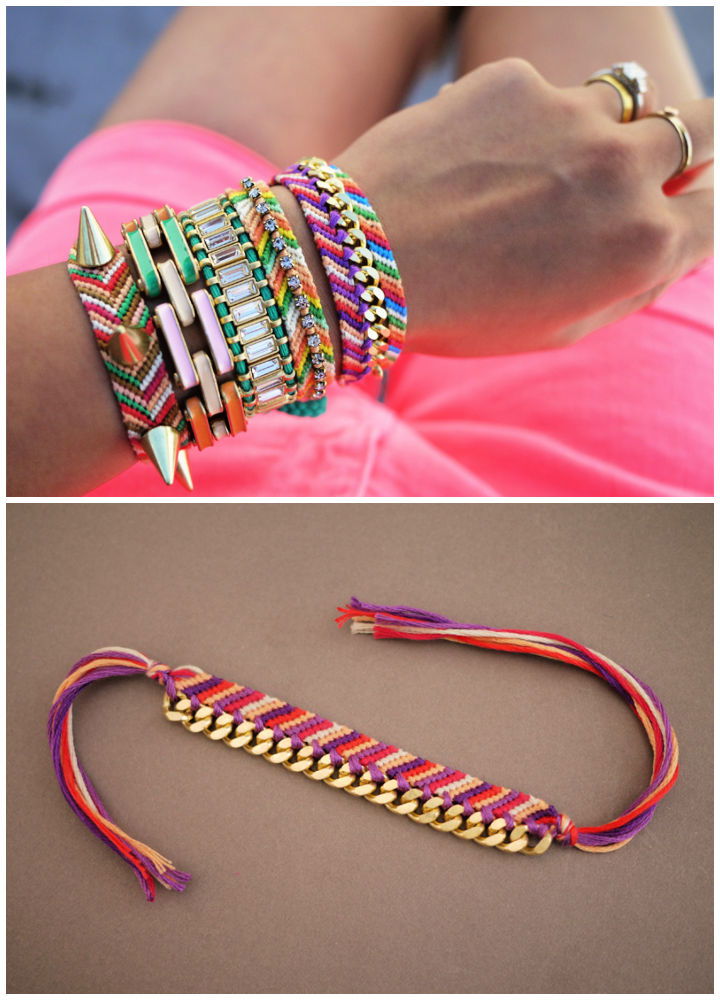 Discover the history and meaning of friendship bracelet patterns and how they symbolize friendship and love. DIY embellished friendship bracelets are the perfect way to add style and sparkle to your wrist this spring! Easily turn plain friendship bracelets into something special with a brass curb chain, brass cone studs, crystal rhinestone chain, embroidery floss, and an embroidery needle.
You can make beautiful bracelets that add glamour to any outfit. Get creative with colors and patterns for a look that's unique to you. No matter what you come up with, it will still be as meaningful as ever! honestlywtf
2. Free Chain Friendship Bracelets Pattern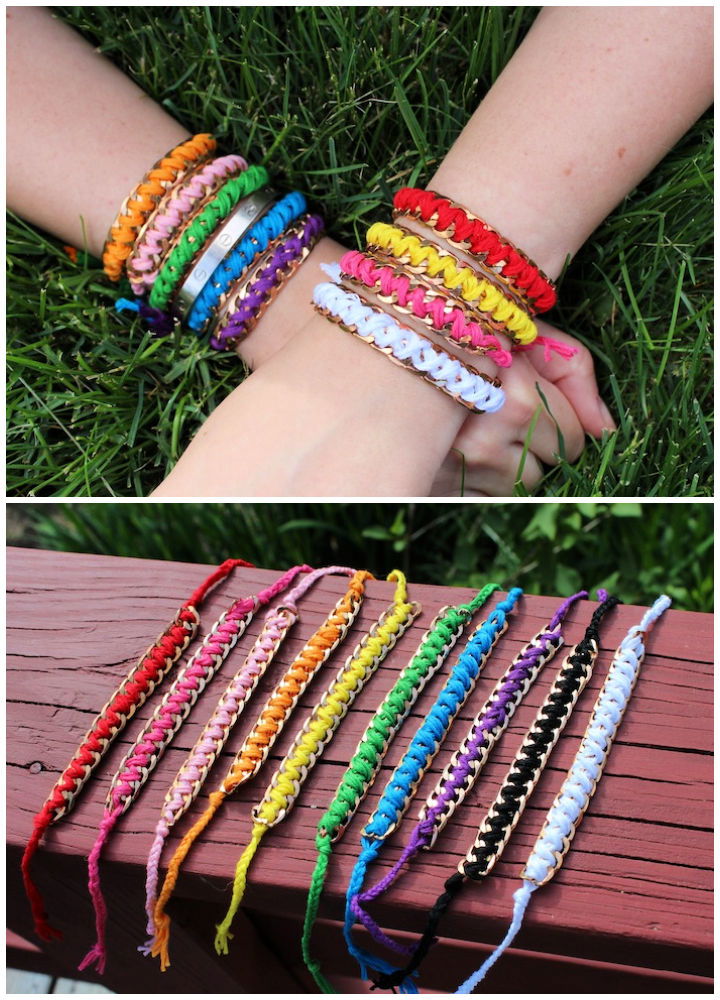 A fun way to spruce your summer wardrobe – DIY chain friendship bracelets! This easy and stylish project requires only a few simple ingredients, such as embroidery floss, pieces of chain, and a large needle. Although it may take some practice to perfect the art of bracelet-making at first, with patience, you'll be able to make lovely pieces customized exactly how you want them. Plus, there's no better way than handmade jewelry when accessing your outfits! thestripe
3. Make Your Own Braided Bead Bracelet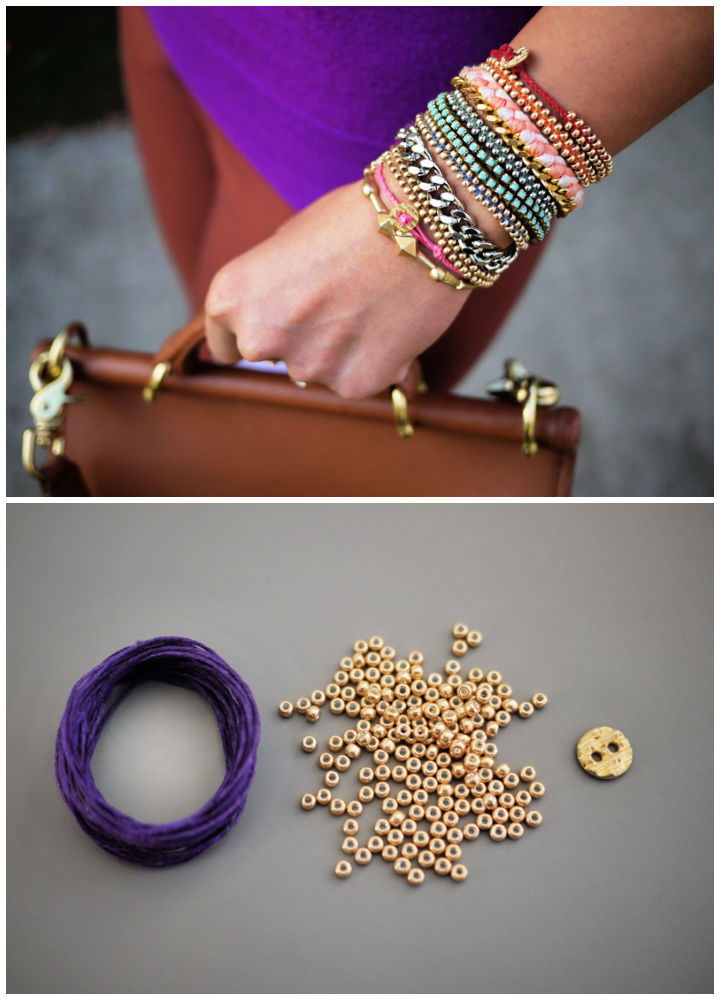 Make a unique and stylish bracelet for your wrists with this DIY braided bead bracelet! This accessory is similar to the classic hex nut and wrap bracelets, but it will have people turning heads. You only need a waxed linen cord, seed beads, and a two-hole button. With endless design possibilities, make as many as you want — because there's no such thing as too many colorful additions to your wardrobe! honestlywtf
4. Beaded Grown-up Friendship Bracelets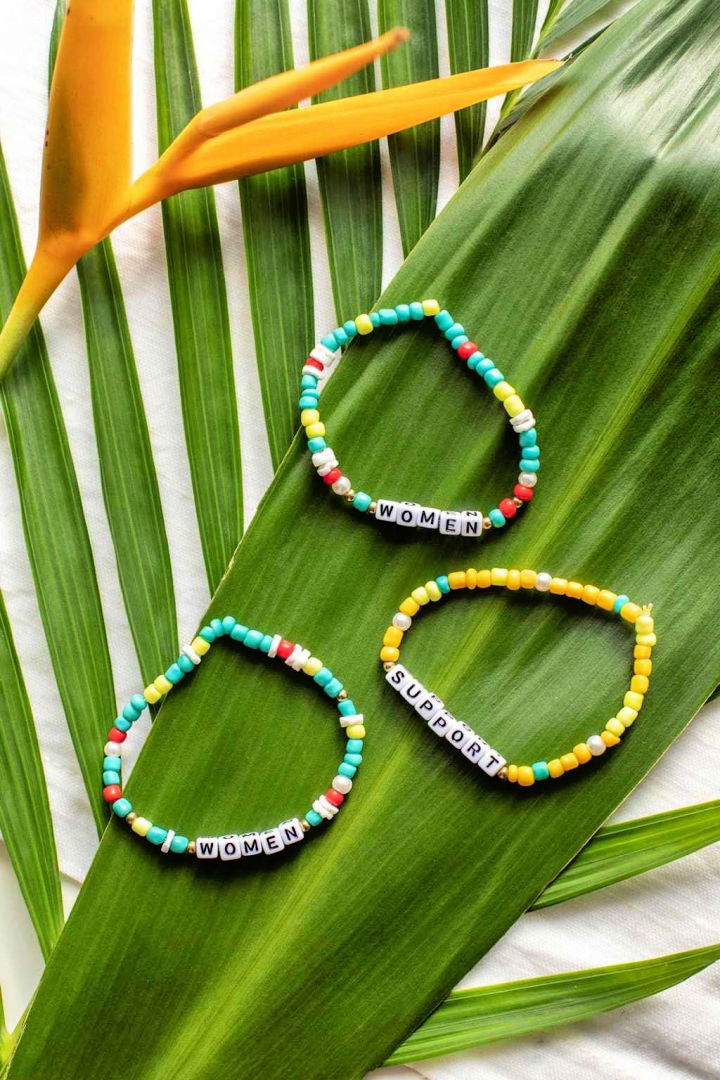 Bring back the nostalgia of childhood with beaded grown-up friendship bracelets. These unique friendship bracelets are made using colorful seed beads, letter beads, stretch elastic cords, and assorted accent beads to make a personalized look that is special to each friend. Design your name, mantra, or inside joke for meaningful handmade mementos. Perfect for sleepovers, camps, and birthdays, make these bracelets with friends or keep them as part of your everyday stack! ctrlcurate
5. Awesome DIY String Friendship Bracelets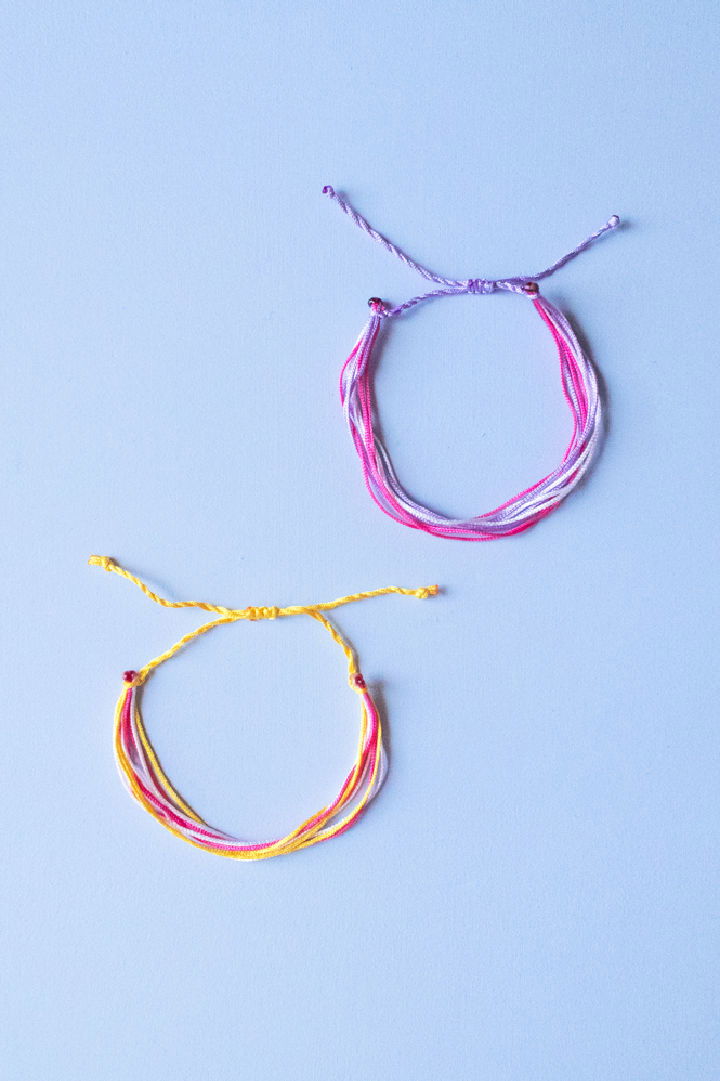 You can make your own unique friendship bracelet patterns with our online generator and customizer. Make your string friendship bracelets for you and your friends with this easy-to-follow DIY! Make these beautiful handmade accessories in no time. Use a nylon satin cord, which is softer than the original waxed polyester one, so your bracelets will look great and feel comfortable too. Add a personalized touch to each bracelet and surprise everyone with something special to make them smile. Perfect as gifts or to show someone how much they mean to you – start making yours now! curlymade
6. Making a Grown-up Friendship Bracelet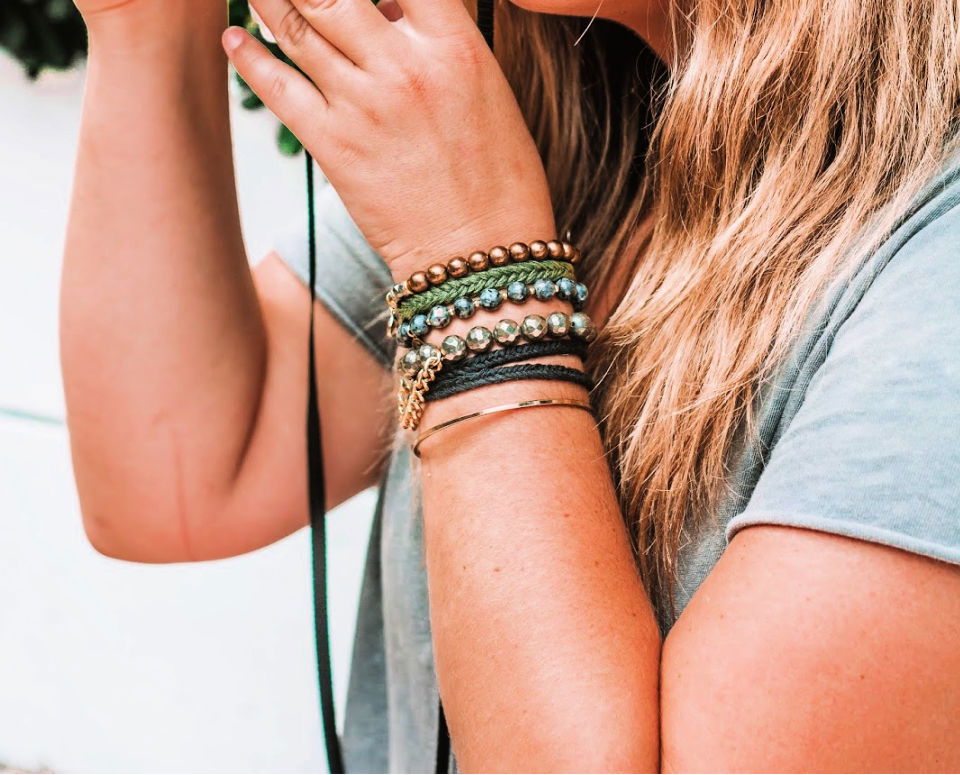 The fastest grown-up friendship bracelet is perfect for besties who want to keep matching bracelets even as they age. This bracelet will make your friendship last! Crafted with friendship thread, jump rings, metal crimps, lobster claw closures, and a chain of choice – it's the perfect accessory for you and your best. You'll have an unforgettable grown-up-looking friendship bracelet in no time! heywanderer
7. Easy DIY Puffy Paint Friendship Bracelets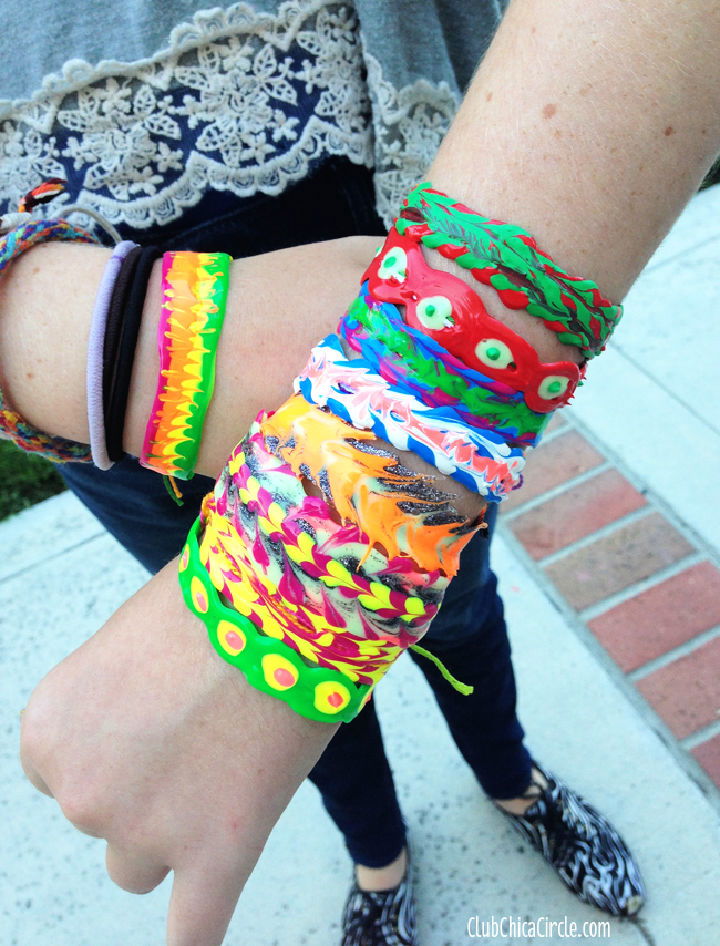 Friendship bracelet patterns are not only for kids, they are also a great gift idea for your friends and family. Strengthen your friendships with these fun and unique puffy paint friendship bracelets! You'll love the consistency of puffy paint that, when it dries, remains flexible to ensure your bracelets won't crack. Get creative with a puffy paint bracelet template plus all the essentials – a gallon-sized plastic bag, embroidery thread, assorted colors of puffy paints, toothpicks, and washi tape!
Make matching friendship bracelets for yourself and your best friend, or give them away as gifts! Let's get crafty and make some amazing puffy paint friendship bracelets today! chicacircle
8. Make Glitter Friendship Bracelets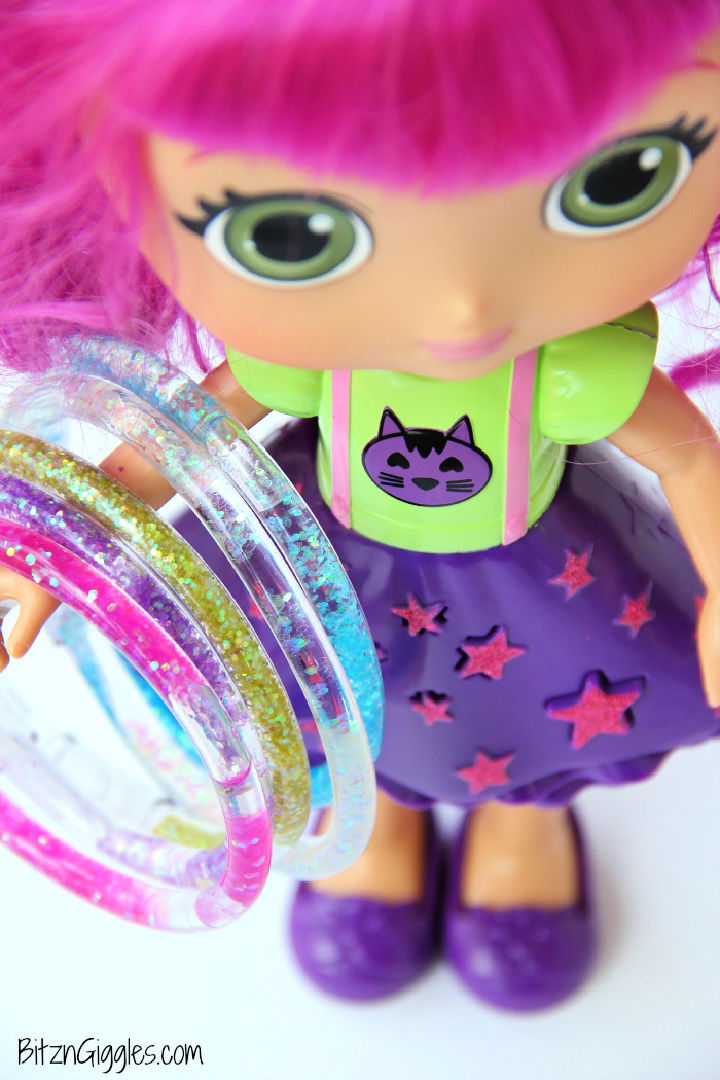 Show your friends how much you care with glitter friendship bracelets! Make colorful bracelets for each friend using clear vinyl tubing, baby oil, water, and assorted colored glitter. Then use an oral medication syringe to mix all the ingredients.
With these easy-to-follow instructions, make a unique bracelet for every friend that will sparkle in the sun and show them just how special they are to you. Make one or many – no matter what, your friends will love their new glitzy bracelet made from the heart! bitzngiggles
9. How to Make Friendship Bracelets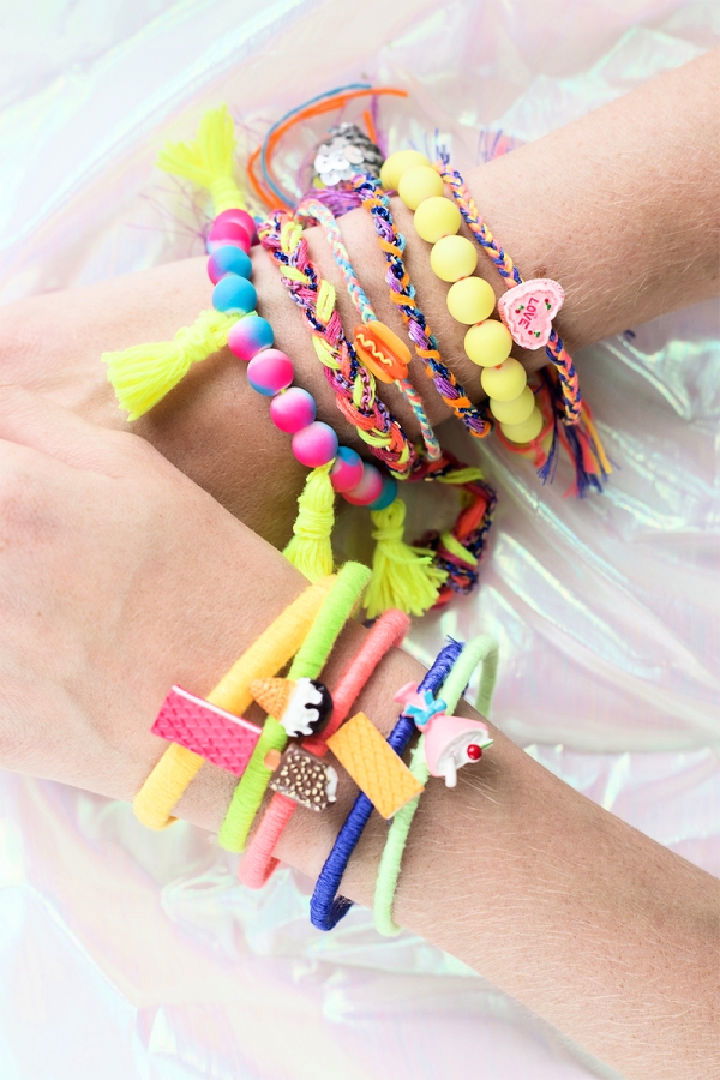 Unlock the power of friendship with custom-made bracelets! Get creative with colors, embellishments, and more to make each unique. You can make something that will last forever — the perfect reminder of your friendship. Craft the perfect bracelets for those special people in your life! So why give it a try today? Crafting fun, colorful DIY friendship bracelets is an easy way to show someone how much they mean to you. studiodiy
10. Cute DIY Macrame Friendship Bracelet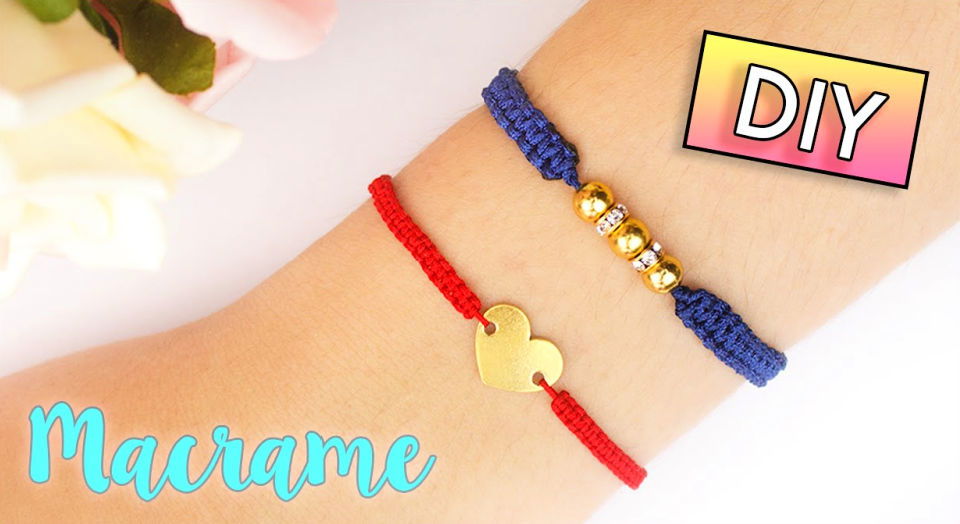 Whether you want to make simple or complex friendship bracelet patterns, we have the right tools and tips for you. Make stylish and affordable macrame bracelets with this easy DIY guide. Learn how to make trendy square knot bracelets using braided nylon thread and basic macrame techniques. Customize your bracelets with pearls or decorative beads for a personal touch.
Follow the step-by-step instructions to make a sliding clasp for a secure fit. These handmade bracelets make great fashion statements or thoughtful gifts. Get creative and start crafting your own unique macrame bracelets today. Discover the joy of making beautiful accessories with this simple and enjoyable tutorial.
11. Making Netted Stone Friendship Bracelets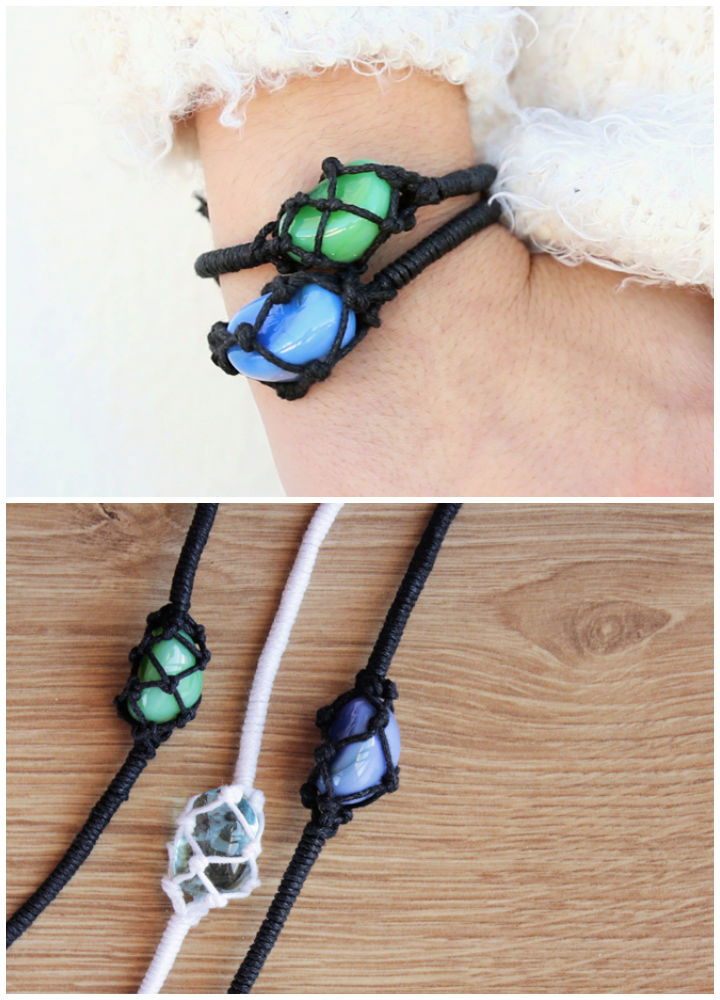 Add sparkle to your outfit with DIY netted stone friendship bracelets! This chunky bracelet is crafted using a waxed cotton cord, small stones, and a button to secure the design. It's an easy-to-follow technique anyone can learn – perfect for beginners or experienced crafters. Make something special as a gift, or keep it for yourself! Get creative with colors and textures – these netted stone bracelets will surely be an eye-catching addition to any outfit. curlymade
12. Friendship Bracelets With Swarovski Elements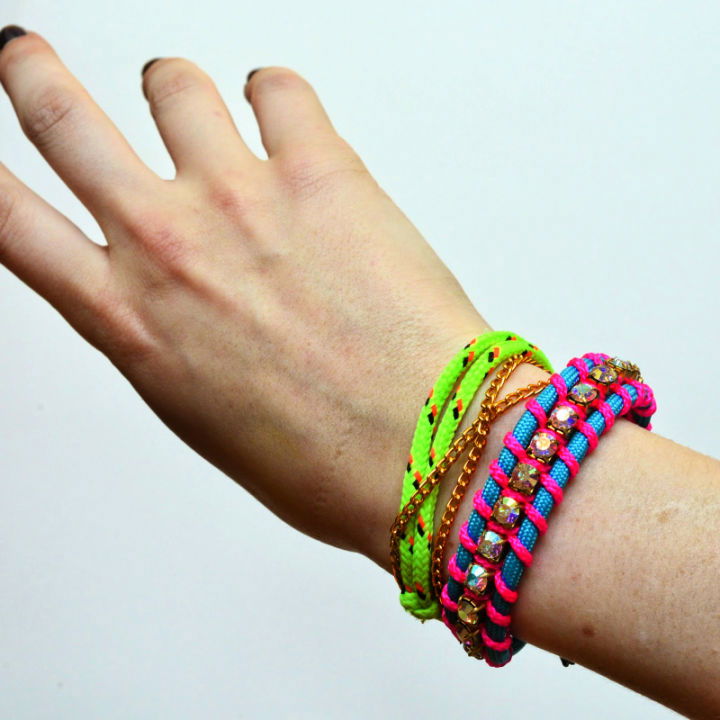 Design beautiful friendship bracelets with the sparkle of swarovski elements. With these easy-to-follow instructions, you can make braided bracelets that glitter brighter than a rainbow! Using colorful crystals and beads in various shapes gives you the freedom to craft unique pieces your friends will love. Make something special for yourself or someone else. soimakestuff
13. How to Make a Knotted Charm Bracelet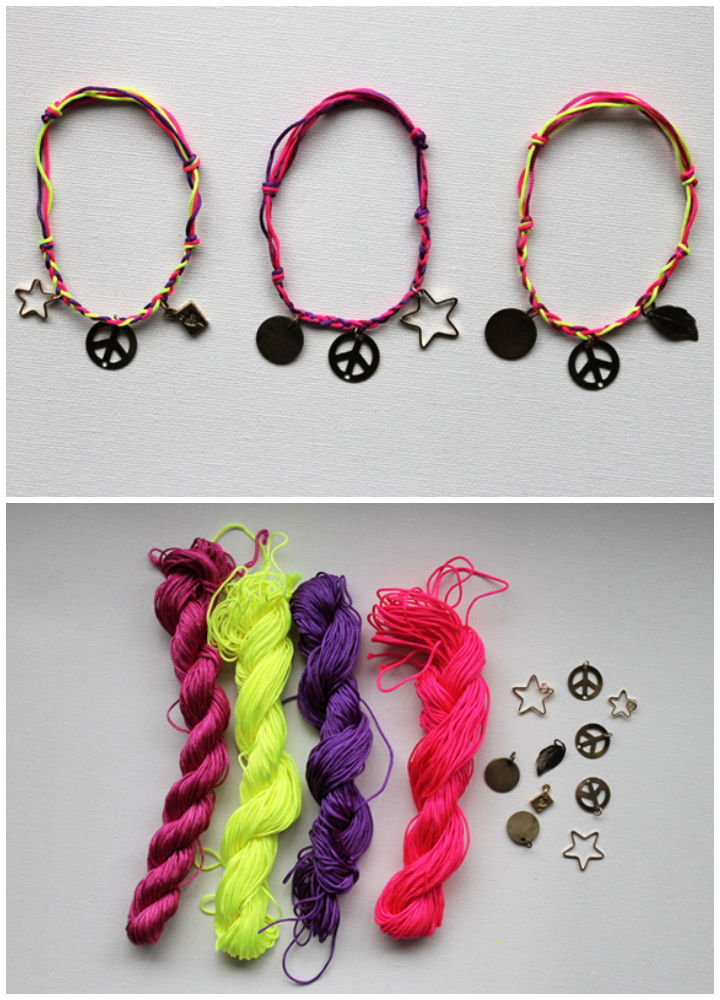 Turn out a unique charm bracelet with this easy-to-follow tutorial. Make a gorgeous knotted bracelet with nylon cord and charms using simple french knotting techniques. Perfect for crafters of any age or skill level – customize your one-of-a-kind jewelry piece with vintage treasures! Just grab some nylon cord, charms, jump rings, pliers, and tea light candles, then follow the instructions to make your personalized knotted charm bracelet. Make something special today! crafts tutsplus
14. DIY Heart Friendship Bracelet Design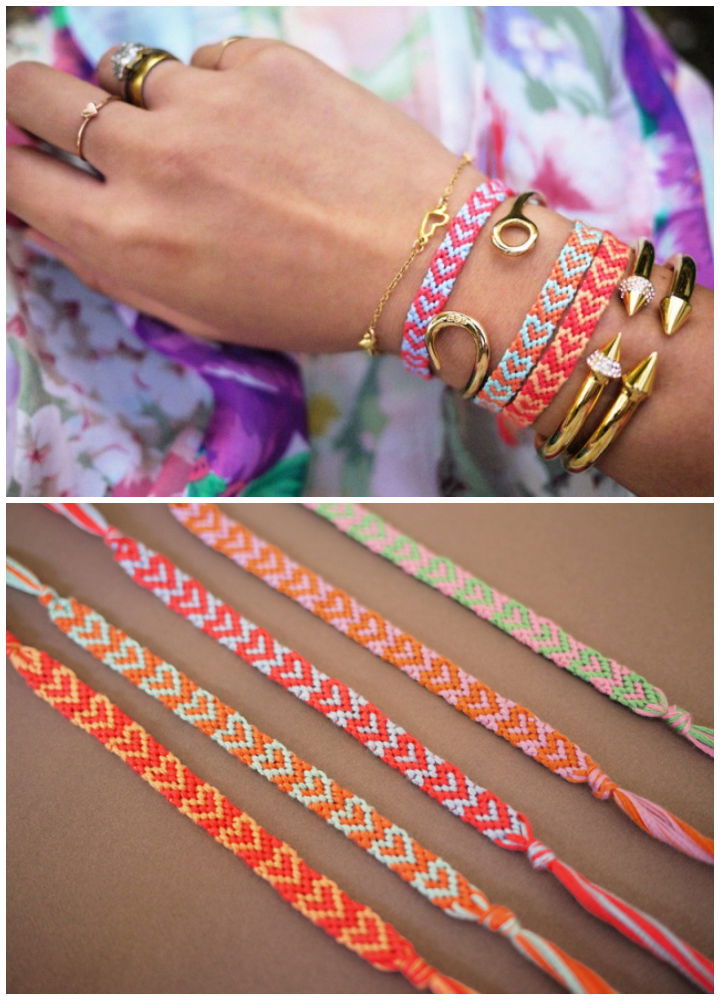 Gather around and get ready to show your love with this unique heart friendship bracelet! Whether you're experienced in making friendship bracelets or just starting, simple supplies like candy-colored embroidery floss and a tape or clipboard are all needed. Follow the simple chevron pattern to craft a bracelet of love that will symbolize an everlasting bond between you and your friends. Make one for each friend in their favorite color – they'll be surprised by this thoughtful gift! honestlywtf
15. Make Friendship Bracelets at Home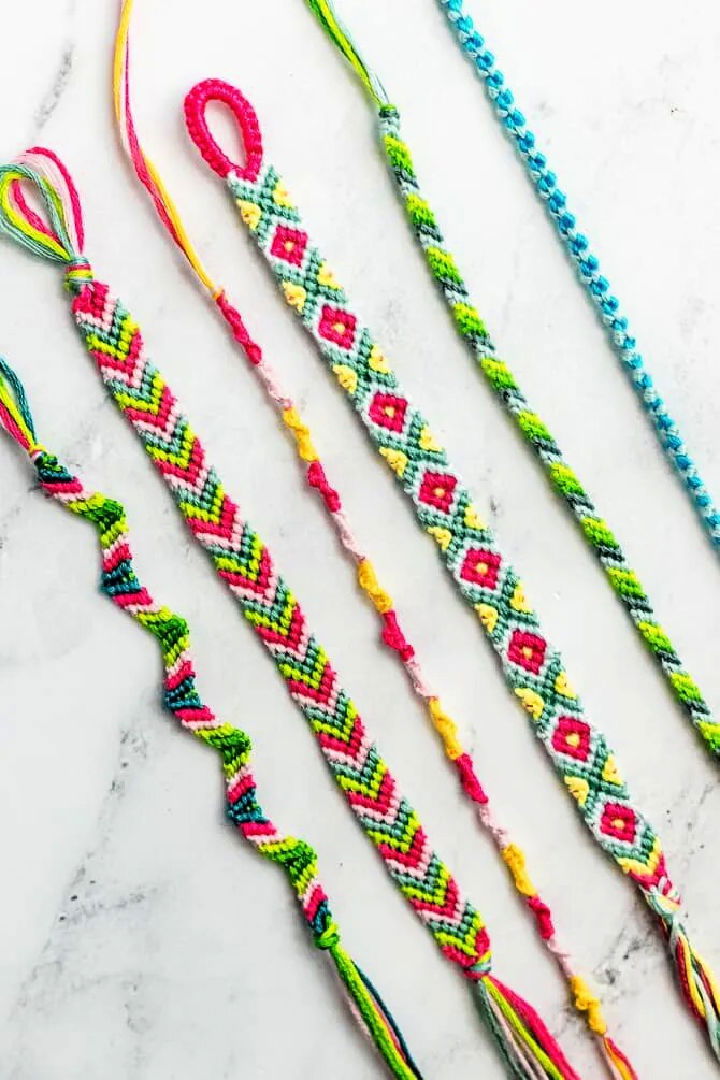 Weaving colorful threads into a unique bond of friendship has never been easier! Friendship bracelet craft is perfect for kids who love making them at summer camp and adults new to the craft. All you need is embroidery floss or string, a clipboard, a safety pin, or masking tape letter beads or charms – so it's quick and easy to take your project anywhere. Make fun, personalized designs that show off your unique style while enjoying quality time with friends. Get creative and start making friendship bracelets today! sarahmaker
16. Simple Macrame Bracelet Tutorial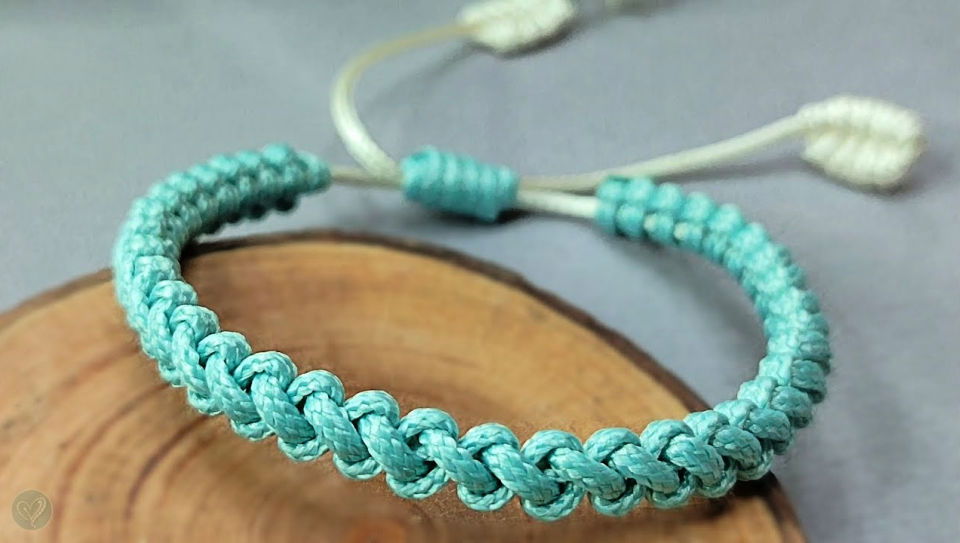 Find hundreds of free friendship bracelet patterns on our website and start crafting today. Learn how to make a DIY Macrame Friendship Bracelet with this step-by-step tutorial. This macrame bracelet is perfect for beginners, using simple knots that are easy to follow. Gather your materials, including Korean rope (2 mm), scissors, and a lighter. The bracelet has a circumference of approximately 17.5 cm. Follow along with the video and make your own unique macrame friendship bracelet. Elevate your style with this trendy and personalized accessory.
17. Colorful Friendship Bracelets for Kids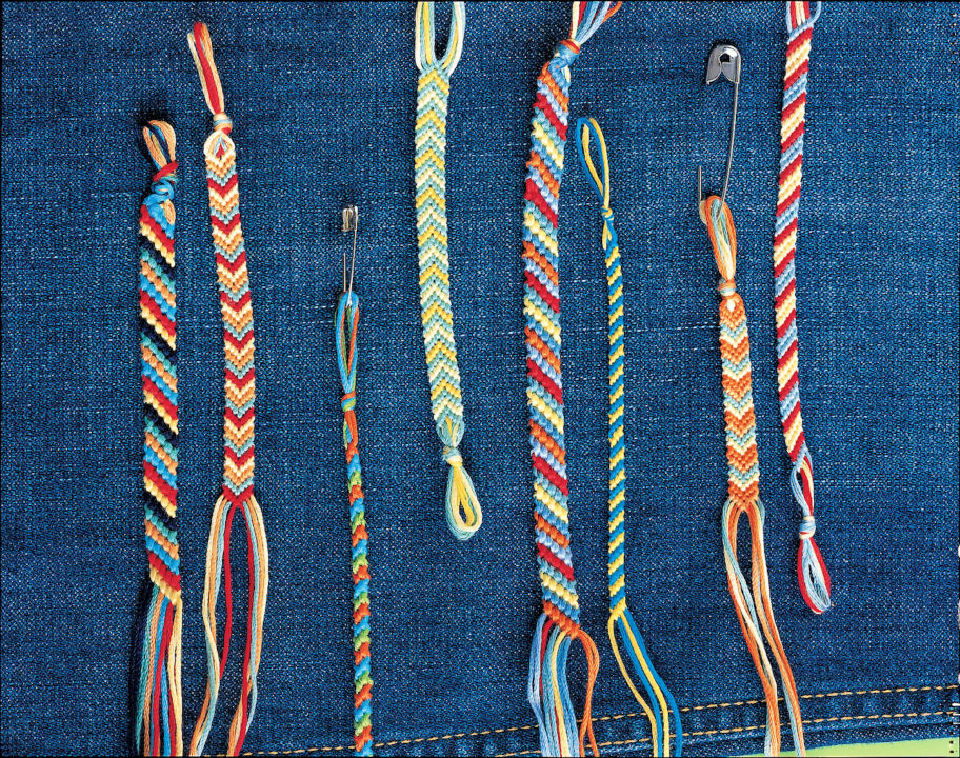 Let your imagination run wild, and make something special with your kids! DIY friendship bracelets for kids are the perfect way to foster creativity and meaningful connections. You can customize unique bracelets to share with friends or family by weaving embroidery floss. Learn the basics of friendship bracelet making and expand your repertoire – make chunky necklaces or even a belt (using yarn instead of floss). Get ready for hours of creative entertainment – start crafting now! coloradoparent
18. DIY Macrame Friendship Bracelets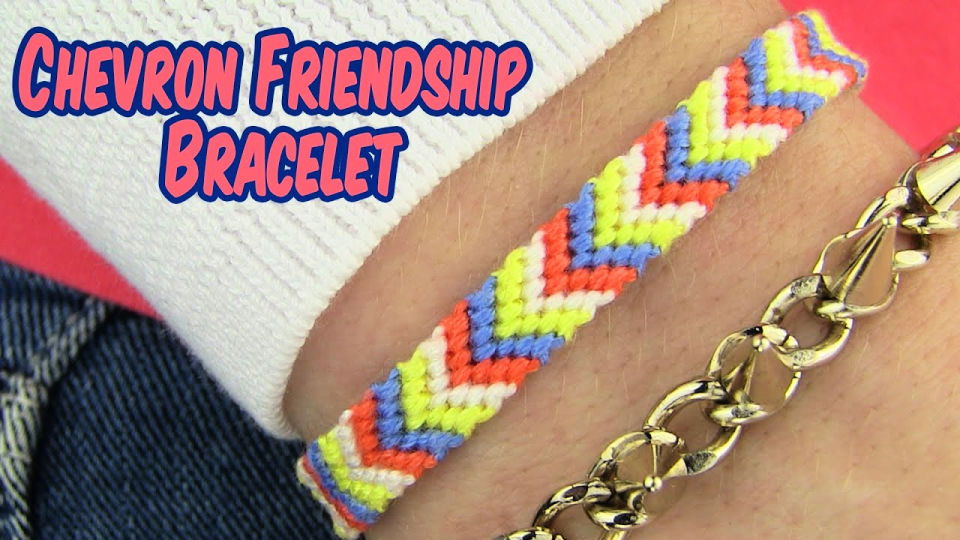 Make a stylish and vibrant chevron friendship bracelet with this easy DIY tutorial. Perfect for beginners, this adorable bracelet is made with colorful embroidery thread and features a button closure for added convenience.
With clear step-by-step instructions, you'll learn how to make the chevron pattern using forward and backward knots. Customize the bracelet with your favorite colors and complete it in just about an hour and a half. Make it as a thoughtful gift for your best friend or yourself. Follow this fun tutorial and add a touch of funky and happy style to your wrist today!
19. Handmade Fishtail Braid Friendship Bracelet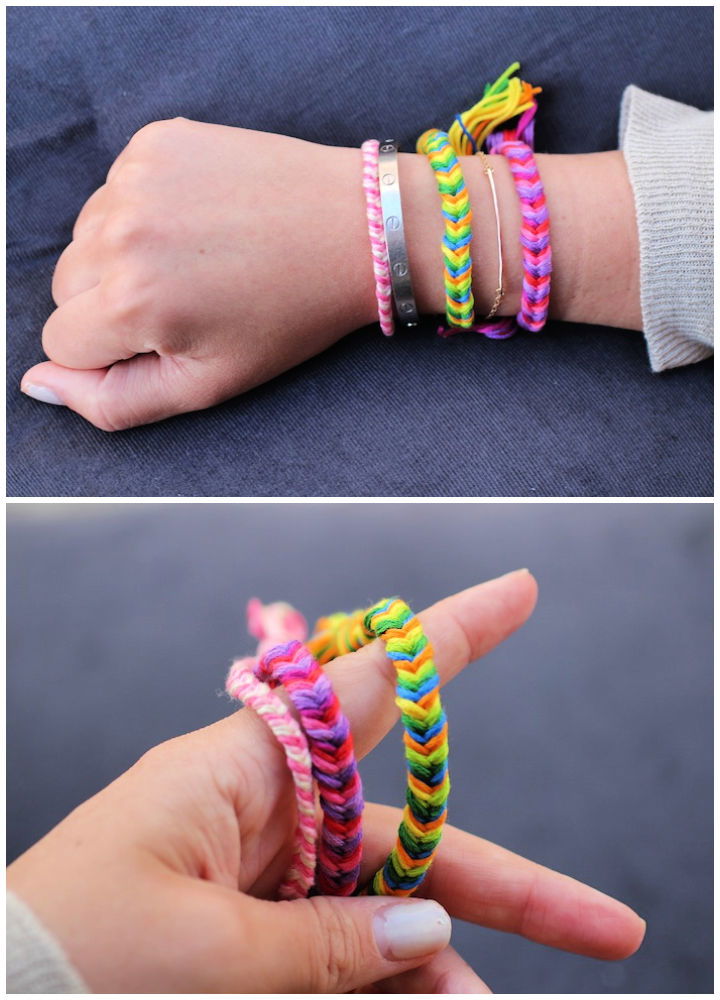 Unleash your inner artist and add a unique sparkle to your style with this DIY friendship bracelet fishtail braid tutorial! With a chevron pattern, this braid is snazzier than a classic braid but considerably easier to make than one created with traditional knotting. Use colorful embroidery floss to let your imagination run wild to make personalized designs. This guide will help you craft the perfect friendship bracelet – try it today! thestripe
20. DIY Friendship Bracelet for Valentine's Day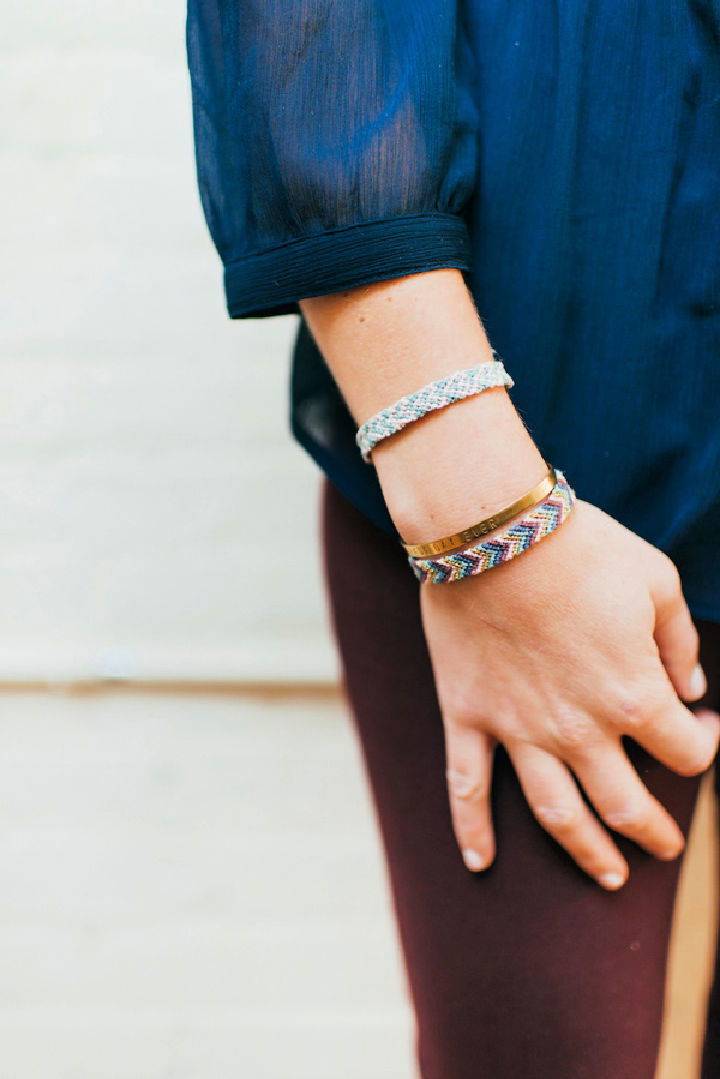 Spread some joy this Valentine's day with a heartfelt gift made just for them! You can make beautiful friendship bracelets with just a few craft supplies to share. All you need is embroidery thread and a clipboard for the perfect addition to any bridesmaids' outfits. Give your loved ones an extra special token of appreciation this Feb 14th with a handmade, thoughtful, unique present that will be treasured forever – friendship bracelets made with love! ruffled
21. Homemade Fancy Friendship Bracelets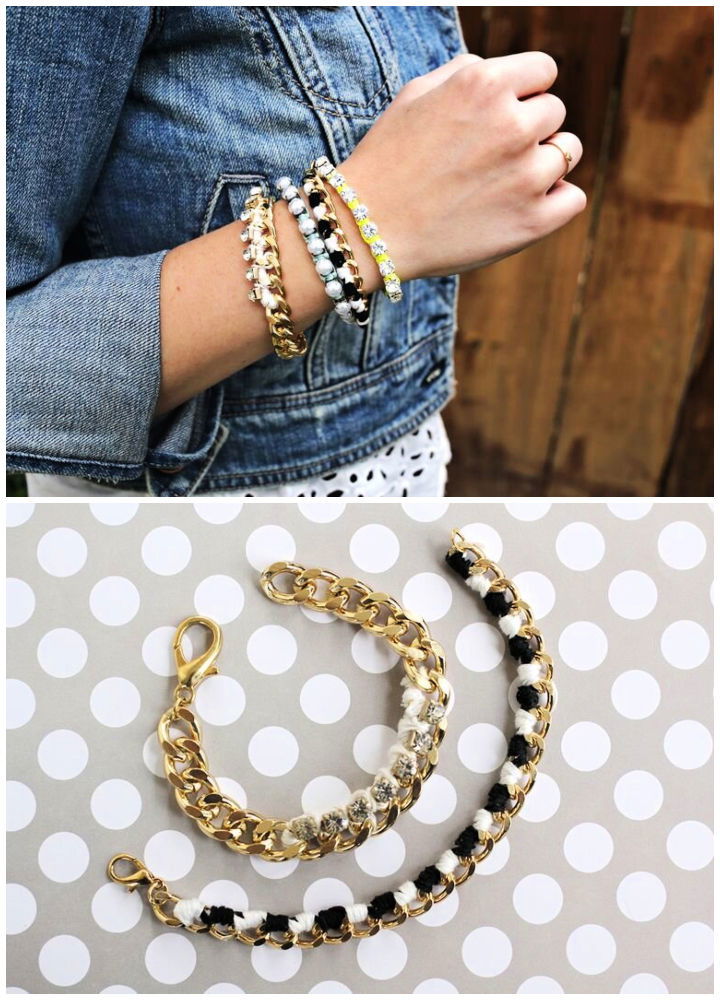 Give your friendships an extra sparkle with fancy friendship bracelets! From embroidery floss to jewels, jewelry chains to jump rings and clasps, this fun take on friendship bracelets is perfect for yourself or sharing with your closest pals. No matter the occasion, these colorful and fashionable bracelets will add a special love touch. Show that you truly care about someone by giving them a fancy friendship bracelet – it's sure to be cherished for years to come! abeautifulmess
22. How to Make Folded Paper Bracelets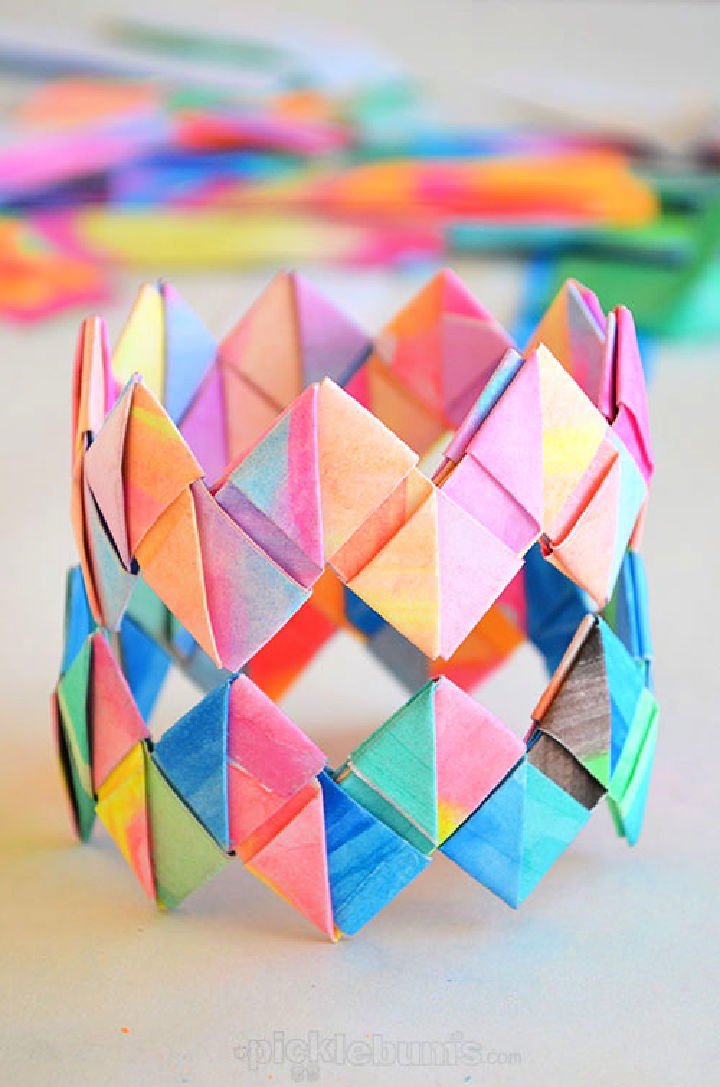 Make a unique and eye-catching bracelet for your kids with some old paper! Making folded paper bracelets is an interesting way to spend time with the children and reuse old artwork. It may take some practice, but once you know how to construct these beautiful accessories, you can make them quickly and easily. Get started now on this easy craft that will bring a smile to your little ones' faces. picklebums
23. Make Your Own Friendship Bracelets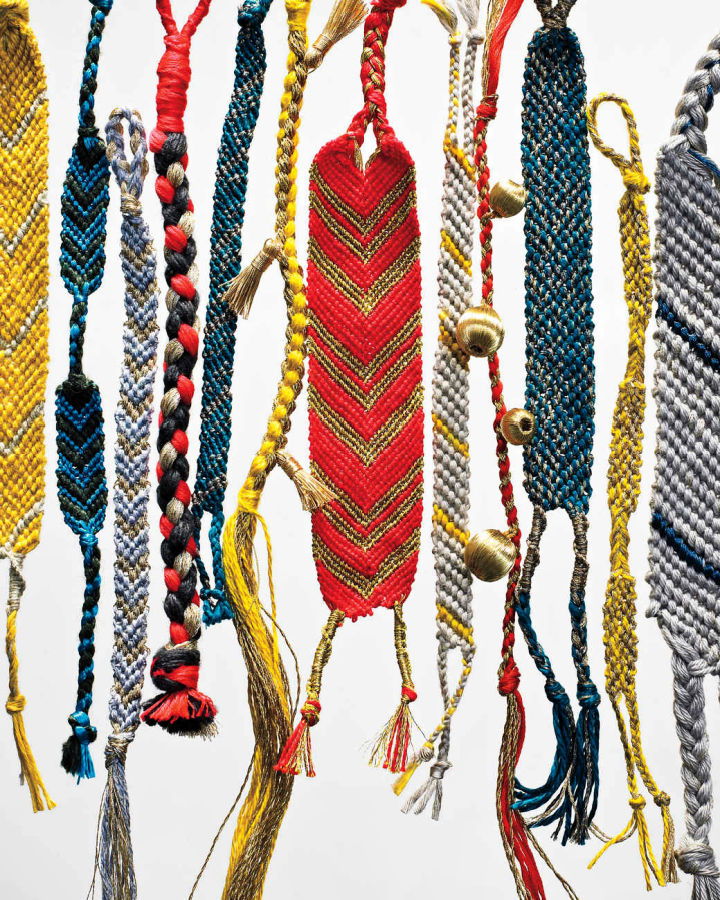 Friendship bracelet patterns are a fun and creative way to express your personality and style. Friendship bracelets are the ultimate nostalgic accessory, woven with string, yarn, or embroidery floss. These hand-knotted bracelets in fashionable colors and materials, including metallic accents, can be worn for any occasion, adding a fun twist to your wardrobe. Choose from traditional summer camp designs or make something unique that expresses your style! Make sure to incorporate friendship bracelets into your fashion accessories for some extra flair. marthastewart
24. Cute DIY Heart Friendship Bracelets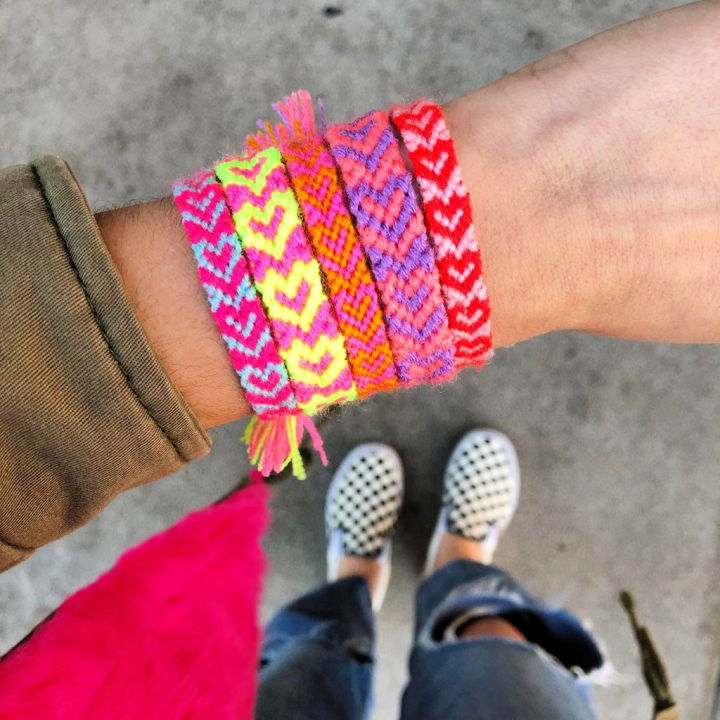 Make lasting memories with you and your friends by crafting beautiful heart friendship bracelets! Get hooked on this easy craft using omegacryl yarn or embroidery floss with just a bit of tape. These sweet little hearts make wonderful gifts, so why not show someone special how much they mean to you by knotting up one of these amazing bracelets? Try out this simple tutorial today and get knotting – you won't be able to stop! theneonteaparty
25. Friendship Bracelet With Step by Step Instructions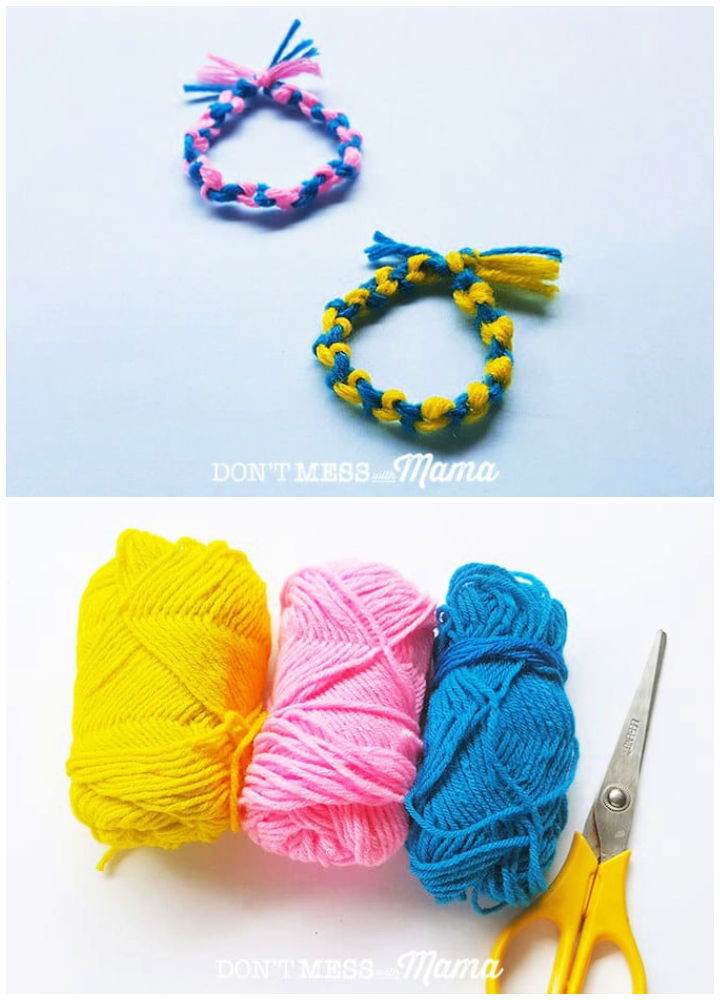 Delight your best friend with an everlasting token of friendship – a one-of-a-kind friendship bracelet crafted just for them! This easy-to-make craft is a great way to keep kids busy and entertained indoors. Get creative by adding two colors of thread or string. Even take it one step further and add a drop of essential oil for aromatherapy on the go. This DIY friendship bracelet is inexpensive yet thoughtful to show your friends you care. Customize it for each person's unique style, and make lasting memories together! dontmesswithmam
26. Simple DIY Stamped Initial Bracelet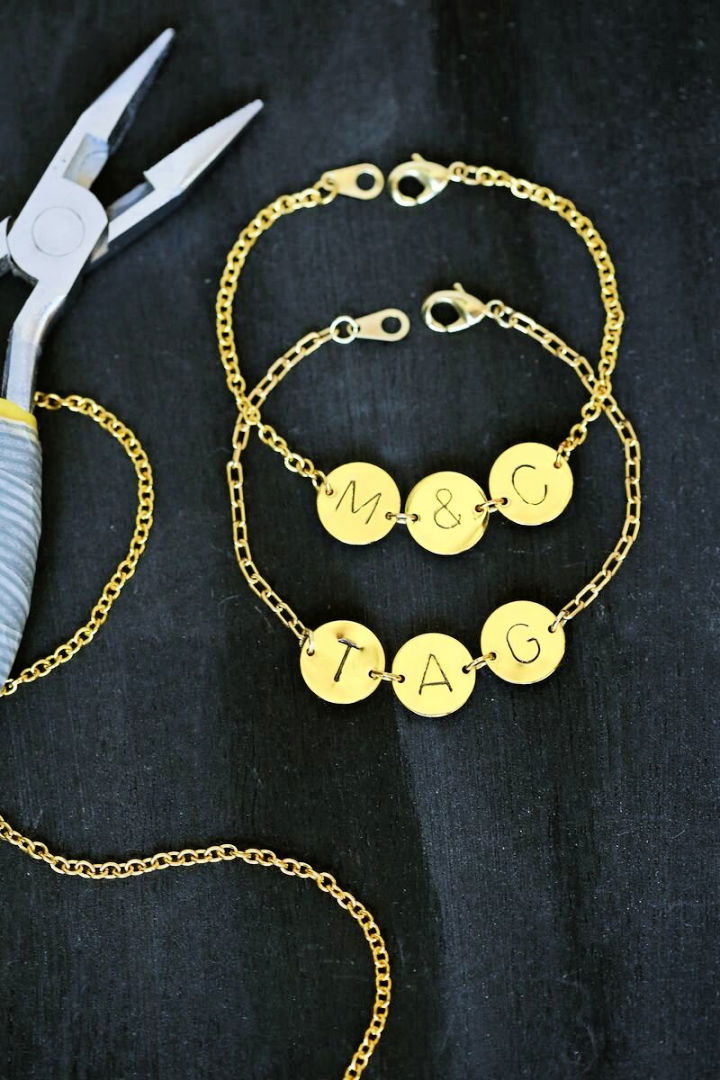 Express your personality with this one-of-a-kind DIY-stamped initial bracelet! This crafty project is perfect for beginners and makes a great gift idea. You only need gold coin discs, a gold chain, jump rings, a lobster claw closure, a jeweler's bench block, letter or number punch stamps, and rubbing alcohol to make your personalized accessory. Show off your creativity – the finished product looks so professional that no one will know it is made at home! Get creative with this fun bracelet-making process today – you won't regret it. abeautifulmess
27. Friendship Bracelets for Mother's Day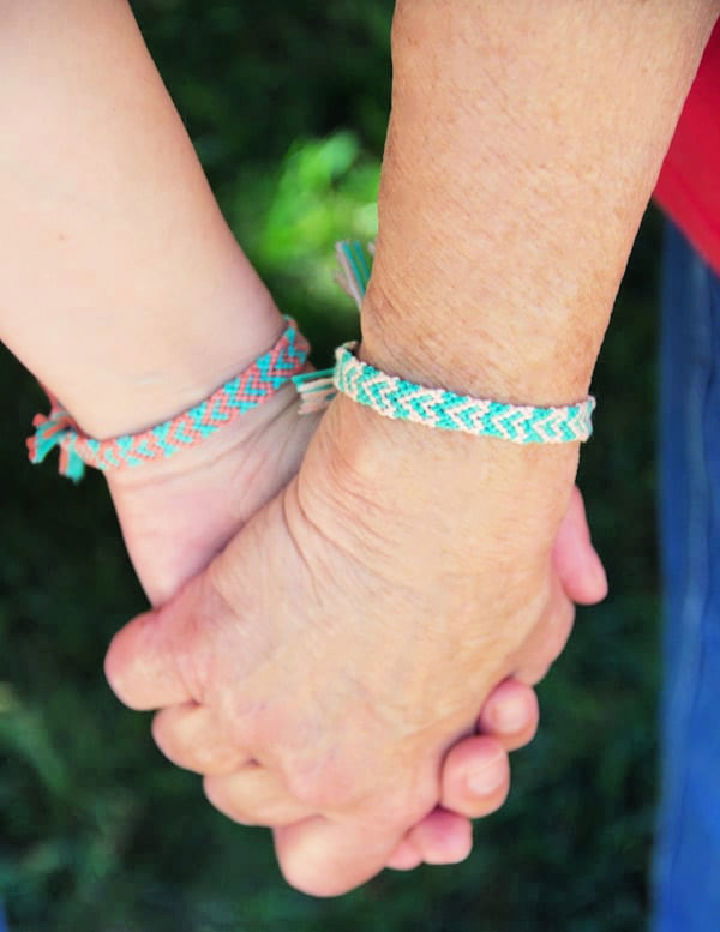 This mother's day, show your mom how much you care with a unique gift of handmade friendship bracelets! You can easily make these unique heart friendship bracelets using two colors of embroidery thread, perfect to wear as matching accessories. Give your mom a long-lasting reminder of your love and appreciation by crafting an unforgettable gift showing how much you care. Bring joy and fun back into celebrating with this thoughtful DIY project that will surely be remembered for years! lovelyindeed
28. Free Friendship Bracelet Pattern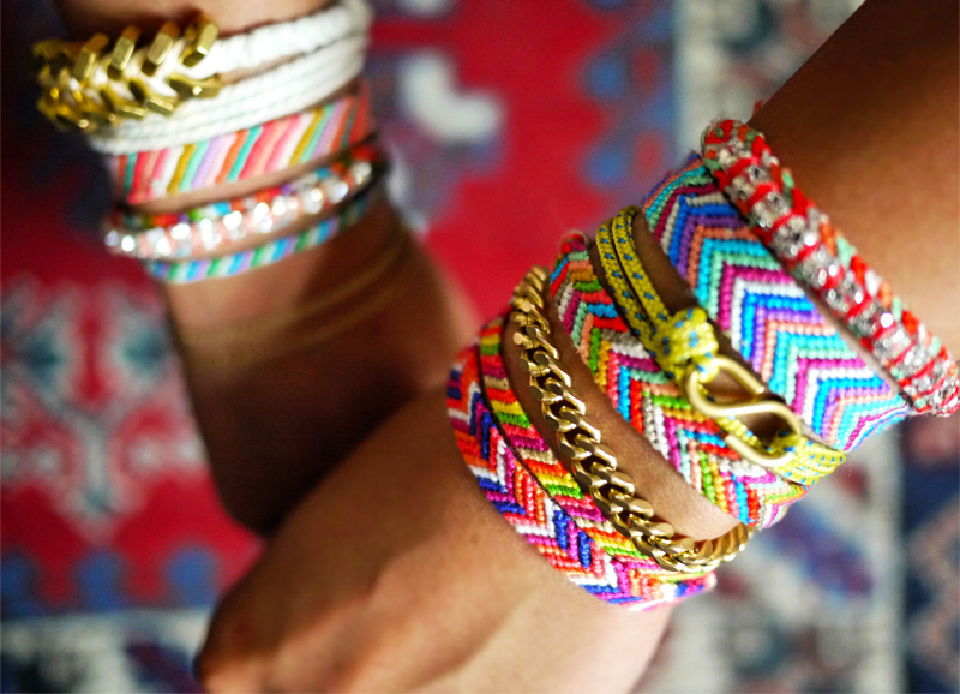 Learn how to make beautiful friendship bracelet patterns with our easy tutorials and guides. Transform your gatherings into unforgettable moments with handmade bracelets! Choose from a broad range of colors to make striking, one-of-a-kind pieces of jewelry. You don't need to have any special skills, just basic supplies like embroidery thread, a safety pin, or tape to get started — it's that easy! You can make these bracelets even with your eyes closed and arms tied, so why not give DIY bracelet making a try today
With friends or family, making memories is priceless. Gift them with the perfect handmade accessory for any occasion, and let them cherish the joy of spending time with you! Whether you're hanging out on the beach or enjoying a cozy night in, making these bracelets together will bring a little extra fun and glam into your lives. So, unleash your creativity and dive into the world of DIY bracelet making! honestlywtf
29. Make Breezy Friendship Bracelets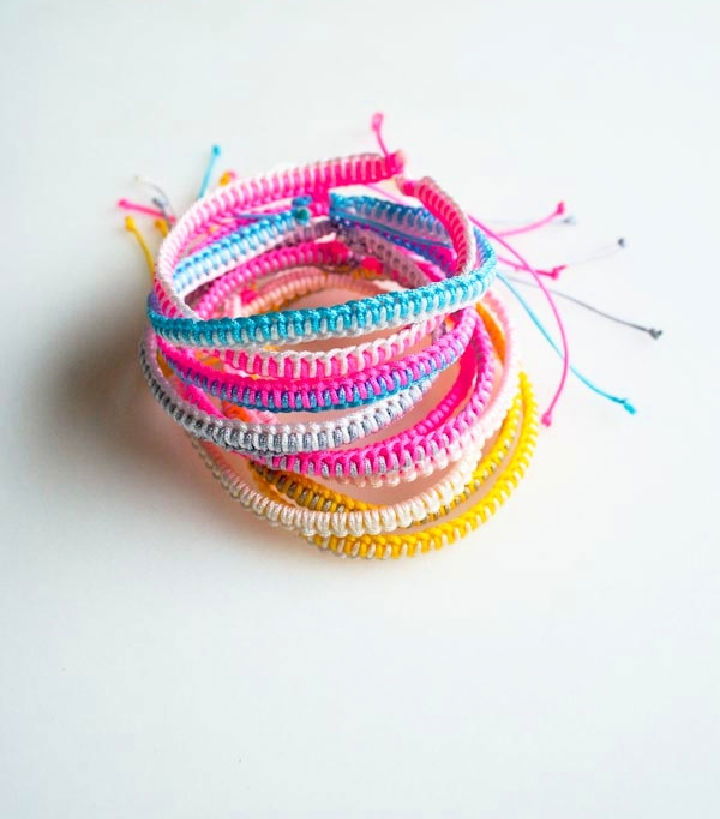 Breezy friendship bracelets are the perfect summer project for everyone! Whether you're a master crafter or have two left thumbs, these bracelets are easy to make. With an adjustable closure and just two simple knots, make several in an afternoon or a whole armful in a weekend. Breezy friendship bracelets come with a chinese knotting cord, so your creations will look sophisticated and stylish when done. Search no more – this is the go-to summer project anyone can do to show off their style and bond with friends over crafting memories! purlsoho
30. Best DIY Beaded Friendship Bracelets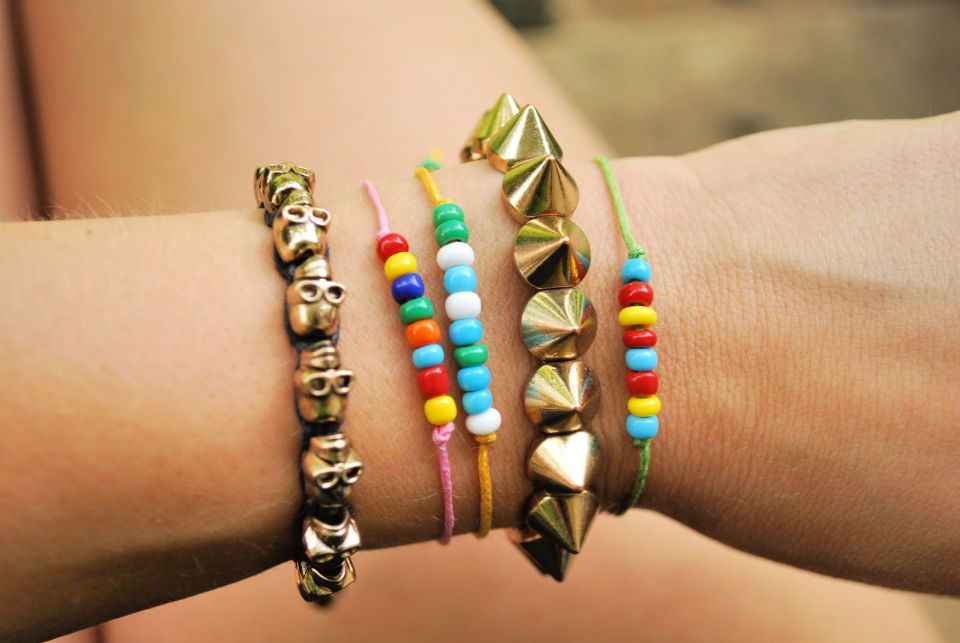 DIY beaded friendship bracelets are the perfect way to show your friends how much you care. With just some small beads and a braiding cord, these bracelets can be quickly customized into a unique gift that expresses your friendship. And since they're so simple and easy to make, you don't have to worry about spending too much time or effort on them. Get creative with the colors and patterns of beads for a truly special bracelet that will remind your friend of your bond for years to come! heywanderer
Conclusion: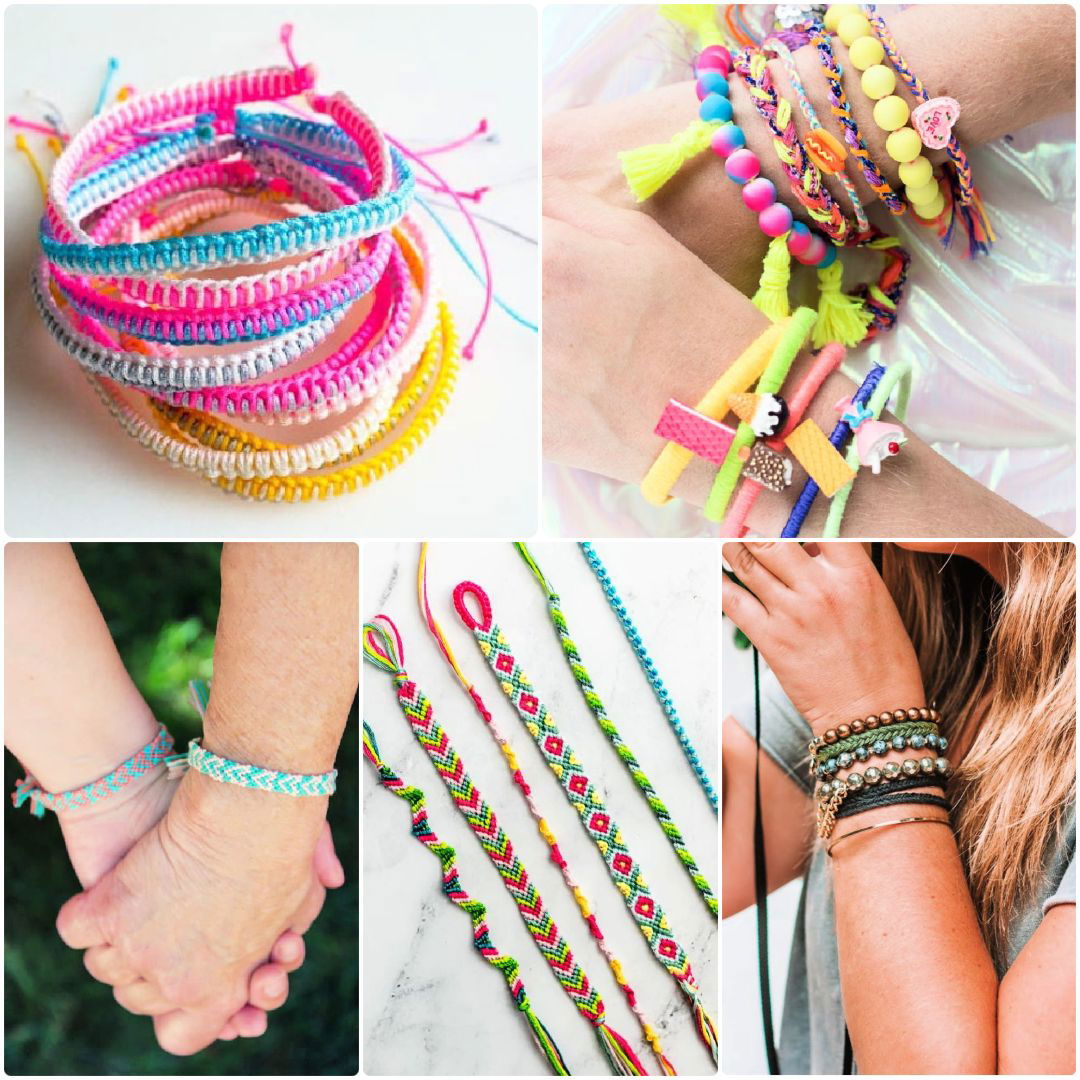 In conclusion, making DIY friendship bracelets offers a world of creativity and bonding. Helped by many friendship bracelets patterns like embellished and beaded DIY bracelets, or glitter and macrame tutorials, you can craft your string bracelets with personal touch and flair. Celebrate bonds with visually striking bracelets like the heart friendship design or the Swarovski Elements bracelet. Make a memorable keepsake with Valentine's Day and Mother's Day patterns. Making friendship bracelets not only engages your artistry but also strengthens your ties, one thread at a time.