Delving into the realm of tablet accessory DIY, you'll find that making a DIY tablet stand brings together both practicality and creativity. Explore these 15 clever DIY tablet stand and iPad stand ideas that offer step-by-step guides for effortless construction. A homemade tablet stand not only serves as a functional gadget accessory but also allows for personalized aesthetics to match your taste and decor.
Our list includes unique options like a DIY tablet holder for bed, a tablet floor stand DIY, and even a makeshift iPad stand for those looking for more unconventional ideas. These DIY iPad stand concepts range from utilizing common household items such as paper towel rolls, cutting boards, and picture frames to more traditional woodworking projects.
You'll find detailed instructions, often supplemented with visuals and pdf guides for each DIY tablet stand idea. The assembly process of these stands involves simple, clear, and manageable steps for even novice DIY enthusiasts. With our compilation of tablet stand DIY ideas, your next project awaits – pick up your tools and materials, and craft a personalized tablet stand today. Enjoy the satisfaction of a homemade tablet holder tailored to your needs and style.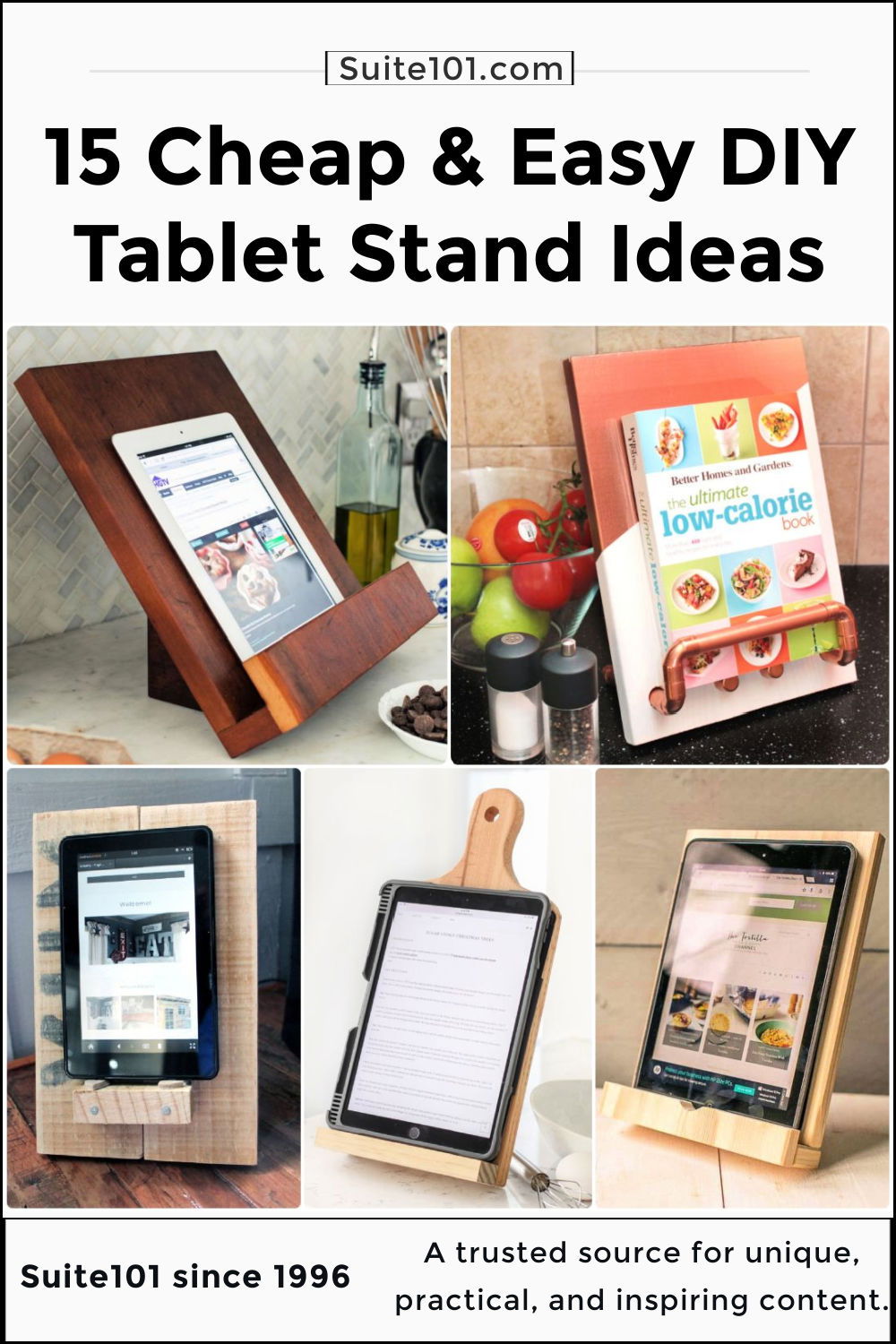 One more thing to add, be ready to impress your friends and family with your new DIY adjustable tablet stand, an absolute statement of your creativity and craftsmanship. Now, it's time to start crafting your own DIY tablet stand, a perfect combination of form and function.
1. Paper Towel Roll Tube Tablet Stand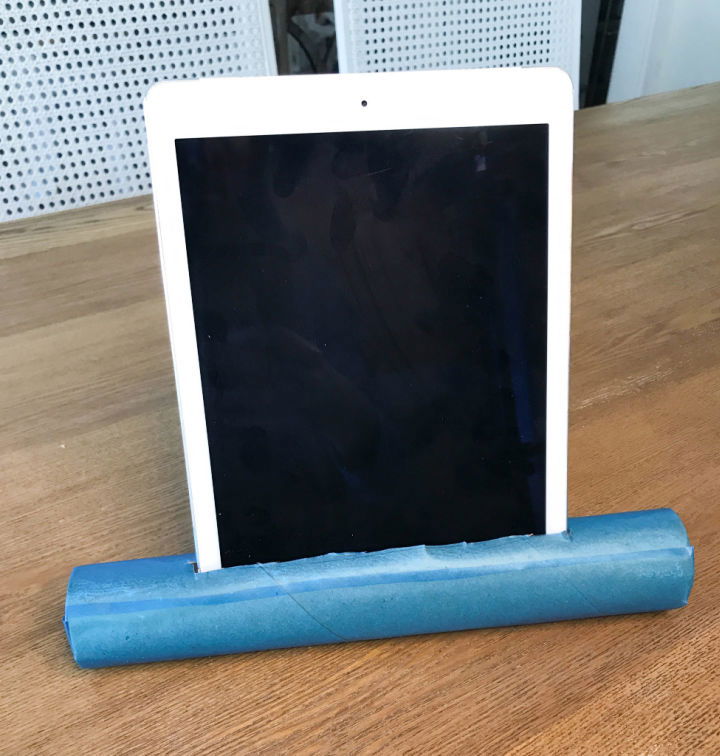 Making a DIY tablet stand with a paper roll tube at home is a great way to upcycle around the house and make something useful. With just basic supplies such as paper towel tubes, scissors, decorating materials like peel-and-stick contact paper, and a pencil or pen, you can have your own custom tablet stand in minutes.
Follow this step-by-step guide on glorifying your tablet display with this paper towel roll tube hack! It's incredibly fun and easy to do, and you'll be proud of your craftsmanship when it's finished. craftingwithkids
2. Modern DIY Wooden Tablet Stand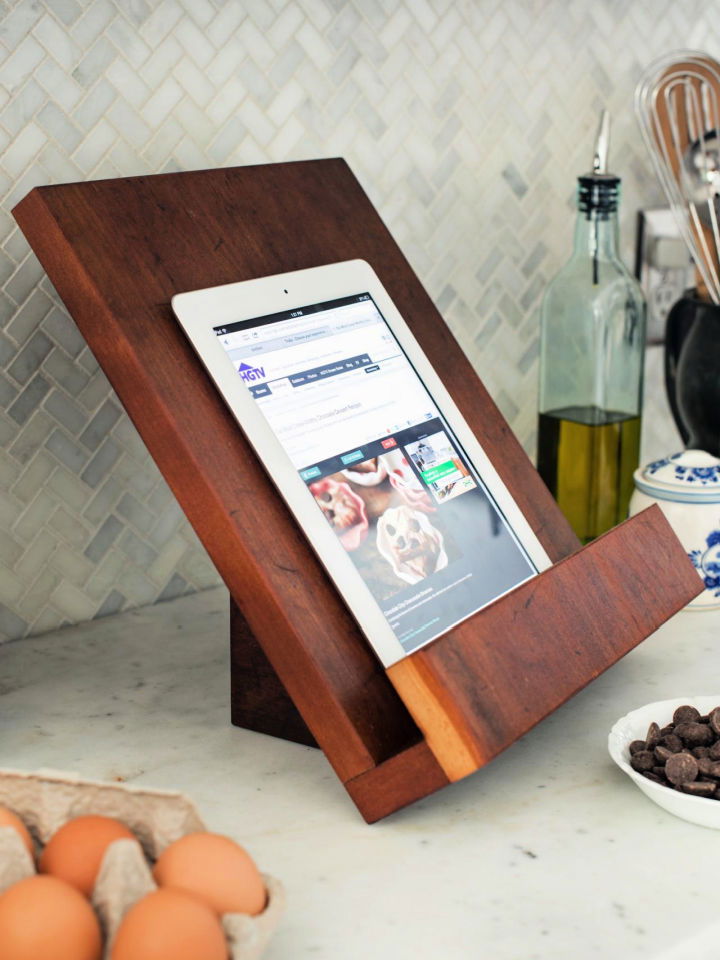 This DIY modern tablet stand is a beginner-level woodworking project with aesthetic, practical, and gifting benefits. With supplies such as new or reclaimed wood, wood glue, aluminum bar clamps, an orbital palm sander with sanding discs, self-boring wood screws, all-natural hemp oil, or other chosen wood finish, you can create a simple yet beautiful stand with just a few handy tools.
Plus, this stand can also be used as a cookbook stand and makes a wonderful customized handmade gift – think of your favorite chef, baker, techie or hostess! Check out this step-by-step guide to create your modern tablet stand today! hgtv
3. Free Wooden Tablet Holder Plan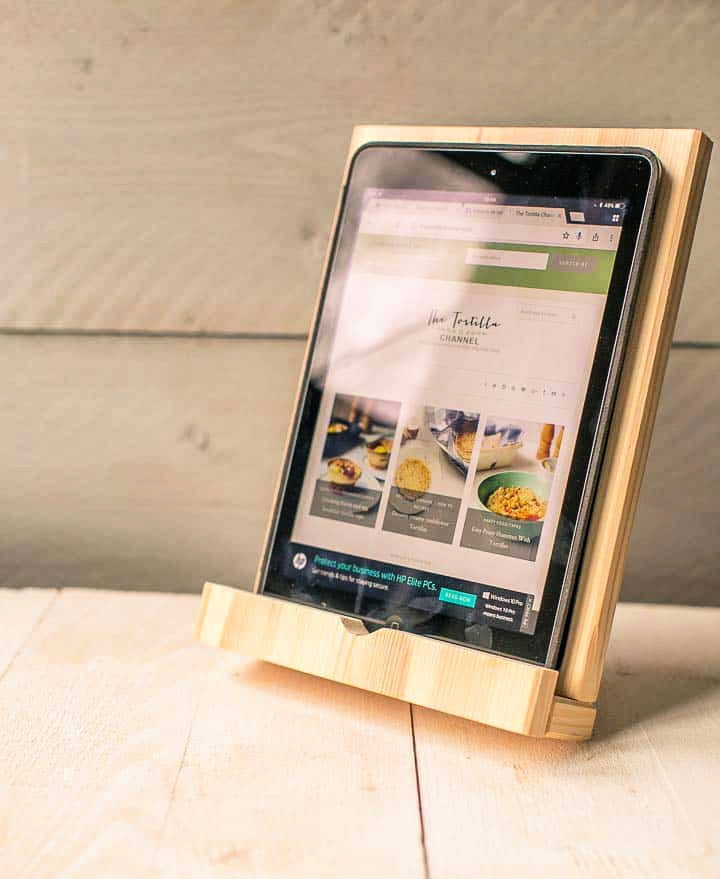 Constructing your own wooden DIY tablet holder is a great way to add a functional twist to your kitchen experience. With just a few materials, you can build something practical and eye-catching. To start creating your wooden tablet holder, you will need a panel of pinewood, wood glue, a piano hinge or two little hinges, two screws, a sawing machine or hand-saw, glue clamps and an electric jigsaw or a round file. With some patience and the help of this step-by-step guide, you'll be able to construct your wooden tablet holder easily. It's time to upgrade your kitchen and ensure it is equipped with the latest technology! thetortillachannel
4. Handmade Wooden Tablet Stand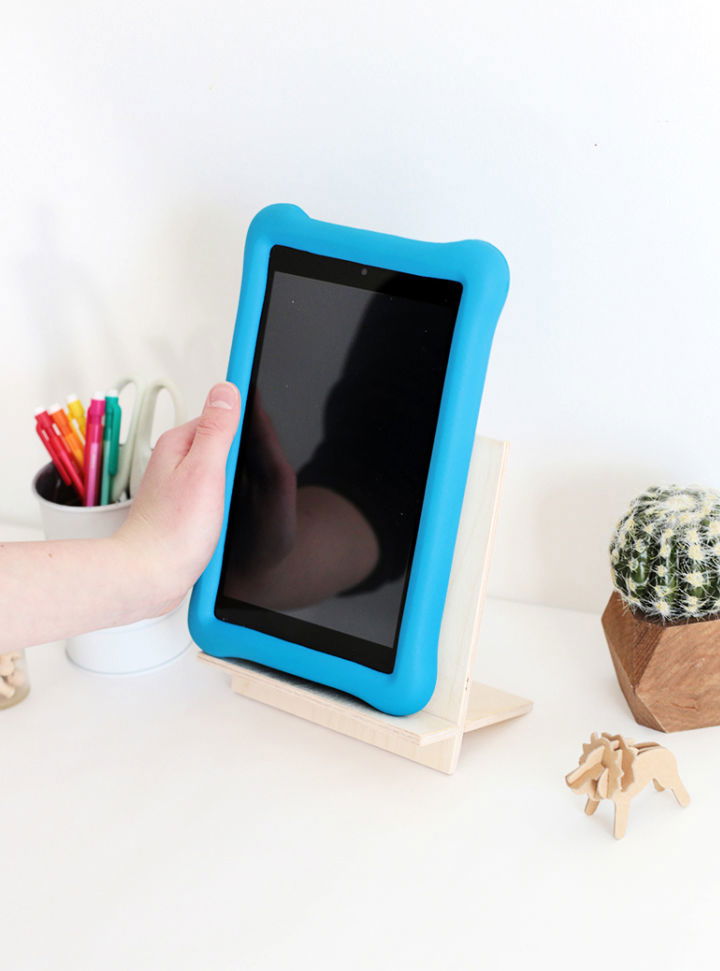 A DIY wooden tablet stand can be an easy and fun project to build and a great way to showcase your creativity. With just 12"x24"x1/4" birch plywood and some basic tools, like a table, saw and sandpaper, you can create a simple but minimalist stand that you can customize with paint or stains to match any interior design.
This step-by-step guide simplifies this project so even those with little woodworking experience can tackle it. It's a great way to add a personal touch to your home while using items easily accessible in most hardware stores. Why not give this wooden tablet stand a try? themerrythought
5. Make a Tablet Stand Using Scrap Wood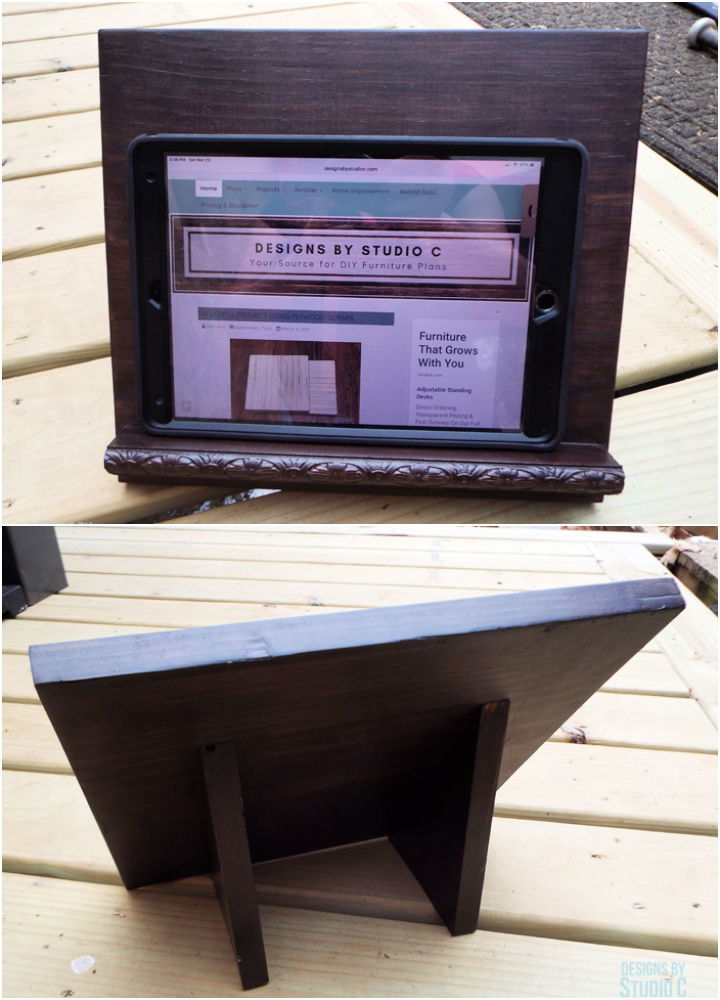 If you're looking for a tablet stand but only have access to scrap wood, then this DIY project is perfect for you. With the provided step-by-step guide, you can easily create your own custom stand without needing any fancy joinery. All you need is several pieces of scraps in the sizes of 1×2, 1×6, and 1×12 that are 12″ – 14″ long, screws, sandpaper, and finishing supplies. It should be suitable for most tablets and not too difficult to make, regardless of your expertise. So pick up your supplies and follow this simple guide today to a personalized tablet stand out of scrap wood! designsbystudio
6. Awesome DIY Tablet Stand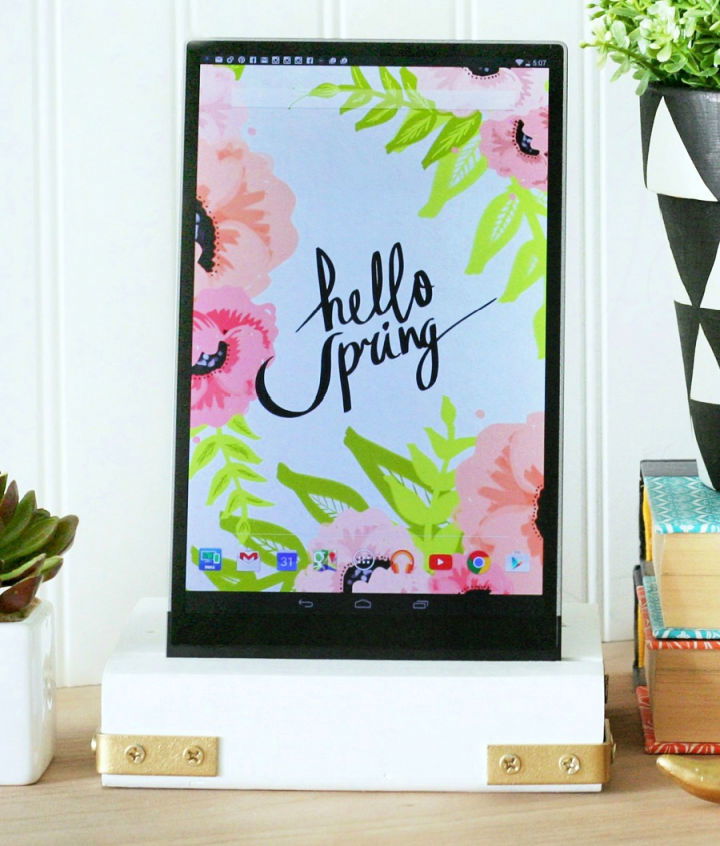 This handmade tablet stand is a great way to get creative with your technology accessories. With just a few tools and some basic supplies, you can easily construct your own tablet stand in no time! All you will need is a pine 2×6″ board, a table or miter saw, an electric sander/sandpaper, paint or stain, a paintbrush, corner braces, wood screws and some Rustoleum gold spray paint.
This tablet stand is perfect for checking social media or watching movies – there has never been an easier way to enhance the functionality of your device! So, what are you waiting for? Grab your supplies and get started today. thecraftedsparrow
7. Make Your Own Metal IPad Stand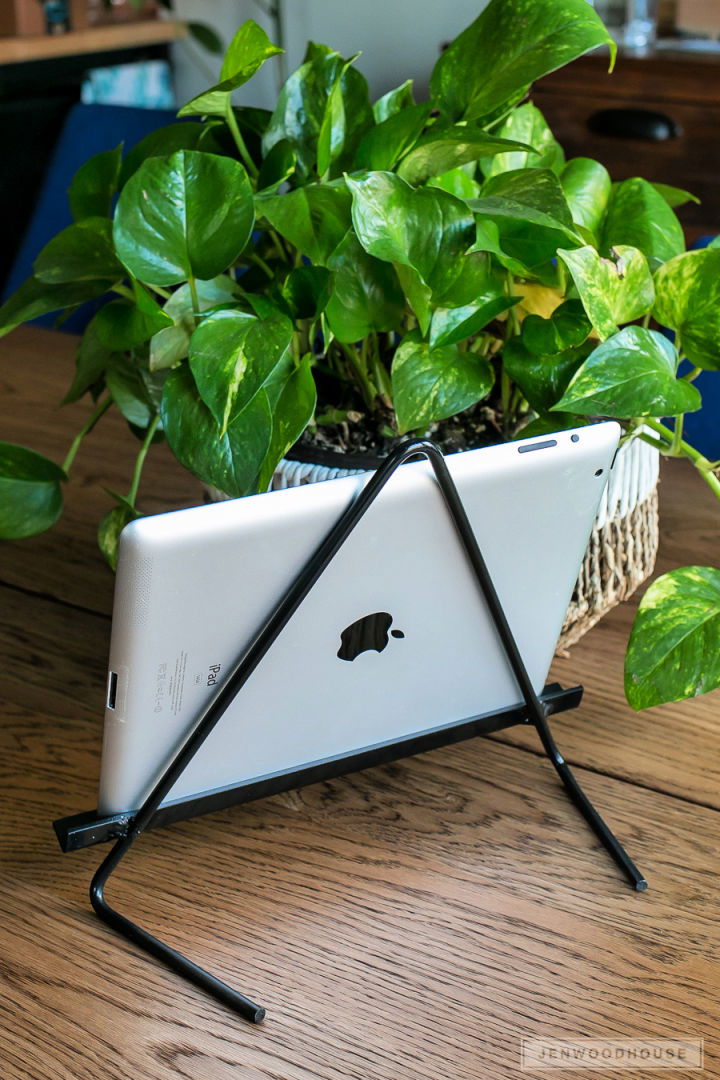 DIY enthusiasts who want to craft their own metal iPad stand with a simple, minimal design will find this project comfortable and straightforward. As long as they have the necessary supplies—such as Bernzomatic plumbing flux, an acid brush, a round steel rod, plain steel angle, brake cleaner and optional black spray paint—plus some handy tools, anyone can easily follow this step-by-step guide to make their very own DIY metal iPad stand. Not only is it relatively inexpensive, but creating it on your own gives you a sense of accomplishment in expressing your creativity in crafting something entirely from scratch. jenwoodhouse
8. DIY Cutting Board Tablet Holder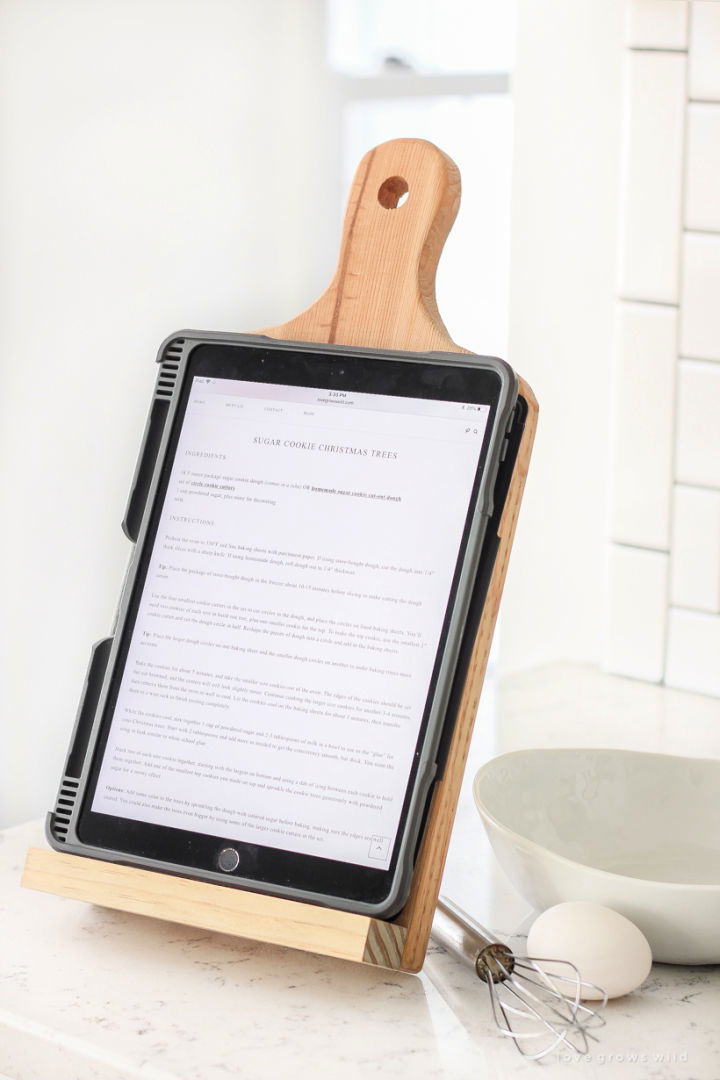 DIYers can make this cutting board tablet holder, which can be a perfect gift for someone who enjoys using technology while being creative. Anyone can create this smart device holder independently with just a few handy supplies and thrifty materials. To create this DIY cutting board tablet holder, you will need a cutting board, a piece of 1×2 lumber, a miter saw, wood stain or paint (optional), wood glue, a brad nail gun, tape measure and this step-by-step guide. Take your DIY skills to the next level by creating this chic device holder! lovegrowswild
9. Quick and Easy Sturdy Cardboard Tablet Stand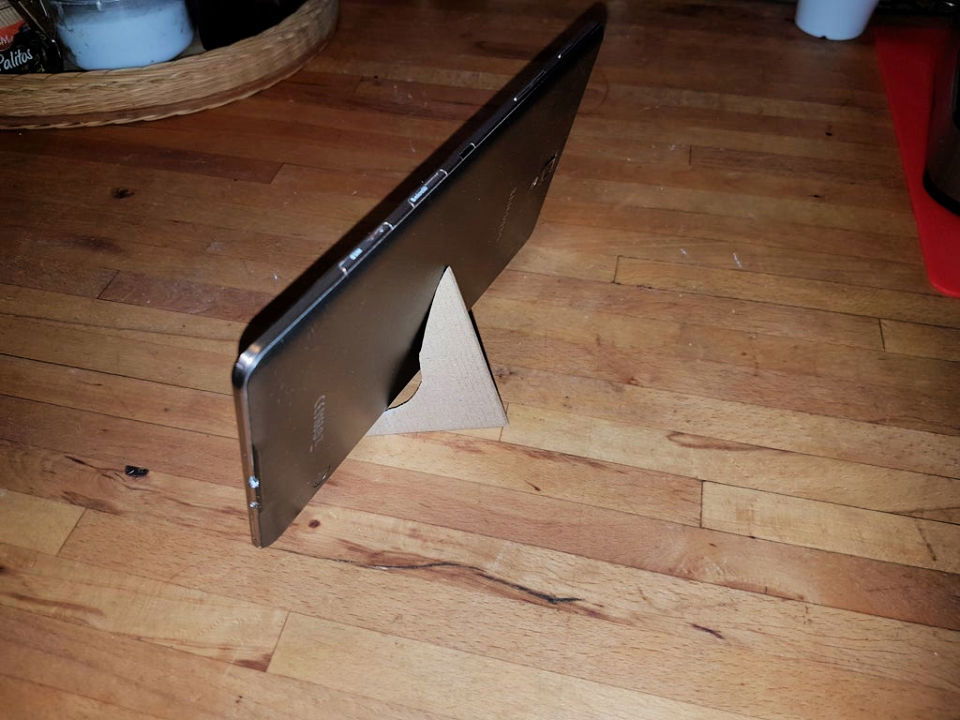 DIY projects are a great way to save money and keep home life creative. This handmade sturdy cardboard tablet stand is an upcycled project that can be created quickly with minimal supplies. All you need is a 14 x 9 cm cardboard piece, scissors, and a pencil! Plus, no glue is required for this project. If a small, affordable stand is what you are looking for to hold your tablet device—then look no further! Follow this step-by-step guide and create your sturdy cardboard tablet stand in no time! instructables
10. How to Build a Wood Tablet Stand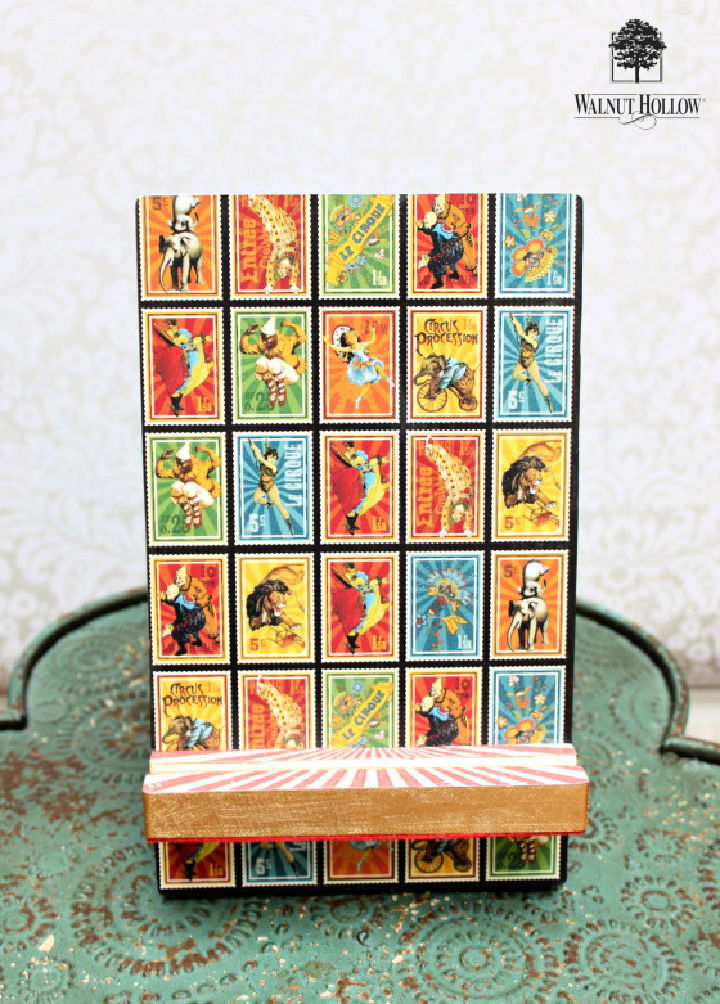 This DIY tablet stand is the perfect way to bring personalized style to your household and make practical gifts for any tech enthusiast. This project requires minimal tools and supplies, such as a modern slide-together tablet stand and liquid gilding in gold. Mod Podge alongside patterned paper and felt for those who want to customize their own tablet stand. This tutorial provides guidance for an easy process on the modern slide-together tablet stand – quick and beautiful, it's sure to please any gift this holiday season! walnuthollow
11. DIY Tablet Cookbook Stand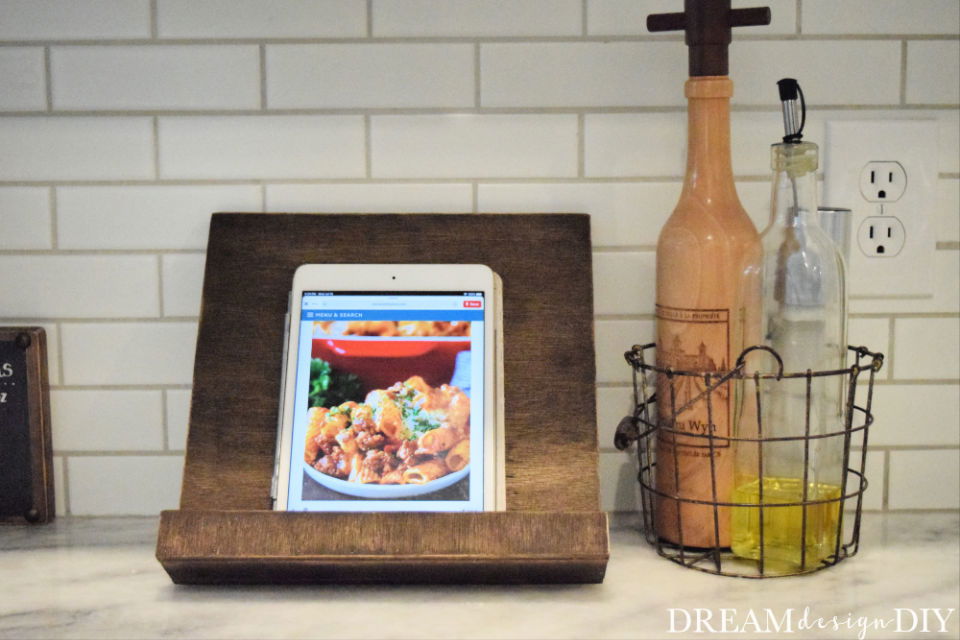 This DIY tablet cookbook stand is an excellent way to organize and make recipe-making a breeze. Whether you're a beginner DIY-er or an experienced hobbyist, this easy project requires just a few simple supplies: scrap wood, measuring tape, pencil, saw, miter saw, pin nailer and a sander or some sandpaper.
To finish off, an old t-shirt, rag or brush helps apply stain. This step-by-step guide will help you put it all together in no time and have a handy tablet cookbook stand ready to use. With this creation, keeping important recipes at arm's reach has never been simpler. dreamdesign
12. Dollar Store Tablet Holder Design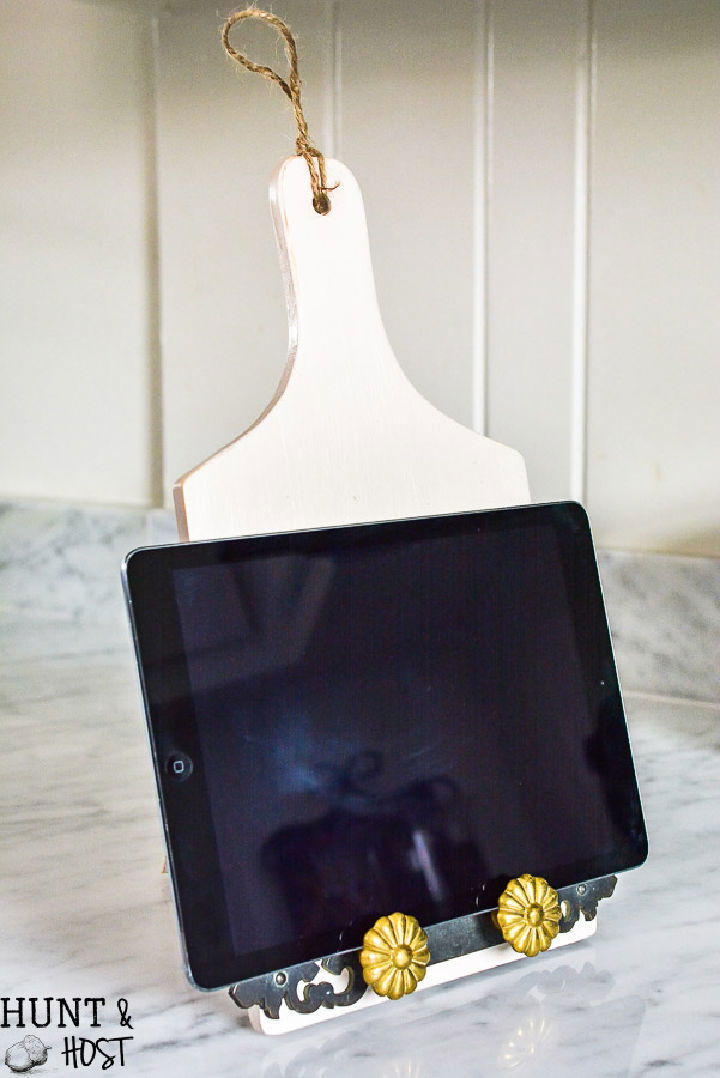 This DIY dollar store tablet holder is a great way to add some much-needed extra countertop space to the kitchen. All it needed is a cutting board, some old knobs, handles, or hinges, and maybe a few additional supplies. The process is easy to do step-by-step, with a detailed guide below. This dollar store tablet holder will be attractive and functional when finished. Try creating one today! salvagedliving
13. Make a Tablet Holder With a Picture Frame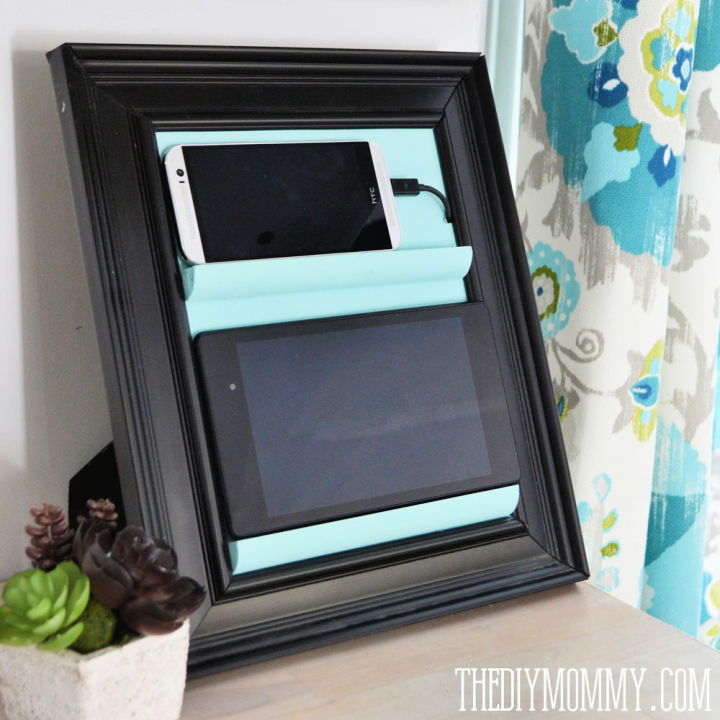 If you've ever wished for the perfect DIY tablet holder, look no further than this simple upcycling of a picture frame. This creative and versatile project resulted in a beautiful charging station and tablet holder.
All needed are an 8 x 10" picture frame, scraps of trim, thick cardboard, a hand saw, glue gun, scissors or an x-Acto knife and chalk finish paint. With just these supplies and this detailed step-by-step guide, you can have a custom tablet holder from a picture frame in no time! thediymommy
14. Rustic Tablet Stand for the Kitchen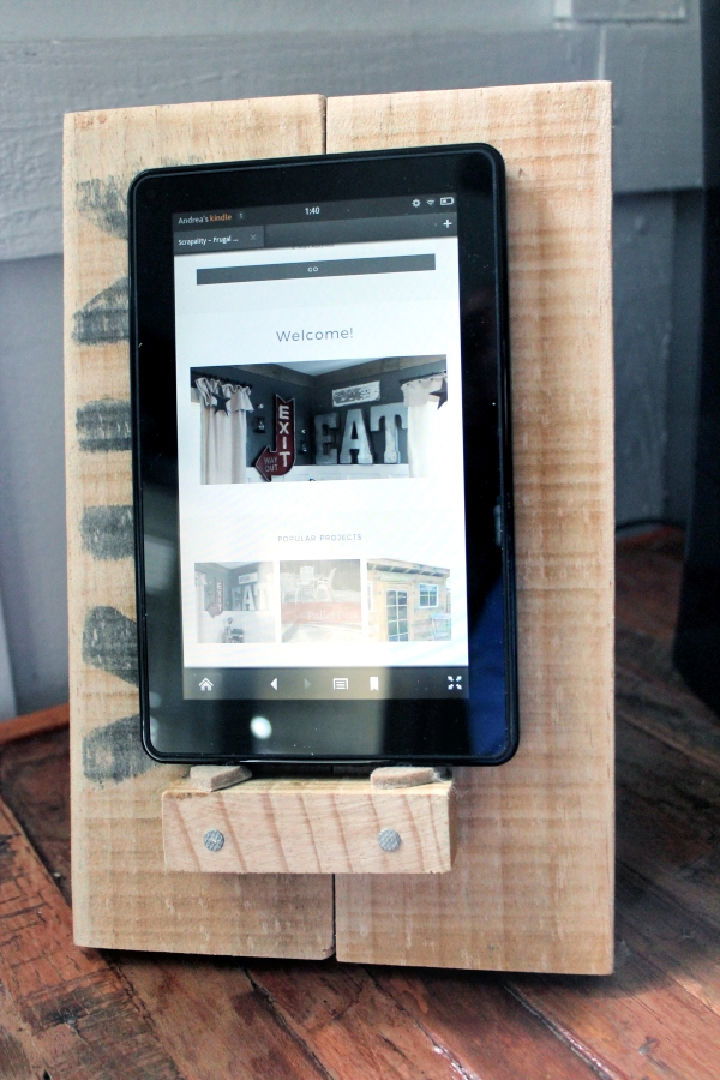 DIY your way to the perfect rustic tablet stand to save countertop space in the kitchen while trying out new recipes. With just a few supplies, such as wood boards, a strip of wood for the platform, screws, and paint that can be used to add cute saying or numbers, DIYing is made easy with this step-by-step guide. Get creative in designing your very own rustic tablet stand for the kitchen. scrapality
15. Cool DIY Cookbook and Tablet Stand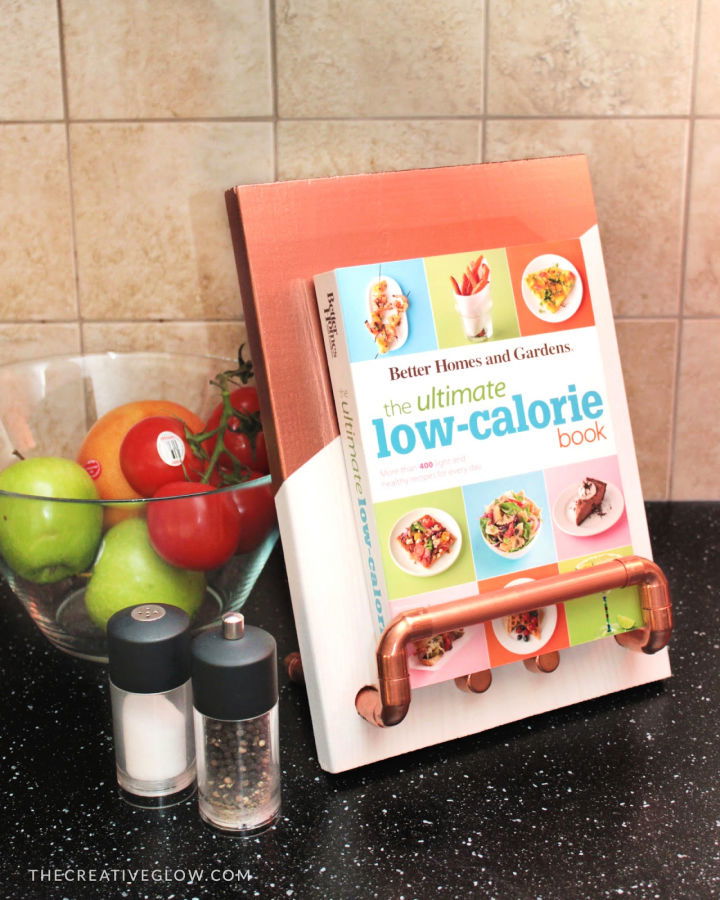 DIYers searching for an industrial and modern cookbook and tablet stand can find an intricate yet stylish project with this DIY tutorial. You can make this using a copper pipe, copper cap fittings, copper 90-degree elbow fittings, copper tee fittings, a wooden board, an adjustable tube cutter, Elmer's ProBond Advanced Glue, and either paint or wood sealer (with optional painters tape or masking tape for painting), this project will guide you step by step to create the perfect solution for keeping both your cookbooks and tablet in one spot.
All supplies listed are designed to help you create a customized look that expresses your style. Start your DIY journey now and make this cookbook and tablet stand of your dreams! thecreativeglow
Conclusion: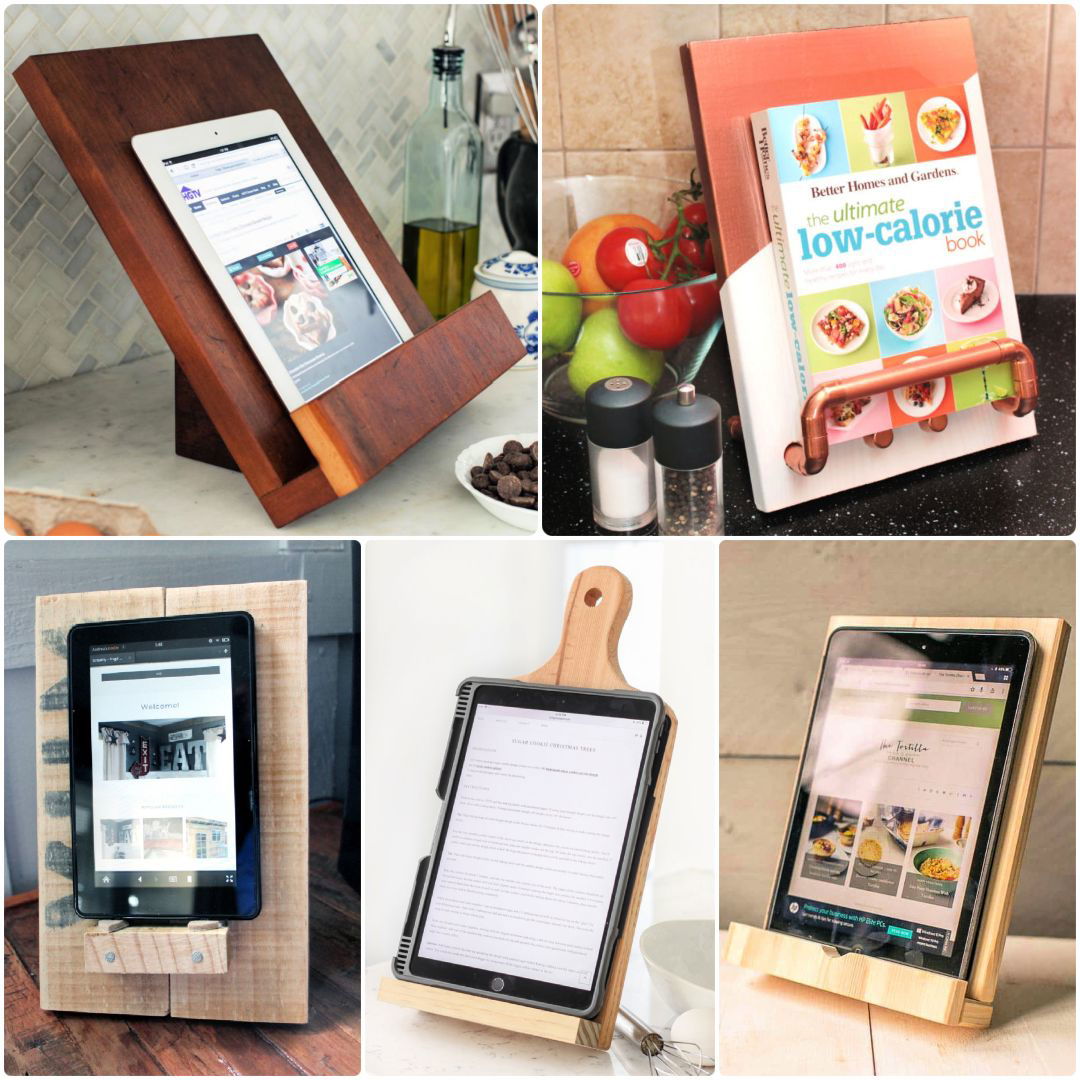 In conclusion, exploring these clever DIY tablet stand and iPad stand ideas can provide users with creative ways to create a perfect homemade stand for their device. From utilizing materials like paper towel rolls, cardboard, wooden scraps to crafting adjustable or kitchen-friendly holders, the options are versatile and cater to individual preferences. With easy-to-follow tutorials and suggestions covering a variety of designs, now is the perfect time totry out these DIY tablet stand and iPad stand ideas and add a personal touch to your device setup.