Wood burning, also known as pyrography, is the art of burning images into a wood surface using a heated tool. You can create beautiful and unique wood burning designs on various wood items, such as spoons, coasters, ornaments, frames, wreaths, and more. Wood burning is a relaxing and enjoyable activity and a fantastic option for creating personalized gifts or decorations for your home. All you need is a basic wood burning kit, some stencils or patterns, and your imagination. With our list of 30 easy and free wood burning ideas and designs, beginners can dive straight into this captivating art form. These easy wood burning ideas are complemented with step-by-step instructions, ensuring you have a clear guide to follow.
Easy Wood Burning Ideas for Beginners: How to?
To begin with wood burning, you will need some basic tools and materials. You will need a wood burning machine with multiple heat settings, a pen with interchangeable tips or several pens with different tips, wood of your choice, and any safety equipment that you have on hand such as gloves, eyewear, and a desk fan for ventilation. You will also need some patterns or stencils to trace your designs onto the wood. Find our 30 free wood burning ideas and patterns below, such as wildlife, floral, or geometric motifs.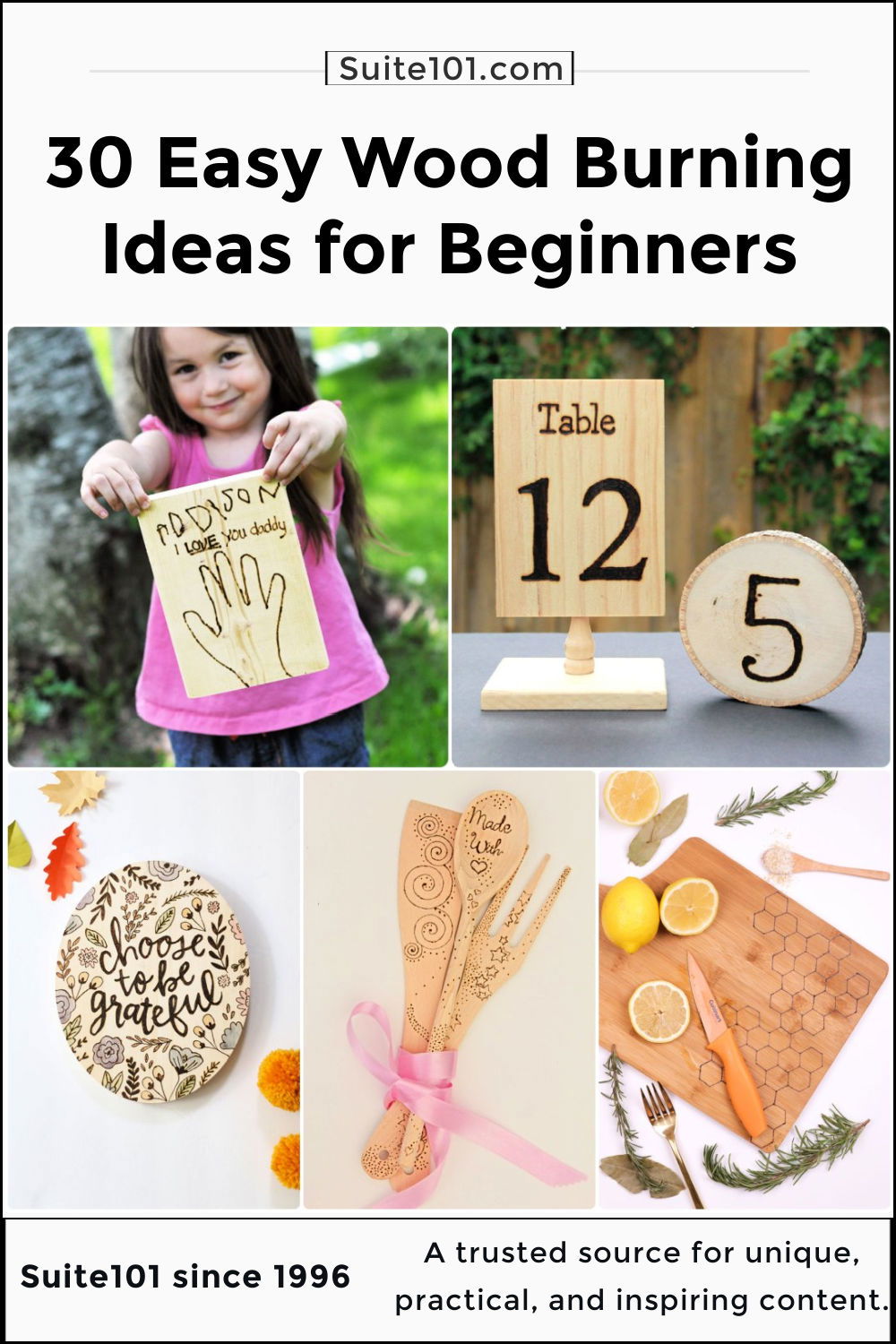 Once you have prepared your tools and materials, you can begin your wood burning project. To create appealing wood burning art, it's essential to prepare the wood's surface by sanding it smoothly and wiping it clean. After transferring the pattern onto the wood with a pencil or carbon paper, select the appropriate tip and heat set to burn the lines, shading, and texture. Consistent and steady strokes will help you follow the pattern and complete the design. If you desire, you can enhance your design by mixing vibrant colors using paints or colored pencils.
Let's get inspired with these creative wood burning ideas and techniques that will help you turn basic pieces of wood into masterpieces of art.
1. Wood Burned Father's Day Card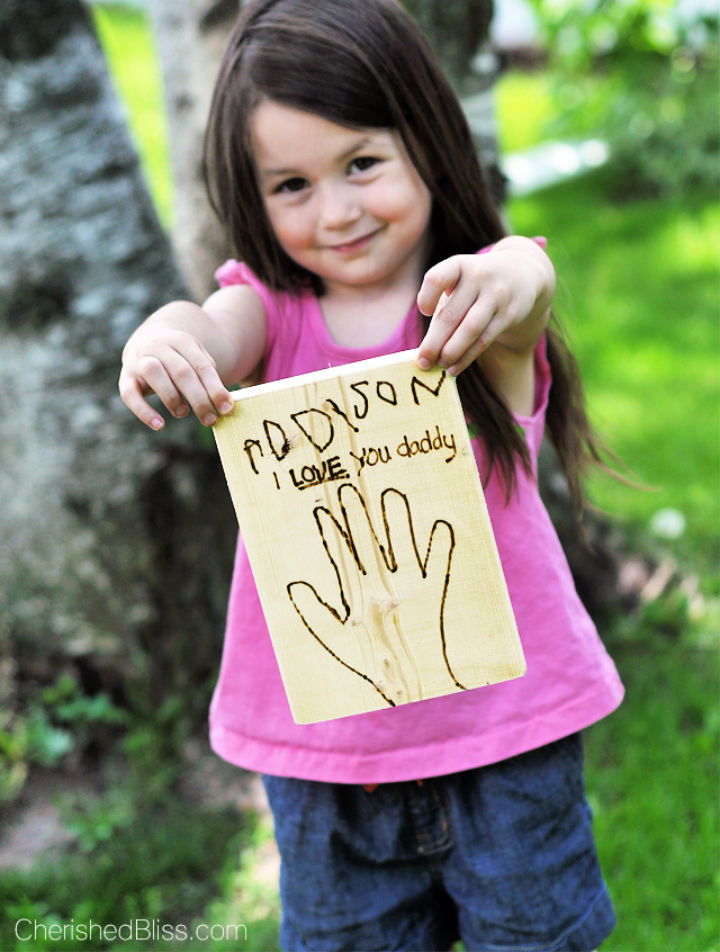 With so many incredible woodburning ideas available, you will surely love this unique style! Father's day is almost here, and you will love to make this wood-burned father's day card. Include your kids in this fun craft, and your man will love to receive this hand-crafted gift from the hands-on cute little kids. It's a perfect gift that any man will love to display in his office as wall decor or table decor. The best part? It will last for a long time. The things you will need to make this one are wood pieces, a wood-burning tool, and your cute kids. cherishedbliss
2. Wood Burned Bottle Stoppers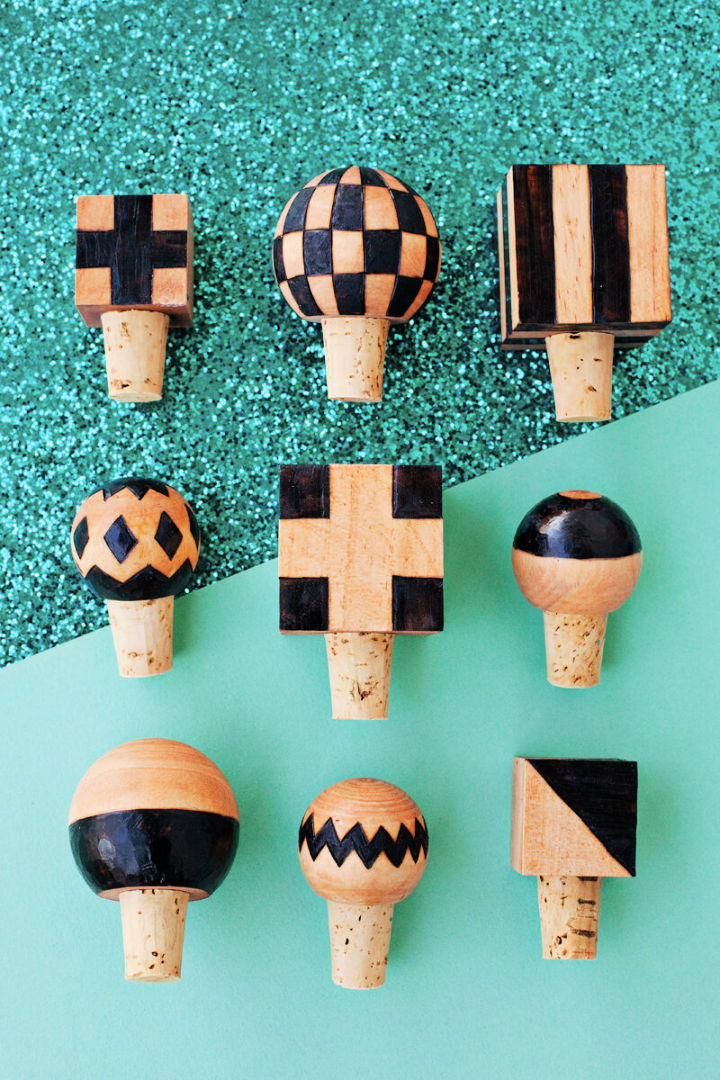 If you love the look of well-designed alcohol bottles, you have these wood-burned bottle stoppers DIY to give them a personal touch. You can dress up the collection of your wine bottles with these coordinating bottle stoppers that are pretty easy to make without causing any load on your pockets. The benefit of creating your stoppers is to achieve the cohesion style you desperately want. Once you have made them, you will love the look and burning smell of wood. Supplies are a wood block or knob, a cork, super glue, wood finish of your choice, a pencil, and wood burning tool. abeautifulmess
3. DIY Birch Vases for Beginners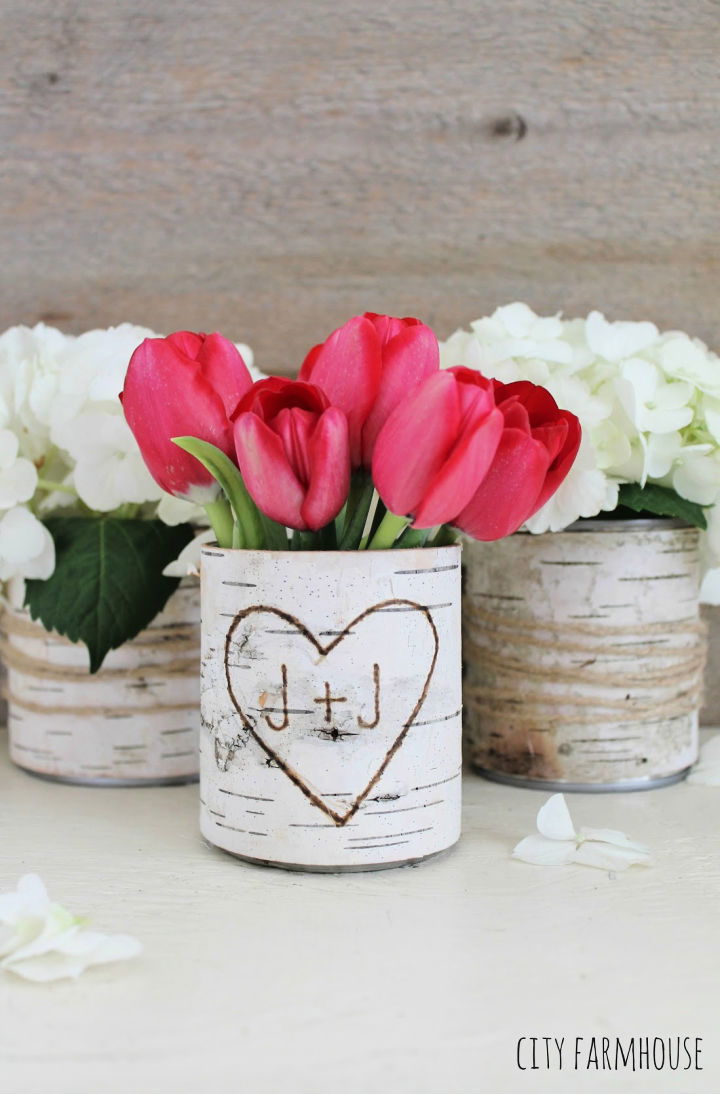 Unleash your inner artist with a range of fun and impressive wood burning ideas that will wow friends and family!These DIY birch vases are perfect for displaying spring and summer decor in your home. On the other hand, they make a perfect craft to tackle in your outdoors when the weather is a little warm. Use the birch strips and wrap them around your old tin cans. With the help of wood-burning tools, you can make any sign or letter on the gorgeous vases. Add a little length of twine to give them a bit of rustic charm. The complete list of materials includes birch bark, twine, tin cans, a glue gun, glue sticks, and a wood-burning pen. cityfarmhouse
4. Cool Wood Burning Slice Coasters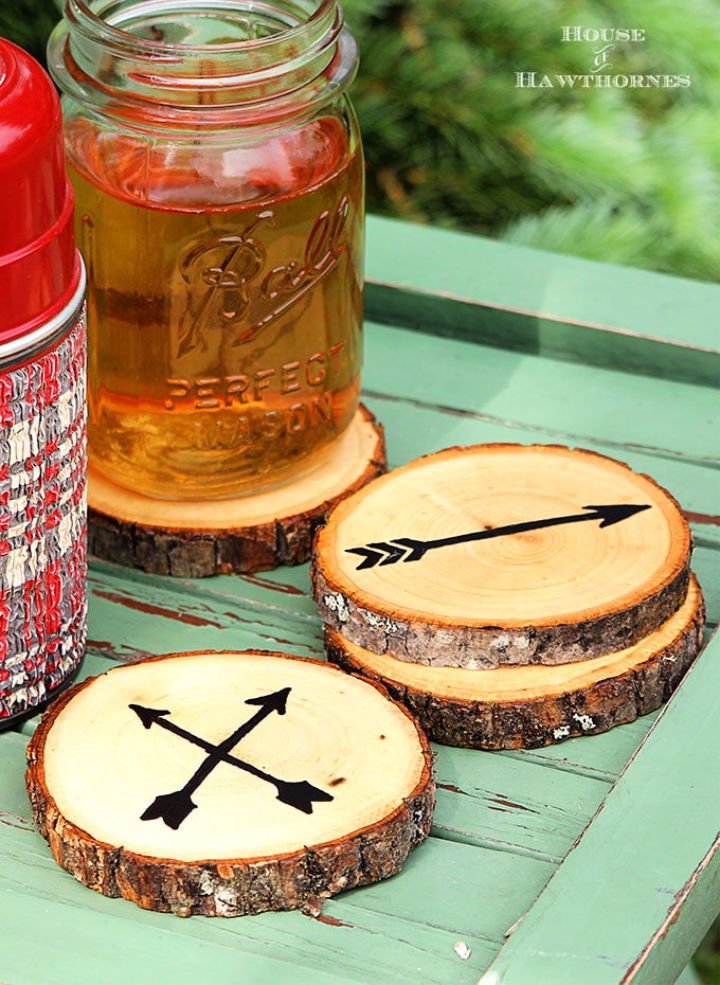 Here is the easiest way of creating wood slice coasters. This whole project seems to use the wood-burning technique, but you don't even need the wood-burning tools to achieve these amazing coasters. This project will take a couple of minutes to make just by using craft store wood slices and a few craft supplies you already have in your room. Once you use them on your table or at your bedside table to protect the surface. Wood slices, sharpie ultra fine precision marker, polyurethane, paper and a pencil. houseofhawt
5. Wood Burned Mandala Art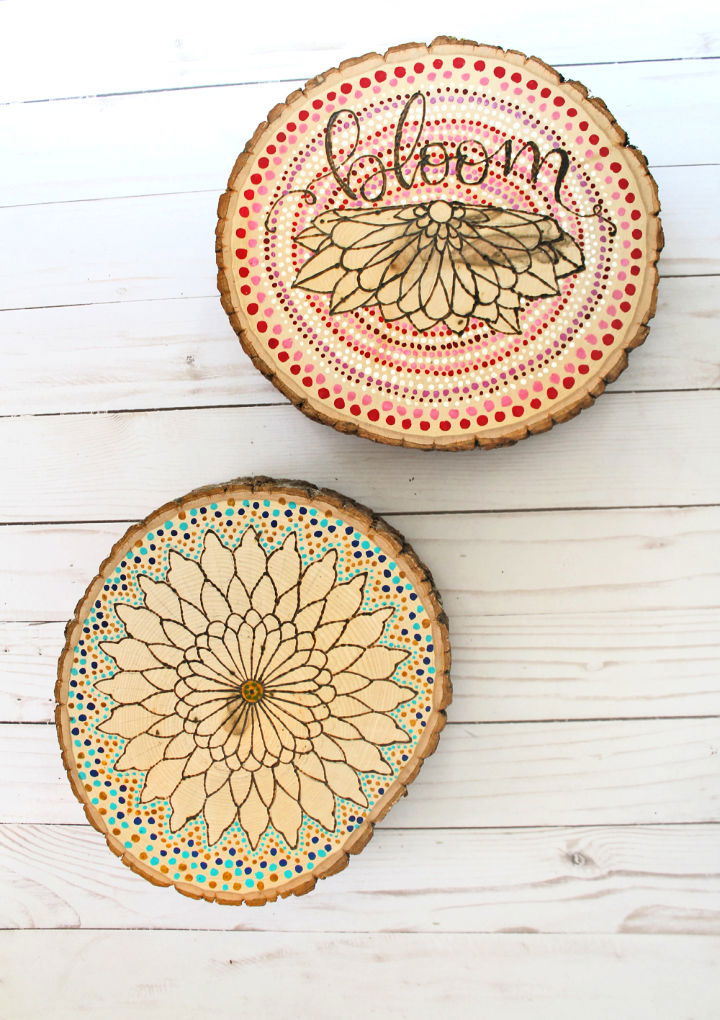 One of the best things about wood-burning projects is that you can easily add personalization. This wood-burned mandala-inspired art is simple to create and adds rustic charm to your indoor decor. On a basswood round wooden slice, you can easily make any art your desire. Once you have made the gorgeous mandala art on the wood, display them on your mantle or your shelves for a great result. Supplies are basswood country rounds, creative versa-tool, DecoArt paint, Tombow sand eraser, a small paint brush, paint palette paper, polar graph paper, transfer paper, and a pencil. studiokatie
6. DIY Traceable Wood Burned Photo Frames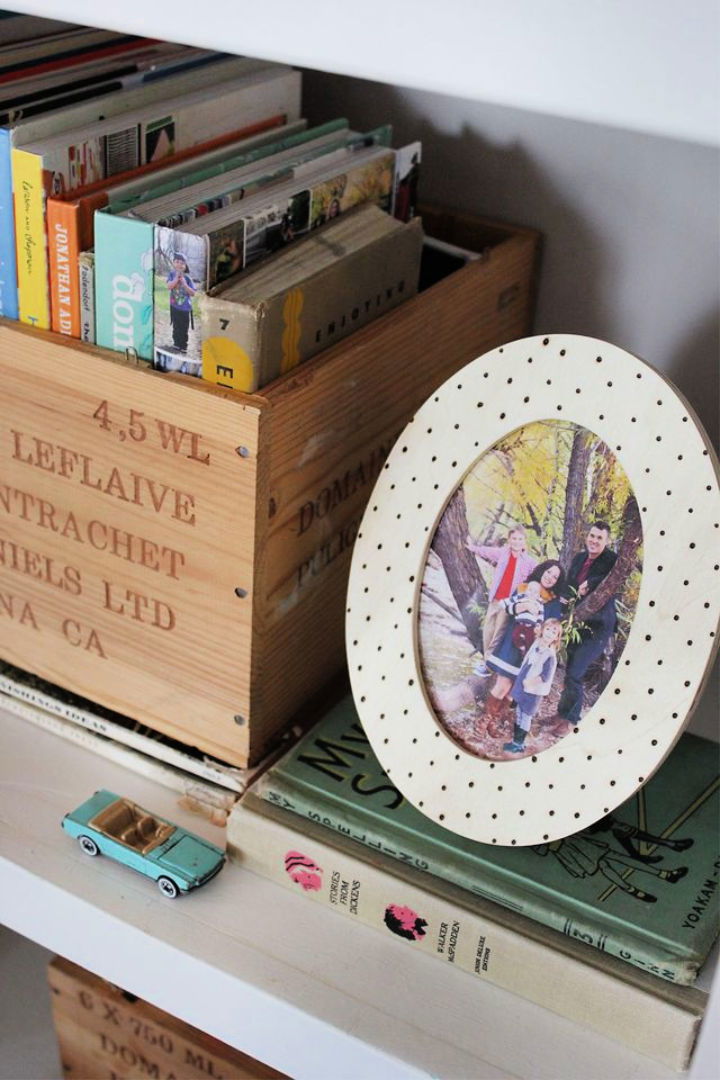 Combine a rustic craft with a modern design with this simple yet stunning wood-burned photo frame DIY. Not only is this a perfect way to satisfy your craving for large photo frames for your gallery wall, but it also costs you nothing when you create the photo frames with your own two hands. Besides this, you can attach them to an empty wall to make a perfect wall decor on the cheap. You will need to grab natural wood frames from a local store, a wood-burning tool, pliers, a metal ruler, and a pencil. abeautifulmess
7. Wood Burning Squirrel with Stand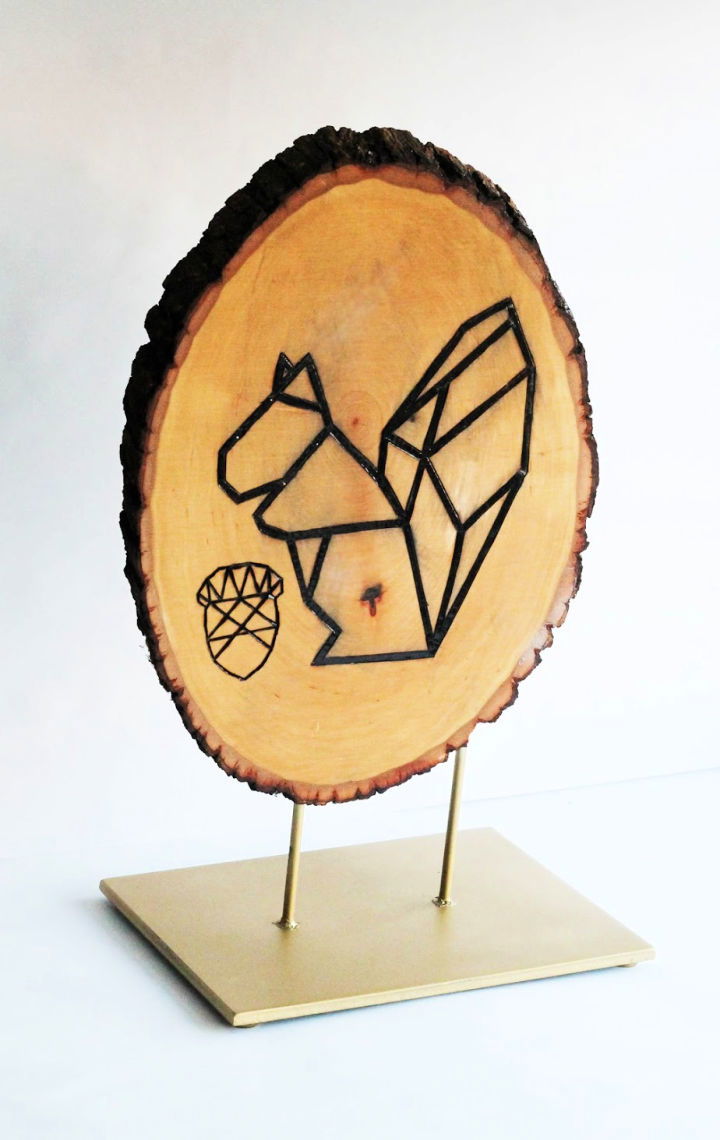 Looking for a perfect DIY to add rustic decor to your space? This wood squirrel stand will be a great option if your answer is yes. You can decorate a wood slice by creating wood burns in the squirrel shape. This project is easy to tackle and can easily be customized in any shape. Once your wood slice is ready with your desired animal shape, use a simple stand to display it on your mantle or desk. Check out the complete list of items you need and straightforward instructions here! wellmadeheart
8. Handmade Wood-burned Sign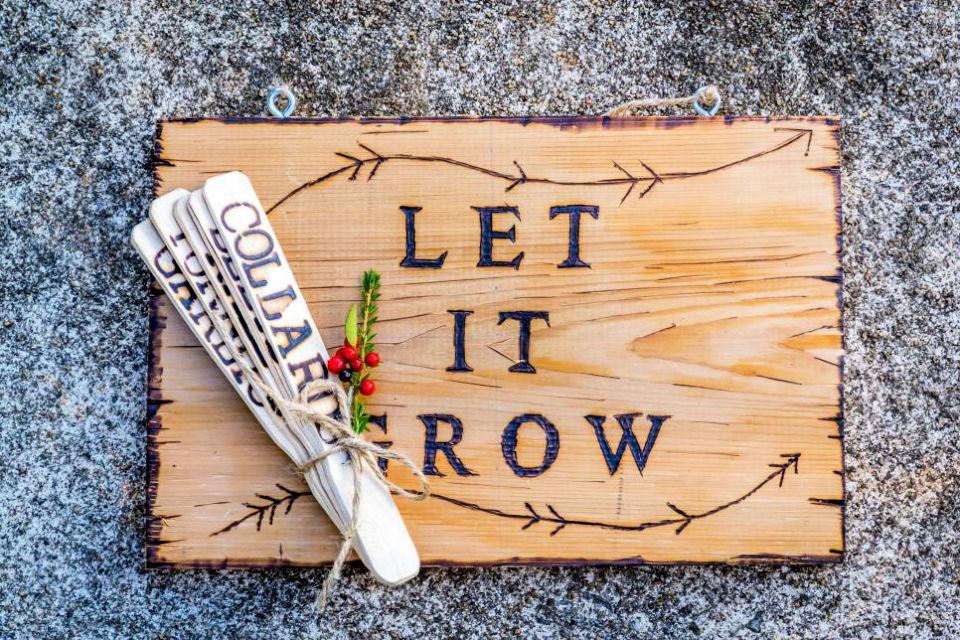 Take your woodworking skills to the next level with these inspiring wood burning ideas. Add a little pizzazz to your garden using this handmade wood-burned sign. It would be a great personalized gift for any garden lover you know or use for your garden. The project is simple, but it takes time to make a focal point in your garden. You can even use the wood-burning hack to label your garden plants while staying on your budget. You will need a wooden board, large popsicle sticks or wood shims, a wood-burning tool, metal stamps, a ruler, a pencil, and a printed template. hgtv
9. DIY Wedding Table Numbers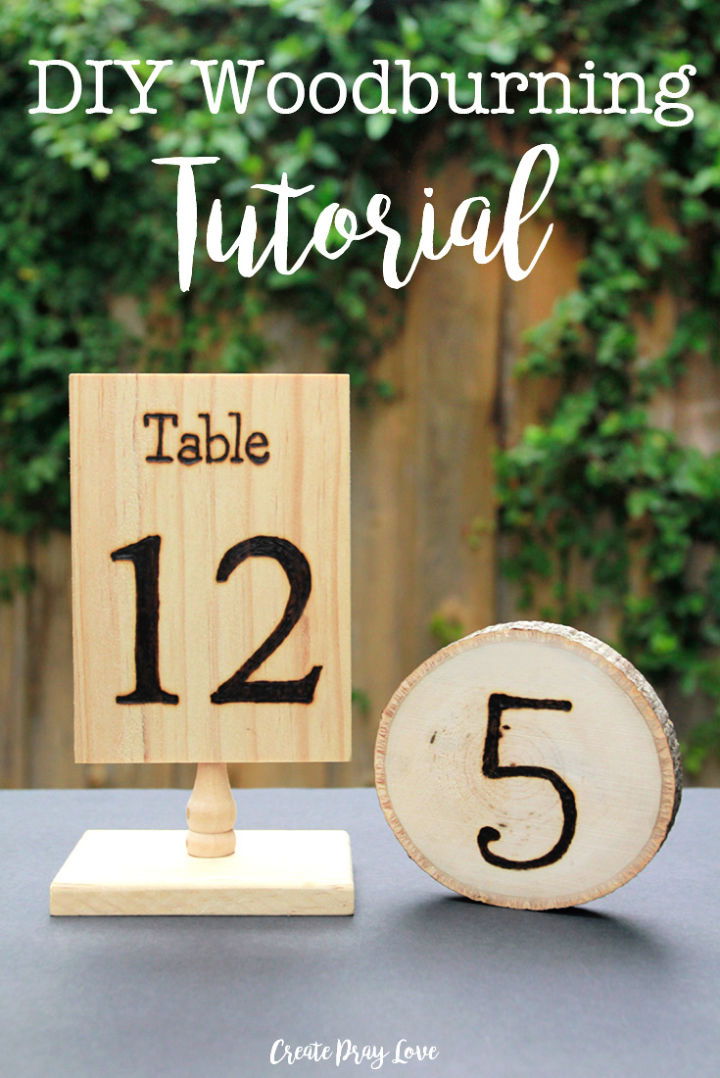 If you have a wedding to plan, how about these wood wedding table numbers DIY? It's a great way to add a rustic number to every table. Not only is this a perfect project to make any wedding special, but you can also use the wood-burning technique to create stunning home decor. Are you ready to tackle this project? Grab the things you will need. Like wood burning tool kit, fine sandpaper, graphite paper, a printer, a pencil or pen, scissors, wood rounds or wooden plaque, scotch tape, wood stain, and a paintbrush. createpraylove
10. Homemade Wood Burned Coasters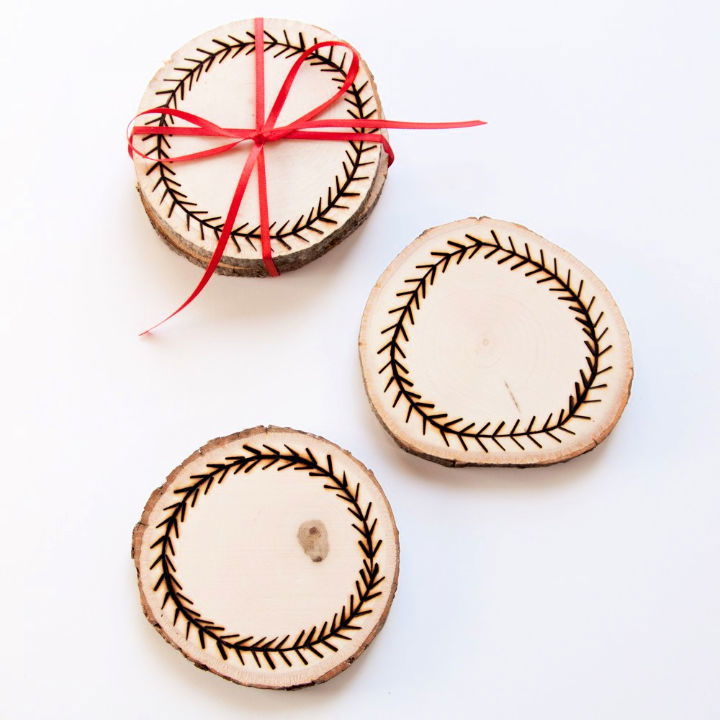 Every beer, coffee and tea drinker needs a coaster to protect the surface of glass tables from stains. That's why we have brought you these amazing wood-burned coasters. There are tons of designs available in the market, but making your own will help you to personalize them for your liking. These handmade wood-burned coasters have that homey, rustic charm everyone is looking for during the holiday season. The supplies needed are a wood-burning tool or a soldering iron, wood rounds, and ribbon if you want to make them a beautiful gift. thesassylife
11. Wood Burning Stencil's Mandala Tray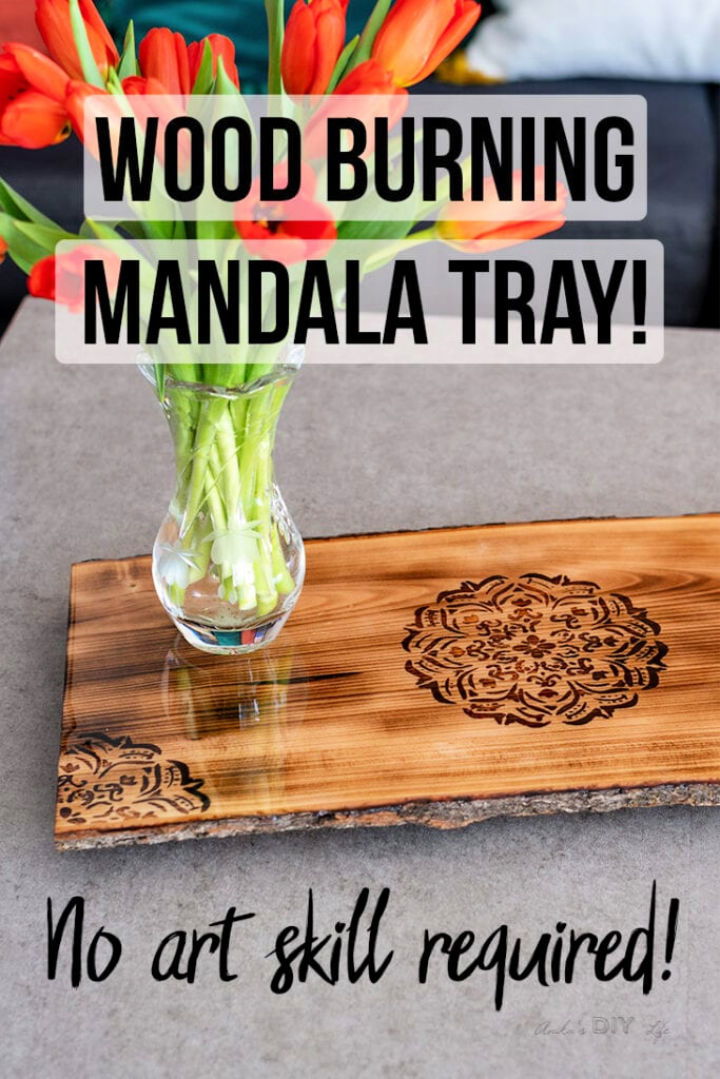 Want to use the heat-sensitive marker in a project? If yes, then this wood-burning Mandala tray would be a perfect project for you. This project is simple and quick to make, but it also looks gorgeous when you serve the guests food in this hand-crafted tray. You can make any art you wish; this project will take a few hours. No art skills you need to make this gorgeous tray on the cheap. A tray, stencil of your choice, a heat-sensitive marker, a sanding sponge, tack cloth, a heat shrink torch, bernzomatic propane and butane cylinder, a detail torch, a brad nailer, finish nails, tabletop epoxy, mixing cups, stir sticks, and gloves. anikasdiylife
12. DIY Wood-burned Utensils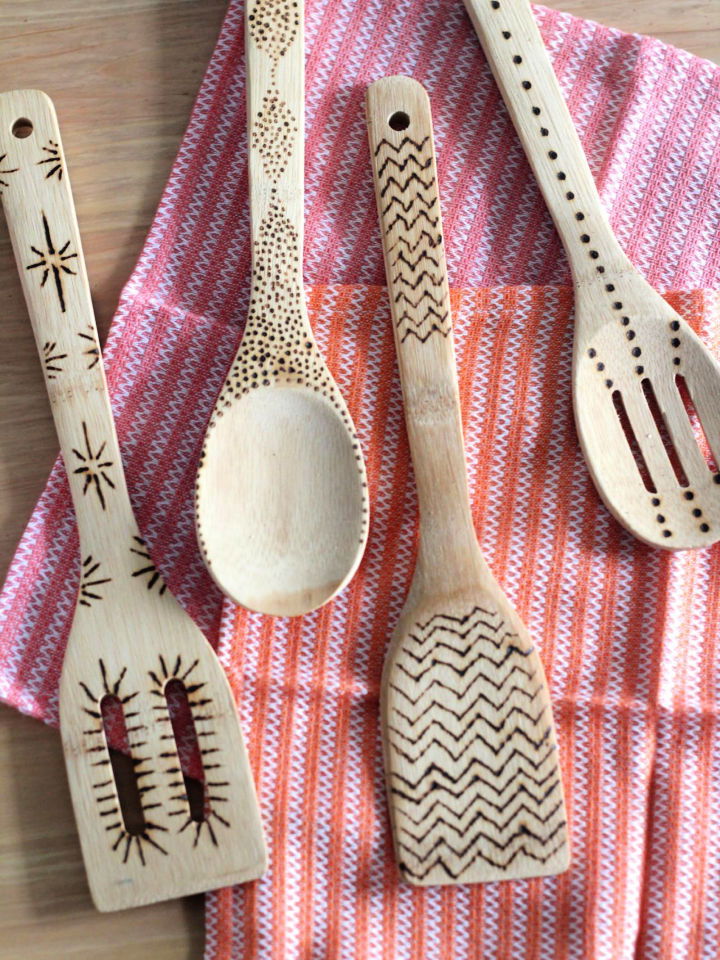 Create one-of-a-kind designs on your bamboo kitchen tools with these DIY wood-burned utensils. This is perfect for dressing up your kitchen things for a special gathering or sharpening your wood-burned skills. The design won't wash off and look gorgeous with age. If you are ready to upgrade your kitchen utensils in the afternoon, Gather the things you need for this project. Like bamboo kitchen tools, a wood-burning kit, and a pencil. Check out the list of straightforward instructions here! hgtv
13. Wood-burned Cutting Board Template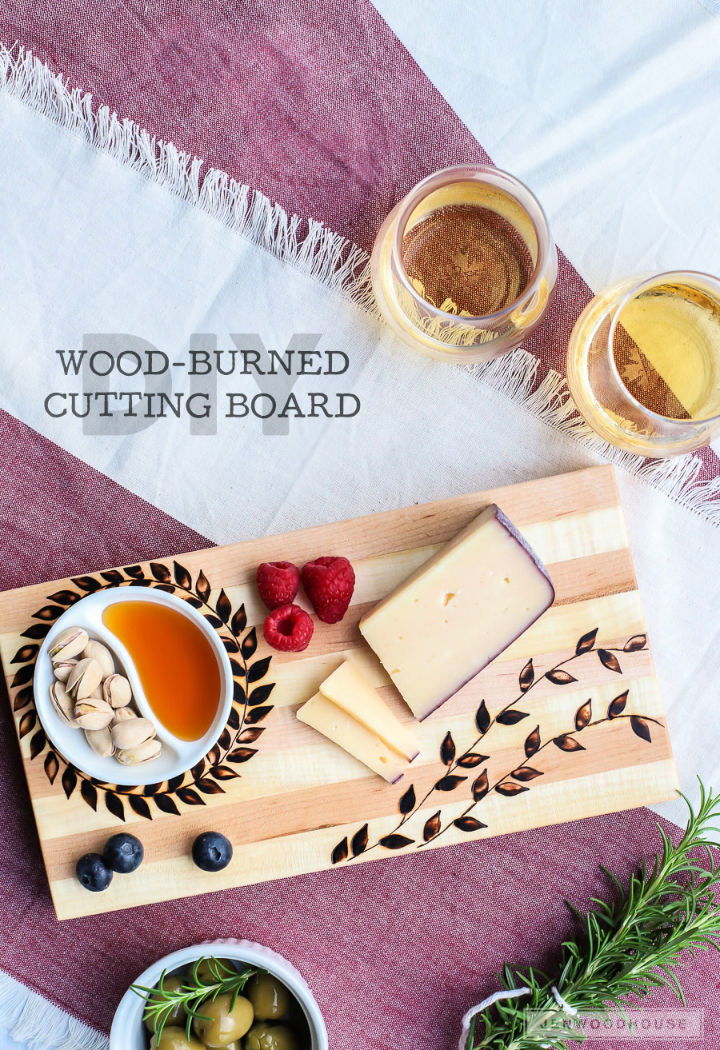 Mother's day is approaching very fast, and this wood-burned cutting board would be a great gift that you can do yourself. A wood burn design on this cutting board makes it look rustic and makes your favorite lady feel special. On the other hand, this DIY makes a perfect gift for the hostess or any foodie in your life. For this simple project to tackle, roll up your shirt sleeves. You will need a wood-burning set, special wood-burning tips, an unfinished cutting board, and mineral oil. jenwoodhouse
14. DIY Wood Burned Spoons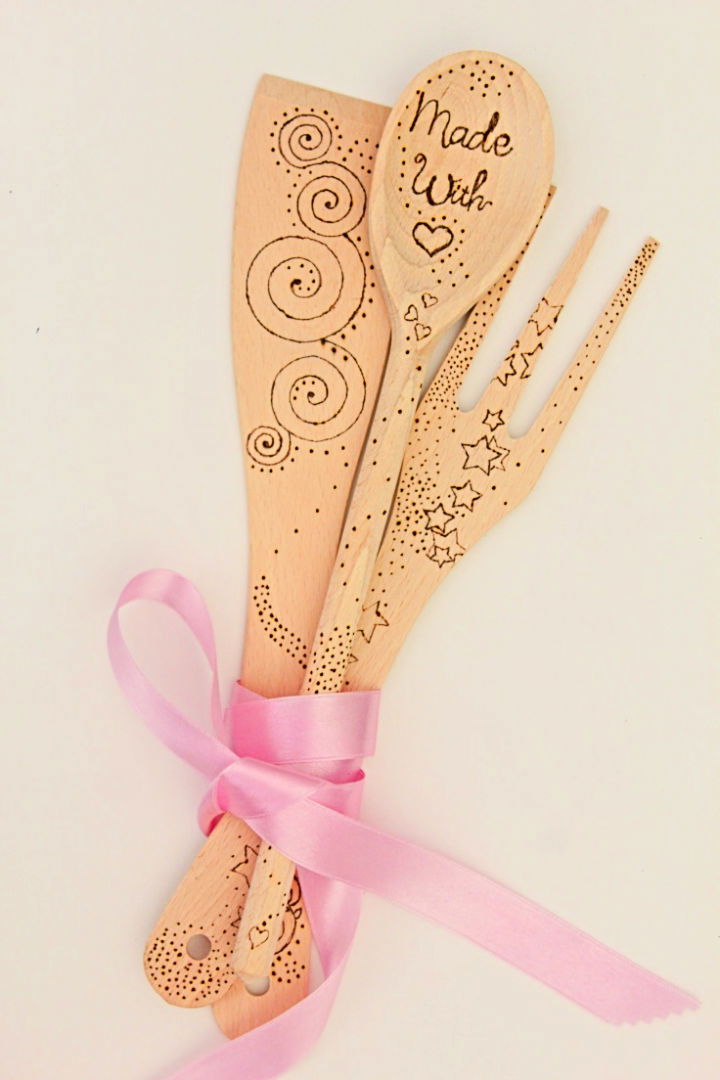 Burning wood is such an addictive way to create personalized things at home. This time, we have to make these wood-burned spoons. You can use the store-bought designs or create your wood-burning pattern to make the decorative spoons a perfect gift for anyone you love. Besides this, they look gorgeous when you display a bunch of them in your kitchen. Materials required are wooden kitchen spoons, wood-burning designs, a wood-burning tool, a holder for safely storing your burning tool, pliers, a sanding block, and coconut oil. theseamanmom
15. Henna and Wood Burned Pumpkins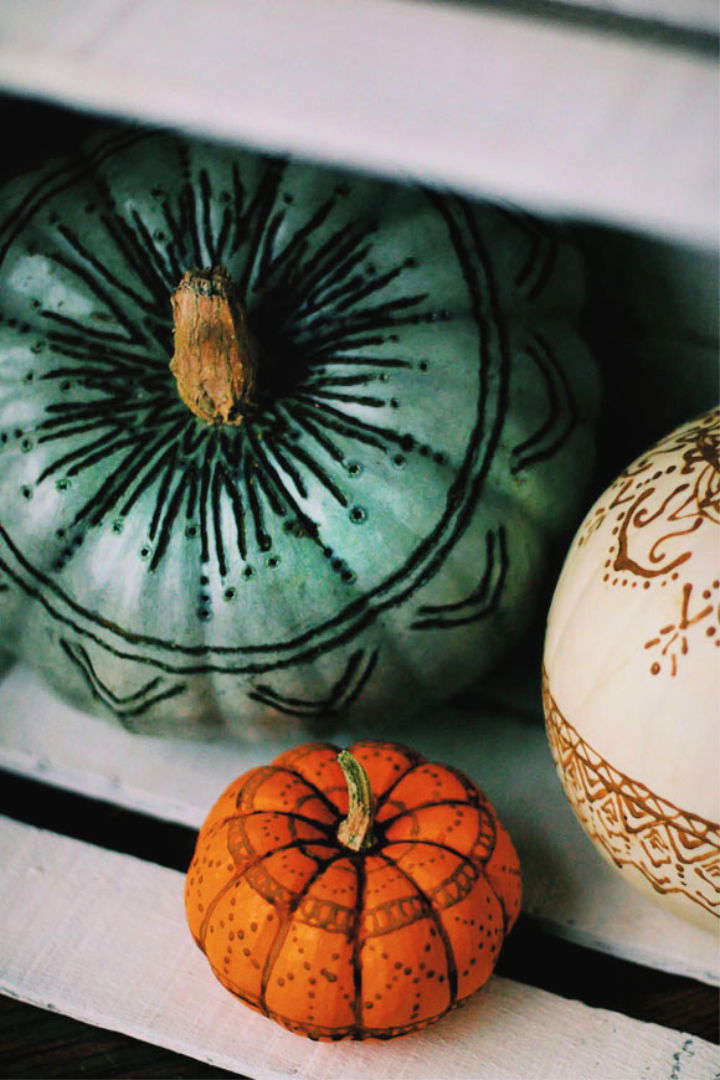 It's always fun to devise a new DIY to decorate your home for the fall. Here are these Henna and wood burned pumpkins designs to try something different this year. You can easily achieve this fun twist on holiday pumpkins with a few easy-to-find things. Once you have made your desired pattern on the pumpkins, display them on your mantle or use them as a centerpiece on your table. The complete list of supplies includes pumpkins in various colors and sizes, a wood burner, some henna, and around an hour. freepeople
16. DIY Wood Burned Clock

For those who love to create nothing from something to add a statement to their lives, this DIY wood-burned clock is just a delicious treat. Just look at the rustic look of the hand-craft clock with a wood-burned leafy vine. The process is easier than you think and will cost you nothing to make a high-end clock in your home. The things you will need to make this gorgeous clock are one medium basswood round, clock works, a wood-burning tool, chalky finish paint, paint brushes, and spray paint. diybeautify
17. Honeycomb Wood Burned Cutting Board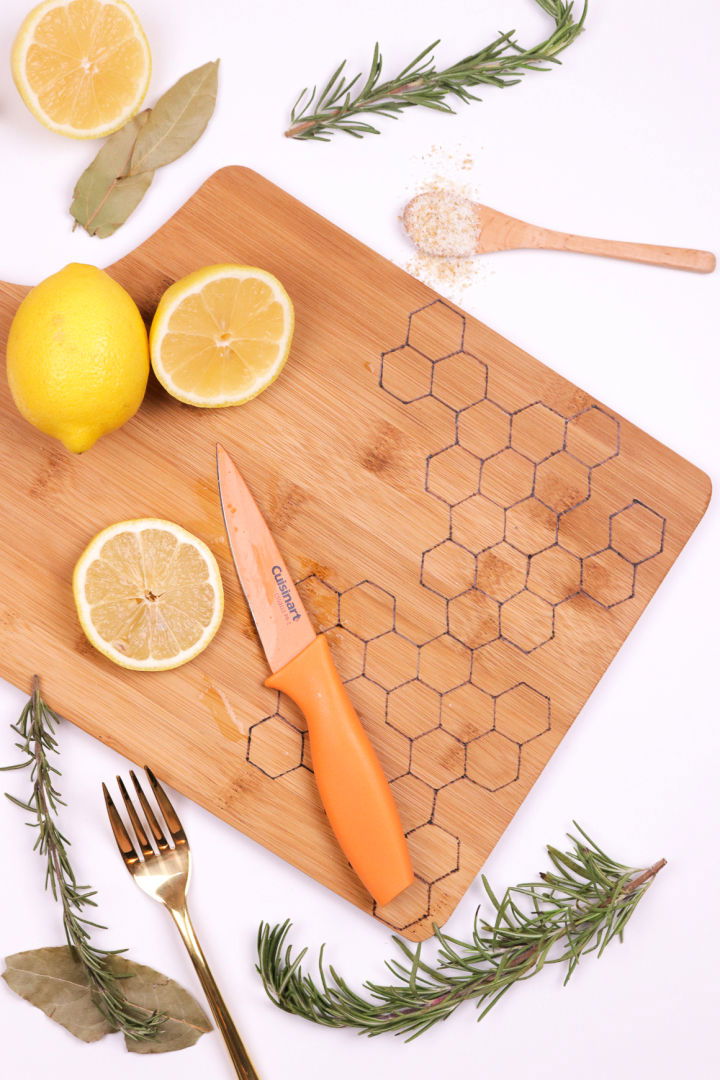 Create beautiful artwork using simple wood burning techniques and express your creativity! You don't need to be a pro of wood burning technique to make this stylish honeycomb wood-burned cutting board. This great way to add style to your cutting board without using expensive supplies and tools. And if you are anything like us, you will love to click the photos of chopping veggies and fruits with this cutting board in the background. The best part? It would be a great gift for any food lover around you. Supplies are a standard cutting board, a wood burner with a pointed tip, a pencil, and a one-inch hexagon stencil. clubcrafted
18. Wood Burning photo Frame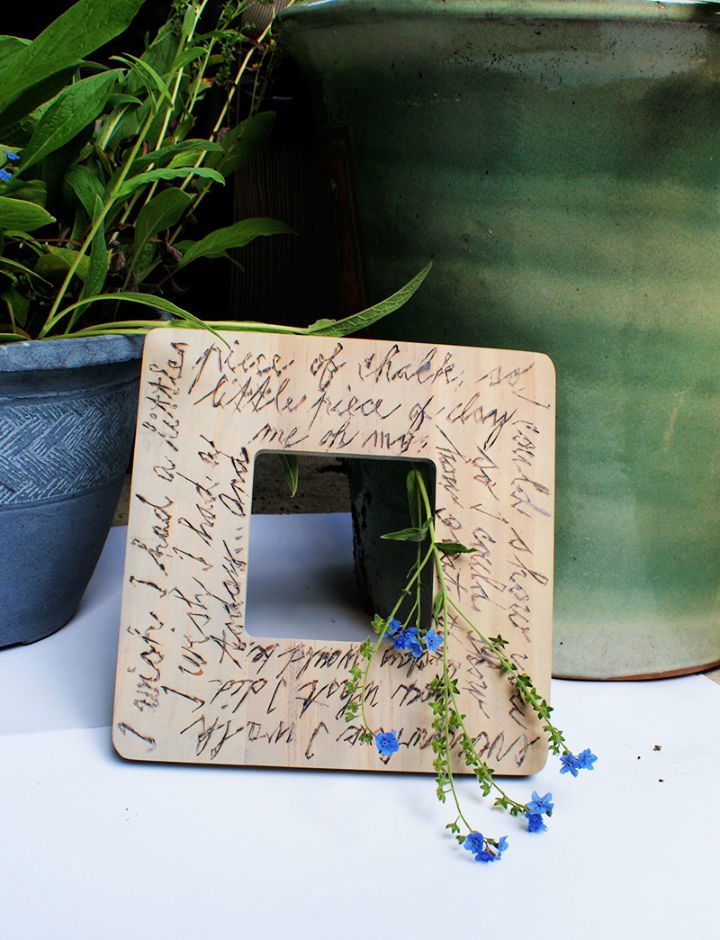 Take the lyrics of your favorite song and turn them into a fun project with this wood-burning photo frame DIY. If you haven't tried a burning tool yet, you must have to give it a go. This handmade square wood frame will bring rustic charm to your side table or mantle. This would be a gorgeous inexpensive gift with a favorite photo of anyone you love. A wood frame, a ruler, a pencil, a wood burning tool, a stain of your choice, a brush, rags, and sandpaper are the basic supplies you will need. bohemianmint
19. Wood Slice Tree Design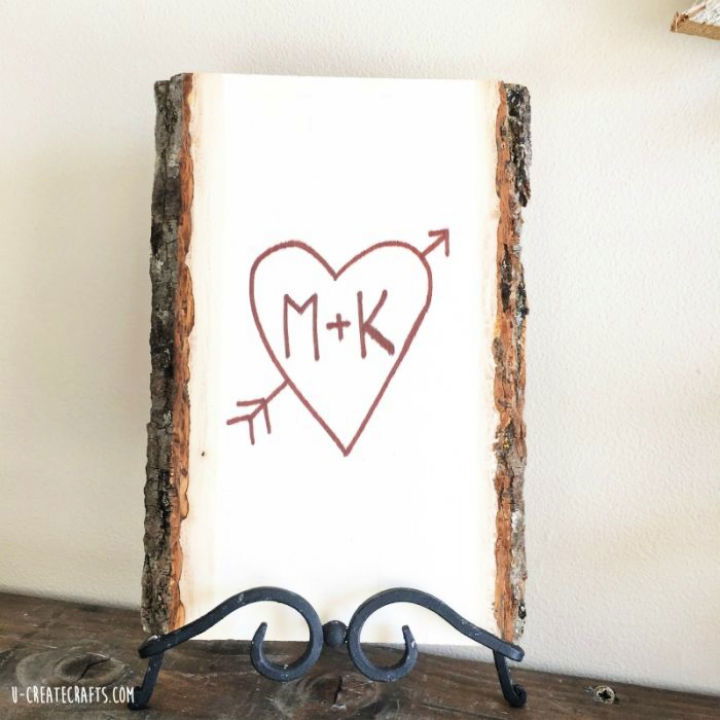 Since it's valentine's season, put your hands on this wood slice tree to make a stunning gift for your loved one. It creates a gorgeous effect like wood burning and costs nothing to make this high-end gift. On the other hand, you can make perfect decor with this on your valentine's mantle or use it all year round. If you are ready to tackle this rectangle shape wood slice tree project, get the supplies from your local craft store. Like a wood slice, a brown oil-based sharpie, a pencil, and an eraser. ucreatecrafts
20. Printable Wood Burned Picture Frame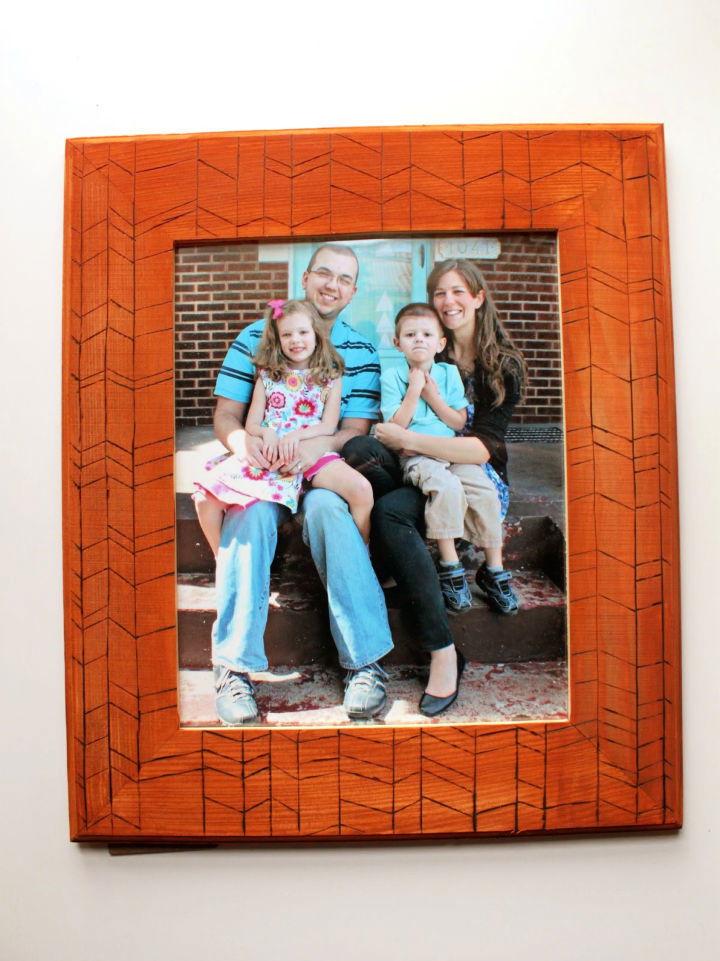 Took a wood burner and a wooden picture frame to make a great handmade gift for your friend or family member. This is a simple project that you can tackle to surprise your parents, who would have to look at this picture frame forever. Select any pattern to make on the wooden frame and just do it in the afternoon with a little care. The essentials you need are a wood-burning tool, an unfinished wooden picture frame, a photo, wood stain or paint, a pencil, a ruler, scrap wood, and sealant. eatsleepmake
21. DIY Wood-burned Spoons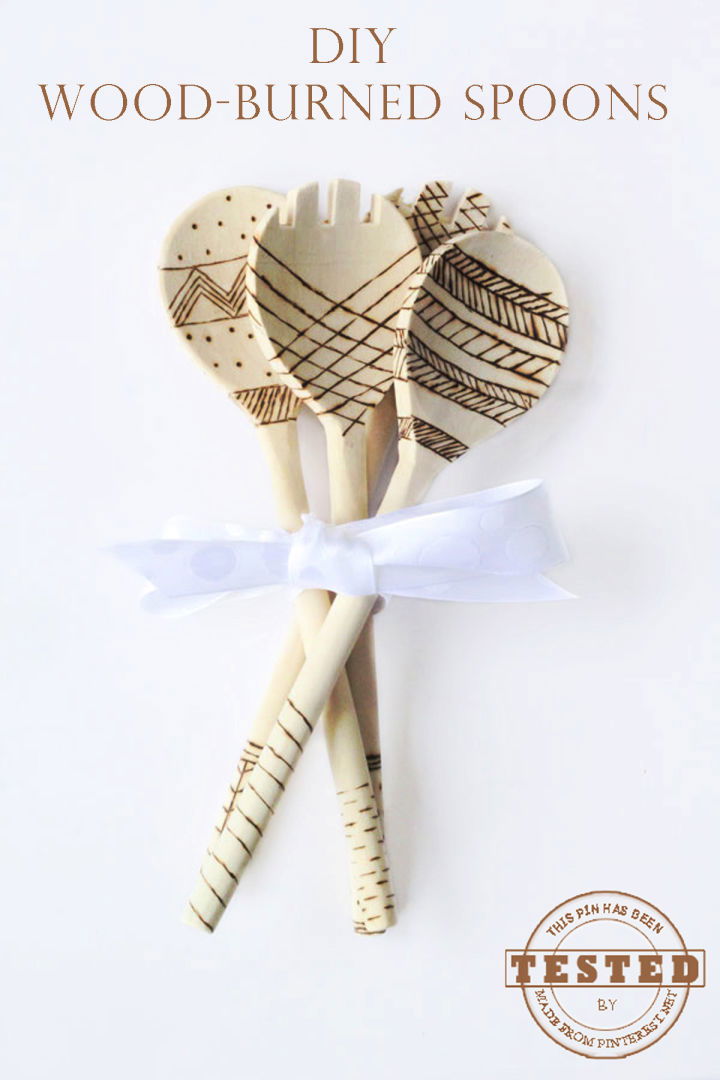 If you have any kitchen lover around, this DIY wood-burned spoons is a perfect DIY to make a handmade gift for him. Not only is this a simple project that anybody can tackle, but it is also inexpensive, which makes it the coolest gift. Moreover, you can display a bunch of these spoons in your kitchen, and your guests will appreciate your craft. The items you will need to pick are a wood-burning kit and spoons from your kitchen. Grab the details about the whole project here! thisgrandmais
22. Wood Burned Roasting Sticks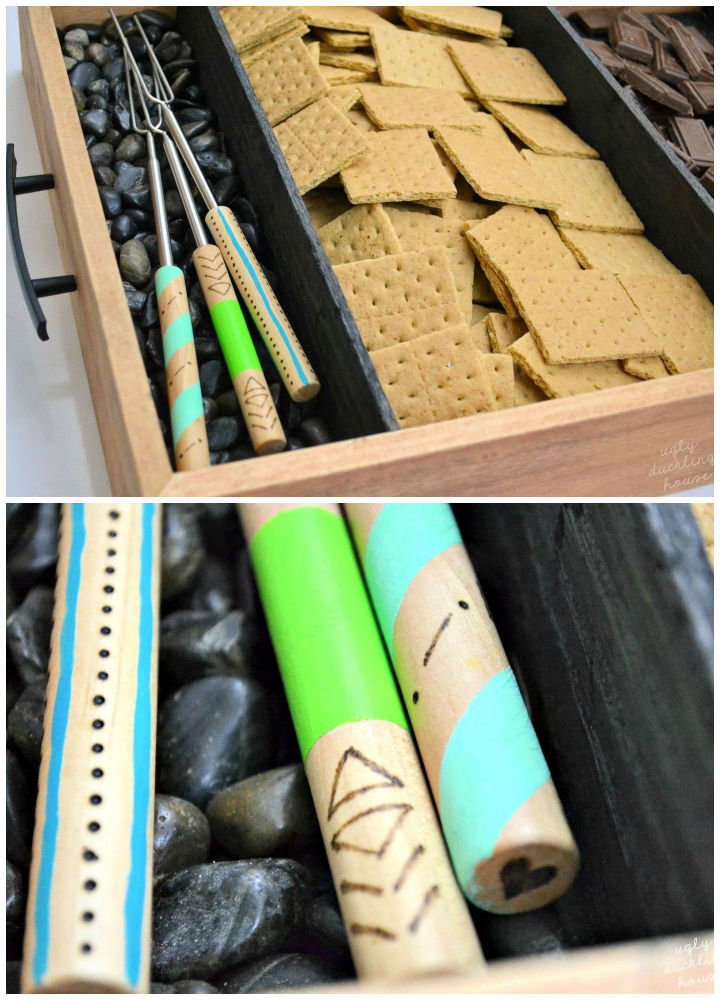 Give your simple roasting sticks a little update with this wood-burned roasting sticks DIY. They look great around your fire pit and cost you just a few dollars. Without leaving the comfort of your couch, you can easily make any pattern of your choice on a bunch of roasting sticks. This is a great project to prepare your sticks for when you have to host an outdoor party in your backyard. The materials needed are butane, extendable roasting sticks, a brick, painter's tape, craft paint, a craft brush, and food safe finish. uglyduckling
23. DIY Fall Wood Burned Sign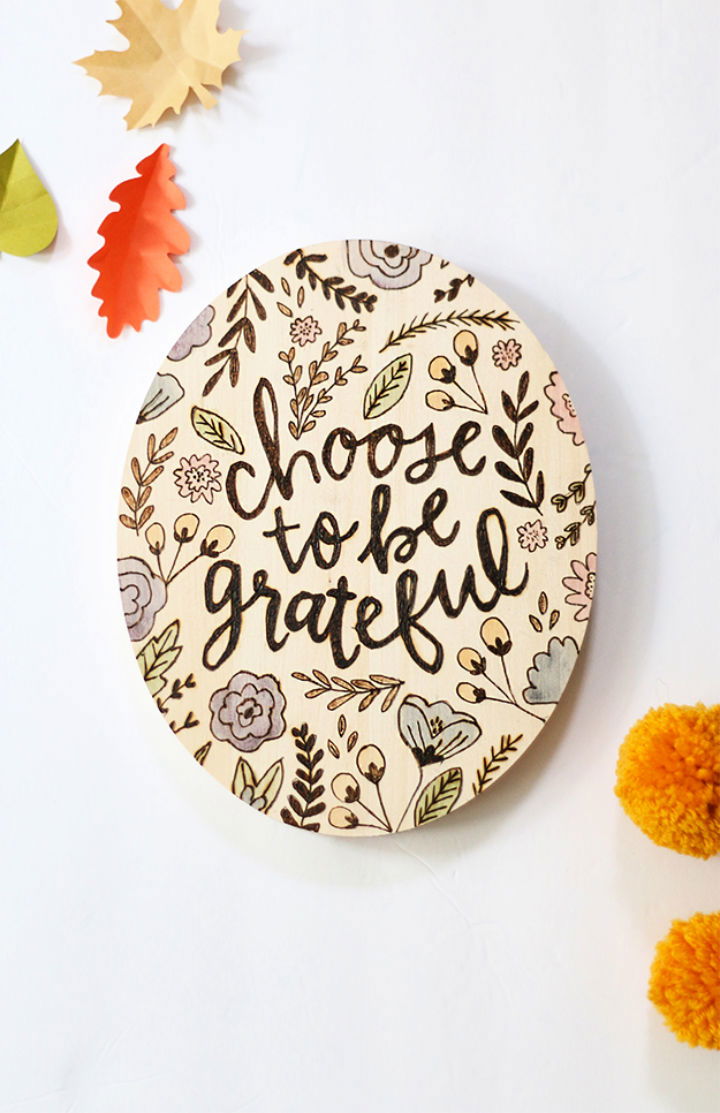 For avid DIYers, the change of season means tackling one more DIY. The fall is approaching, and you don't need to look further for a fall DIY. We have brought you this simple but gorgeous fall wood burned sign to display on your mantle, on your empty wall or at your front door to greet the guests. This project is very simple, and you can make your sign in just a few hours of work. You will need a large wood slice, paper, a pencil, a printer, a ruler, an eraser, colors, a wood-burning tool, and sandpaper. happiness
24. Interactive Wedding Guestbook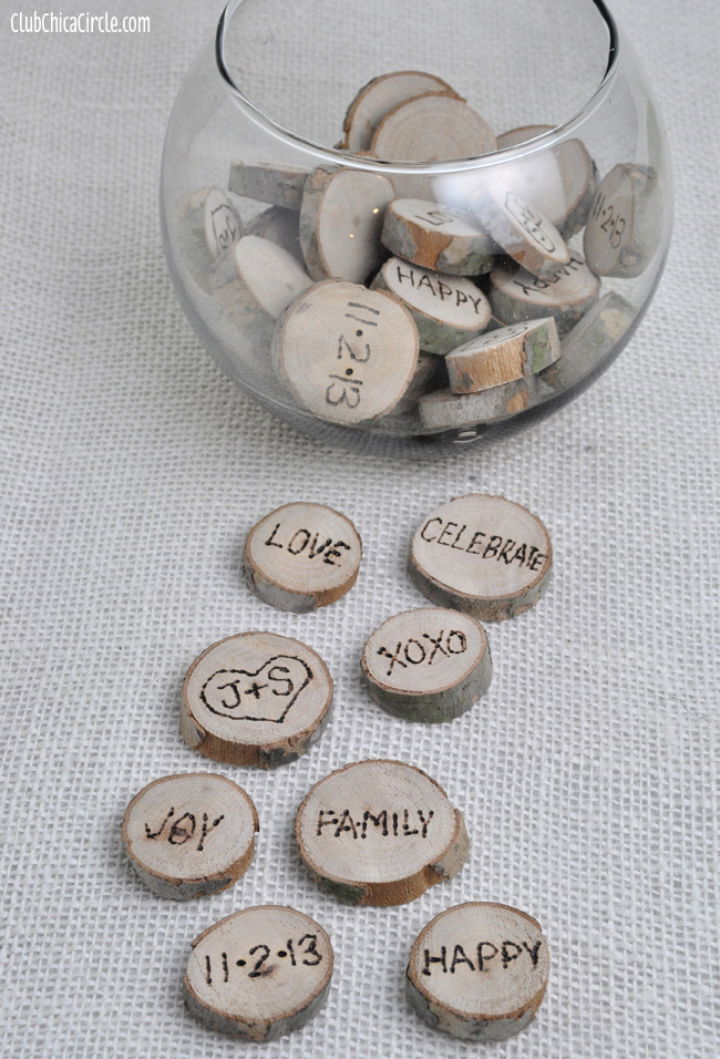 Looking for great wedding DIYs? If yes, you have this interactive wedding guestbook DIY to make your big day memorable. With a simple wood-burning tool and small wood pieces, this project will take just a little time. Write personal words and wishes on one side of the wood pieces and leave the other for guests to write a special note and sign. Put the wood pieces in a clear glass jar, ready to display at your wedding. You can check out the complete list of materials and straightforward directions here! chicacircle
25. Wood Burned Tabletop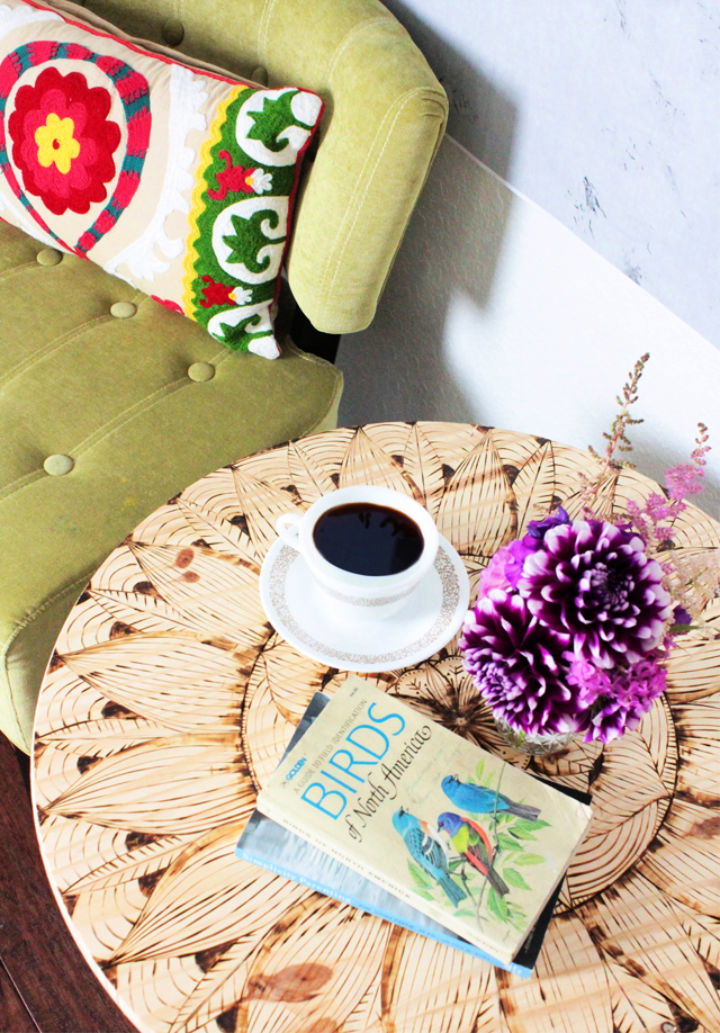 Do you have a round piece of wood in your garage? If yes, then transform it into a gorgeous wood-burned tabletop. This simple project is perfect for those who love wood-burning projects. You can select any pattern you want and make this on the wood round. Use this wood-burned piece of round wood as your side tabletop to add rustic beauty to your space. You will need round wood pieces, a ruler, a pencil, a compass, a wood hollow creative wood burner pen, and brackets to attach the tabletop to metal legs. alisaburke
26. DIY Wood Burned Frames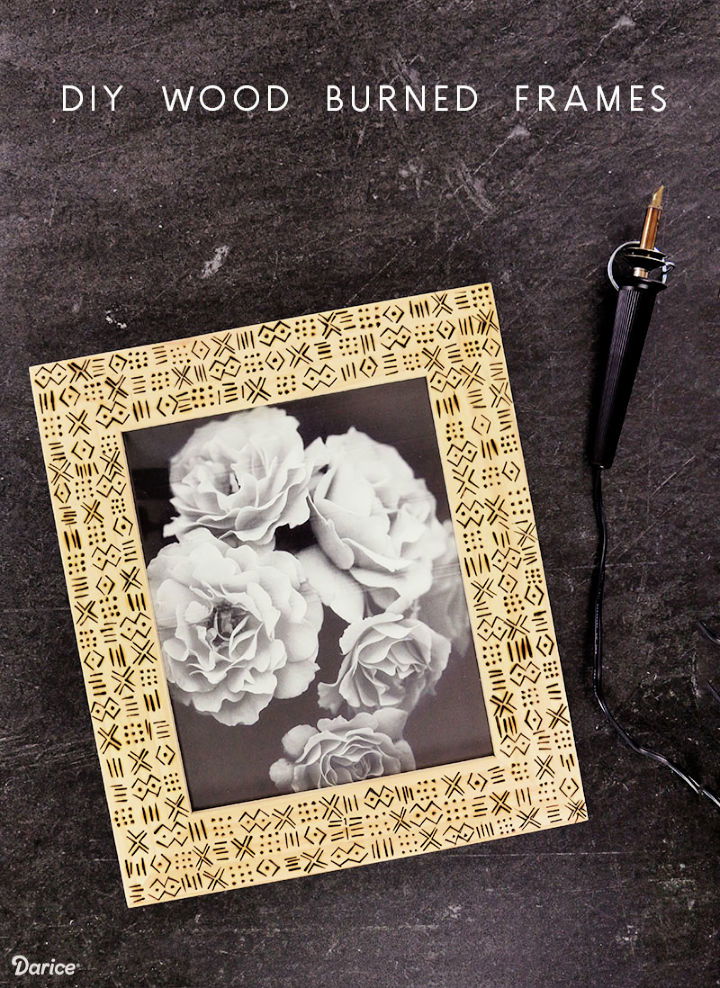 Wood burning is a great technique to transform wood items into gorgeous statement things. Wood burning is perfect and cost-effective, from home decor to great hand-crafted gifts. This DIY wood-burned frame DIY would make a fabulous gift with a recipient's picture. On the other hand, you can add family photos to display them on your mantle or at your room side table. Kids will love to make a picture frame for their grandparents with all the safety measures. Get the detailed plan here, along with the materials and step-by-step directions! darice
27. Wood Burned Spoons Tutorial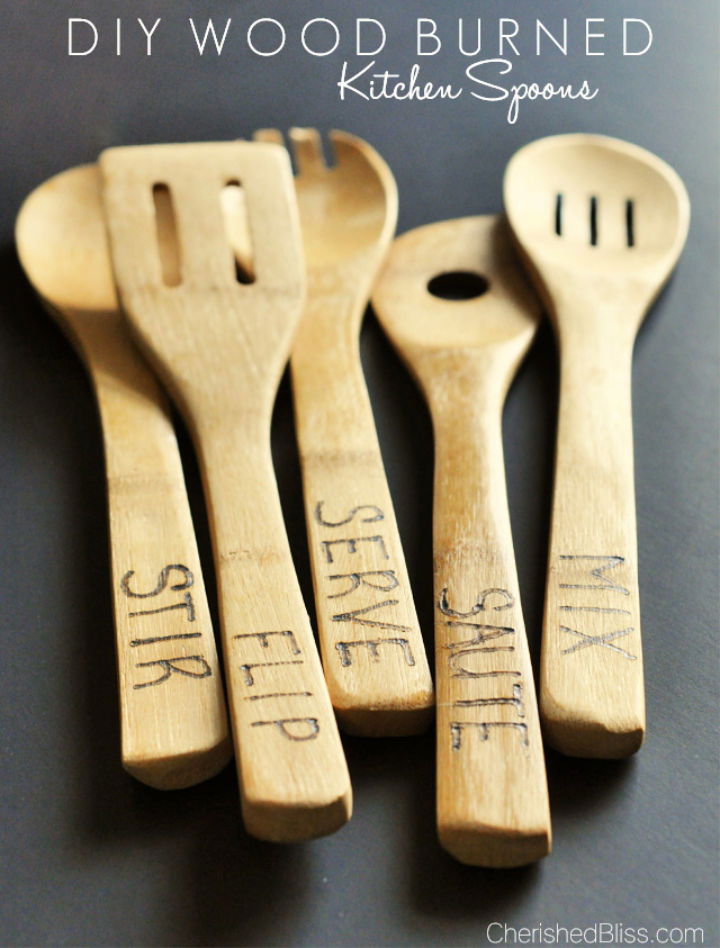 Impress your friends and family with stunning wooden decorations made through wood burning ideas. While there is raining outside, why not transform a bunch of your kitchen spoons into beautiful wood-burned spoons right in your home? This simple DIY will walk you through the process of creating wood-burned spoons step-by-step. Not only will these spoons make a perfect do-it-yourself gift, but they also look very nice in your kitchen. If you are ready to tackle this project, get a few things. Like a wood-burning tool, wooden spoons, and a pencil. Follow the plan here for complete details. cherishedbliss
28. DIY Wood Burning Chess Board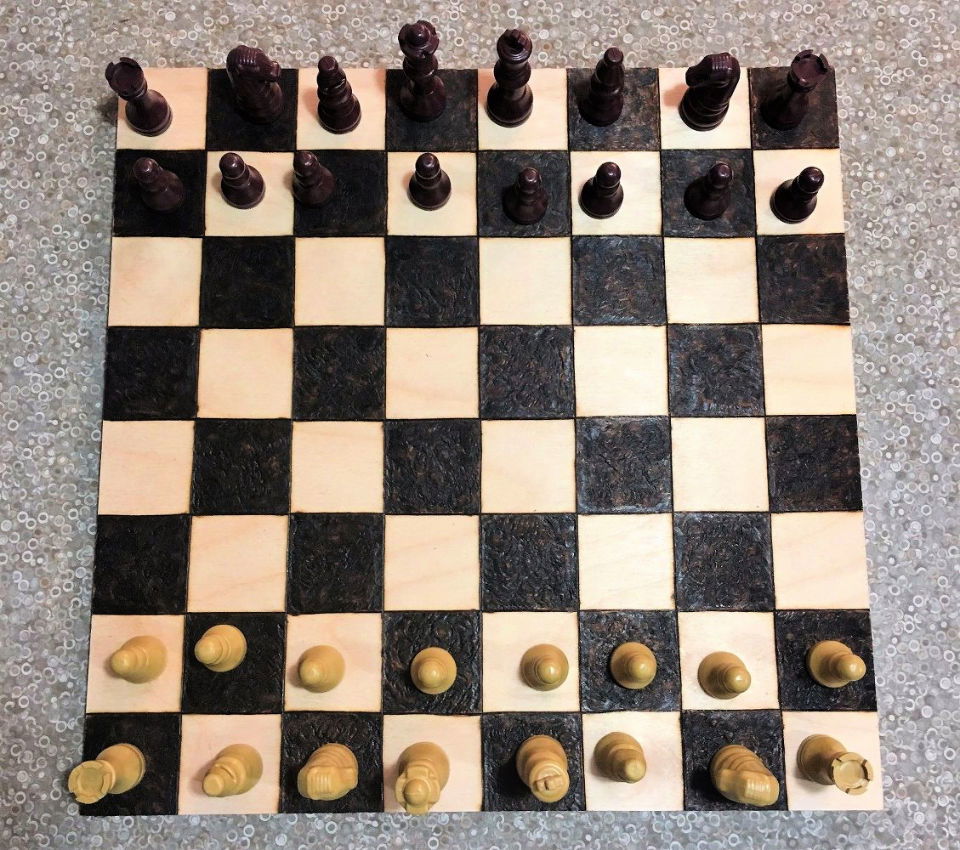 If you are a chess lover, this wood-burning chess board is a great way to personalize your chess at home. Rather than spending big bucks at store-bought ready-made chess, try to make your own this easy and inexpensive DIY. You already have most of the needed supplies in your home to complete this project in the afternoon. It would be a great gift for any chess lover around you. The list of supplies includes a square piece of wood, a ruler, a pencil, and a wood-burning tool kit. Keep reading the plan here for the complete list of directions! hometalk
29. Free Wood Burned Boxes Pattern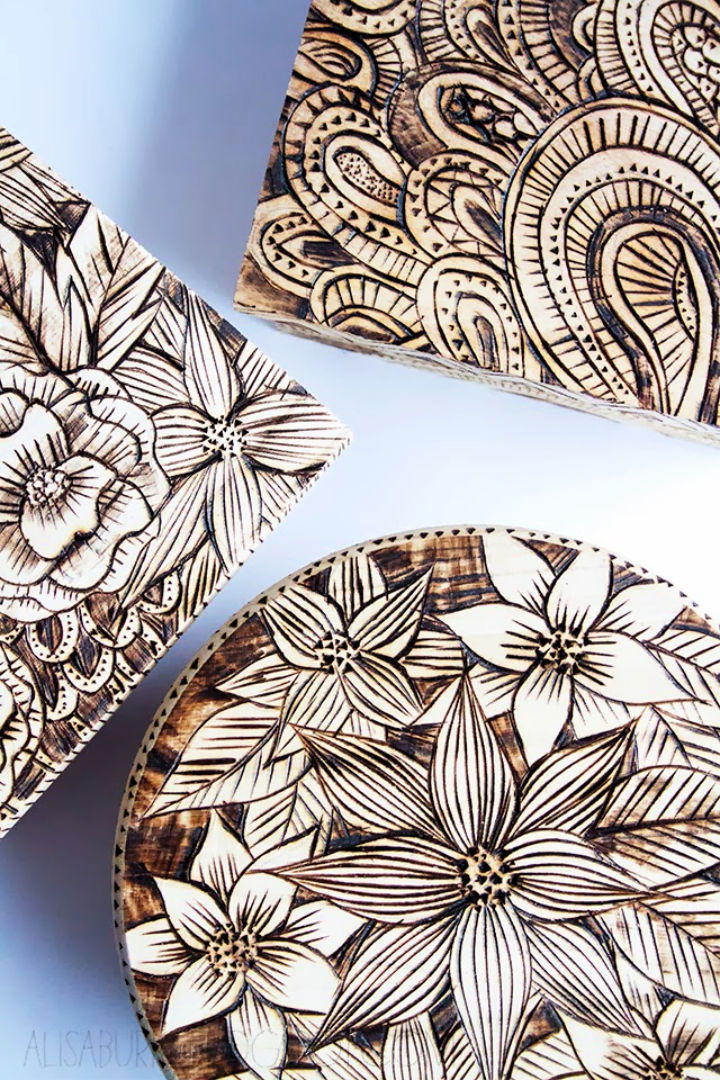 Incorporate wood burning technique into an easy but beautiful gift idea with these wood-burned boxes. You just need to get inexpensive balsa wood boxes from your nearby craft store. Using your wood-burning tool, you can make any pattern you think looks best on these cute little wooden boxes. Once you have made your pattern, you can use them as a hand-crafted gift or wrap your gifts in these gorgeous boxes. The complete list of materials includes cheap balsa wood boxes, a wood-burning tool, and some time to finish this project. alisaburke
30. Wood Burned Monogram Placecards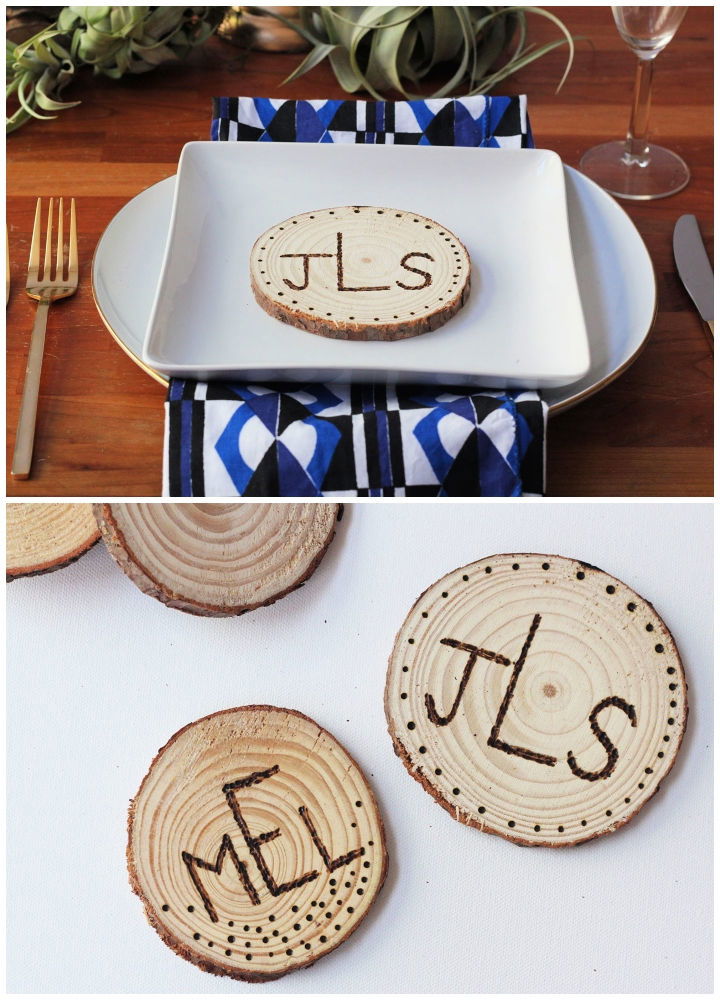 Are you ready for a doozy DIY wedding project? If yes, then these wood-burned Monogram place cards are perfect for you. These place cards are perfect for guests to find their table easily and add rustic charm to every table. These coasters will make your loved ones feel special and greatly impact your tablescape. For this inexpensive but adorable wedding craft to try, get a few things on hand to finish this project quickly. Like small unfinished wood slices, a wood-burning tool, a pencil, and the comfort of your couch. fun365
Conclusion: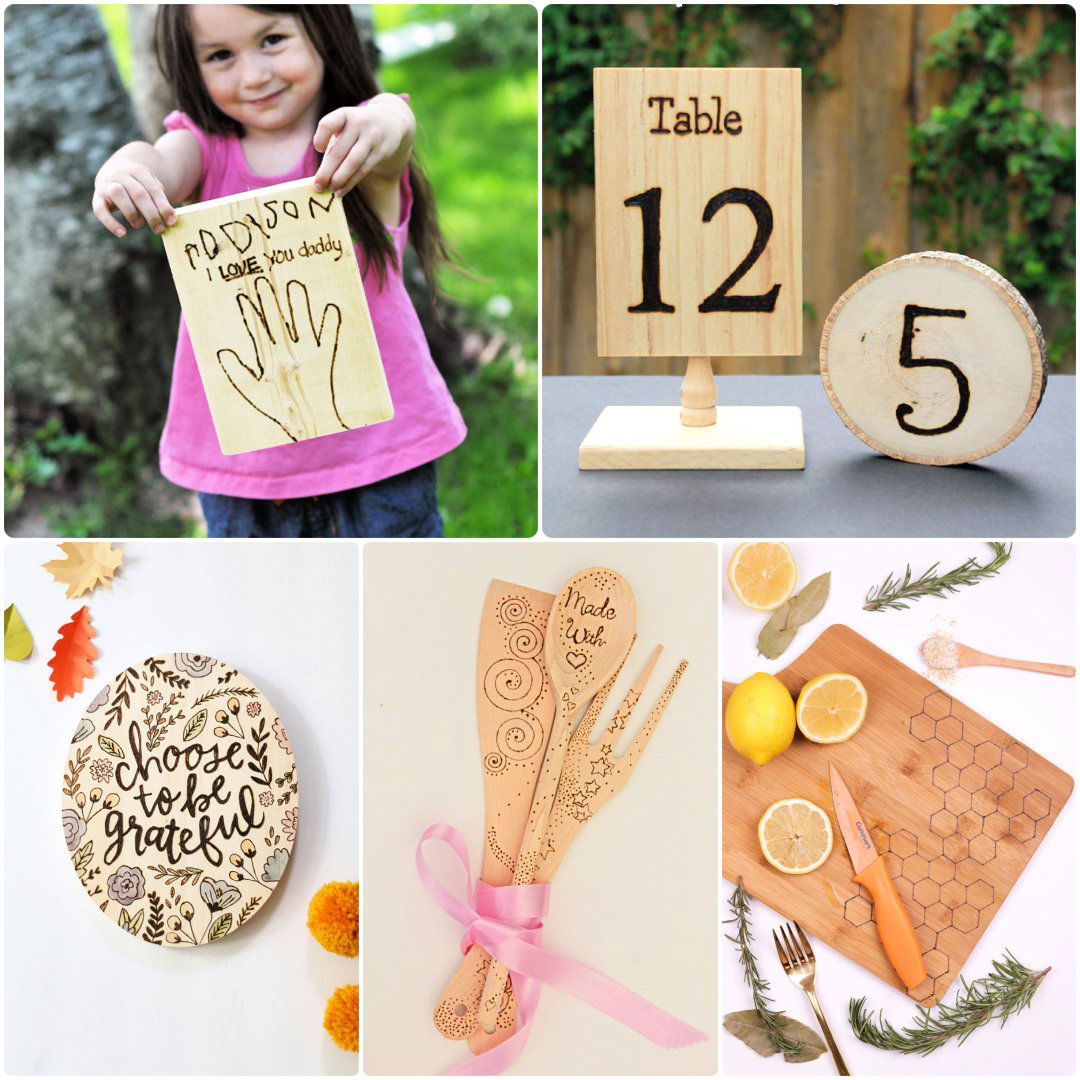 Wood burning is an art that requires patience and precision, but it's also rewarding and not complicated once you get the basics down. We looked at 30 easy wood burning ideas for beginners. We examined various wood burning designs ranging from simple to intricate, basic wood burning projects for beginners to small and easily achievable ideas.
With inspiration from these easy wood burning ideas for beginners, you can now create simple yet stunning wood burned patterns and designs on any wooden surface. Take your time, be patient with yourself, and appreciate each created piece as each project is unique. Never underestimate the beauty of just burning a few lines into a piece of wood! What kind of wood burning pattern are you going to create? Take your creativity to the next level – try out these easy wood burning ideas for beginners today!