A Mason jar herb garden is a great way to add some fresh herbs to your kitchen without taking up a lot of space. You can use mason jars of different sizes, depending on the herbs you want to grow, and there are various ways to style them to fit your kitchen decor. Mason jar herb gardens are also very easy to care for – simply water the herbs as needed and give them lots of sunlight. If you're looking for inspiration, check out these 25 DIY mason jar herb garden ideas. From colorful succulents to multi-tiered planters, there's sure to be an option perfect for your home.
If you are also into gardening and stuff, you must always look for better and more attractive planters. These diy Mason jar garden ideas are all about changing the mindsets about typical planters and techniques. With the help of these mason jar herb garden ideas, you can make a mini garden inside of a mason jar. You can also use old candle mason jars for the purpose. We often have mason jars already at home, so the projects are kind of budget-friendly and not so difficult.
Complete lists of materials and other supplies you might need are given in these grow herbs in mason jar ideas. Some of the projects here also have tutorials, even for beginners, so everyone can try them. You can make the garden in either one Mason jar only or gather multiple jars, make different herb planters out of them and then put them together inside a bottle carrier like the ones you see here. Besides gathering mason jars to start with any of these diy Mason jar garden projects, you will also need some dirt, a few small pebbles and herbs.
1. Indoor Mason Jar Herb Garden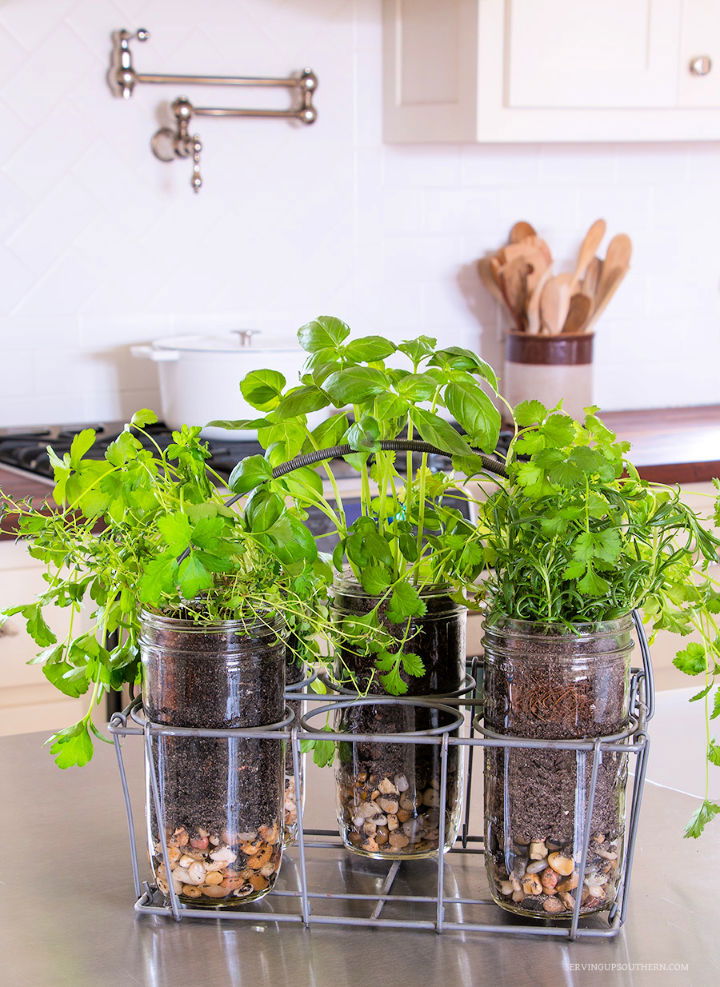 This diy mason jar garden project is surely mesmerizing and jaw dropping. You will definitely want to make one for yourself. For this, you'll need to gather a few mason jars if you don't already have some at home. You also want to have a rack to fit in these mason jars and some soil to grow the herbs or any other plant. servingupso
2. DIY Mason Jar Garden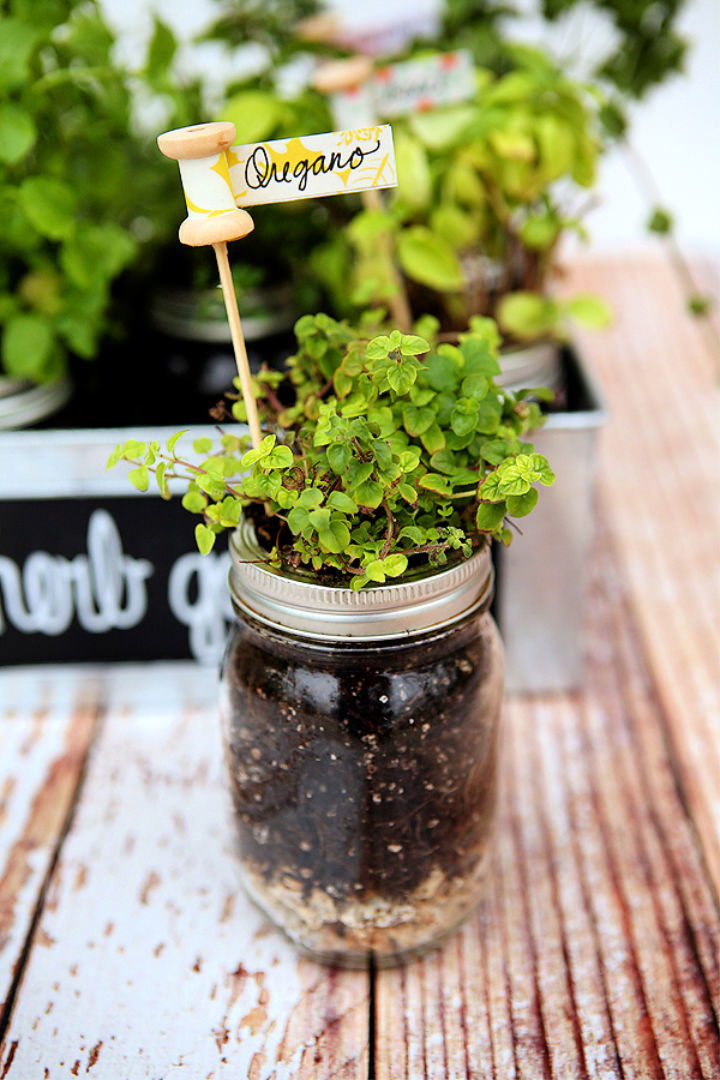 To make this diy mason jar planter, you need a few supplies like a galvanized metal bin with a chalkboard front, wood spools, pint mason jars, wood skewers or dowels, hot glue gun and glue, herbs, rocks, scrapbook paper and sharpie. You need to fill the bottom of the jar with rocks and pebbles. You can also label the plant to make it look presentable and cute. eighteen25
3. Mason Jar Herb Garden for Kitchen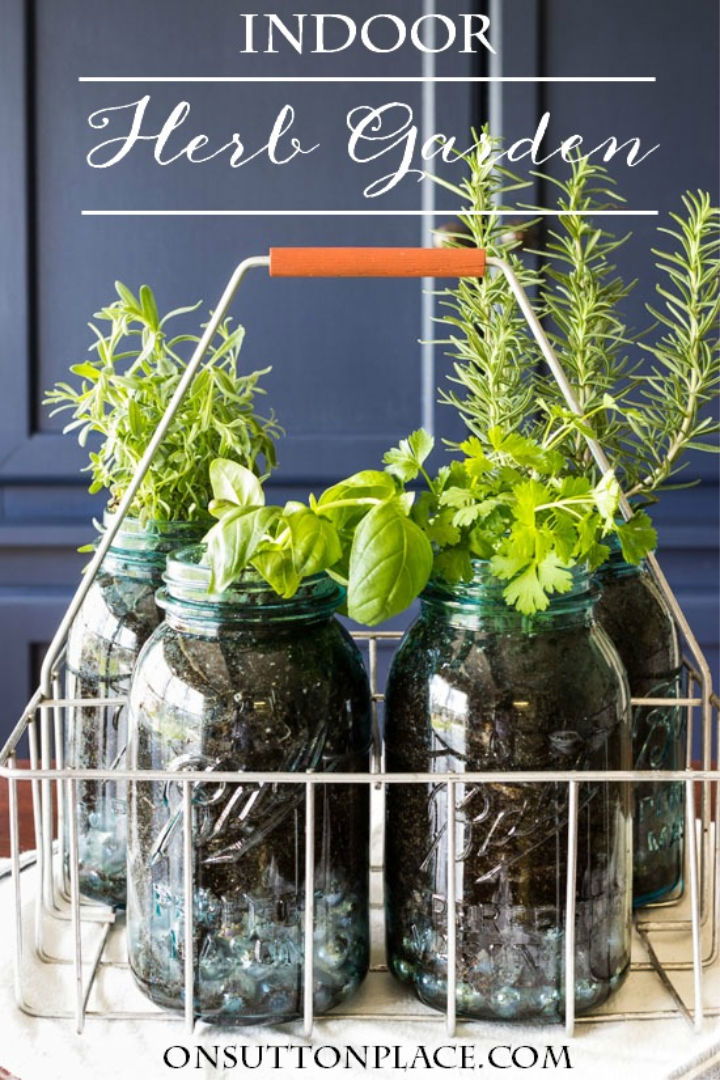 This mini garden is especially designed for the kitchens as it carries herbs. To make this stunning and beautiful looking diy mason jar garden you need supplies like mason jars, marbles or small stones, herbs, potting soil and a carrier for your jars for which you can probably use any bottle carrier or milk bottle carrier. onsuttonplace
4. Spring Mason Jar Herb Garden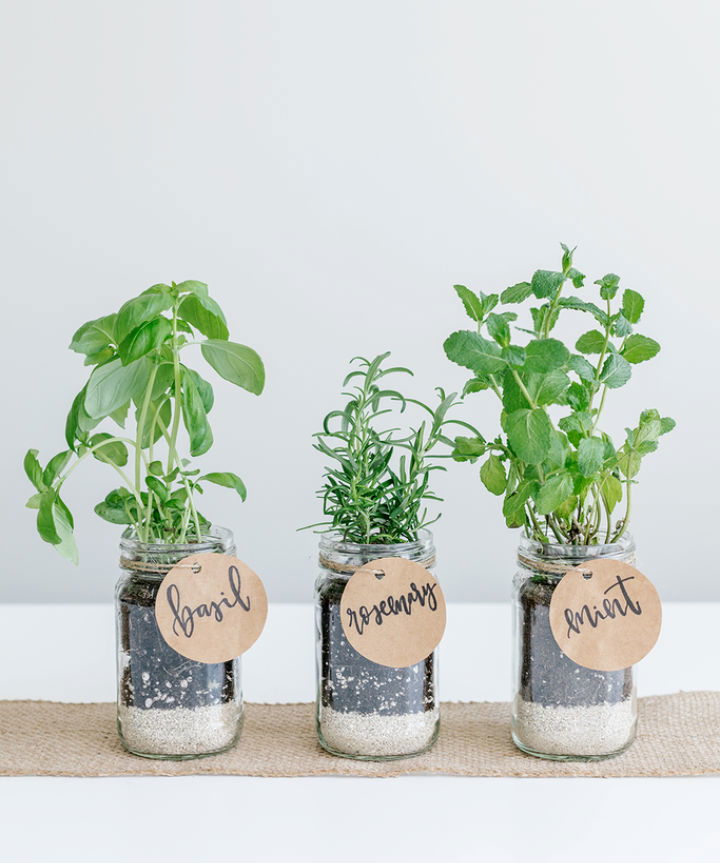 As we know, spring is all about blooming flowers and all that greenery. Ton welcome the season, we can make this diy mason jar spring garden and grow lovely looking herbs of your choice. To create this masterpiece you need some old candle mason jar holders, three herb plants, decorative potting filler, craft paper tags and a thin jute string to make the labels for every plant. antiquecandle
5. Wall Mounted Mason Jar Herb Garden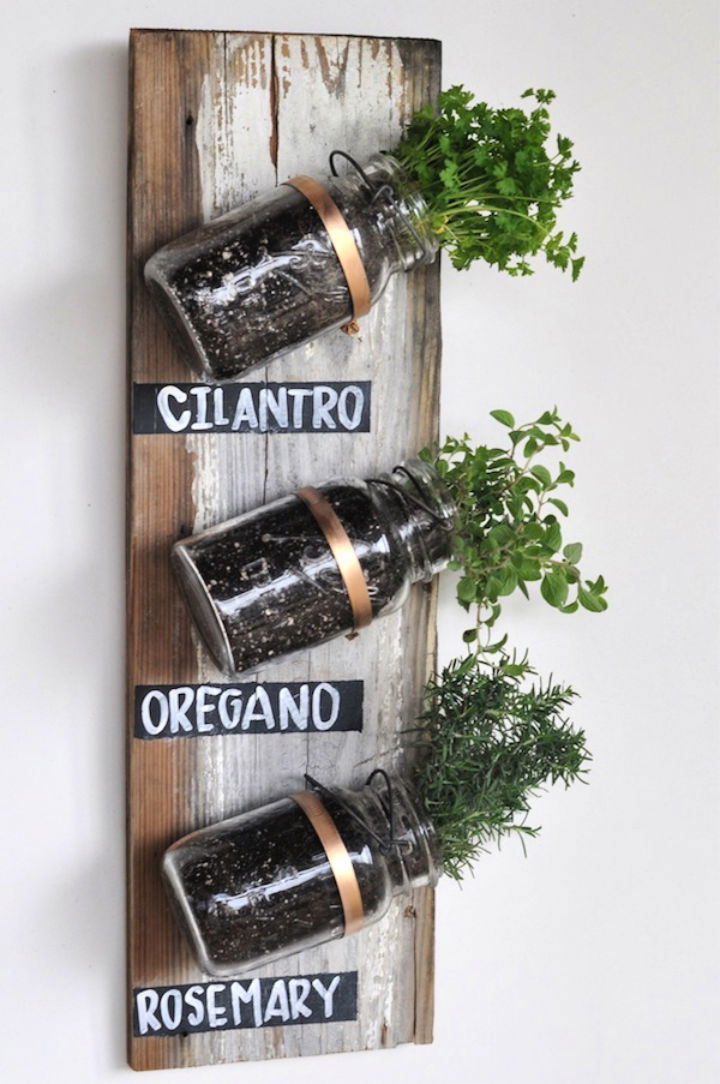 Mason jars make great containers for growing herbs. Fill the jar with soil and plant the herb of your choice. Place the jar in a sunny spot and water regularly. Your herb will thrive in this small environment.
It's not always necessary to keep the Mason jar gardens in carriers. We can also make wall-mounted mason jar arrangements with the help of this project here. This arrangement looks absolutely astonishing and surprisingly pretty and eye-catching. You need an old wooden board, mason jars, pipe clamps, ring hangers, hanging wire, picture hanger, chalkboard paint, brush, hammers, nail, screwdrivers and herbs. camillestyles
6. DIY Herb Garden in Mason Jars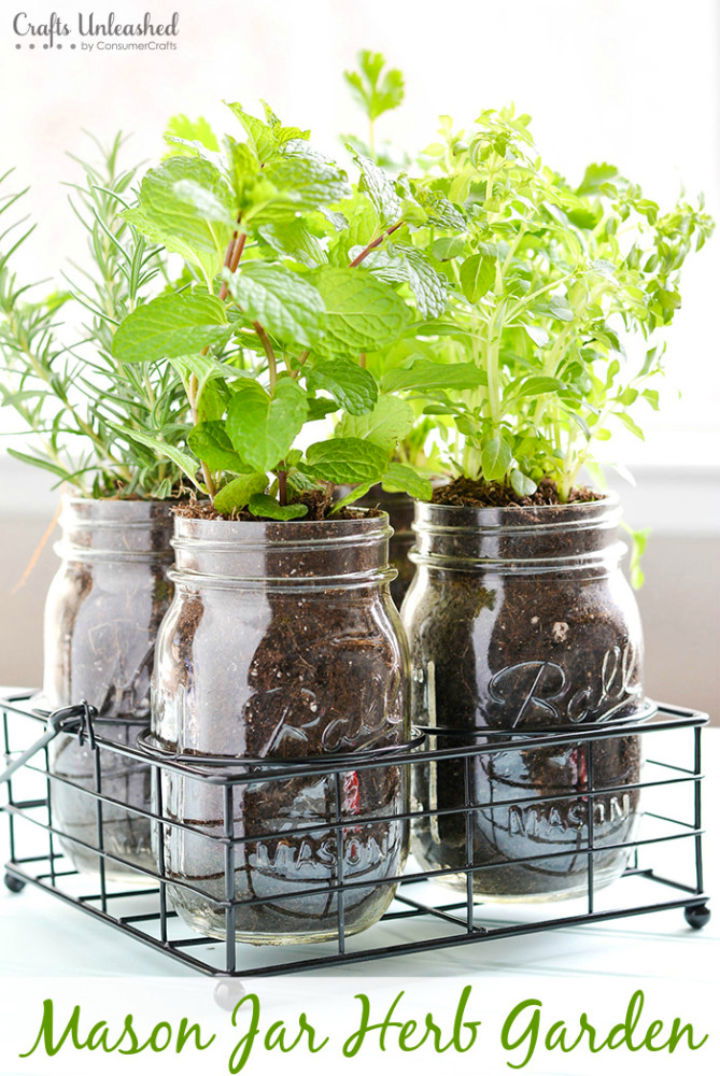 A lot of plant lovers grow herbs for their kitchen garden. Here we have some very interesting way to create a herb garden for the kitchens. This idea involves growing herbs inside mason jars. In this project, the carrier used can accommodate four mason jars at a time. Make this beautiful garden and you will feel proud of your gardening as well as garden making skills. consumercrafts
7. Hanging Mason Jar Herb Garden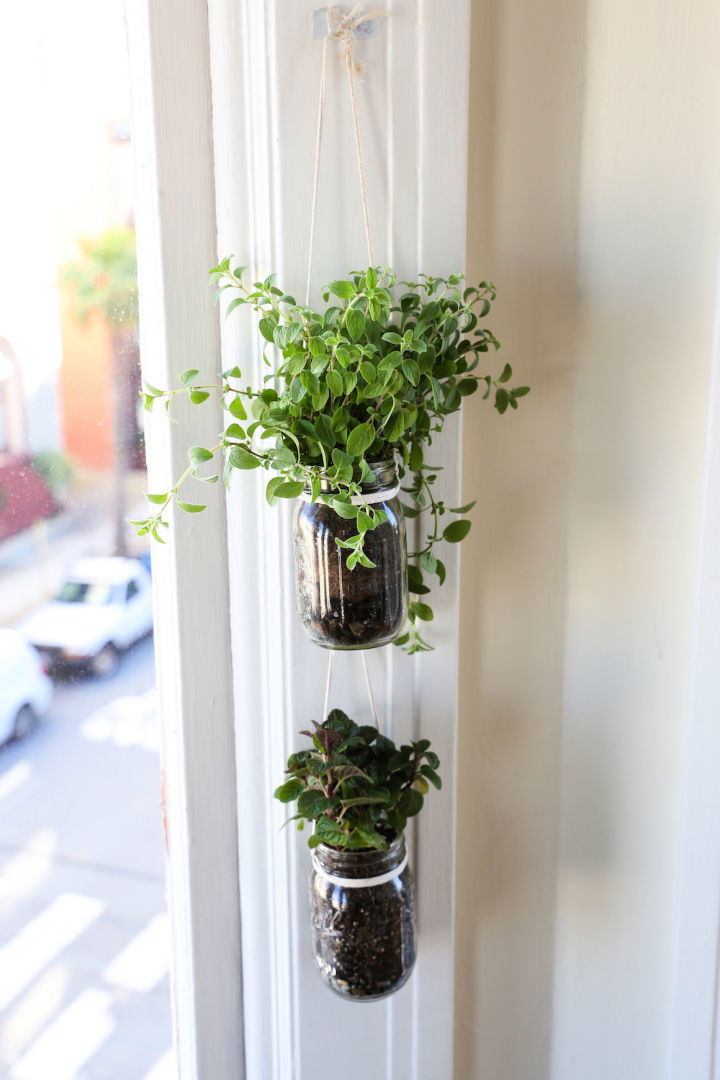 Mason jar gardens can be created in a lot of ways. Not only you can place them somewhere or make them wall mounter but you can also make a hanging garden out of them like you can see here in this project. To make this mason jar garden you need supplies like mason jars, potted herbs, rocks , potting soil, twine , hooks and scissors. You will start by filling the bottom of the jar with pebbles or stones. onelombard
8. Gold Dipped Mason Jar Herb Garden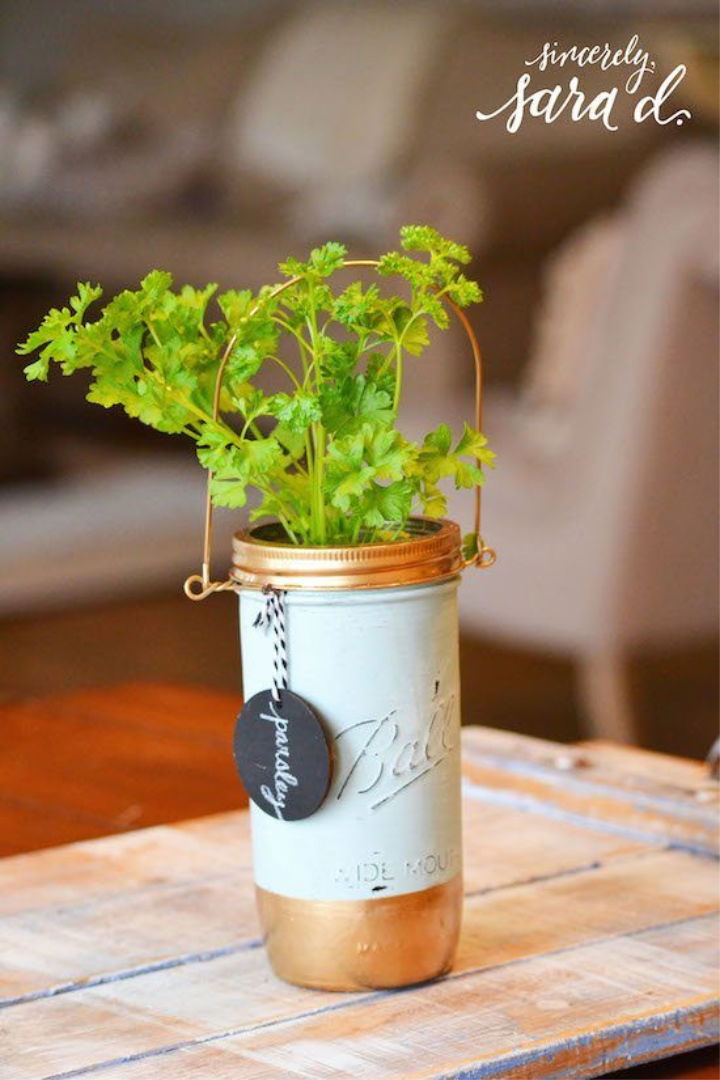 If you are about to create a mason jar garden, think of staining the jar with gold color. This gold color will make your mason jar look elegant and royal. Now you can grow a plant for your choice inside your mini garden. Strat by filling up the jar with small stones and then soil. Pour water over the roots so that they can absorb it. Gather your supplies and get started. sincerelysarad
9. DIY Mason Jar Herb Garden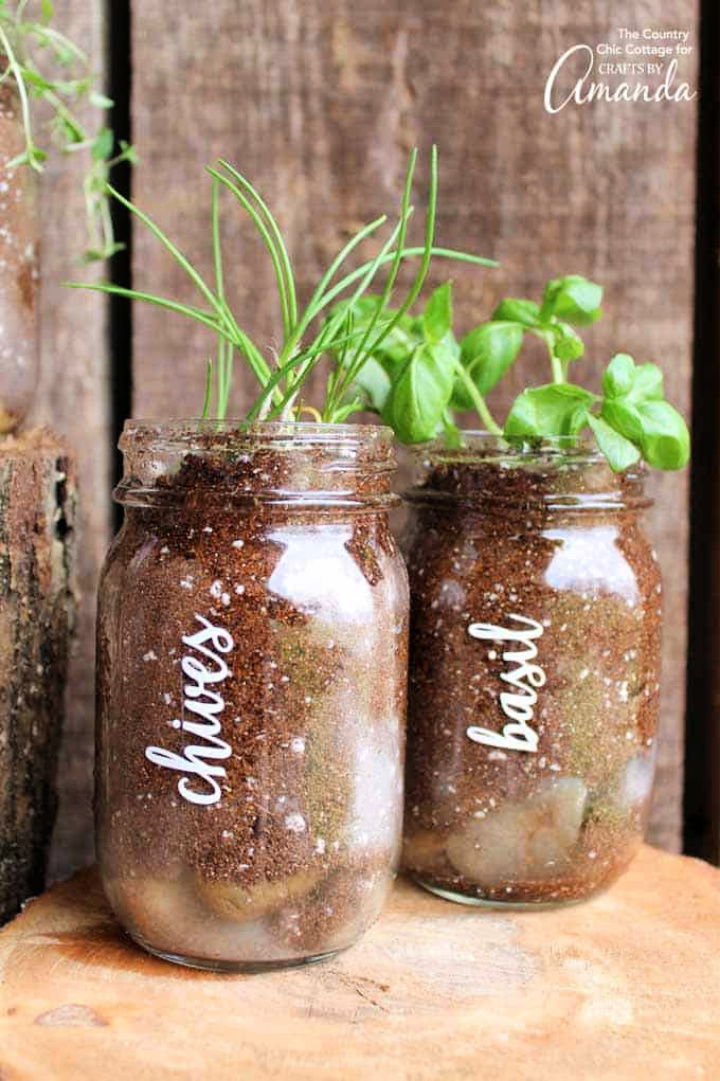 There are a lot of herbs that we must have inside of our kitchen gardens. If you also have run out of ideas for planters for your herbs, think of using old mason jars or candle mason jars for planting your herbs and making your kitchen garden more beautiful than ever. craftsbyamanda
10. Mason Jar Succulent Garden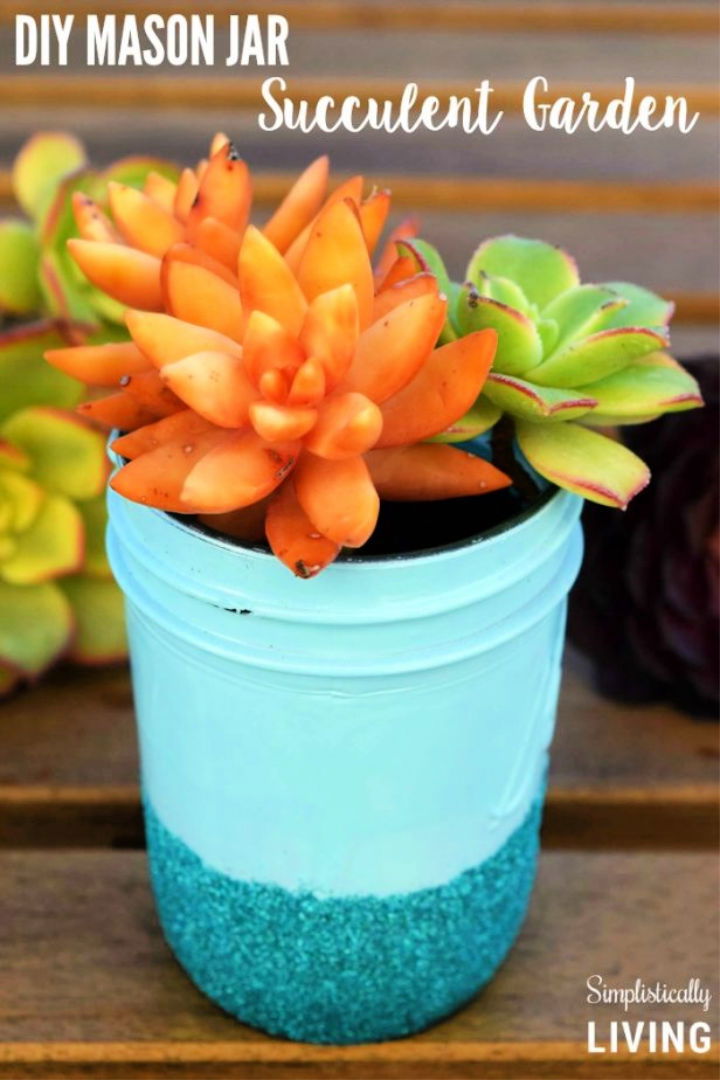 Many of us like succulents and are always in search of pretty planters for them. What's best than mason jars fort your all-time favorite succulents? You can intelligently use mason jars to grow your succulents. Besides this you can also put tags or labels on them with the name of the plant or herb to make them look nice and presentable. simplisticallyli
11. DIY Hanging Jar Herb Garden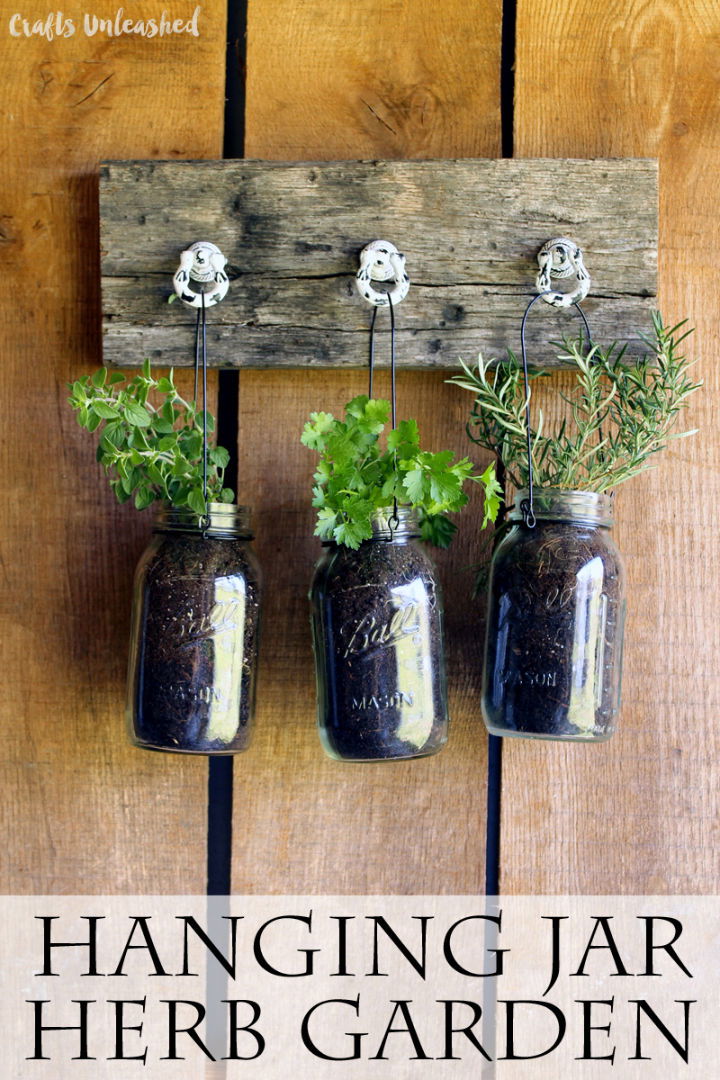 Are you ready for creating an exciting herb garden like never before? Follow this project if you are willing to do so. This diy Mason jar garden project is all about making a hanging Mason jar garden arrangement. To make this arrangement you need some materials and tools that are listed here. You will need quart size mason jars, distressed door knocker knobs, Mason jar handles, drill and drill bits, herb plants and dirt and a rustic board. thecountrychic
12. Hanging Mason Jar Herb Planter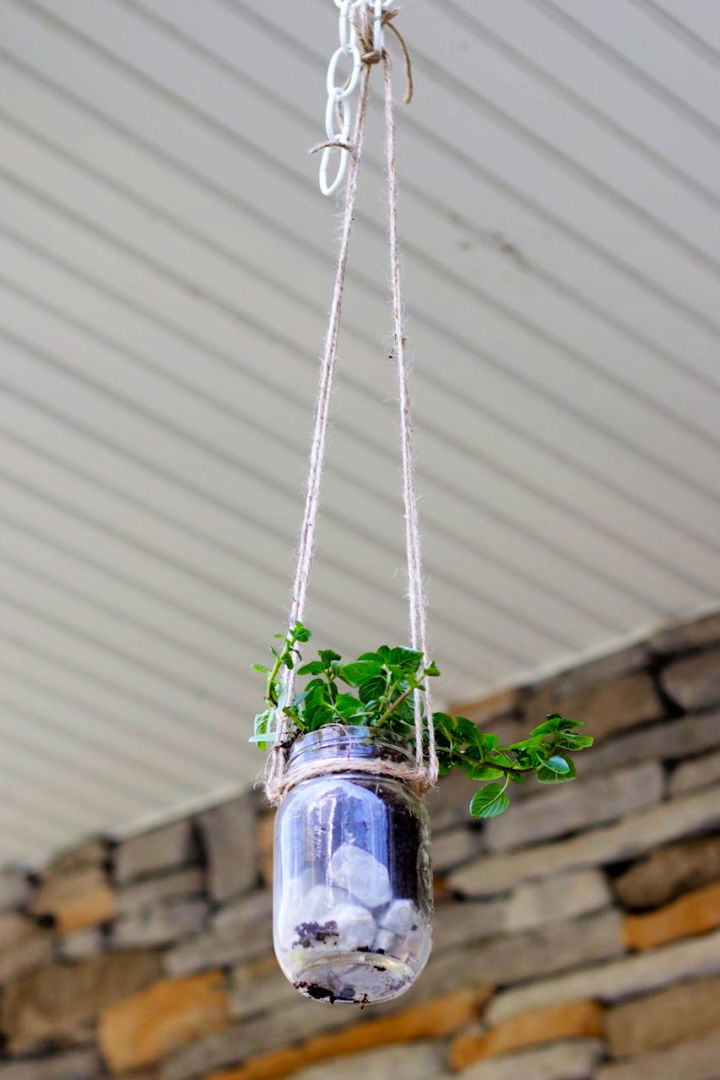 This mini garden all inside a mason jar is so pretty that you will definitely want to try this. This hanging jar will look great especially outside a window. To make this beauty you only need a handful of items such as Mason jar, rocks, dirt, twine and herbs. Grab the supplies and materials and get started. ramshackleg
13. How to Make a Mason Jar Garden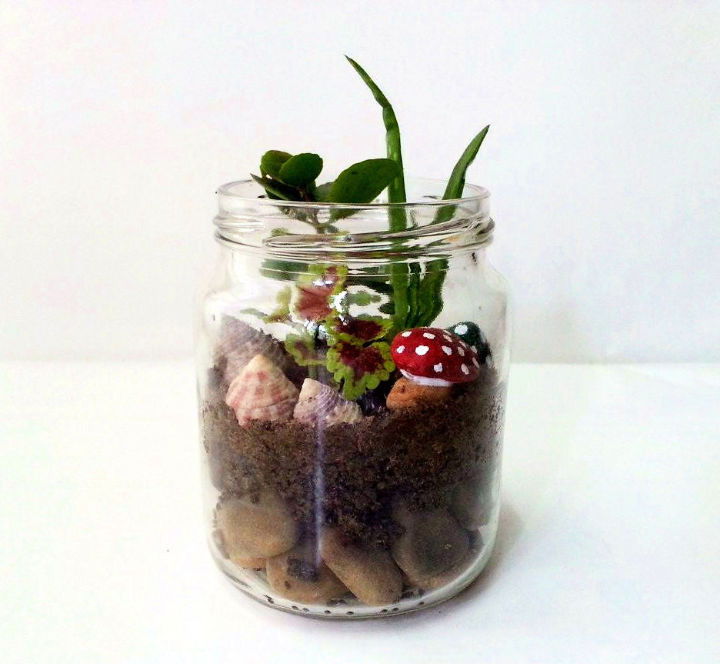 While making a diy Mason jar garden you can add some different stuff than usual too. The typical items would be dirt, herb, Mason jar and stones. However you can make this mini garden more beautiful by adding some sea shells, stones painted to resemble mushrooms with poster colors or nail polish. These extra efforts will definitely pay you off once the final look will be revealed. instructables
14. Homemade Mason Jar Herb Garden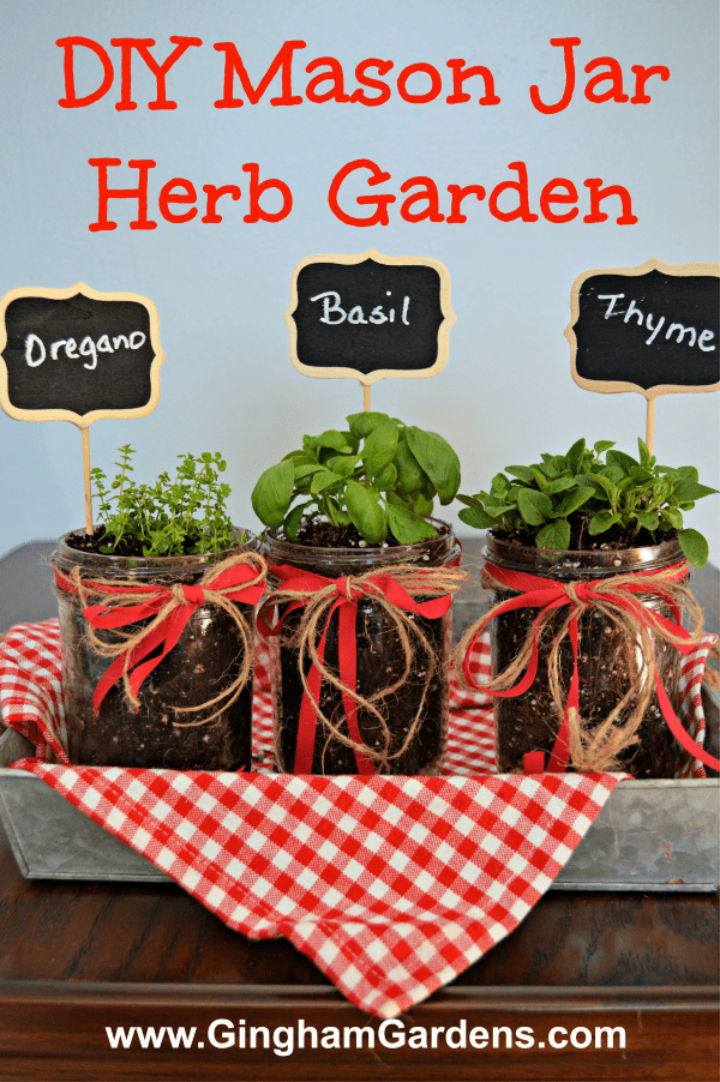 Herbs are a great way to add flavor and nutritional value to your food. By growing them yourself, you can save money and have fresh herbs available anytime. Mason jars are the perfect container for growing herbs.
Start by filling a jar about halfway with soil. Add the herb plants and then fill in around them with more soil. Gently pack the soil down so that it is firm. Water the plants well and then place the jar in a sunny spot.
Keep the soil moist but not wet. The herbs will grow best if they receive at least six hours of sunlight daily. Harvest the herbs as needed and enjoy adding them to your favorite recipes!
You can create this diy herb garden inside mason jars not only for yourself, but for gifting purposes as well. Create your own lovely looking diy mason jar mini gardens and grow some of your favorite herbs that you frequently use in your kitchen. Grab the supplies that you need and start your journey towards making a masterpiece. ginghamgard
15. Painted Mason Jar Herb Garden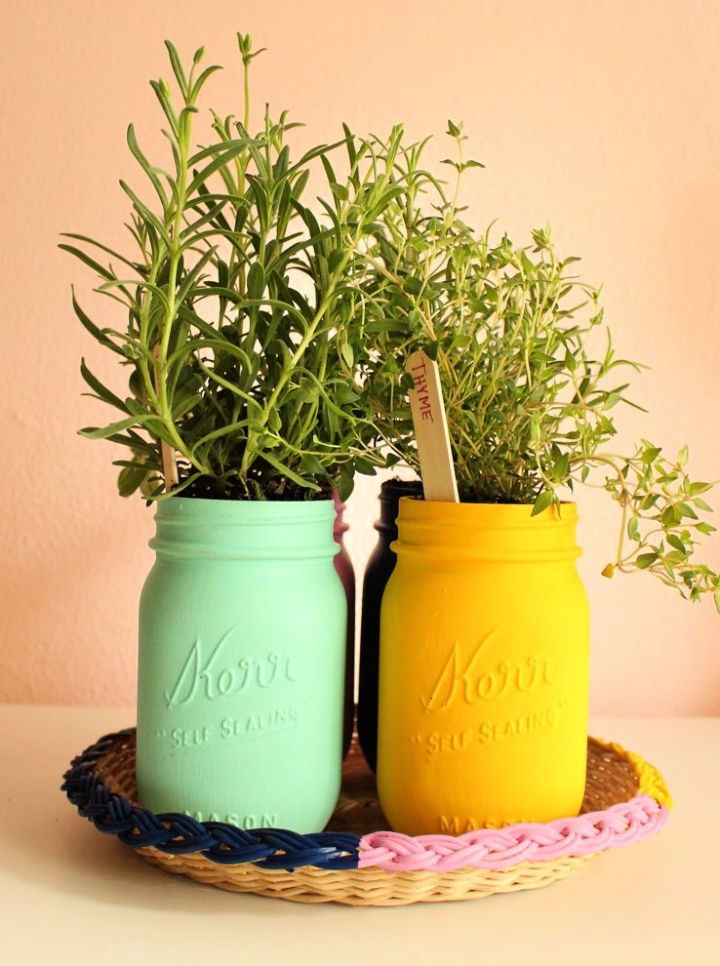 While many use mason jars to make a garden without painting them, some want to paint then in their favorite colors. This project is for those who want to create painted mason jars for their herb garden. For this project you need mason jars, pebbles, organic potting mix, herb plants or seeds and labels to add a cherry on top. goldstandardw
16. DIY Shutter Mason Jar Garden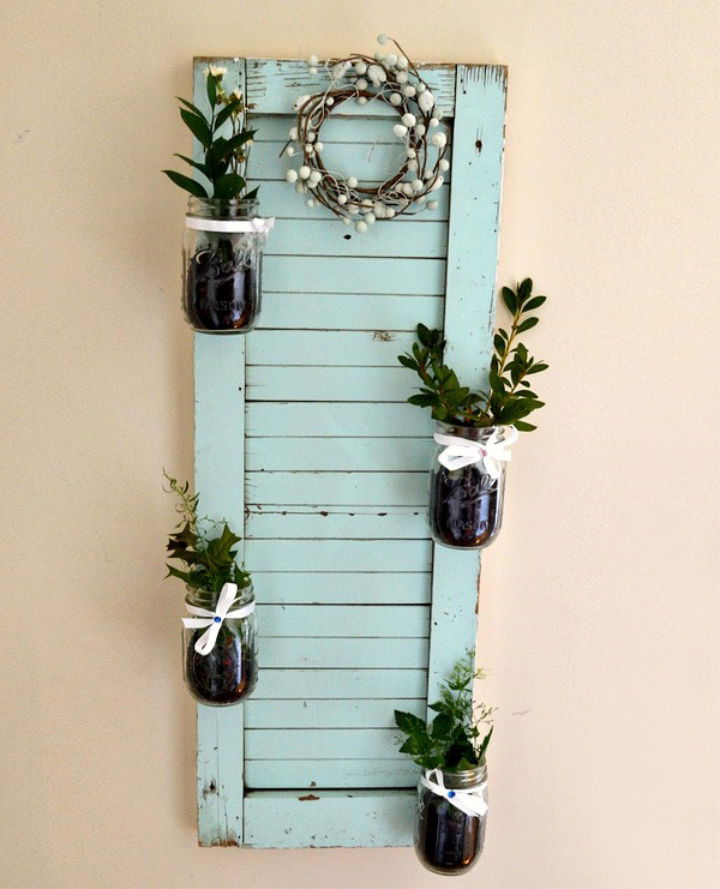 You must think twice before throwing away a few things and one of them is an old shutter. See how an old shutter has contributed in building a diy Mason jar mini garden that you can also make all by yourself. All the details of the project are given here so that you don't miss out on the minor detailing. sheknows
17. DIY Mason Jar Fresh Herb Garden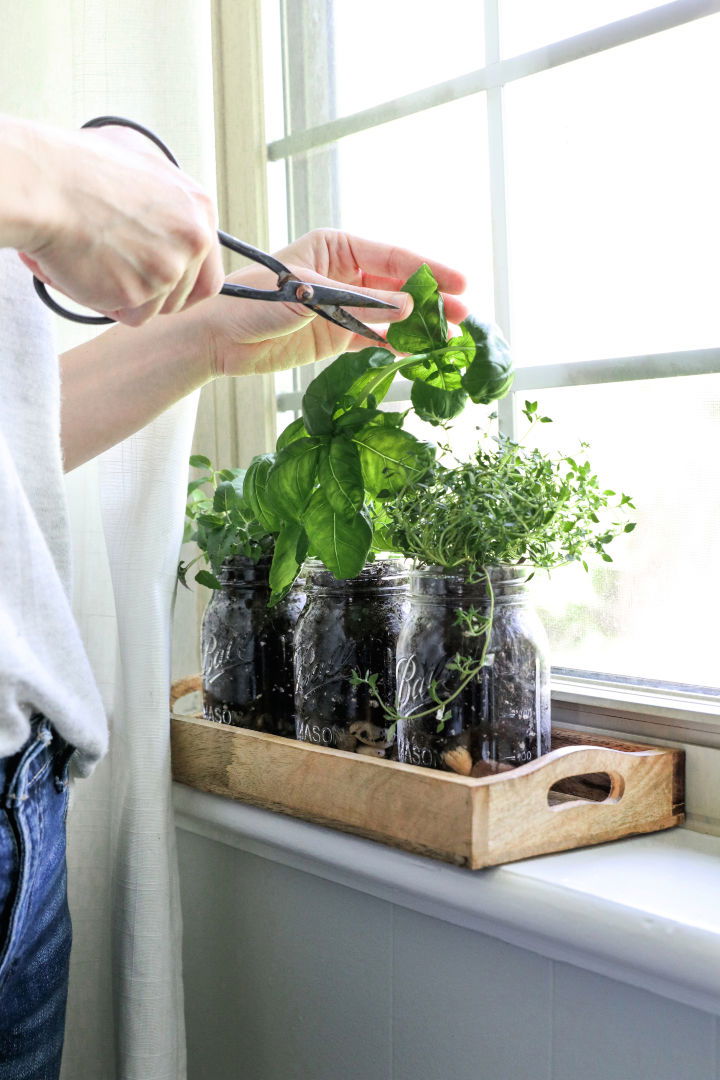 Who doesn't like fresh herbs in their kitchen while cooking or having their meals? With this amazing indoor herb garden mason jars project, you have a special idea to make mason jars of fresh herbs yourself. You can gather every detail from here and see where it goes along with your own skills and creativity. hellonest
18. Make Mason Jar Herb Planter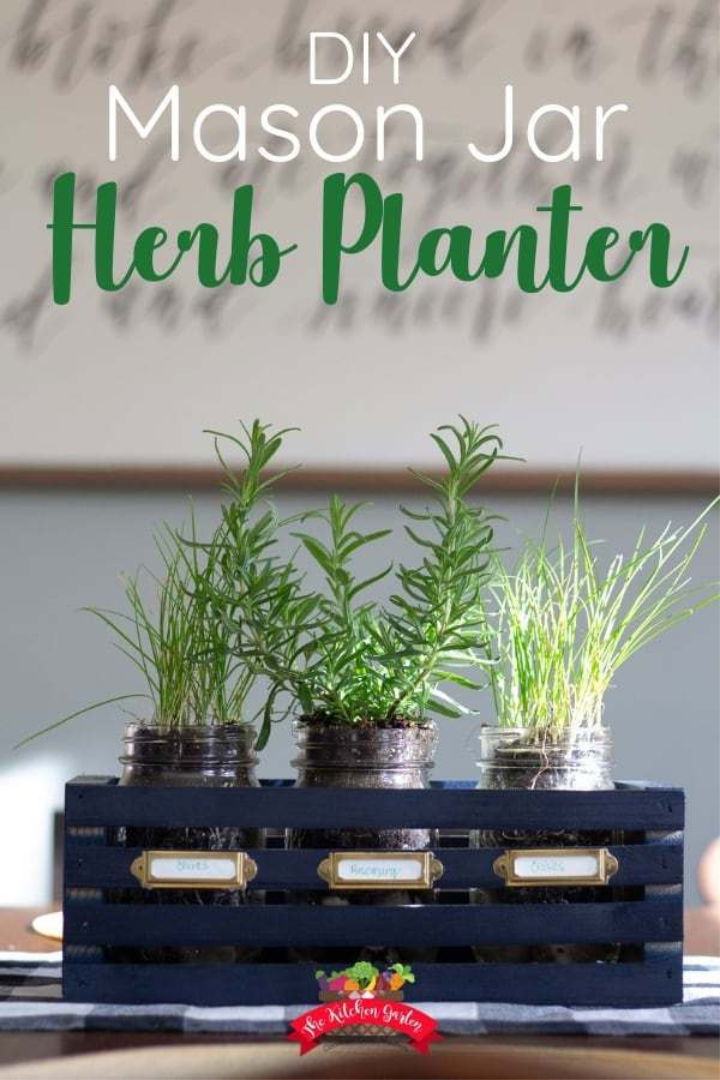 You do not need to find any planters for your herbs now. this project is leading us towards the making of diy herb garden inside of a mason jar. To make this diy mason jar garden to grow herbs you need small wooden crate, spray paint , mason jars, river rock, tag holders, herbs of choice and gorilla glue. thekitcheng
19. Indoor Window Herb Garden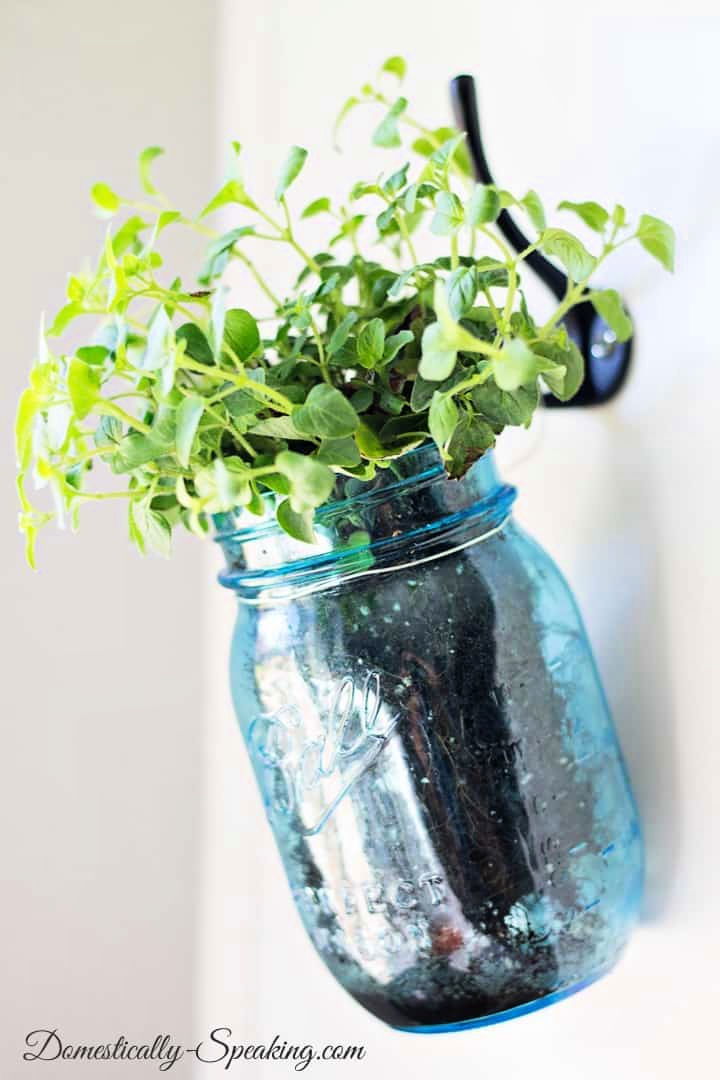 This mason jar herb arrangement can be created as an indoor garden. You need a few materials like mason jars, hooks, wires, plyers and wire cutters. Besides this you can also use your own imagination to add something according to your own choice and liking to make something beyond just gardening domestically
20. Mason Jar Bamboo Water Garden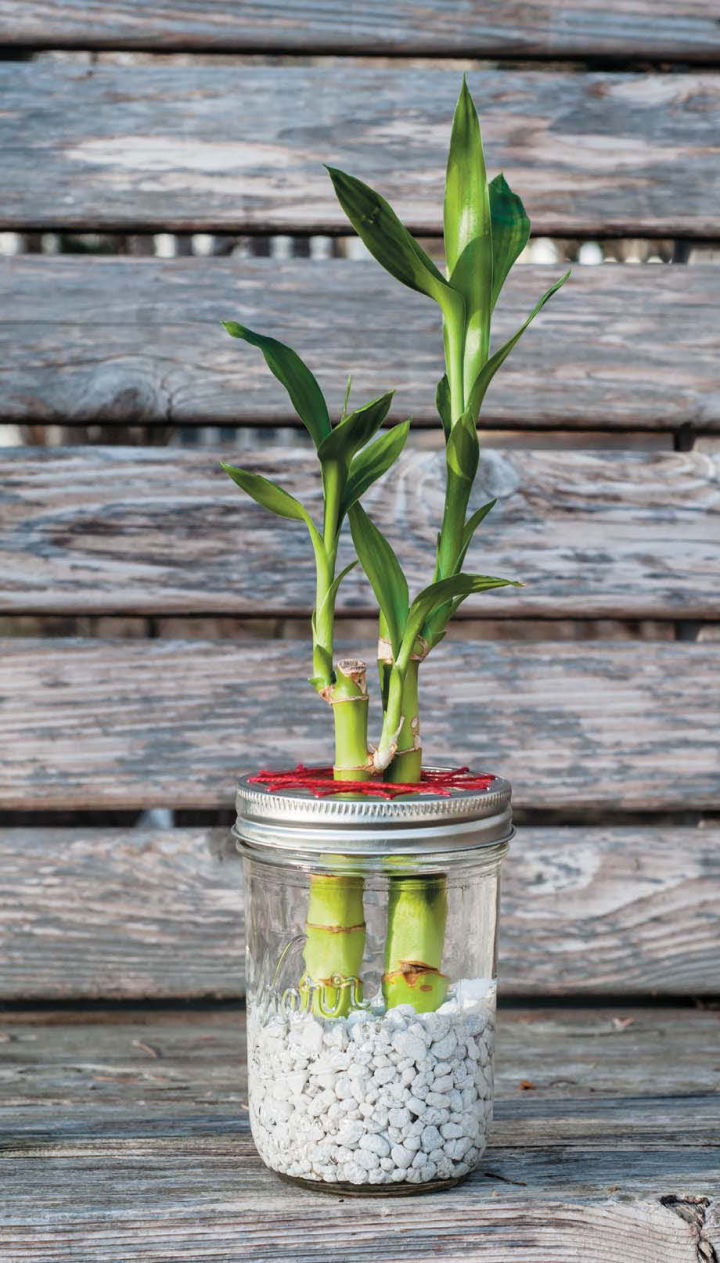 You have probably never heard of a bamboo garden inside of a mason jar. This diy mason jar garden idea is all about growing bamboos inside jars. With only a little bit of efforts and love for gardening, you will end up creating and amazing masterpiece. Grab yours supplies and get started. quartoknows
21. Stylish DIY Mason Jar Garden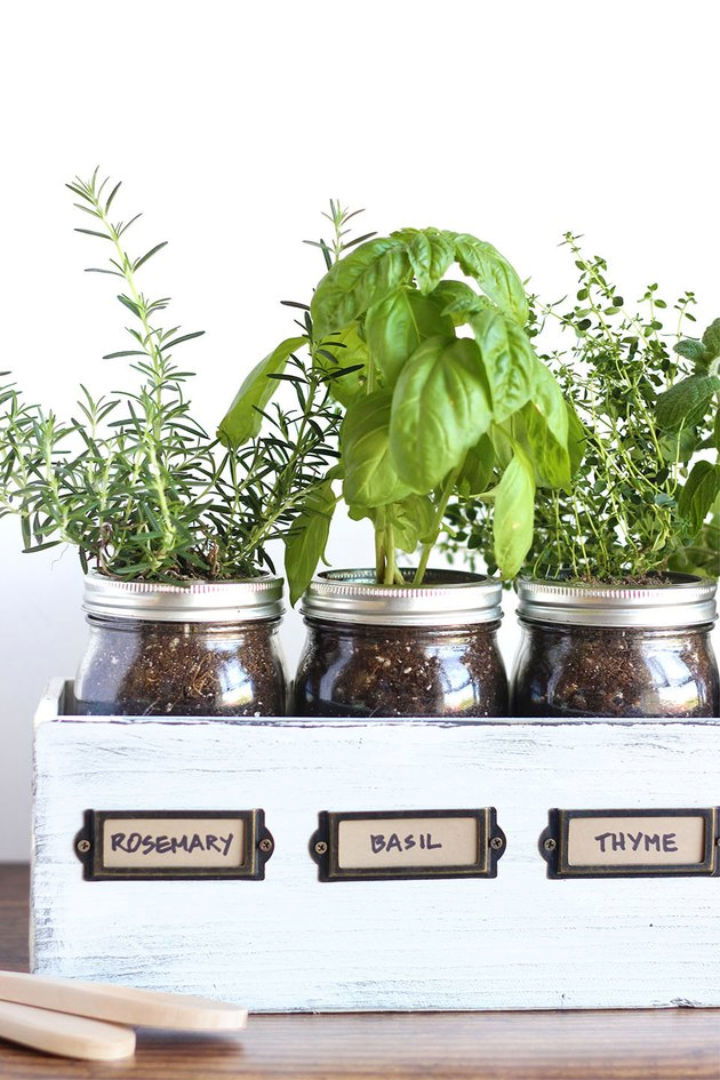 Herbs are a great way to add flavor and nutrition to your food. By growing them in mason jars, you can have fresh herbs at your fingertips whenever you need them. Follow these simple steps to growing herbs in mason jars started:
Choose the herbs you want to grow.
Fill a mason jar with water and place the herbs in it.
Place the jar in a sunny spot and keep the water level topped up.
Harvest the herbs when you need them.
This is not just an ordinary Mason jar mini garden instead it's a stylish and modern one. You can also learn through only a few steps about the making. If you are also looking for some unique plater and planting ideas you can choose this project as your next planting activity. ehow
Related DIY Gardening Projects:
DIY Garden Ideas
If you're looking for ways to improve your outdoor space, check out these DIY garden ideas! From creating a herb garden to installing a water feature, there are plenty of projects to choose from. So get creative and make your outdoor area look beautiful!
DIY Vertical Garden Ideas
Vertical gardening is a great way to save space in your garden, and it can also be a fun DIY project. If you're looking for inspirations, check out these vertical garden ideas for outdoor and indoor options.
DIY Pond Ideas for Backyard & Garden
Looking to create a pond in your backyard or garden? Check out these DIY pond ideas for inspiration! With various designs and materials to choose from, you're sure to find the perfect pond for your space.
DIY Fairy Garden Ideas for Backyard
If you're looking for a whimsical way to dress up your backyard, consider creating a fairy garden! These miniature landscapes are perfect for adding a touch of magic and enchantment to your outdoor space. Here are DIY fairy garden ideas to get you started. Best of all, they're easy to make – even if you're a beginner.
Conclusion:
If you're looking for a fun and easy way to start growing your own herbs, consider using one of these DIY mason jar herb garden ideas. These gardens are perfect for anyone who wants to enjoy fresh herbs all year round without having to worry about keeping plants alive in an outdoor garden. With a little creativity, you can create a beautiful and functional DIY herb garden that fits perfectly into your home decor. Have you tried creating a mason jar herb garden? What tips would you add?