Looking for a fun and easy way to add some plants to your home decor? Check out these 20 DIY upcycle tin can planters! With just a few simple supplies, you can create your very own DIY planter that will add a pop of color to any room.
Have you ever looked at a tin can and thought, "That would make a great planter!" If so, you're in luck. Upcycling tin cans into planters is a fun and easy DIY project that can be done in just a few minutes. Plus, it's a great way to add some personality to your home or garden. To get started, simply choose your favorite upcycle tin can planters and follow these easy steps to make plant pots, flower pots, herb planters or a hanging garden.
First, remove the labels from the cans. If the labels are stubborn, you can use a little bit of Goo Gone or WD-40 to help loosen them. Next, clean the cans with soapy water and allow them to dry completely. Once the cans are dry, use a hammer and nail to make drainage holes in the bottom. Then, fill the bottom of each can with a layer of gravel or rocks. This will help to improve drainage and prevent your plants from getting too wet.
After that, it's time to add some soil and plants! When selecting plants for your tin can planters, be sure to choose something appropriate for the size of the container. For example, succulents and cacti are perfect for small tin cans, while larger flower pots can accommodate larger plants like ferns or impatiens. Once your plants are in place, simply water them as needed and enjoy your new upcycled tin can planters!
1. Oxidized Copper Tin Can Planters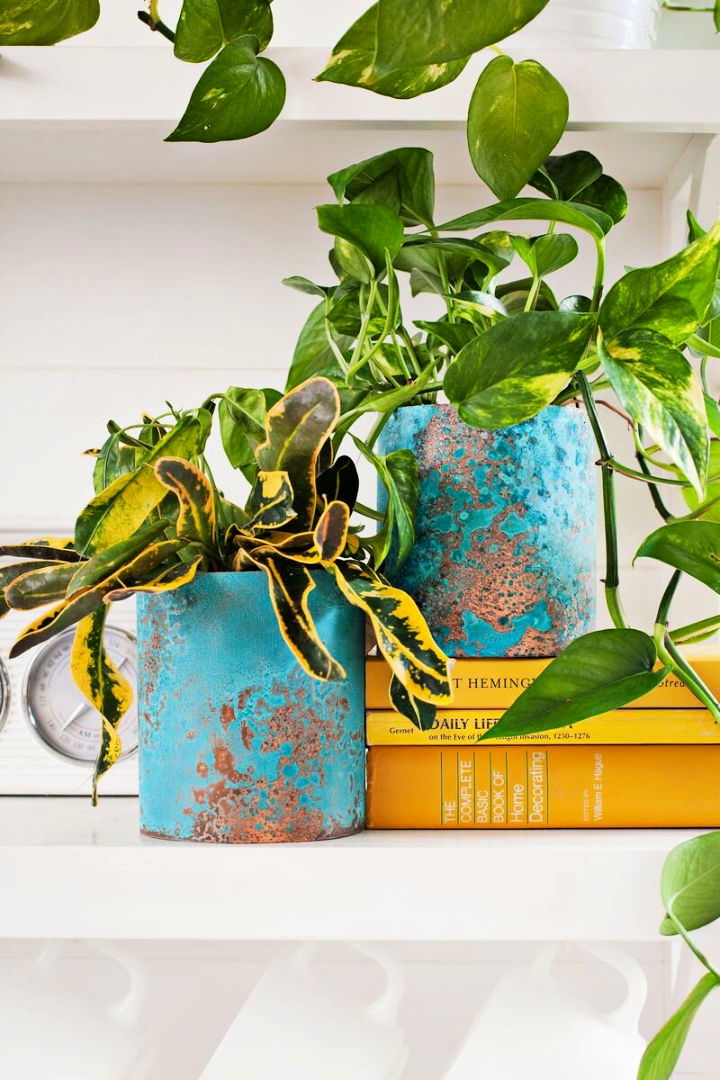 Here are an impressive way to transform your old paint cans, jars, or tins into beautiful oxidized copper tin can planters. Not only are they great for giving a perfect spot to your plants, but they are also loaded with style to make your place look more inviting. This project is so easy to put together with the given step-by-step instructions. The things you need for this project are empty can or jar, copper flashing or copper sheet, vinegar, rhododendron plant food, heavy-duty cleaner, polyurethane, spray bottle, funnel, ruler, marker, and abrasive cleaning pad. abeautifulmess
2. Faux Cement Planter Using Tin Can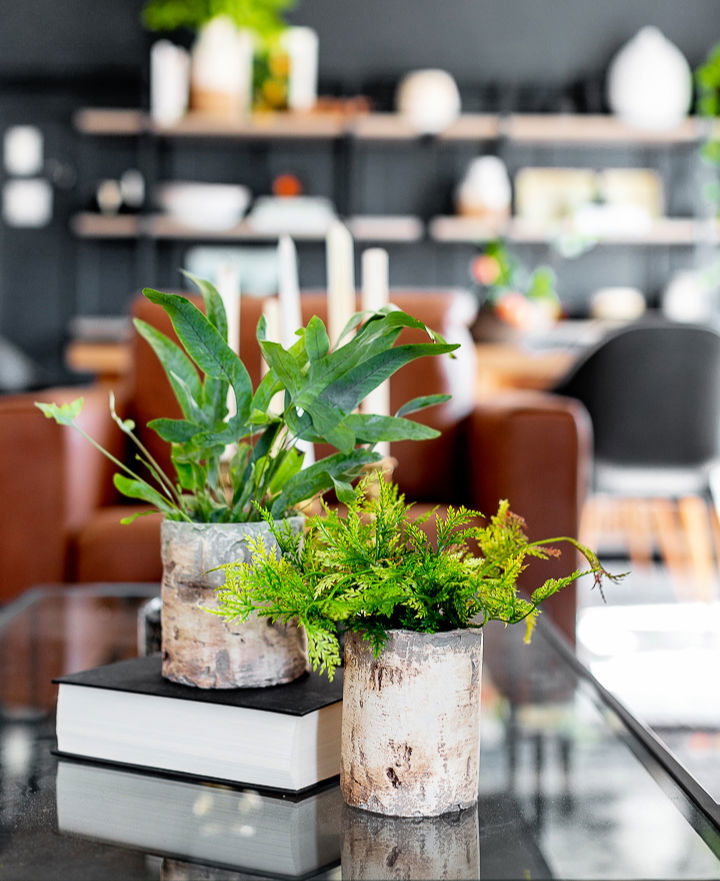 If you love upcycled projects, then this project of faux cement planter using tin cans is a hit for you. Rather than spending a huge amount of money on store-bought planters, try making your own with recycled items that cost you nothing to make. These planters were great to display proudly as a centerpiece on your table. If you have decided to do this project, you can see the list of supplies with complete and straight instructions here! craftberrybush
3. Tin Can and Velvet Upcycled Planters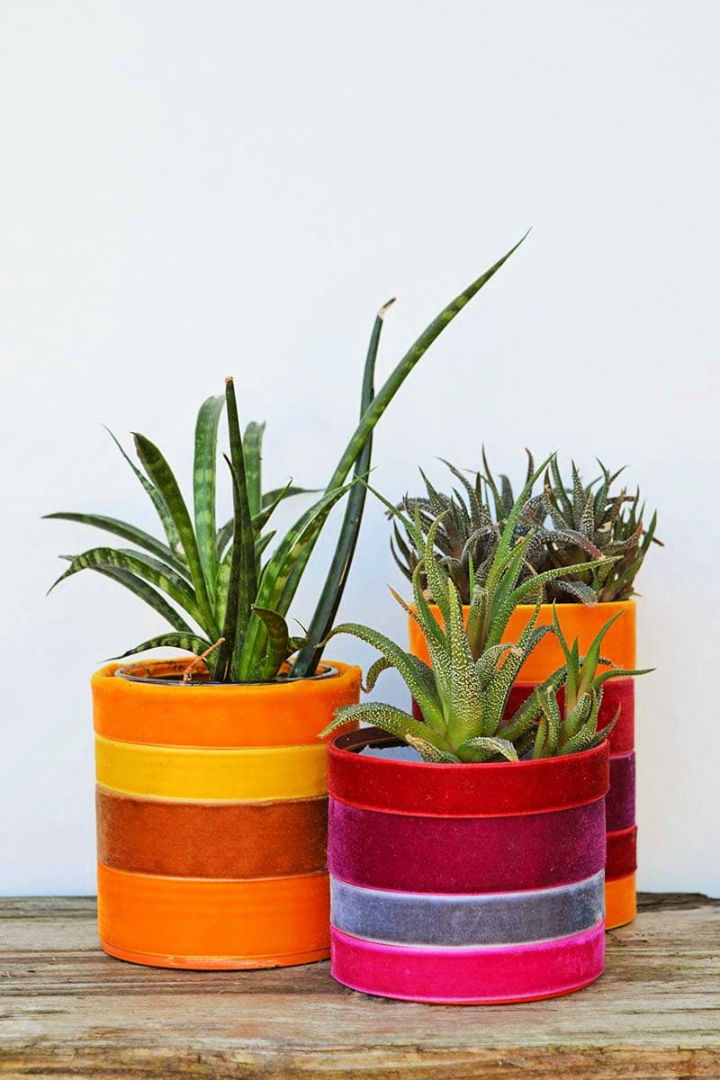 There are many ways to recycle old tin cans into something beautiful that spice up your decoration. But this time, reuse them for making adorable velvet planters with just a bunch of things you already have on hand. If you are a beginner, then make sure to follow the steps straight to make your very own fabulous planters. Once you make you will see how great they work on your shelves and windows. Supplies are velvet ribbon, gorilla glue or super glue, tin cans, and spray paint of your choice. pillarboxblue
4. Clay Terrazzo Planter Using Tin Can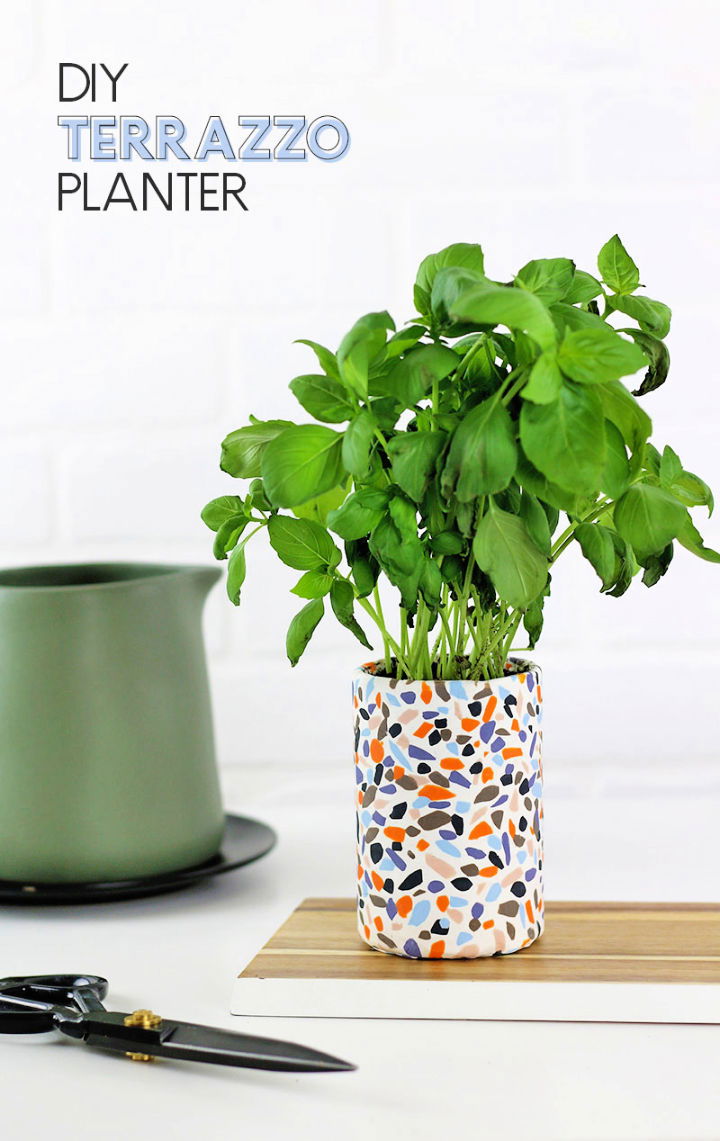 Love the terrazzo trend? If you answer yes, creating these clay terrazzo planters using your old tin cans is perfect for bringing the trend indoors. Not only is this a great way to give a new life to your tin cans, but it also makes a perfect spot for your favorite plants. Doing this project is so much fun and provides you with a beautiful luxe look. You will need to get empty cans, hammers, nails, Sculpey oven bake clay, rolling pin, craft knife, slicer, ruler, and Sculpey glaze. persialou
5. Tin Can Mickey Mouse Planters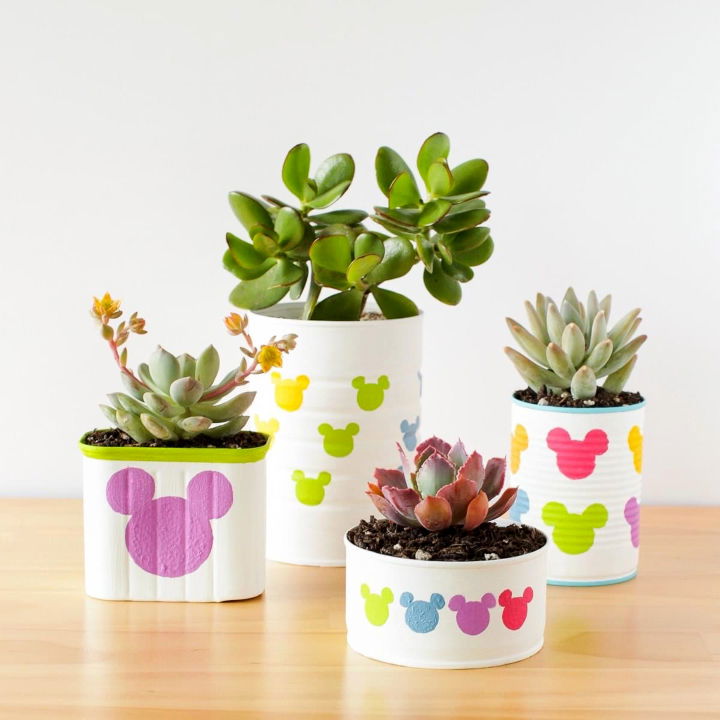 This easy project prepares you to transform your old tin cans into art. Making your tin can mickey mouse planters will help your flowers, seeds, and herbs to grow easily. these colorful little pots spice up the décor of any home while staying on your budget. You can use a variety of tin cans in various shapes and sizes to do this trick. The supplies are empty tin cans, a small towel, hammer, nail, paint brushes, paint palette, pencil, measuring tape, foam daubers, painter's tape, acrylic paint of your choice, and soil for the plants. themainstree
6. Denim and Tin Can Planters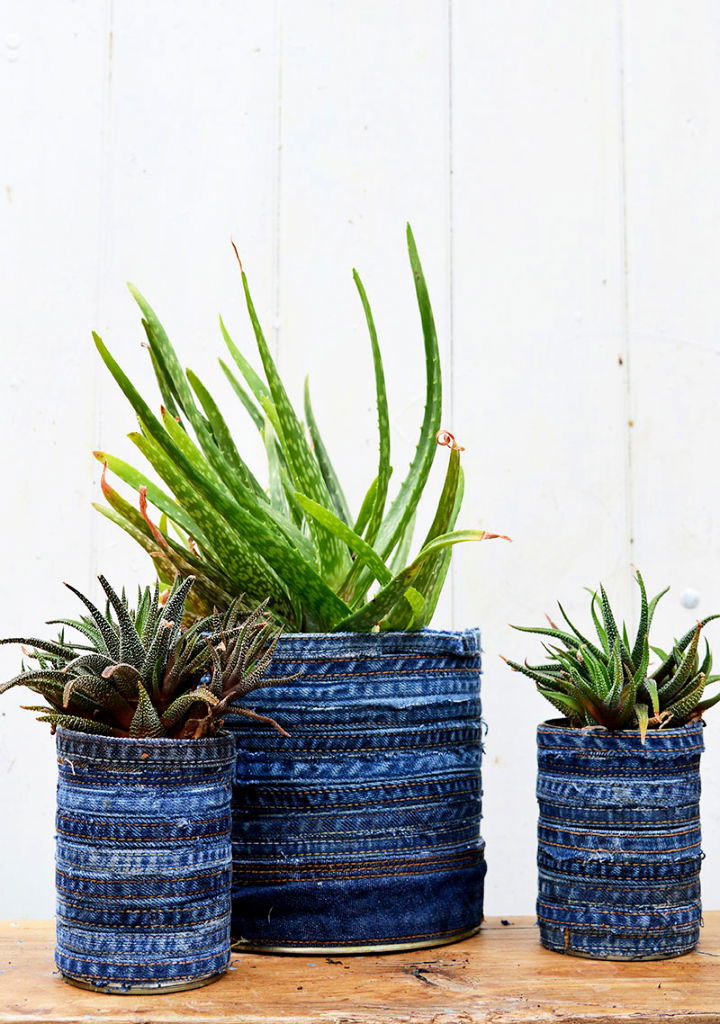 This free tutorial teaches you how to give a new life to your old denim and tin cans. These denim and tin can planters are easy to create and look great anywhere in your home, especially at your dinner table. With just a handful of recycled things, you can make these easy-peasy tin cans in a few easy steps. You need to make this one: seams, hems, waistbands from jeans, tin cans of any size you want, pod podge, pins, scissors, and succulents for planting. pillarboxblue
7. Vintage Tin Can Planters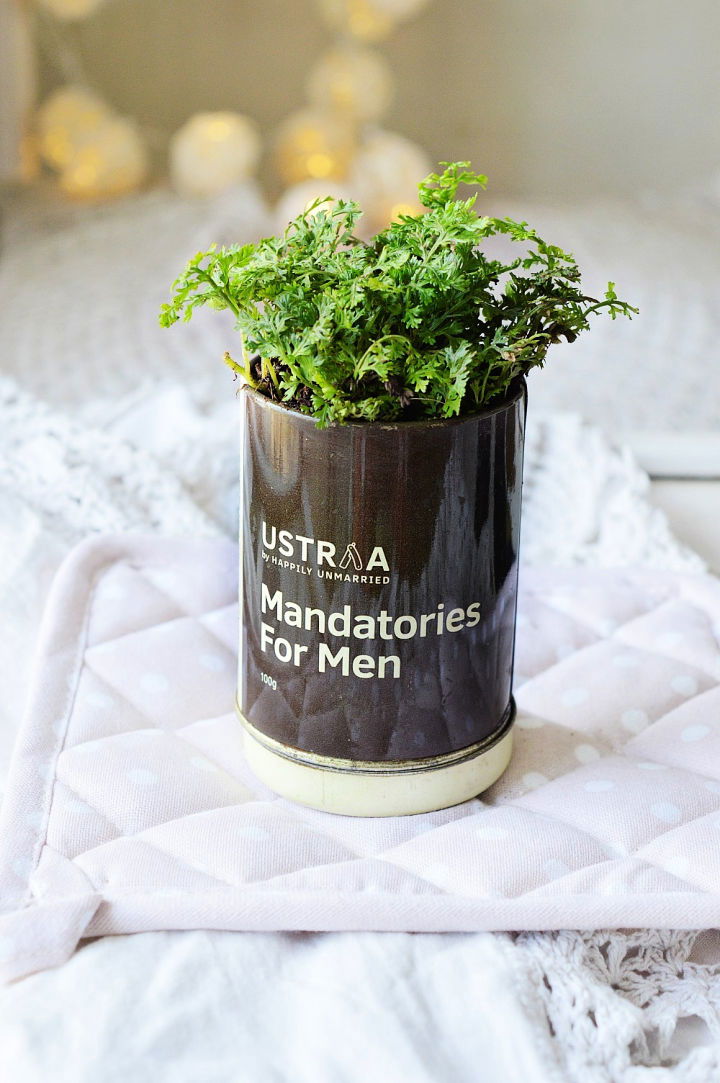 If you always store empty tin cans in your home and looking for a great opportunity to make something new out of them, then this is the place you are looking for. Making your very own vintage tin can planters is easy and quick to make a great display anywhere in your home. Grab the stuff you need if you want to add this little chic modern vintage décor to your home. Like an empty tin can, a drill, your favorite plant, potting soil, and some time. trumatter
8. Coke Can Succulent Planter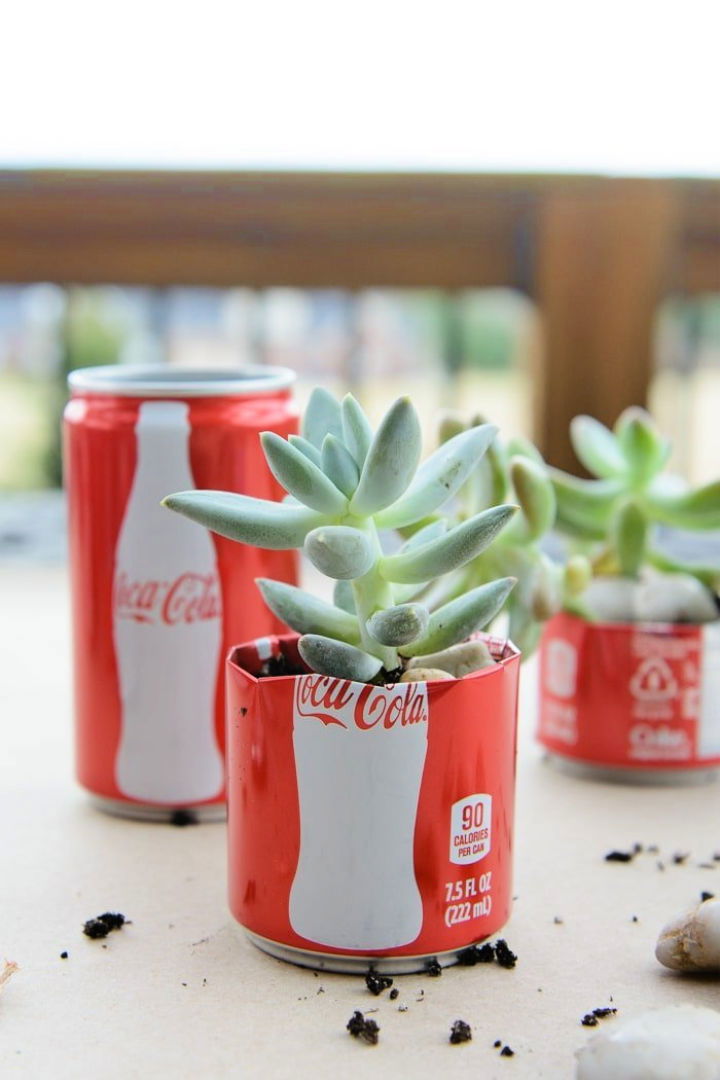 The endless possibilities of turning a coke can to make your home a bit stylish are endless. They are so easy to use and turned out great without any trouble. This coke can succulent idea is a great way to make a handmade planter in just minutes. Not only are these plants looking cute, but they also reflect your taste in your house. For these lovely planters, get mini coke cans, scissors, awl or another sharp-pointed object, river rocks, a tray or dish, succulents, and a bit of potting soil. polkadotchair
9. Herb Planter In A Can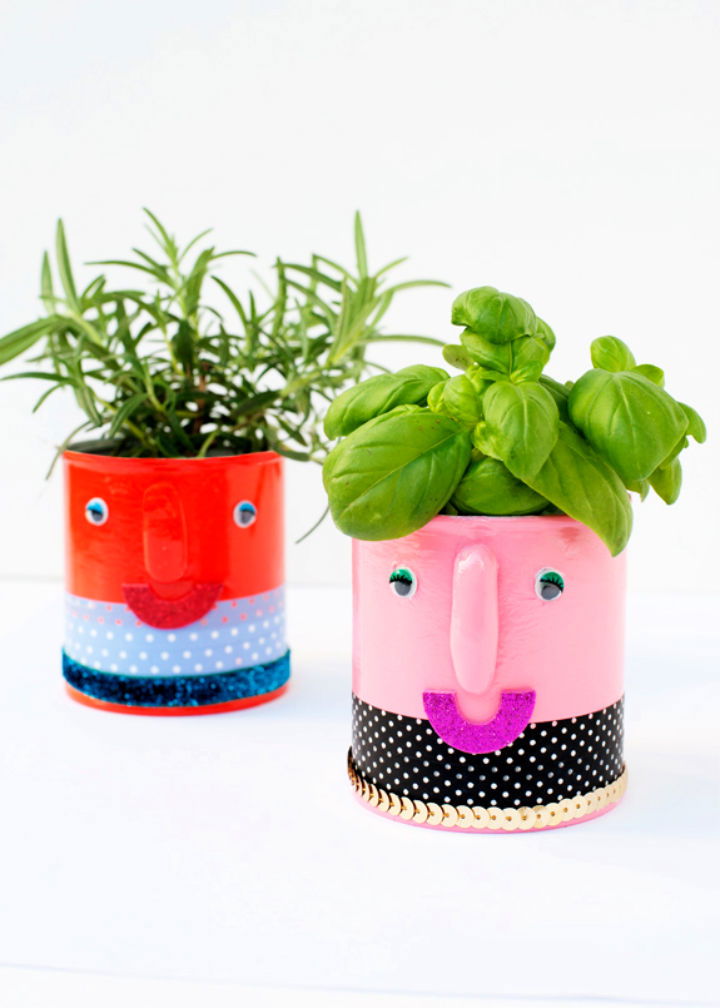 Make a perfect spot for your favorite plants in your home with this easy-to-make herb planter in a can. You can stylishly grow the herbs in your kitchen without sacrificing your kitchen décor. This is a great project to keep your little ones busy during the rainy afternoon. Get the things you need to work on if you are ready to brighten your kitchen with these cute little planters. Tins or cans, paint, paintbrush, painters' tape, craft glue, air dry or polymer clay, eyes, and bits and pieces for decorating. sayyes
10. Vertical Tin Can Flower Pots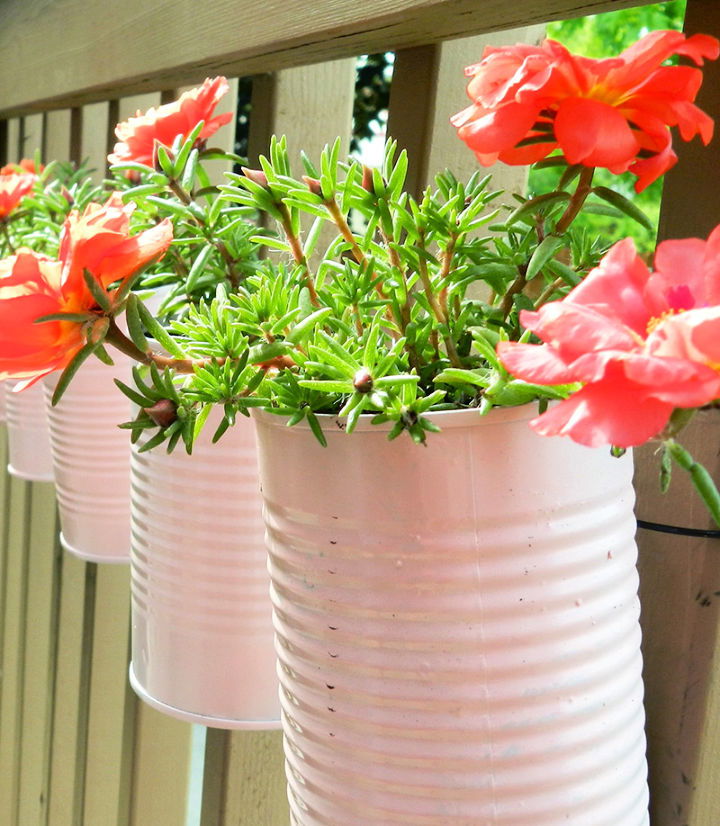 Summer is on the corner, and it's time to add some color and flowers to your outdoor. These vertical tin can flower pots are great to use vertically on your deck or patio with some recycled tin cans. Due to being made with reused items, this project will cost you nothing. This project is a total hit if you are ready to make your outdoor a bit more inviting in the summers. The supplies are empty tin cans, water, nail, hammer, outdoor spray paint, baling wire, pliers, potting soil, nail, and small flowers or plants. eliseenghst
11. DIY Decorated Tin Can Planters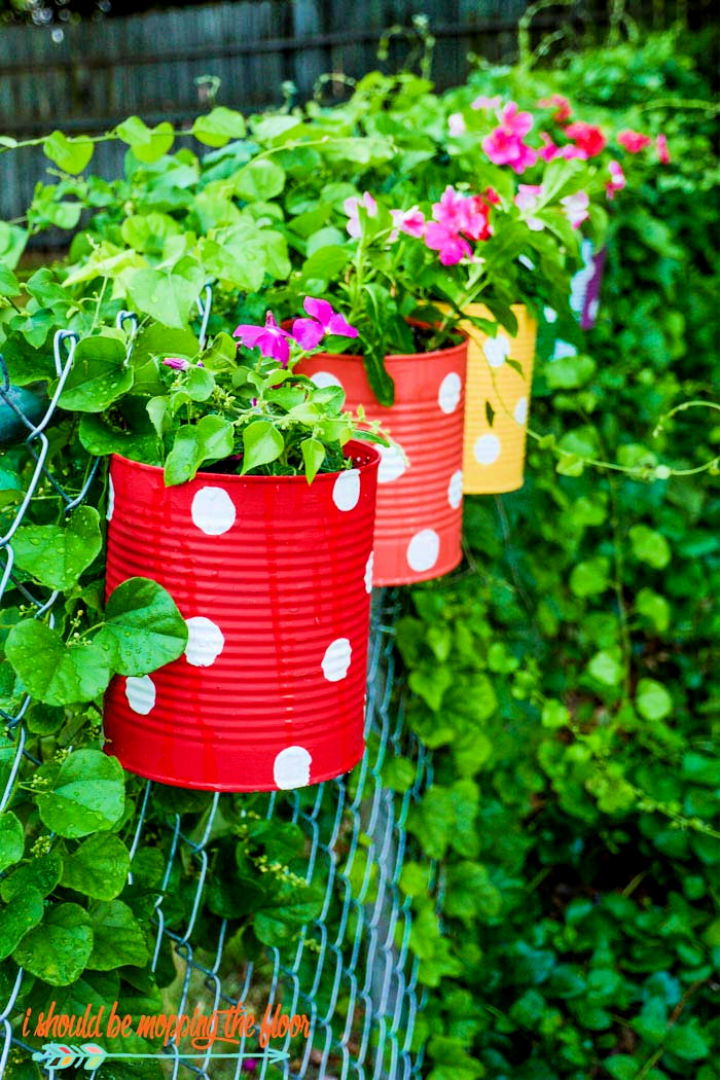 Creating these DIY decorated tin can planters is amazing that you can add to your chain link fence. It's not just for giving a makeover to your chain link fence but also spruce up the décor of your outdoor using recycled things. You can decorate your empty tin cans any way you want and see how great they work to hold up some of your favorite plants stylishly. The material you need is empty industrial-sized food cans, chalk-style paint, regular foam brushes, circle-shaped foam brushes, and matte varnish sealer. ishouldbemop
12. Farmhouse Style Tin Can Planters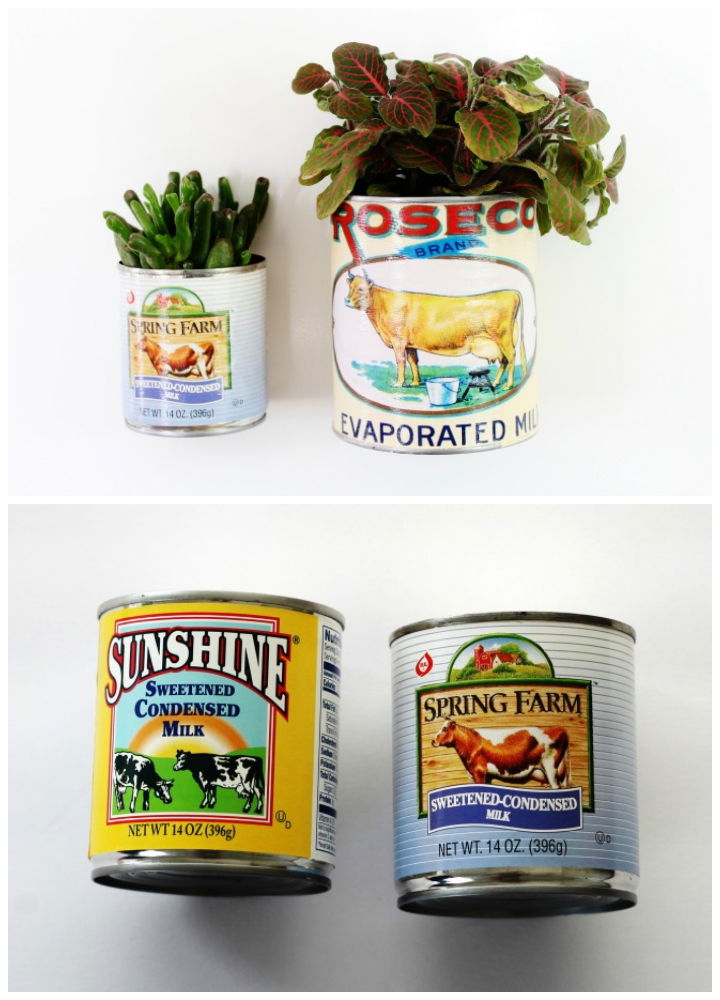 Add a bit of farmhouse style to your home with easy-to-follow plan for making farmhouse-style tin can planters. Planters are great that hold up herbs and succulents nicely. But spending a fortune on ready-made ones is not a good option. You can make your own at a fraction of the things you already have in your home right now. Grab the stuff you need to get these same planters in your home. Empty tin cans, small succulents or plants, free cow printables, mod podge, small foam brushes, glue, drill, and strong magnets. knickoftime
13. Tin Can Succulent Planter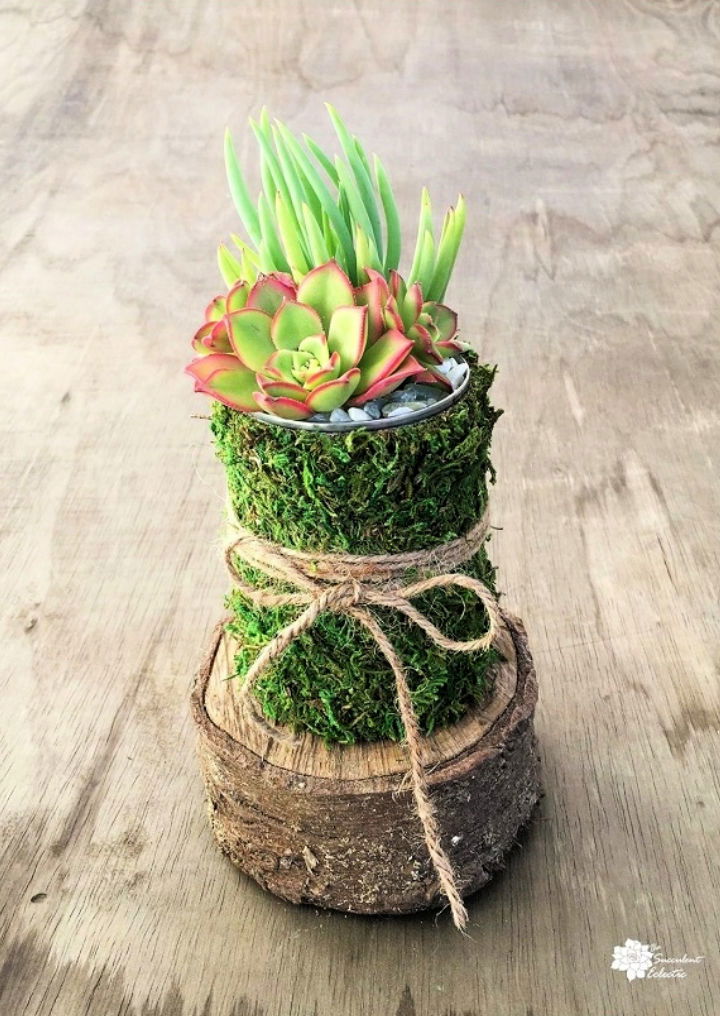 Looking for a great way to display your favorite succulents in your home? If yes, then look no further. This tin can of succulent plants is easy to make in your home with the things you don't need to buy. With just a few recycled items, you can create these adorable planters quickly that cost you nothing. This could be a great start if you are a beginner in the DIY world. Get the things like empty tin cans, scissors, drywall mesh tape, safety can opener, jute twine, drill with the all-purpose bit, decorative pebbles for top dressing, and succulents. thesucculente
14. Tin Can Succulent Planters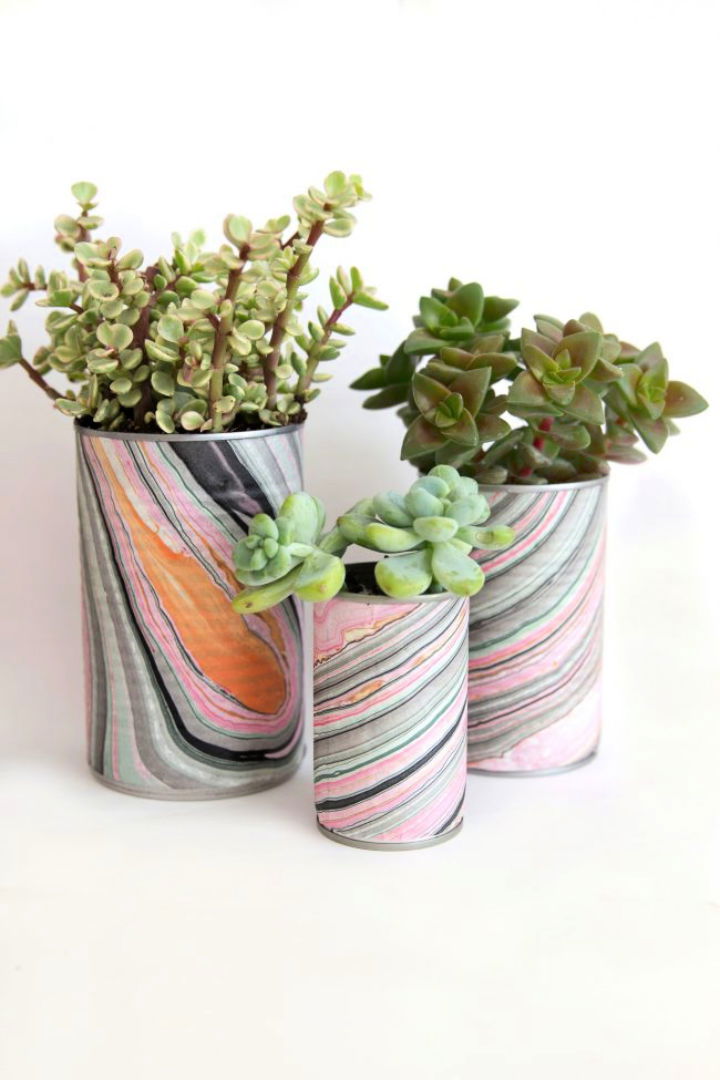 Nothing is best than making something out of what you already have in your home. Not only are those ideas great for saving money, but also for keeping yourself creative in your spare time. These succulent planters make great use of your old tin cans and nicely hold up your favorite plants. You can select any size tin cans for this project and see how great they turn out. The list of supplies you need to get are succulents, empty tin cans, specialty paper, glue, a paintbrush, and scissors. sisoo
15. Butterfly Tin Can Planter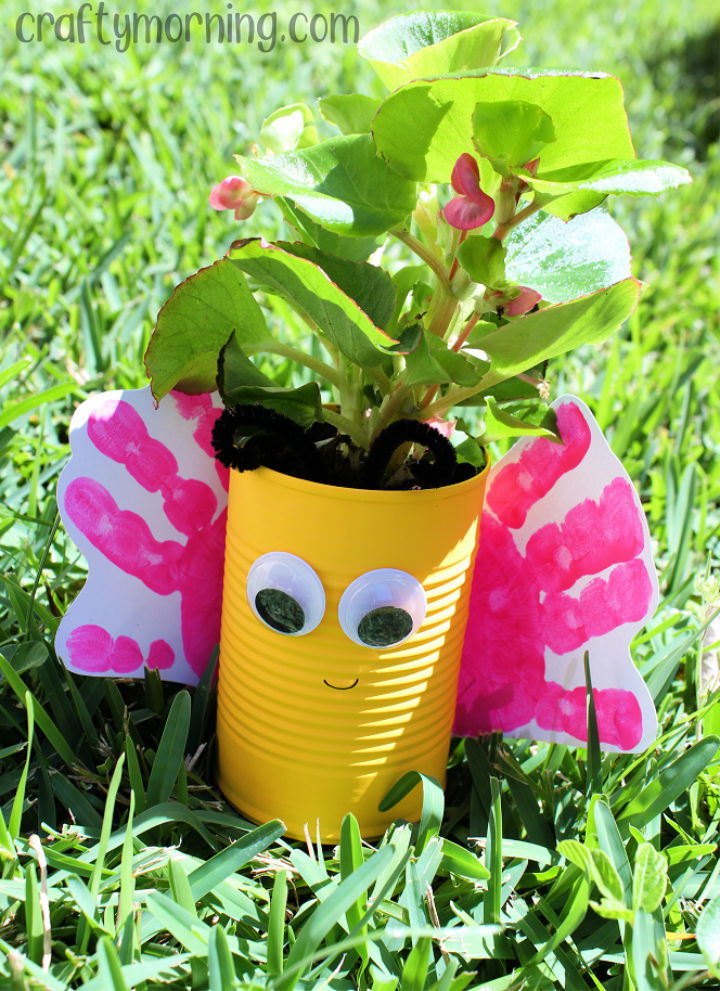 Here is a fun way of creating these amazing butterflies in can planters during your summer vacations or mother's day. These handprint planters are so easy to put together and need some recycled things you already have in your hand. Personalize this project to reflect your style in your outdoor. For this beginner-free and budget-friendly craft, get the needed material. Like tin can, small plant, paint, paintbrush, black permanent marker, black pipe cleaners, googly eyes, scissors, hot glue, and white cardstock. Details are here! craftymorning
16. Tin Can Hanging Planter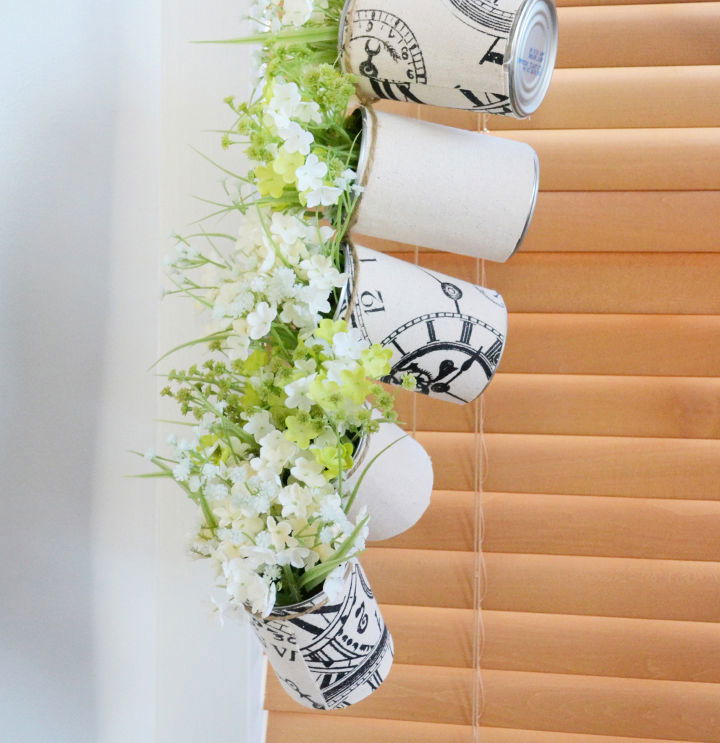 Instead of throwing your empty tin cans in the trash, use them for a great purpose with this tin can hanging planter DIY. Not only is this project perfect for holding up your planters, but it also makes a great statement for spring. You need a few cheap things to add this great element to your home or deck. Old tin cans in any size, scrapbook paper or burlap paper, twine, hot glue with a gun, flowers, pencil, and scissors. Check the details here! diys
17. Indoor Hanging Tin Can Planters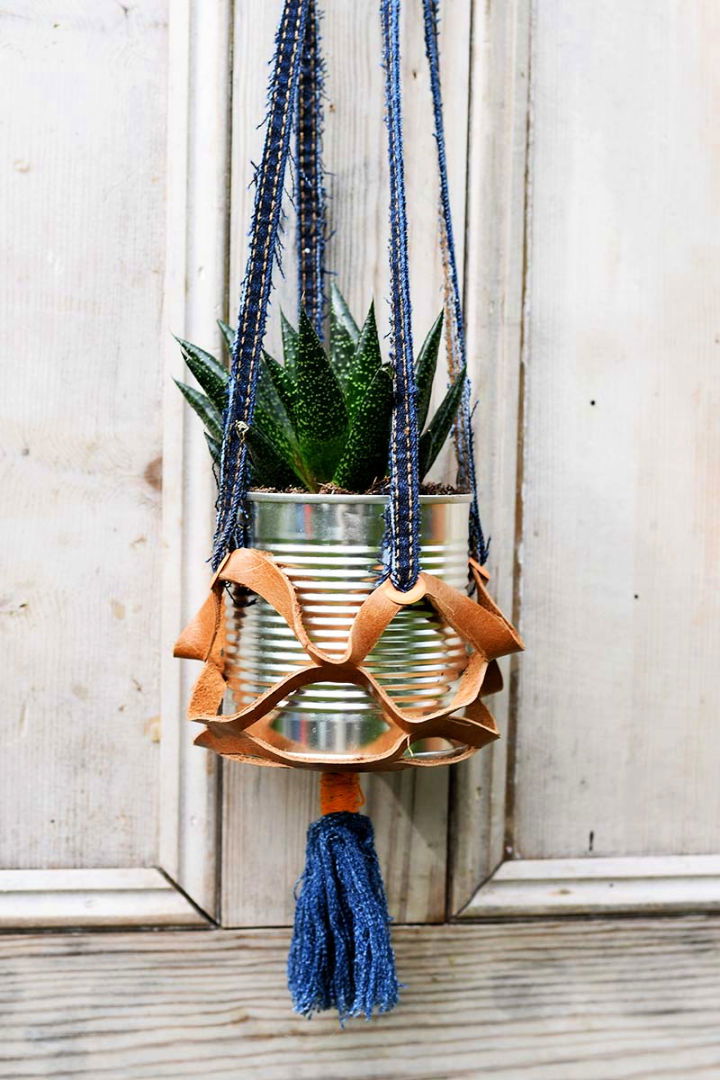 Turn your old tin cans into a great hanging décor in your home or backyard with this detailed plan of indoor hanging tin can planters. They are perfect for adding a bit of greenish décor into your home out of something you already have on hand. The addition of recycled denim makes this project look more cute yet stylish. You require an old piece of leather, denim seams, tin can, leather hole punch, super glue, wooden curtain ring, X-acto knife, fabric glue, and scissors. pillarboxblue
18. DIY Tin Can Succulent Planters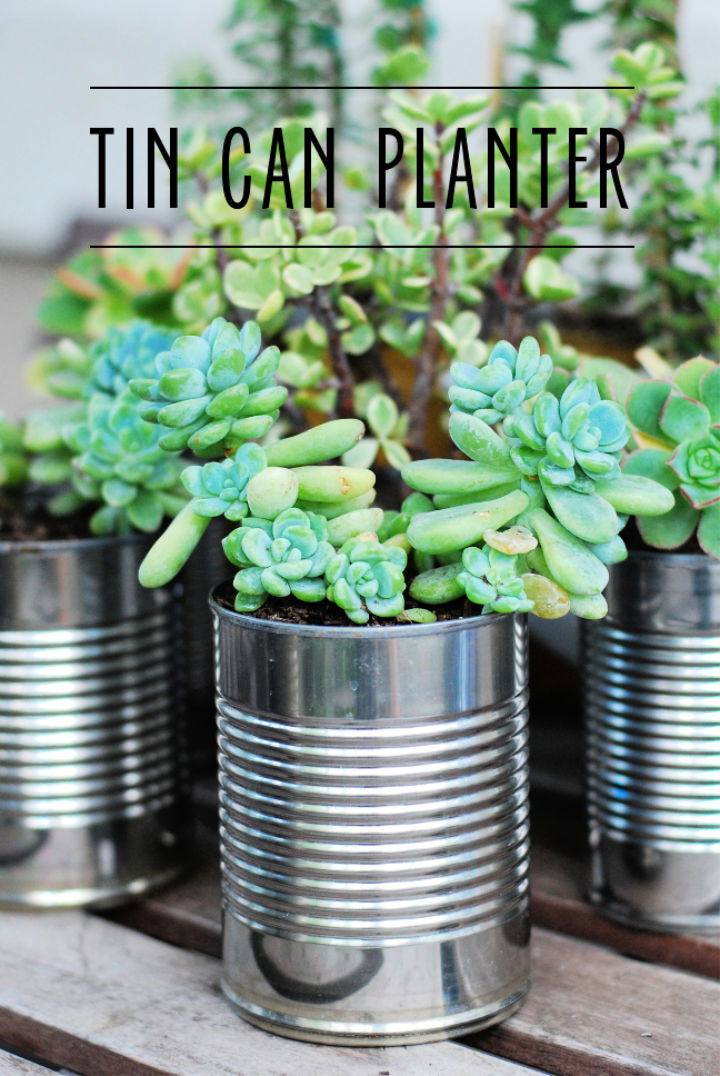 On a hunt to find the best containers for displaying your succulents? If yes, then you have come to the place. Making these cute succulent planters from old tin cans is a great money-saving plan that adds a bit of style to your décor. You can use tin cans to see how great they look in your kitchen windows or at your dinner table. The material list includes a soup can, succulents, hammer, screwdriver, potting soil, and working time. See the instructions here! whimzeecal
19. Window and Tin Cans Herb Planter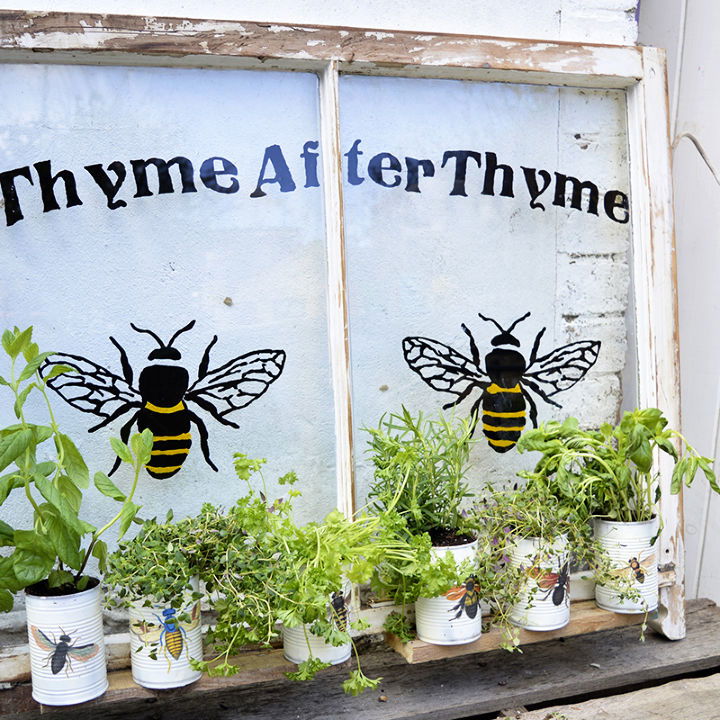 If you have an old window and wondering how you can make great use of this waste item, then look no further. This idea of window and cans herb planters is easy to put together and gives a new life to your old window. To feature this great element in your garden, you need just a few basic things you mostly have in your hands right now. And the things are old windows, tin cans, cream spray paint for the cans, Cavallini vintage insect wrapping, strong magnets, scissors, bee template, and suitable paint of your choice. pillarboxblue
20. DIY Tin Can Planters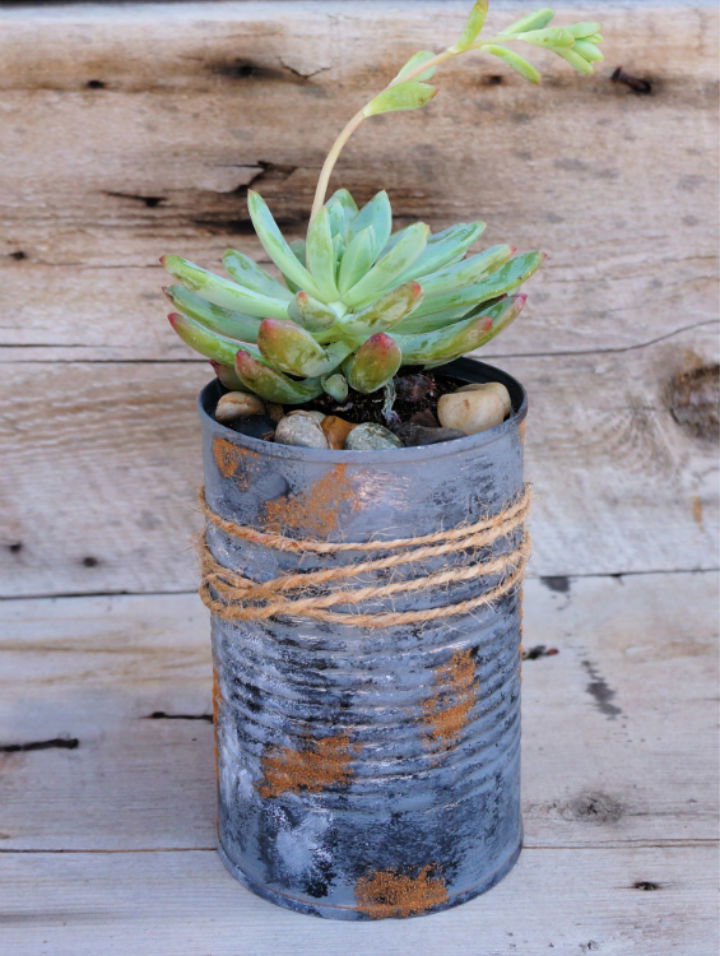 Do you love to grow succulents and other small plants in your home? If your answer is yes, you need a planter to display them nicely. Making your very own these cute little planters from old tin cans is a great budget-friendly idea to try. This is so easy to create and turned out great to support any kind of flowers. The items you need to work on are our jute twine, decorative pebbles, pea gravel, succulents, potting soil lend, and tin cans of any size. momalways
DIY Outdoor Bench Plans Free
Outdoor benches are a great addition to any garden, patio, or porch. They provide extra seating while adding a style touch to your outdoor space. But, buying an outdoor bench can be expensive. That's why we've put together this list of simple DIY outdoor bench plans that you can build on a budget. These benches are easy to build and can be completed in just a few hours. And they all use inexpensive materials that you can find at your local hardware store
Fairy Garden Ideas for Backyard
Fairy gardens are a fun and whimsical way to add some magic to your backyard. And they're easy to make! All you need is some imagination and a few supplies. In this post, we've rounded up DIY fairy garden ideas that will inspire you to create your own. From simple planters to elaborate miniature scenes, there's something here for everyone.
PVC Pipe Garden Ideas
PVC pipe is one of the most versatile materials around, and it's perfect for use in a garden! With these PVC pipe garden ideas, you can turn your backyard into a veritable oasis. From vertical planters to a PVC pipe chicken run, there's a project here that's perfect for any skill level.
DIY Raised Garden Bed Plans
If you're looking for ways to spruce up your yard or add some extra gardening space, consider making a raised garden bed. With this guide, you can find free raised garden bed plans. You'll be able to build a raised garden bed that is the perfect size and shape for your yard. Plus, with these detailed PDF instructions, you can't go wrong. So get started today and see the difference a raised garden bed can make in your gardening experience.
DIY Mason Jar Herb Garden Ideas
Looking for some fun and unique herb garden ideas? Why not try out a Mason jar herb garden! These DIY gardens are easy to make and look great, plus they're a great way to get started with herb gardening.
25 DIY Garden Ideas To Make Your Outdoor Space
Looking for some DIY garden ideas to make your outdoor space more beautiful? Look no further! We've got great DIY garden ideas for you to try.
From simple projects like building a garden path or planting some flowers, to more complex ones like creating a water feature or adding some outdoor lighting, there's something here for everyone. So get inspired, and get started on making your garden the envy of the neighborhood!
DIY Vertical Garden Ideas
Looking for some vertical garden ideas? You've come to the right place! In this article, we'll show you different ways that you can create a vertical garden, both indoors and outdoors. We'll also give you some tips on how to care for your vertical garden so that it thrives. So whether you're looking for a small vertical garden to add some greenery to your home or a large one to create an urban oasis, you'll find some inspiration.
DIY Pond Ideas for Backyard
If you're looking to add a pond to your backyard or garden, look no further than this list of awesome DIY pond ideas! With tutorials for every skill level and budget, you're sure to find the perfect pond for your home.
Conclusion:
Whether you're looking for a fun weekend project or some new ideas for your garden, we hope you've found these tin can planters helpful. If you decide to create any of your own, be sure to share them with us on social media—we love seeing what our readers come up with! In the meantime, here are a few more gardening inspirations. Happy planting!